Keto Eggs Benedict Made with NEW Hero Bread Croissants
Delicious, buttery Hero Bread Croissants are slightly toasted and topped with a poached egg, prosciutto, creamy brie cheese, and rich hollandaise sauce.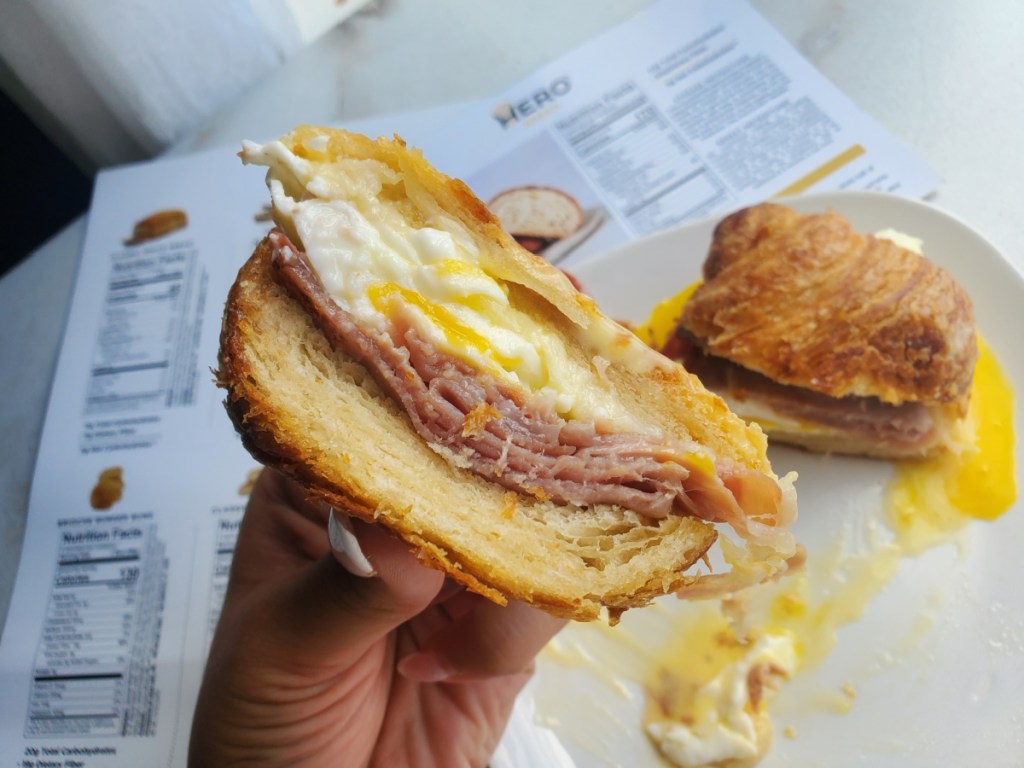 We're whipping up keto Eggs Benedict with our new favorite keto croissants!
You're going to love this twist on the classic eggs benedict. First of all, can we talk about Hero Bread's newest creation? Hero Bread made Croissants! And they are amazing – so buttery and flakey, they are everything you've been missing on keto.
I have a confession that croissants are one of my favorite foods. If I'm going to splurge on keto, it's with a croissant. As far as I know, these keto croissants are the closest you can get to the real thing. In fact, side by side with a real croissant, I don't know if you could tell the difference.
Turn these croissants into eggs benedict and you'll be in heaven. With only 2 grams of net carbs for each croissant, how can you go wrong?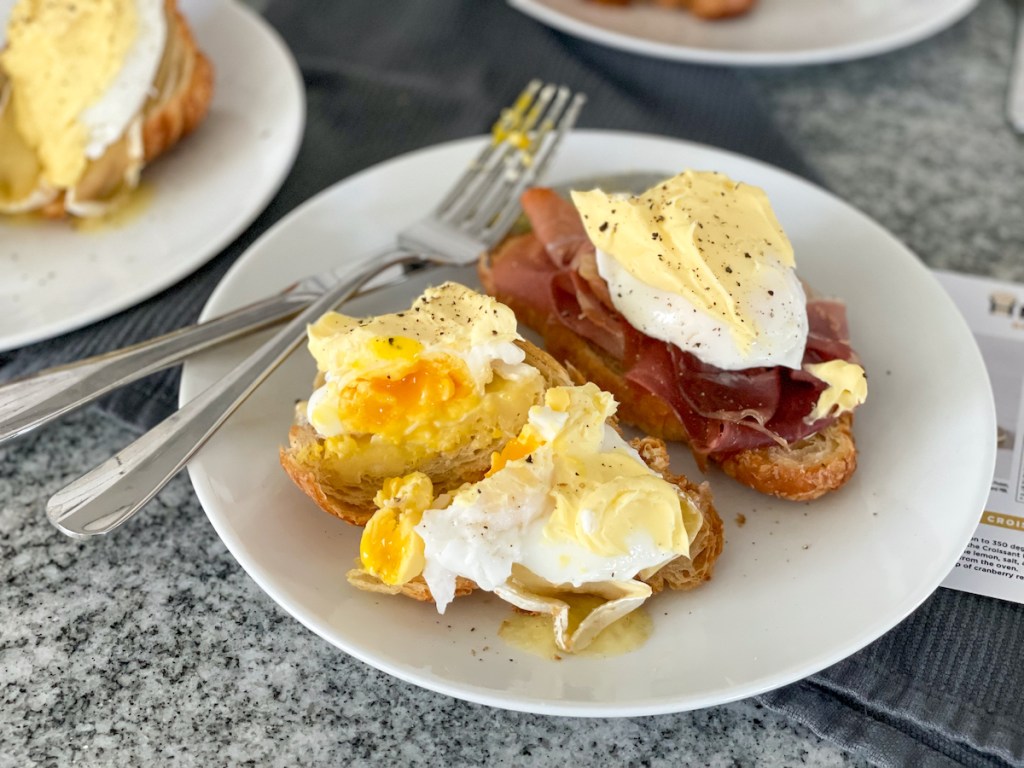 How to make keto eggs benedict
This recipe isn't hard to make but timing everything can be a little tricky. You need to make sure you have all your ingredients in place and ready to go when you start cooking.
I'm not the best at poaching eggs. I'll admit they aren't the prettiest (if you have any tricks, please pass them on)! I went with this Martha Stewart method and I think I did okay. In the past, I've just ended up with egg drop soup!
The hollandaise sauce can also be a little intimidating if you've never made it before. This blender recipe from The Kitchn is my go-to recipe and it's never let me down.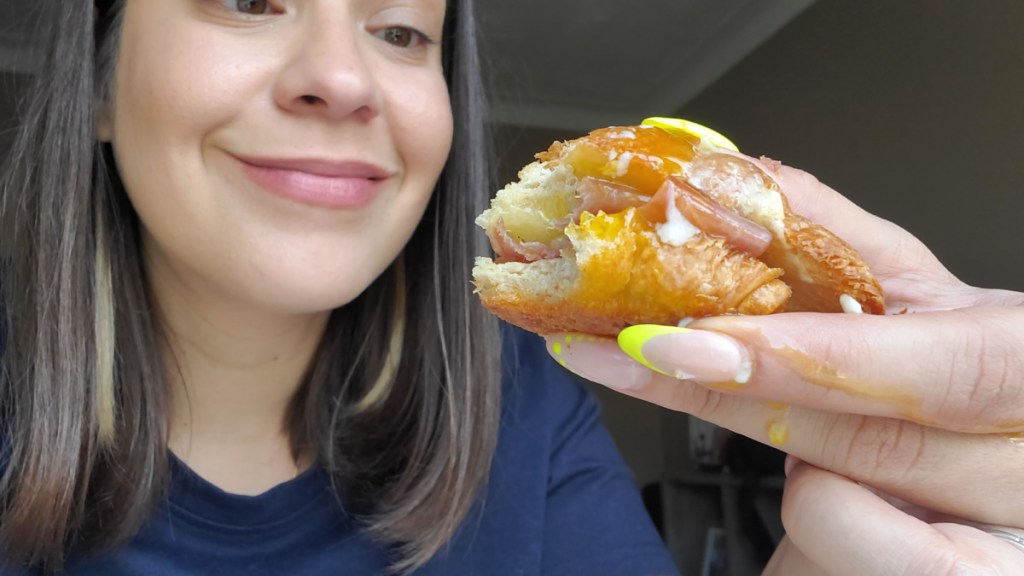 When getting ready to make the keto eggs benedict, you need to follow this order.
Preheat oven to 425 degrees.
Poached the eggs and set them aside.
Cut the croissants in half and warm in the oven.
Top the croissants with prosciutto and brie.
Get prepared to make the hollandaise sauce – separate the eggs, melt the butter, and squeeze lemon juice
Put the croissants back in the oven to melt the brie.
While the croissants are in the oven, make the hollandaise sauce.
As soon as you remove the croissants from the oven, top with poached eggs and fresh hollandaise sauce.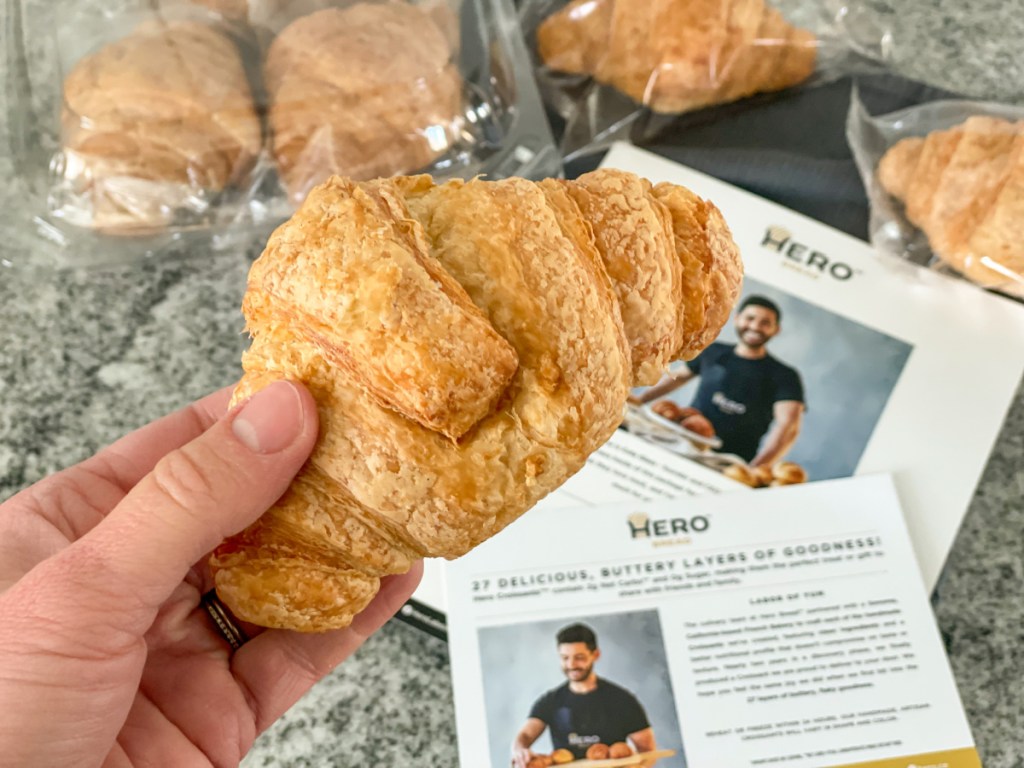 Save on Hero Bread Croissants with our promo code H2K5!
Buy TWO Hero Bread Croissants Weekend Box, 6-pack $39.99 each
Use code H2K5 at checkout (valid for $5 off orders $50+)
Score free shipping on orders of $35 or more
Final cost just $74.98 shipped for TWO 6-packs!
*Offer valid through 7/20 or until supplies last. Note these croissants are currently out of stock, but add your email to get an alert when they're available again!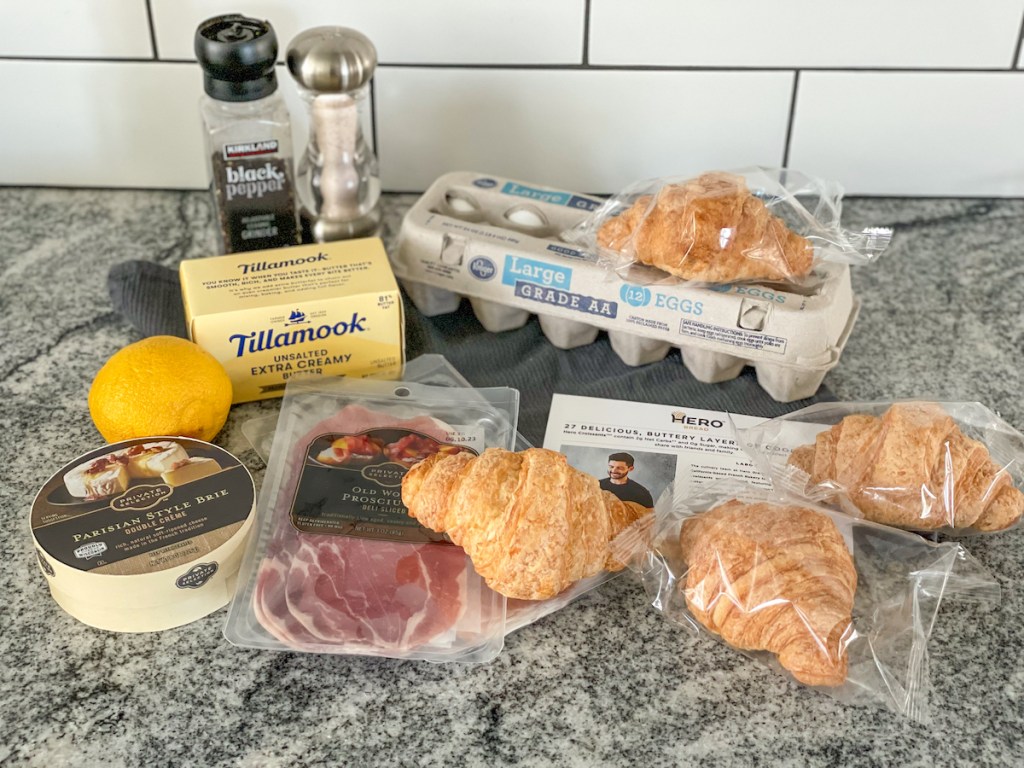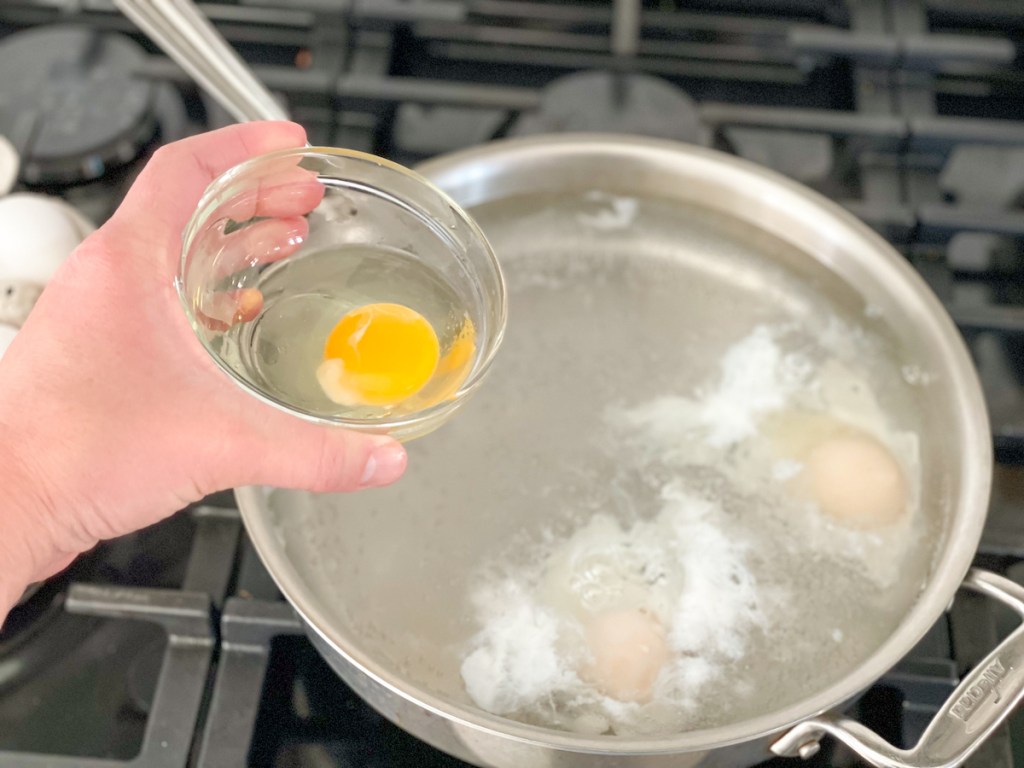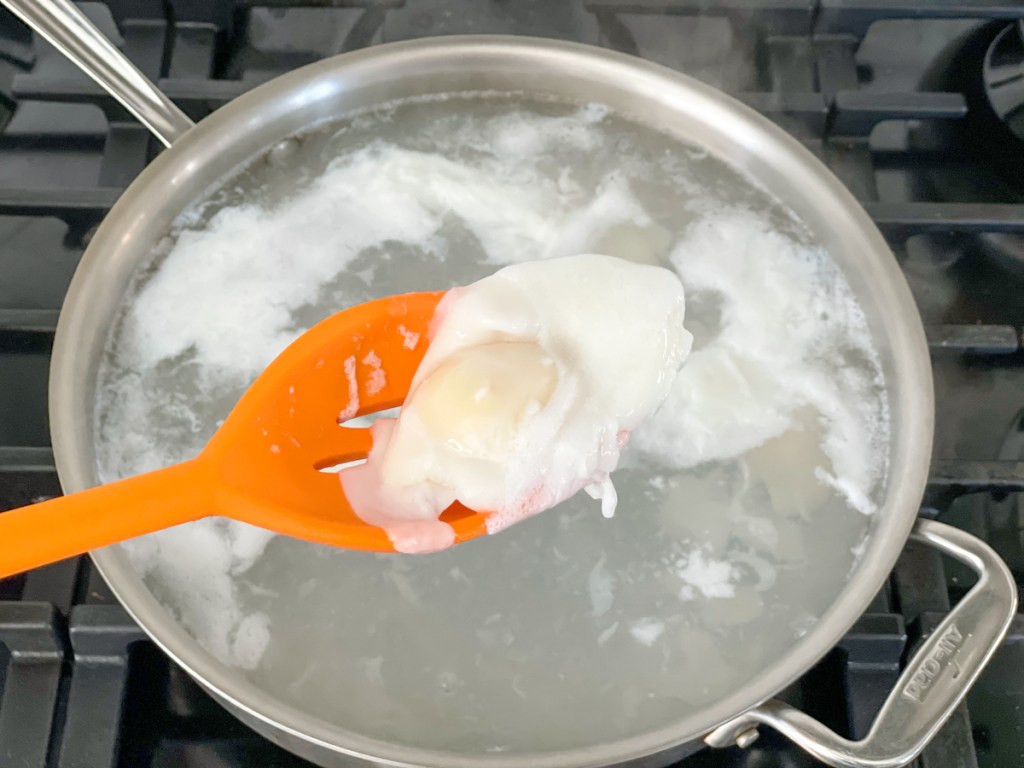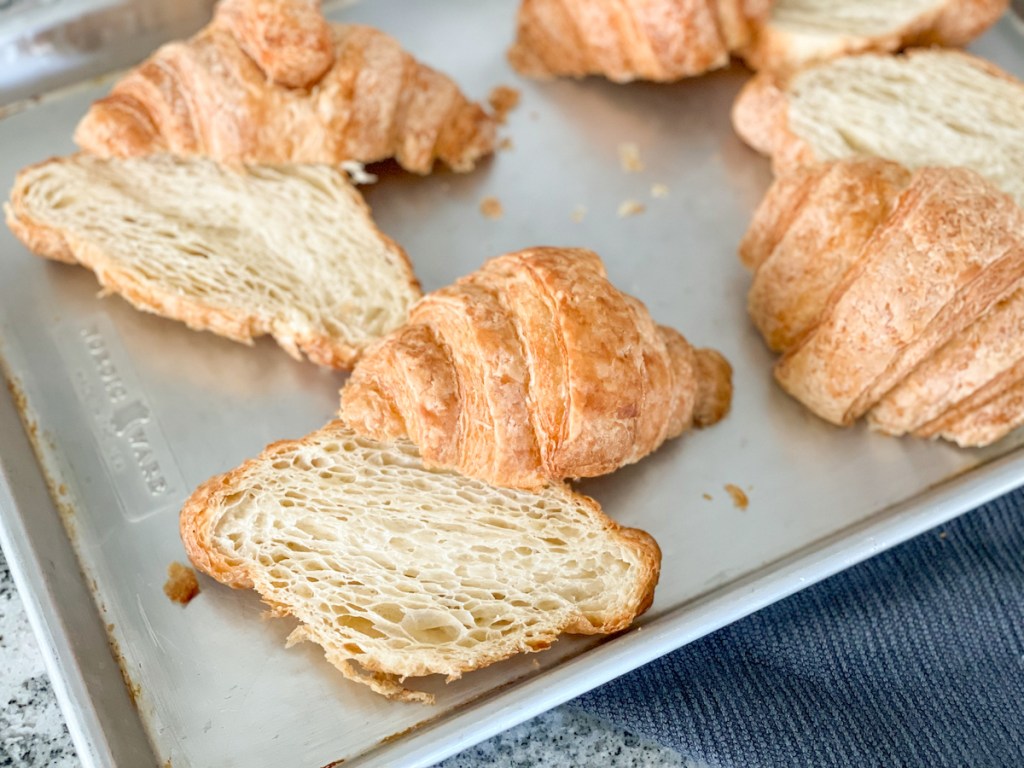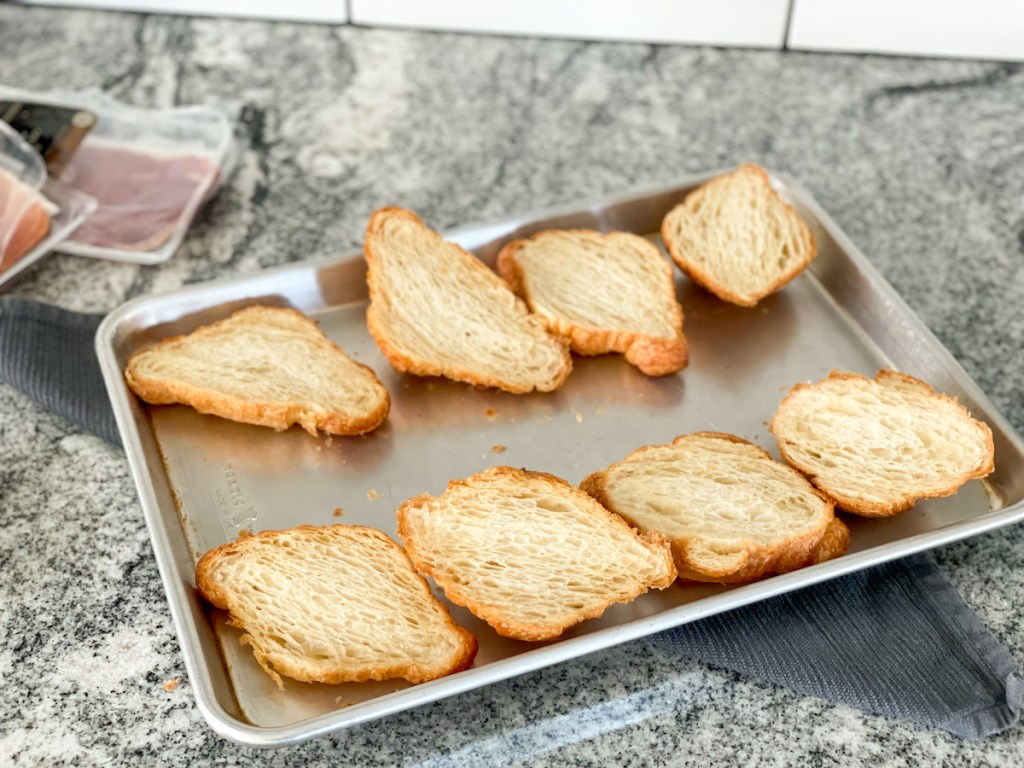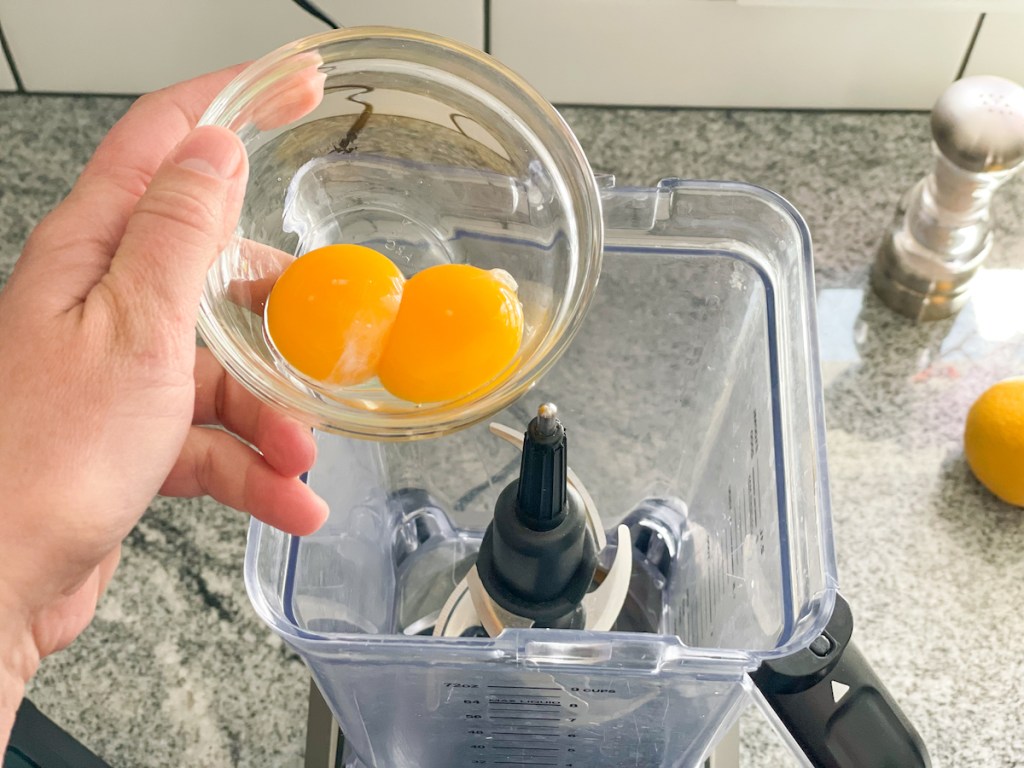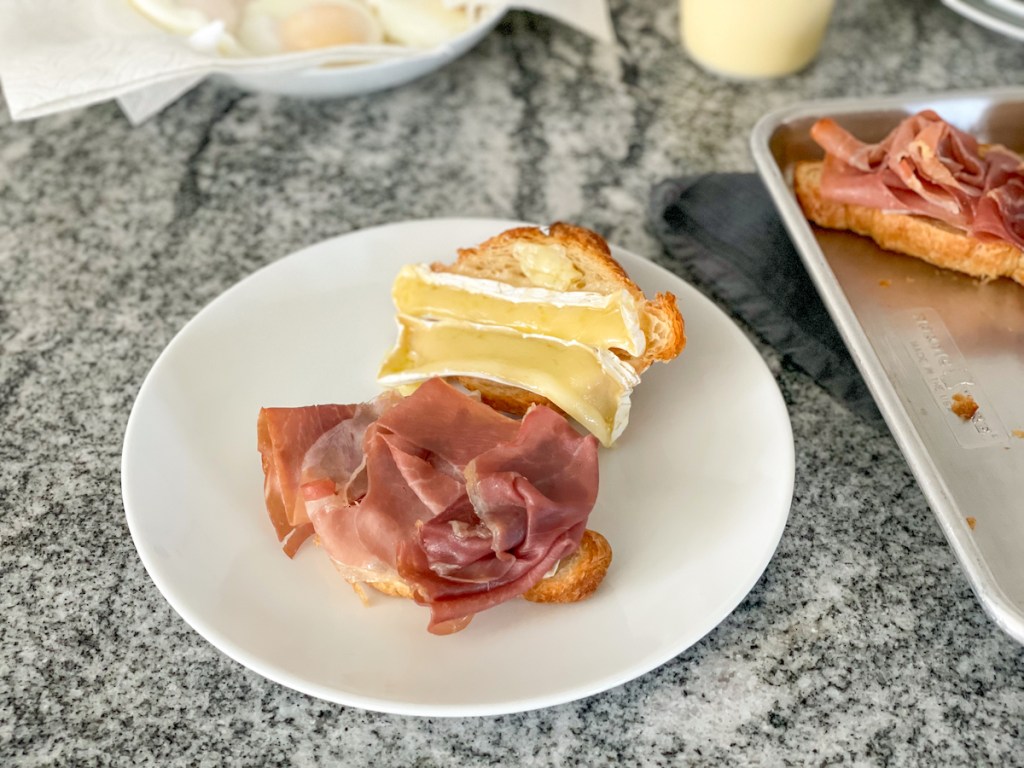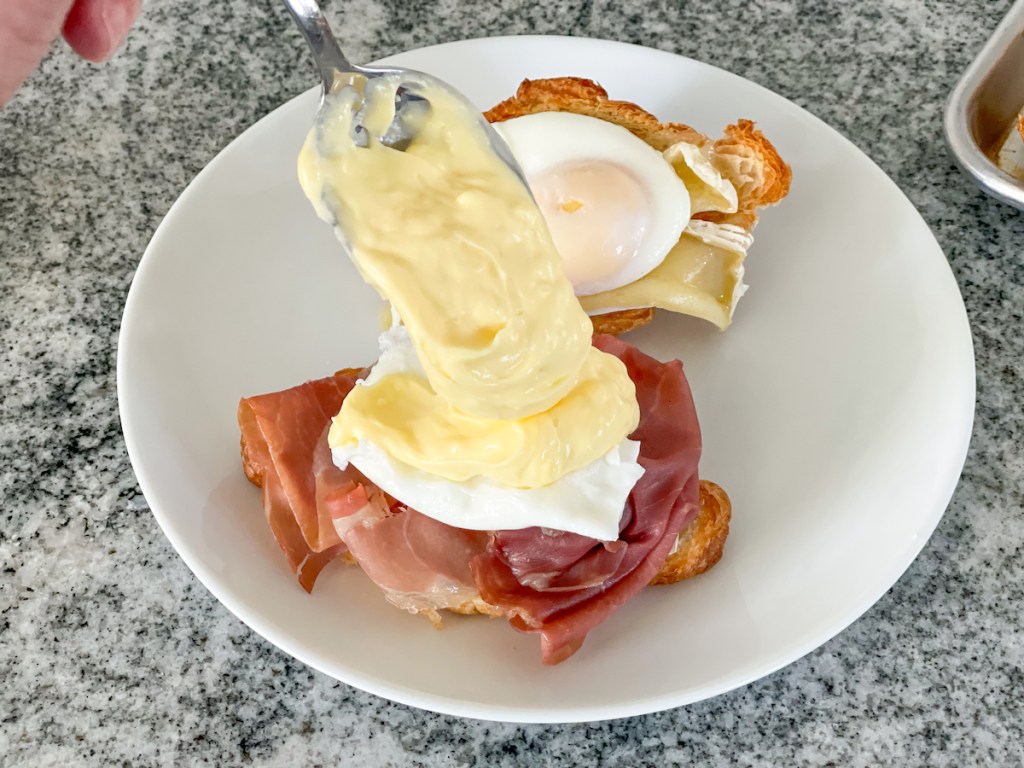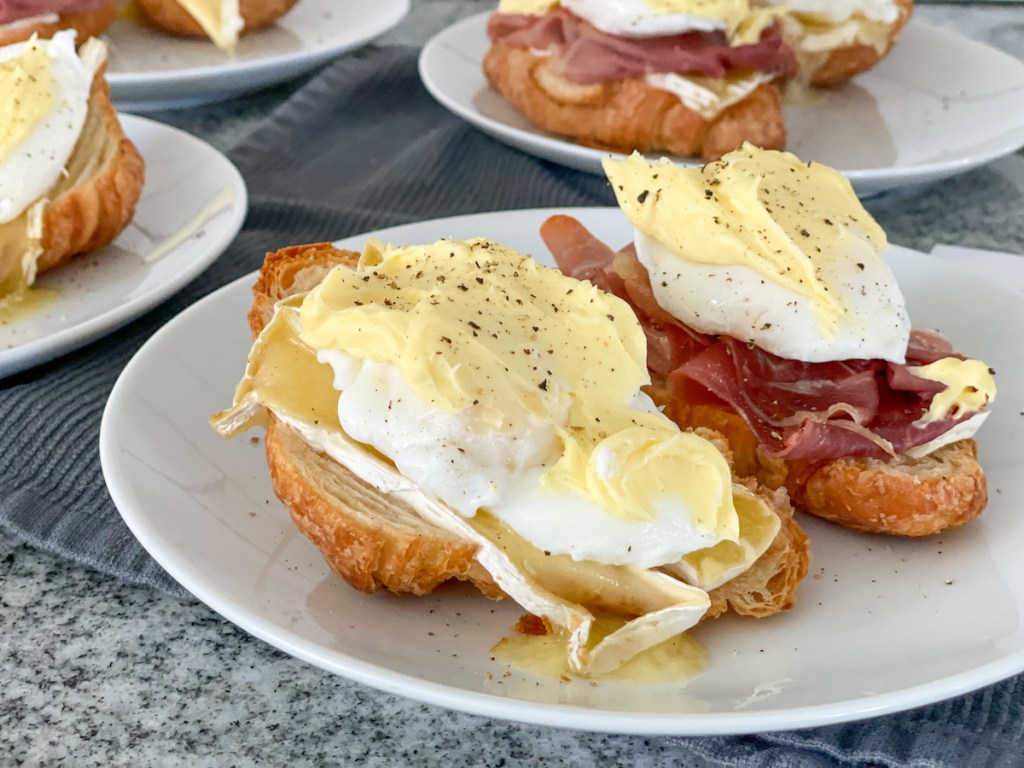 ---
Print
Keto Eggs Benedict with Hero Bread Croissant
yield: 4 SERVINGS
prep time: 20 MINUTES
cook time: 15 MINUTES
total time: 35 MINUTES
Delicious Hero Bread Croissants are slightly toasted and topped with a poached egg, prosciutto, creamy brie cheese, and rich hollandaise sauce.
Ingredients
Benedict:
8 eggs (to be poached)
12 slices proscuitto
8 ounces brie cheese, cut into thin slices
pepper, optional
Hollandaise Sauce:
12 tablespoons butter
2 large egg yolks
1 tablespoon fresh lemon juice
1/4 teaspoon salt
Directions
1
To Poach the Eggs:
In a large straight-sided skillet, heat about 2 inches of water over medium to medium-low heat. When you see small bubbles starting to form in the pan, crack each egg into a bowl and then carefully pour the egg into the simmering water. You'll have to poach the eggs in two batches. Let the eggs cook for 4 minutes. Remove from the pan with a slotted spoon. Transfer the eggs to a paper towel to dry.
2
To Make the Eggs Benedict:
Preheat oven to 425 degrees. Cut the croissants in half and place them on a baking sheet, cut side up.
3
Bake for 3 minutes to warm and then remove from oven. Top the bottom halves of the warmed croissants with 3 slices of prosciutto and the top halves with two slices of brie cheese. Place the croissants back into the oven for 3-5 minutes to warm the prosciutto and melt the brie cheese. Make the hollandaise while the croissants are heating.
4
To Make the Hollandaise sauce:
Cut the butter into chunks and melt in the microwave in 15- to 30-second intervals. Once melted, let cool slightly.
5
Blend the egg yolks, lemon juice, and salt together in a blender. Slowly pour the melted butter into the blender while it's running. Occasionally turn off the blender and check to make sure the hollandaise hasn't broken.
6
To Assemble:
Top each side of the croissant with a poached egg and about 2 tablespoons of hollandaise sauce. Add pepper if desired. Enjoy!
Nutrition Information
Yield: 4 servings, Serving Size: 1 croissant w/ Eggs Benedict topping
Amount Per Serving: 949 Calories | 85g Fat | 23.7g Total Carbs | 20g Fiber | 1.3g Sugar | 44g Protein | 3.7g Net Carbs
---
Tips for making the best keto eggs benedict
Timing is everything with this recipe. Make sure you're prepared so everything flows smoothly and assembly is a breeze.
If you want a thinner hollandaise sauce, use 16 tablespoons of melted butter instead of 12 tablespoons. Hollandaise is best when served fresh.
Try fried eggs instead of poached. This is a great option if you're terrible at poaching eggs like me, haha!
If you want to make the tomato salad pictured with the eggs benedict, it's a pint of cherry tomatoes cut in half, a quarter of a chopped red onion, sliced fresh basil, olive oil, red wine vinegar, salt, and pepper. The amounts don't have to be exact but it pairs nicely. This recipe is inspired by a local restaurant in my area that has the best brunch!
These eggs benedict are rich, FYI! If you want to reduce the calories and make them not quite so filling, you can reduce the amount of hollandaise sauce you use.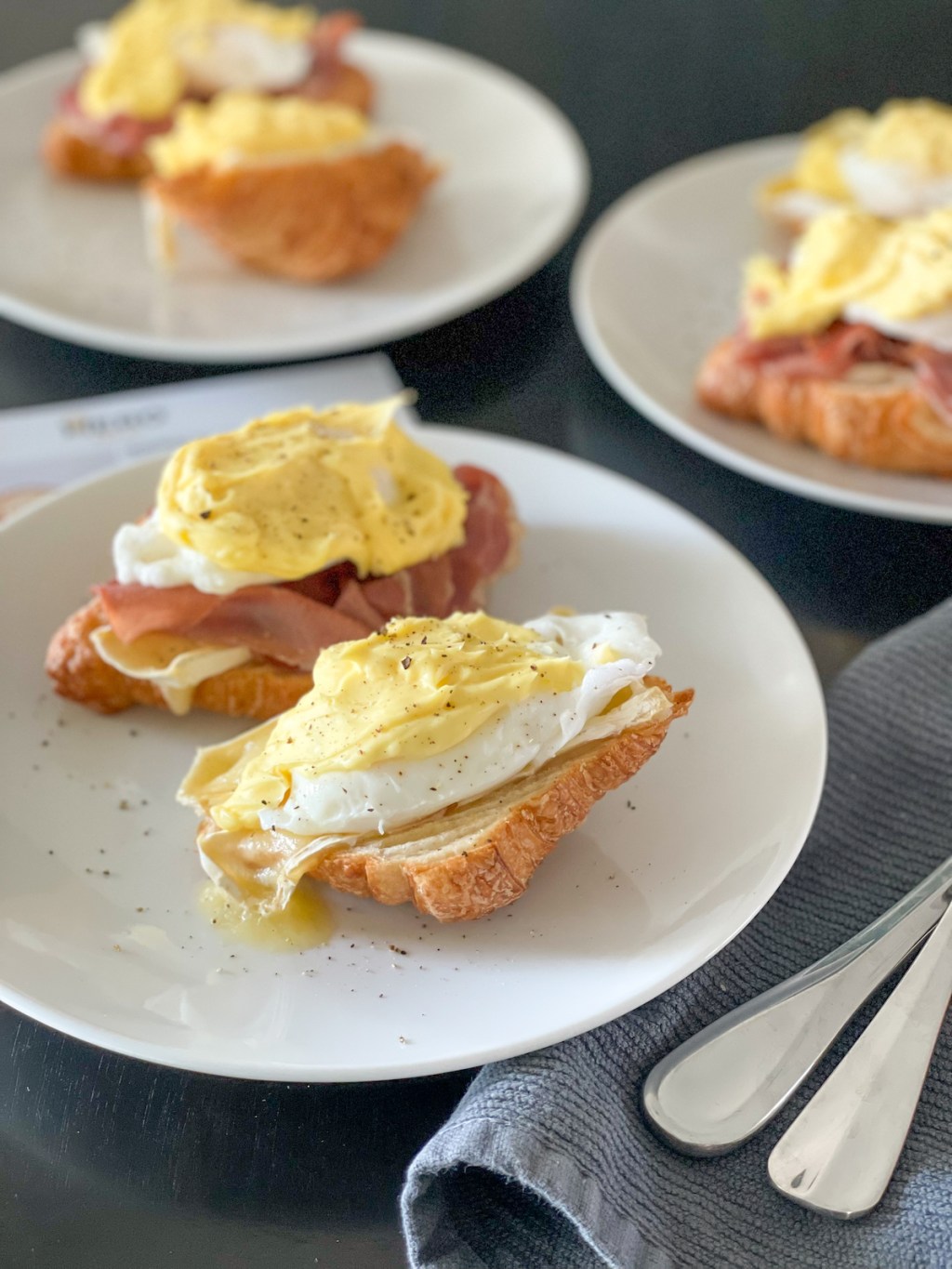 Keto life will never be the same!
I just want to say "thank you" to Hero Bread for making croissants. They make my heart happy! I hope you enjoy the croissants and keto eggs benedict as much as I did!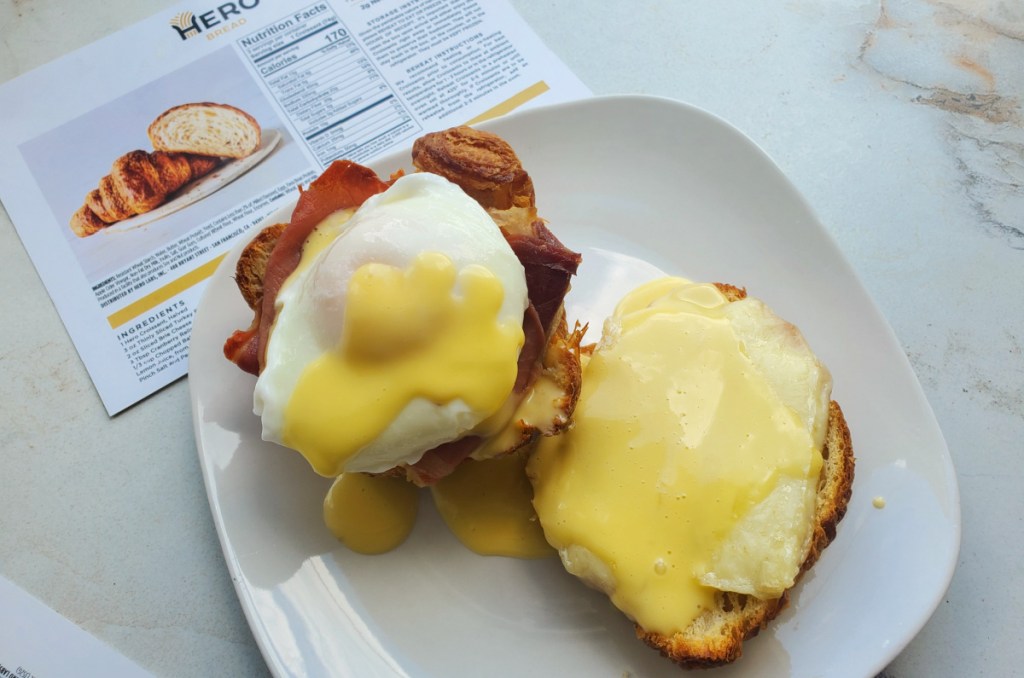 Here's what my Hip sidekick, Rachel, had to say about this keto eggs benedict recipe:
"This is hands down the most incredible keto brunch I've ever treated myself to! Every element of this recipe is an absolute delight, from the perfectly flaky croissants to the lusciously melted brie, not to mention the heavenly homemade hollandaise sauce. This Eggs Benedict is an absolute triumph that has won my heart and taste buds over completely!"
---
If you're looking for more keto breakfast inspiration, check out our recipe for keto English muffins.