These are the Best Non-Stick Baking Pans You Can Buy (& Mine are 7 Years Old!)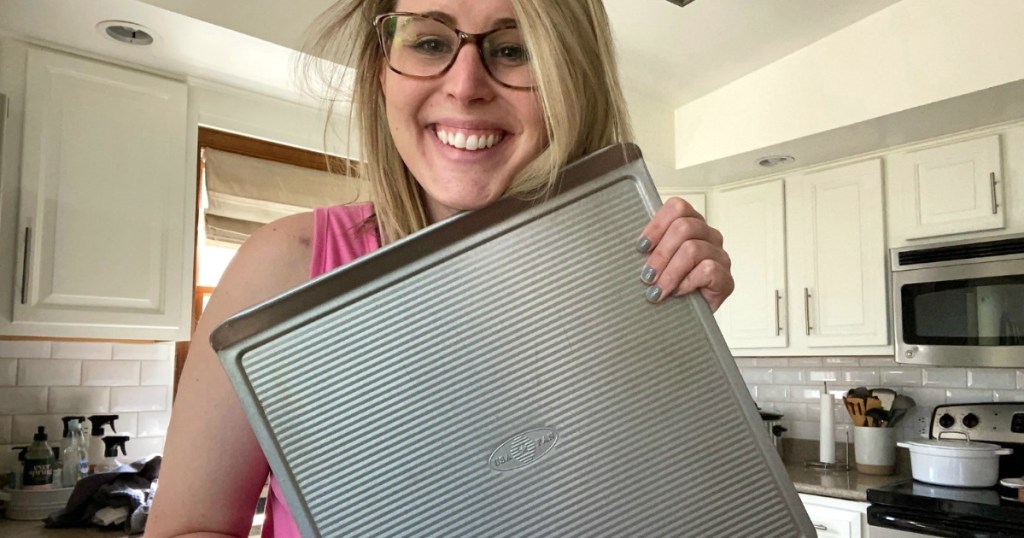 Keto baking made easy!
Having the best non-stick baking pans can make or break how easy life can be in the kitchen. Especially since keto baking always seems to require some sort of non-stick agent to prevent baked-on disasters.
After owning the very best, budget-friendly pans on the market for over 7 years (& absolutely loving them), I'm sharing why you need these non-stick kitchen accessories in your life.
Oh, and I'm not being paid to write this — I just love this cookware so much!
---
Say hello to my beloved USA Pans!
My, oh my, how I LOVE these pans! 😍 When I bought my first house about 7 years ago, I received a couple of these pans as a housewarming gift and I've been in love since day one! They're truly the best non-stick baking pans money can buy.
In fact, I've been growing my collection over the years because I simply can't get enough of them! Best of all, they're made by a family-owned company in the USA, so I love supporting this business focused on quality. 🙌
And they still look brand new!
First of all, they're at such a good price point considering they perform like top-of-the-line bakeware. They're not too expensive, but also not too cheap that you'll end up needing new ones in a couple of years.
USA Pans are money well spent! 👏
Another perk? They are very easy to stack and put in my cabinets! Just look at how functional they are when you stack similar shapes together! Perfect if you're short on kitchen storage space, too! USA Pan really thought about the design of their pans when they put these together.
I know I keep saying every aspect about these pans is the best, but the truly BEST part about these is they really are NON STICK PANS! I literally never ever spray these and even then, my food never sticks to them – it doesn't matter what delicious recipes I'm making.
That's because USA Pans are designed with a patented silicone coating which is PTFE, PFOA, and BPA free, and that is what allows food to easily release from them when you're done cooking.
Having them be truly non-stick means they're so simple and easy to wash – I'm never spending unnecessary time scrubbing stuck-on food or waiting for them to soak. Thank goodness! I simply make the food and it comes right off. 👏
Hip Tip: For clean-up, it's recommended to wash with hot water, mild soap, and a gentle sponge (a bunch of my team members love this sponge).
So what kinds of pans does USA Pan have to offer?
Original Professional Quality Nonstick Bakeware:
In addition to their Original Bakeware, they also have a Classic Bakeware Collection, Bakeware with lids (ummm…yes please!), Allergy ID Bakeware (perfect for preventing cross-contamination and minimizing food risks), and my most favorite one I need to try ASAP… their gorgeous Stoneware Collection – sure to last a lifetime!
---
They make amazing gifts, too!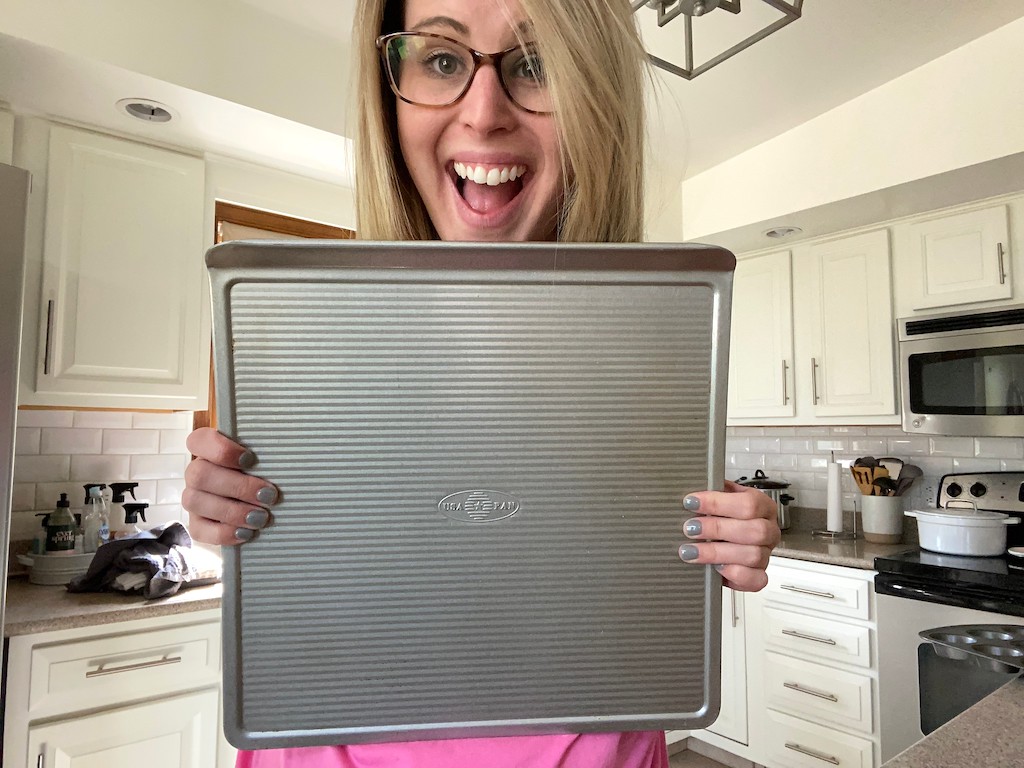 I know firsthand how awesome of gifts these non-stick pans make so I make sure to buy these for every single wedding, bridal shower, or housewarming party I can! Plus, it's a gift I can gift in confidence since I use them myself and love them so much! Even people who aren't keto will love getting these!
What are you waiting for? Check out the full line of USA Pans on Amazon!
---
Use your new pan to bake keto pumpkin chocolate chip cookies!