Did You Know That ALDI Sells Keto Bars?!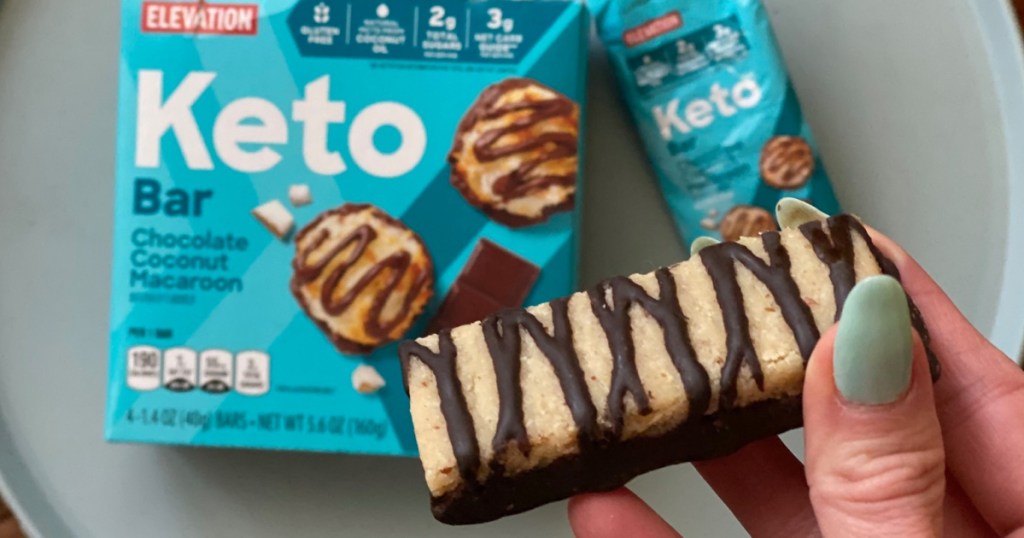 Keto snacking just got really good AND really affordable thanks to Aldi's new Keto Elevation Bars!
Aldi's Elevation bars were surprisingly one of the first low-carb bars I purchased after switching to a keto diet and I honestly couldn't believe how yummy they were for only containing 2-4 net carbs per bar.
Then came the tummy turmoil and I later learned from one of my Hip sidekicks that the dirty ingredient maltitol was the culprit of my endless and not-so-fun trips to the bathroom. However, Aldi must've heard my discomfort from afar because their new and improved Keto Elevation Bars are still super tasty, but they don't mess with those questionable dirty keto ingredients this time around. Thank you, Aldi!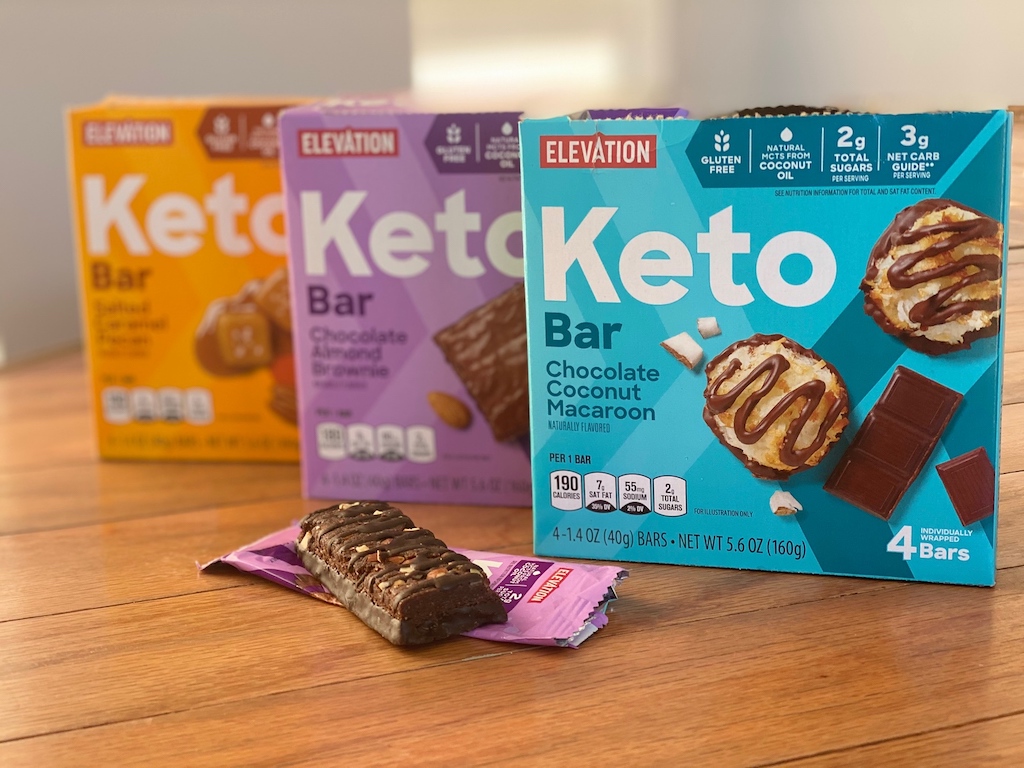 By the way, this post is not sponsored! I picked up these bars on an Aldi run and loved them so much that I wanted to share them with you!
---
Keto Elevation Bars are perfect for satisfying that stubborn sweet tooth.
Just because you're not eating sugar anymore doesn't mean you won't still crave it from time to time. When you've got a keto-friendly treat around, you won't have to worry about giving in and reaching for something full of carbs.
Just grab a Keto Elevation Bar, and in a matter of minutes your sweet tooth will be fully satisfied. I personally like these low-carb bars more as a dessert than a snack because they're on the sweeter side and have a richer flavor than other bars, but they're also great for taking on the go when you need something light to tide you over until your next meal.
---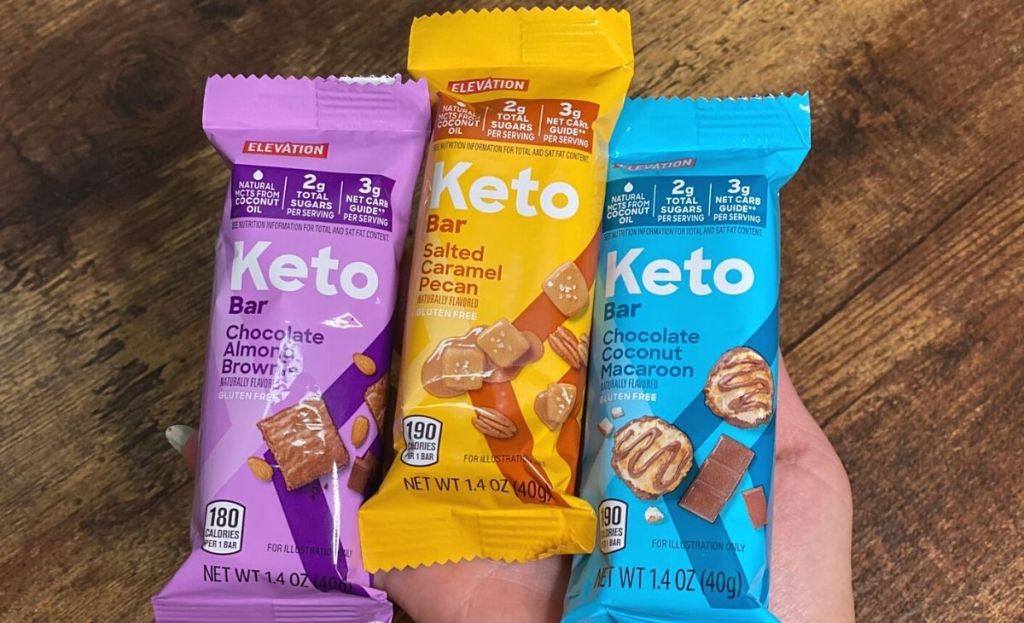 The flavor combinations are something to get excited about.
I'm a coconut fanatic so I couldn't wait to open up my box of Chocolate Coconut Macaroon Keto Elevation Bars and they were just as delicious as I had hoped, if not better. They're definitely loaded with coconut and reminded me very much of an Almond Joy. Yum! If you're a coconut fan like me, you will LOVE this flavor!
The chocolate almond brownie and salted caramel pecan flavors won't disappoint either and with the addition of the little nuts throughout the bars, the texture is perfection!
---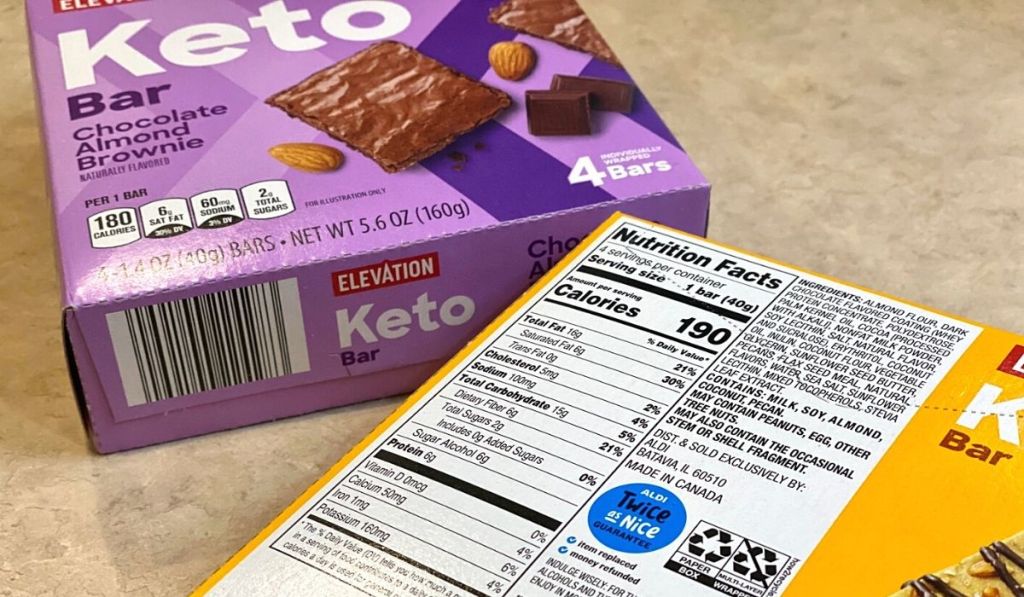 Keto Elevation Bars nutrition:
Chocolate Almond Brownie:
180 Calories | 15g Fat | 15g Total Carbs | 6g Fiber | 2g Sugar | 6g Sugar Alcohols | 6g Protein | 3g Net Carbs
---
Salted Caramel Pecan:
190 Calories | 16g Fat | 15g Total Carbs | 6g Fiber | 2g Sugar | 6g Sugar Alcohols | 6g Protein | 3g Net Carbs
---
Chocolate Coconut Macaroon:
190 Calories | 16g Fat | 15g Total Carbs | 6g Fiber | 2g Sugar | 6g Sugar Alcohols | 6g Protein | 3g Net Carbs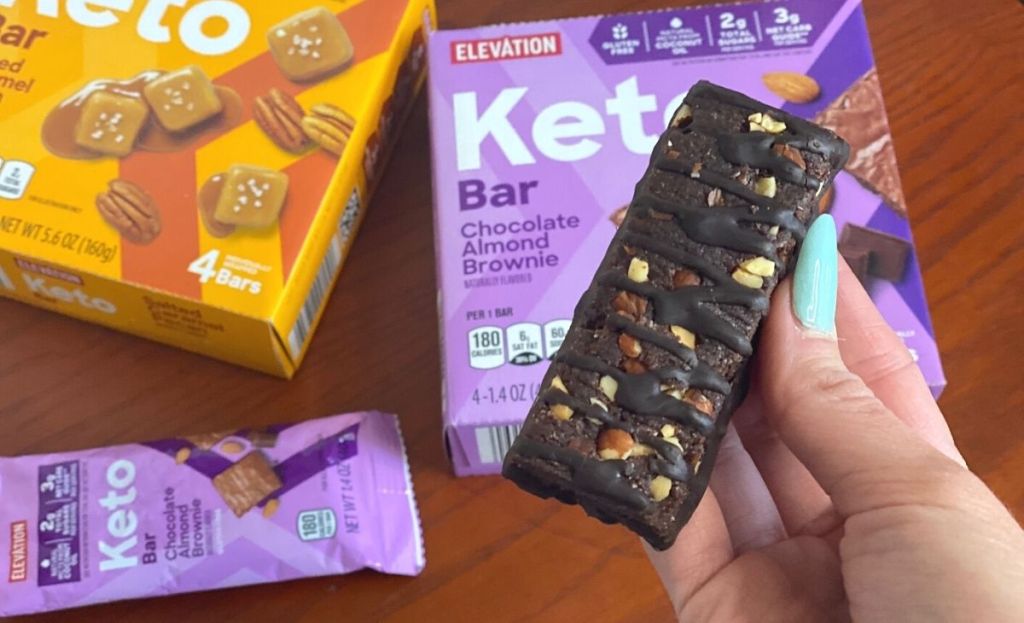 If you're low on energy, you can definitely count on these low-carb bars for a good pick-me-up as each one contains a generous 15g-16g of fat.🙌
Keep in mind, they do contain polydextrose so the ingredients aren't what we'd call "squeaky clean", but they're certainly not as dirty as the original Elevation Bars.
---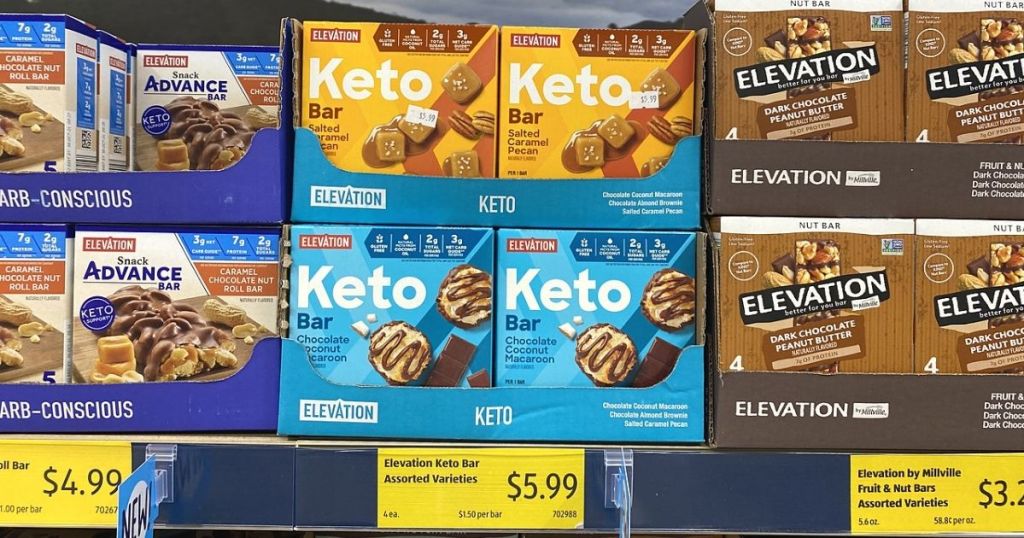 I love that Aldi's Keto Elevation Bars are so affordable!
Most low-carb snack and protein bars cost upwards of $7 and some aren't even that tasty! Luckily, you can score a box of these yummy Keto Elevation Bars for just $5.99 at your local Aldi so be sure to stock up if you spot them in-store.
And don't forget to check out our list of all the amazing keto products you can find at Aldi before you head out!
---
Want more low-carb sweet treats? You can't go wrong with Trader Joe's Keto Fudge Bites!