Get a Bag of These Delicious Keto Fudge Bites for Only $4.99 at Trader Joe's!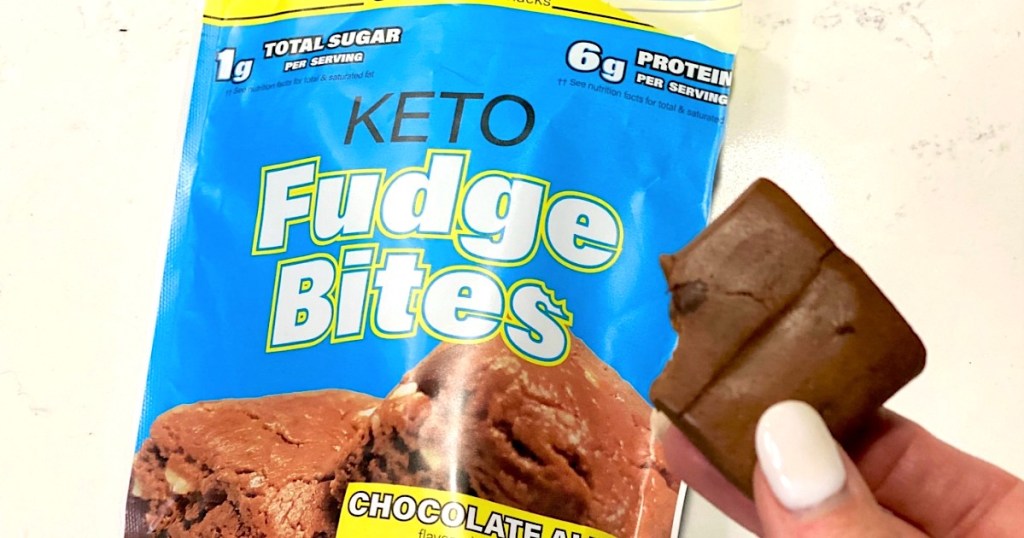 These keto fudge bites will make your chocolate cravings vanish one bite at a time! 🍫
When you're a big-time chocolate lover, it's hard to imagine your life without it (especially when you're on a keto diet), but Trader Joe's is making us carb counters feel a whole lot better about our cravings thanks to their decadent keto fudge bites.
I honestly don't know what I love more about these chocolatey keto treasures—the fact that they're so delicious and low-carb or that they're only $4.99! In any case, I'm thankful to Trader Joe's for keeping them on the shelves and once you try them, you will be too!
---
Here's why you should get your hands on these keto fudge bites next time you're at Trader Joe's: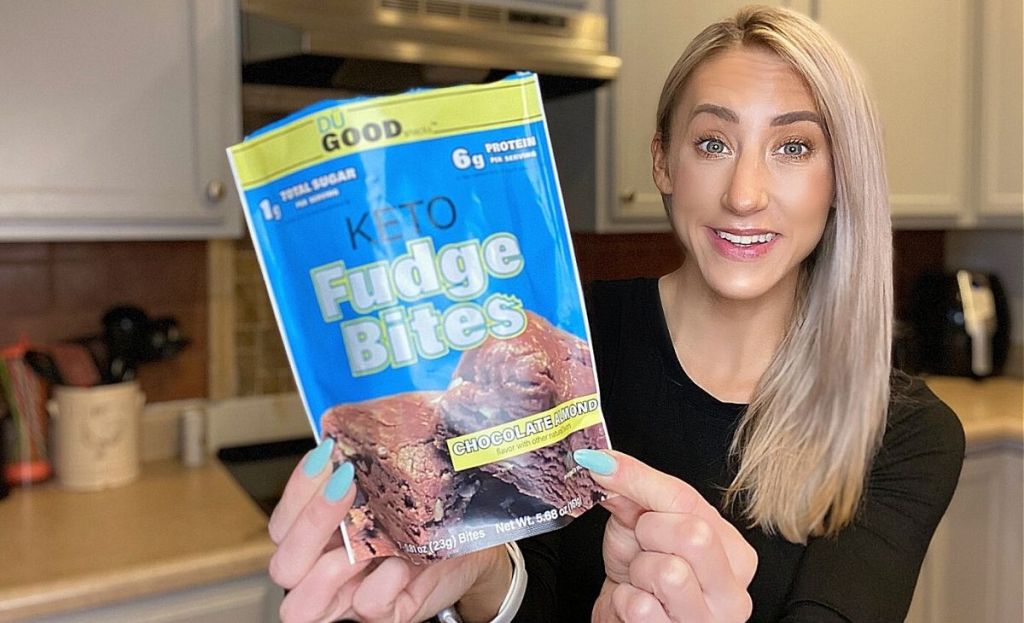 They're the next best thing to real fudge.
Man, I love fudge. 😍 I grew up with my mom making it from scratch, but nowadays, since I'm much more aware of just how much sugar is in EVERYTHING sweet and tasty, I try to stay away from the carb-loaded stuff and replace it with something keto-friendly.
When I spotted these keto fudge bites at Trader Joe's, I was almost jumping for joy in the middle of the store, but they weren't a total home run until they passed the taste-test because as you likely know, not all keto snacks and desserts hit the mark on flavor and texture.
After bringing them home and taking the first bite, I was doing the happy dance in my kitchen because I had finally found the rich, chocolate dessert my taste buds had been longing for!
Quick note – I'm not being paid to say any of this! I came across these yummy bites at my local TJ's and needed to sing their praises to you all so you can scoop them up yourselves next time you're in Trader Joe's!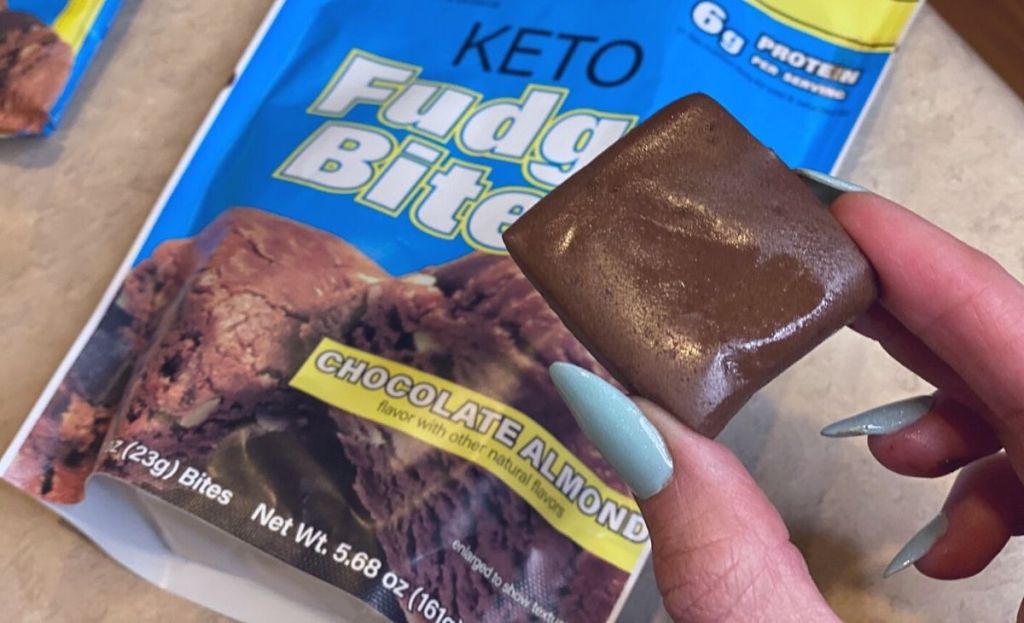 The texture is perfectly soft and chewy and I'm in love with the addition of the almonds that add even more depth to the texture. They're sweet, but not too sweet, and one chocolate square is the ideal size to conquer your sweet tooth. Honestly, I wouldn't change one thing about these keto fudge bites!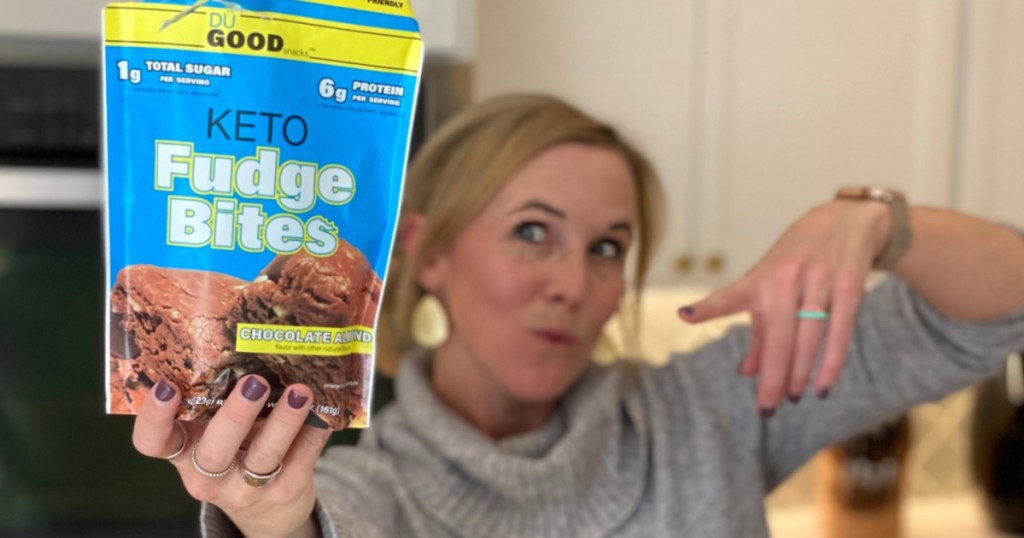 Collin's a fan of these keto fudge bites too!
"Sometimes you just need some rich chocolate. Am I right?! I am such a fan of Trader Joe's keto fudge bites. First, because they are affordable unlike the majority of keto snacks out there, second because they are GOOD! I love having these on hand for those moments when I want all of the sweet things. 😆"
---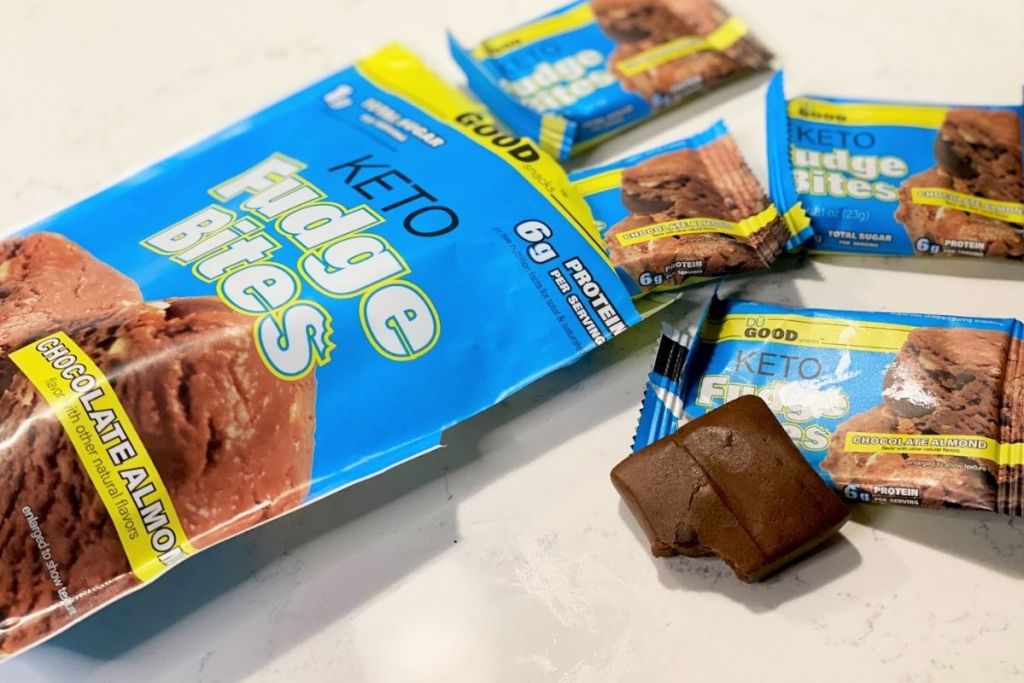 With just 2 net carbs per keto fudge bite, they're a dessert no-brainer.
I like my keto desserts to be super low-carb because if I like them a lot, I'm probably going to eat more. I often get disappointed when I see a "keto" or "low-carb" label and then check the nutrition only to discover that there are 5-10 net carbs per minuscule serving. 👎
Du Good Keto Fudge Bites come in individually-wrapped packages so you can easily control how much you eat and each bite is really like 2-4 bites of dense, chocolatey goodness. Even if you eat two, there's still nothing to feel guilty about!
When you're not up for making dessert from scratch, these are sure to hit the spot and they're also a great midday snack when you need a boost, as each square contains 7g of fat and 6g of protein. Treats like these make living the keto lifestyle so much more delicious!
Even my kids love them, and since they're so affordable, I don't feel bad about sharing them with the rest of the fam or keeping them in my "mom-only keto corner" of the pantry. 🙌
---
You won't find any sketchy ingredients on the label.
I'm not gonna lie, I like a dirty keto dessert every now and then, but what comes afterward isn't always fun. Digestive disturbances, bloating, and tummy aches are usually the repercussion within a couple of hours and I often find myself asking, was that even worth it?
Fortunately for my tummy, that is not at all the case with these creamy, dreamy keto fudge bites because the ingredients are pure and simple, hence the Du Good name!
Keto Fudge Bites nutrition:
Serving: 1 bite | 100 Calories | 7g Fat | 8g Total Carbs | 6g Fiber | 1g Sugar | 0g Sugar Alcohols | 6g Protein | 2g Net Carbs
Ingredients: Almonds, Inulin (from Chicory Root), Whey Protein Concentrate from Grass-Fed Cows, Unsweetened Chocolate Chips, Organic Cocoa, Medium-Chain Triglyceride (MCT) Oil from Coconut, Sunflower Lecithin, Natural Flavors, Sea Salt, Stevia Leaf Extract
I love that there's MCT oil in the mix, giving me even more energy and fat-burning fuel. These are also a great post-workout snack that'll help protect from muscle damage and promote recovery. 💪
---
Where can you score a bag of these oh-so-yummy keto fudge bites?
It's safe to say that these bite-sized desserts are still a bit of a hidden gem. We've spotted them on Amazon, but for a whopping $15-$22 per bag, which is about three times what you'll pay for them at Trader Joe's so don't pass them up on your next grocery run!
---
Check out this list of over 80 keto foods you can find at Trader Joe's!