How to Order the Viral Starbucks Peaches & Cream Keto Drink!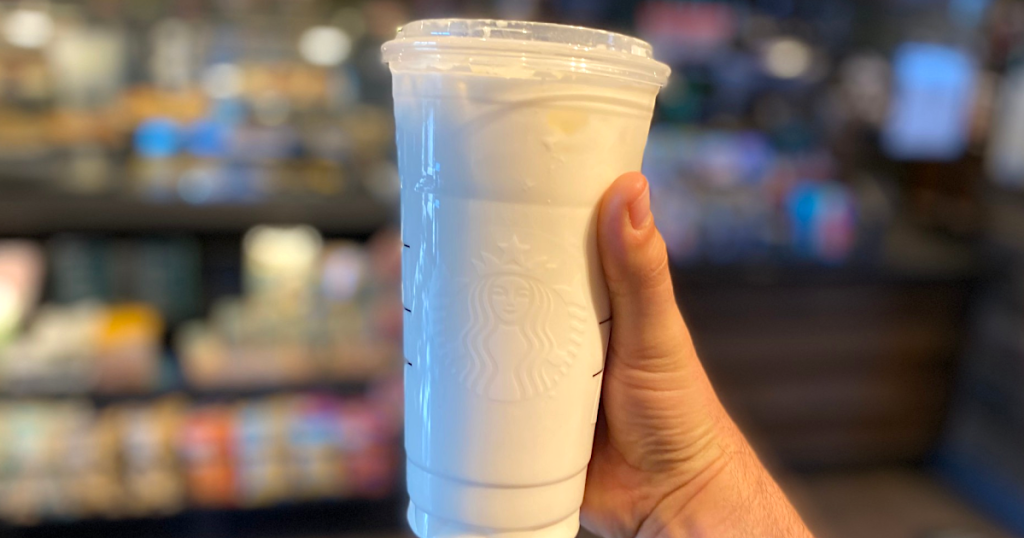 Keto is just peachy, my friend! 🍑
Love Starbucks? If you didn't already know, you can grab some tasty treats at Starbucks, all while sticking to your healthy keto lifestyle. In fact, if you're a fan of peach, we've got an irresistible drink you're going to want to try at your next visit!
Thanks to this yummy viral Starbucks menu hack, you don't have to wait for peach season to indulge in something so delicious!
Its main component is Unsweetened Peach Tranquility Tea which packs a peachy punch with light citrus and floral undertones to give you a refreshing summertime vibe… I mean, who wouldn't want something that sounds that refreshing?!
Even better, this creamy drink is totally keto-friendly!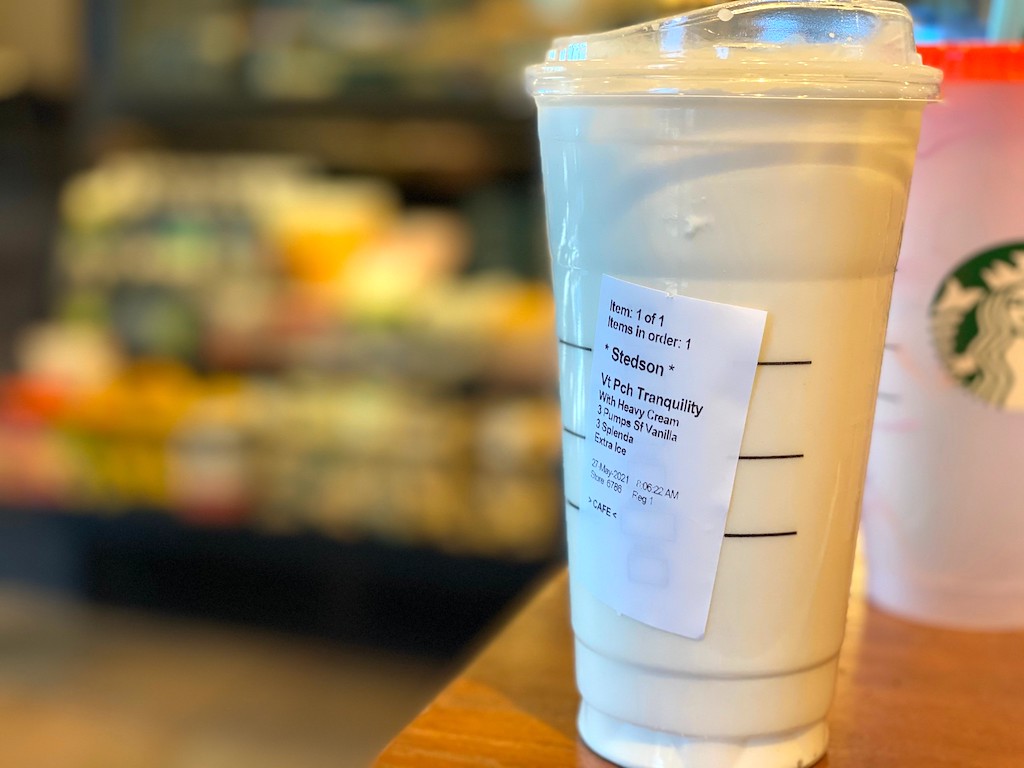 So what else is in the Starbucks Peaches & Cream drink?
Unsweetened Peach Tranquility tea (caffeine-free)
Extra Ice (Peach Tranquility is a hot tea as it's brewed from a tea bag, so extra ice is a must!)
Heavy Cream
Sugar-free Vanilla Syrup
Splenda (if desired)
*Just keep in mind some may consider this dirty keto.
---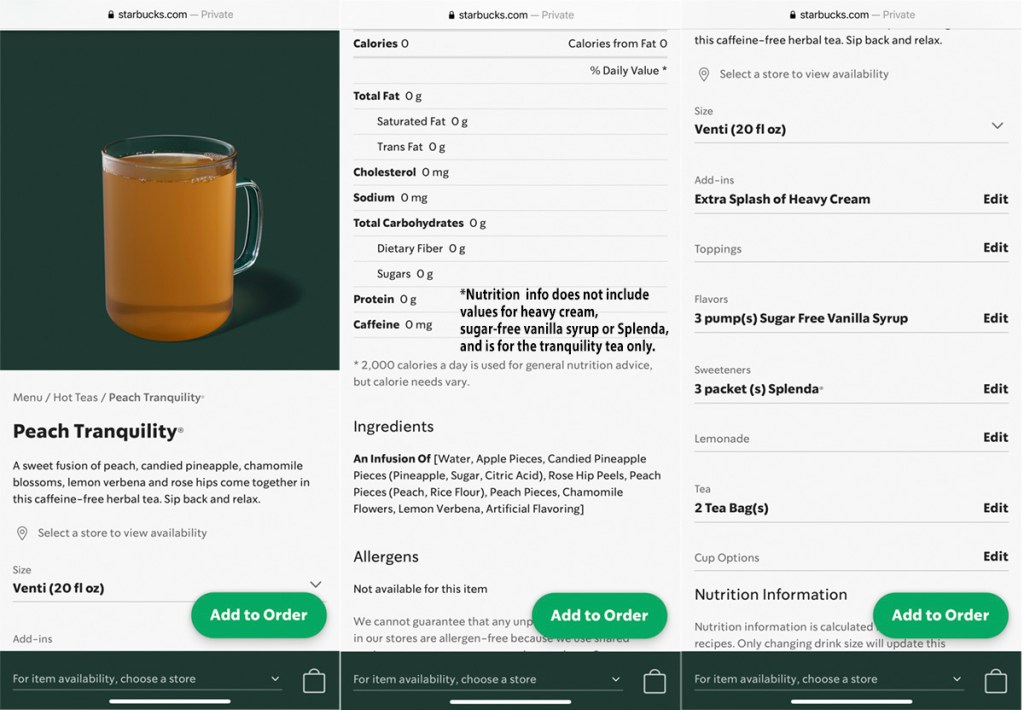 Here's how to order the Keto Peaches & Cream Drink the next time you head to Starbucks:
"Hi there! Can I please have a Venti Unsweetened Peach Tranquility Tea brewed strong with a splash or two of heavy cream, 3 pumps of sugar-free vanilla syrup, 3 Splenda served over ice (extra)? Thanks!"
*Please note – this drink will take them about 5 minutes to make as the tea bags will be brewed strong with hot water, then added to the ingredients and ice. This tea typically comes with two teabags, so if you prefer a stronger flavor ask for 3-4 teabags brewed strong.
When ordering different sizes adjust the sugar-free vanilla syrup & Splenda accordingly:
Tall – 1 pump, 1 Splenda
Grande – 2 pumps, 2 Splenda
Venti – 3 pumps, 3 Splenda
Trenta – 4 pumps, 3-4 Splenda
*You cannot order this tea served with ice on the Starbucks mobile app, however, we recommend ordering the drink hot in a grande size, and then asking for a Venti cup with ice when you pick up your order. Then you can pour the hot tea over the ice to enjoy cold.
---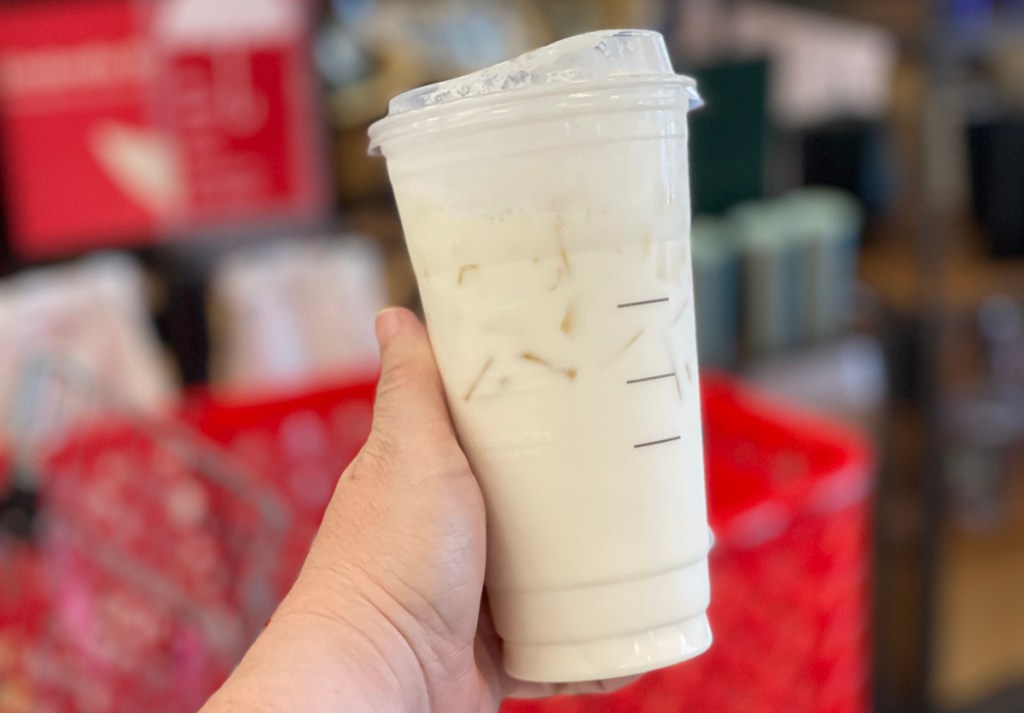 It truly is a refreshing low-carb drink and I kind of wish that I didn't know about it because I'm going to want this all of the time! My Venti size Starbucks peaches and cream keto drink came to $4, but prices may vary in your area.
WARNING!
Please keep in mind that Starbucks also offers a Peach Green Tea, and even if you request for it to be unsweetened, it is still made with juice that does contain sugar, so be sure and go with the unsweetened Peach Tranquility tea instead.
---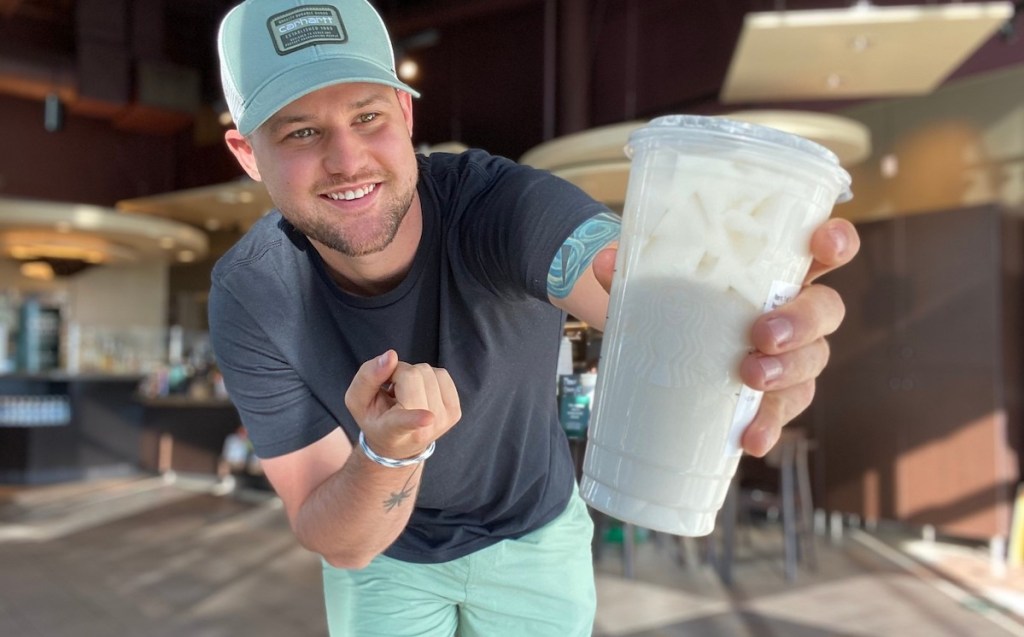 Here's what our taste tester Stetson thought of this drink:
"If you like peaches and cream anything, this will be the perfect drink for you. It's keto-friendly which is a win for anyone doing the low carb thing. It's the perfect blend of vanilla and peach. It's sweet almost like I am drinking cereal milk 🥣 and such a refreshing beverage for the warmer weather. It does take a bit of time for the tea to brew but it's definitely worth the wait."
---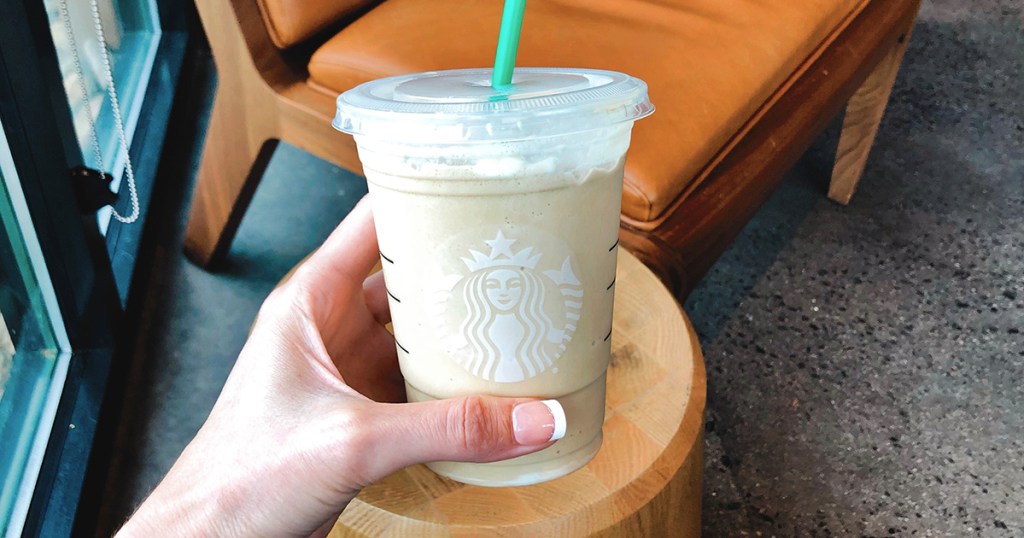 Are you a Starbucks Rewards Member?
Starbucks Rewards Members can earn 2 stars for every $1 spent using a registered gift card or the Starbucks app. You can then redeem your points at different levels for various items including drinks, merchandise, food, and more! If you're lucky enough to accumulate 400 stars, use them to score a single merchandise item for free (up to $20 value!).
Plus, you'll also score a FREE Drink or Food item on your birthday. Even better, it can be ANY drink! Grab the biggest, most decked-out drink you can think of and treat yourself on your birthday!
---
Here's a keto frappuccino you can order at Starbucks too.