Cajun Garlic Butter Steak Bites is the Ultimate One-Pan Keto Meal to Try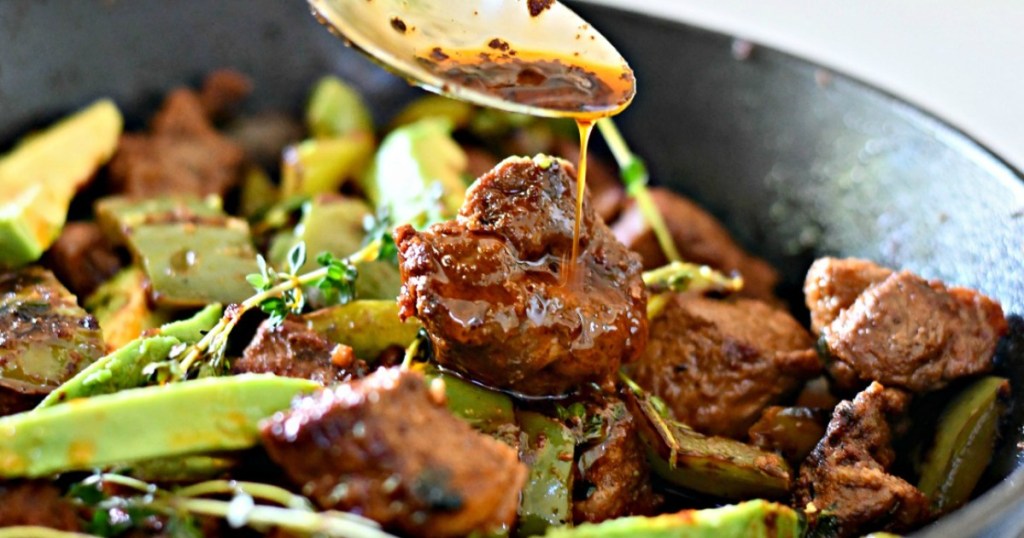 Need an easy skillet meal?
You've gotta check out this amazing cajun garlic butter steak dinner that's both delicious and easy to make for your hungry crew! It features heavily seasoned steak bites, green bell peppers, fresh herbs, and a garlic butter drizzle to finish the dish. I served it with sliced avocado for an over-the-top keto dinner experience the entire family enjoyed!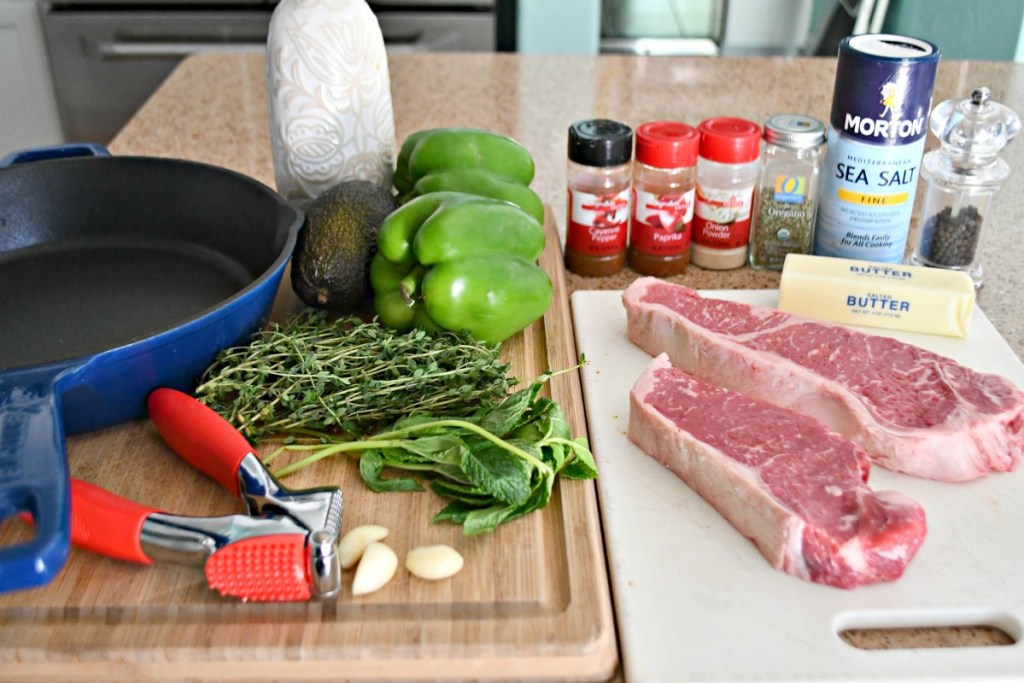 Steak and fresh bell peppers are the star players in this game.
I grabbed a couple of beef loin steaks, and they turned out yummy for this idea (I'm sure you could use ribeye or a different cut). I trimmed the fat and then cubed the steak into large, bite-sized pieces.
This recipe has lots of herbs, and it's what makes the dish so flavorful and delicious! I used fresh mint and thyme when cooking the steak and a little extra for garnish, and it's SO YUM! I'm reminded how awesome cooking with fresh herbs is, and how I want to incorporate them even more often.
And don't forget the butter! We're gonna finish the steak with a nice garlic butter drizzle. My favorite!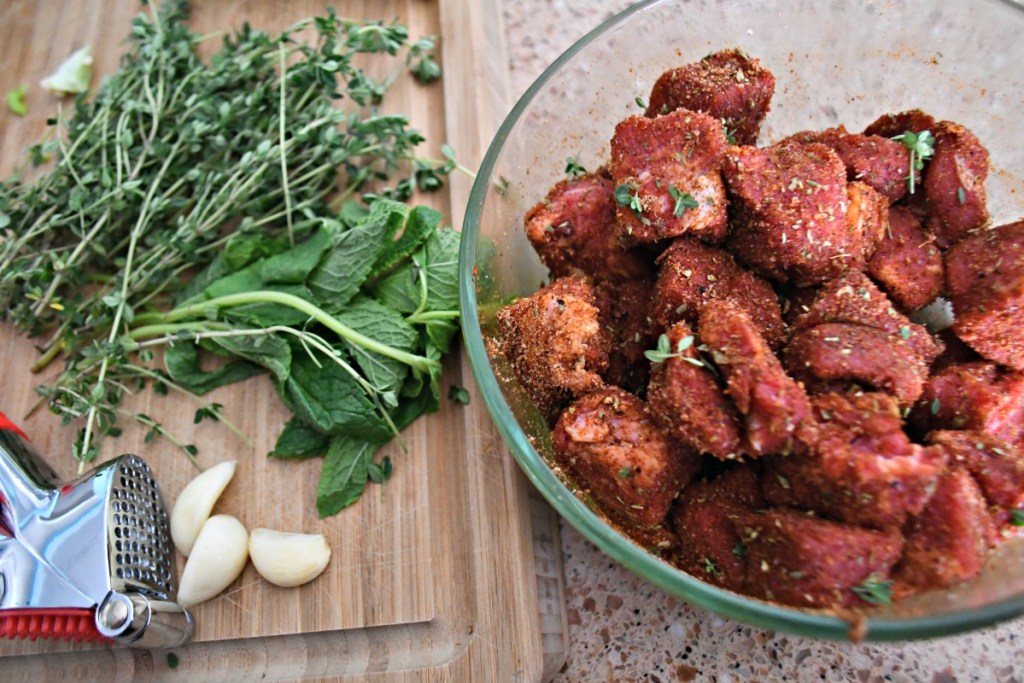 I do love an easy skillet type meal, don't you?
Check out the easy process on these Cajun Butter Bites! First, the bell peppers are sauteed until browned and soft in the skillet. Then the cubed meat will get coated in a quick homemade cajun seasoning, cooked in a piping hot skillet with olive oil, and finished with garlic butter.
You can use any large skillet that you have on hand. I loved using my large cast iron skillet like this one, because I feel like it really creates that yummy, caramelized crust on the steak.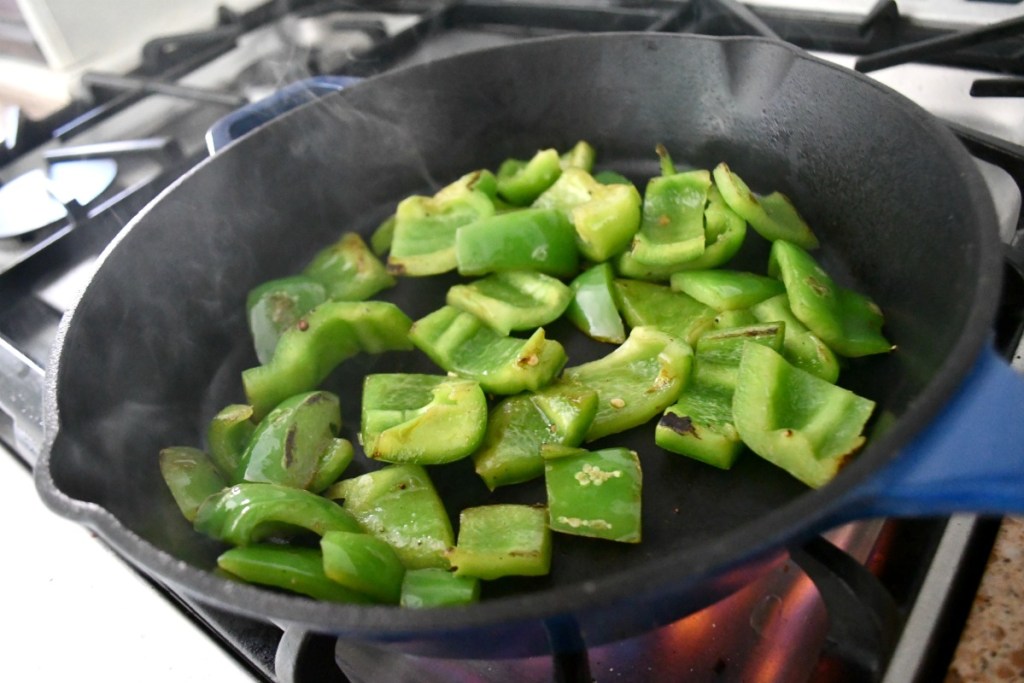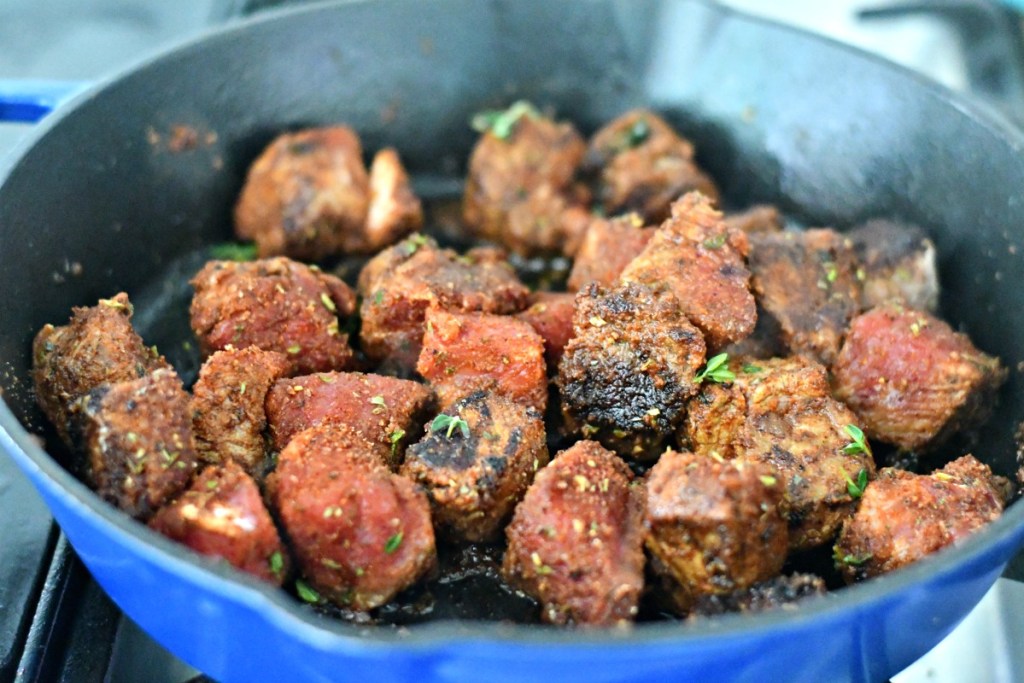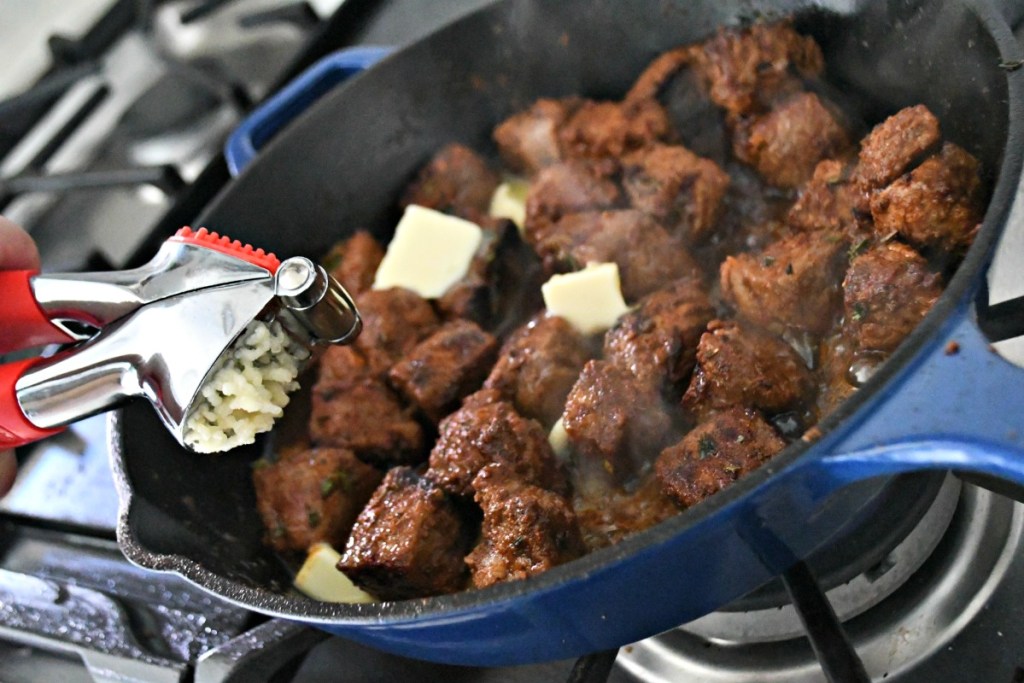 Hip Tip: If you love cooking with fresh garlic but hate chopping it, consider a garlic press! It's my new favorite kitchen tool, and this Trudeau brand garlic press that I have has teeth on the opposite end for easy cleaning!
---
Print
Keto Cajun Garlic Butter Steak Bites
yield: 6 SERVINGS
prep time: 15 MINUTES
cook time: 15 MINUTES
total time: 30 MINUTES
Tender bites of seasoned steak and peppers with a garlic butter drizzle are featured in this irresistibly easy skillet dinner!
Ingredients
For the Seasoning:
1 tablespoon paprika
1 teaspoon garlic powder
1/4 teaspoon cayenne powder (or more if you'd like spicier)
1 teaspoon chili powder
1 teaspoon dried oregano
1 teaspoon onion powder
1/2 teaspoon salt
1/4 teaspoon pepper
For the Skillet Meal:
2 green bell peppers, cut into bite-sized pieces
3 tablespoons olive oil, divided
1.5 pounds steak, cut into cubes
4 sprigs of fresh thyme leaves
4 mint leaves, finely chopped
4 tablespoons butter
3 cloves of fresh garlic
1 avocado, sliced
more fresh thyme and mint for garnish, if desired
Directions
1
Heat one tablespoon of olive oil to medium heat in a large skillet. Cook bell peppers for 3-5 minutes, until slightly tender and browned. Season with a pinch of salt and pepper. Remove from skillet and set aside.
2
Combine the Cajun seasonings together in a bowl and add in the cubed meat. Toss to coat the outside of each piece. Chop the fresh herbs, and mix those in with the meat.
3
Add two tablespoons of olive oil to skillet and heat at a medium heat. Add the seasoned steak to the hot skillet and let sear for about 2 minutes on each side, until the steak is cooked and the edges are caramelized.
4
Reduce heat and add butter and minced garlic. Let saute for a minute until fragrant. Throw the peppers back into the skillet and toss all to coat with butter sauce.
5
Serve with sliced avocado and additional chopped fresh herbs to taste. Enjoy!
Nutrition Information
Yield: 6 servings,
Amount Per Serving: 469 Calories | 34g Fat | 7g Total Carbs | 3g Fiber | 32g Protein | 3g Net Carbs
---
OMG – get ready to be in love with these steak bites!
My family doesn't usually give much feedback unless a meal is a total fail (or outstanding), and this idea is such a winner, we ate every last bite! The Cajun taste and buttery texture are just so YUM! I love fresh thyme, and this reminds me I should use it more often. All the little crispy bits on the bottom of pan taste so AMAZING!
I think anyone (keto or not) who loves steak would enjoy this idea. My kids wanted fragrant jasmine rice (they're high-carb), but you could serve it with cauliflower rice if desired. Yum!
---