Fight Against "Brain Kryptonite" in Part 1 of Head Strong by Dave Asprey
More energy, a sharper brain, a happier you.
My favorite kind of book is one that elevates my life. Fortunately, Head Strong is already doing that within the first 4 chapters! If you like a no-b.s. book that doesn't sugar-coat the truth (p.s. you won't be eating anything sugar-coated on the Head Strong program), then you'll love this read.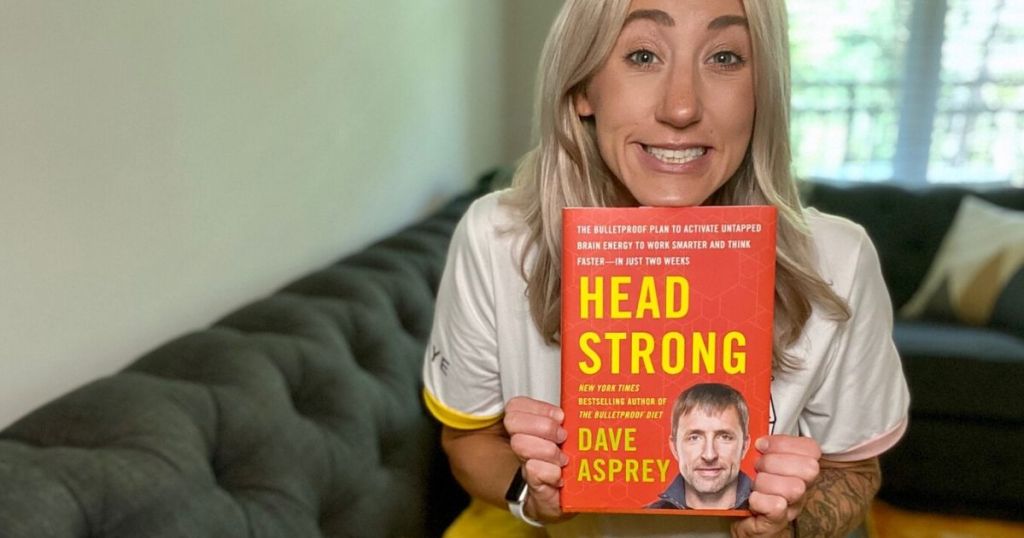 When I heard that Dave Asprey's Head Strong would be the star of our May book club, I was immediately eager and excited to start reading. I've listened to Dave on numerous podcasts and have learned so much cool stuff about the human brain and body and how they are affected by, well, pretty much everything around us.
This book isn't juicy like a thriller or mystery book though. It's juicy in the kind of way that makes you go, "Wow, I had no idea!" and, "holy cow, that's why I've been feeling this way!"

If you didn't get a chance to read chapters 1-4 of Head Strong yet, here's what you need to know:
Spoilers ahead! 🚨
Week 1
Part 1: It's All In Your Head – Chapters 1, 2, 3, 4
Part 1 of Head Strong introduces us to "brain kryptonite," a.k.a. anything that steals necessary energy from our brain and delivers it to another part of the body. The crippling result shows up in numerous ways, which Dave Asprey refers to as The Five Brain Weaknesses.
If you can relate to any of the following scenarios, you're suffering from at least one of those weaknesses…
Losing your train of thought frequently
Major sugar cravings after a meal
Fatigue in loud and overwhelming environments
Poor sleep quality
Mood swings
Depression
---
The good news is that the Head Strong program promises to cure all of these awful things! As you continue reading, you learn about the "Mighty Mitochondria" and the science behind what's really going on with our body and our brain.
It might feel like a flashback to biology class for a few pages, but keep reading because it gets better and better!
---
Here are our key takeaways from Head Strong, Part 1 that you'll want to remember: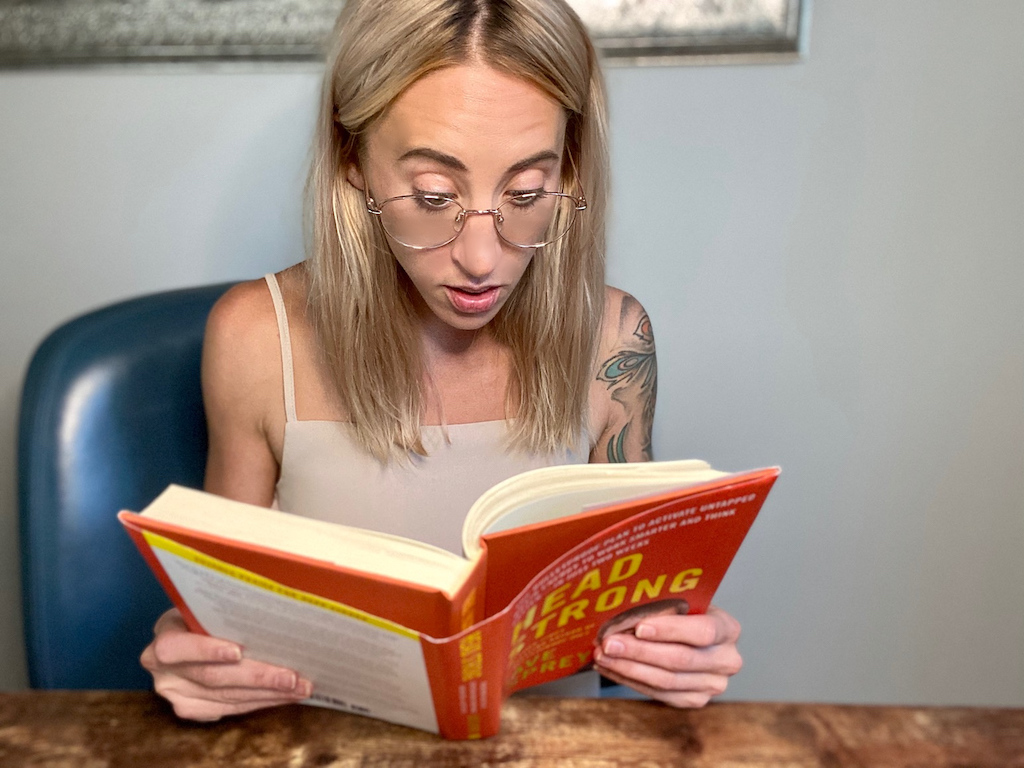 "Certain foods, products in our environment, types of light, and even forms of exercise can weaken your brain. This brain kryptonite doesn't kill you—at least not at first—it just slowly and stealthily eat away at your battery life."
---
"The first symptom that your mitochondria are overtaxed is fatigue. It causes cravings, moodiness, brain fog, forgetfulness, and lack of focus."
---
"The energy drain we deal with on a daily basis is a classic case of death by a thousand cuts. We live in an increasingly toxic world, and most of us eat toxic food."
---
"There is a way to change the amount of energy being delivered to your brain so that its energy level actually exceeds its demands. Once you learn how to do this, your brain can function like that brand-new phone fresh out of the package—fast, responsive, and highly charged."
---
"Forgetfulness, cravings, low energy, moodiness, and inability to focus are all symptoms of low brain energy."
---
"If you eat too much sugar, your mitochondria will no longer easily produce energy from fat—they'll start producing all of your energy from glucose. This means that instead of your brain using fat as its fuel, the fat gets stored in your fat cells and you'll start to gain weight."
---
"Perhaps the most important factor in determining your rate of neurogenesis is your diet. Certain foods decrease your rate of neurogenesis while others enhance it."
---
"Your neurons require massive amounts of energy to function and they die when they don't get it."
---
"Eat more good fat, particularly healthy saturated fat from grass-fed butter and meat."
---
"Your brain is actually the first part of the body to suffer when you are chronically inflamed."
---
"When you dial down the swelling in your body or in your brain, the fog suddenly clears. You think more clearly, focus when you want to, and remember things with ease."
---
"The same foods that cause your body to become inflamed are also making your brain foggy and inflamed."
---
"By offering exposure to the right kinds of light, feeding the good bacteria in your gut, balancing your hormones, and of course improving your mitochondrial function and efficiency, the Head Strong program will help you dial down the inflammation that is quietly raging throughout your entire body—and especially in your brain."
---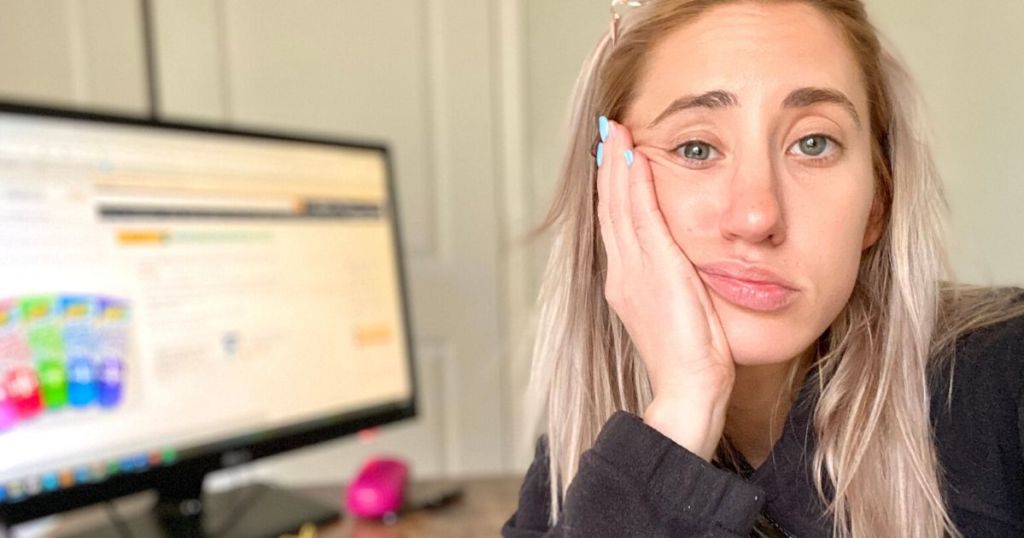 I'm reading this book because I suffer from fatigue, poor sleep quality, and environmental toxins. If you can relate to any of the common issues discussed in these chapters, know that they are not "normal" and you don't have to live with them forever! Through the Head Strong program, you'll develop a sharper brain and lead a happier, healthier life. 🙌
---
Ready to dive into part 2 of Head Strong?!
Week 2
Part 2: You Are In Control Of Your Head – Chapters: 5, 6, 7
Brain fuel, saturated fats, and detox, OH MY! You won't want to miss these juicy chapters.
---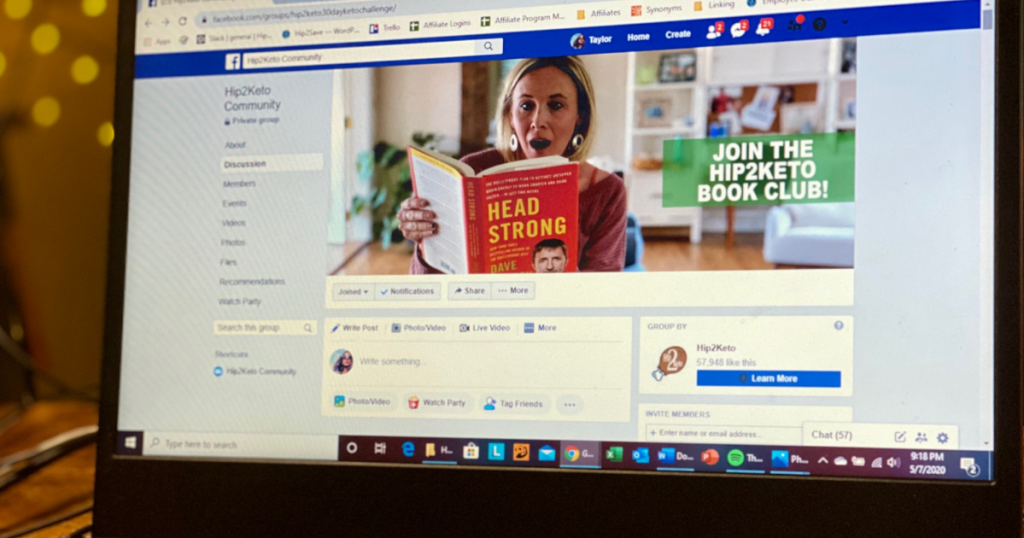 If you're behind on your reading, it's not too late to catch up! Our week 2 reading assignment is less than 80 pages and full of pretty riveting information!
Tell us what you thought about these first few chapters in the comment section of this post or in our exclusive Hip2Keto Facebook Group. Let us know your biggest takeaways from each week's chapters and chat with other Hip2Keto readers to compare notes.
---
Need a copy of the Head Strong book?
Grab the hardcover book, kindle version, or audible version of the book to read along with us!