The Whole Grain Truth | Grain Brain Book Review Part 1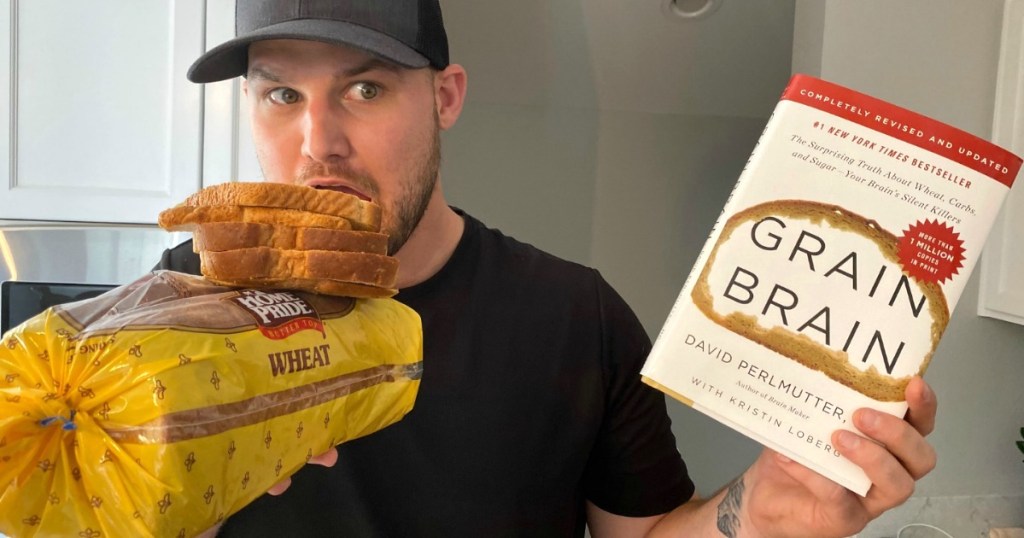 Gluten, carbs, and sugars, oh my!
If you struggle to ditch gluten, carbs, and sugars from your lifestyle, then Grain Brain is going to be your powerhouse of information with a plethora of reasons why anyone should be ditching them from their daily diet.
Not only is Grain Brain packed full of facts and years of studies but it sheds new light on the high carb & sugar-rich diets that the majority of Americans are accustomed to today. Without a doubt, this book will transform your life for the better and awaken your eyes to foods you never gave a second thought.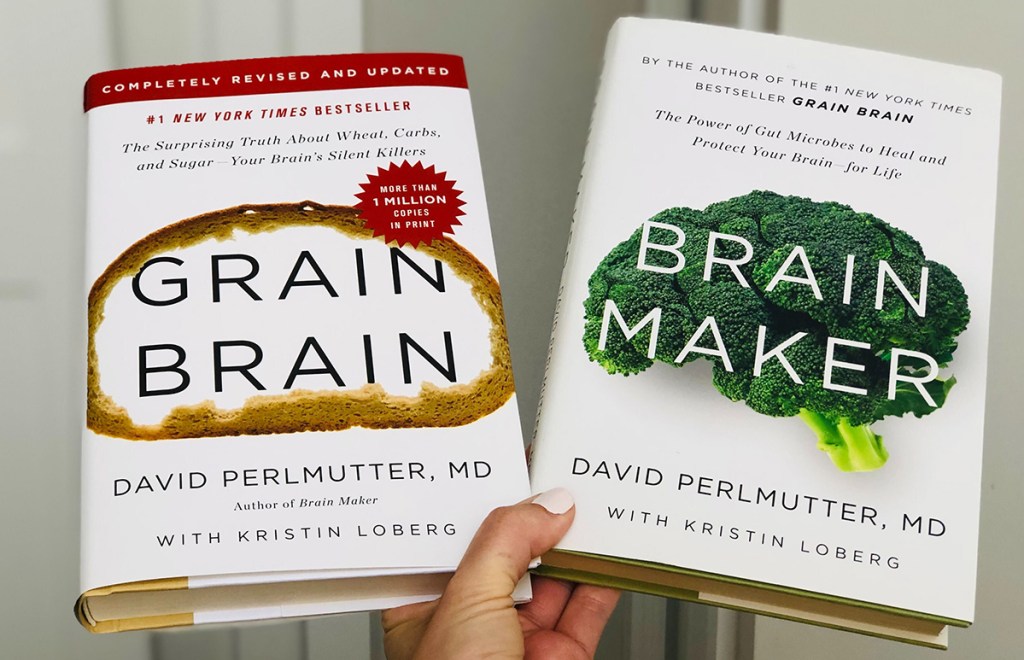 I recently received another one of Dr. David Perlmutter's books (Brain Maker) as a gift, so when I learned our Hip2Keto book of the month for July was going to be Grain Brain (also written by Dr. David Perlmutter), I was totally on board. 🙌
Fun fact: I'm actually not currently on a keto diet, but I needed this book in my life.
Ever since I had my second son about 8 years ago, I've been on a journey to eating gluten-free (a huge focal point of Grain Brain). I initially stopped eating gluten because I was breastfeeding and my newborn's belly wasn't tolerating the foods I was eating – come to find out it was gluten sensitivity.
Fast forward to about a year ago and I've slowly become super lazy with my eating. I know I feel best being gluten-free and this book was just the push and education I needed to get back on track. Turns out, after just a few pages into Grain Brain I learned everyone actually has a sensitivity to gluten, and the damage it does to your body and brain will blow your mind the further you get into this book.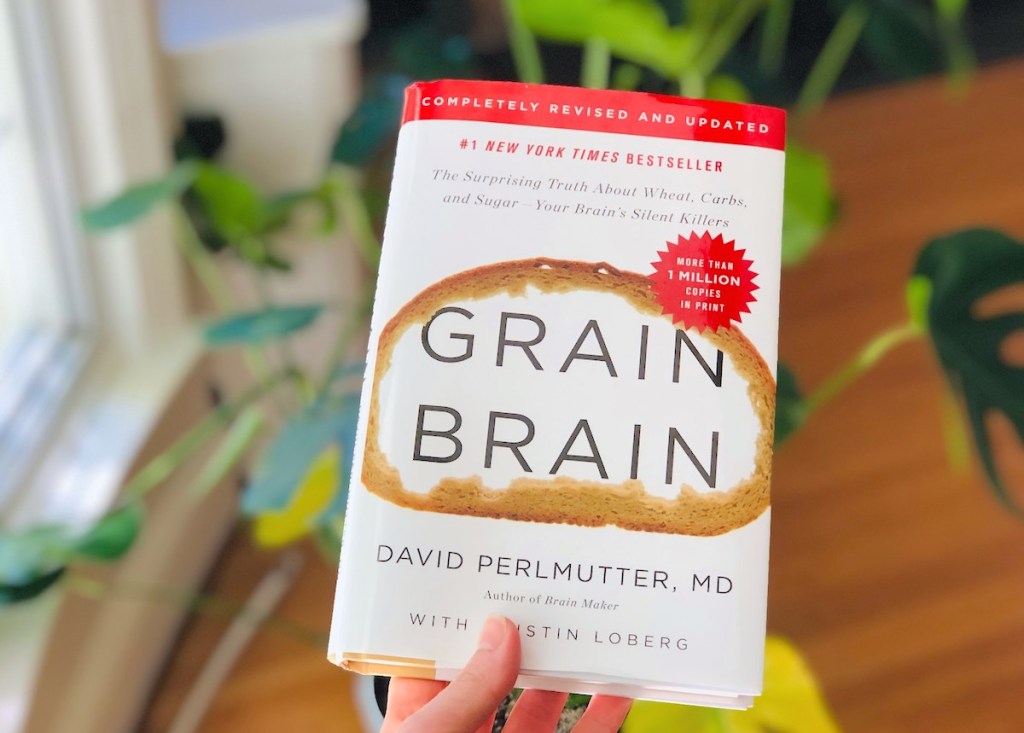 If you didn't get a chance to read chapters 1-3 of Grain Brain yet, here's what you need to know:
Spoilers ahead! 🚨
Week 1
Part 1: The Whole Grain Truth – Intro, Self Assessment, & Chapters 1, 2, & 3 (pages 1-120)
Part 1 of Grain Brain draws a clear and undeniable line in the sand on the connection between your brain and the inflammation and havoc that carbs, grains, and sugars wreak on your body – mainly touching on its relation to brain diseases like dementia and Alzheimer's (and if you're eating any foods containing gluten, carbs, or sugars – you're already putting yourself at risk – regardless of age).
As you will also learn, researchers have known for a long time that the cornerstone of all degenerative conditions, is inflammation and our country is experiencing it at a rapid pace.
Gluten = inflammation.
Sugar = inflammation.
Carbs=sugar in the body, which = inflammation.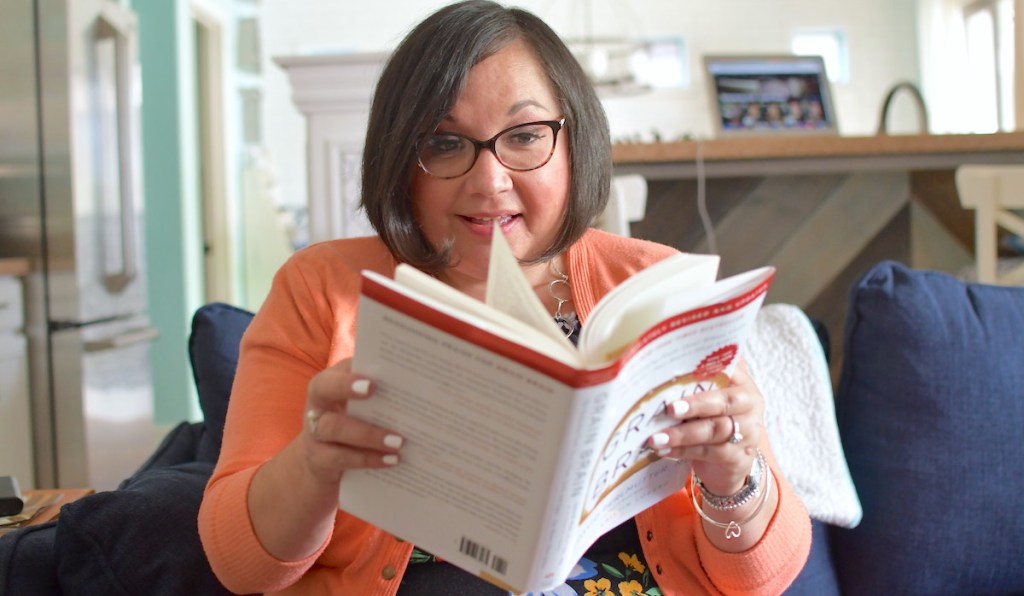 Between the intro and chapters 1-3 we learned all about gluten, sugars (healthy vs. what's not healthy), and good vs. bad carbs. Dr. Perlmutter dissects many undeniable facts and shares countless outcomes of years devoted to studies by him and other researchers around the world on our bodies' connections to food, how it processes it, and we learn that many of the foods we know and love today in our country are only harming us.
Inflammation is a body's natural reaction, however, it's designed to be temporary, not a daily and permanent occurrence in the body so when we're constantly fueling our body with foods that it's not designed to tolerate, then it introduces many avenues for poor function, numerous illnesses, and eventually can cause diseases leading to death.
If you experience any of the following, they could be a result of what you're eating…
ADHD
Alcoholism
ALS
Anxiety
Ataxia (loss of balance)
Autism
Autoimmune Disorders (Diabetes, Hashimoto's thyroiditis, rheumatoid arthritis, etc.)
Bone Pain, Osteopenia, osteoporosis
Brain fog
Cancer
Chest Pain
Constantly getting sick
Dairy intolerance
Delayed growth
Depression
Digestive disturbances (gas, bloating, diarrhea, constipation, cramping, etc.)
Heart Disease
Hives or rashes
Infertility
Irritable bowel syndrome
Malabsorption of food
Migraines
Miscarriages
Nausea or vomiting
Neurological disorders (dementia, Alzheimer's disease, schizophrenia, etc.)
Parkinson's disease
Seizures or epilepsy
Sugar cravings
Need I say more?! 🤯🤯🤯🤯 The good news is that this book can save you from essentially all of the above – everyone needs to read this book ASAP!
---
Here are our key takeaways from Grain Brain, Part 1 that you'll want to remember: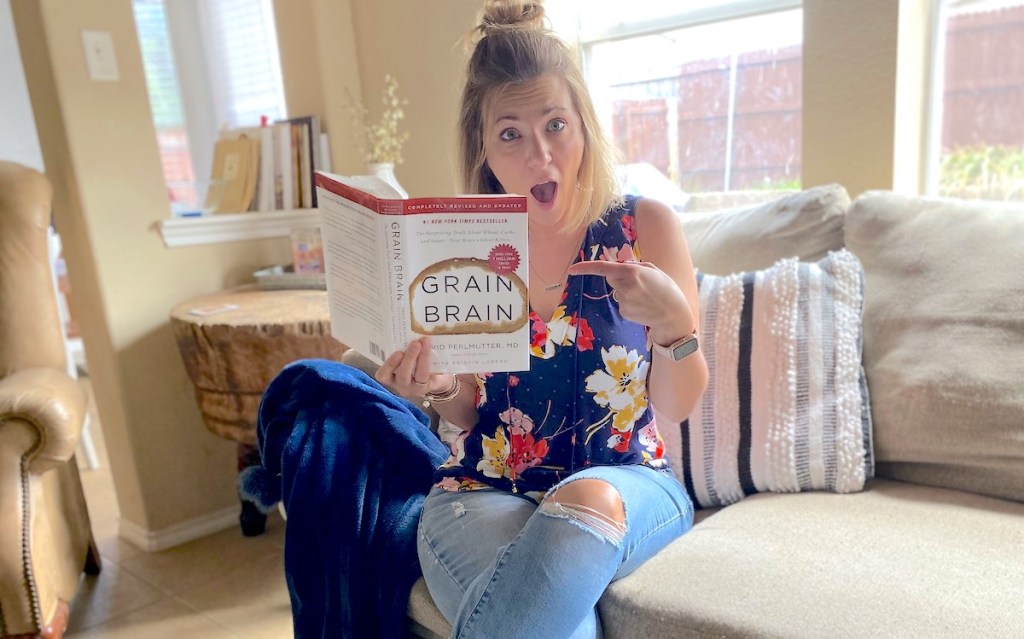 "The ever-changing iterations of health-care plan designed to treat illnesses presents a poignant irony, as it has little to do with health and everything to do with sickness."
---
"This year, the global cost of dementia care has topped $1 trillion, and incredibly, this figure is predicted to double by the year 2030 [which exceeds the market value of companies like Apple and Google]."
---
"Diabetes and brain disease are this country's costliest and most pernicious diseases, yet they are largely preventable and are uniquely tied together. Having diabetes doubles your risk for Alzheimer's disease."
---
"Type 2 diabetes, which accounts for 90 to 95 percent of all diabetes cases in the United States…"
---
"Gluten is what I call a 'silent germ'. It can inflict lasting damage without you knowing it."
---
"Beyond calories, fat, protein, and micronutrients, we now understand that food is a powerful epigenetic modulator – meaning it can change our DNA's behavior for better or worse."
---
"By the end of this part, you'll have a new appreciation for dietary fat and an educated apprehension when it comes to most carbohydrates."
---
"Indeed, we may be living longer than our ancient relatives, but we could be living much better."
---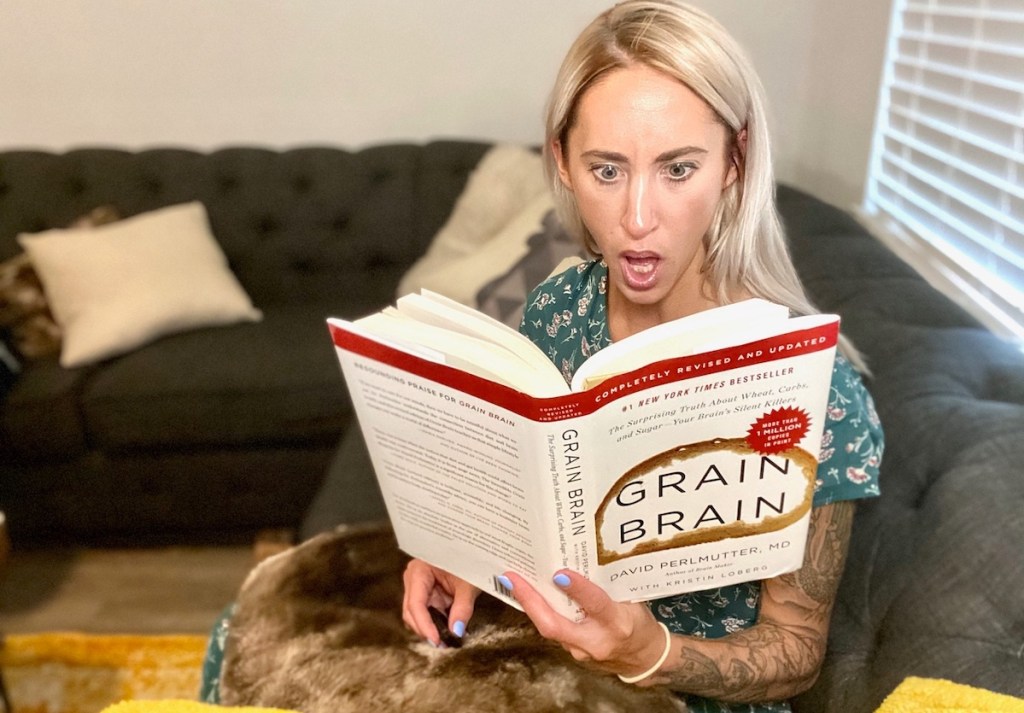 "The studies describing Alzheimer's as a third type of diabetes begin to emerge in 2005, but the link between poor diet – notably a high-carb one – and Alzheimer's has only more recently been brought into sharper focus with newer research showing how this can happen."
---
"People with high blood sugar – whether or not they have diabetes – have a higher rate of cognitive decline than those with normal blood sugar."
---
"As soon as you shift your body's metabolism from relying on carbs to relying on fat and protein, you'll find a lot of desirable goals easier to achieve, such as losing weight effortlessly and permanently, gaining more energy throughout the day, sleeping better, being more creative, and productive, having a sharper memory and faster brain, and enjoying a better sex life."
---
"[Gluten] is one of the most common food additives on the planet and is used not only in processed foods, but also in personal care products…It's in our seasonings, condiments, and cocktails, and even in cosmetics, hand cream, and ice cream. It's disguised in soups, sweeteners, and soy products. It's tucked into our nutritional supplements and brand-name pharmaceuticals."
---
"We haven't been eating the same kind of gluten since our ancestors first figured out how to farm and mill wheat."
---
"It is not enough to just manage blood sugar through drugs and stay overweight or obese. You can lower your A1C, balance your blood sugar, and eradicate diabetes entirely through dietary change."
---
"Cholesterol is at most a minor player in coronary heart disease and represents an extremely poor predictor of heart attack risk."
---
"So again we are giving statin medications to lower cholesterol, which lowers testosterone…and lower testosterone increases the risk of dying. Is this crazy or what?"
---
Not sold yet? I will leave you with this, friends…
And if the answer shocks you, I challenge you to read Grain Brain along with us:
If you had four of these common foods sitting in front of you, which would produce the greatest surge in blood sugar?
A slice of whole-wheat bread
Snickers bar
Tablespoon of pure white sugar
A banana
"Nine times out of ten, people pick the wrong food." – Dr. David Perlmutter
---
Ready to dive into part 2 of Grain Brain?!
Week 2
Part 1 continued: The Whole Grain Truth – Chapters: 4, 5, 6
Your brain on sugar, how to change your genetic destiny, and how gluten robs your and your children's peace of mind. You won't want to miss these incredibly educating chapters!
---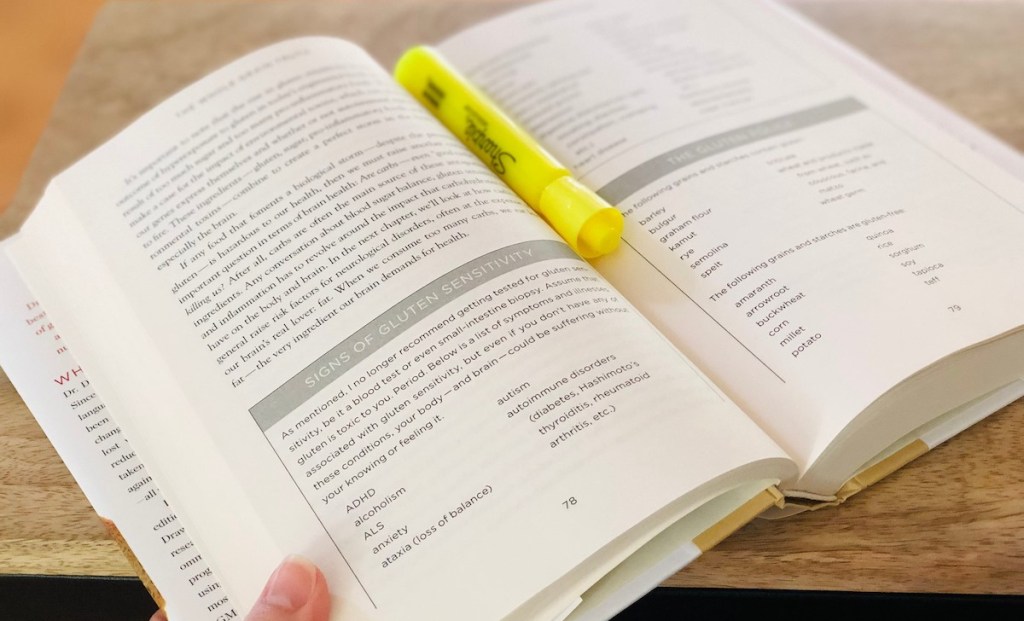 If you're behind on your reading, it's not too late to catch up! Our week 2 reading assignment is only about 40 pages over the next 3 chapters, yet it's still packed full of pretty riveting information!
Tell us what you thought about these first few chapters in the comment section of this post or in our exclusive Hip2Keto Facebook Group. Let us know your biggest takeaways from each week's chapters and chat with other Hip2Keto readers to compare notes.
---
Need a copy of the Grain Brain book?
Grab the Grain Brain hardcover, Kindle version, or audible version of the book to read along with us!