Bye, Lettuce. Build the Ultimate Keto Burger w/ This Cabbage Wrap Hack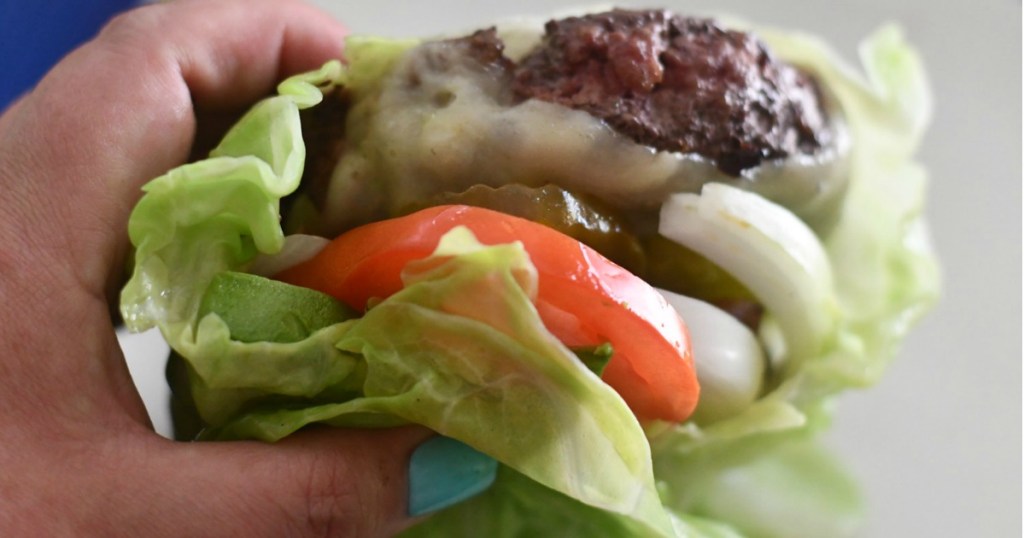 Sometimes a person just needs to bite into a big juicy BURGER, am I right?!
There's something so satisfying about creating an incredible cheeseburger on keto without feeling deprived. For me, a great big juicy burger is the way to go as it's simple, quick to make, and is delicious and filling!
The next time you're super hungry, try this simple cabbage wrap hack for an outstanding burger experience!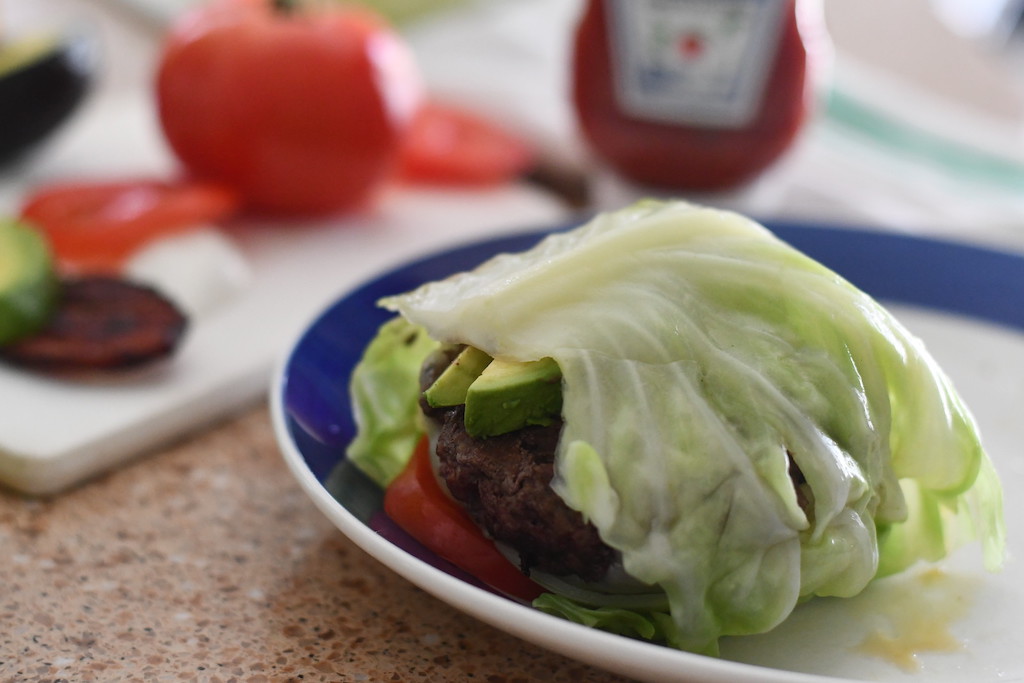 Create a yummy burger wrap using cabbage instead of lettuce!
Unlike lettuce, the cabbage wraps around the burger are much easier and a more substantial way to hold a bunless burger in your hands. I really enjoyed it, and of course, I happen to like the taste of cabbage. (If you don't love cabbage, then I'd stick to lettuce.) However, I didn't notice any cabbage smell or strong flavor when boiling this one leaf.

Burger for one, please!
Sometimes I'm home alone and don't want to make an entire meal for just me. I actually bought one large burger patty from the butcher department at my grocer. I had never done that before, but it was just a couple dollars and I also bought one slice of super thick bacon at the butcher, because why not!?
Hip Tip: Curious which condiments are keto-friendly for your burger? Read our helpful Keto Condiment Guide!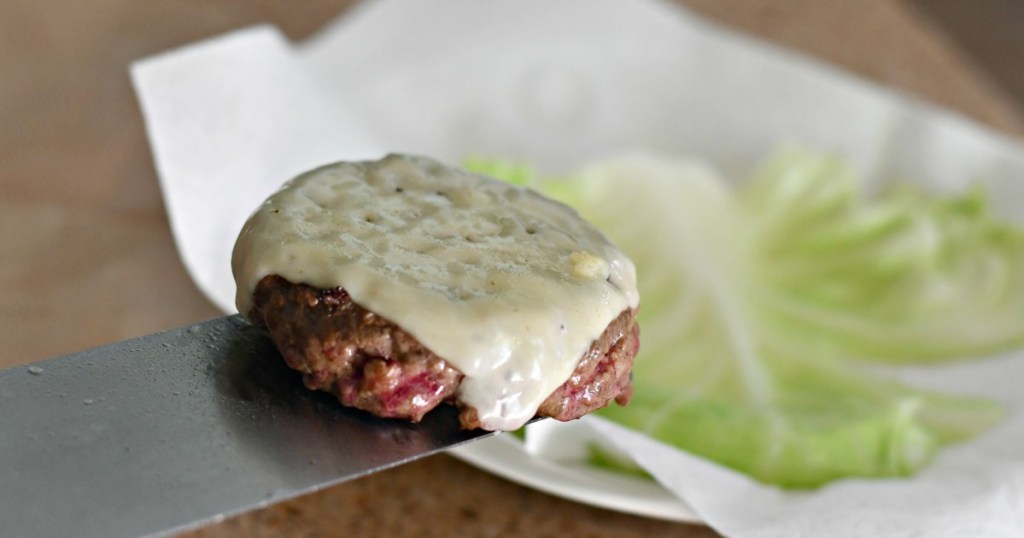 I also picked up a head of cabbage, an avocado, and tomato. In my burger, I used Havarti cheese, which is one of my favorites melted on a burger.
There are so many topping choices for burgers, so when creating your burger, include the keto toppings you enjoy!
Cook your burger however you'd like.
I fried mine and the bacon on my stovetop griddle. While I was doing that, I filled a shallow pan with water to soften the cabbage for the wrap. Since I was only boiling one piece of cabbage, a shallow pan will do, but if you're making more than one wrap, use a larger pot. You'll only need to boil the cabbage wrap for 30 seconds to soften it up.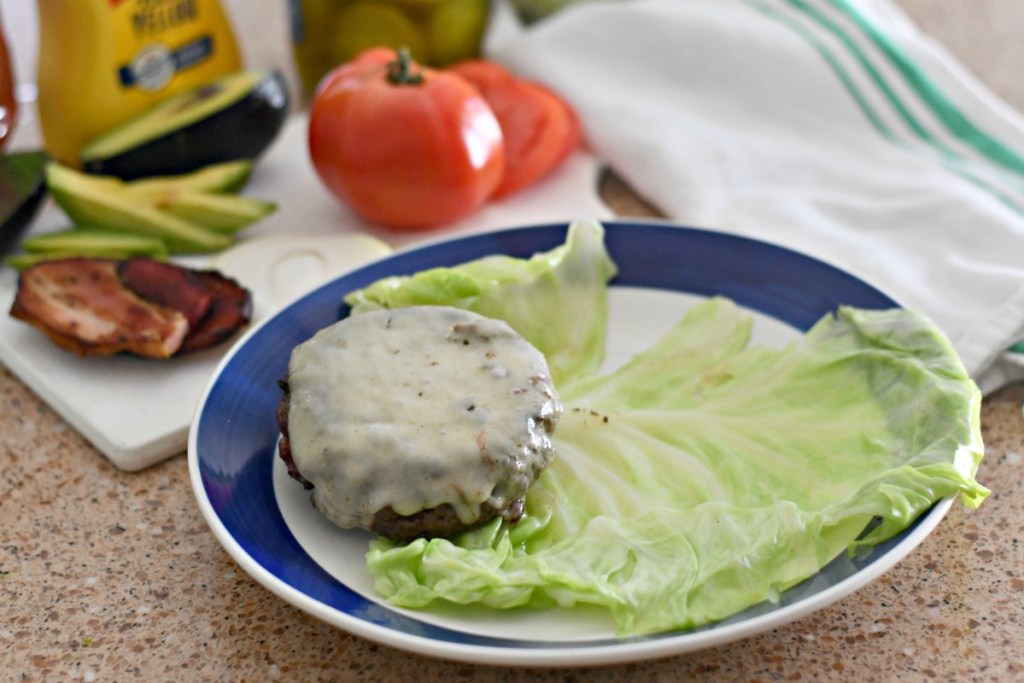 I wrapped my burger by placing the burger at the end of the stem. Then I wrapped it up by folding in the sides first, then the top of leaf over the top of the burger. That way it was easy to grab and eat.
---
Print
Keto Burger Cabbage Wrap for One
yield: 1 SERVINGS
prep time: 10 MINUTES
cook time: 10 MINUTES
total time: 20 MINUTES
Here's how to wrap a cheeseburger with a piece of cabbage for an EASY and genius burger wrap!
Ingredients
1/4 pound hamburger patty
1 slice Havarti cheese
1 piece thick-sliced bacon
1 large cabbage leaf
2 slices of avocado
any other additional keto friendly toppings
Directions
1
Cook bacon. Cook or grill hamburger patty, melting the cheese on top.
2
Fill a pot or pan with water and bring to boil. Using kitchen tongs hold a piece of cabbage under the boiling water for about 30 seconds until soft and pliable.
3
Transfer cabbage leaf to a paper towel to dry.
4
Once dried, place cooked cheeseburger on top of the bottom of leaf in the middle of the stem. Add bacon, sliced avocado, and any other toppings as desired. Fold in sides, and then fold the top of the leaf over the top of the burger.
5
To eat, hold it like like you would with a cheeseburger in a bun. Enjoy!
Nutrition Information
Yield: 1 burger, Serving Size: 1
Amount Per Serving: 534 Calories | 39g Fat | 8g Total Carbs | 5g Fiber | 28g Protein | 3g Net Carbs
---
A burger wrap hits the spot!
Oh my goodness, yum… what a delish low carb meal, and I feel totally full and happy. I honestly like the idea of taking the time to make myself a delicious meal for just me, and I should do that more often, ha!
What's on your ultimate burger? Please share with us in the comments!
---
Lina (lina@hip2keto.com) loves cooking new recipes, thrift store shopping, and DIY home decor projects.
---