Juicy Bacon Jalapeno Keto Cheeseburger Casserole
Love delicious burgers?
How about creating a mouthwatering casserole with all the delicious flavors and ingredients of bacon cheeseburgers?! Yep, this hearty and comforting meal idea would make your casserole loving grandma proud, and it makes for a perfect low carb meal for your hungry family any day of the week. It does slightly remind me of a breakfast casserole, so I think this could be yummy for breakfast or dinner- you decide!
Grab your burger-related ingredients!
I could eat burgers every day, and this is just a fun way to serve them. Plus, I appreciate that this dish uses fairly common and frugal ingredients, so I feel like it's budget-friendly, too.
You'll need the classic ingredients like ground beef, bacon, cheese, and diced onion. I added jalapenos for additional flavor, but just omit if you don't care for them. You'll also want to grab any fun burger toppings like pickles, lettuce, or tomatoes for serving.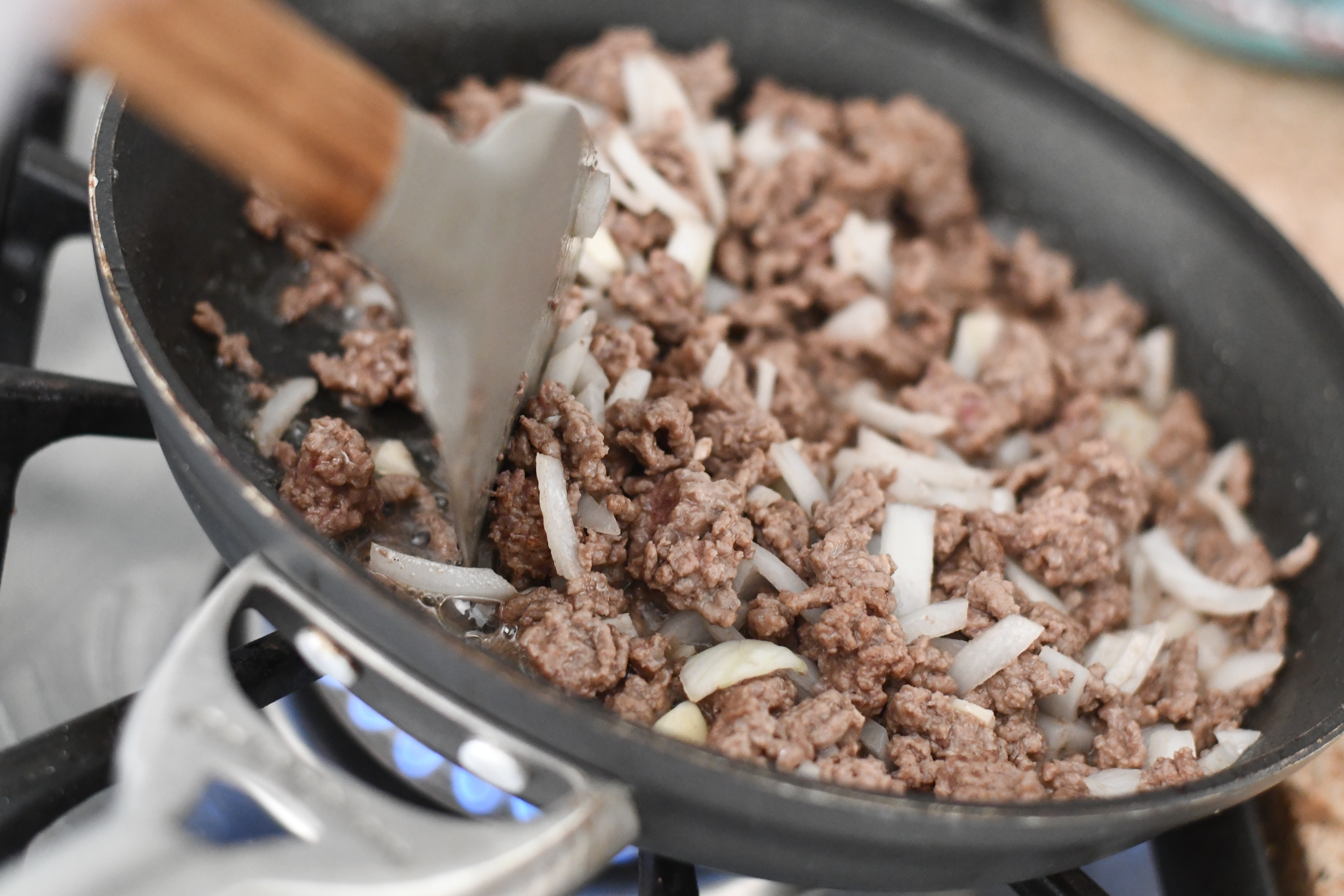 The process of this casserole is very easy!
You'll cook the meat, onion, and garlic on the stove, and transfer the mixture to a 2.5-quart casserole dish with cooked bacon. Then you'll whisk together the cream, eggs, plus some of the cheese and pour it over the meat mixture. This all gets topped with lots of cheddar cheese and gets baked in the oven for about 35 minutes.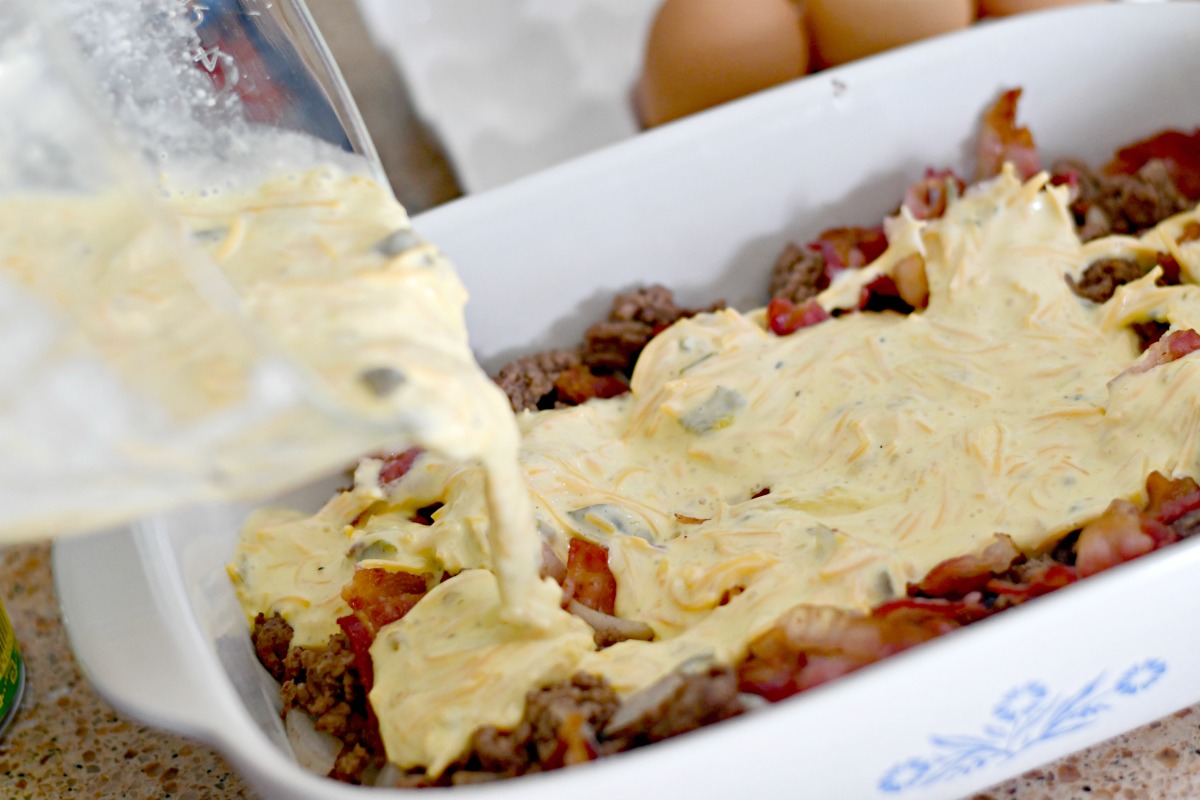 This makes a very filling meal with four big servings, however, it would be completely easy to double the recipe for a bigger family and bake in a larger 9×13 casserole dish.
The warmed-up leftovers were just as good, so this is a great meal prep for a quick breakfast or lunch during the week.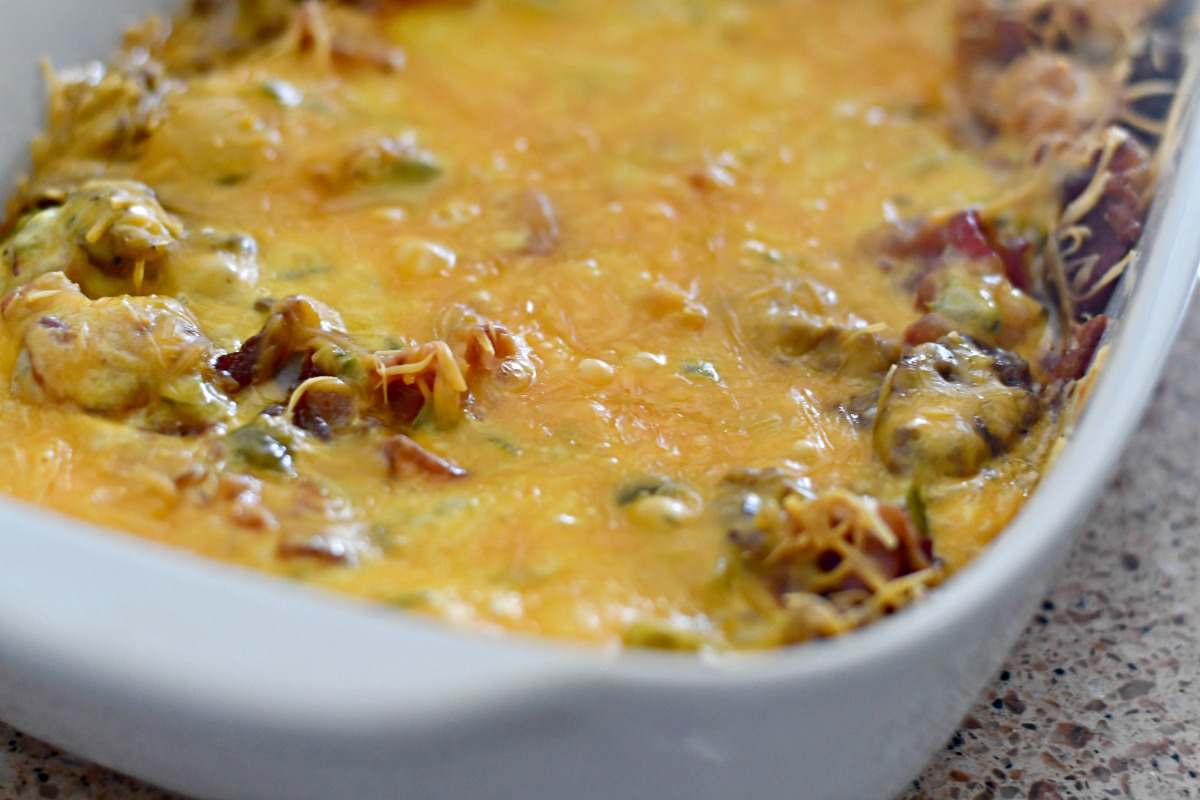 Hip Tip: Love my vintage-inspired casserole dish? It's a 2.5 quart Corningware dish in the nostalgic cornflower pattern we all fondly remember!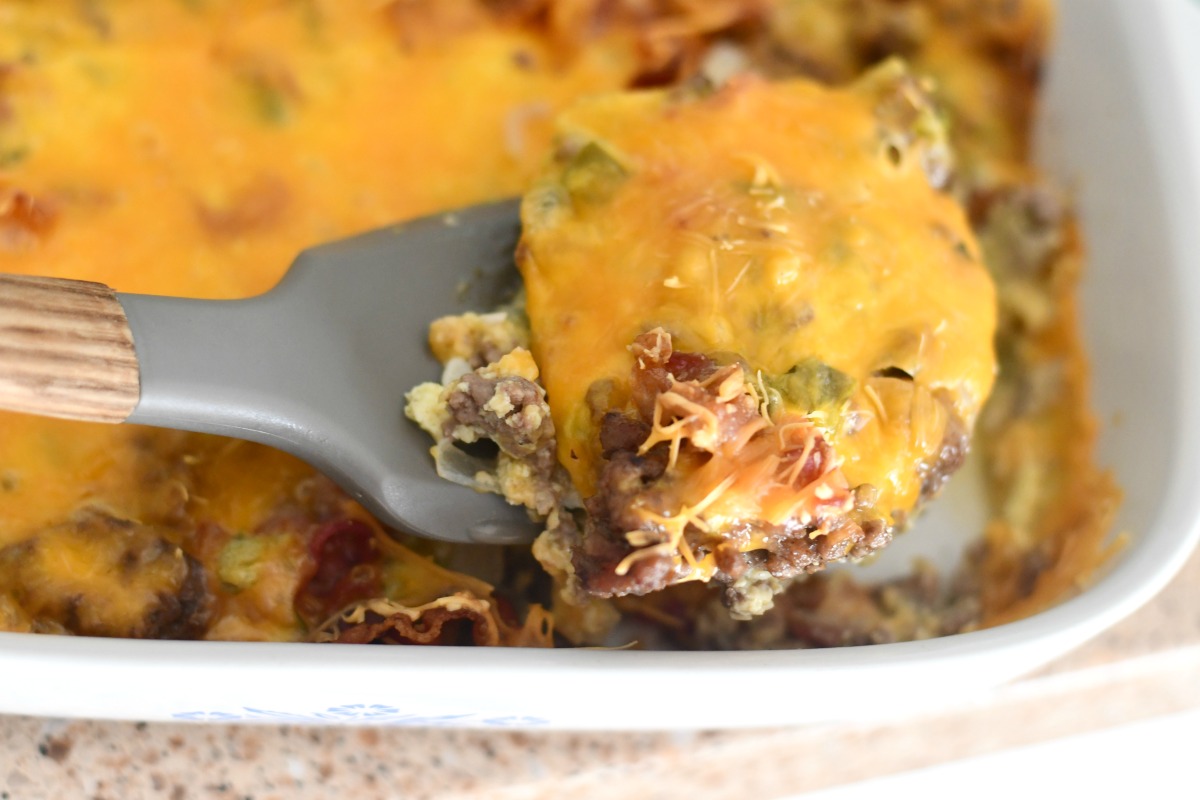 ---
Print
Keto Cheeseburger Casserole
yield: 4 SERVINGS
prep time: 15 MINUTES
cook time: 35 MINUTES
total time: 50 MINUTES
Finally a meaty cheesy keto meal the whole family can get on board for!
Ingredients
1/2 pound bacon
1 pound ground beef
1/2 cup chopped onion
2 garlic cloves, minced
pinch of salt & pinch of pepper
1/2 cup heavy whipping cream
3 large eggs
2 oz. chopped jalapenos, canned
1/4 teaspoon salt
1/8 teaspoon pepper
7 oz. cheddar cheese, shredded and divided
Any desired keto burger toppings such as pickles, lettuce, chopped tomato, etc.
Directions
1
Cook bacon. Drain and cut into small pieces. Set aside.
2
Preheat oven to 350 degrees. On the stove, crumble ground beef onto a skillet, and cook meat along with onion and garlic, about 5-6 minutes. Add salt & pepper.
3
Transfer ground beef into a 2.5 quart casserole. Mix bacon in with the ground beef.
4
Whisk together eggs, cream, jalapenos, salt, pepper, and half of the shredded cheese. Pour mixture over the ground beef and bacon.
5
Top casserole with remaining cheese and bake for 35 minutes in the oven. Serve warm with any desired keto friendly toppings.
Nutrition Information
Yield: 4 large pieces,
Amount Per Serving: 824 Calories | 62g Fat | 4g Total Carbs | 1g Fiber | 60g Protein | 3g Net Carbs
---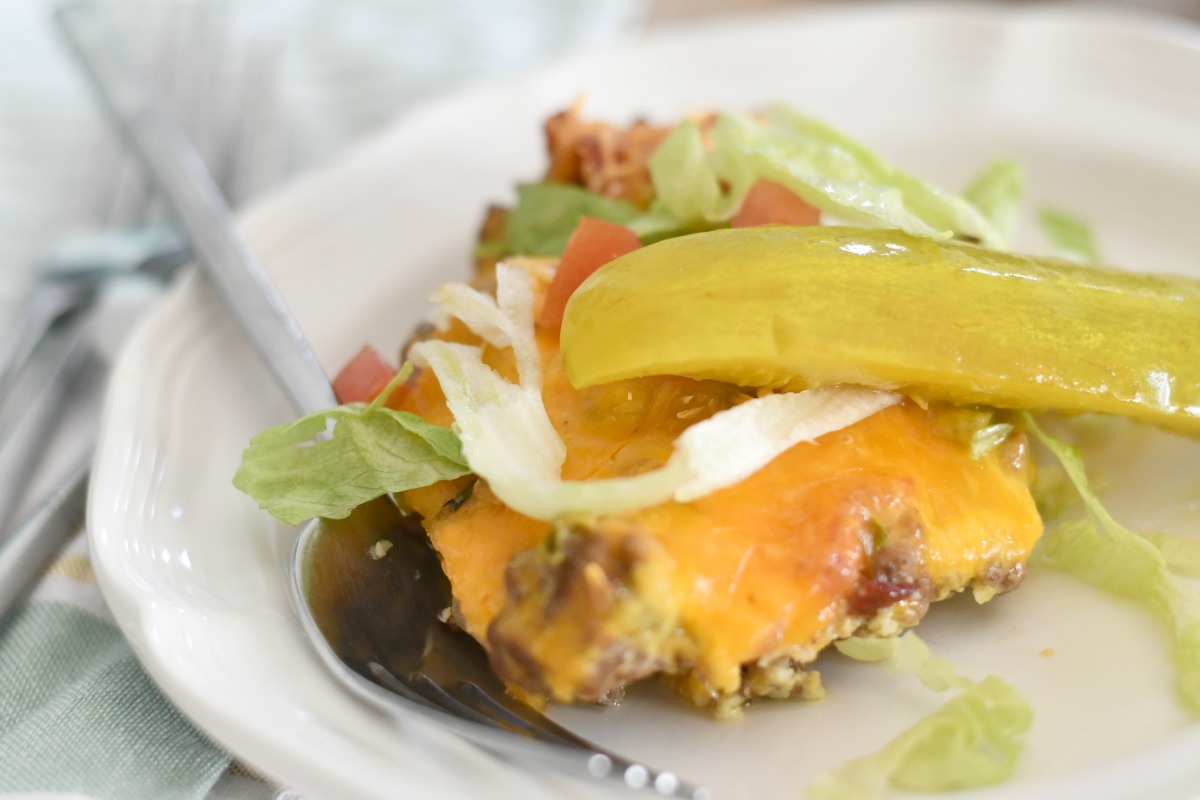 Serve as is or top it with your fav burger accompaniments!
I served mine with a crunchy dill pickle on the side, YUM. If you'd like to top with mustard and low-sugar ketchup, go ahead. Everyone on the Hip2Keto team loves No Sugar Added Heinz Ketchup. It's so GOOD!
The result is a rich and filling cheesy casserole my family could not get enough of! Anything that is easy to make and tastes delish is a win for me. We really enjoyed this idea and I hope you will, too.
---
Make this creamy & dreamy low-carb chicken & broccoli casserole!