Make Your Own Version of Jersey Mike's Italian Sub in a Tub
Make your own Jersey Mike's inspired sub in a tub at home!
Try this homemade version of Jersey Mike's Original Italian sub in a tub!
What's better than getting a sandwich from Jersey Mike's? Getting a keto sandwich from Jersey Mike's! Well, technically it's not a sandwich, it's a salad. But instead of calling it a salad they call it a "sub in a tub". You can order any of their subs without bread and in a container instead.
Check out our full guide on how to order keto at Jersey Mike's.
Okay, okay! So actually, the best thing ever is to make your own homemade version using this sub in a tub recipe for their Original Italian sub!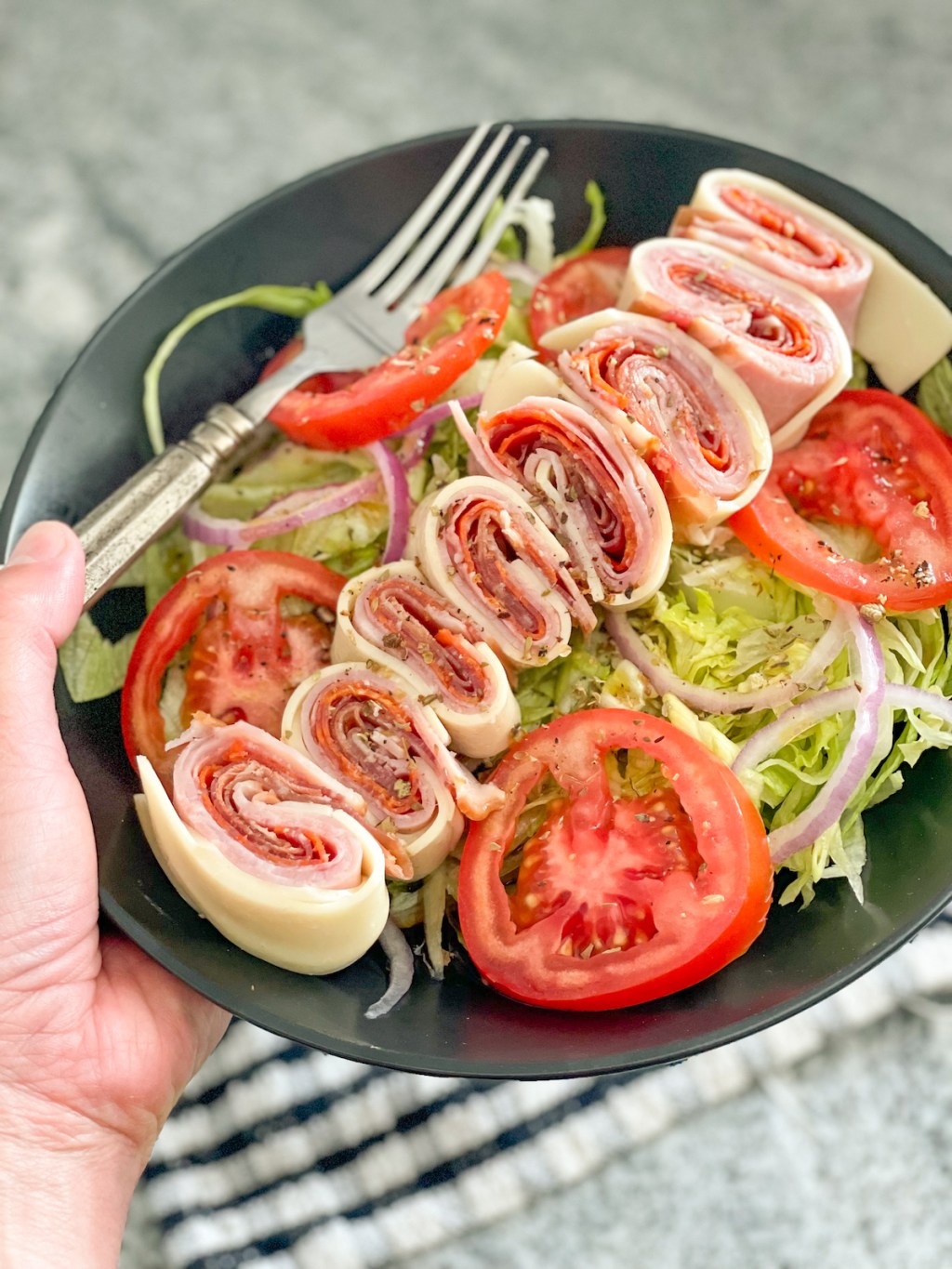 Original Italian Sub in a Tub recipe
I think that this sub is as Italian as you can get. It's loaded with cured meats, cheese, and topped with a simple vinaigrette. It's super easy to make once you have all the ingredients. And super tasty! I compared my homemade version with the actual Jersey Mike's and the only difference is that I think my lettuce was fresher, I loaded my version with more meat, and I used a red onion instead of a white one.
To make this sub in a tub, you'll need:
Iceberg lettuce
Tomato
Red onion
Provolone
Deli sliced ham
Salami
Pepperoni
Capicola (or Capocollo)
Prosciutto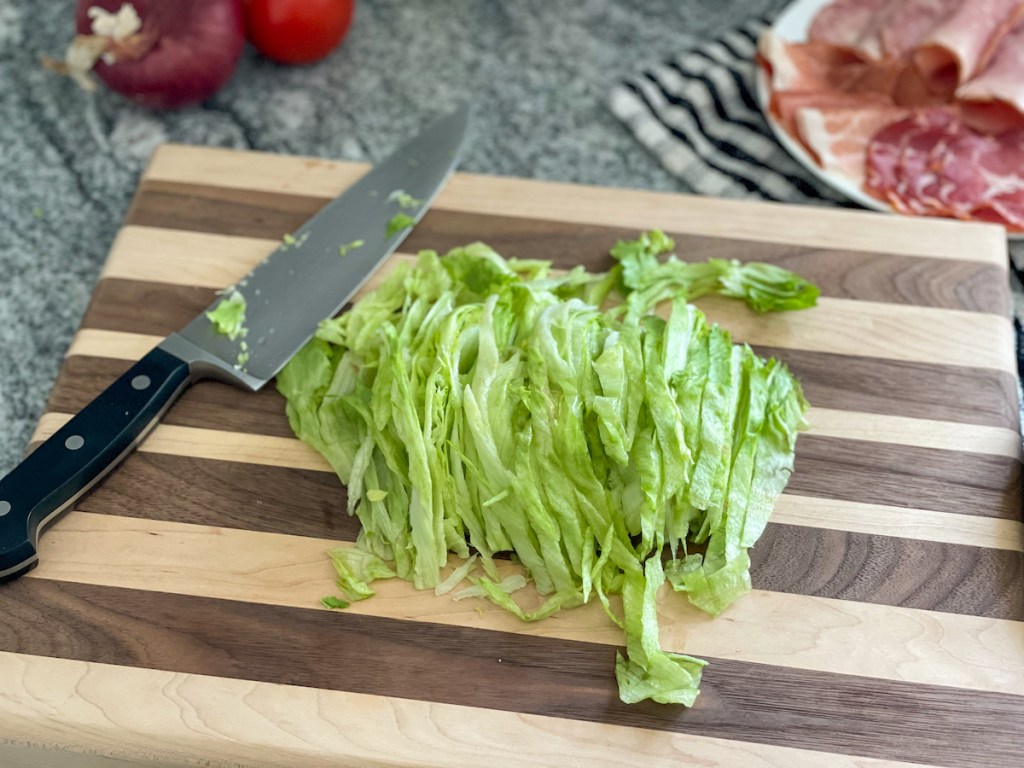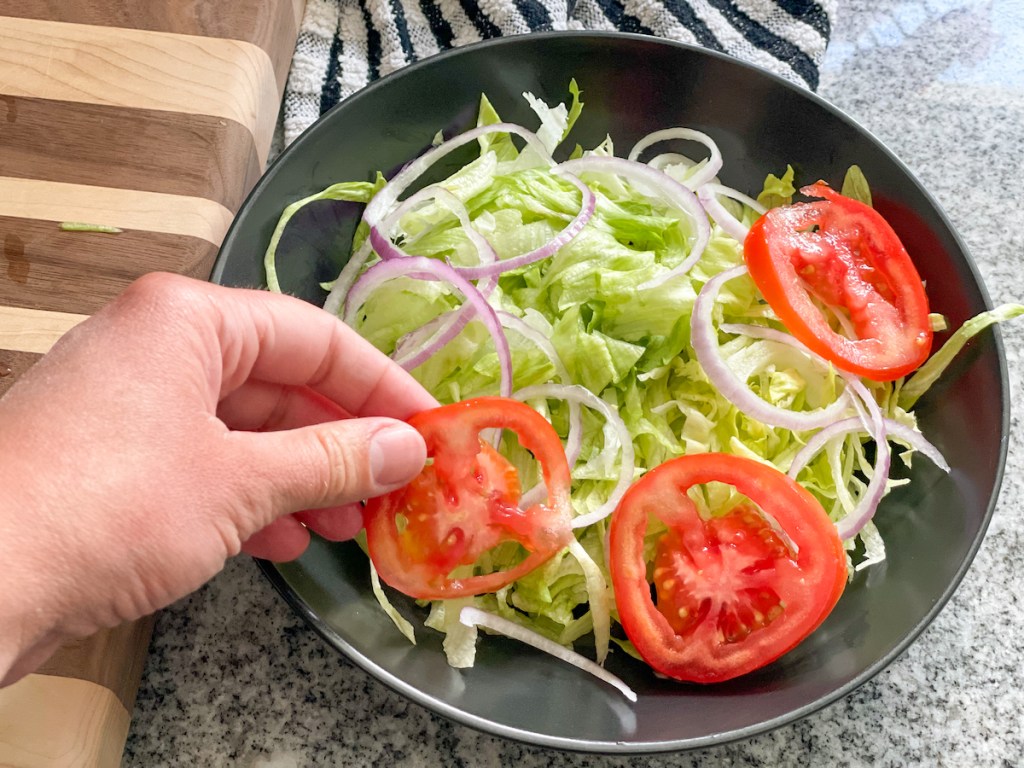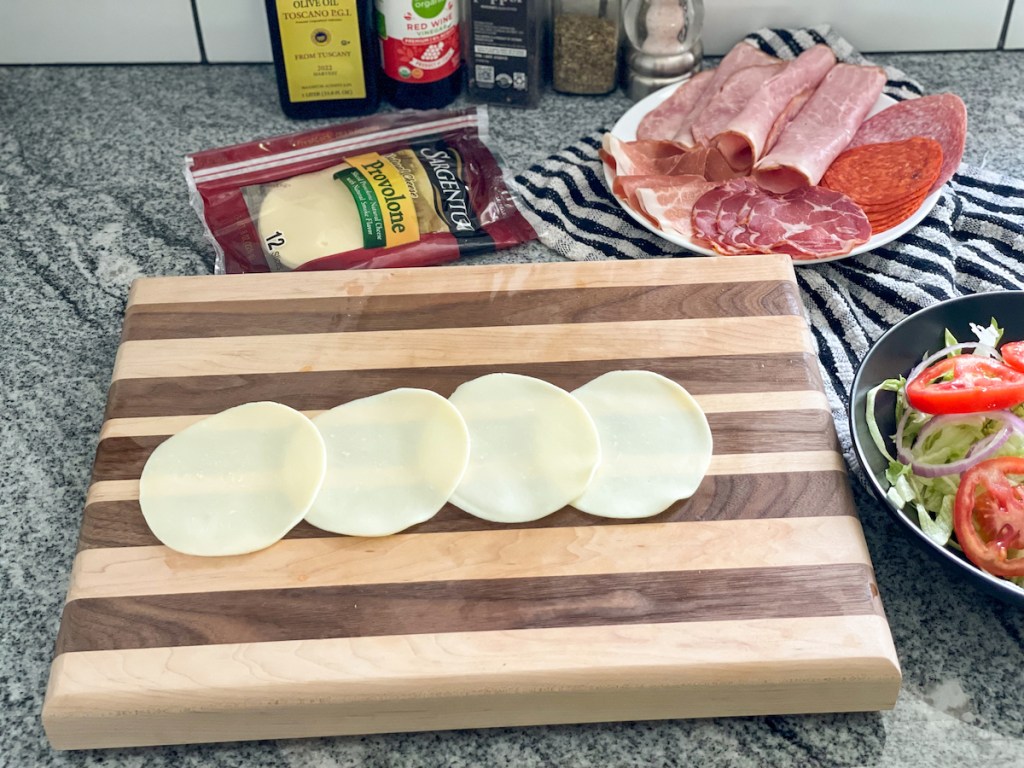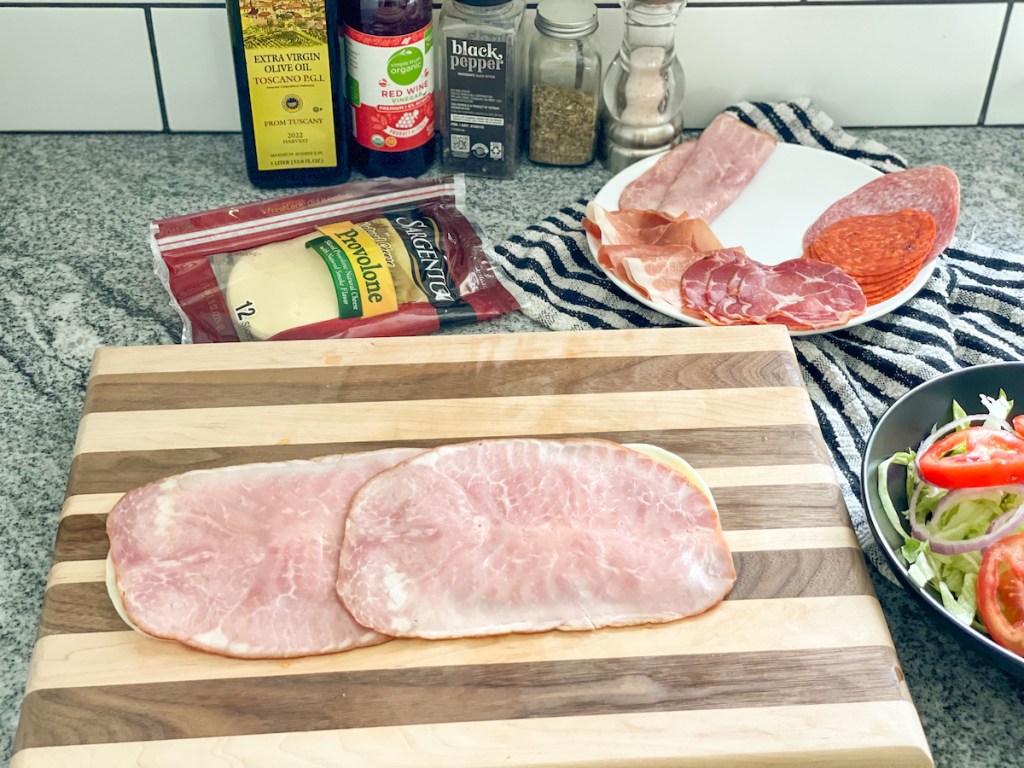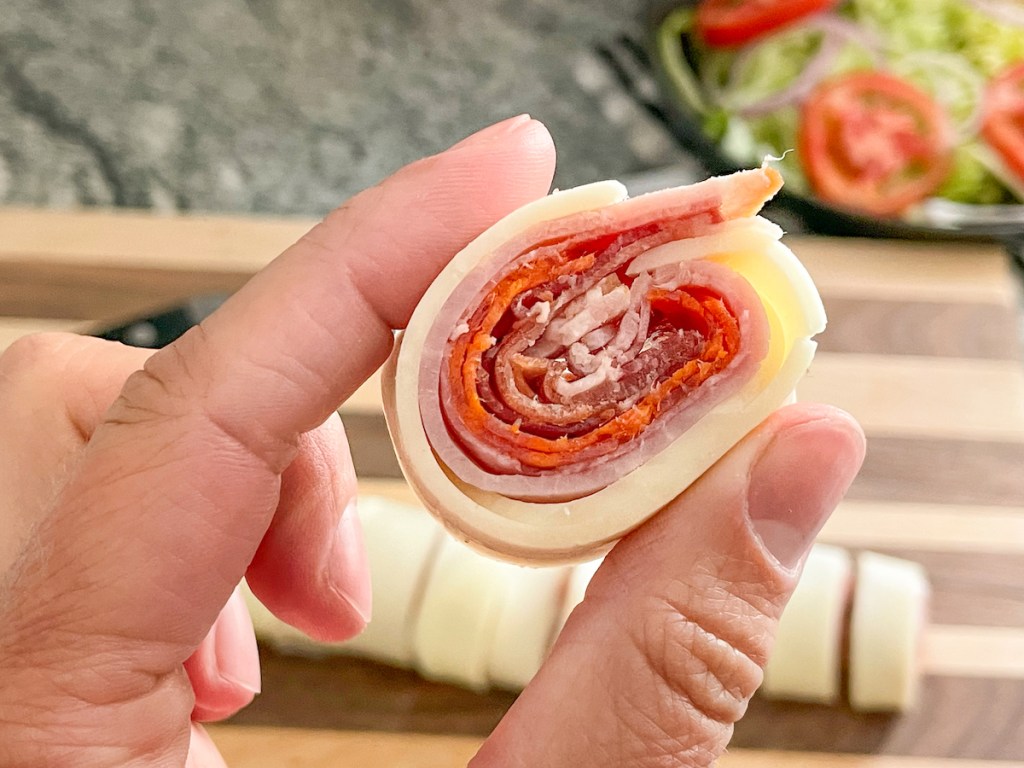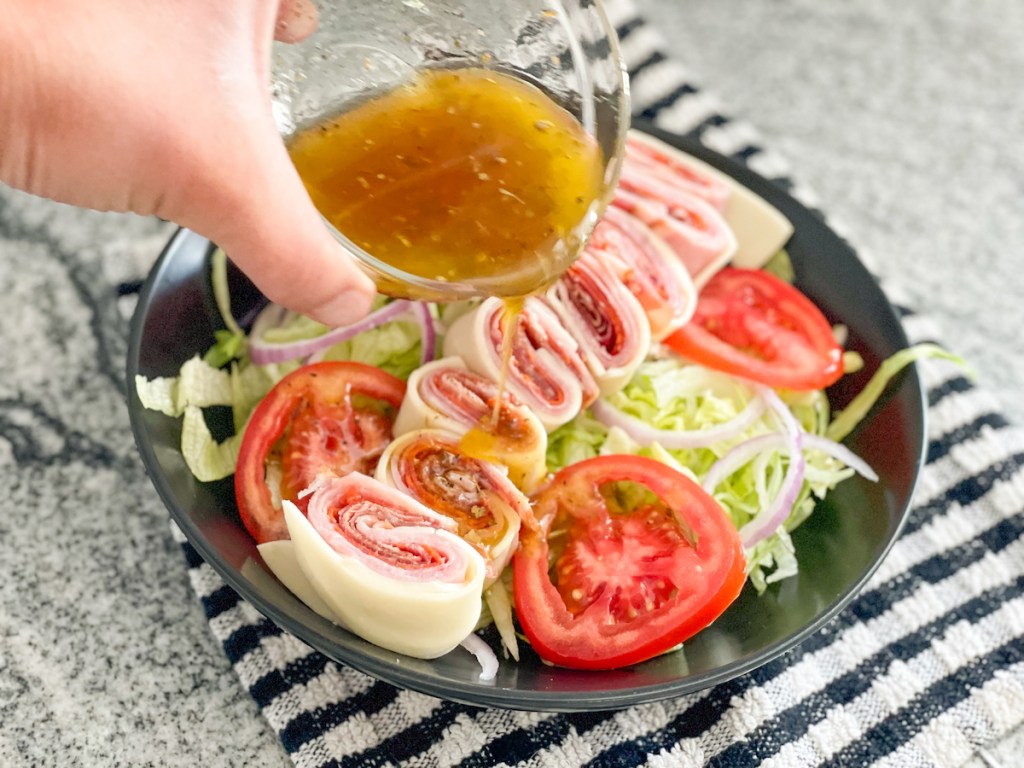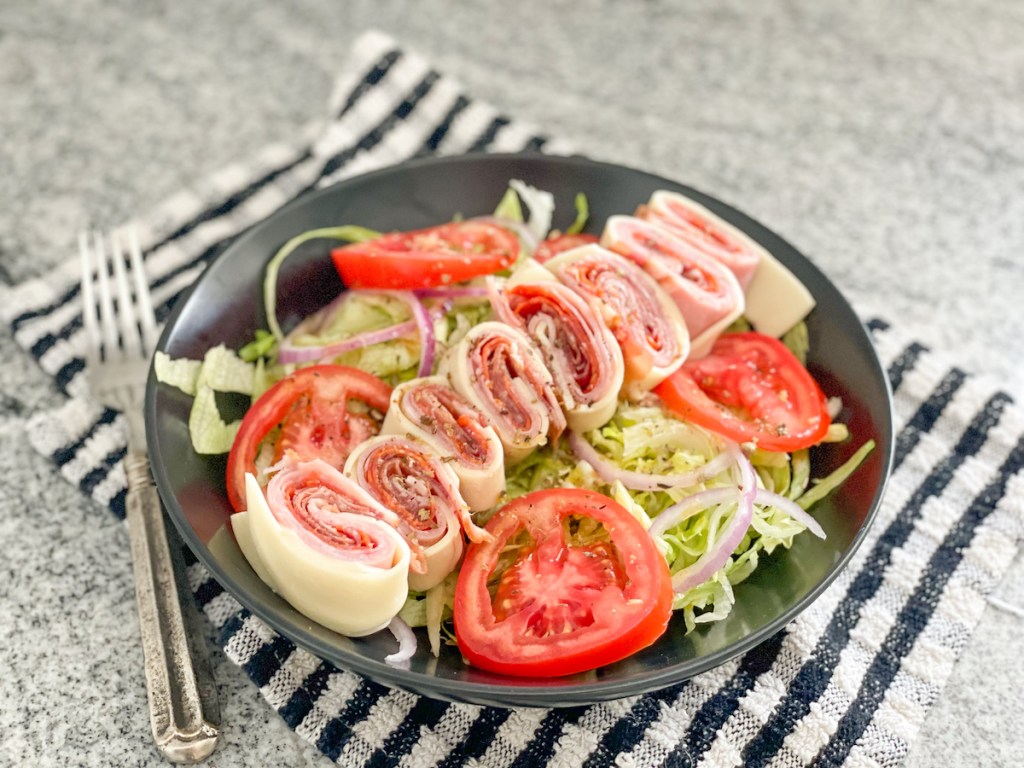 ---
Print
Jersey Mike's Original Italian Sub in a Tub
yield: 1 SERVINGS
prep time: 10 MINUTES
total time: 10 MINUTES
This is the ultimate Italian salad, loaded with ham, five different types of cured meats, and provolone cheese, topped with a simple vinaigrette.
Ingredients
Sub in a Tub:
1/2 small head of iceberg lettuce
1 small tomato
1/8 of a small red onion
4 slices provolone cheese
2 large slices of deli ham
4 slices of salami (sandwich slices)
4-6 slices pepperoni (sandwich slices)
4 slices capicola (or capocollo)
2 slices prosciutto
Vinaigrette:
3 tablespoons olive oil
3 tablespoons red wine vinegar
1/2 teaspoon dried oregano
1/2 teaspoon salt
1/4 teaspoon pepper
Directions
1
Thinly slice the iceberg lettuce and transfer it to a bowl. Then slice the tomato and add it to the iceberg lettuce. Next thinly slice the red onion and place it in the bowl with the lettuce and tomato.
2
Arrange the provolone and meats so you can slice them into pinwheels. Start by laying out the provolone slices in a row, then the ham slices, salami, pepperoni, capicola, and prosciutto. Roll the cheese and meat together to form a long log. Slice into about 1-inch wide rounds. Top the salad with the rounds.
3
To make the vinaigrette:
Whisk together the olive oil, red wine vinegar, oregano, salt, and pepper in a small bowl. Drizzle the vinaigrette over the salad. Enjoy!
Nutrition Information
Yield: 1, Serving Size: 1 sub in a tub
Amount Per Serving: 1081 Calories | 87.2g Fat | 11g Total Carbs | 3.5g Fiber | 6.5g Sugar | 54.9g Protein | 7.3g Net Carbs
---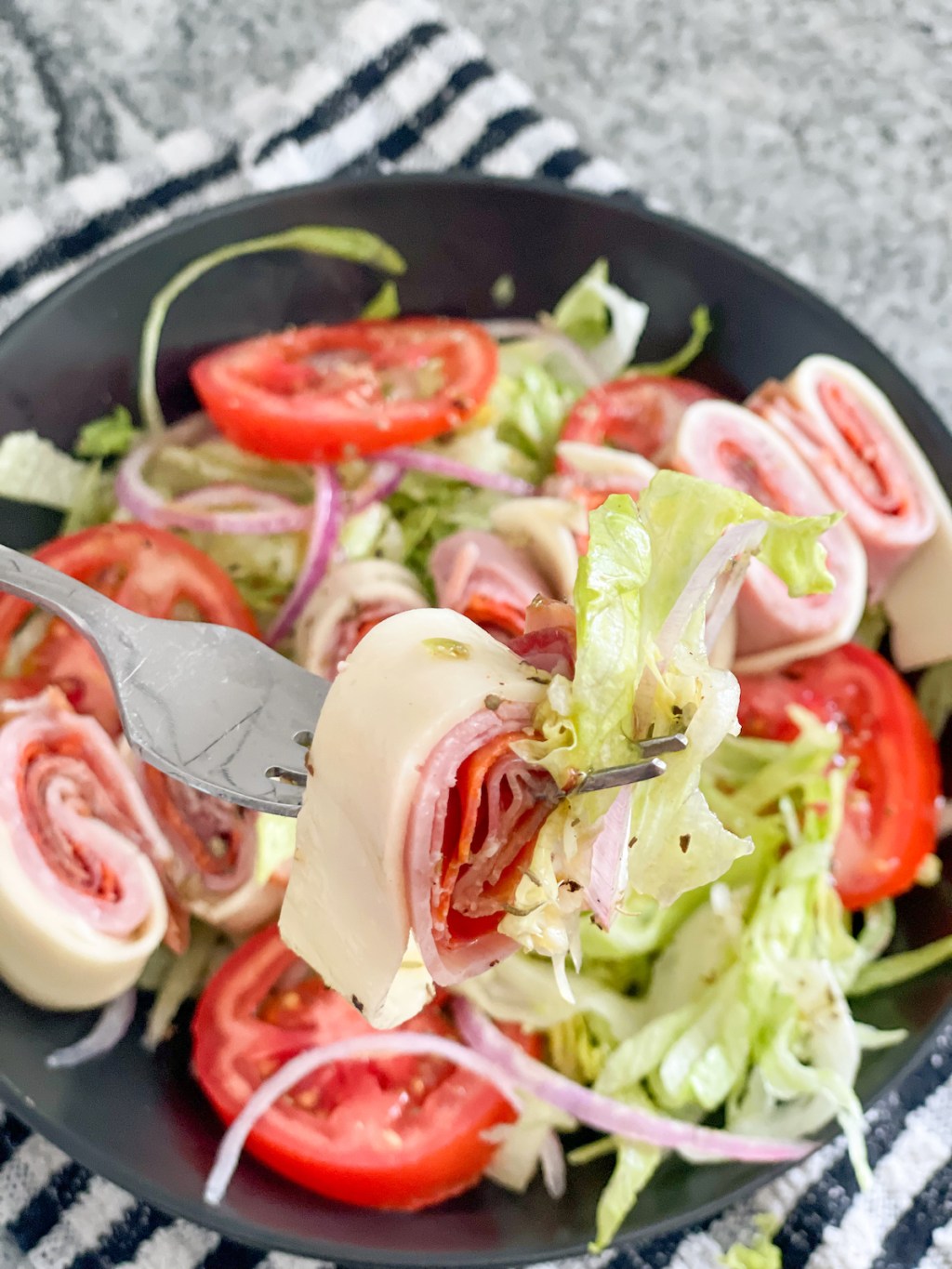 Tips for making the best Jersey Mike's inspired keto sub in a tub:
You can easily make any of your Jersey Mike's subs into a sub in a tub at home, but this recipe is for their popular Original Italian.
Including all these yummy cured meats makes this recipe total perfection, but it can also make it a little on the pricey side. If you don't want to buy full packages of each of the meats, I suggest having your deli individually slice each of the meats for you. This way you can get only as much as you'll actually use.
This recipe is for one large salad, like a very filling dinner salad. Feel free to adjust the portion sizes as desired. You could also turn this into two lunch portions.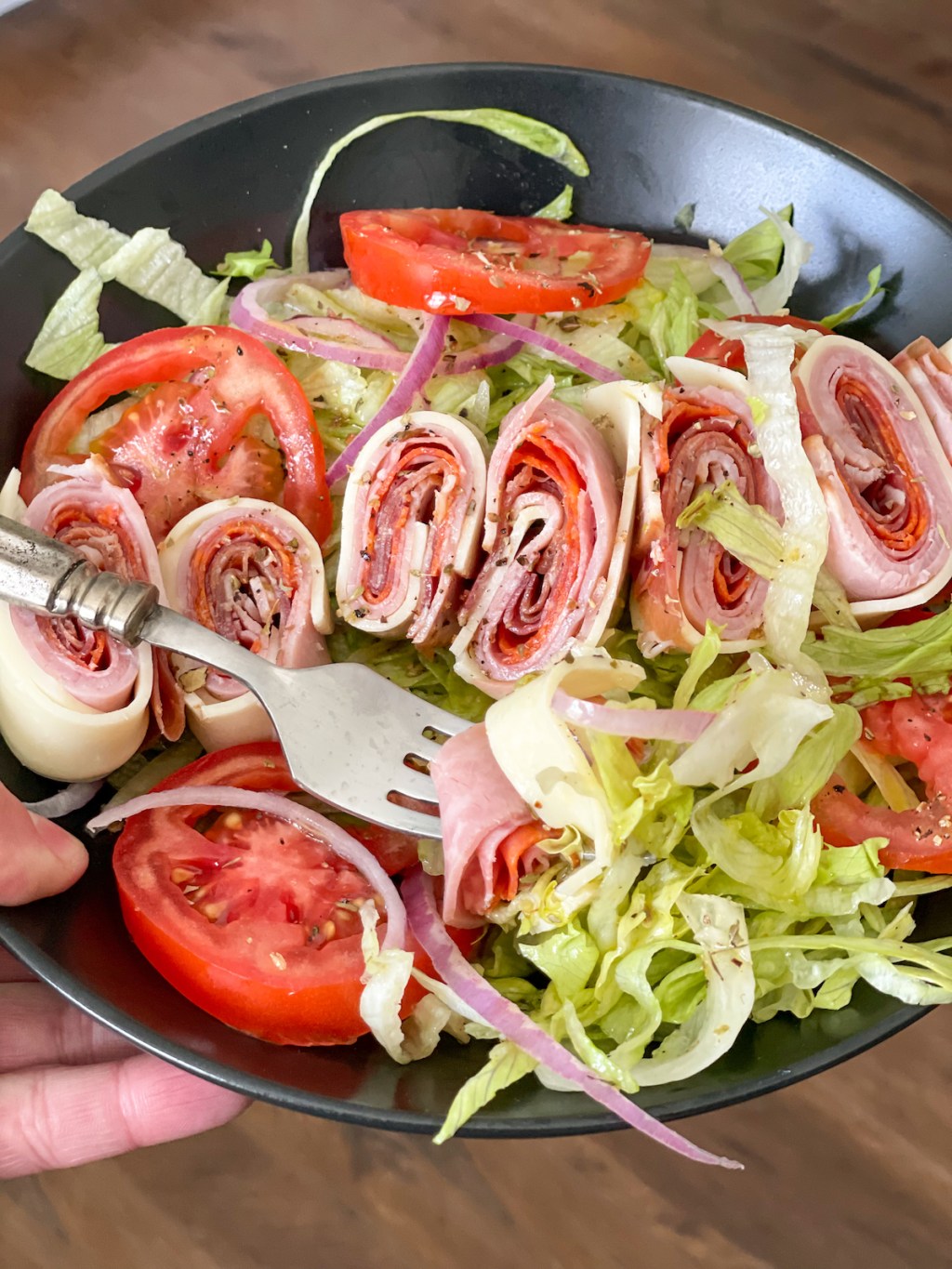 This recipe for a homemade Jersey Mike's sub in a tub is amazing!
With the weather heating up, no one wants to turn on their oven. This recipe is perfect for summertime. As long as you have all the ingredients on hand, this hardly takes any time to make.
The vinaigrette is super easy to make too. It's just olive oil, red wine vinegar, salt, pepper, and dried oregano.
I hope you enjoy this sub in a tub as much as I did!
---
Love salads? Check out our recipe for the Famous Columbia 1905 Salad!