Spicy Keto Tuna Melt Cups are the Perfect Bite Sized Snack Any Time of Day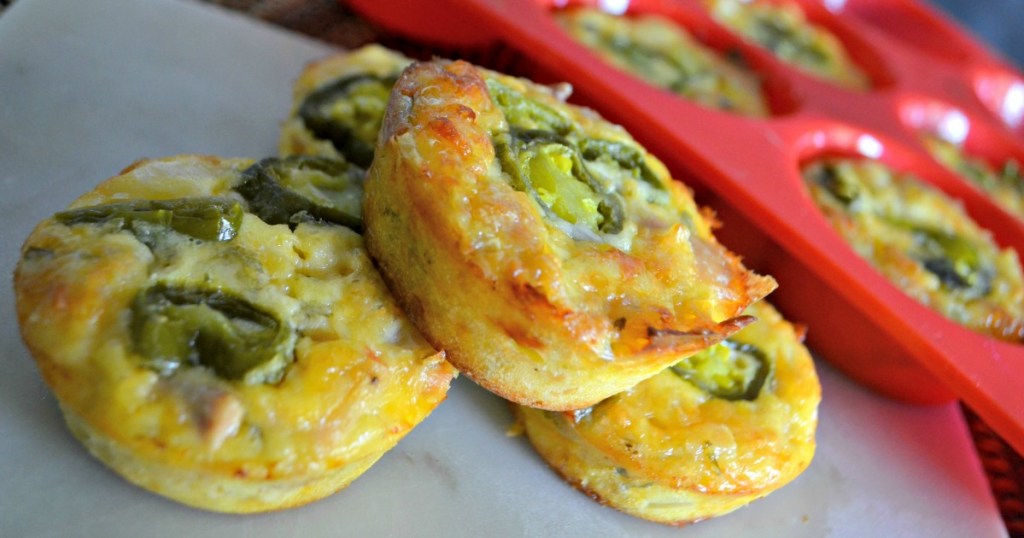 Have a can of tuna in the pantry?
Consider mixing up a batch of these easy spicy keto tuna melt egg muffin cups for a perfect low carb snack or to be enjoyed for breakfast, lunch, or even dinner. This is such a genius way to eat tuna, and even folks who aren't necessarily huge fans of canned tuna fish will still likley LOVE this idea.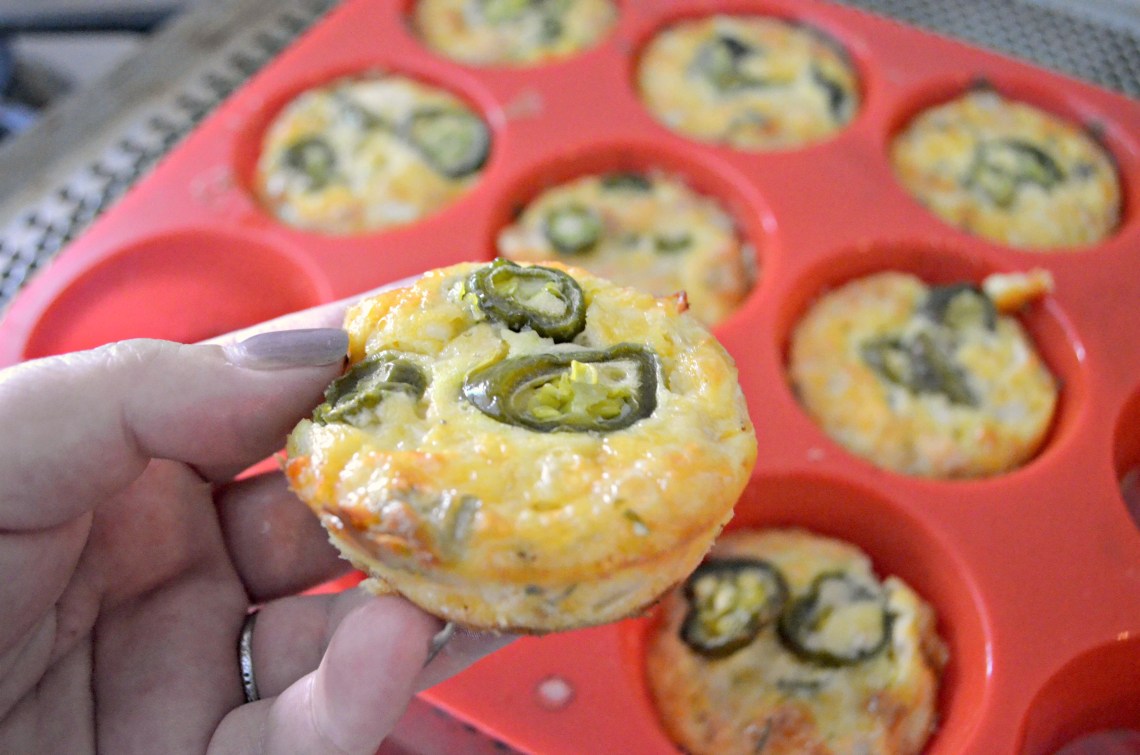 After your tuna cups are done baking, you'll have a flavorful tuna bite with a slight eggy texture on the inside, but a nice cheese crust around the edges. I feel like this is kind of similar to a no crust quiche but a bit heartier and filling at the same time, too.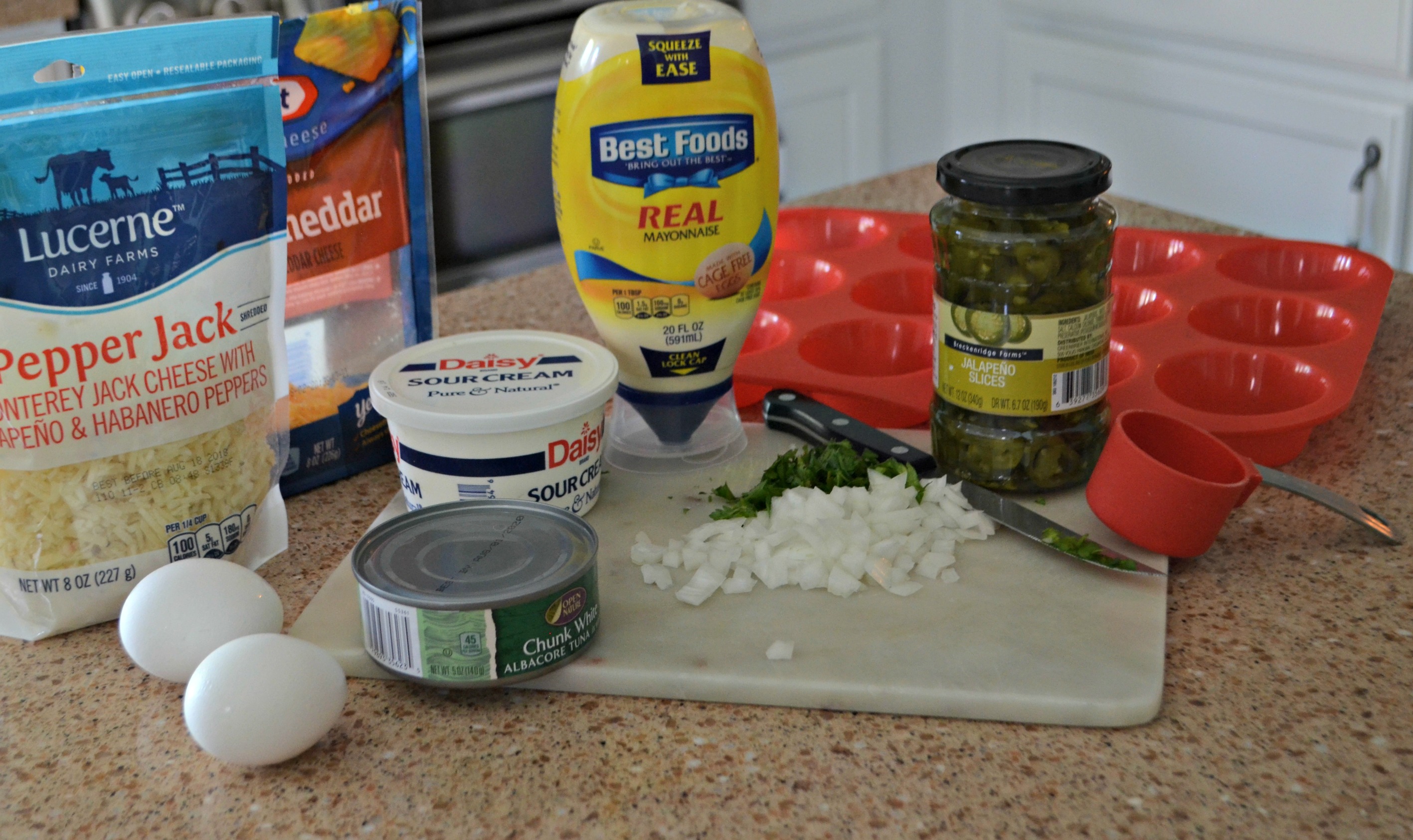 Tips for making the BEST spicy tuna melt egg muffin cups:
If you're looking for a great all-purpose muffin and cupcake pan, this silicone one works great, is non-stick, and easy to wash!
I highly recommend going for a spicy taste for these tuna cups! Shredded pepper jack cheese and sliced jalapeños are an awesome pair for lots of added flavor in this recipe (it works out perfectly with the sharp cheddar and tuna). If you don't want spicy, just nix the jalapeños and spicy cheese, and use all cheddar or a cheese of your choice.
Keep these tuna cups in mind for keto food prep! These would be a perfect make-ahead lunch or dinner idea and can be stored in a covered container in the fridge for up to 3-4 days.
As one reader suggested, these could also be yummy with canned chicken instead of tuna if desired!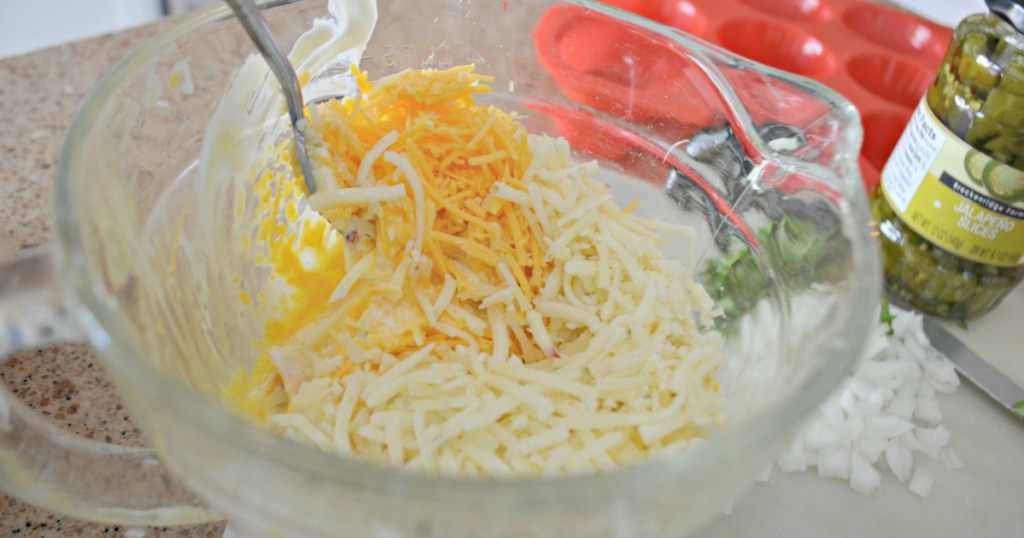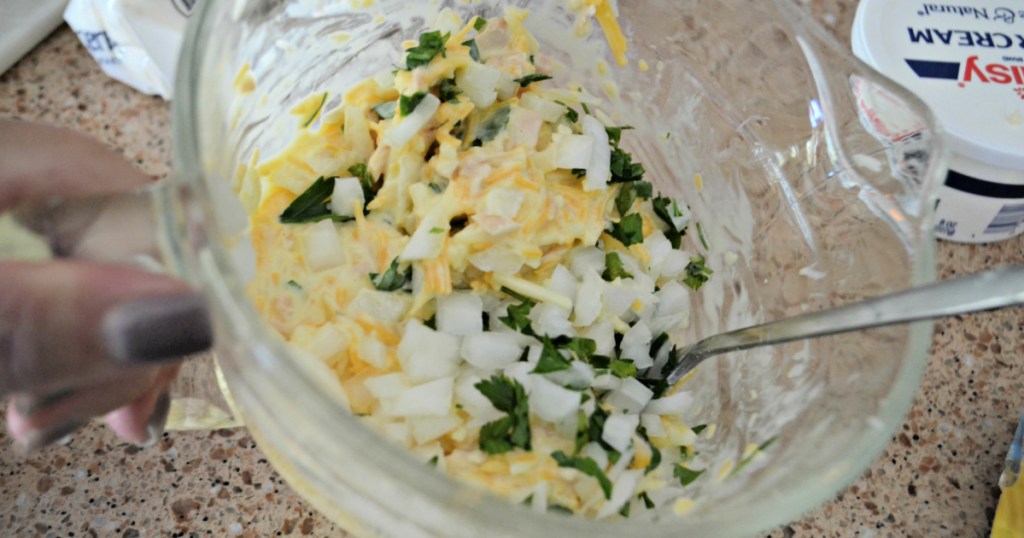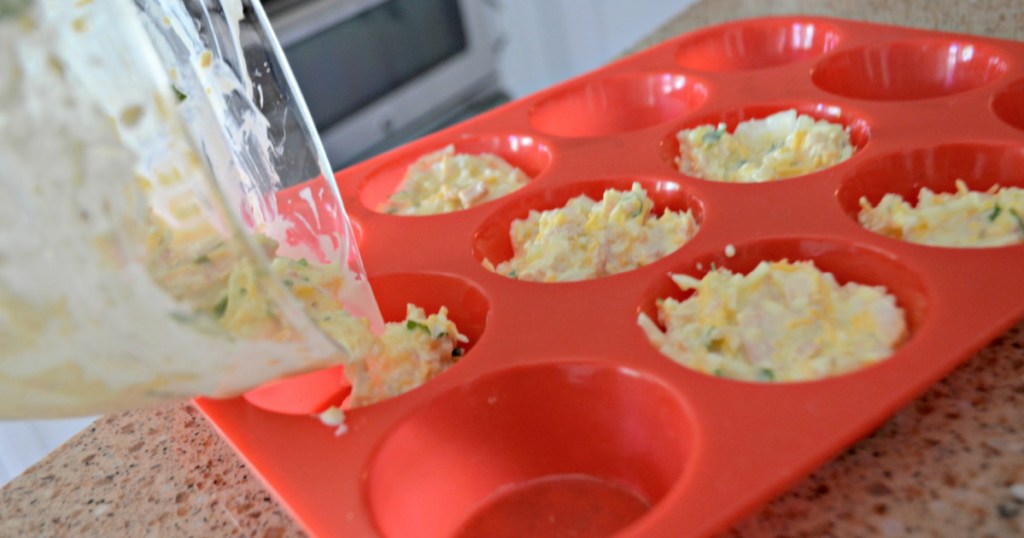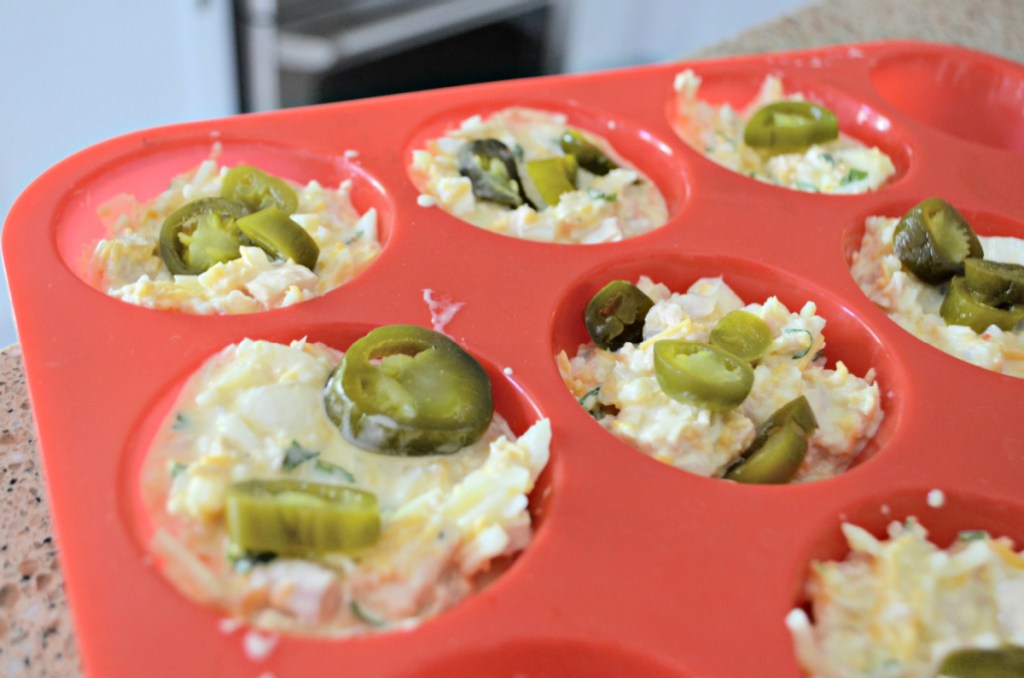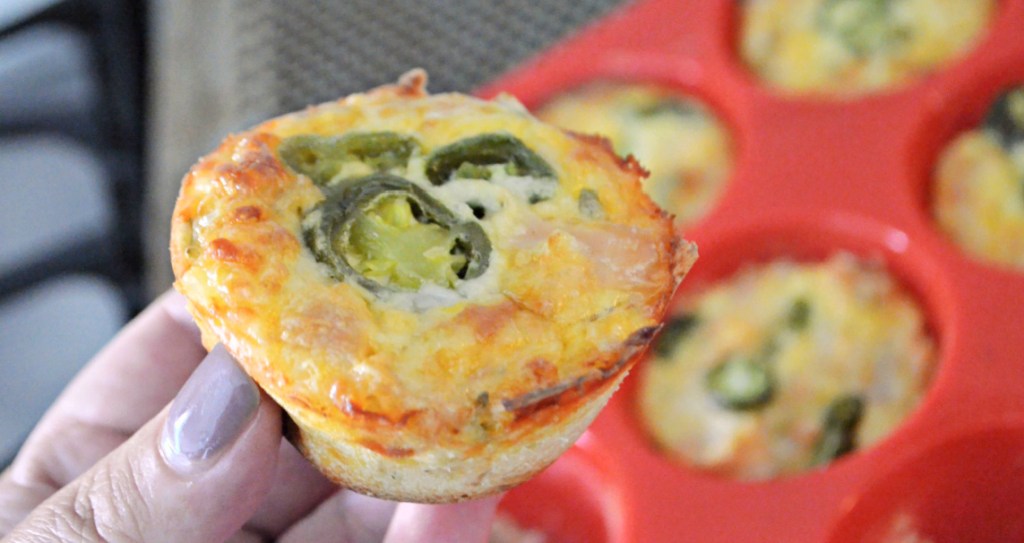 ---
Print
Spicy Keto Tuna Melt Cups
yield: 7 SERVINGS
prep time: 10 MINUTES
cook time: 25 MINUTES
total time: 35 MINUTES
Spicy cheese and tuna are melted together in a muffin tin for a delicious keto meal idea.
Ingredients
2 large eggs
1/4 cup sour cream
1/4 cup onion, chopped
3/4 cup sharp cheddar cheese, shredded
1 tablespoon fresh parsley, chopped
dash of salt & pepper
Directions
1
Preheat oven to 350 degrees and grease a silicone muffin tin.
2
In a mixing bowl, combine tuna, eggs, sour cream, mayo, onions, cheese, parsley, salt, and pepper.
3
Fill muffin pan with the mixture, evenly. Top each muffin with a few slices of jalapeños. (This batch made 7 muffins)
4
Bake at 350 degrees for 25 minutes. Serve warm.
Nutrition Information
Yield: 7 tuna cups, Serving Size: 1 tuna cup
Amount Per Serving: 179.8 Calories | 14.1g Fat | 1.9g Total Carbs | .5g Fiber | 10.4g Protein | 1.4g Net Carbs
---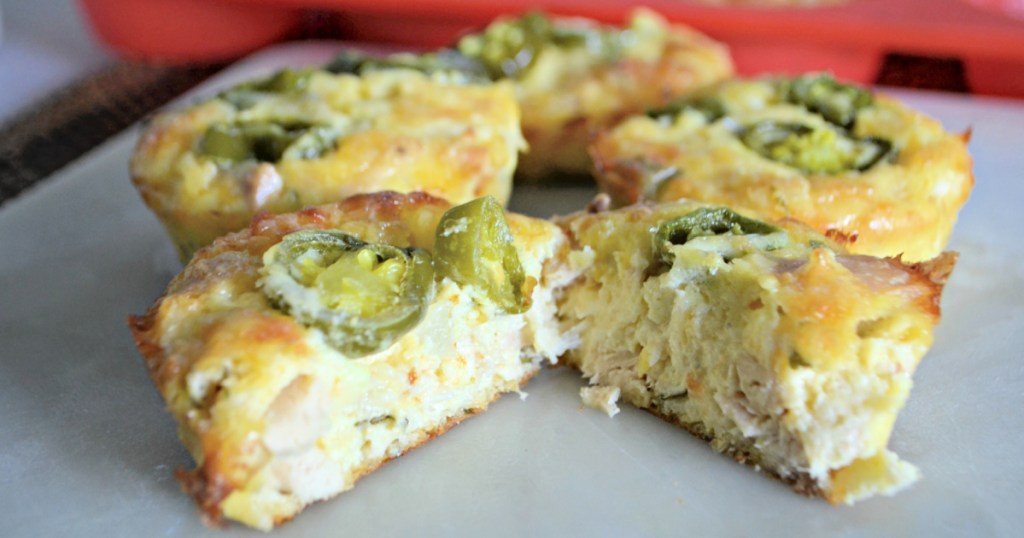 This is a must-try keto recipe!
How YUMMY! We absolutely LOVED these spicy tuna melt cups, and I already had the simple ingredients on hand. I also appreciate how easy this idea is to mix together and bake, and the leftovers warm up nicely.
No-fuss healthy keto recipes like these are so handy to know!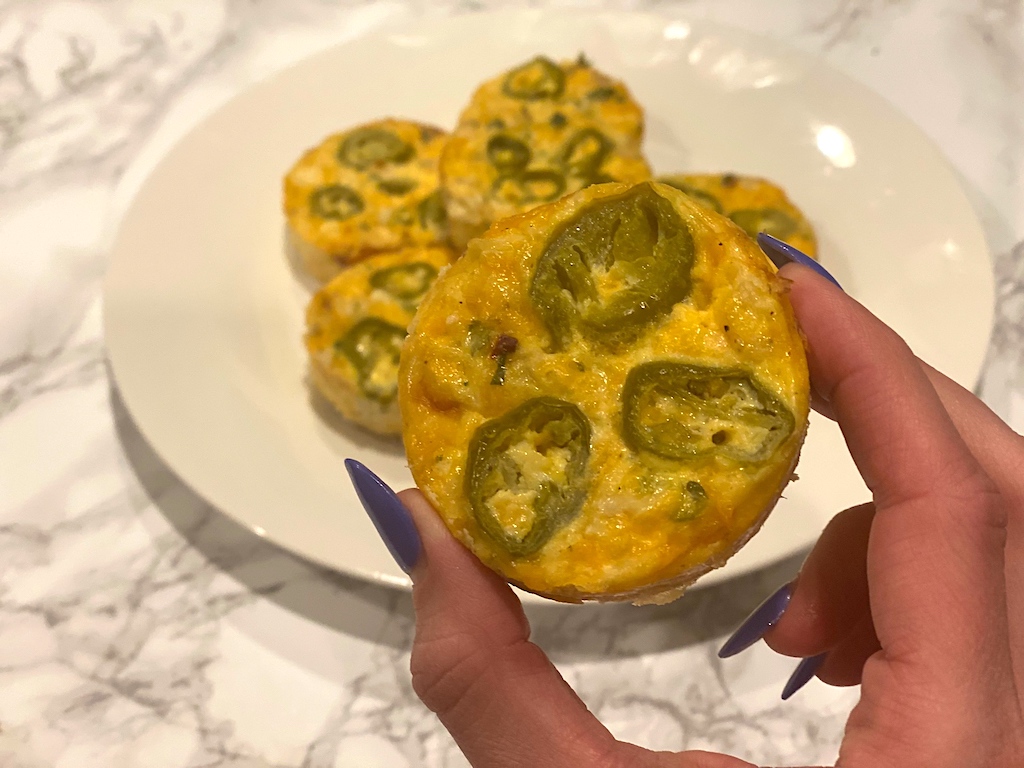 Check out what my Hip2Keto teammates had to say after baking the spicy tuna cups:
"I love tuna and anything spicy so I was really excited to try these. They were so easy to make with the minimal ingredients and they turned out absolutely delicious! The fresh parsley made the flavor so yummy and the texture was perfect.
I used a silicone cupcake pan and the tuna cups easily came out of the molds without sticking to the bottom. I'll definitely be making a big batch of these for weekday snacking! I tested this out in a regular cupcake pan and also a silicone mold and they did stick and break apart a bit in the regular pan so I would definitely recommend using a silicone one for this recipe so they come out in one pretty piece! Loved these so much!" – Taylor
---
"These turned out fantastic! I love the flavor, especially with the jarred jalapeños and cheeses! Also, these reheat nicely the next day in the air fryer. My daughter and I had these two days in a row for lunch with a salad and it sure made for the perfect lunch. I love the pan suggested for this, it worked out beautifully!" – Jenna
---