Parmesan Brussels Sprouts are the Only Way to Eat Brussels
The parmesan Brussels sprouts will change the way you eat this love-it or hate-it vegetable.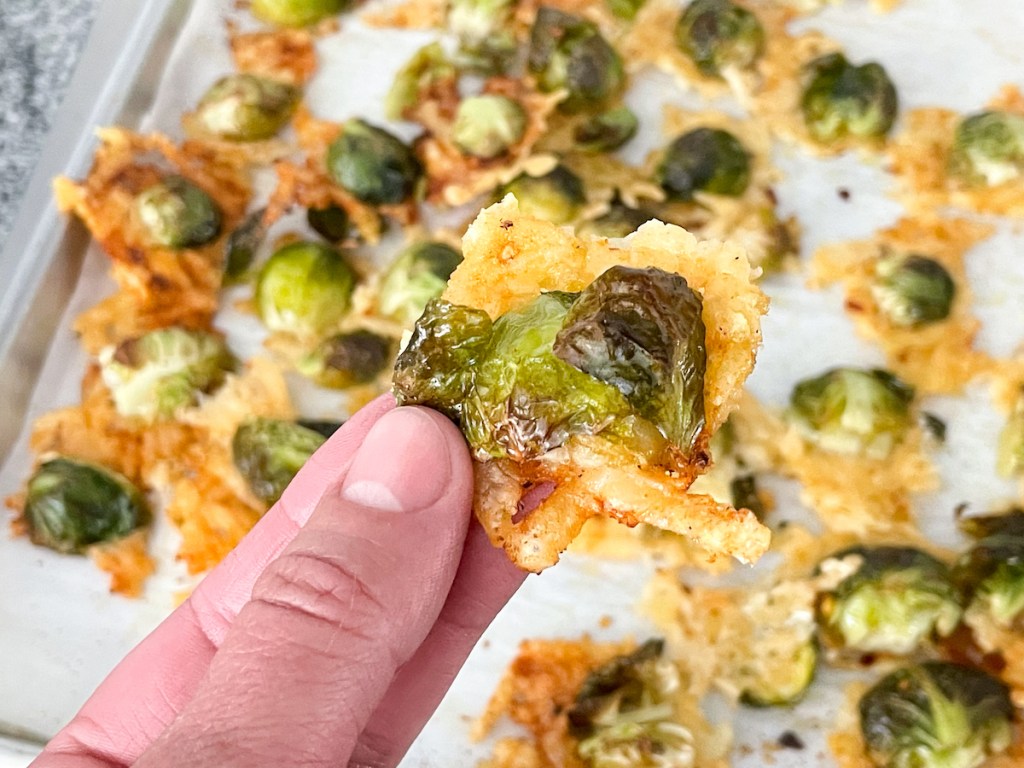 Garlic roasted parmesan Brussels sprouts will turn your vegetable world upside down.
I've had Brussels sprouts with parmesan before. In fact, that's usually how I make them. I typically roast the Brussels sprouts first and then top them with parmesan. But this recipe, well, you top the parmesan with the Brussels sprouts and then roast them. It's genius and so, so tasty!
The crispy parmesan cheese is the best part. We found this recipe on Instagram and wanted to make it ourselves. To mix things up a bit, I added garlic powder and red pepper flakes. It's so yummy!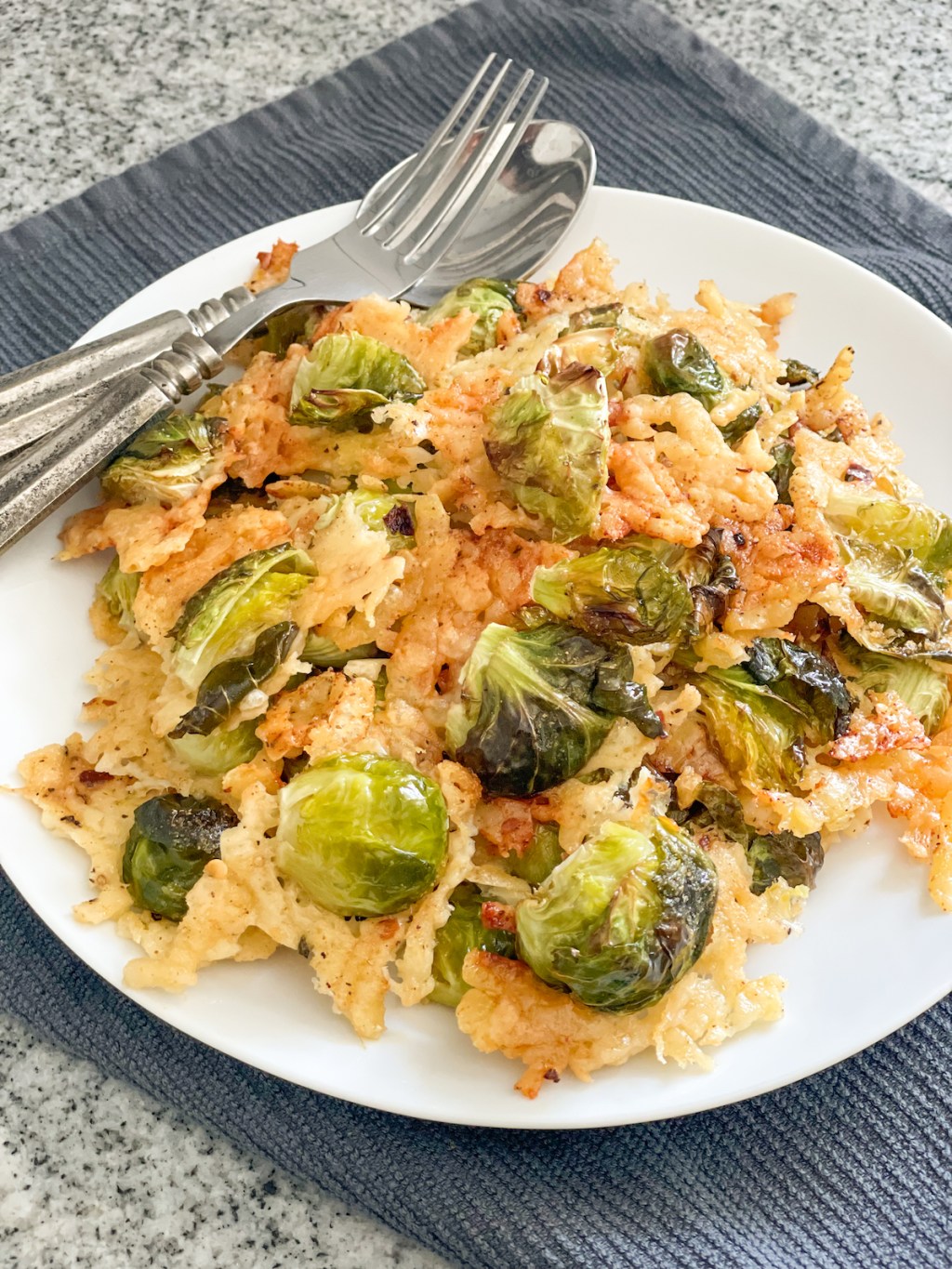 These really go with anything. I had them with leftover pulled pork and it was a delicious meal. They pair nicely with any type of meat.
You could also serve these as an appetizer. Stick some toothpicks in them and you're all set. They won't last long. Even people who don't like Brussels sprouts will gobble these up (*ahem* calling all parents with picky eaters!). I mean, who doesn't like crispy cheese?!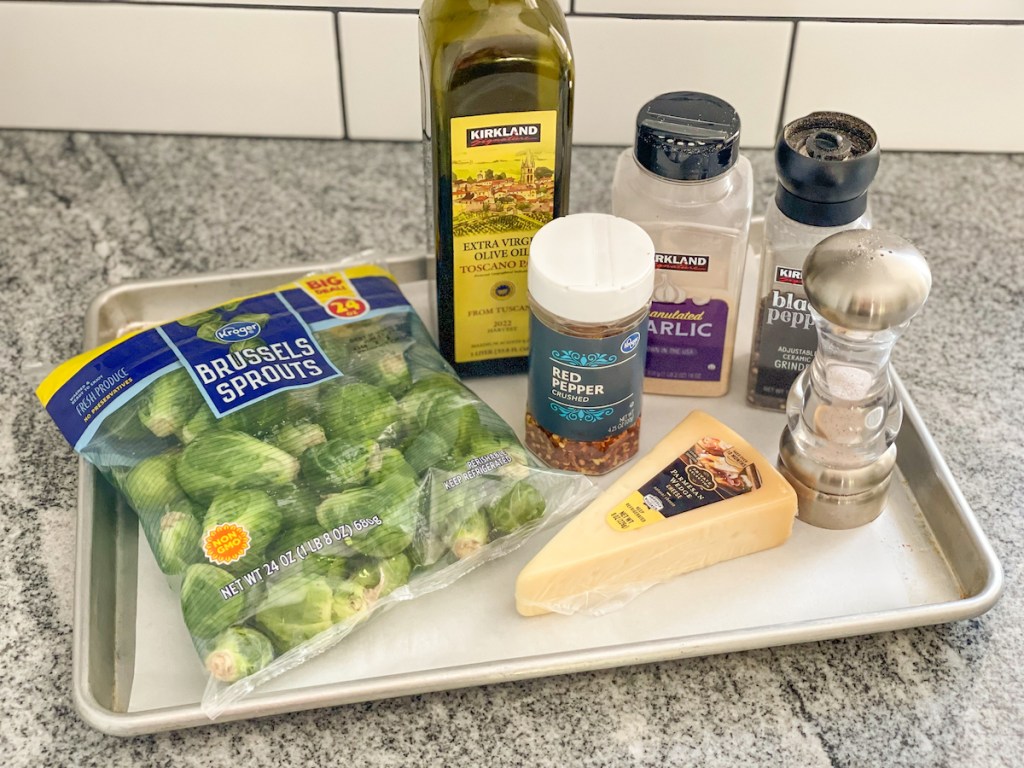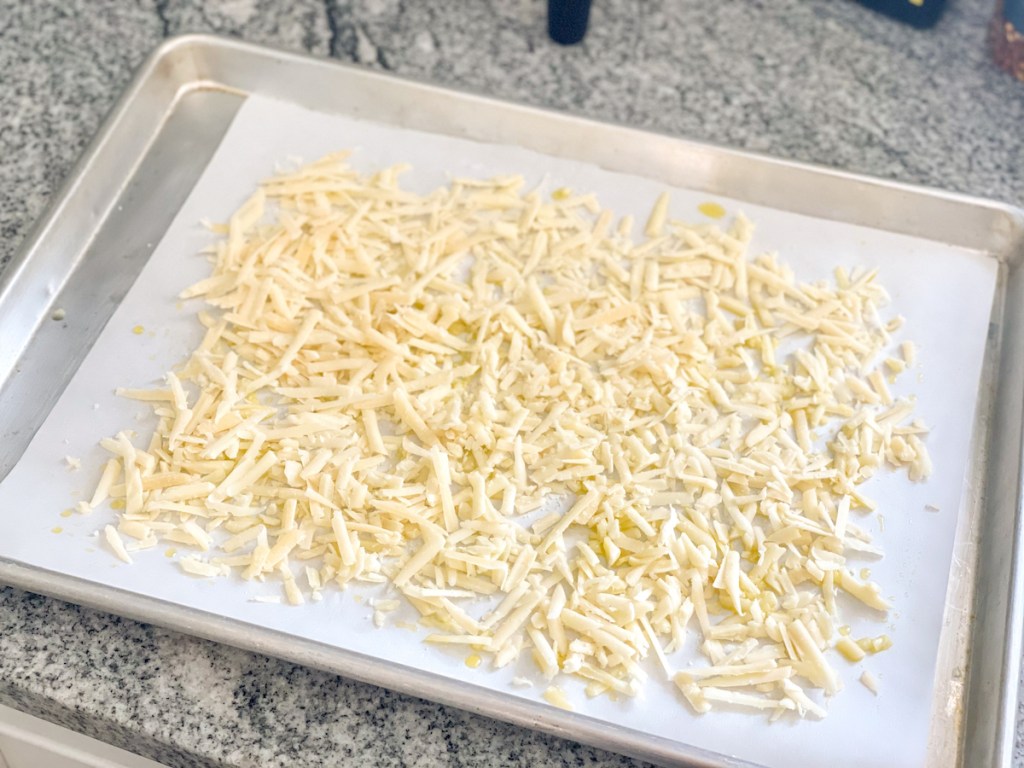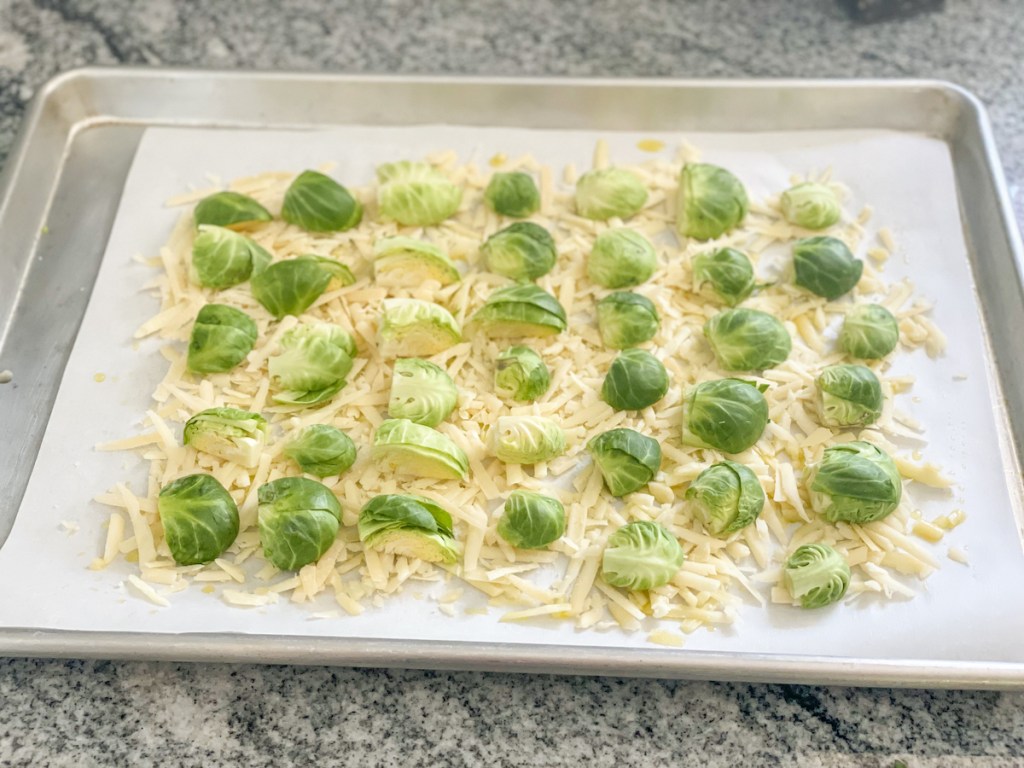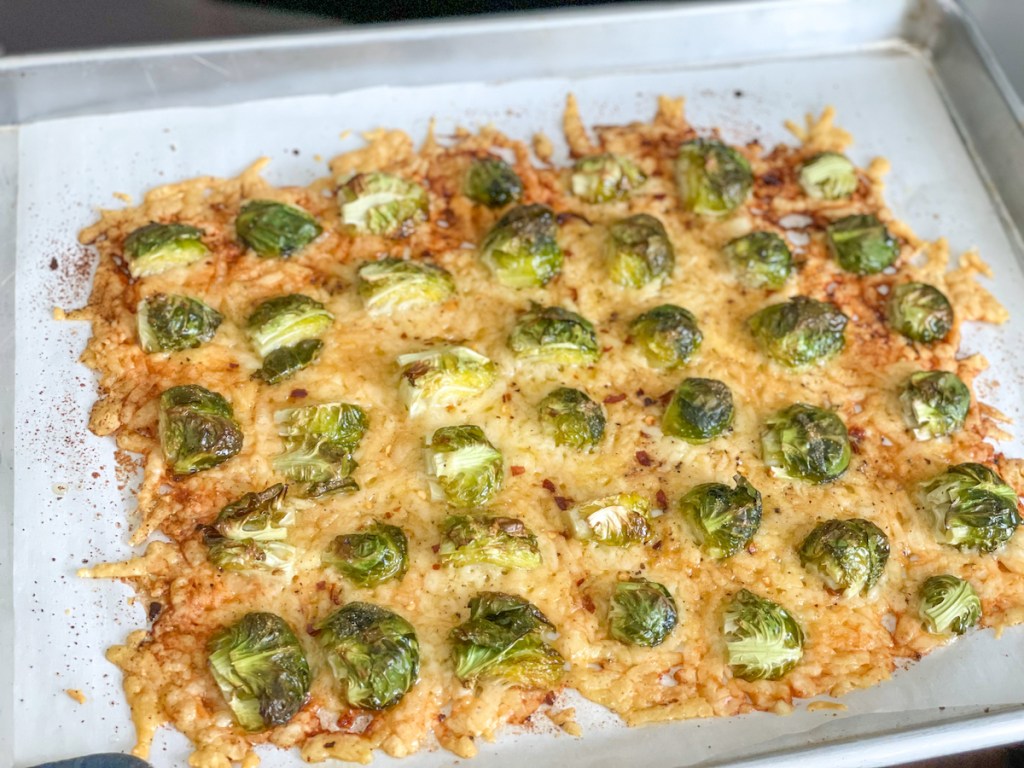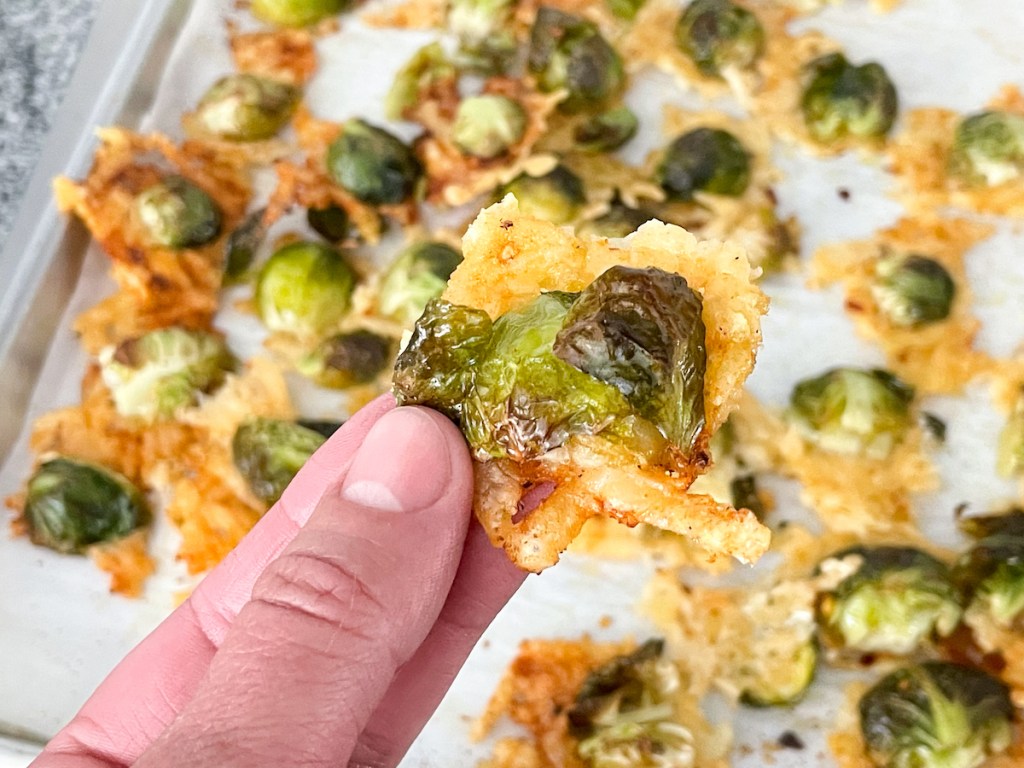 ---
Print
Parmesan Brussels Sprouts
yield: 6 SERVINGS
prep time: 10 MINUTES
cook time: 20 MINUTES
total time: 30 MINUTES
Roasted Brussels sprouts with crispy parmesan cheese.
Ingredients
4 tablespoons olive oil, divided
1 tablespoon garlic powder
1/2 teaspoon salt
1/4 teaspoon pepper
Directions
1
Preheat oven to 400 degrees. Line a baking sheet with parchment paper making sure it covers the entire pan, otherwise, you may end up with some grease spilling off and getting underneath the paper.
2
Drizzle 2 tablespoons of olive oil on the parchment paper. Top the olive oil evenly with the shredded parmesan cheese.
3
Place the Brussels sprouts, cut side down, on top of the shredded parmesan cheese.
4
Drizzle the Brussels sprouts with the remaining 2 tablespoons of olive oil. Sprinkle the Brussels sprouts with the garlic powder, salt, pepper, and crushed red pepper flakes (if desired).
5
Bake the Brussels sprouts for 20 to 25 minutes until the parmesan starts to brown. Start checking around 20 minutes to make sure you don't over cook the cheese. Let cool a few minutes before serving. Enjoy!
Nutrition Information
Yield: 6, Serving Size: 1/2 cup
Amount Per Serving: 226 Calories | 18.6g Fat | 3.3g Total Carbs | 1.4g Fiber | 0.8g Sugar | 10.7g Protein | 1.9g Net Carbs
---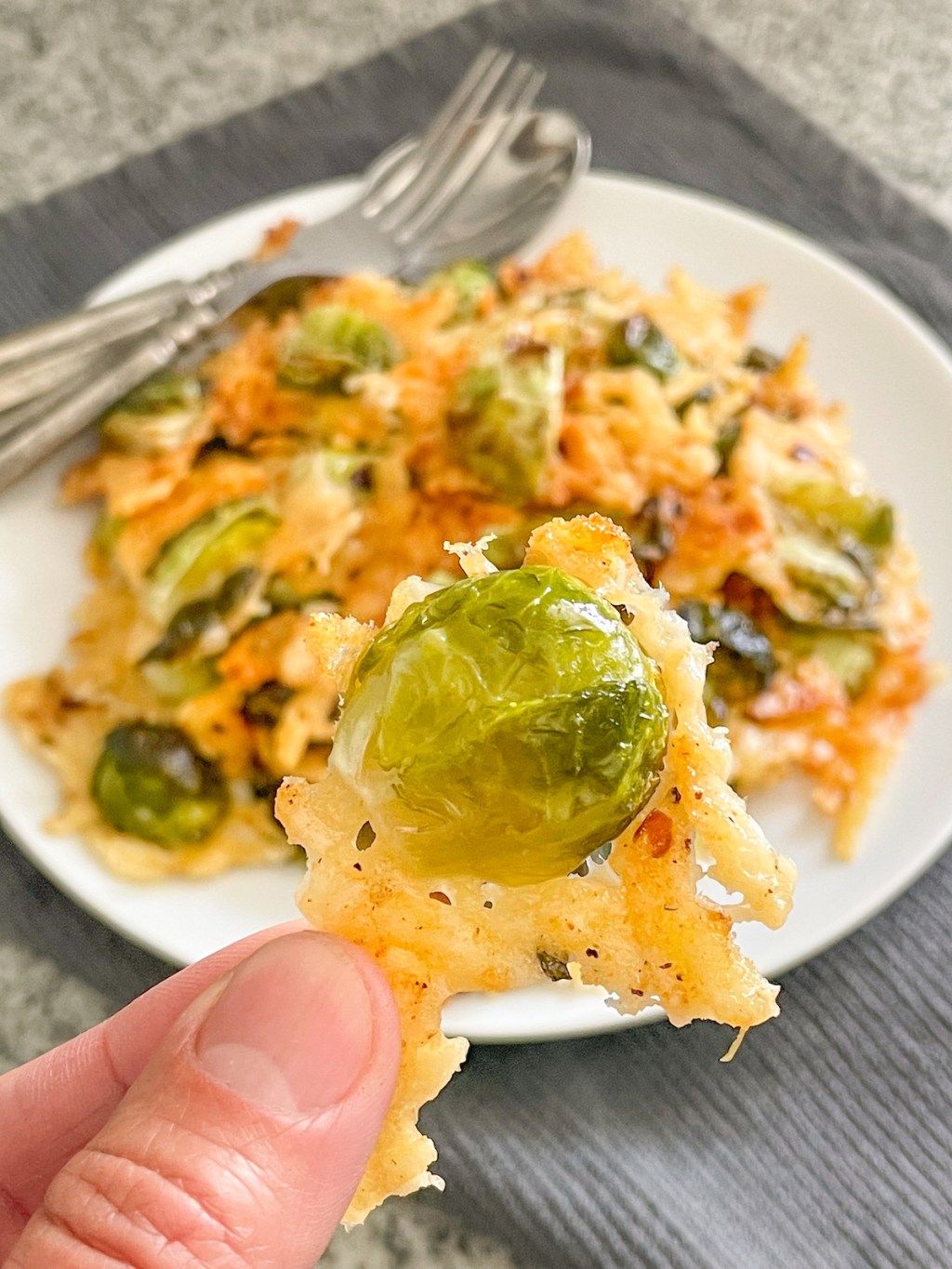 Tips for making the best parmesan Brussels sprouts:
Shred your own parmesan – it melts better!
Try to make all your Brussels sprouts the same size. You might half some and quarter others.
These took close to 25 minutes in my oven. Start checking them at 20 minutes. The cheese will get harder as it cools. I found the pieces around the edges were crispiest and the middle pieces were softer.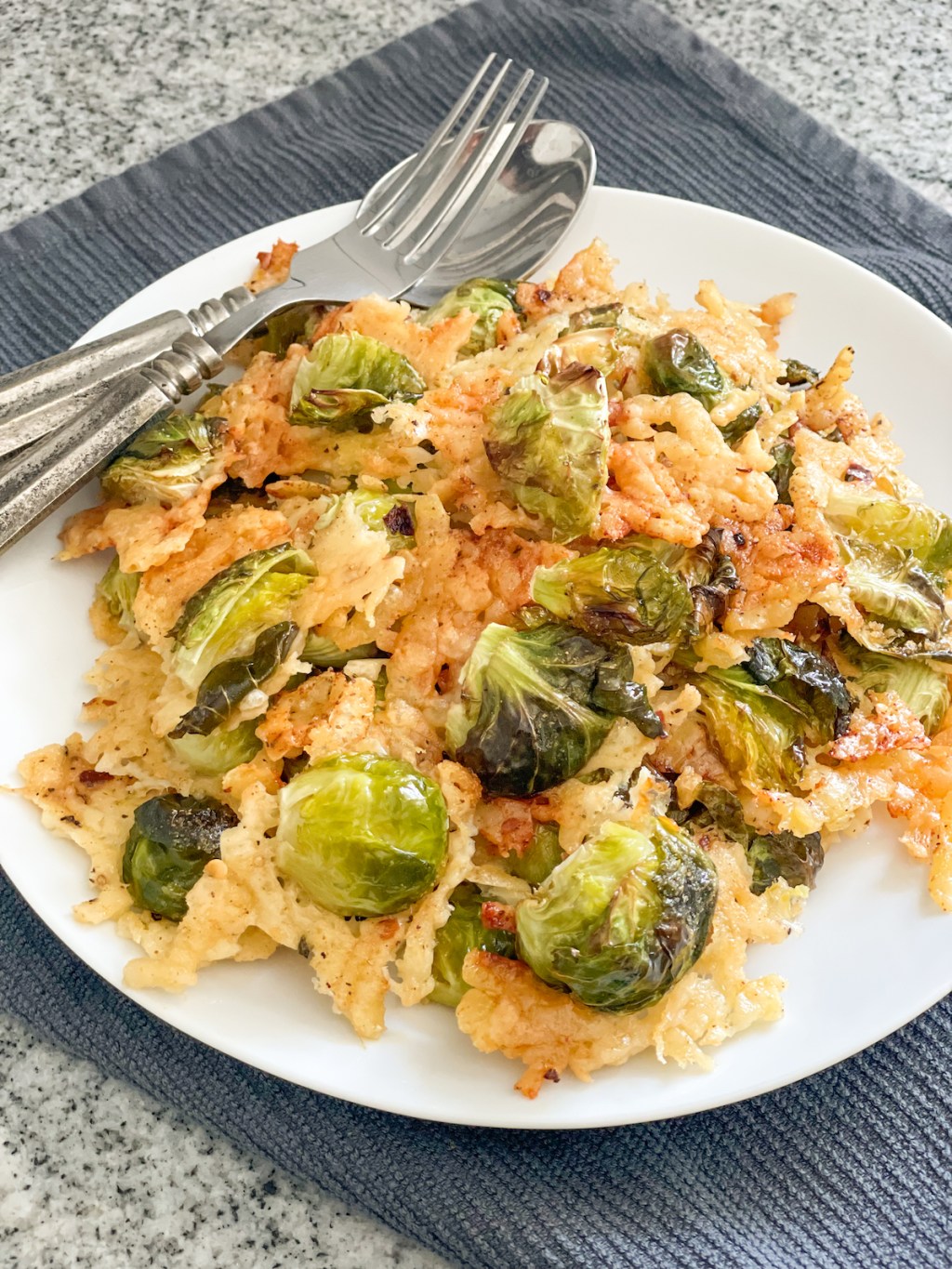 Fall in love with Brussels sprouts!
Everyone will go crazy for these parmesan Brussels sprouts. The garlic powder and red pepper flakes make them absolutely amazing. If you're not a fan of red pepper flakes, you can skip them. But I highly recommend just a little sprinkle for that bit of a kick!
What's your favorite way to eat Brussels sprouts? Let us know!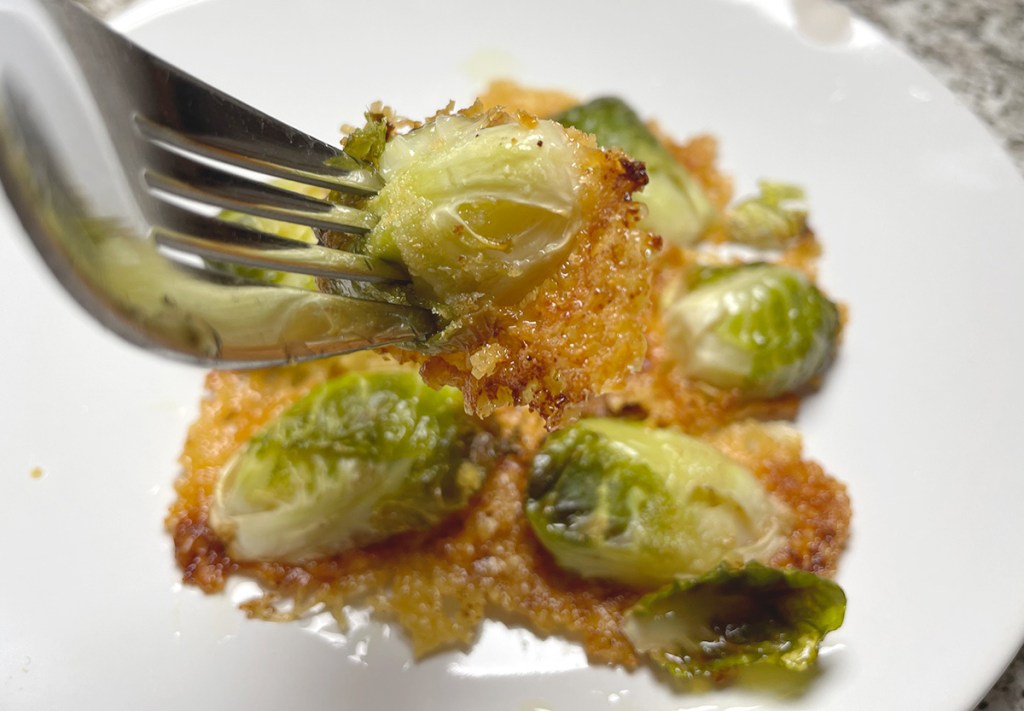 Here's what my Hip sidekick Chelsey had to say about these parmesan Brussels sprouts:
"These were delicious! They are so unbelievably easy to make and while they'd go great with almost anything as a side, we just enjoyed them as an afternoon snack. I love that you can change them up by using different spices on them or just follow the directions as they are written. Plus, even my kids loved them so that's always a win to get them to eat their veggies!"
---
You've got to try these bacon wrapped Brussels sprouts next!