Melt in Your Mouth Chicken Breasts – You'll Never Cook Chicken the Same After this Recipe!
You might not ever make chicken breasts any other way after you try this Melt in Your Mouth Chicken recipe!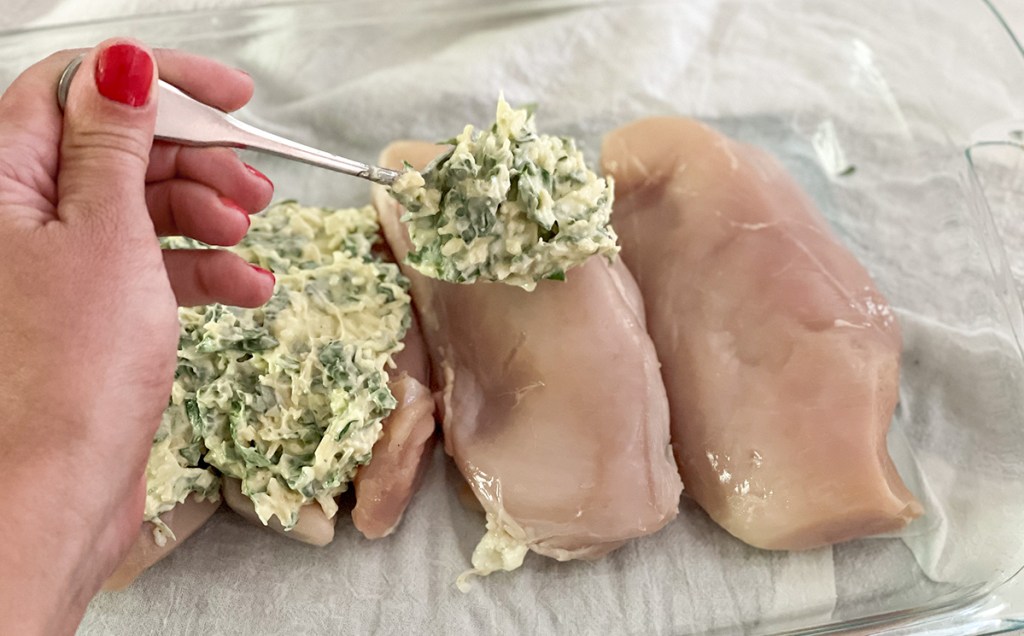 Winner, winner chicken dinner!
Imagine chicken breasts topped with a heavenly flavor combination of mayonnaise, cheese, chopped spinach, and seasonings and then baked to perfection. I'll be the first to say this recipe is extremely easy yet oh so satisfying!
The mayonnaise and cheese coating creates the most moist, flavorful chicken breasts I've ever had!
Melt in Your Mouth Chicken is hands down the best keto chicken recipe I've made.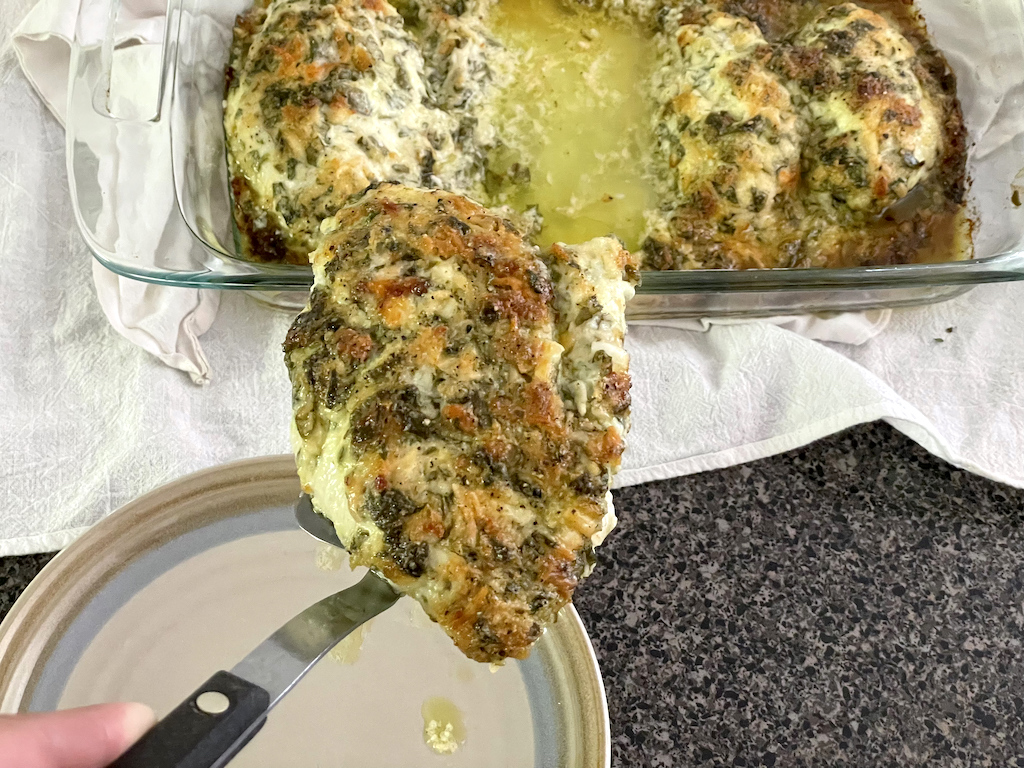 One of our lovely readers emailed in this recipe suggestion and we're so grateful! Reader Alexis said that her family loves this recipe and that she usually doubles the topping to use it on vegetables, too!
Chicken is the perfect base for this recipe as it's a mild protein ready to take on all the flavors added to it. I have to say the topping is the star of the show and the highlight of this dish. ⭐️
Bonus that it's naturally a keto dish so no need for any keto-specific ingredients – yay!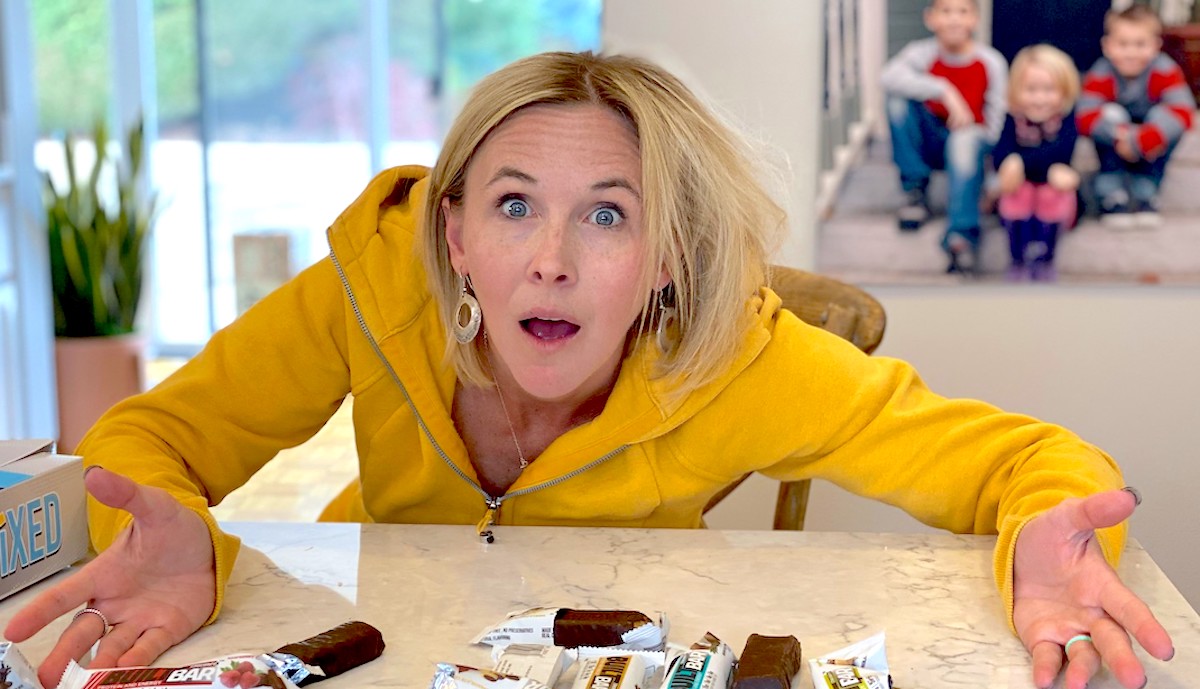 Don't miss out!
Subscribe to our newsletter.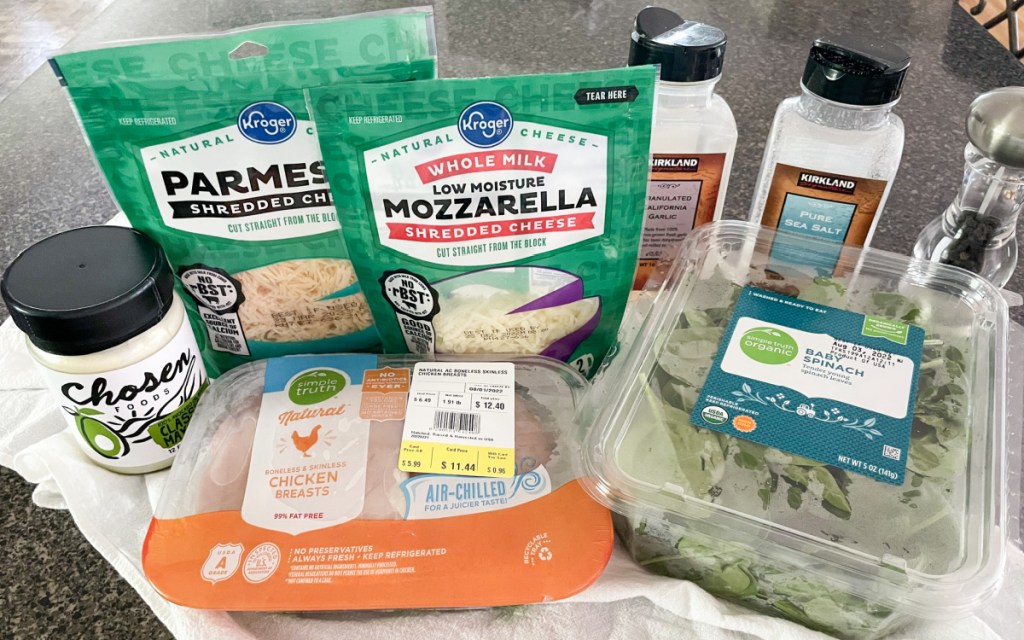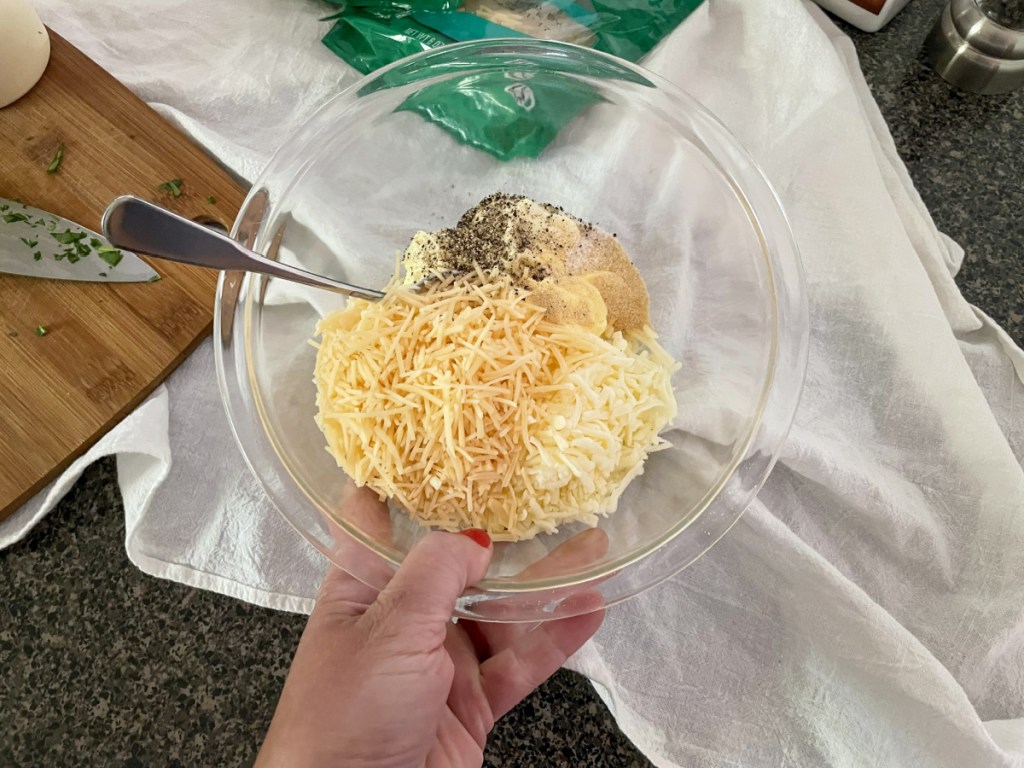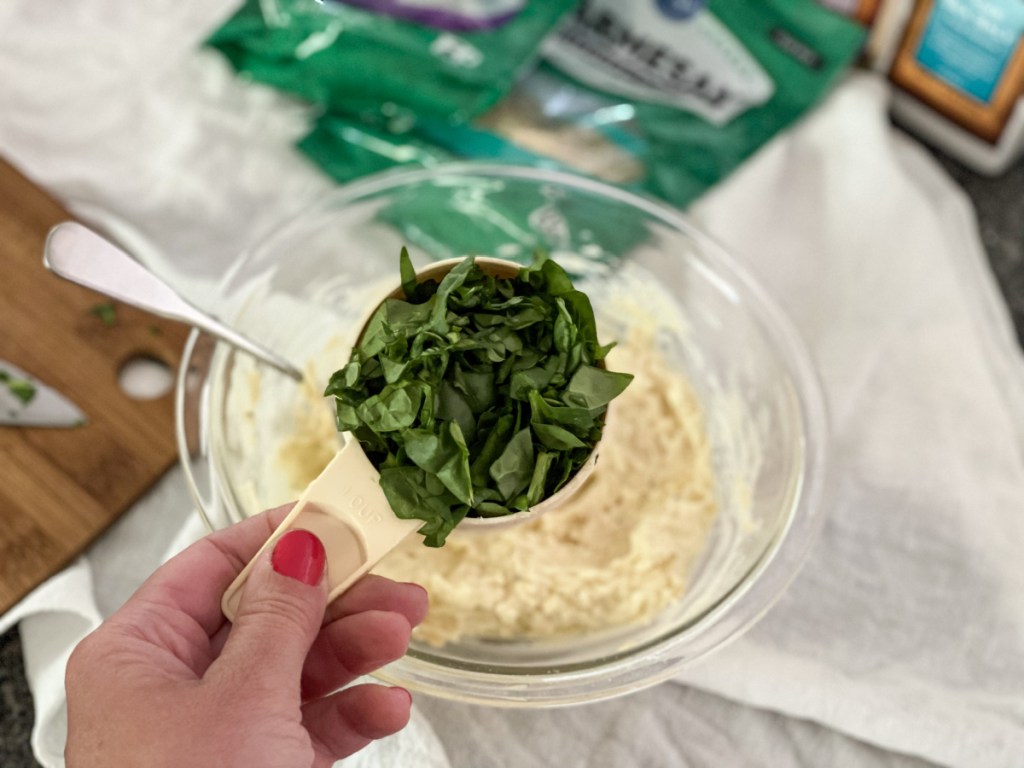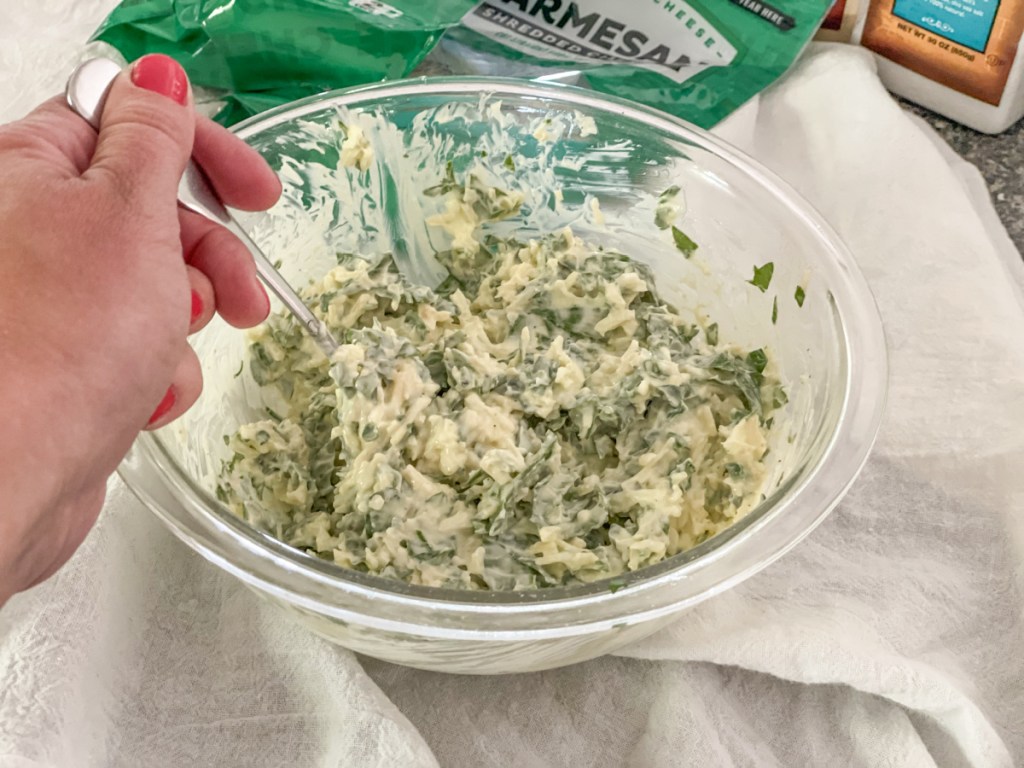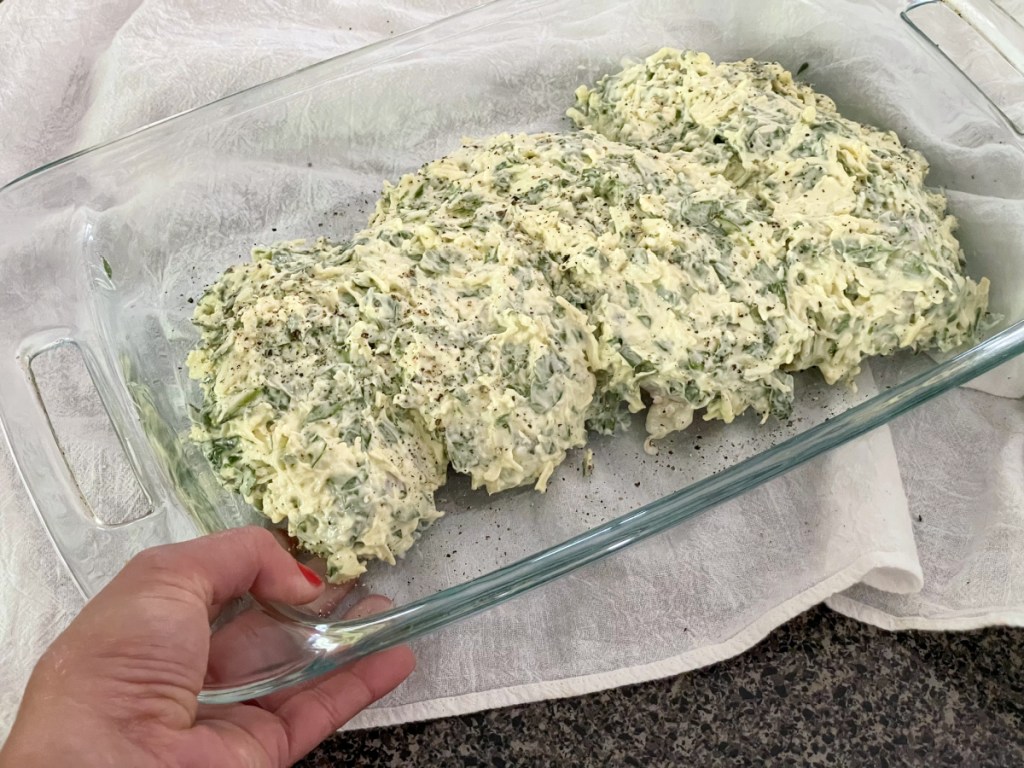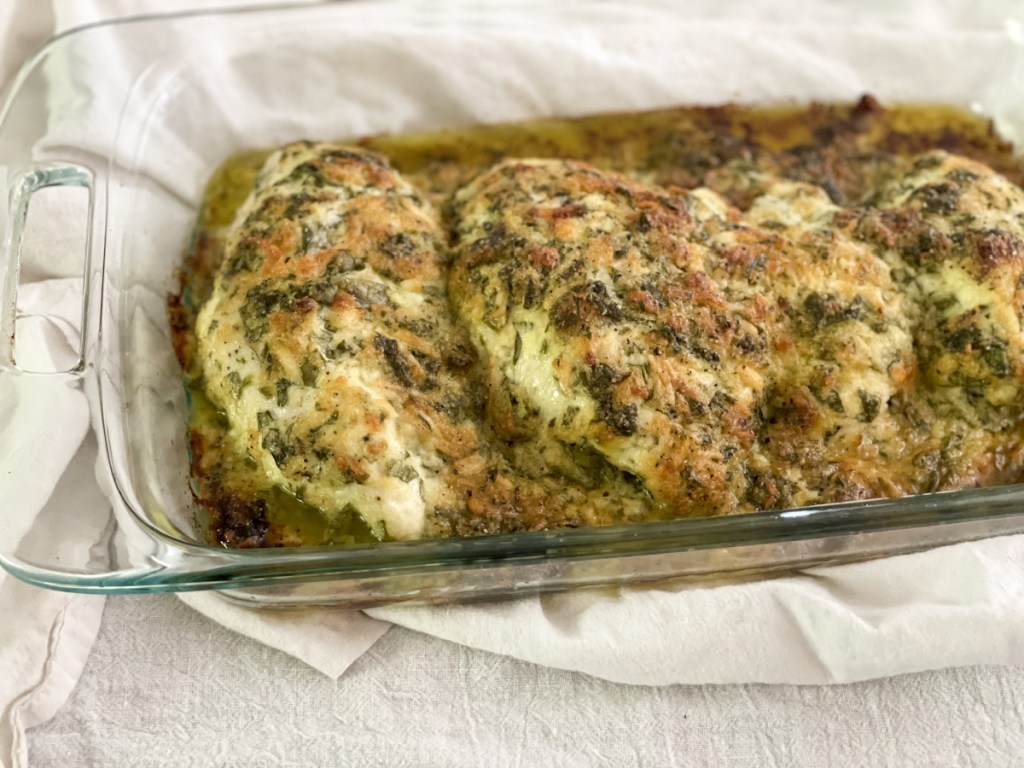 ---
Print
Melt in Your Mouth Chicken
yield: 4 SERVINGS
prep time: 10 MINUTES
cook time: 45 MINUTES
total time: 55 MINUTES
Chicken breasts topped with a mixture of mayonnaise, cheese, chopped spinach, and seasoning and then baked to perfection.
Ingredients
4 chicken breasts, about 1 1/2 pounds
1 cup mayonnaise
1/2 cup shredded parmesan
1/2 cup shredded mozzarella
2 teaspoons garlic powder
1/2 teaspoon salt
1/4 teaspoon pepper
1 cup packed spinach, finely chopped
Directions
1
Preheat the oven to 375 degrees. Pound chicken breasts to desired thickness so that they cook more evenly. Place chicken breasts in a 9x13-inch baking dish. Set aside.
2
In a medium-sized bowl, mix together mayonnaise, parmesan, mozzarella, garlic powder, salt, pepper, and chopped spinach.
3
Top chicken breasts with mayonnaise-cheese topping. Spread evenly over each chicken breast, make sure to fully coat each chicken breast.
4
Bake chicken for 40 to 45 minutes, until internal temperature reads 165 degrees. Let chicken rest for about 5 minutes before serving. Enjoy!
Nutrition Information
Yield: 4 servings, Serving Size: 1 chicken breast with topping
Amount Per Serving: 797 Calories | 62.2g Fat | 2.5g Total Carbs | 0.3g Fiber | 0.1g Sugar | 61.6g Protein | 2.2g Net Carbs
---
Tips for making the best Melt in Your Mouth Chicken:
I used chicken breasts in this recipe but chicken thighs would be tasty too and add an extra element of good keto fats.
Double the topping to use it on veggies or just to really load up the chicken. It's so good! 🤤
If you want a kick of spice, adding 1/4 to 1/2 teaspoon of red pepper flakes would be super tasty.
Check the temperature of the chicken to know when it's done. The chicken needs to be 165 degrees. I prefer to use a food thermometer versus cutting open the chicken to check for doneness.
Avocado mayonnaise is my favorite and what I used for this recipe, but any mayo will work, just check for any sneakily added carbs. You can also try our homemade keto mayo recipe.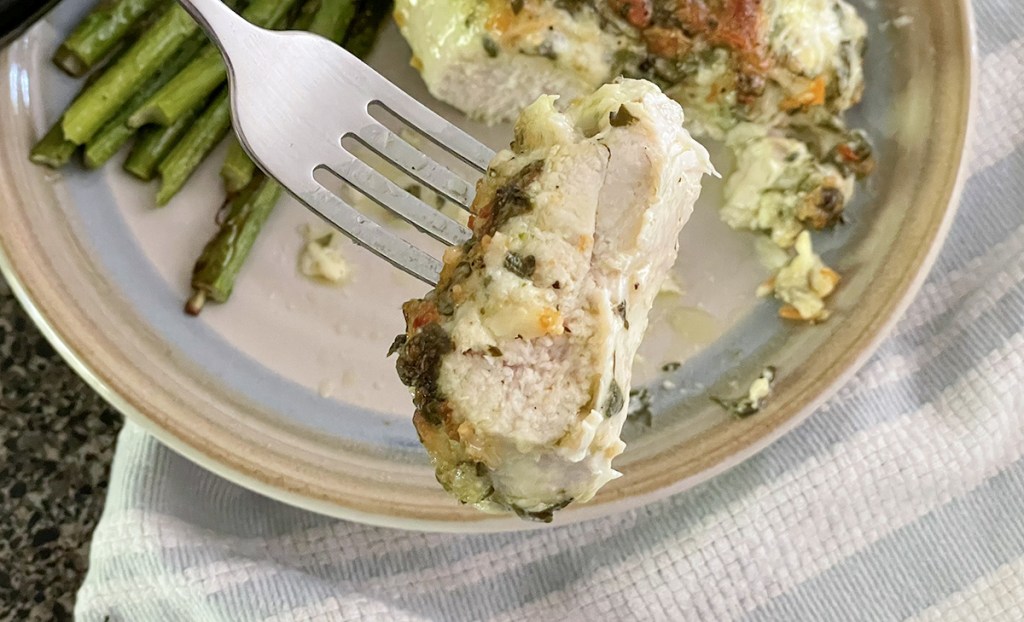 So good you'll want to do the chicken dance! 🐓 💃🏼
Chicken can sometimes be bland and it's pretty easy to overbake it. That said, I'm always worried about undercooked chicken so I tend to err on the safe side and have definitely ended up with dry chicken. No good! But with this recipe, the toppings coat the chicken and seal in the moisture for perfectly cooked chicken every time.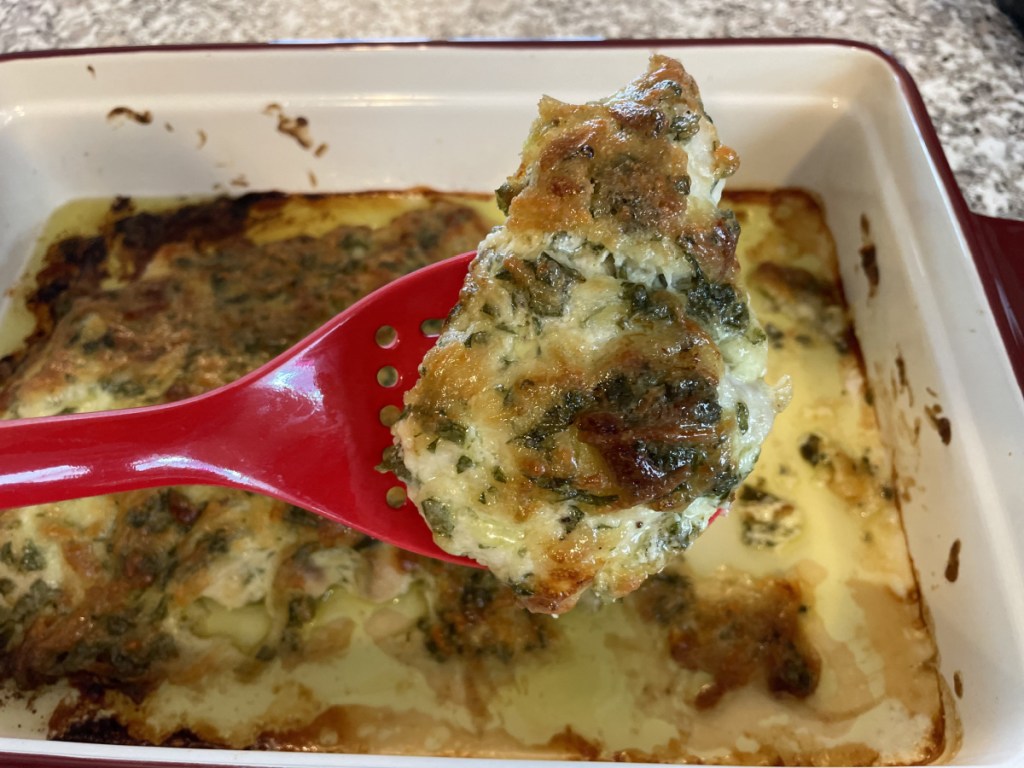 Here's what my Hip sidekick Chelsey had to say about this Melt in Your Mouth Chicken:
"Not only is this chicken extremely easy to make, but it's delicious! My whole family enjoyed it, which is saying something since my husband isn't usually a fan of chicken meals. Plus, it's even good the next day reheated! I printed out this recipe and added it to my cookbook and meal rotation list, it's that good!"
---
Looking for another amazing chicken recipe? Try our popular chicken and broccoli casserole!