Low-Carb Bacon-Wrapped Broccoli Cheddar Stuffed Chicken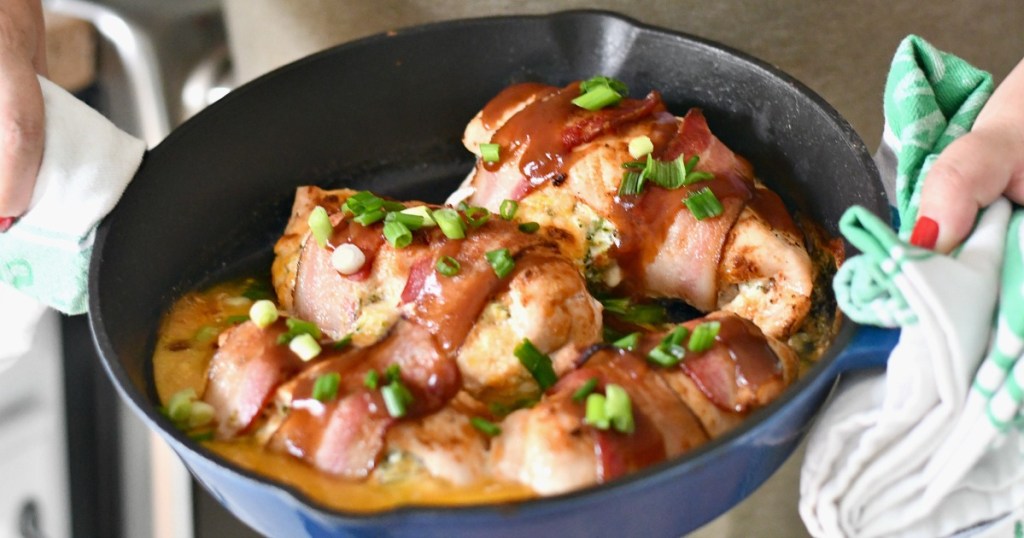 Love easy family-friendly chicken meals?
You've gotta check out this insanely delicious cheese and broccoli stuffed chicken that's wrapped in bacon and baked in the oven. It's a filling and satisfying meal we all LOVED, and I know you will, too.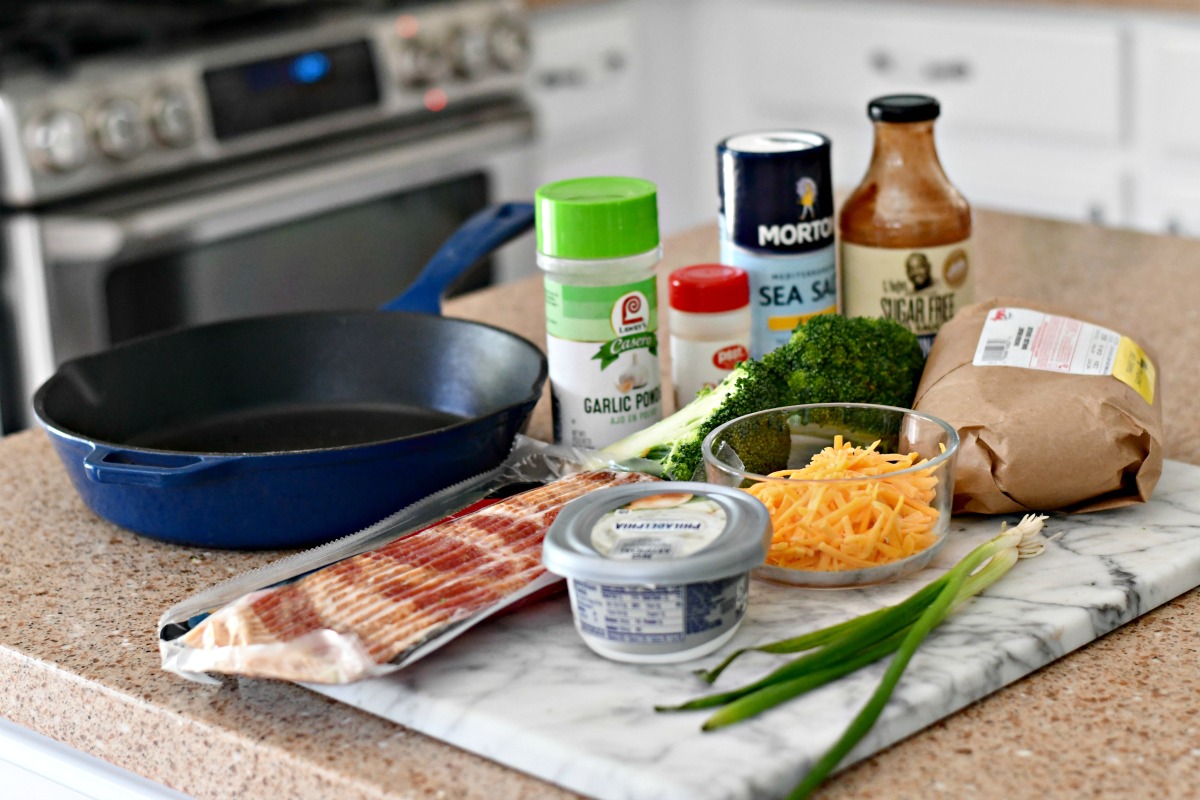 I love keto meals with SIMPLE ingredients like this one!
You'll need to start with some basic ingredients like fresh chicken breasts, bacon, broccoli, cheddar cheese, and cream cheese. I picked up the onion and chive flavored cream cheese, and it was yummy in this recipe.
After my chicken was baked, I drizzled just a little sugar-free BBQ sauce over the chicken and it was so tasty. We love the brand G. Hughes Sugar Free BBQ sauce.
Turns out stuffed chicken is fairly easy to make!
The process includes mixing up the cheese and broccoli filling and then stuffing some in each chicken breast. I chose four evenly-sized, trimmed breasts that were thick enough in the middle to filet, but not super thick.
You'll want to cut a pocket in the middle of the chicken first. The best way to do this is to lay breast flat and cut across the middle without cutting all the way through to the other side. That way it's easy to open and then close for baking.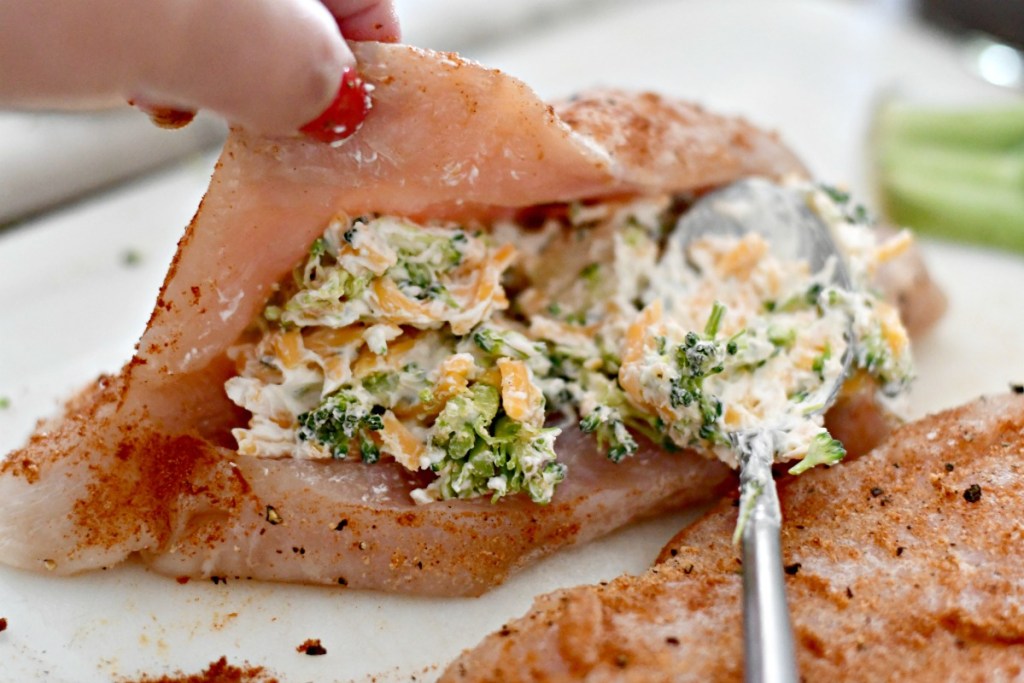 After the chicken is stuffed, simply cut a piece of bacon in half, place both pieces over the top of the chicken, and tuck the ends underneath. You can bake your chicken in an oven-safe casserole dish or in a large cast-iron skillet like I'm using.
Once it's done baking, simply switch oven to broil for about 5-10 minutes to crisp up the bacon. Super easy!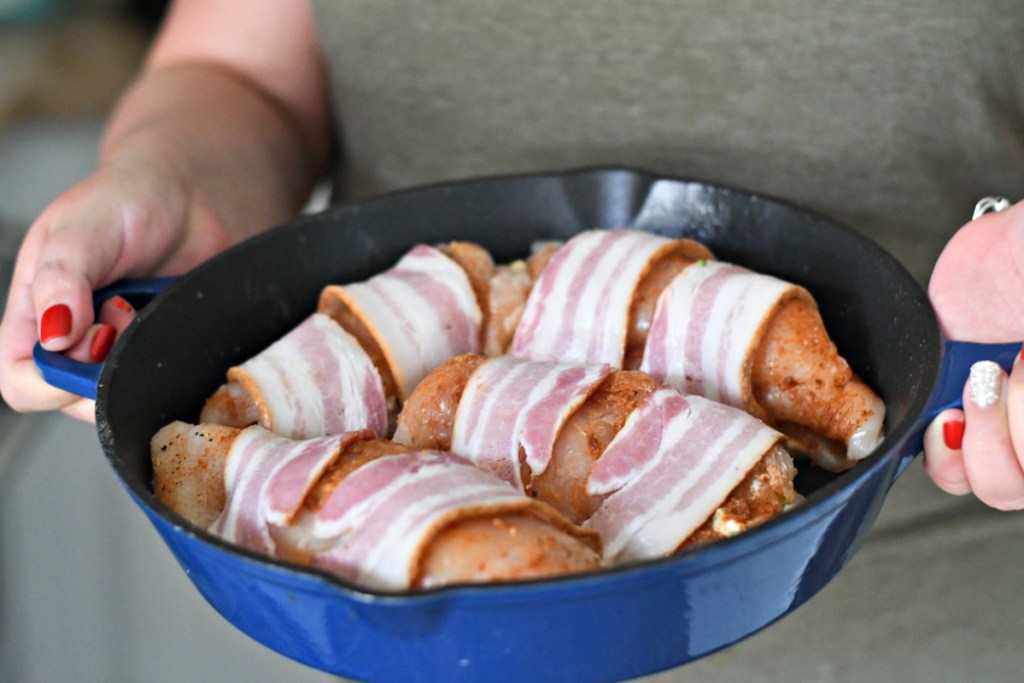 ---
Print
Keto Bacon-Wrapped Broccoli Cheddar Stuffed Chicken
yield: 4 SERVINGS
prep time: 20 MINUTES
cook time: 35 MINUTES
total time: 55 MINUTES
Stuffed chicken breasts featuring cream cheese, cheddar, and chopped broccoli, all wrapped in bacon with a drizzle of sugar-free BBQ sauce and chopped green onion.
Ingredients
4 raw chicken breasts, about 2 lbs.
1 tablespoon coconut oil
2 teaspoons paprika
1 teaspoon garlic powder
1/2 teaspoon salt
1/4 teaspoon ground pepper
4 oz. herb and chive cream cheese
1 cup chopped broccoli
3/4 cup shredded cheddar cheese
1 teaspoon garlic powder
4 slices of raw bacon
2 green onions, chopped
4 teaspoons sugar-free BBQ sauce
Directions
1
Preheat oven to 375 degrees.
2
Carefully filet the chicken breasts down the middle without cutting all the way through. This way you'll be able to create a pocket to stuff and fold back to shut.
3
Coat chicken breasts with olive oil. Mix paprika, 1 teaspoon of garlic powder, salt & pepper together in a small dish, and season outside of chicken.
4
Mix cream cheese, chopped broccoli, cheddar cheese, and 1 teaspoon garlic powder in a small bowl.
5
Spoon 1/4 of the mixture into each chicken breast.
6
Cut bacon in half and place two halves on top of each chicken breast. Fold them over the top and tuck ends underneath.
7
Place all in an oven safe casserole dish or cast iron pan. Bake in oven for 30 minutes or until cooked through.
8
Switch oven to broil setting and broil for an extra 5-10 minutes to crisp up the bacon.
9
Drizzle each chicken breast with sugar-free BBQ sauce, and top with chopped green onion. Serve warm. Enjoy!
Nutrition Information
Yield: 4 stuffed chicken breasts, Serving Size: 1 chicken breast
Amount Per Serving: 544 Calories | 33g Fat | 8g Total Carbs | 1g Fiber | 55g Protein | 7g Net Carbs
---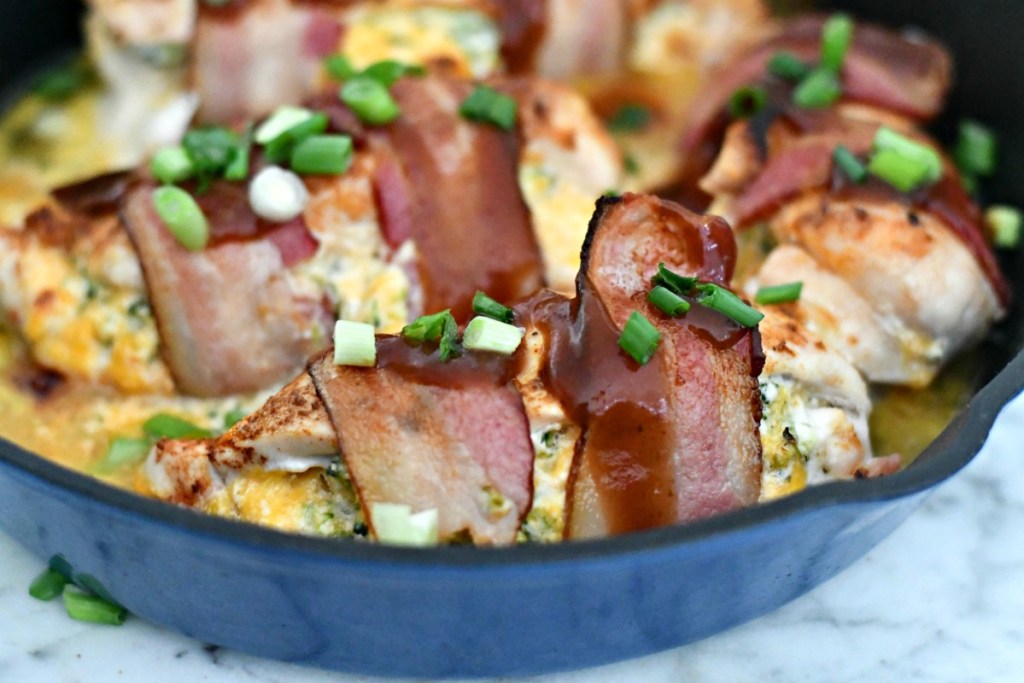 Winner Winner Easy Dinner!
This meal was a hit! All that yummy cheese inside the chicken gets melted and delicious. My kids didn't even notice the broccoli (LOL), and the bacon gets nice and crispy. I drizzled the BBQ sauce and added fresh chopped green onion to the top for serving, and it's so YUM! I'm now convinced stuffed chicken is the way to go!
We all loved the flavorful taste and texture of this meal very much, and it looks beautiful, too!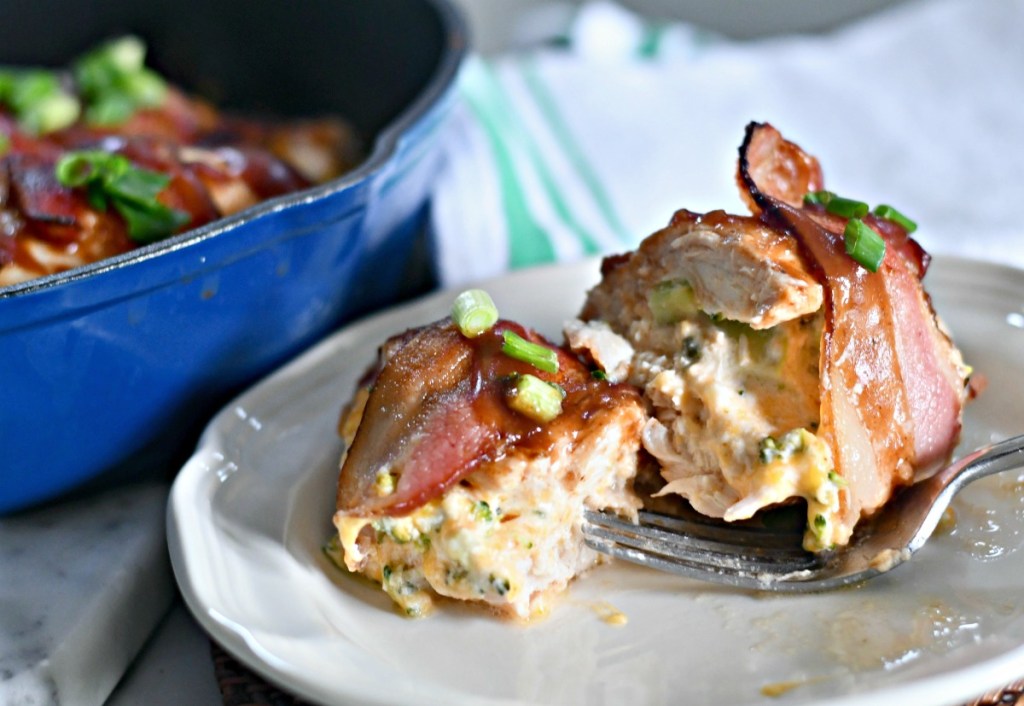 ---
Make this keto crack chicken the entire family will LOVE!