Skip the Oven and Cook a Whole Chicken in the Air Fryer!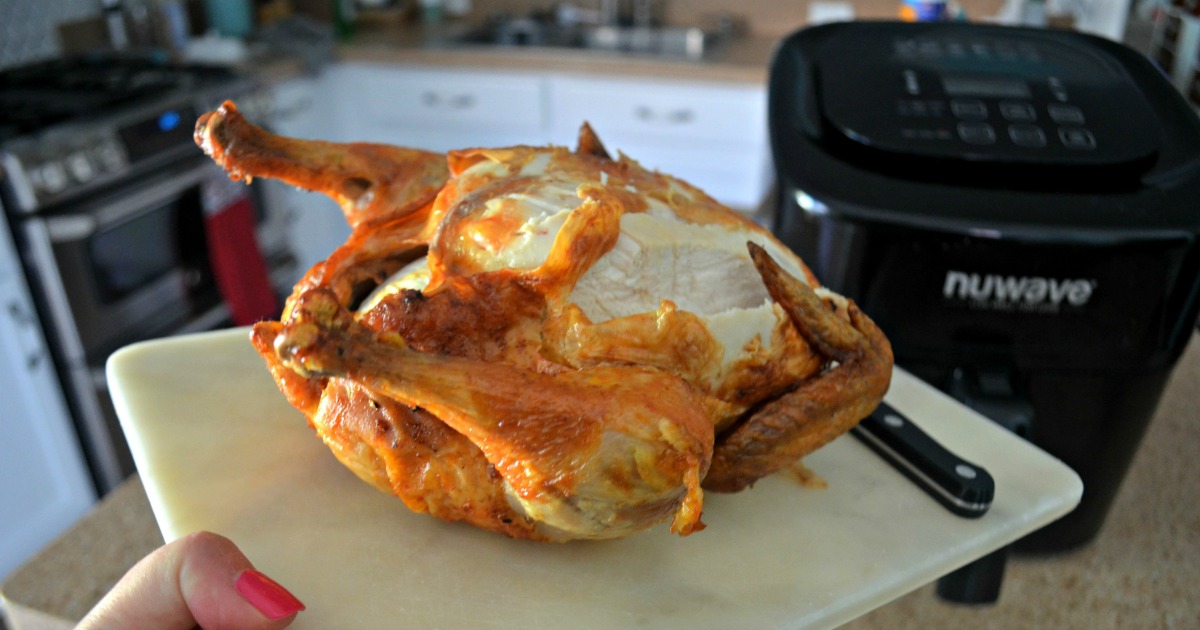 Curious about preparing a whole chicken using the air fryer?
I recently bypassed my oven and tried making a 5-pound chicken in my LARGE 6-quart air fryer and it was outrageously delicious and EASY! I mean, less than an hour for crispy-skinned chicken that falls off the bone tender? Yes, please!
Rotisserie style chicken is such a delicious family-friendly meal idea that'll keep you on track with only the ingredients you love, and none of the ones you don't!
---
Print
Air Fryer Whole Chicken
yield: 6 SERVINGS
prep time: 5 MINUTES
cook time: 50 MINUTES
total time: 55 MINUTES
Cook a chicken in the the air fryer and you'll never go back to the regular oven!
Ingredients
5 lb whole chicken
2 tablespoons butter
1 Goya Sazón packet
1/2 onion (to stuff inside chicken)
Directions
1
Remove insides from chicken.
2
Rub chicken with butter, and also season to taste. Insert onion into chicken.
3
Place chicken inside air fryer. Set cook time and timer to 350 degrees for 30 minutes.
4
Flip chicken over and set timer for another 20 minutes.
5
Check to make sure chicken is done. Internal temp should reach 165 degrees.
6
Toss the onion (it's only for flavor).
Nutrition Information
Yield: 6 servings, Serving Size: 1/6 of whole chicken
Amount Per Serving: 803 Calories | 54g Fat | 0g Total Carbs | 0g Fiber | 63g Protein | 0g Net Carbs
---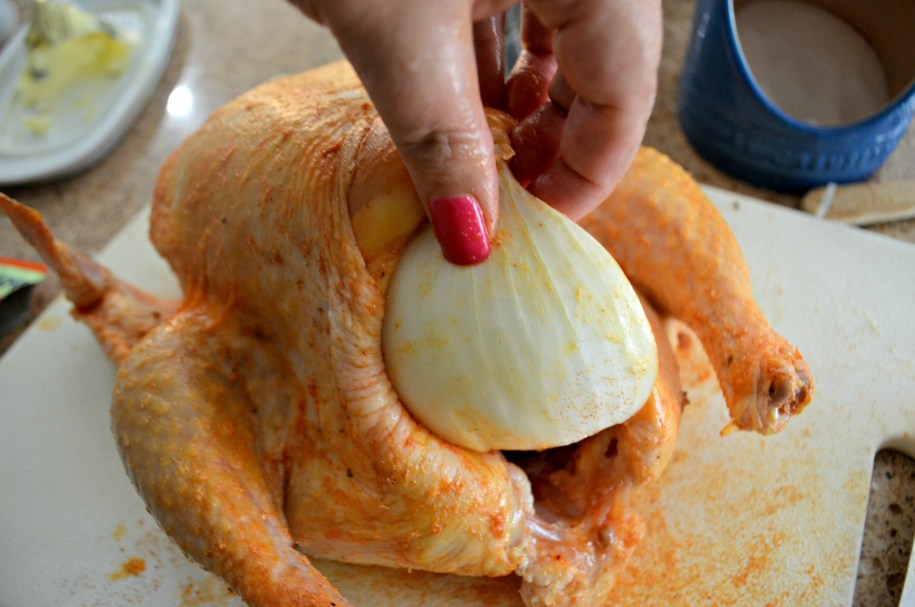 The secret to this deep golden browned skin?
My favorite seasoning for roasted chicken is Goya Sayzon. It's a popular Hispanic seasoning I grew up with that results in a deliciously flavored deep brown skin – the ultimate comfort food for me. You can, of course, use any type of seasoning desired. I love that all you have to do is season chicken and place in the air fryer! SO EASY!
Hip Tip: If you're MSG sensitive and looking for an alternative to Goya, try Badia Sazon.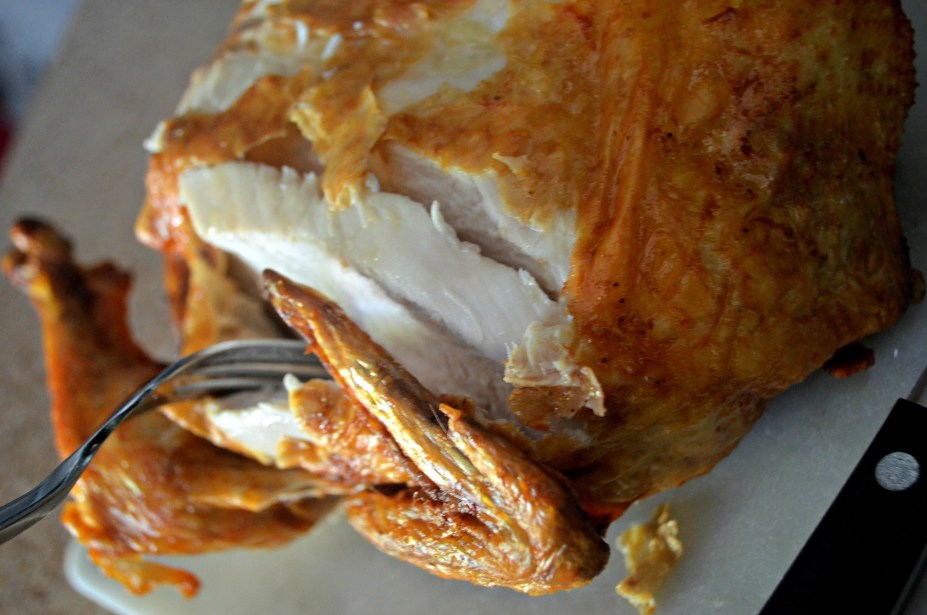 Look how tender this chicken is!
I love that this chicken is so crispy on the outside and yet so tender, it's easy to pull apart to serve. YUM! My family really enjoyed this chicken. Serve to the family with a veggie and stay on track with your nutritional goals!
---
Love using shredded chicken for meal prep?

Roasted chicken is one of the most versatile foods ever!
You can eat the meat as part of one meal, and also in other meals for the week in food preparation. If you need some inspiration to use up shredded chicken, try these: