Loaded Keto Cauliflower Casserole—Potatoes Are So Overrated!
We sure love easy keto casseroles here at Hip2Keto!

Nothing kicks off steak night like this loaded keto cauliflower casserole. It possesses all the qualities of a classic casserole with melted cheese and bacon – but with cauliflower chunks versus typical high-carb potatoes. The butter roasted cauliflower is mingled with creamy, cheesy goodness, and studded with crispy bacon and green onions… it's taste bud heaven, bite after bite. 😋
Did you know that one (plain) medium baked potato averages 33g net carbs, while 1 cup of roasted cauliflower is only 3g net carbs?! 😱
To sum up, that's a difference of 30g net carbs per serving! Less is often more. And when it comes to carbs, this keto casserole is no exception.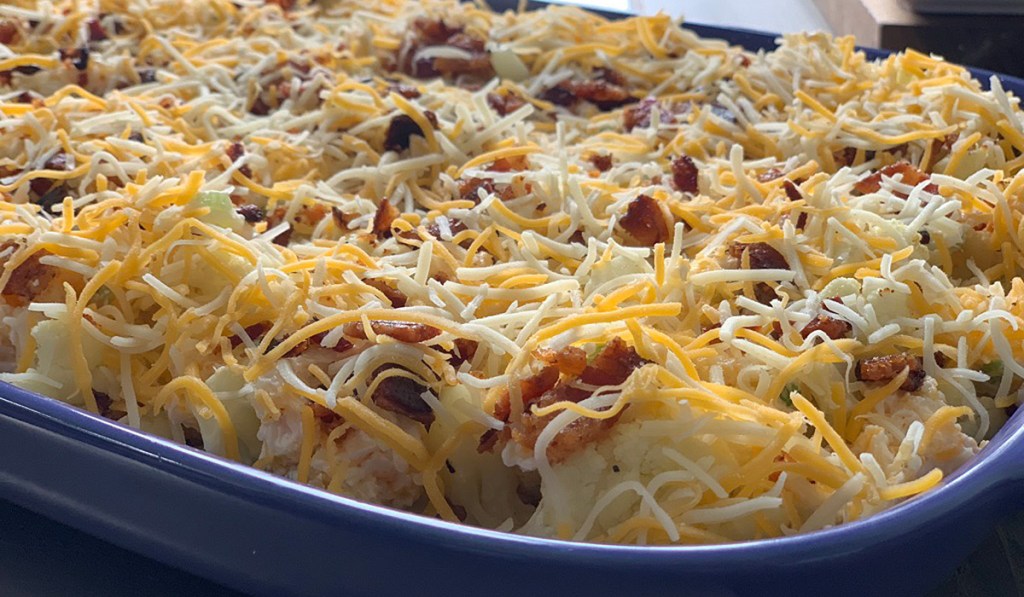 Here are a few recipe tips to keep in mind when making this keto loaded cauliflower casserole:

For the perfect sour cream drizzle every time, use a refillable condiment squirt bottle. These bottles also work great for homemade salad dressing and BBQ sauce. (Plus, they come in handy for paint and glue storage for art projects and DIY slime!)
For small casseroles, I absolutely LOVE my CorningWare 4-Piece Ovenware set! It's colorful and the sizes are unique. It came with a 12×9 inch low-rimmed baking dish which is an ideal size for this loaded cauliflower casserole. This set seems to be sold out everywhere but you can find similar pieces on Amazon.
Want to make this casserole the star of the show and a meal of its own? Add some shredded or cubed chicken and you've got a delicious low carb dinner the entire family will love!
While fresh cauliflower is preferred for this recipe, you can try using frozen cauliflower, making sure to really roast the florets first to reduce moisture that could lead to a soggy casserole.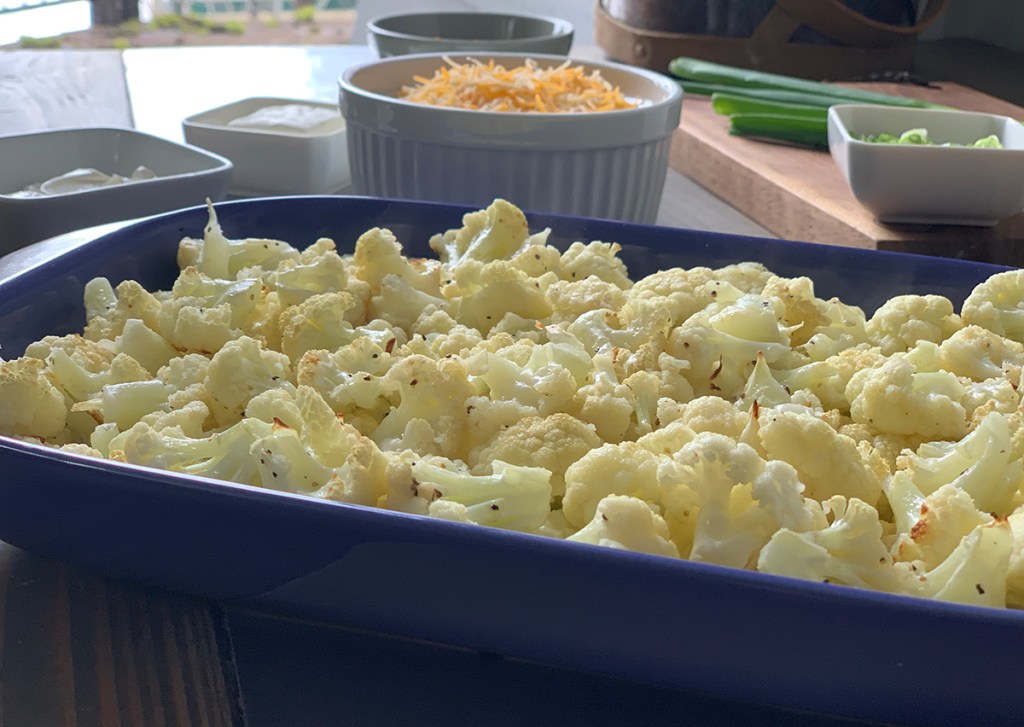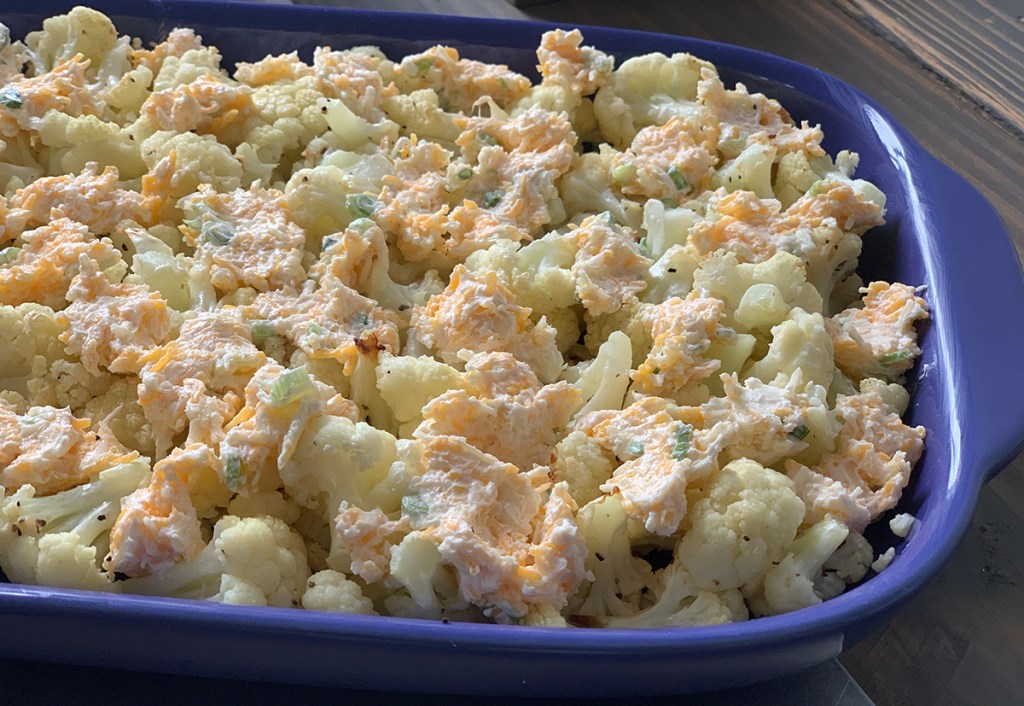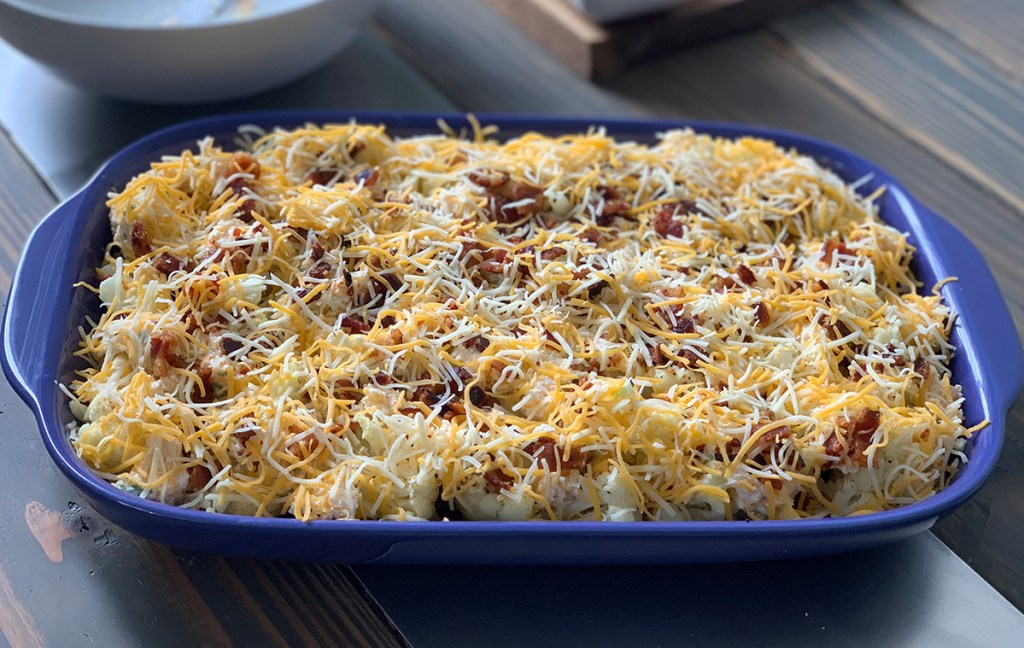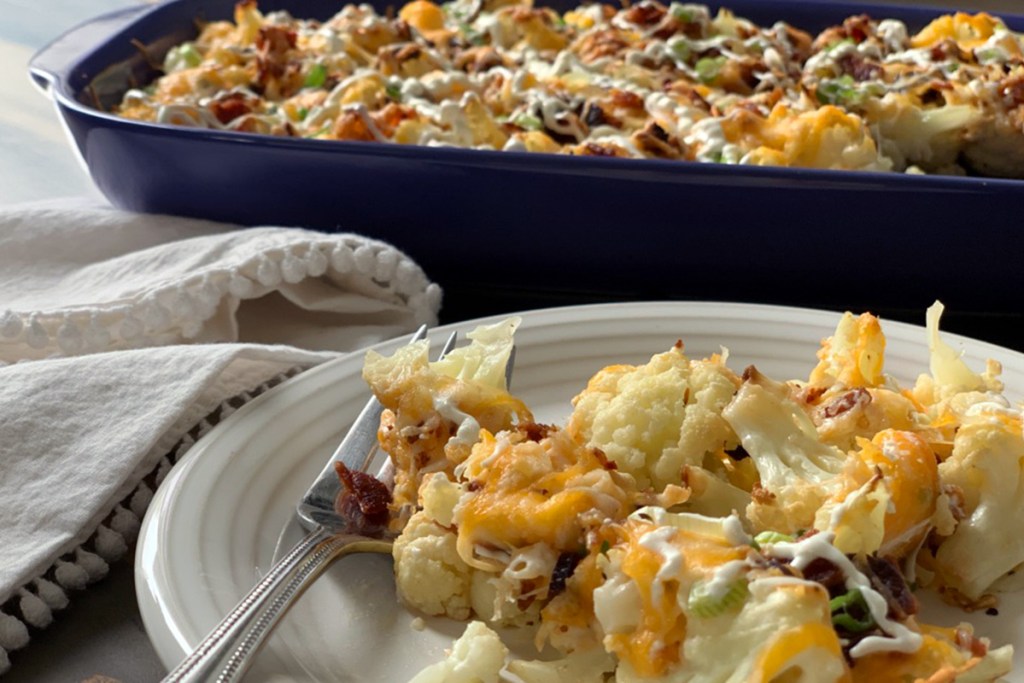 ---
Print
Keto Loaded Cauliflower Casserole
yield: 6 SERVINGS
prep time: 10 MINUTES
cook time: 35 MINUTES
total time: 45 MINUTES
Butter roasted cauliflower mingled with creamy, cheesy goodness, studded with crispy bacon and green onions... Yum!
Ingredients
1 large head cauliflower (2 1/2 to 3 lbs), broken into bite-sized florets
2 tablespoons butter, melted
1/4 teaspoon black pepper
1/4 teaspoon sea salt
1/4 cup block cream cheese (2 oz.)
1/4 cup sour cream, divided
1 1/2 cup shredded cheddar jack cheese blend, divided
4 slices thick-cut bacon, cooked until brown & crispy, chopped/crumbled
3 green onions (white and light green portions only), finely sliced, divided
Directions
1
Preheat oven to 425 degrees. In a large bowl, toss the cauliflower florets with the melted butter, sea salt, and black pepper. Once well-coated, place the cauliflower in a single layer on a baking pan and roast for 20 minutes.
2
In the meantime, using the same bowl, add softened cream cheese, 2 tablespoons sour cream, 1 cup shredded cheese, and half the green onions. Mix well until fully combined, but know it will be thick.
3
Lightly spray a 1.5- to 2-quart baking dish. Add roasted cauliflower to the bottom of the baking dish. Drop small spoonfuls of the cheese mixture evenly over the cauliflower. Then use a spatula to gently press the mixture down into the cauliflower layer.
4
Sprinkle with bacon, followed by the remaining 1/2 cup cheese. Return to oven and bake at 425 degrees for 15 minutes.
5
Remove from oven and allow to cool for a few minutes. Place the remaining sour cream in a zip lock bag and snip one corner off (or you could also use a squeeze bottle) and squeeze out sour cream in a zig-zag pattern over casserole. If desires, you could also serve the sour cream on the side.
6
Top with remaining green onions. Enjoy!
Nutrition Information
Yield: 6 servings, Serving Size: about 1 cup
Amount Per Serving: 169 Calories | 14g Fat | 7g Total Carbs | 3g Fiber | 6g Protein | 4g Net Carbs
---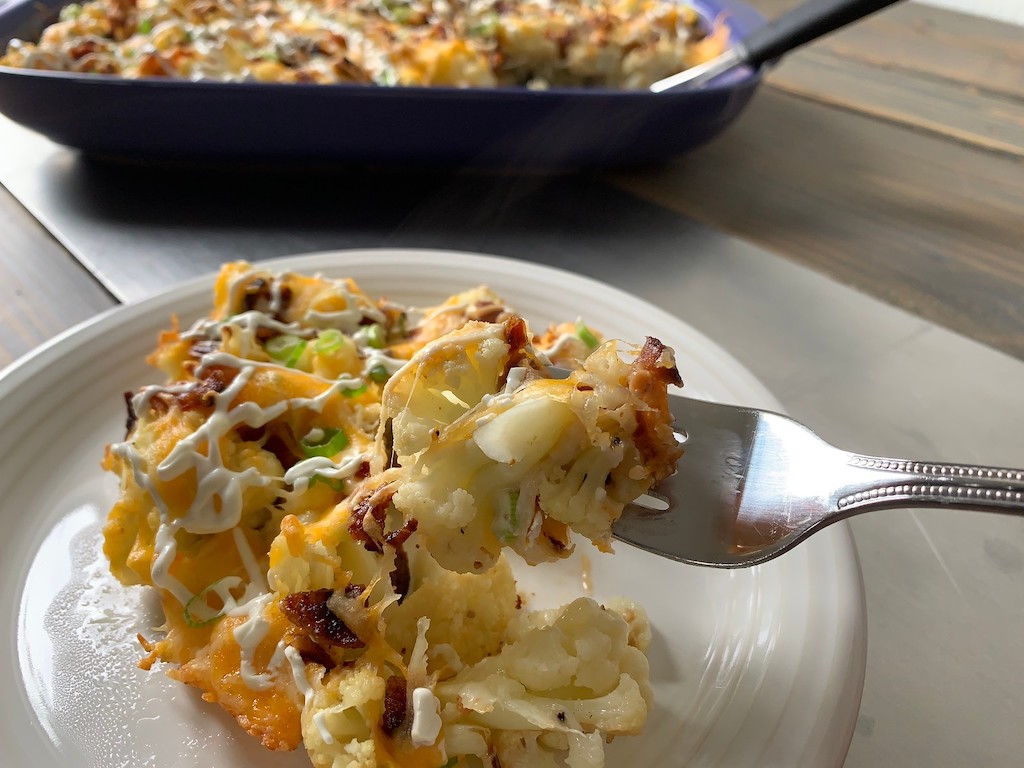 Double it up to feed a crowd!
This low-carb cauliflower casserole is easy to double. It's a fabulous side served with grilled steak, chicken, or a bunless burgers. It's also a satisfying and filling main course whether you're making this for a group or you want leftovers!