Beefy Marinara Spaghetti Squash, 4-Ingredient Lazy Keto Meal!
This hearty beefy marinara spaghetti squash is lazy keto meal goals!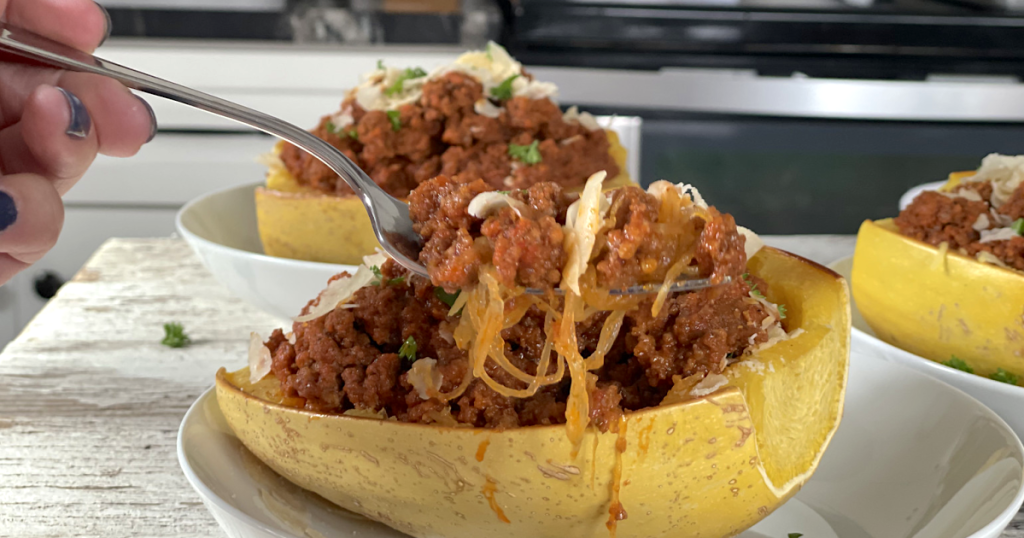 Who doesn't love a lazy keto meal?
Sometimes you just don't feel like cooking or spending a lot of time on dinner. That's where a lazy keto meal comes into play. For this dinner, I went with spaghetti squash, ground beef, no-sugar-added marinara, and of course, parmesan.
To make this meal, you first get the spaghetti squash in the oven to bake. Then while the spaghetti squash is baking, you brown the ground beef, add the marinara, and then let it simmer. That's basically it!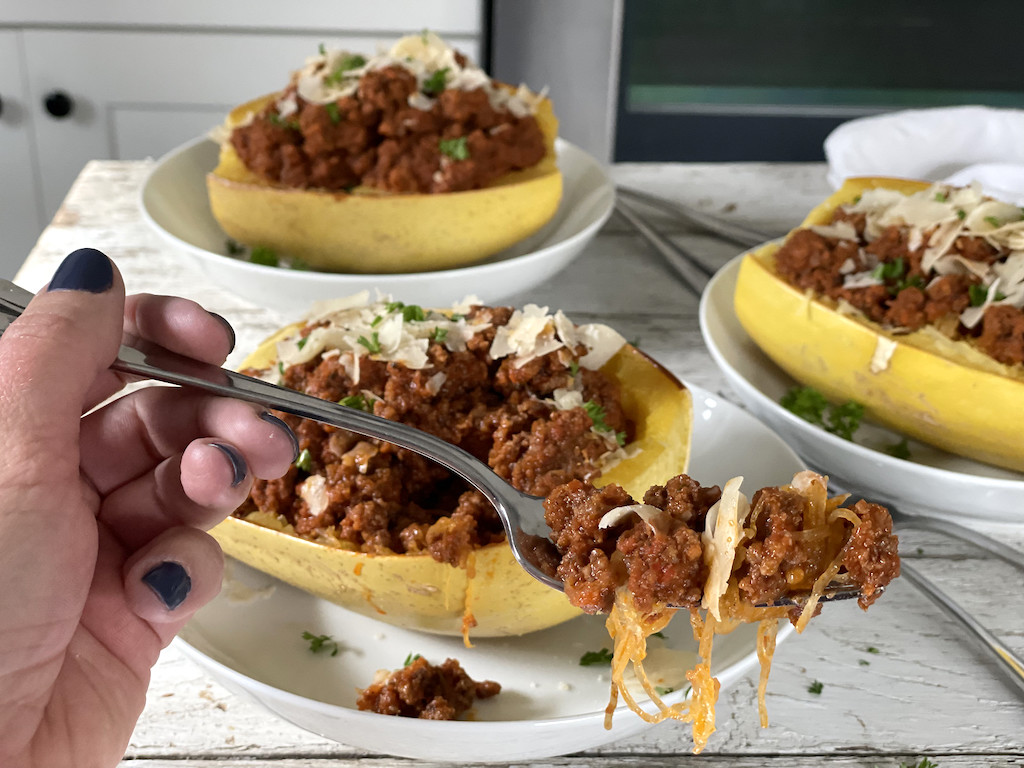 I love that I can cook the ground beef while the spaghetti squash is baking. I also let the marinara simmer with the ground beef for quite a while to really add that extra depth of flavor. You can buy a jar of no-sugar-added marinara or make your own.
I recommend my easy marinara sauce recipe, which comes together in no time and makes just the right amount of sauce.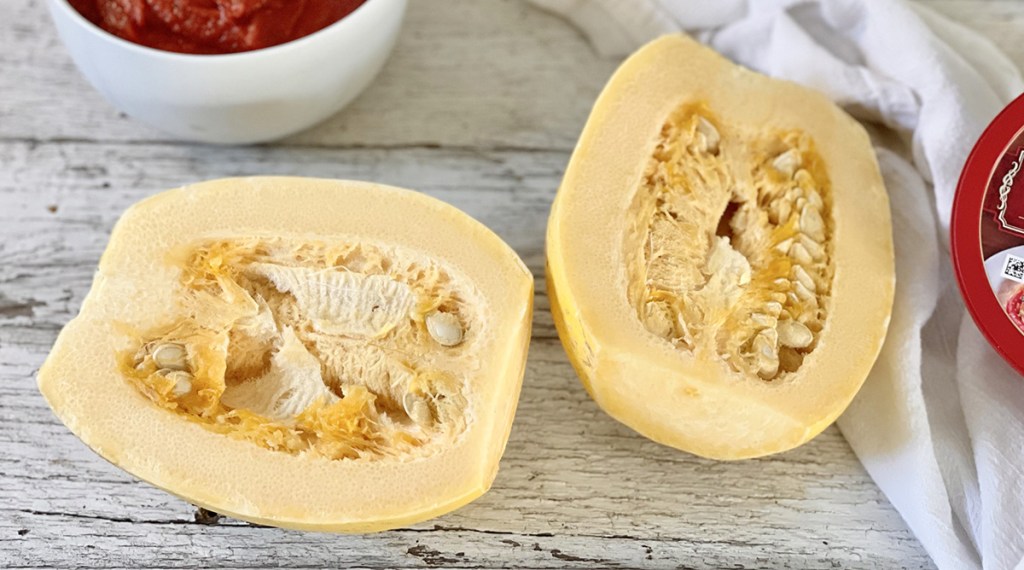 Let's talk about spaghetti squash.
While it's definitely lower carb than traditional pasta, spaghetti squash isn't carb-free.
One cup of shredded spaghetti squash has 42 calories, 10g total carbs, 2.2g fiber, and 7.8g net carbs.
Compare that with one cup of regular pasta which is about 220 calories, 43g total carbs, 3g fiber, and 40g net carbs.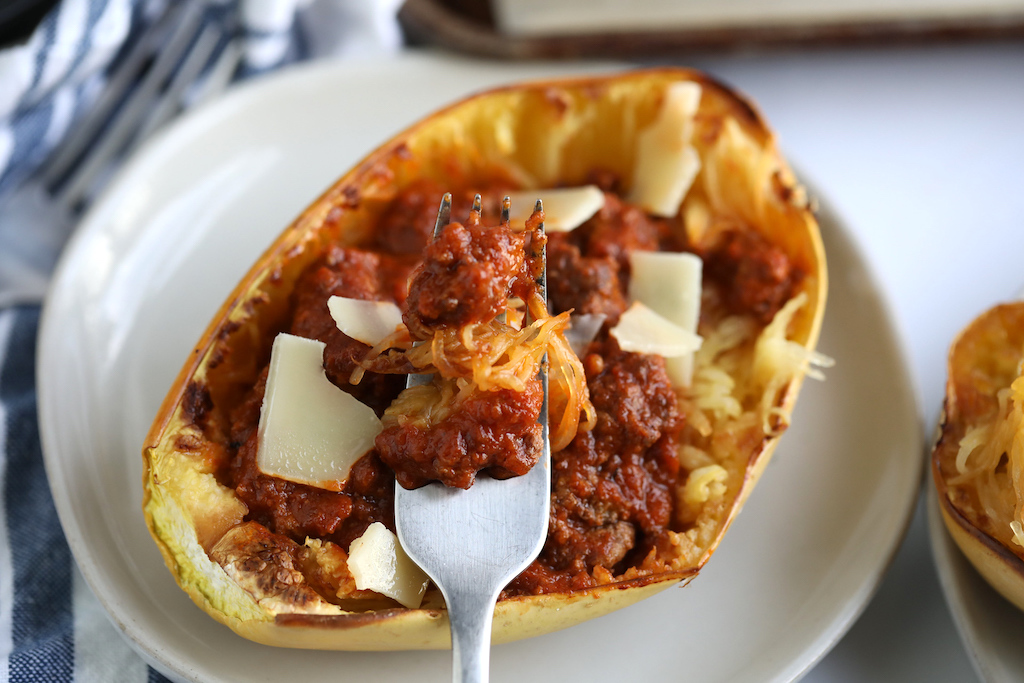 To keep the carbs per serving as low as possible with this recipe, try to find a small spaghetti squash, which has about 1 cup of shredded squash per half. Also, note that even no-sugar-added marinara will still have carbs and natural sugar in it from tomatoes. For example, Rao's brand has 5g net carbs per 1/2 cup.
To make this meal fit within keto carb goals, I recommend keeping your carb intake as low as possible throughout the day so that you have room for 13g of carbs at dinner!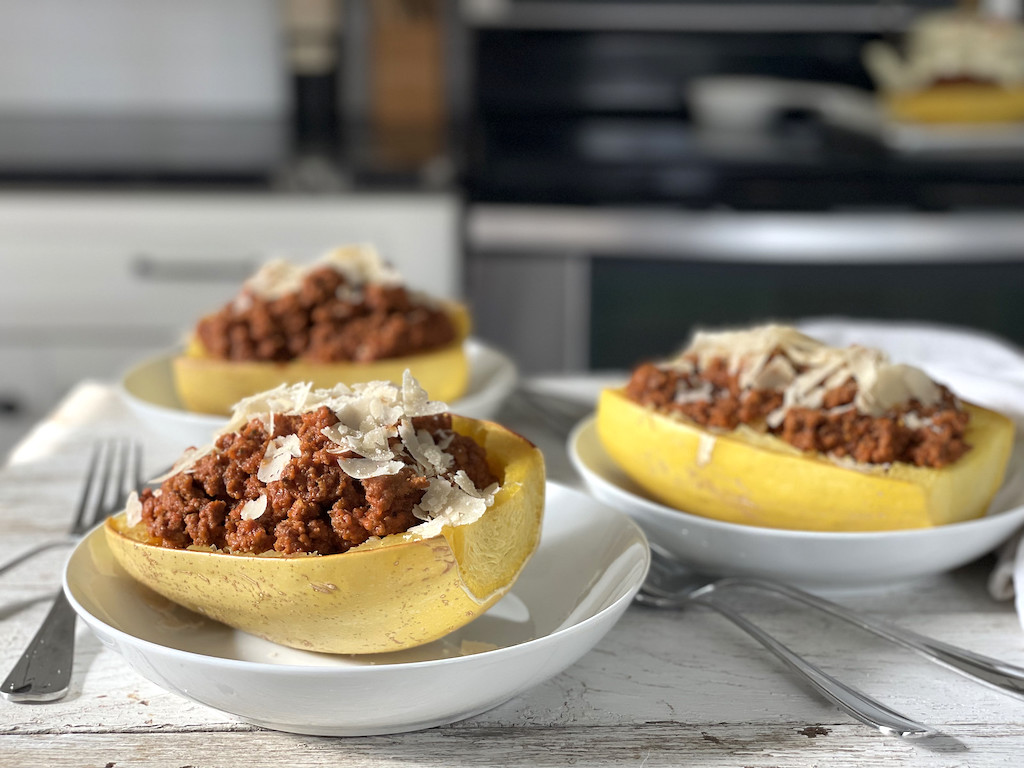 Tips for making the easiest beefy marinara spaghetti squash:
Cut the ends off the spaghetti squash before cutting it in half. This makes it much easier to cut it in half length-wise! Check out these tips for how to cook spaghetti squash for more ideas.
Depending on the marinara sauce that you use, you might want to add some salt and pepper to the ground beef and marinara sauce while it's simmering.
I left the spaghetti squash in its skin to make this meal as lazy as possible! Just make sure you shred the actual squash with a fork before adding the filling to make it easier to eat. And you totally could scrape all the spaghetti squash out of the skin into a bowl before serving it a well.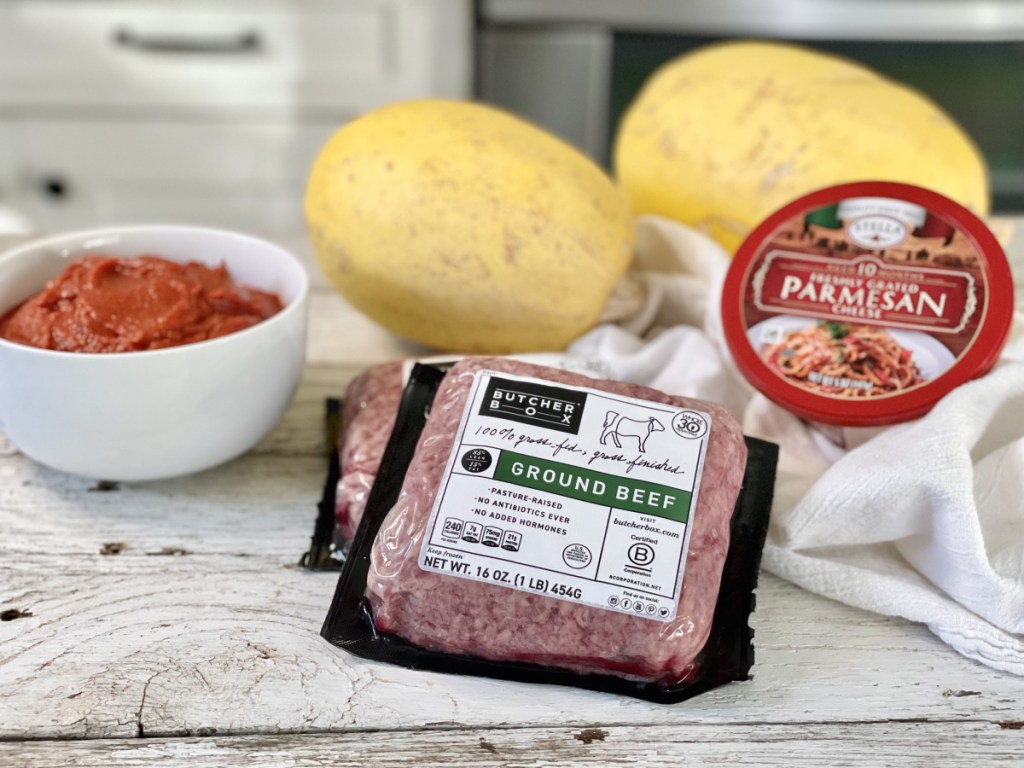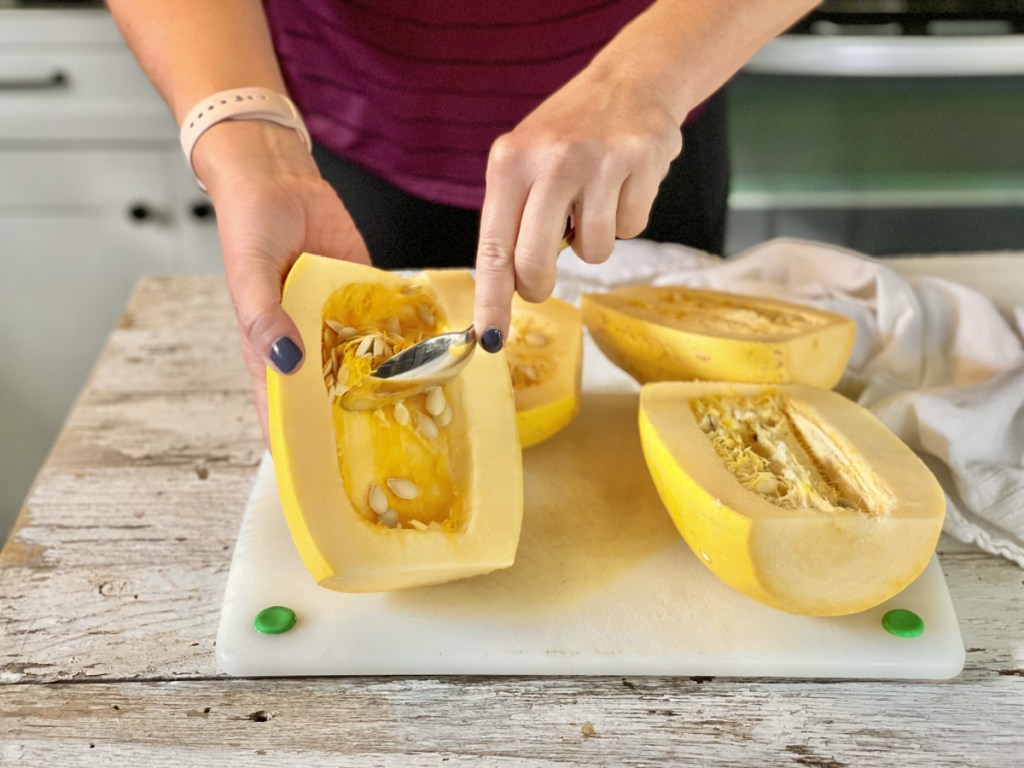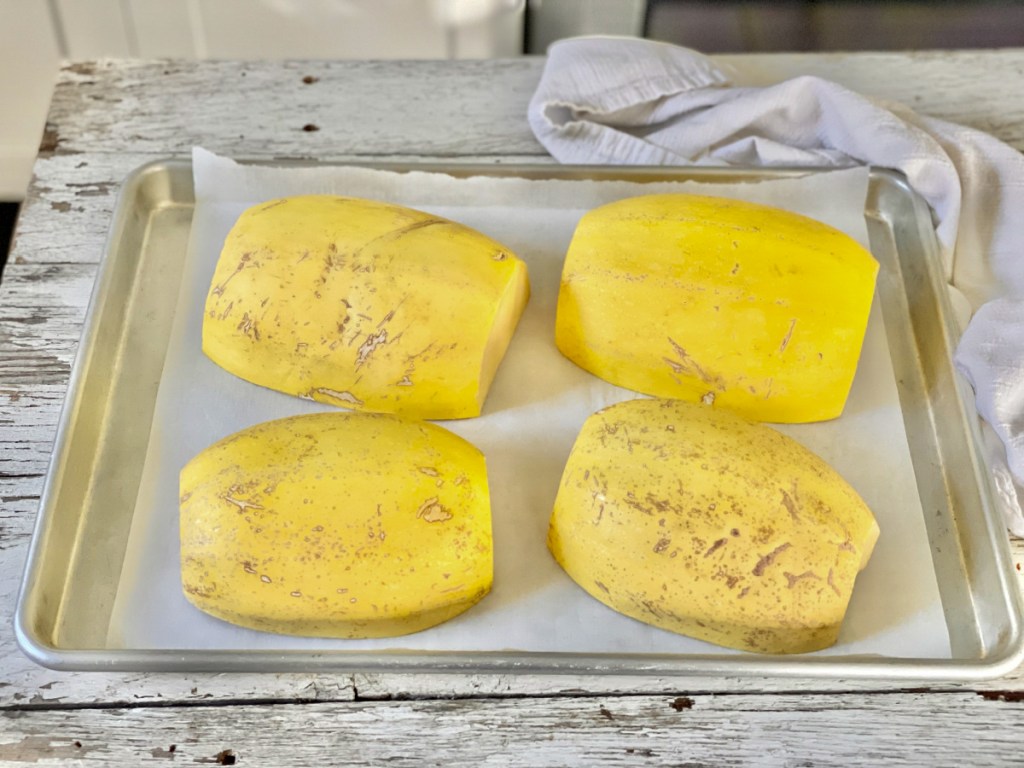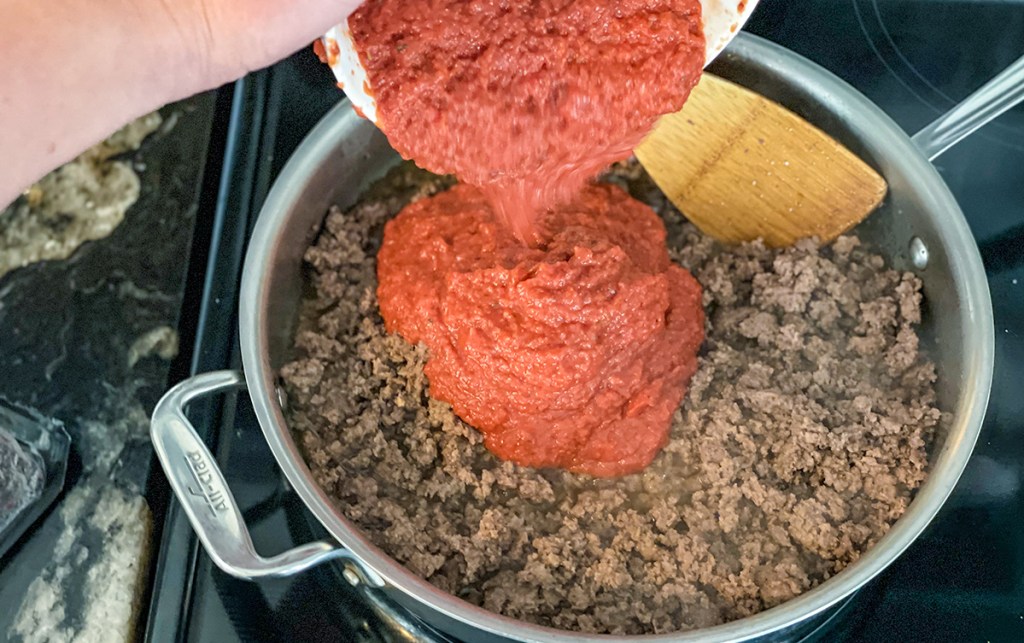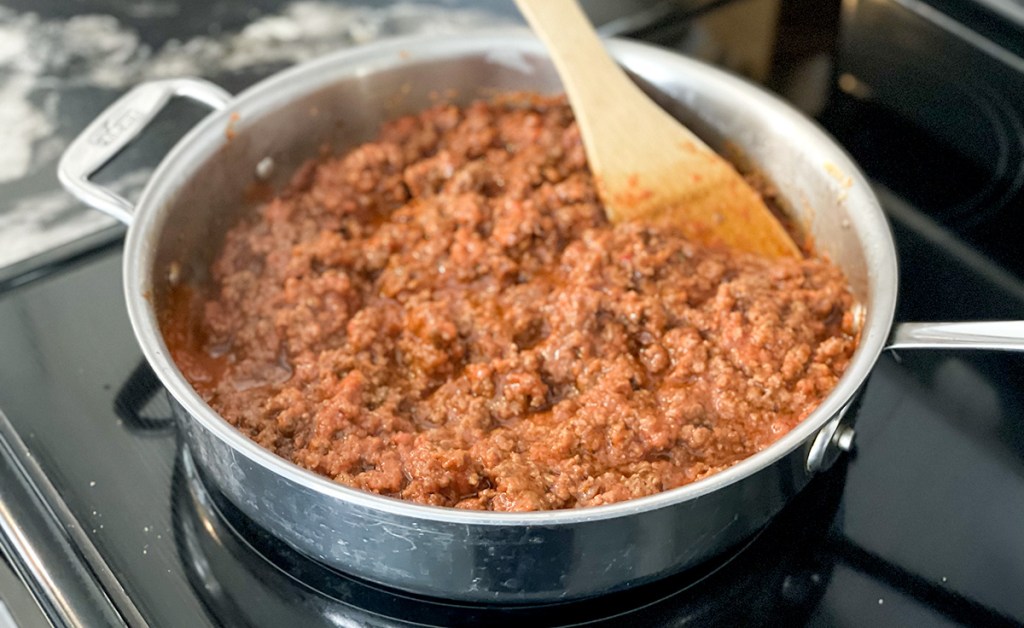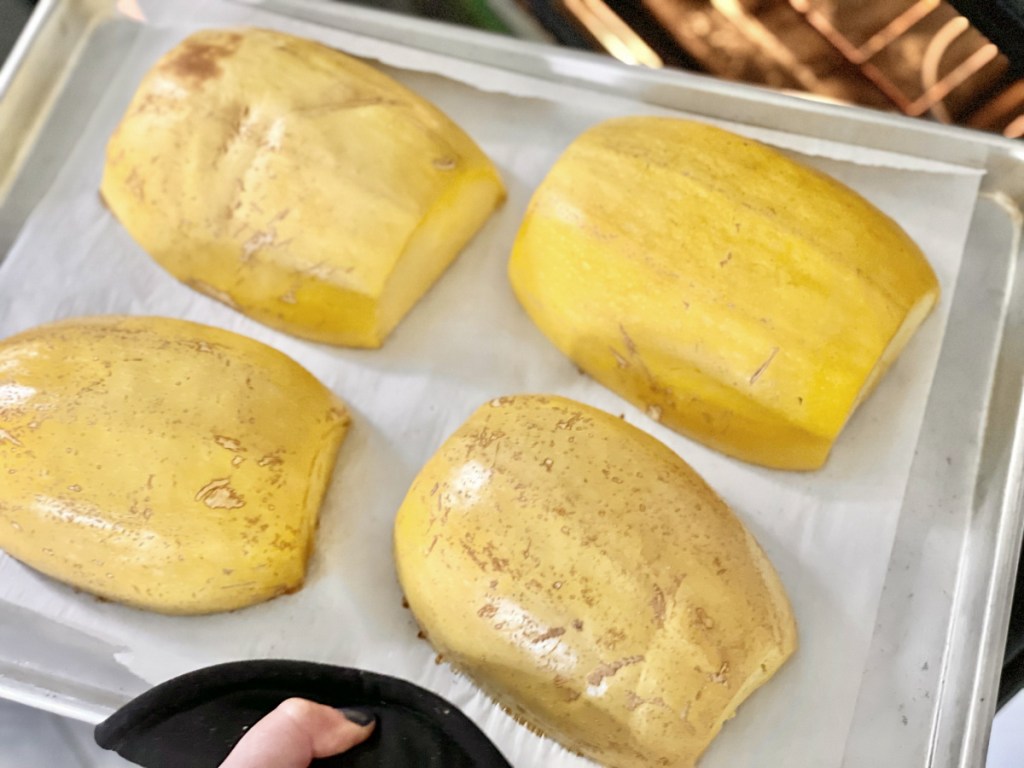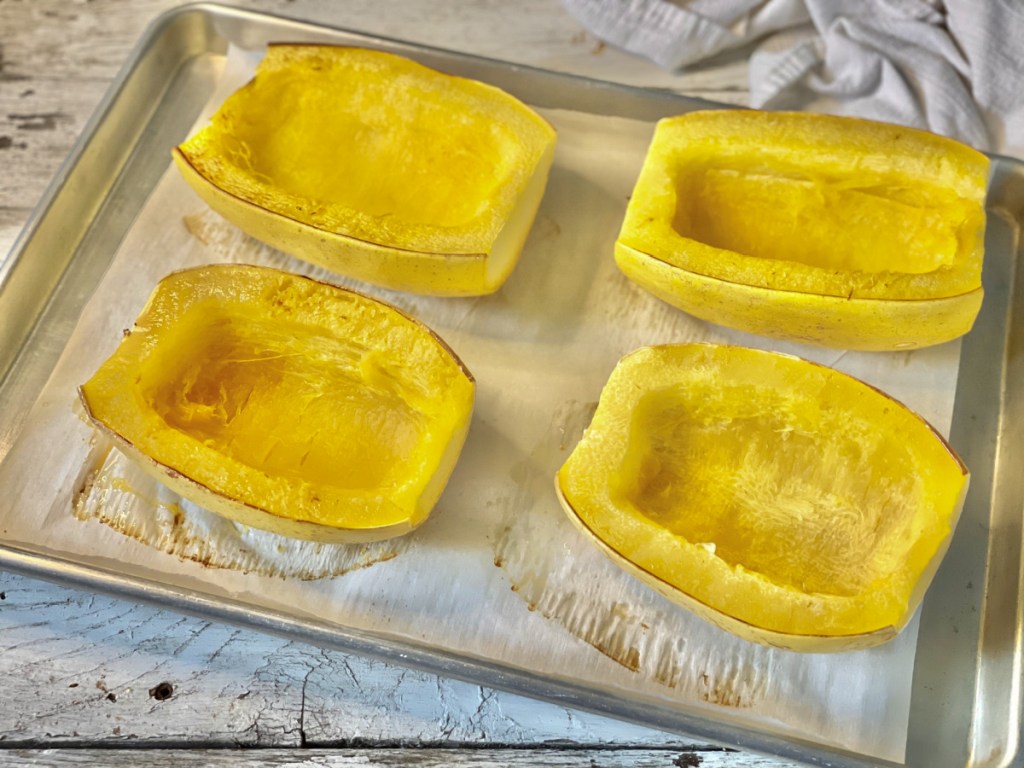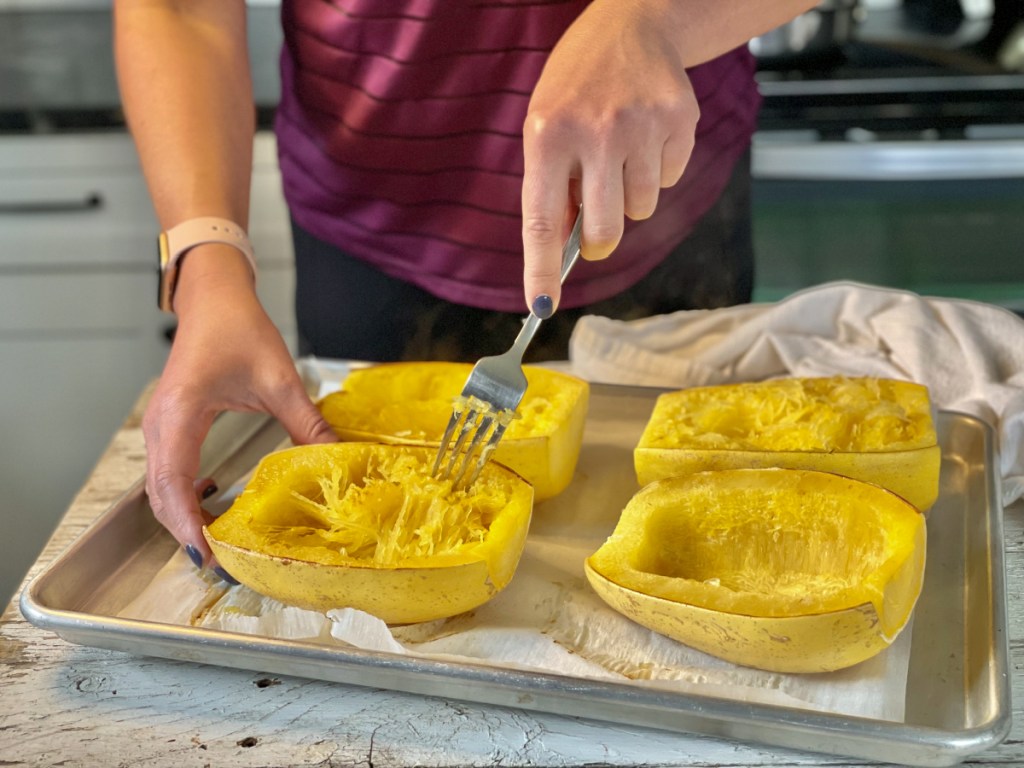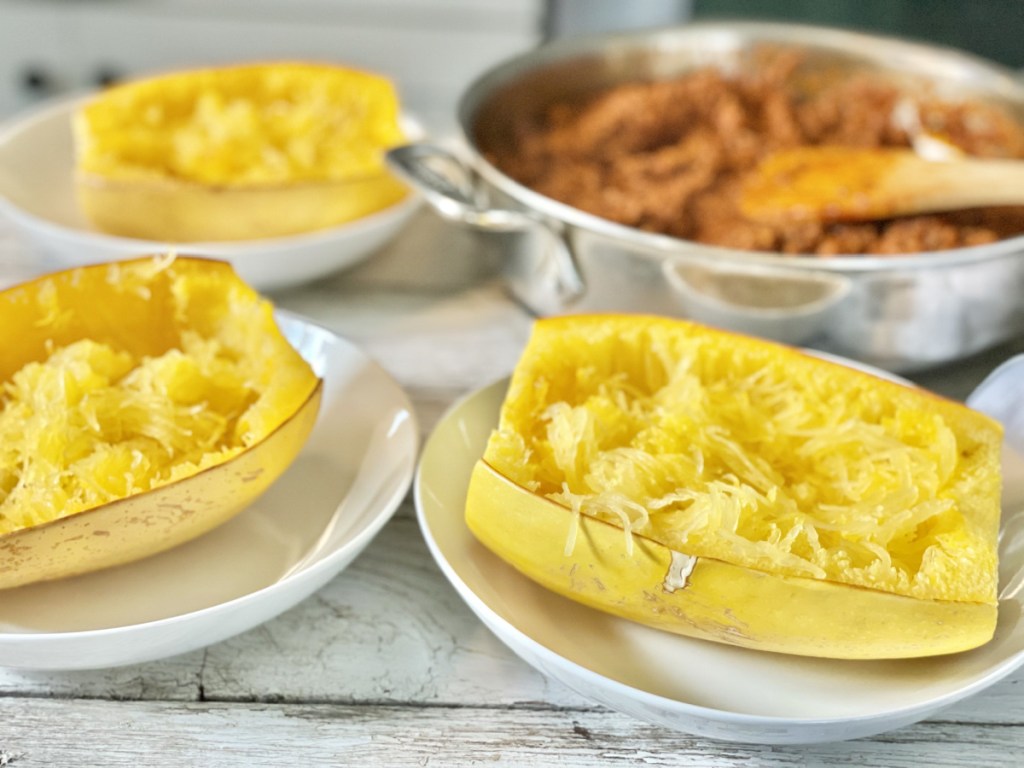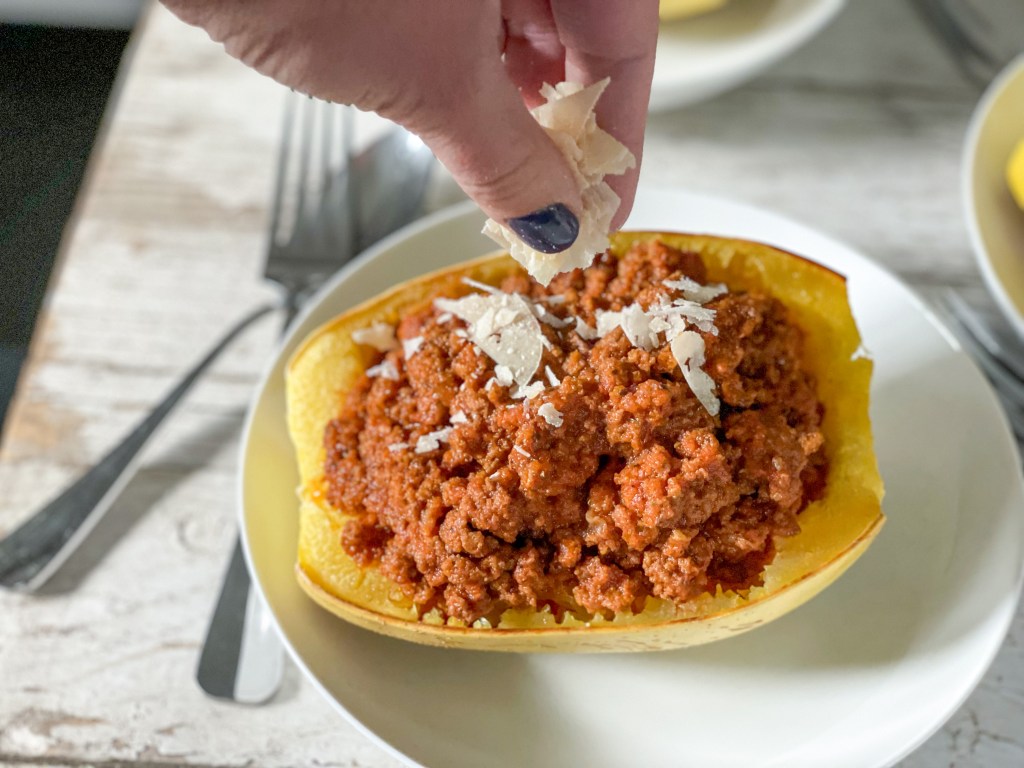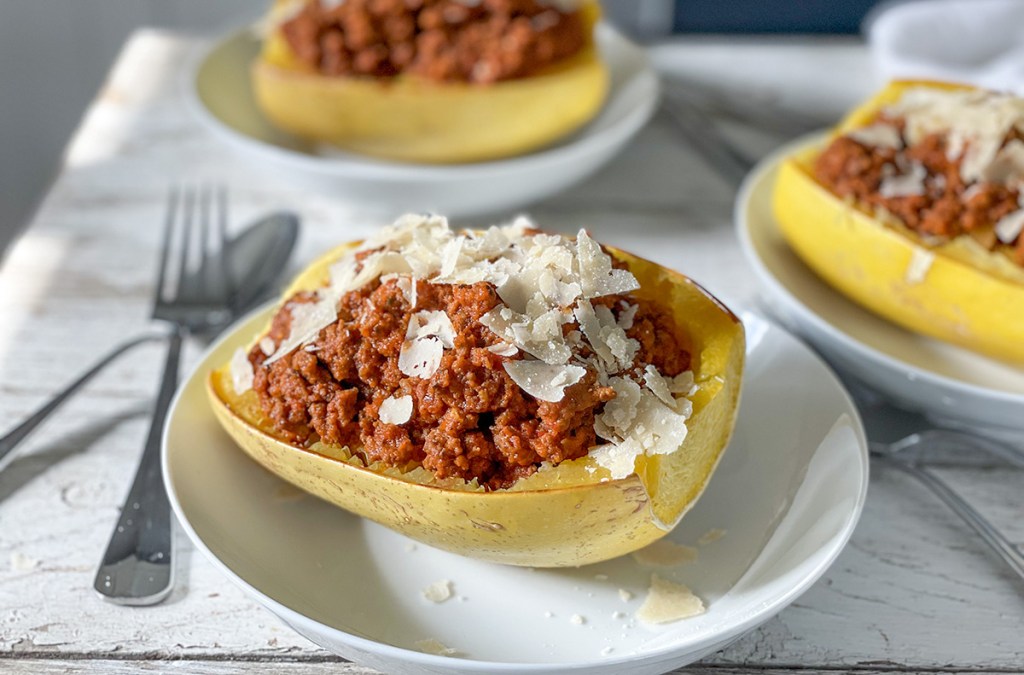 ---
Print
Lazy Keto Beefy Marinara Spaghetti Squash "Pasta" Meal
yield: 4 SERVINGS
prep time: 5 MINUTES
cook time: 45 MINUTES
total time: 50 MINUTES
Easy dinner made with just spaghetti squash, ground beef, no-sugar-added marinara, and parmesan.
Ingredients
2 pounds ground beef
1 cup parmesan cheese (shaved, grated, or shredded)
1 teaspoon salt, optional (if needed depending on your marinara sauce)
1/2 teaspoon pepper, optional (if needed depending on your marinara sauce)
Directions
1
Preheat oven to 400 degrees. Line a baking sheet with parchment paper.
2
Cut off the ends of the spaghetti squash and then cut the spaghetti squash in half length-wise. Scoop out the seeds and place cut-side down on the baking sheet. Bake for 35 to 45 minutes, until soft and the flesh can easily be pierced with a fork. Baking time will depend on the size of the squash.
3
While the spaghetti squashes are baking, brown the ground beef in a skillet over medium heat. Break up the ground beef as it cooks. This will take about 10 to 15 minutes. You can also drain the fat (optional).
4
Once the ground beef is cooked, add the marinara sauce to the skillet and reduce heat to low. Simmer until the spaghetti squash is done baking, 20 to 30 minutes. Stir occasionally to prevent any possible burning.
5
When the spaghetti squash is done baking, remove it from the oven and let it sit until it's cooled off enough to handle. Shred the squash with a fork to create "spaghetti" strands. Leave the squash in the skin or scoop out into bowls/plates if desired.
6
Top each spaghetti squash half (about 1 cup shredded) with 1 1/4 cups of the meat marinara sauce and 1/4 cup of parmesan. Enjoy!
Nutrition Information
Yield: 4 servings, Serving Size: 1 cup of spaghetti squash with 1 1/4 cup meat sauce
Amount Per Serving: 720 Calories | 48.8g Fat | 15g Total Carbs | 2.2g Fiber | 7.7g Sugar | 52.8g Protein | 12.8g Net Carbs
---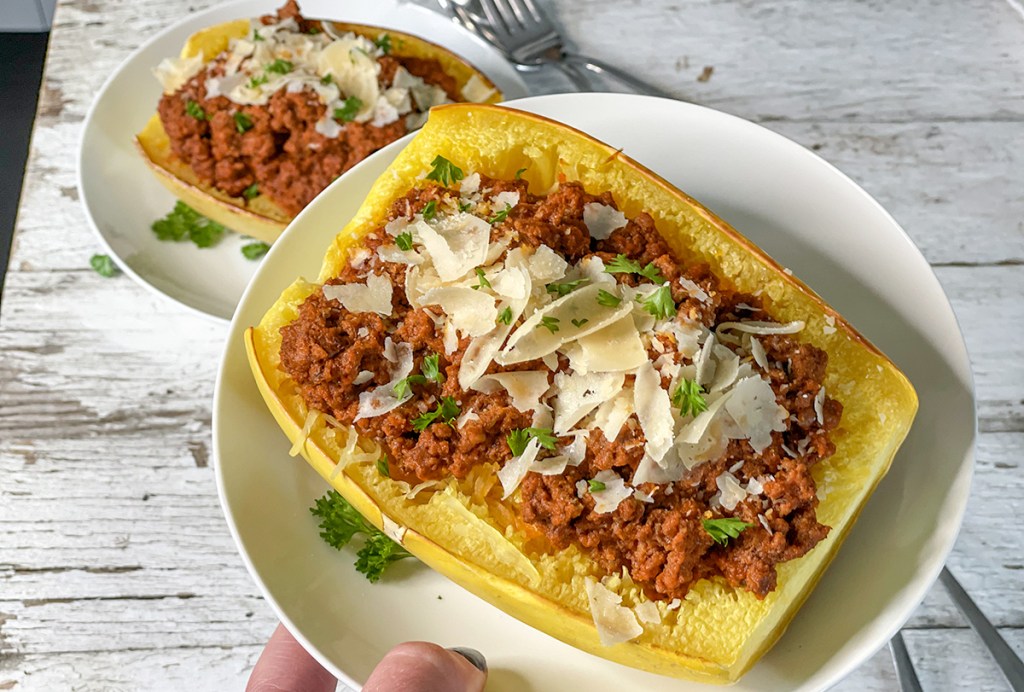 Spaghetti squash is so easy!
This lazy keto pasta meal comes together in no time and is a pretty hands-off meal. Using spaghetti squash as a keto pasta alternative is my favorite. I also absolutely love marinara sauce, so basically I'm eating this on repeat all for all of the Fall and Winter season.
Let me know what you think of this meal!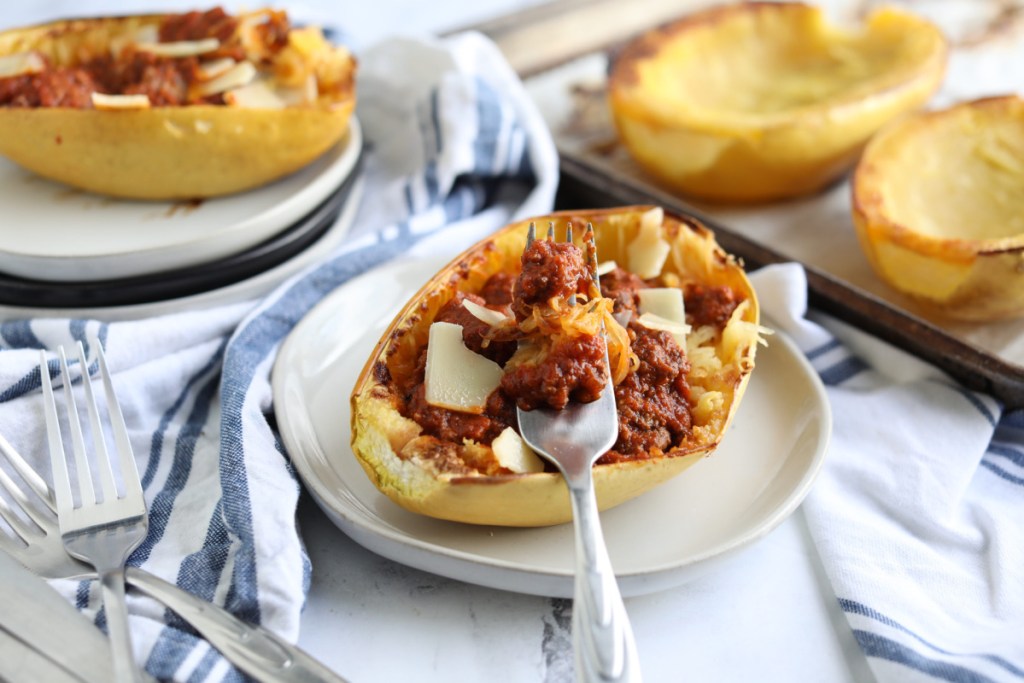 My Hip sidekick Jenna made this spaghetti squash and here's what she had to say:
"Wow, this is so simple and so easy to make! I love using spaghetti squash, especially in the fall and this is such a great recipe to have on hand for a quick spaghetti fix/ I love the fresh parmesan over the top for even more flavor. Just use your favorite jarred pasta sauce and bam, a quick, healthy dinner!"
---
Check out all of our amazing spaghetti squash recipes!