Keto Zuppa Toscana Soup (Olive Garden Copycat Recipe)
This hearty keto Olive Garden Zuppa Toscana soup is always a hit!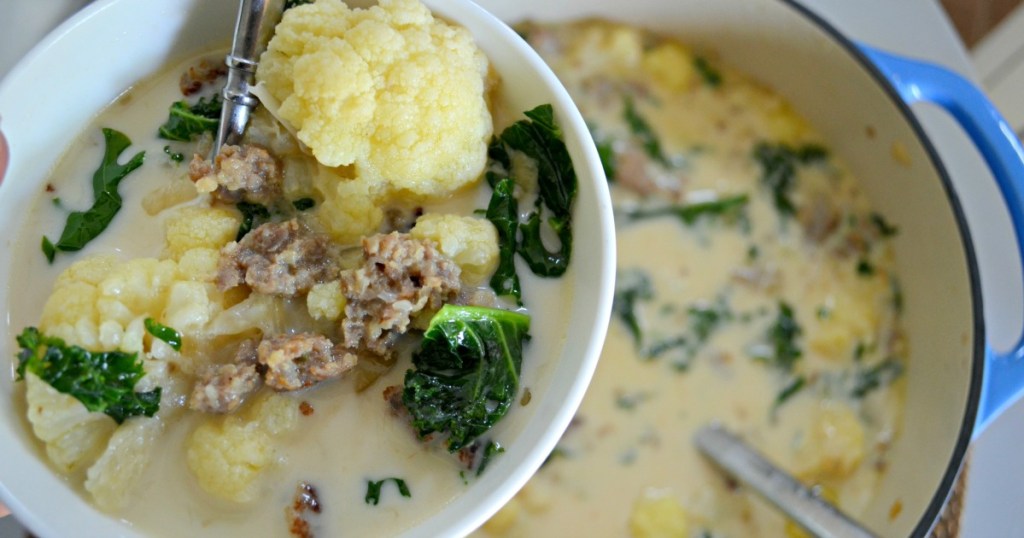 Are you a fan of Olive Garden's Zuppa Toscana soup?
Zuppa Toscana has been a long-time menu favorite at Olive Garden. The restaurant version features a creamy broth made with spicy Italian sausage, fresh kale, and russet potatoes. Sadly, those potatoes make this soup off-limits for anyone eating keto. Just one bowl could be enough to potentially knock you out of ketosis!
Luckily, Olive Garden's Zuppa Toscana recipe can be easily adapted for a keto diet. It's a simple matter of swapping out those starchy potatoes for cauliflower.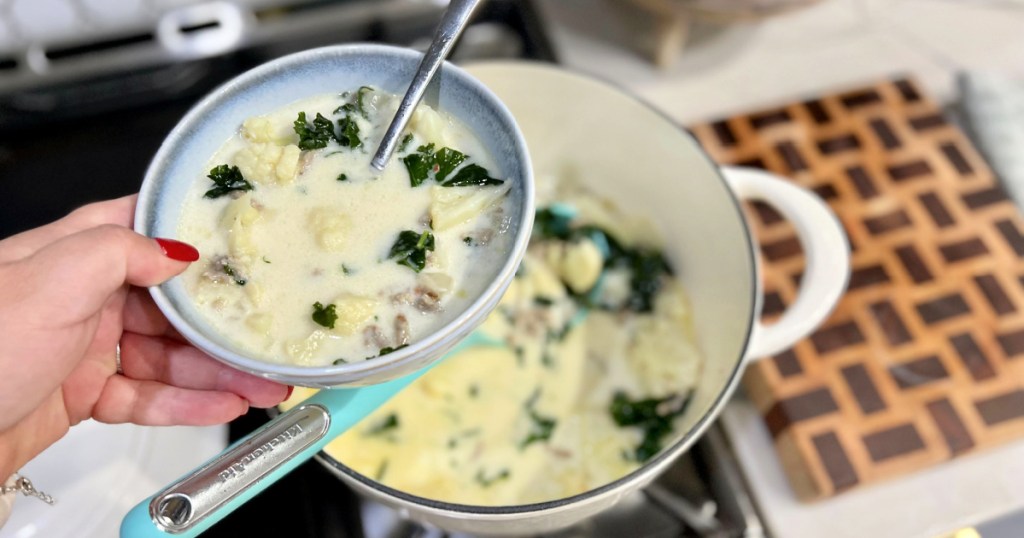 Today, we're sharing our keto Zuppa Toscana soup recipe, and it's so flavorful, you won't even miss the carbs – we promise!
Soup's on! More keto soup recipes are right this way…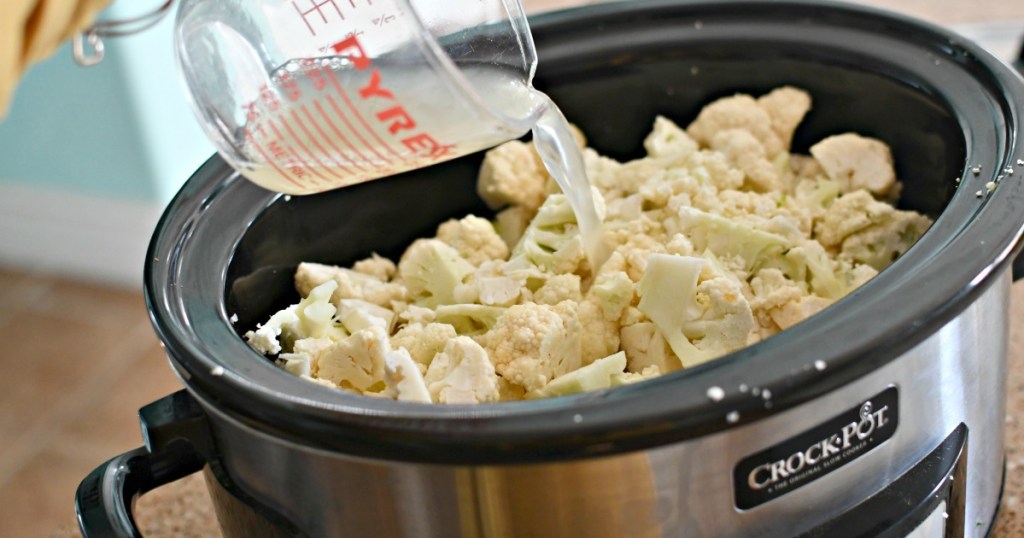 Want to try this keto Olive Garden copycat soup recipe in the slow cooker?
You can totally adapt this recipe for the Crockpot! First, brown the meat with the onions and garlic, then place the meat ingredients inside the slow cooker along with the water, the broth, and the cauliflower. Cover and cook on HIGH for 4 hours or LOW for 6-8 hours. Stir in the kale and cream at the very end of your cooking time and serve hot. Easy peasy!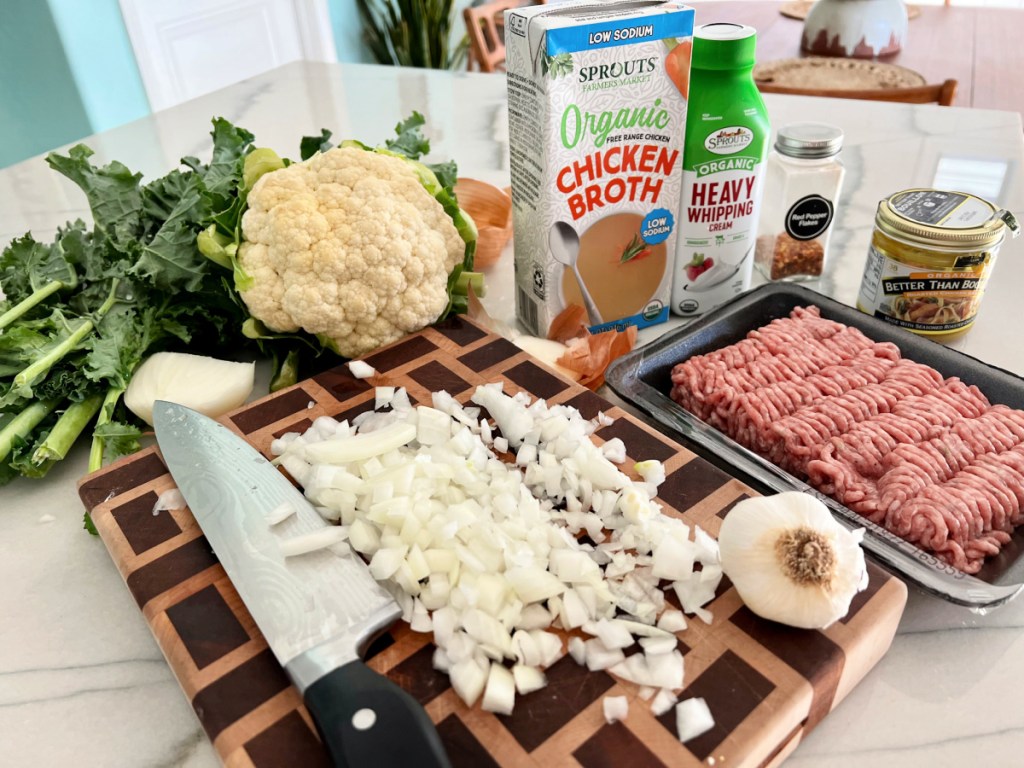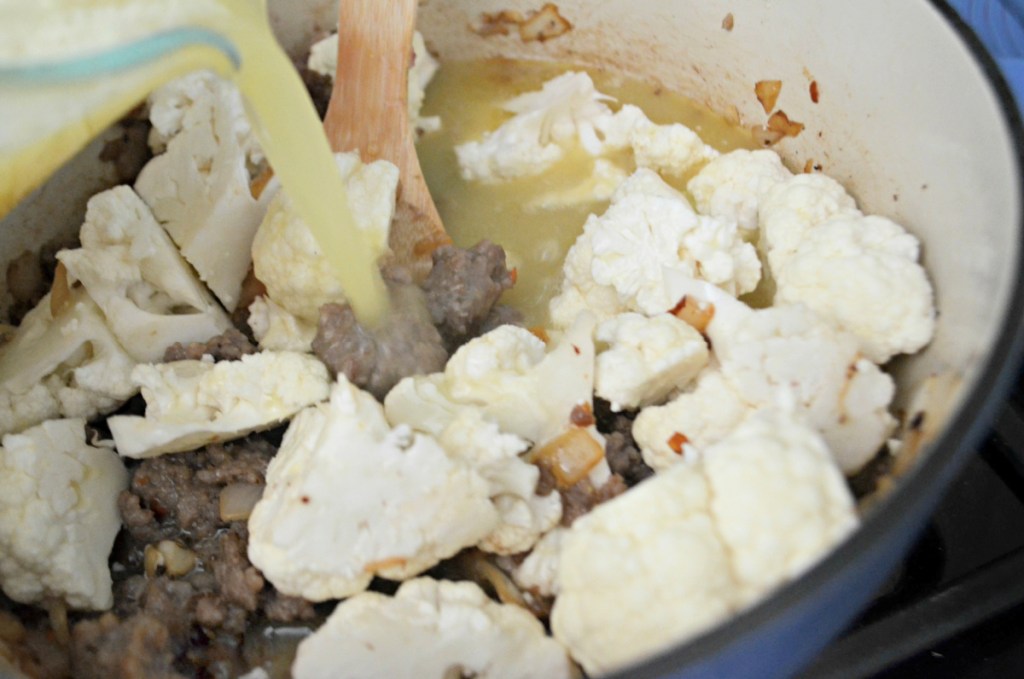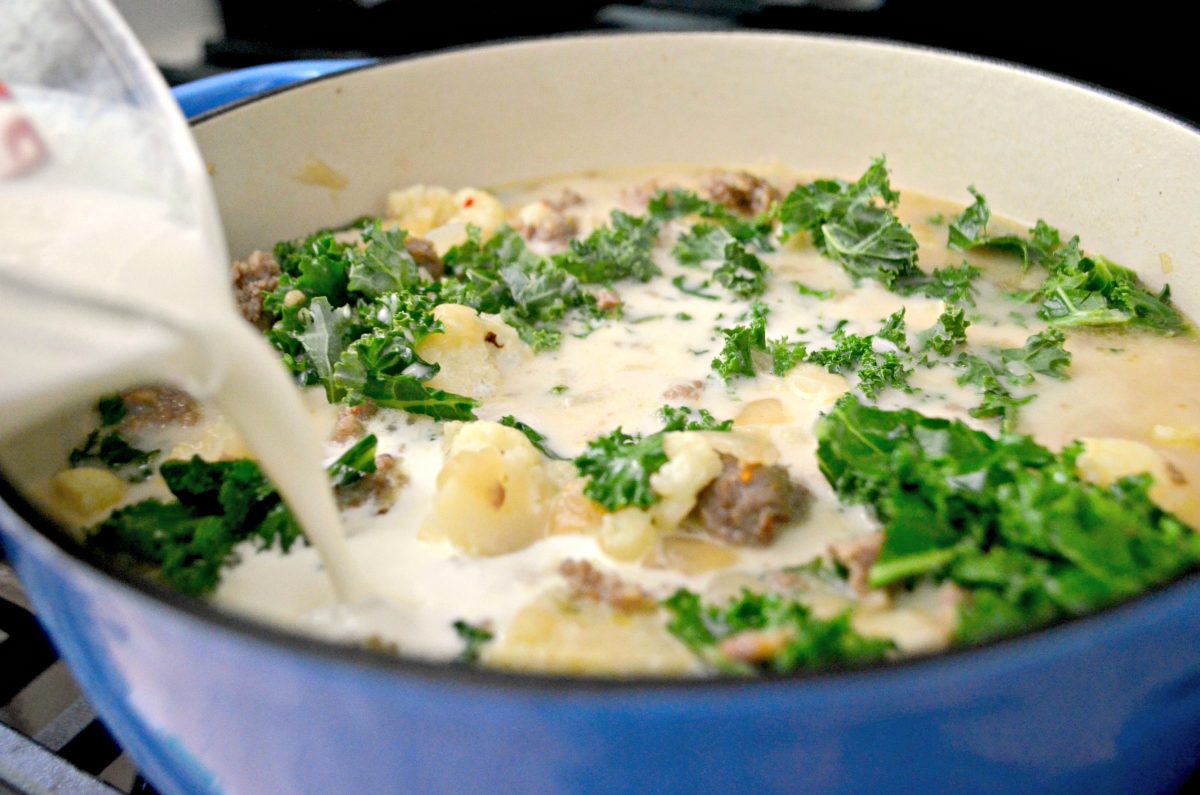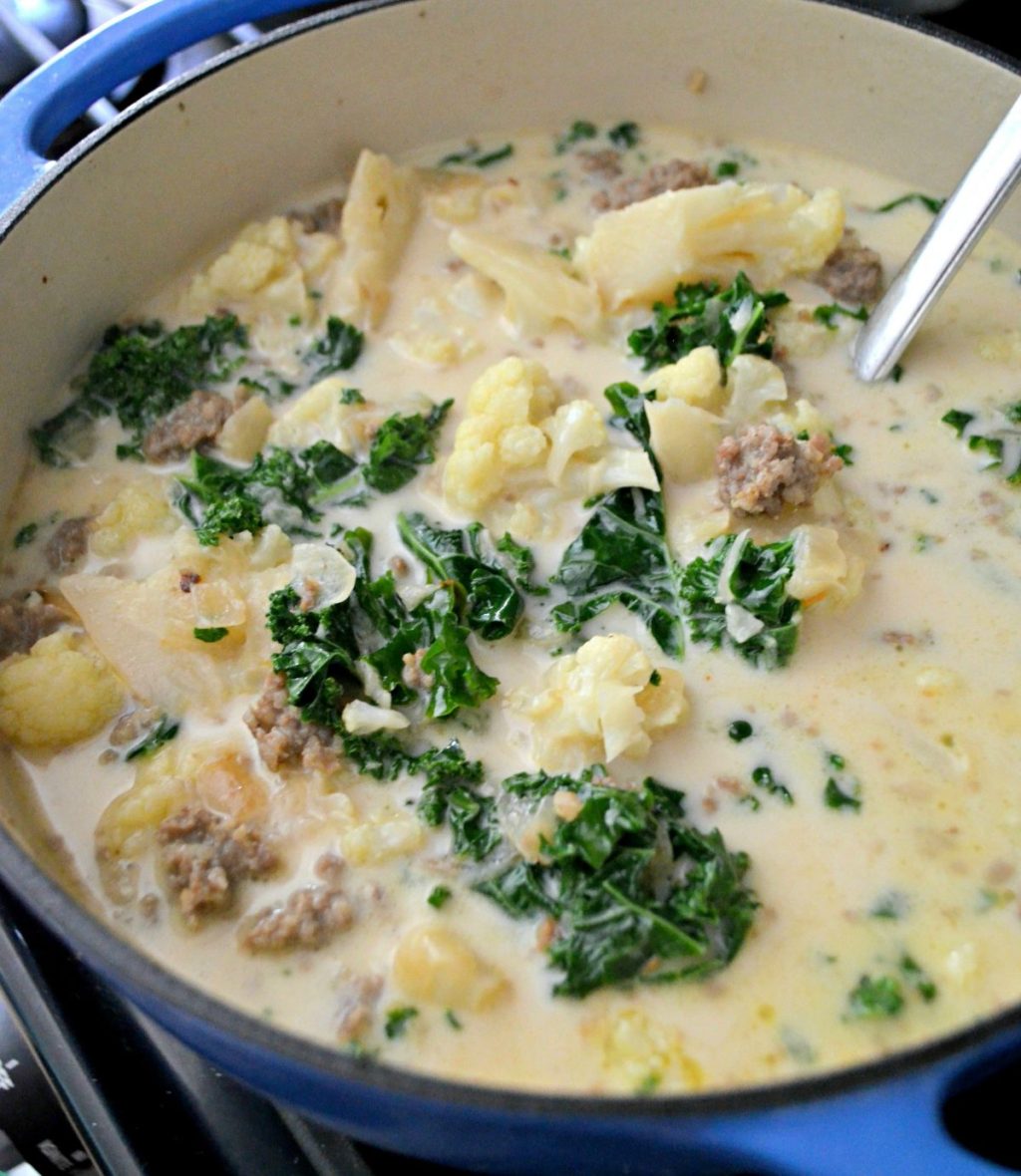 ---
Print
Keto Zuppa Toscana Soup
yield: 6 SERVINGS
prep time: 20 MINUTES
cook time: 20 MINUTES
total time: 40 MINUTES
Delicious and creamy Zuppa Toscana soup with hearty florets of cauliflower in place of starchy potatoes.
Ingredients
1 small onion, chopped
3 cloves garlic, minced
1/2 teaspoon red pepper flakes
1/4 teaspoon black pepper
1/2 teaspoon salt or more to taste
1 head cauliflower, cut into small florets
1 quart water
3 cups kale or Swiss chard, chopped
1 cup heavy cream
Directions
1
In a soup pot on the stove, crumble and brown sausage over medium-high heat.
2
Add onion and garlic and cook until translucent in color. Season with salt, pepper, and red pepper flakes.
3
Reduce heat to medium and add cauliflower florets, broth, and water. Stir and add bouillon, if desired.
4
Cook on medium heat until cauliflower is tender, about 15-20 minutes.
5
Reduce heat to low and sprinkle in chopped kale. Pour in the heavy cream and stir well. Serve hot. Makes between 9-10 cups of soup.
Nutrition Information
Yield: 6 servings, Serving Size: 1.5 cups
Amount Per Serving: 407 Calories | 35.0g Fat | 9g Total Carbs | 2.8g Fiber | 2.8g Sugar | 15.5g Protein | 6.3g Net Carbs
---
Tips for making the best keto Zuppa Toscana soup:
Don't have cauliflower? Use radishes instead! Trim and cut them in half, and you should have similar results.
You can freeze this, but, since it's cream-based, it may separate a bit. Consider using a hand blender or whisk when reheating to resolve this.
If you don't like pork, feel free to substitute this with turkey sausage. Or even add bacon for an extra salty and savory kick!

This keto soup is AMAZING!
Don't you just love a hearty, satisfying soup served on a cozy night in? Zuppa Toscana has long been my favorite dish at Olive Garden, and I love that I can easily throw together a homemade, low-carb version at home. This recipe tastes so similar, maybe even better!
If you're looking for a keto-friendly dinner idea that your non-keto family members will enjoy too, this soup will not disappoint.
My family truly loved this meal. In fact, my husband said that he liked the cauliflower more than the potatoes, and my kids actually ate the cauliflower without complaining! The leftovers are great the following day as well.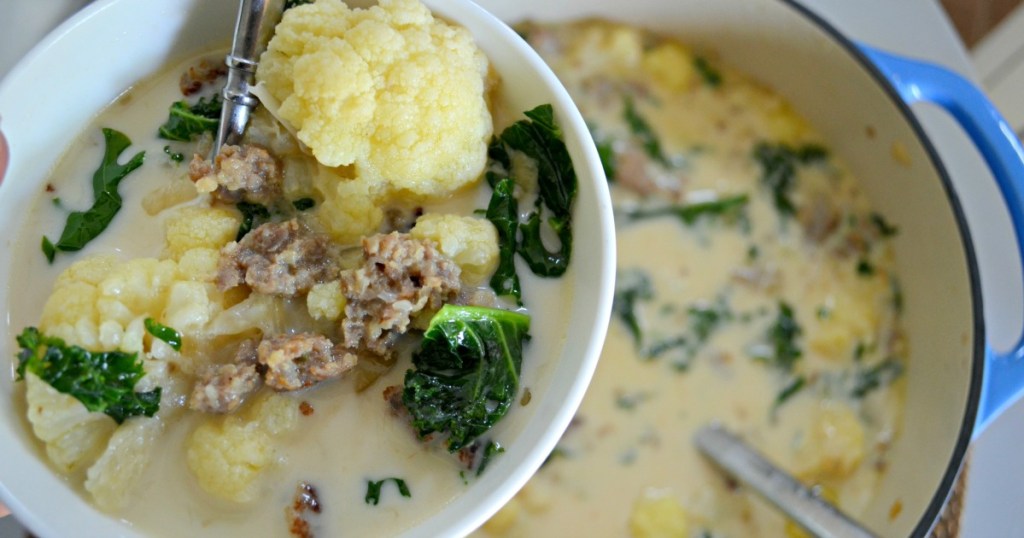 My teammate tried this keto Olive Garden Zuppa Toscana soup, and here's what she had to say:
"In trying to resist the urge to order takeout, I knew I needed to make something yummy and easy. My team members have raved about this soup, so I knew it was the next Hip recipe to try! I love heat, so I used a mix of mild sausage and hot Italian sausage. The result was a spicy but creamy base that paired so well with the fresh kale and cauliflower. Using fresh vegetables gave them the perfect texture — no mushy veggies in this soup!
The highlight of this soup is how full I felt after eating it! I didn't feel bloated and gross like you do with fast food, and I was proud I made something healthy. AND, I doubled the recipe so I'll have extra leftovers. That means no excuses to waste money on food delivery! 🙌"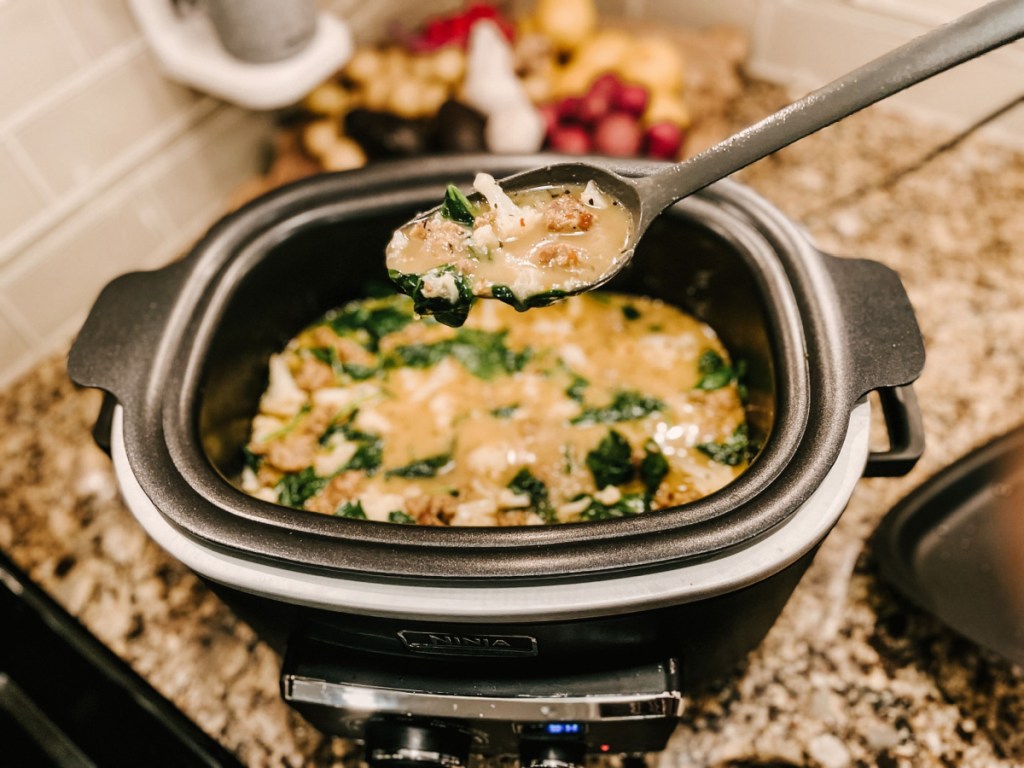 Check out how my teammate Sara makes this soup dairy-free:
"I've been making this soup for as long as I can remember and it is always such a hit! I started making the dairy-free version using coconut cream because for many years I wasn't able to eat dairy and this is a dinner our entire family of 5 loves! It's super quick and easy to whip up and it's an easy dish to make when we have guests over too. The flavors are on point and I always make extra because it tastes even better the next day. I love elevating this dish with garlic knots from the keto bakery down the street and serving it with a side salad. Seriously one of my favorite, hearty dinners in the fall and winter and tends to make our weekly rotation often!"
---
Enjoy the taste of Italy with this yummy keto lasagna!