Keto Whoopie Pies Will Have You Saying Oh My!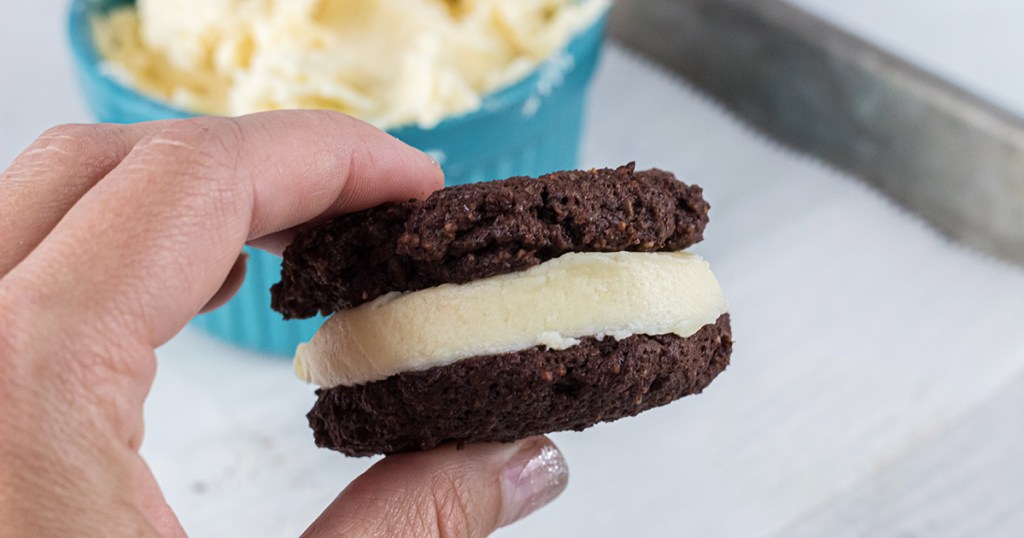 Brownies cookies + frosting = keto heaven!
What's better than a great chocolate brownie cookie? A frosted sandwich brownie cookie – that's what!
Today I'm sharing with you a fun keto whoopie pie dessert recipe that the entire family will love!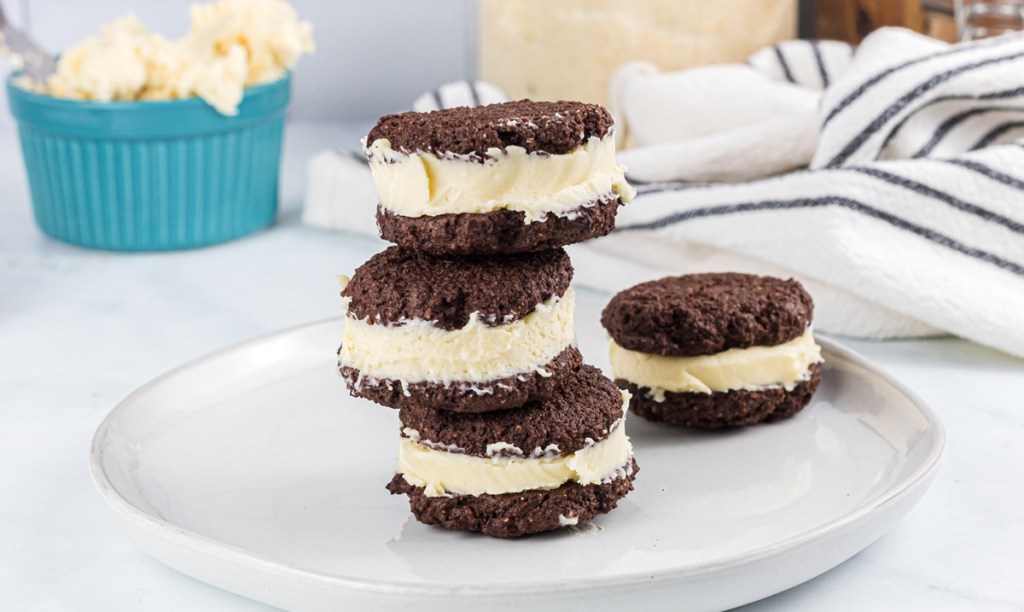 These soft, chewy brownie cloud cookies combined with our amazing buttercream frosting are sure to cure your sweet tooth. Who said keto can't be fun!?
Here are a few recipe tips to keep in mind when making keto whoopie pies:
As for the filling, we halved a batch of our keto buttercream frosting — I recommend learning this recipe by heart if you're an avid keto dessert baker! It's the best! 😋
Be sure to let cookies cool completely before applying the frosting so it doesn't melt and slide out the sides.
---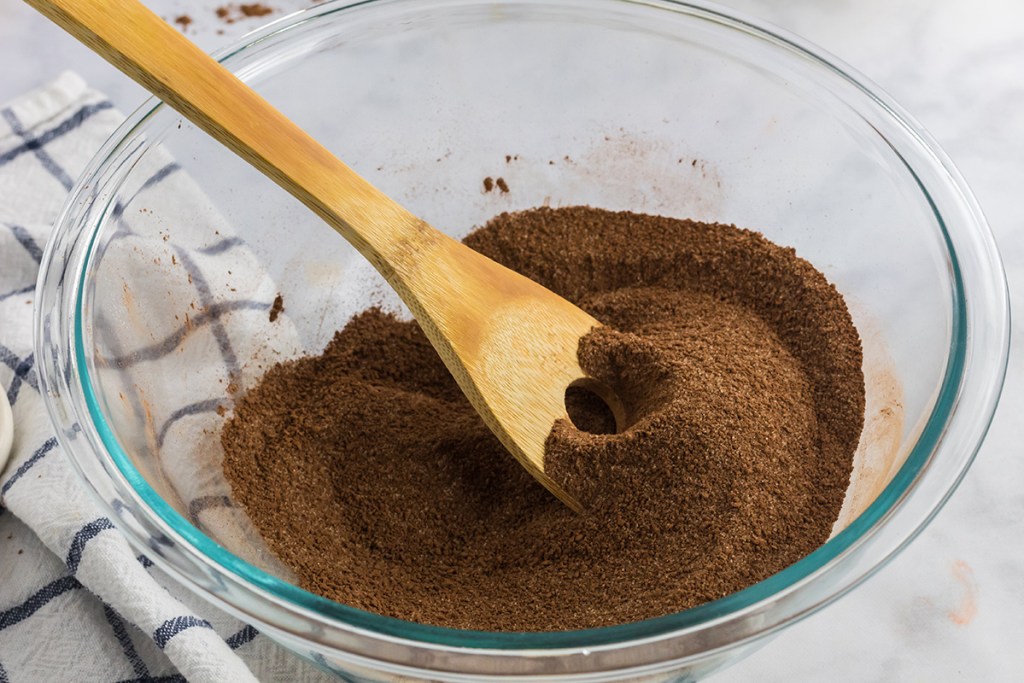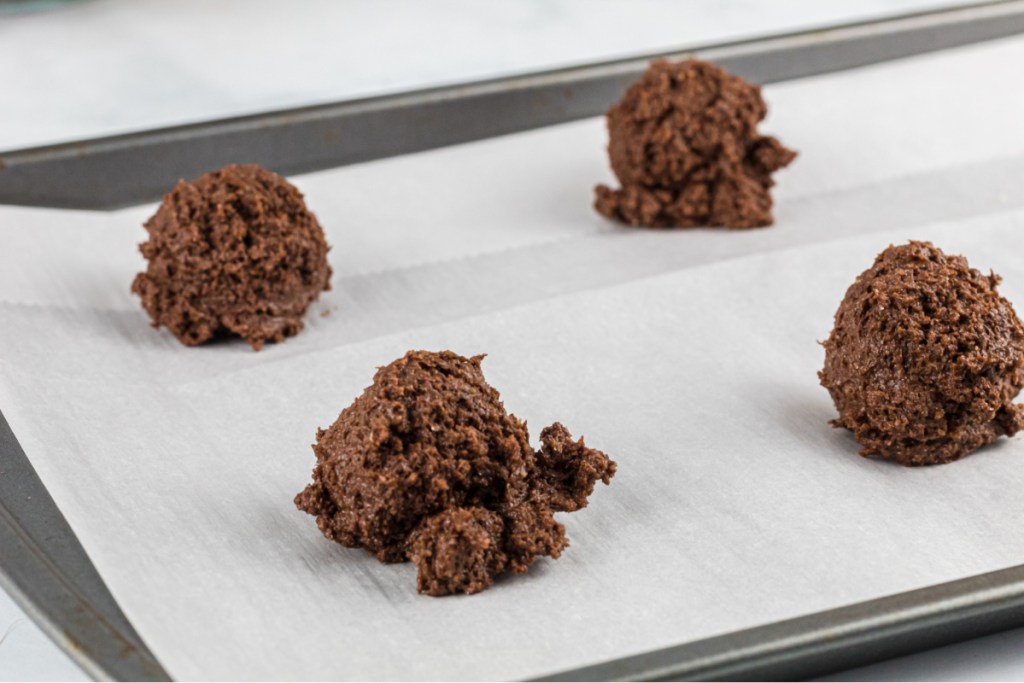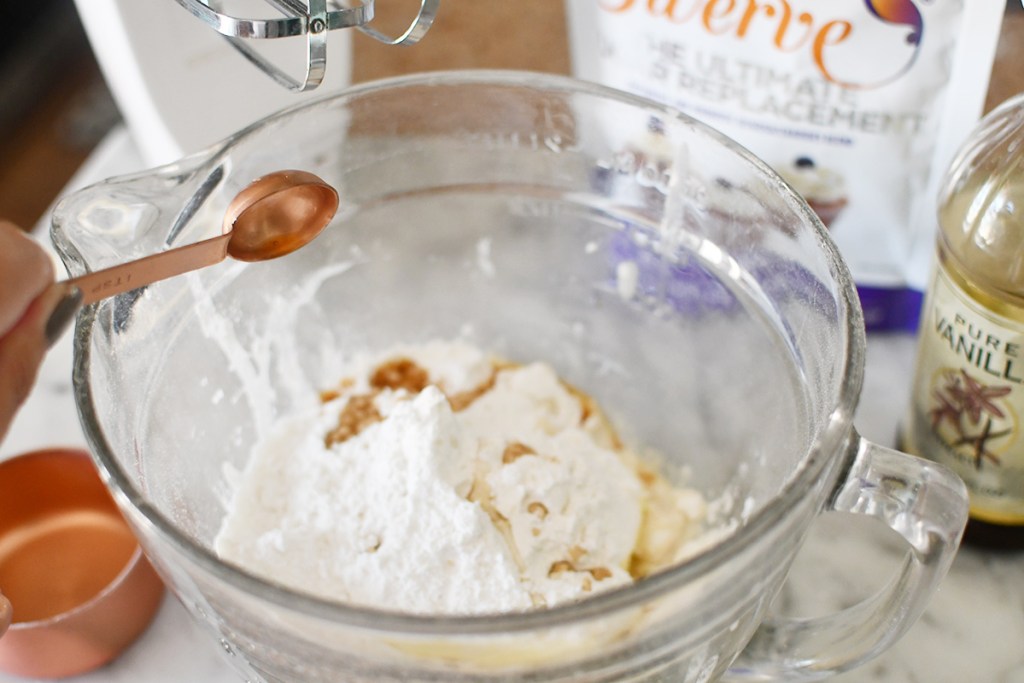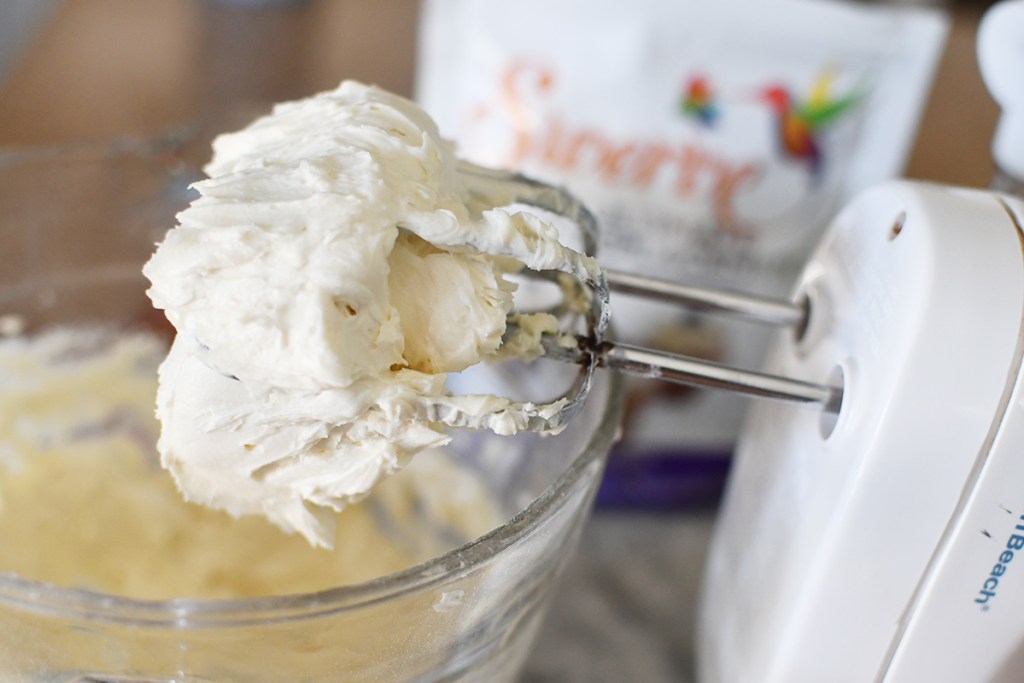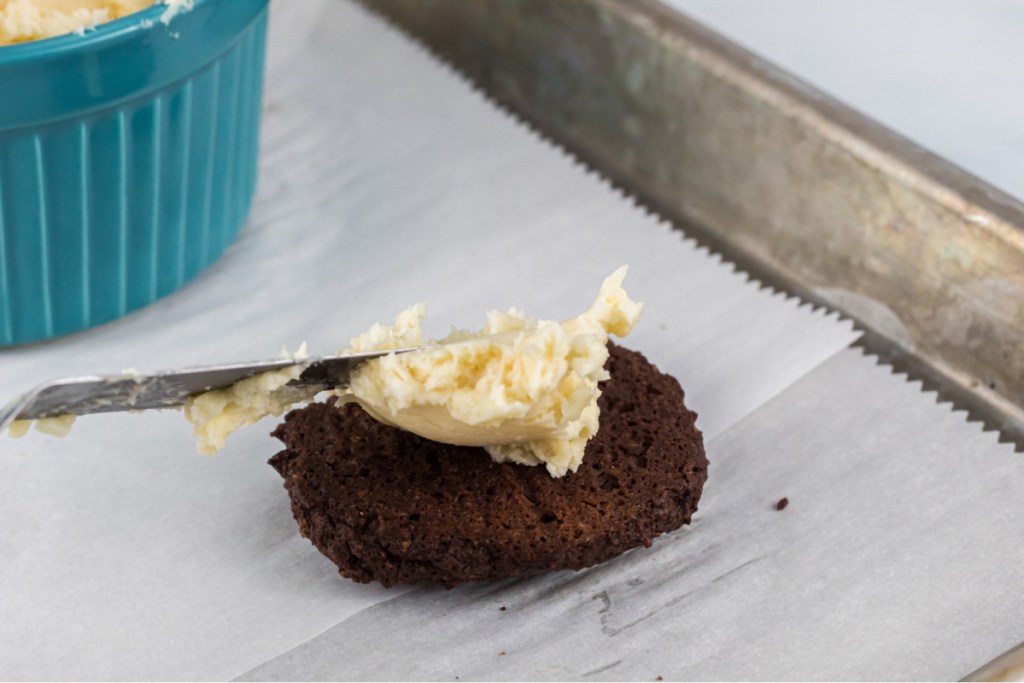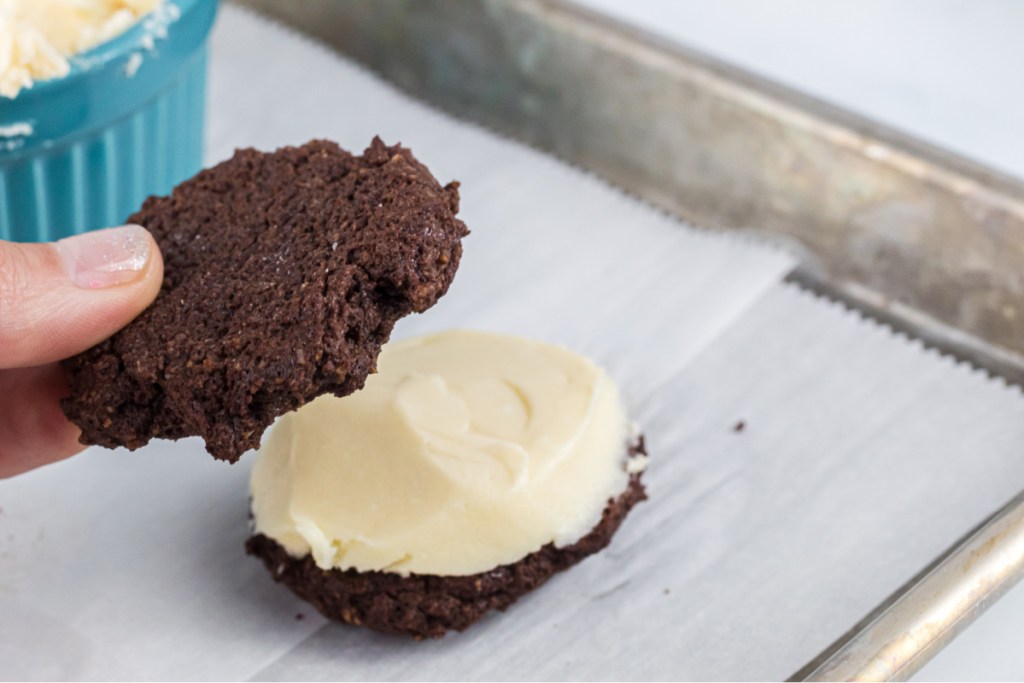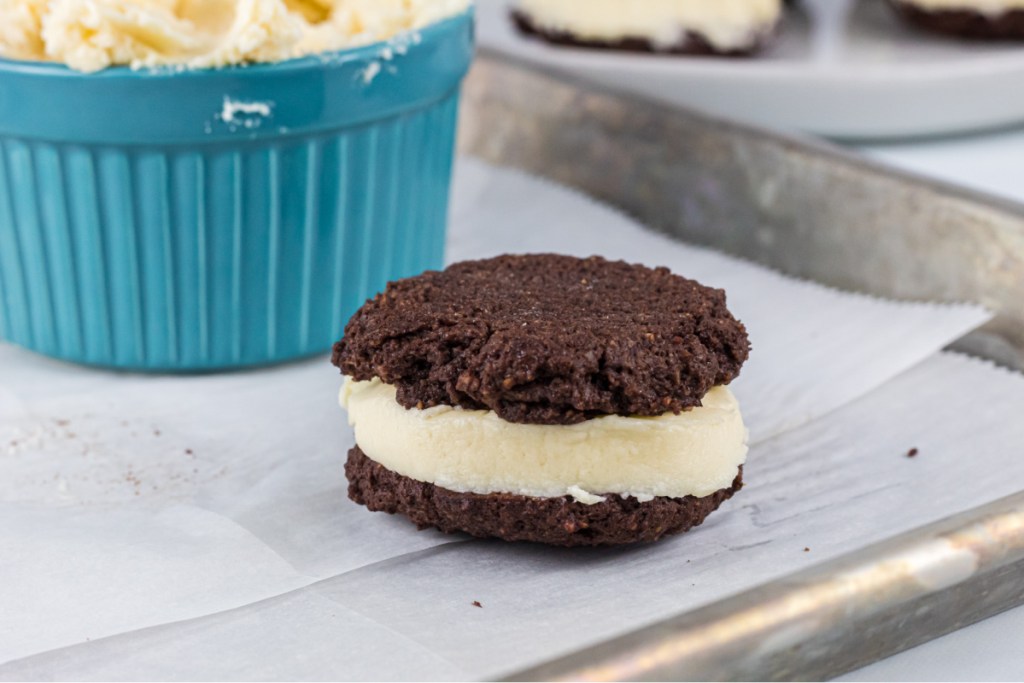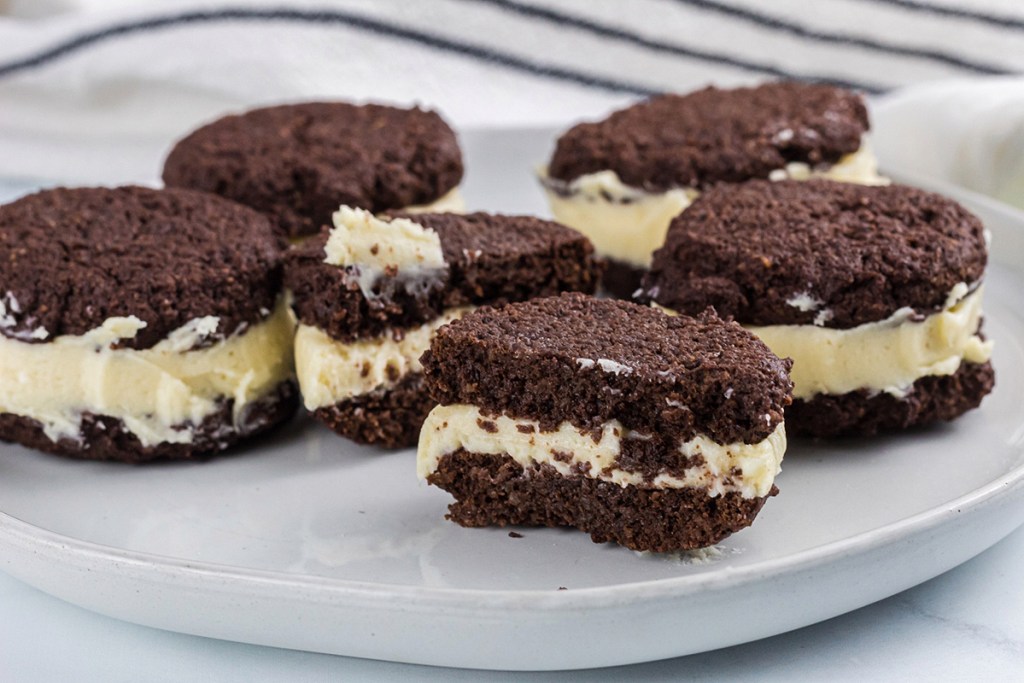 ---
Print
Keto Whoopie Pie Cookies
yield: 7 SERVINGS
prep time: 10 MINUTES
cook time: 20 MINUTES
total time: 30 MINUTES
Keto brownie cookies meet fluffy buttercream frosting for a low-carb whoopie pie cookie sandwich better than the sugar-filled store-bought options.
Ingredients
Chocolate Cloud Cookie:
4 tablespoons butter, melted
1 whole egg
1 egg white
2 ounces cream cheese, softened
2 teaspoons vanilla extract
1/4 cup unsweetened cocoa powder
1/4 teaspoon baking powder
1/4 teaspoon salt
Keto Buttercream Frosting:
1/2 cup butter, softened
1/2 teaspoon vanilla extract
1 teaspoon heaving whipping cream or more
Directions
1
To make the cookies:
Preheat oven to 350 degrees. Line a baking sheet with parchment paper and set aside.
2
In a medium bowl, add in softened cream cheese and use an electric hand mixer to beat until fluffy. Add in melted butter, 1 whole egg, 1 egg white, vanilla extract, and liquid sweetener monk fruit drops. Continue to mix over medium-heat speed for 90 seconds.
4
Add dry ingredients to the cream cheese mixture. Mix with a hand mixer until a batter has formed. This will be a thick batter.
5
Drop a large tablespoon of batter on the baking sheet, making sure you have a round shape. Bake in a preheated oven for 20 minutes. Remove cookies from oven and allow to cool on pan for 5 minutes before transferring to a cooling rack.
6
To make the frosting:
While cookies are cooling, let's make the frosting. Add all frosting ingredients to a clean mixing bowl. Mix with a hand mixer for 1-2 minutes, until you have reached a creamy frosting texture.
7
To assemble the cookies:
Once cookies are completely cooled, take one cookie and turn upside down and add frosting with a knife or a piping bag to the middle, about 2 teaspoons. Add another cookie on top of the frosting, creating a sandwich look. Repeat until all cookies are made into sandwiches.
8
Store in an airtight container. Enjoy!
Nutrition Information
Yield: 7 sandwiches, Serving Size: 1 sandwich
Amount Per Serving: 262 Calories | 27g Fat | 9g Total Carbs | 2g Fiber | 5g Sugar Alcohol | 4g Protein | 2g Net Carbs
---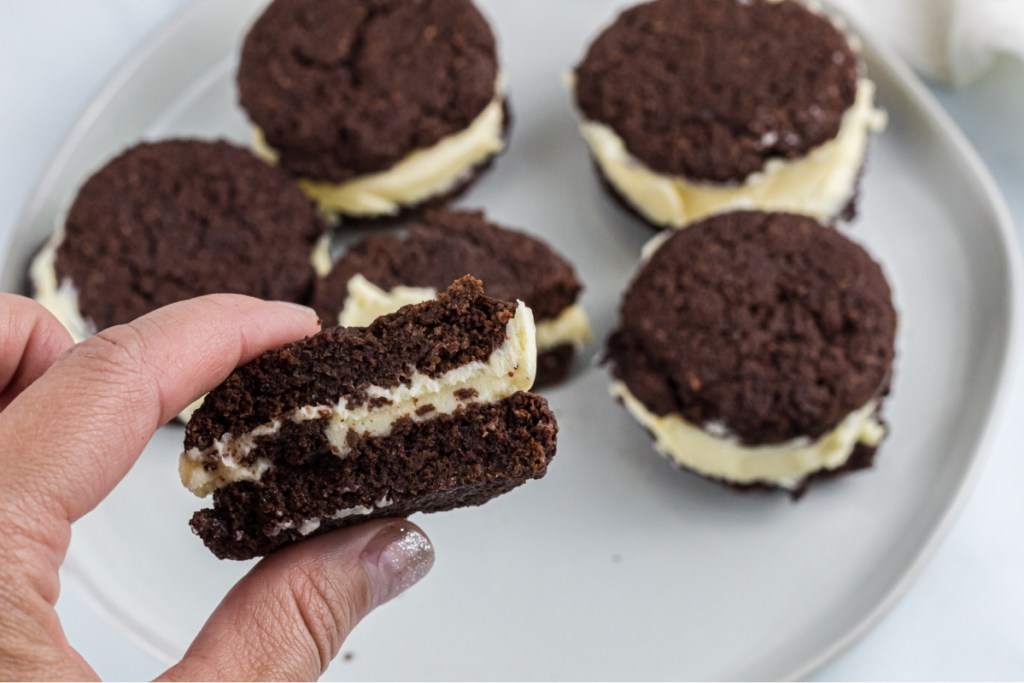 Delicious guilt-free keto cookie dessert!
These yummy whoopie pies are perfect for throwing into a container to take with you on the go for a delicious low carb treat! But warning: you may have to hide them from the kiddos as they'll be begging for seconds.
---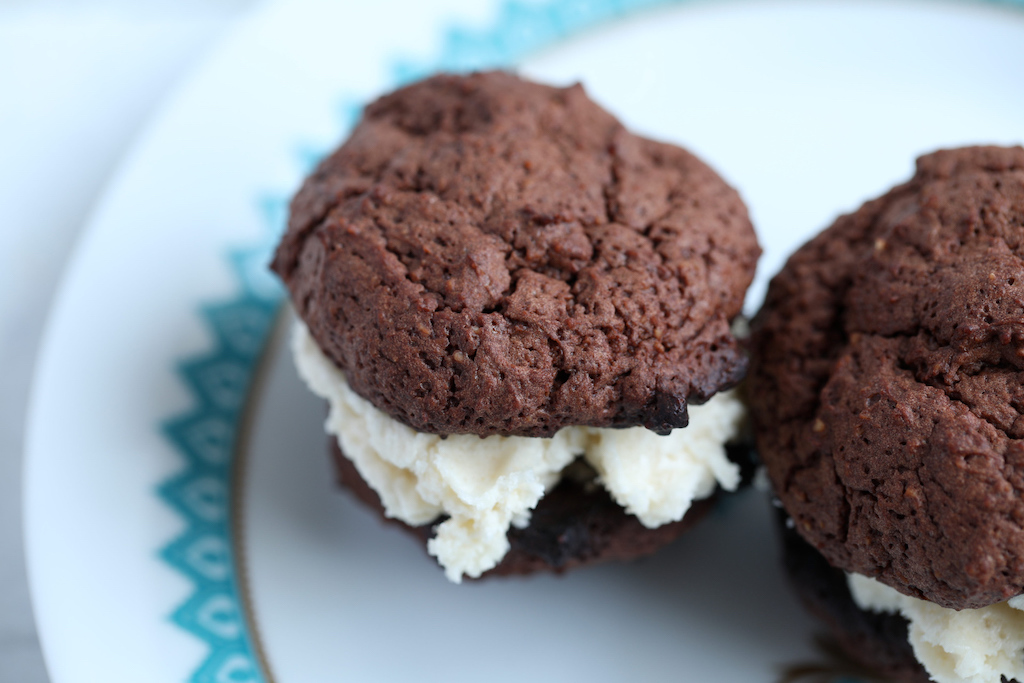 My team member, Jenna, gave this recipe a test for me (as pictured above) and here's what she had to say:
"Another yummy Hip2Keto recipe that was so much fun to make and eat! I've never made whoopie pies, but we've bought them at the grocery store before – and I LOVE that now there is a keto option. These are fluffy and sweet and sure are a fun way to enjoy dessert!" – Jenna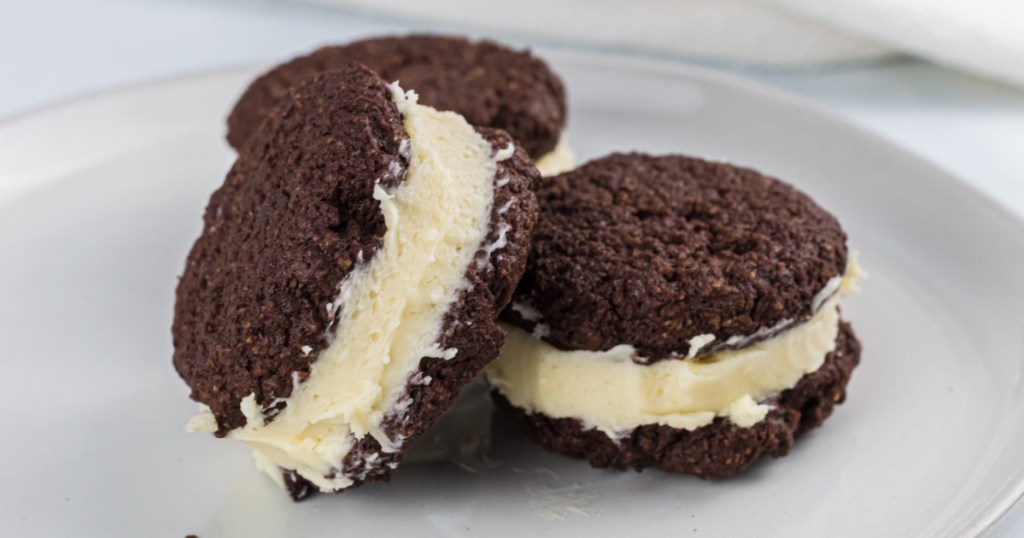 ---
Want more? Give these Keto "Oatmeal" Cream Pie Cookies a try next!