Classic Keto Tuna Melt (Low Carb Lunch or Dinner Idea)
This perfect keto tuna melt makes for an easy lunch or dinner.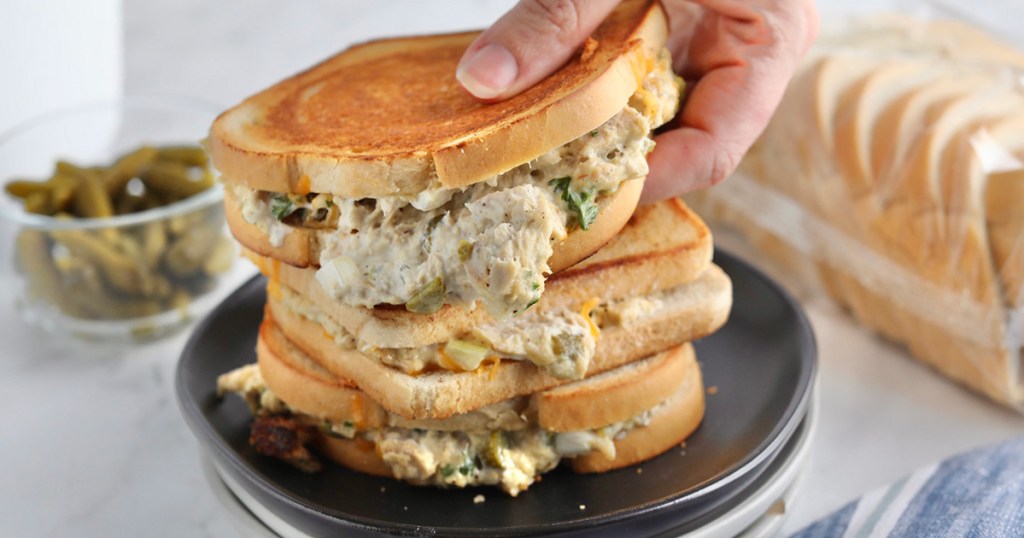 Fans of classic diner-style sammies, let me introduce you to the keto tuna melt.
Because every once in a while, that sandwich craving just hits. What better way to satisfy your tastebuds than with this keto tuna melt. I grew up with my mom making either grilled cheese sandwiches or tuna melts on the weekends. Oh, the memories this brings to mind.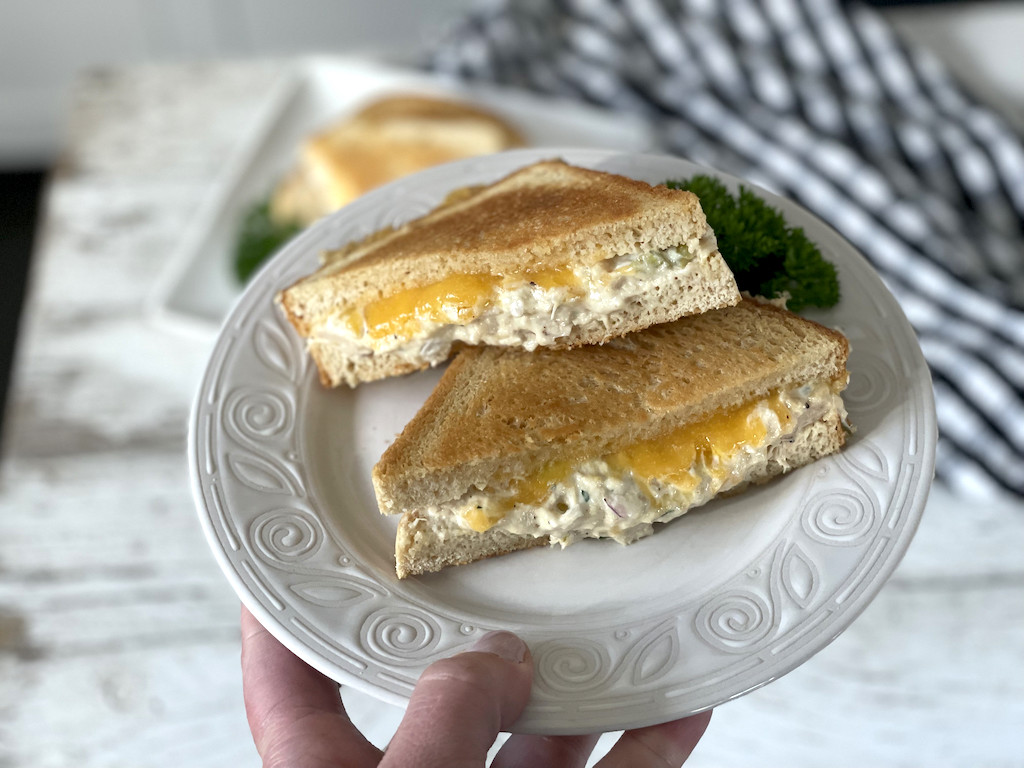 And if you're thinking, "A sandwich?? On keto?!" you're likely not alone! Luckily with keto's rise in popularity, there are a lot of store-bought keto bread options on the market. If you'd prefer to make your own keto bread, we've got you covered with this simple 90 second bread recipe!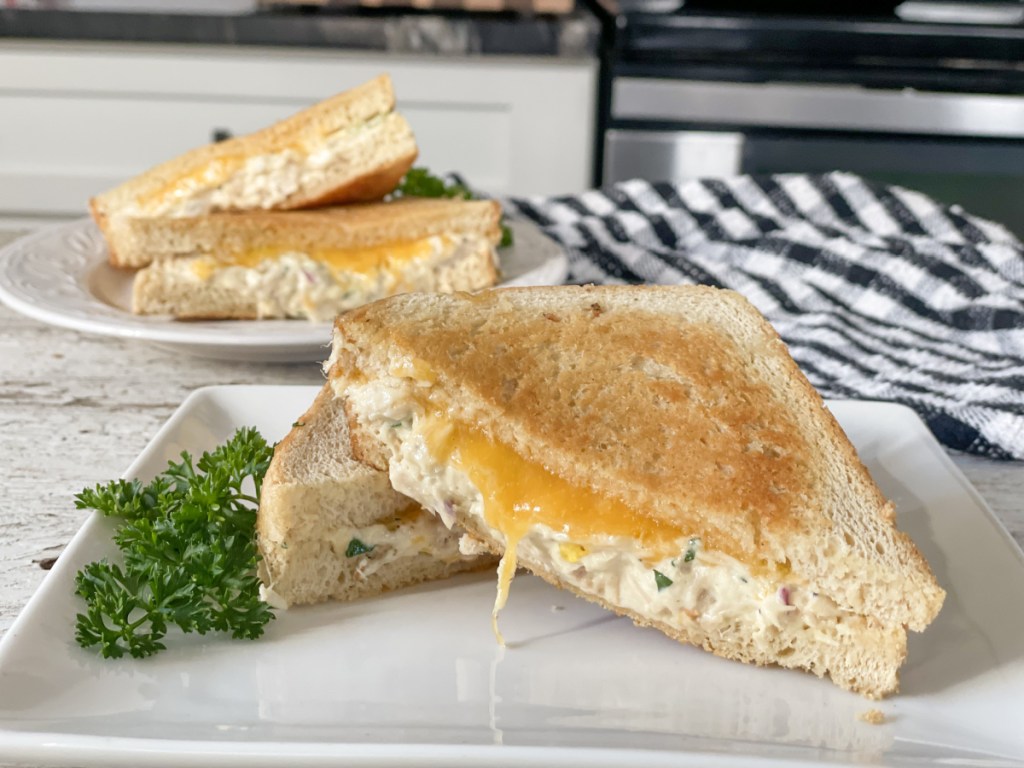 There are several variations of tuna melts.
Some people add chopped celery, some sweet relish, and others mustard. I tried my best to recreate the tuna melt I grew up eating, but then made a few tweaks to improve it… okay, I made a lot of tweaks because I'm pretty sure I just had tuna mixed with Miracle Whip as a kid. 😂 Think of this as the adult version of a keto tuna melt.
To keep things low carb, I of course used keto bread, and went with avocado mayonnaise, chopped red onion, chopped cornichons (think of these as baby dill pickles!), salt, pepper, parsley, and lemon juice. This ingredient combo created the perfect flavor!
Tips for making the best classic keto tuna melt:
This recipe makes three sandwiches on premade keto bread. I've found that the slices of store-bought keto bread typically tend to be on the smaller side, so if you're using bigger bread, you might only get two sandwiches. If you half the recipe, you'll have plenty for one keto tuna melt.
Feel free to add your own favorite additions. I know celery is a popular one, but I personally don't like it in a tuna melt, just in a tuna salad. A teaspoon of mustard also goes pretty well!
I used grated cheese because it melts faster and more evenly than a slice of cheese. I like cheddar but Swiss or provolone would be delicious too!
When cooking, cover the skillet with a lid to thoroughly heat the sandwich. This also helps the cheese to melt. I just used a stockpot lid.
I like a lot of mayo in my tuna melts. To me, that keeps it from drying out while it's being heated. If you like a more dry tuna mixture, use 1/3 cup mayo instead of a 1/2 cup. You might even want to start with a 1/3 cup and then add another tablespoon or two if desired.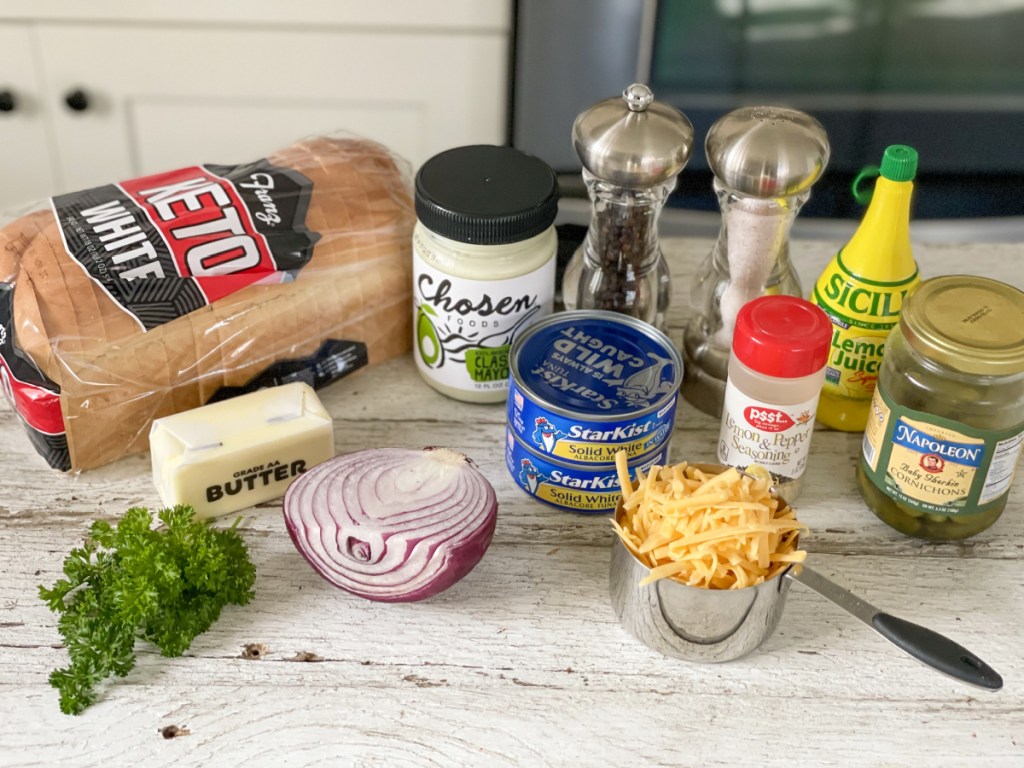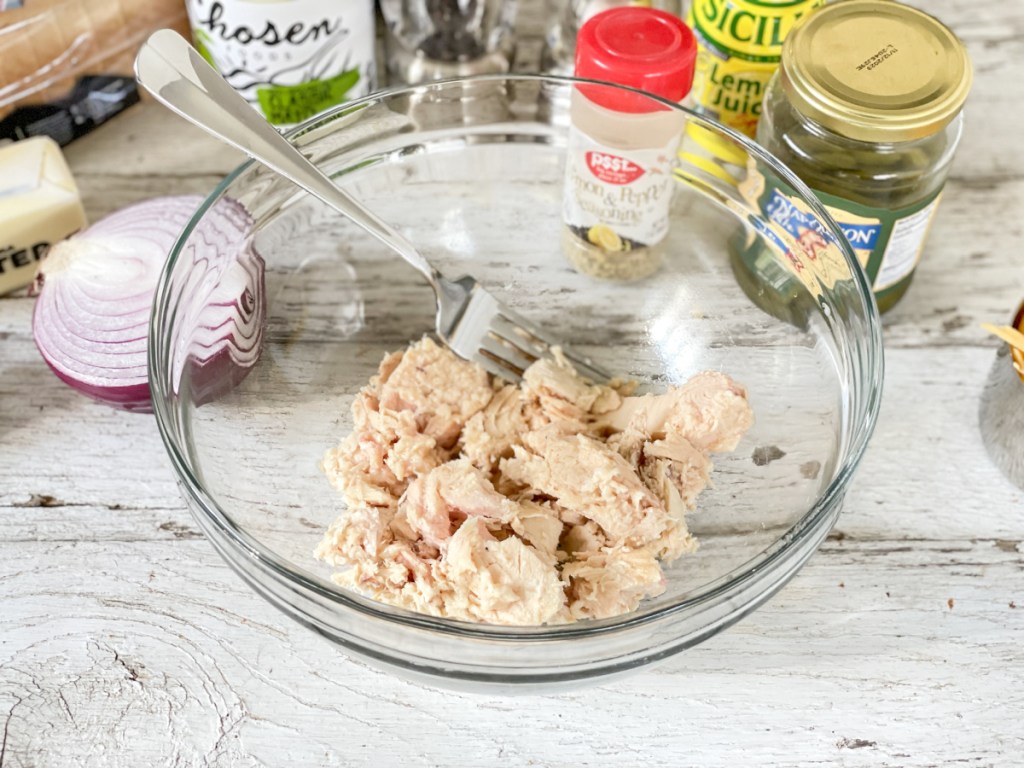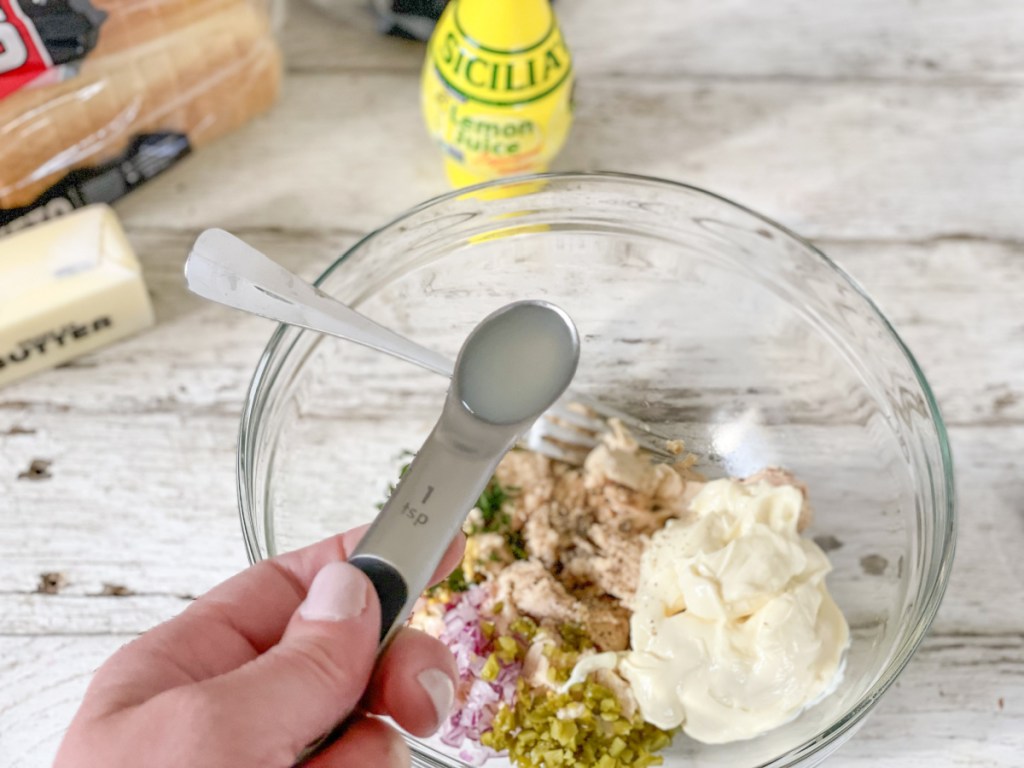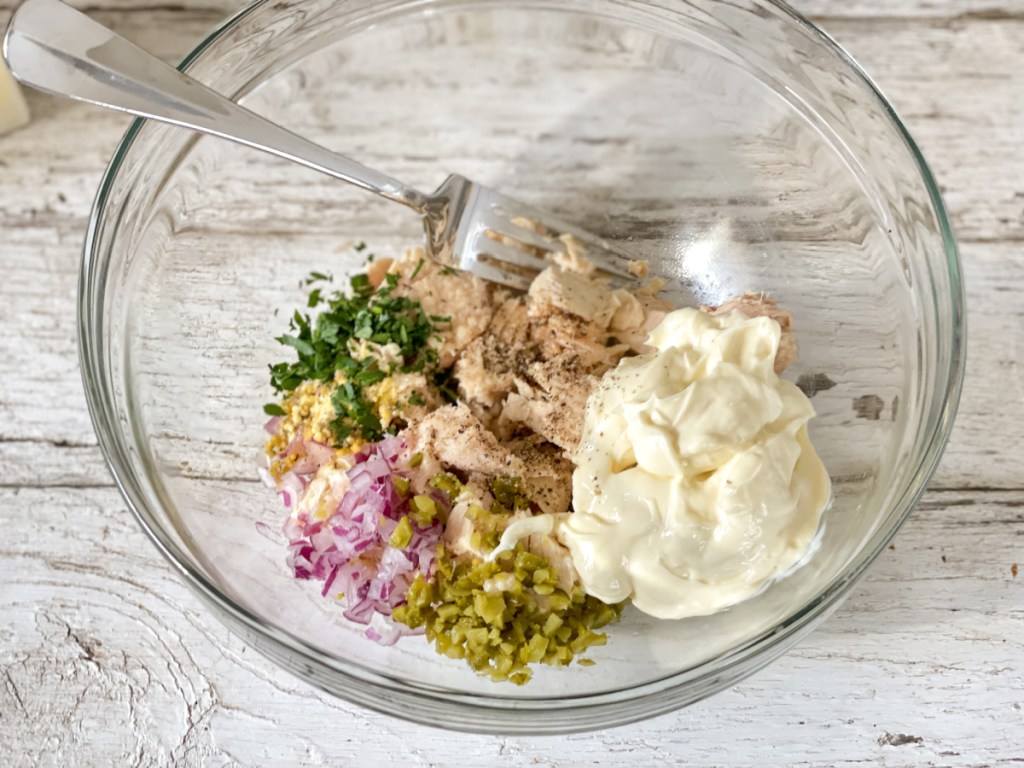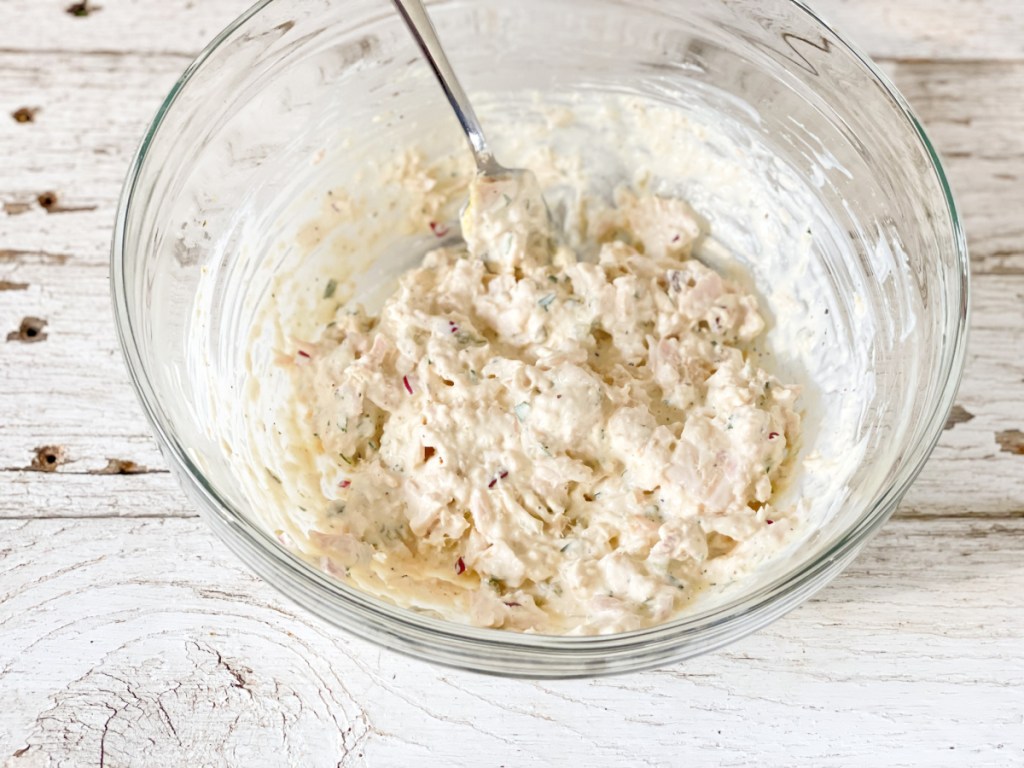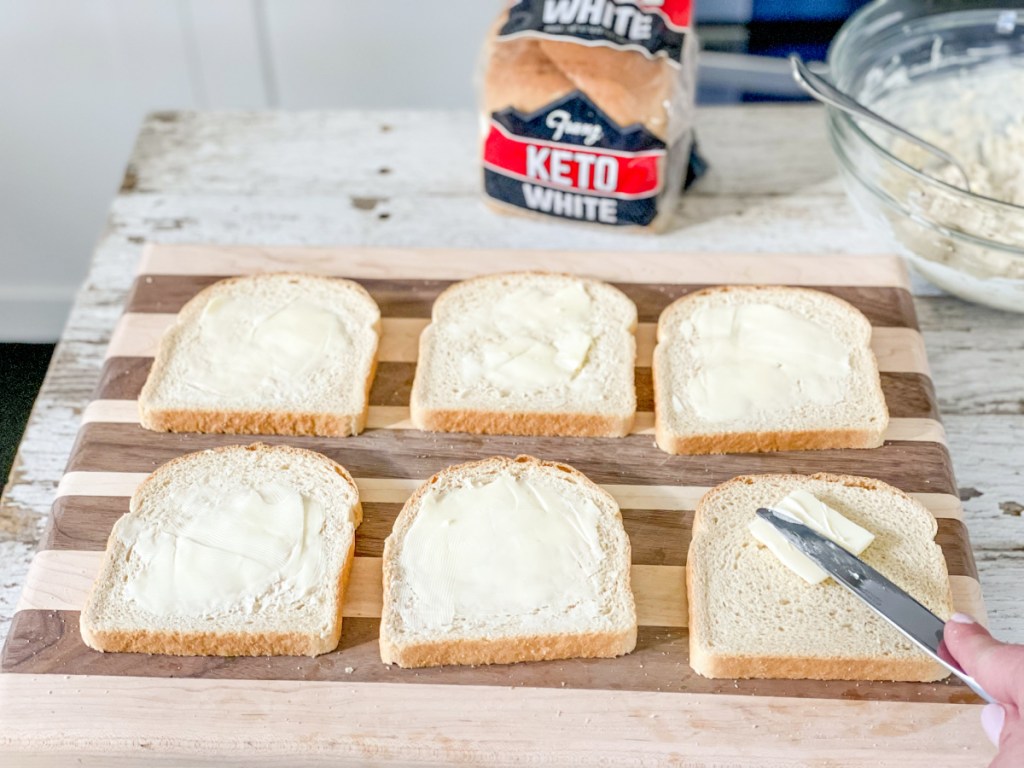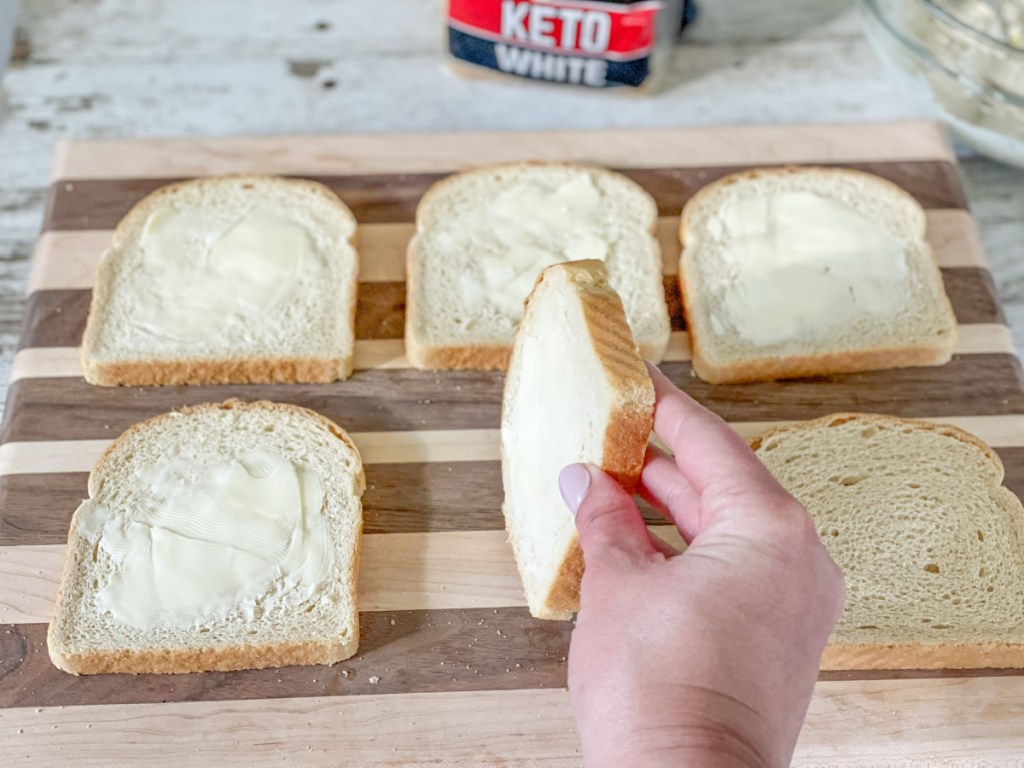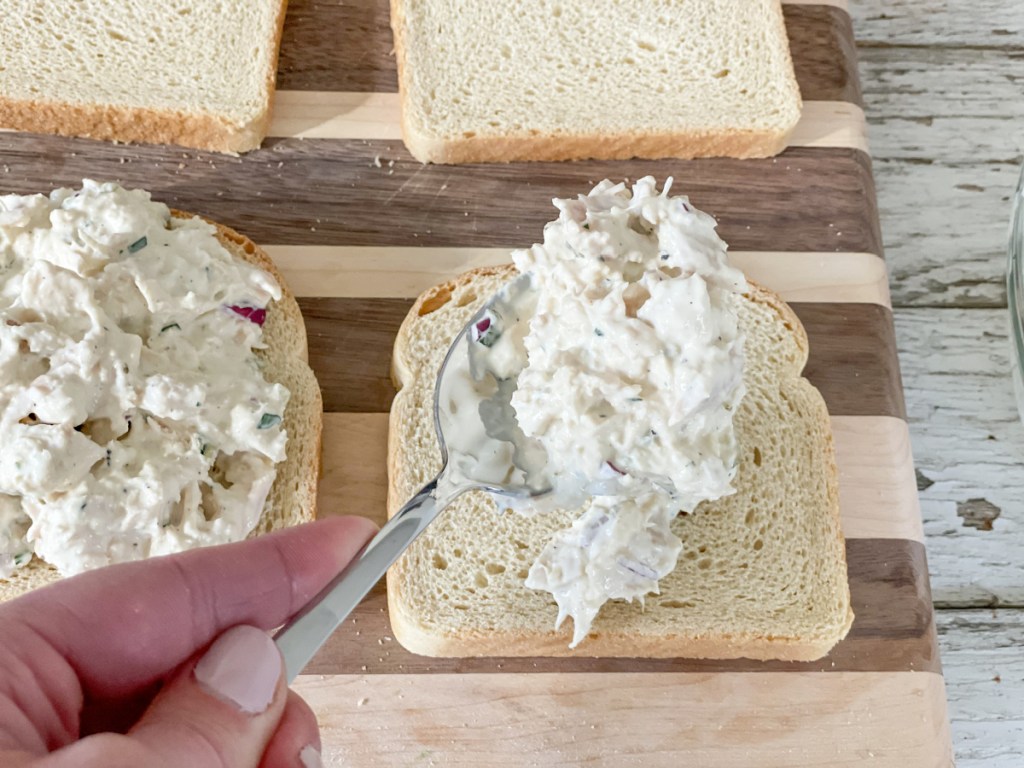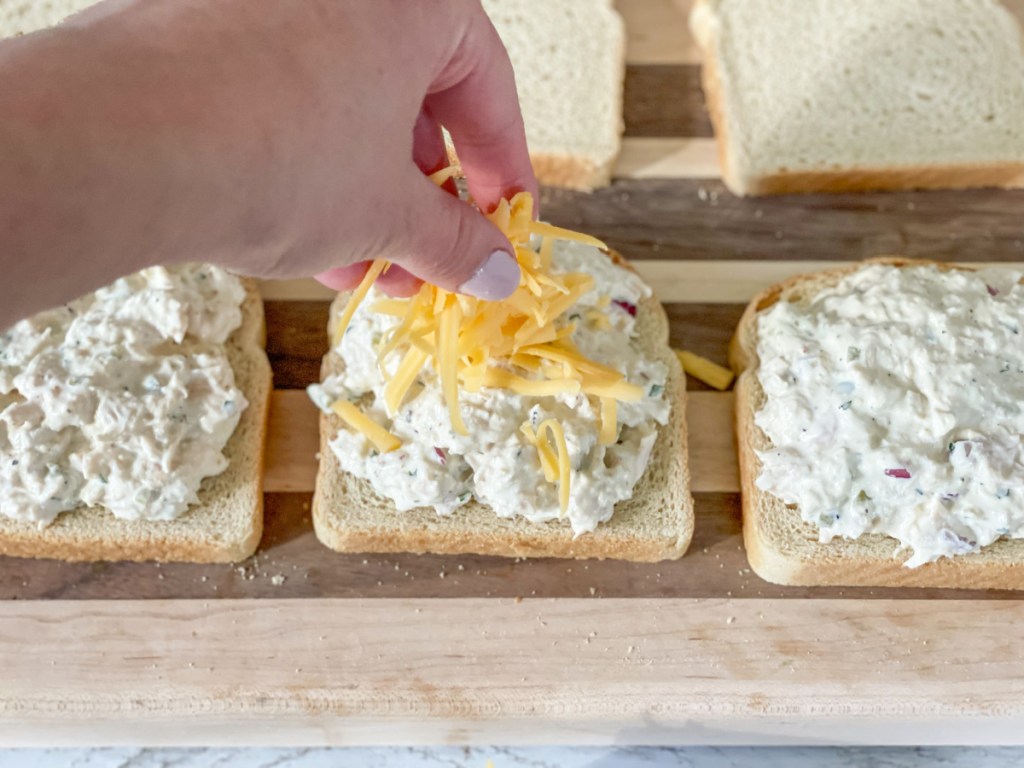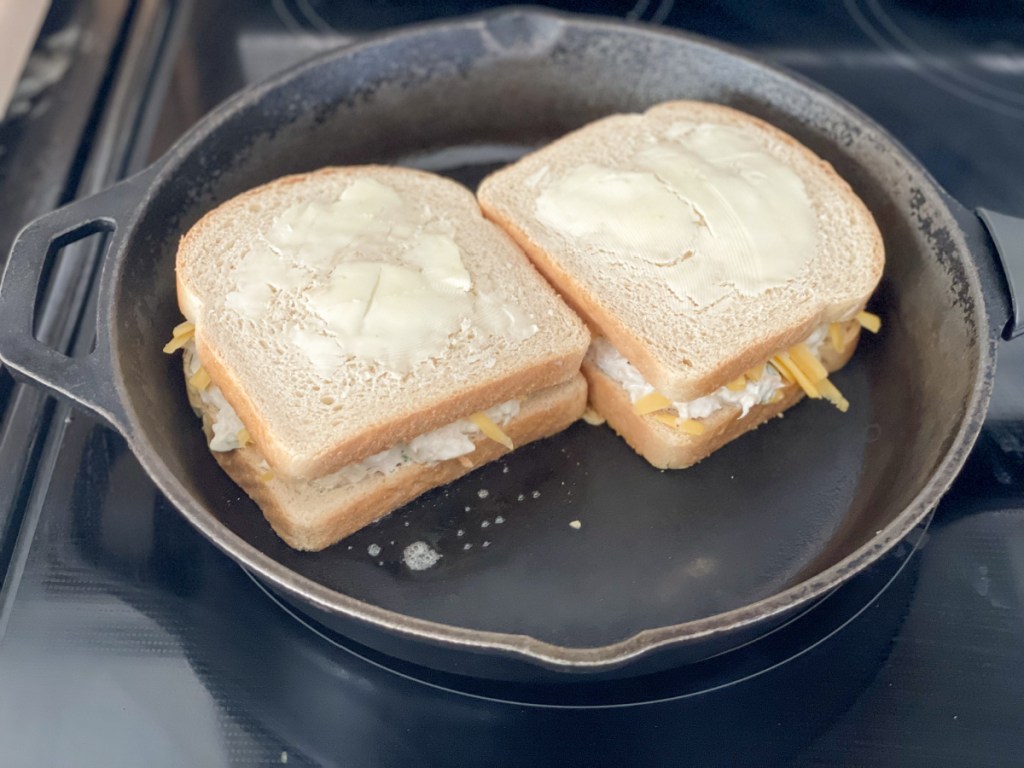 ---
yield: 3 SERVINGS
prep time: 10 MINUTES
cook time: 10 MINUTES
total time: 20 MINUTES
Albacore tuna mixed with avocado mayo, crunchy fillings, and pan-fried with shredded cheddar between two slices of keto bread to create the perfect tasty, hot, melty sandwich.
Ingredients
2 - 5 oz. cans solid white albacore tuna in water, drained
1 tablespoon red onion, chopped
1/4 teaspoon salt or more to taste
1/4 teaspoon pepper or more to taste
2 teaspoons fresh parsley, chopped
1 teaspoon lemon juice
3 tablespoons butter
1 cup shredded cheddar cheese, loosely packed
Directions
1
In a medium bowl, mix together the drained tuna, mayonnaise, red onions, pickles, salt, pepper, parsley, and lemon juice. Stir well to combine.
2
Butter one side of each slice of bread, about a half tablespoon on each slice. Flip the bread over, butter side down.
3
Take three of the bread slices and divide the tuna mixture evenly between them. Then top each with about a 1/3 cup of shredded cheddar. Top with the remaining sliced of bread, butter side up.
4
Heat a large skillet over medium heat. Once hot, add the sandwiches to the skillet, making sure your bread slices have the butter on the outside so the bread crisps. You made need to work in batches depending on the size of your skillet.
5
Cover the sandwiches in the skillet and heat until the butter on the top slice melts and the grilled side is golden brown. About 3 to 5 minutes. Then carefully flip the sandwich over and grill the other side for an additional 3 to 5 minutes.
6
The sandwich is done when the cheese has melted. Remove from the skillet and let rest a minute or two before slicing in half. Enjoy!
Additional Notes
Nutrition info is based on using Franz Keto Bread.
Nutrition Information
Yield: 3 sandwiches, Serving Size: 1 sandwich
Amount Per Serving: 672 Calories | 59.2g Fat | 26.4g Total Carbs | 24.1g Fiber | 0.2g Sugar | 33.6g Protein | 2.3g Net Carbs
---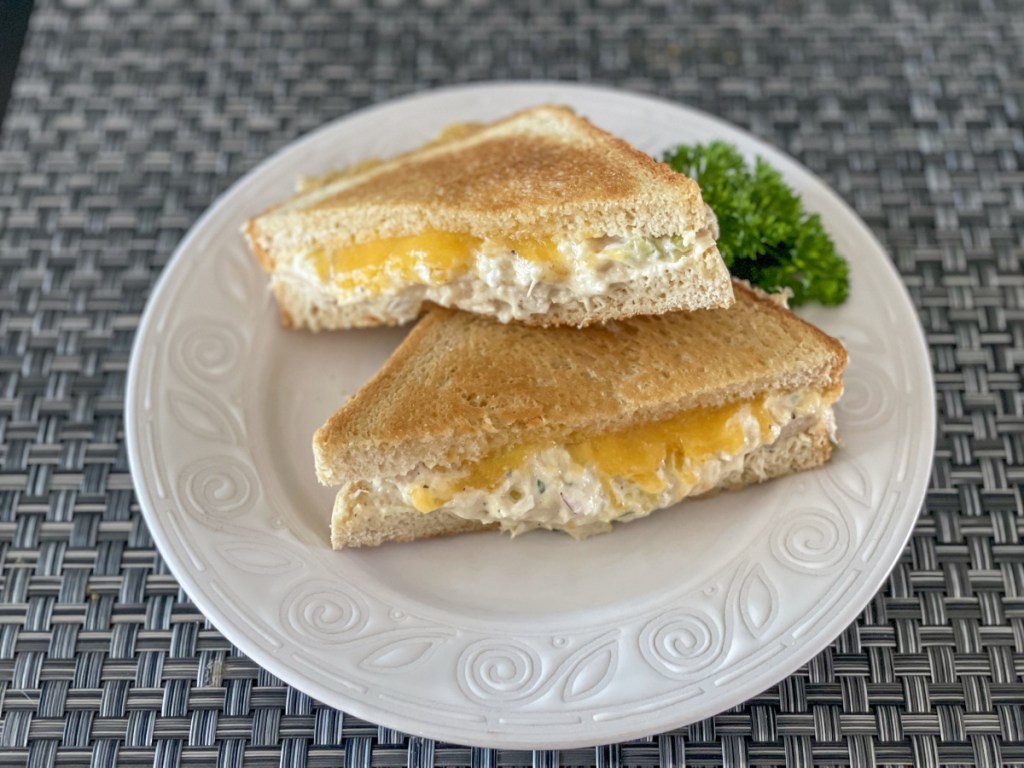 I hope this keto tuna melt satisfies those sandwich cravings while helping you meet your keto goals. You can swap out the keto bread for a regular wheat bread loaf if you're cooking for non-keto eaters in your family. This recipe truly works for everyone!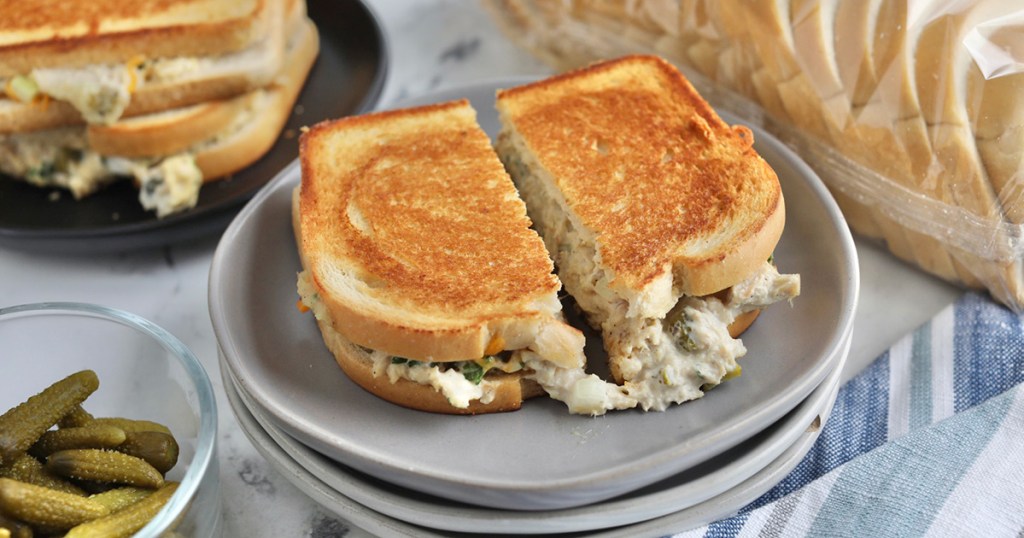 My Hip teammate Jenna tried this keto tuna melt recipe, and here's what she thought:
"So full of flavor and very fresh-tasting — this is such an awesome lunch. I have never tried store-bought keto bread before (I've made my own but never grabbed a loaf at the store) so this was a first for me but I am impressed! This was a quick easy lunch, that I will definitely make again."
---
Make these Keto Ham and Cheese Sliders next!