Berry-licious Keto Trifle with Raspberry Jam
Put all your plans on hold as I implore you to make this berry-licious decadent keto trifle with ChocZero Keto Raspberry Jam!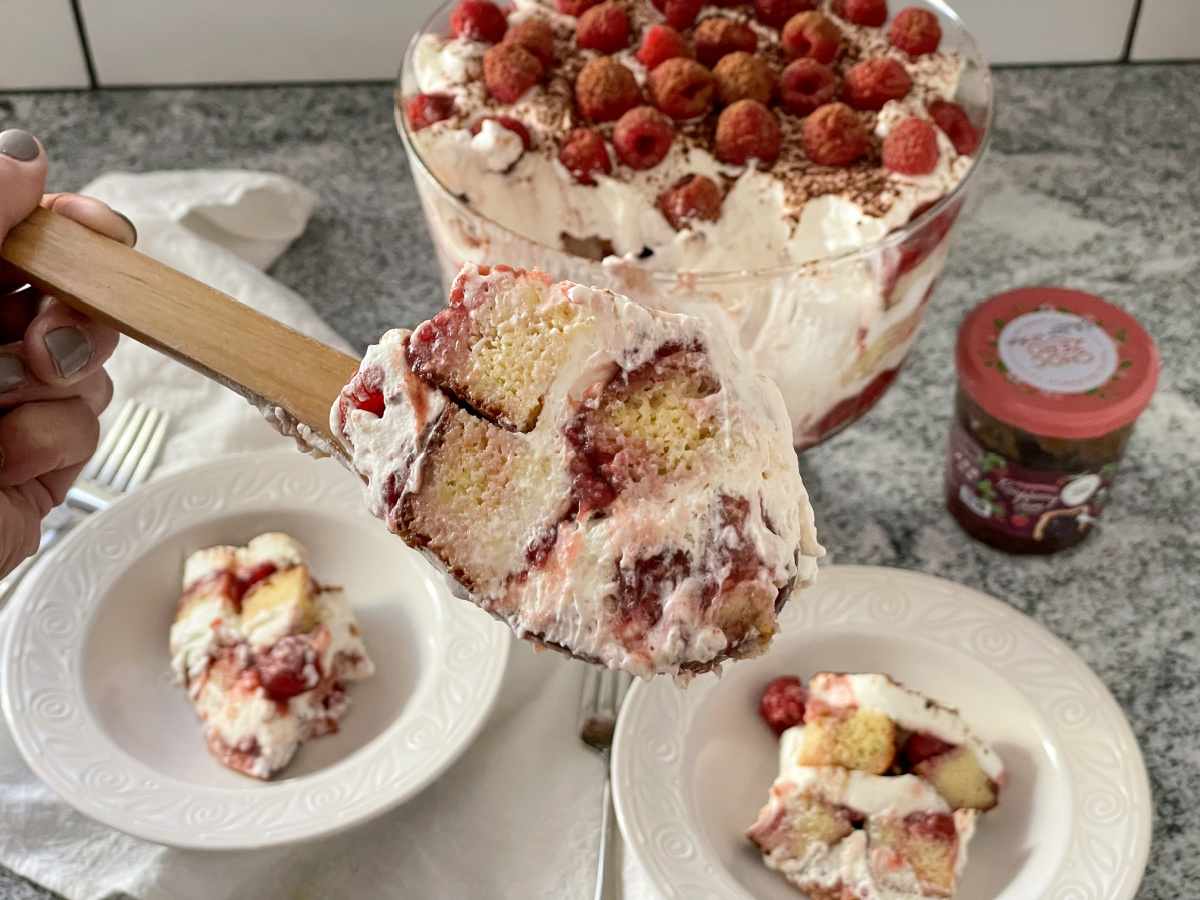 This keto trifle is out of this world delicious!
I'm announcing that we have a new favorite dessert in the house! I'm usually very partial to chocolate desserts but this trifle has convinced me otherwise. The flavor combination of lemon keto pound cake, keto lemon syrup, fresh raspberries, ChocZero Keto Raspberry Jam, and whipped cream is divine.
I almost ate it for dinner.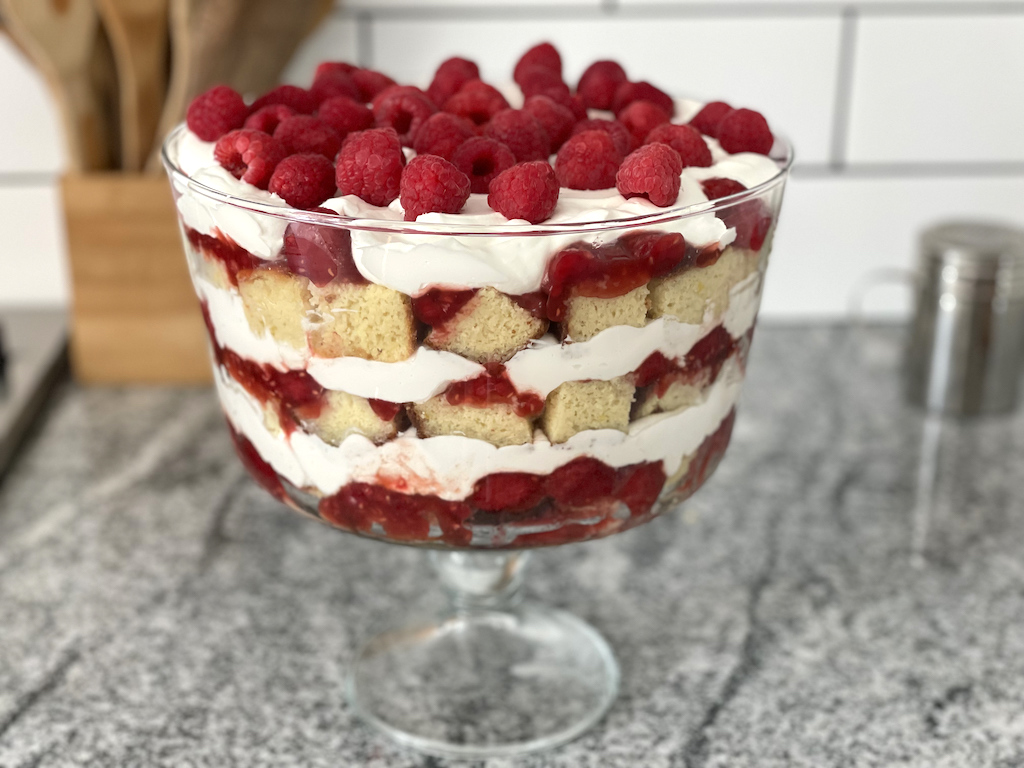 Looks complicated but this keto trifle bursting with berries is easy to put together.
The hardest part about making this keto trifle is just waiting four hours for it to set up! But trust me, it's worth the wait. You'll also need to make the keto lemon pound cake in advance as well. I actually made it two days ahead of time and it was perfect.
This keto raspberry trifle is perfect for any time of the year. When I was coming up with the recipe, I came across a lot of trifles that used pudding in place of whipped cream — I guess that's considered more traditional. But then I found this Martha Stewart recipe and knew I had to use it as my inspiration.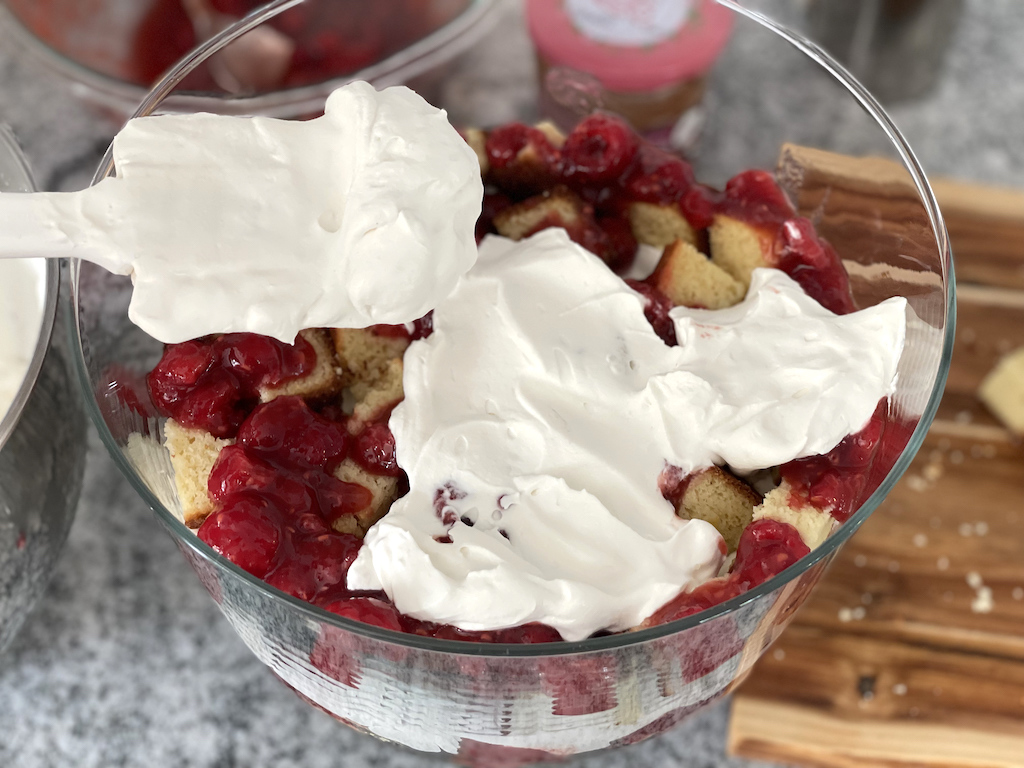 The real star of the show is the ChocZero Keto Raspberry Jam. It adds the perfect amount of sweetness to the dessert. All those 5-star reviews aren't lying, my friends!
Use our exclusive coupon code HIP2KETO to save 10% off your ChocZero order!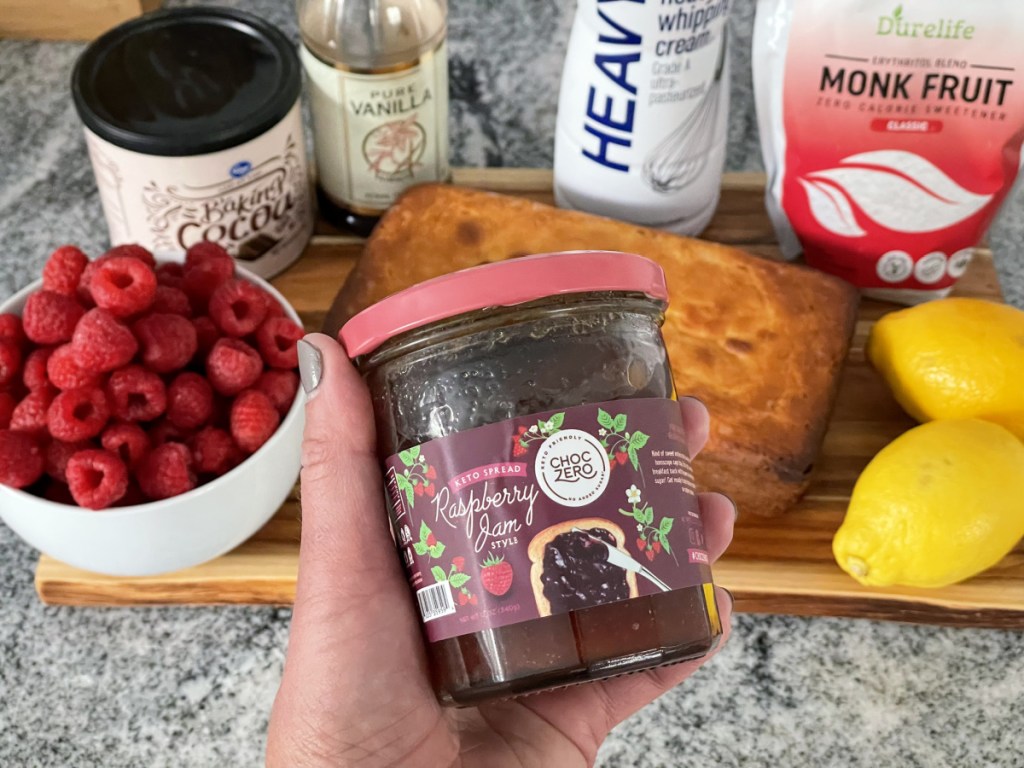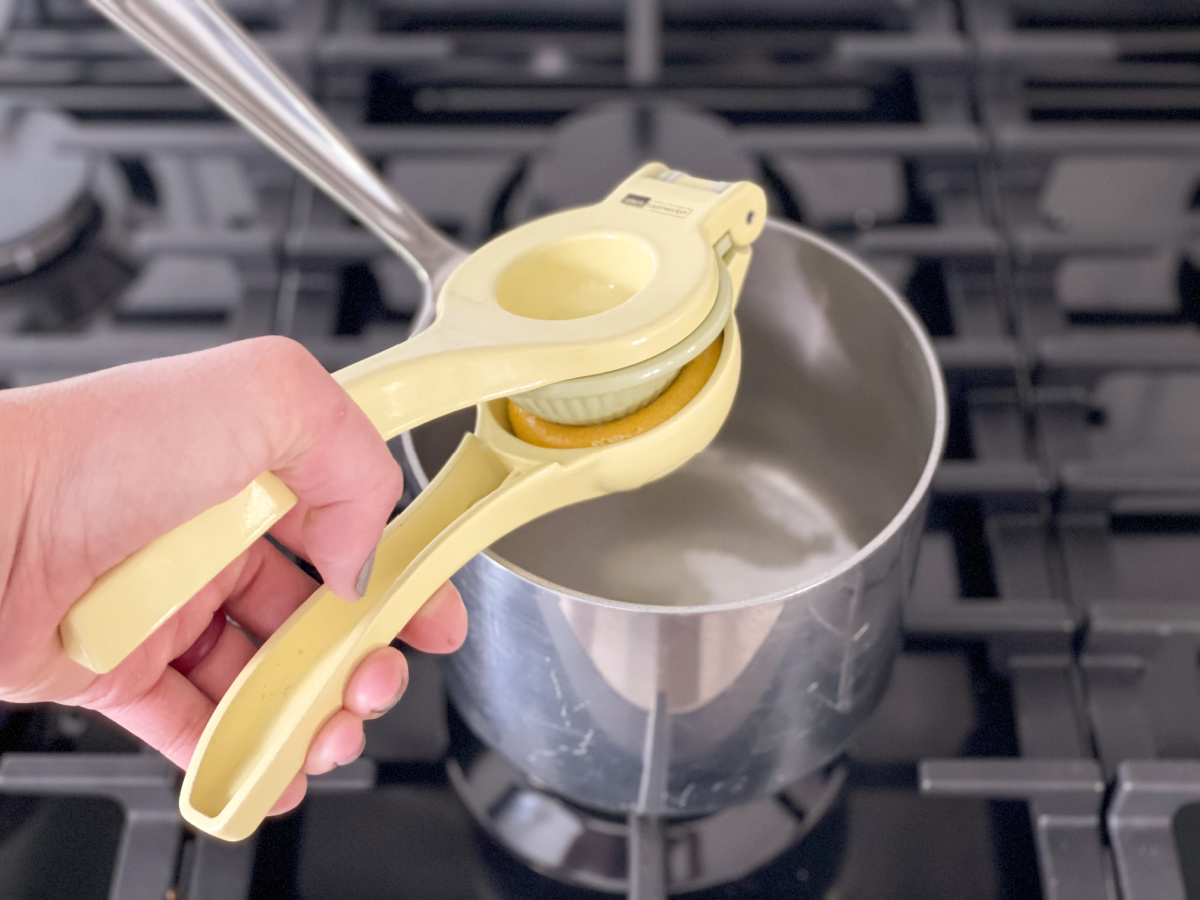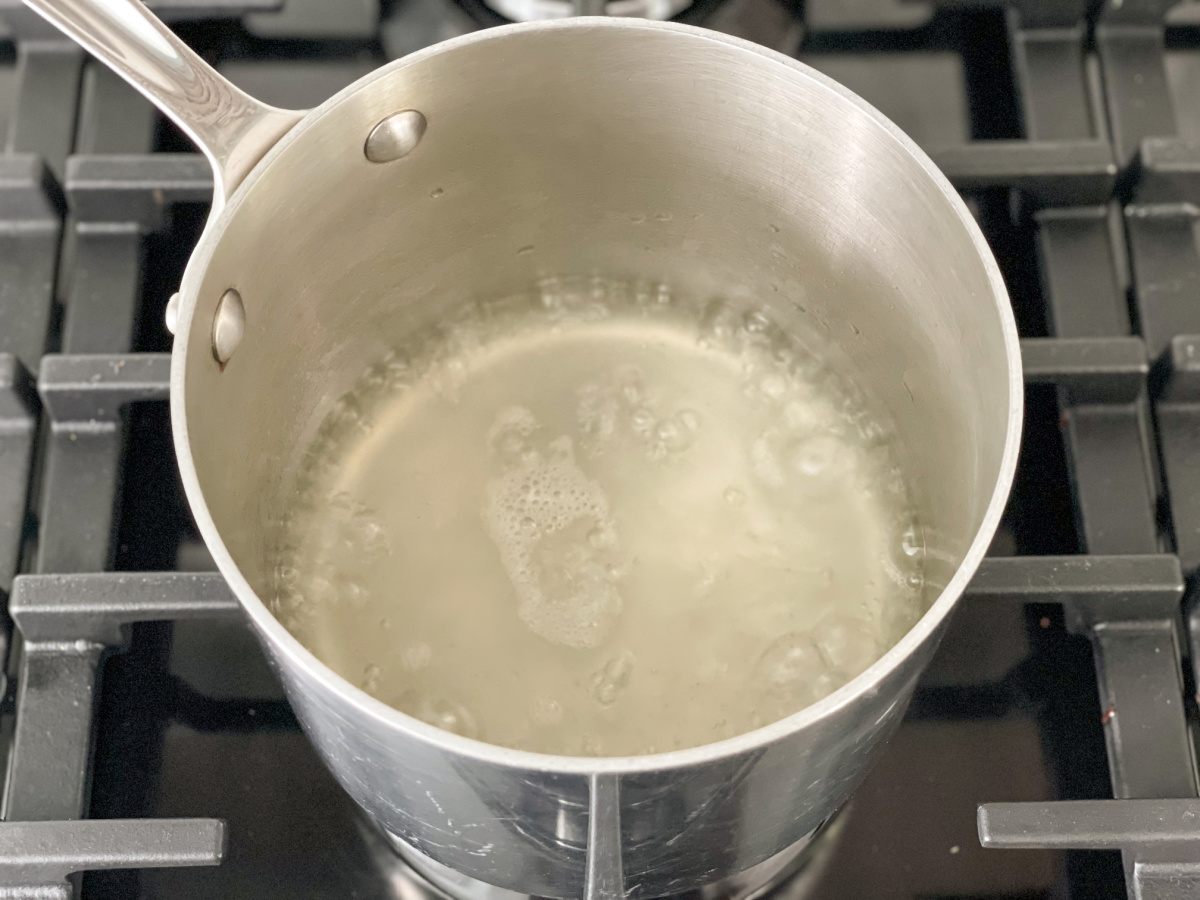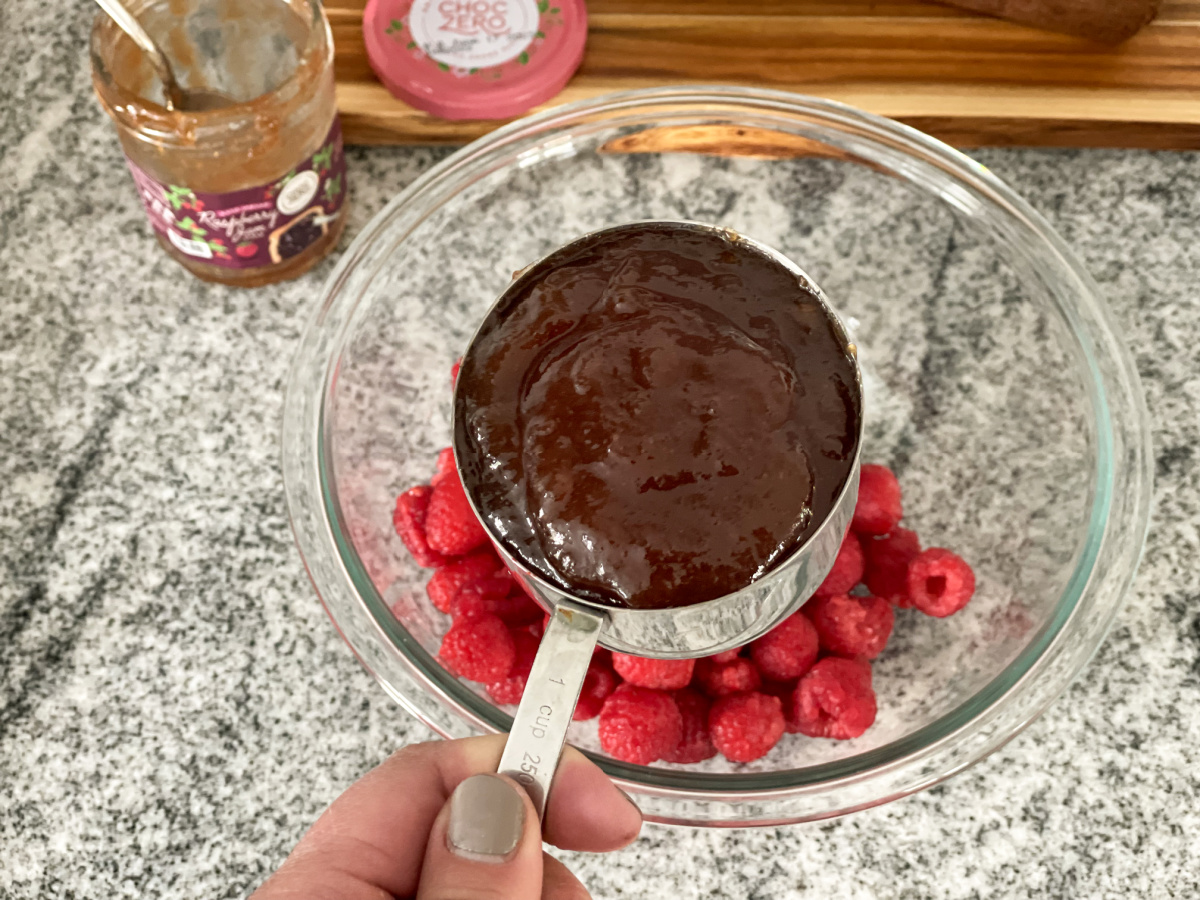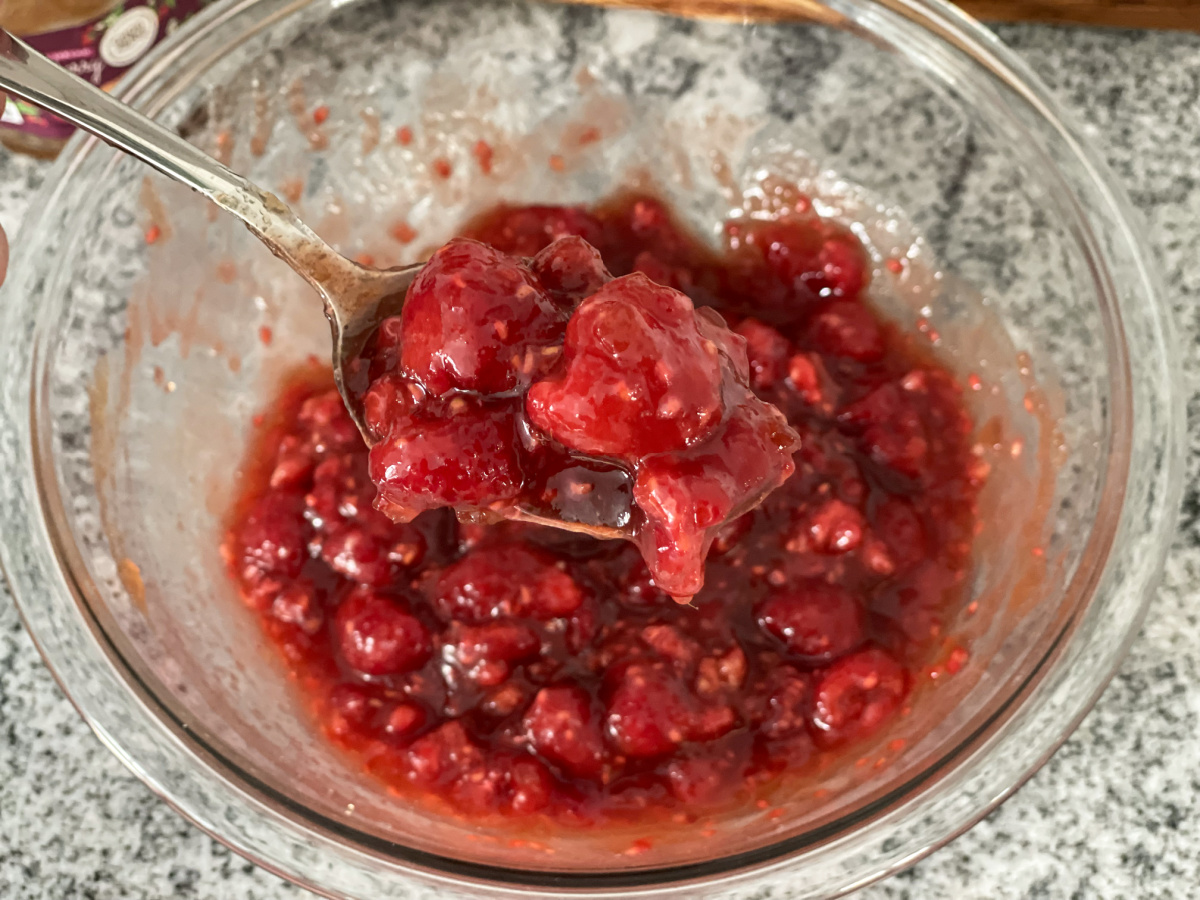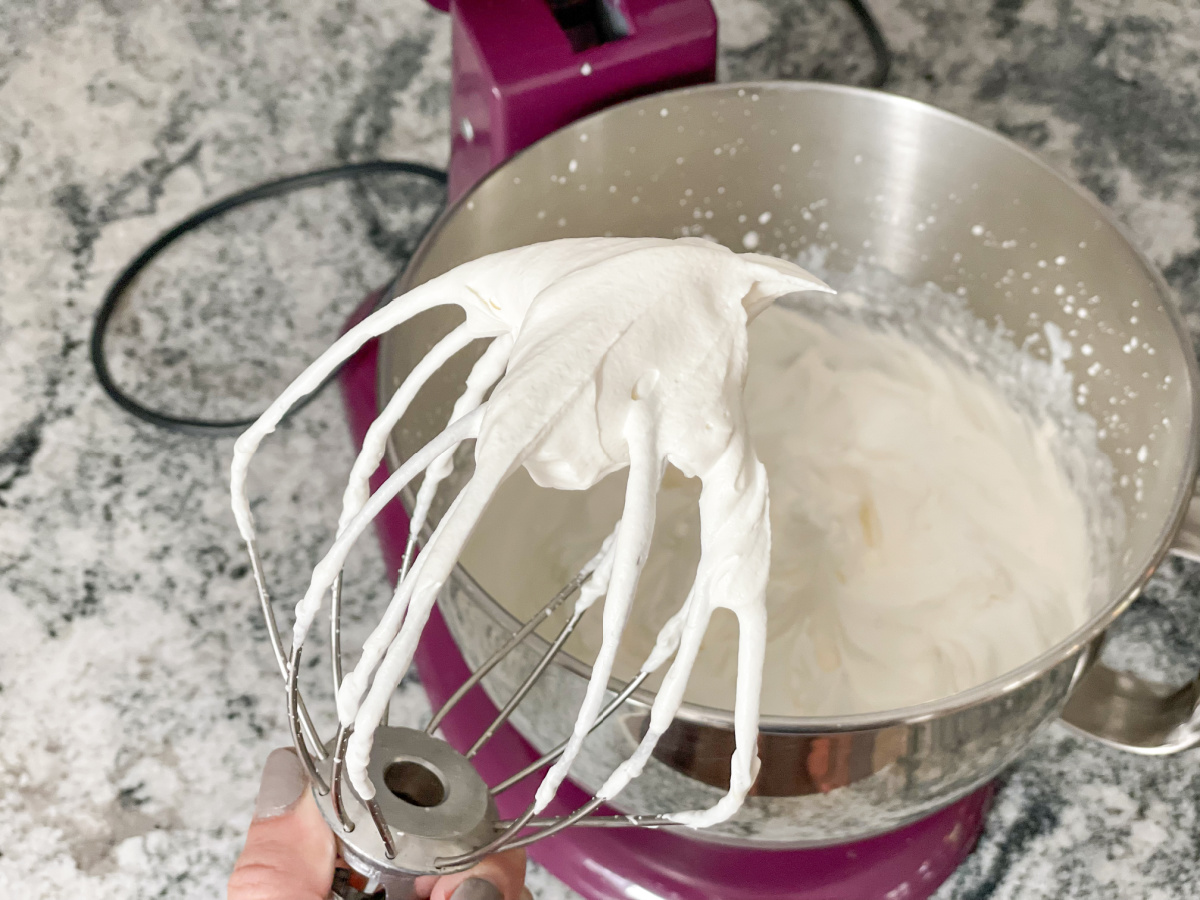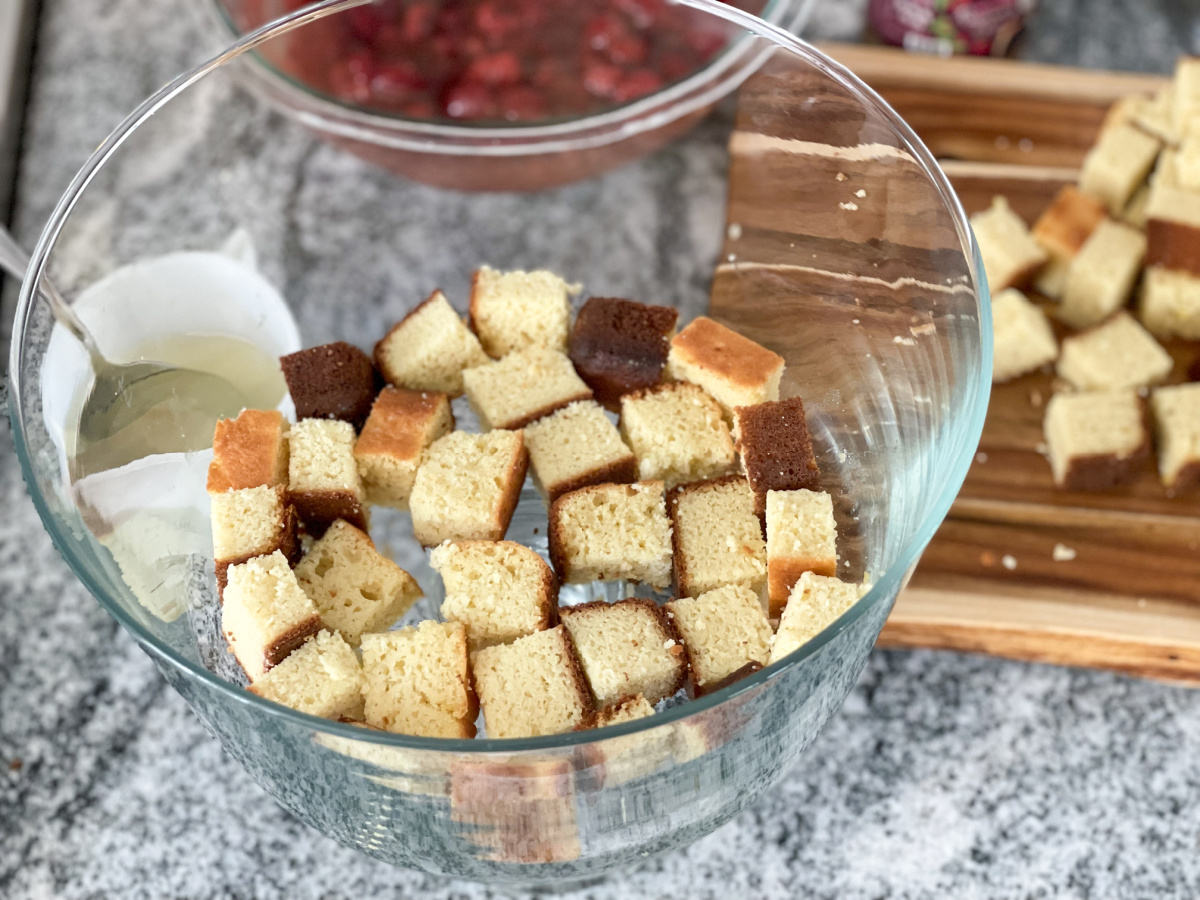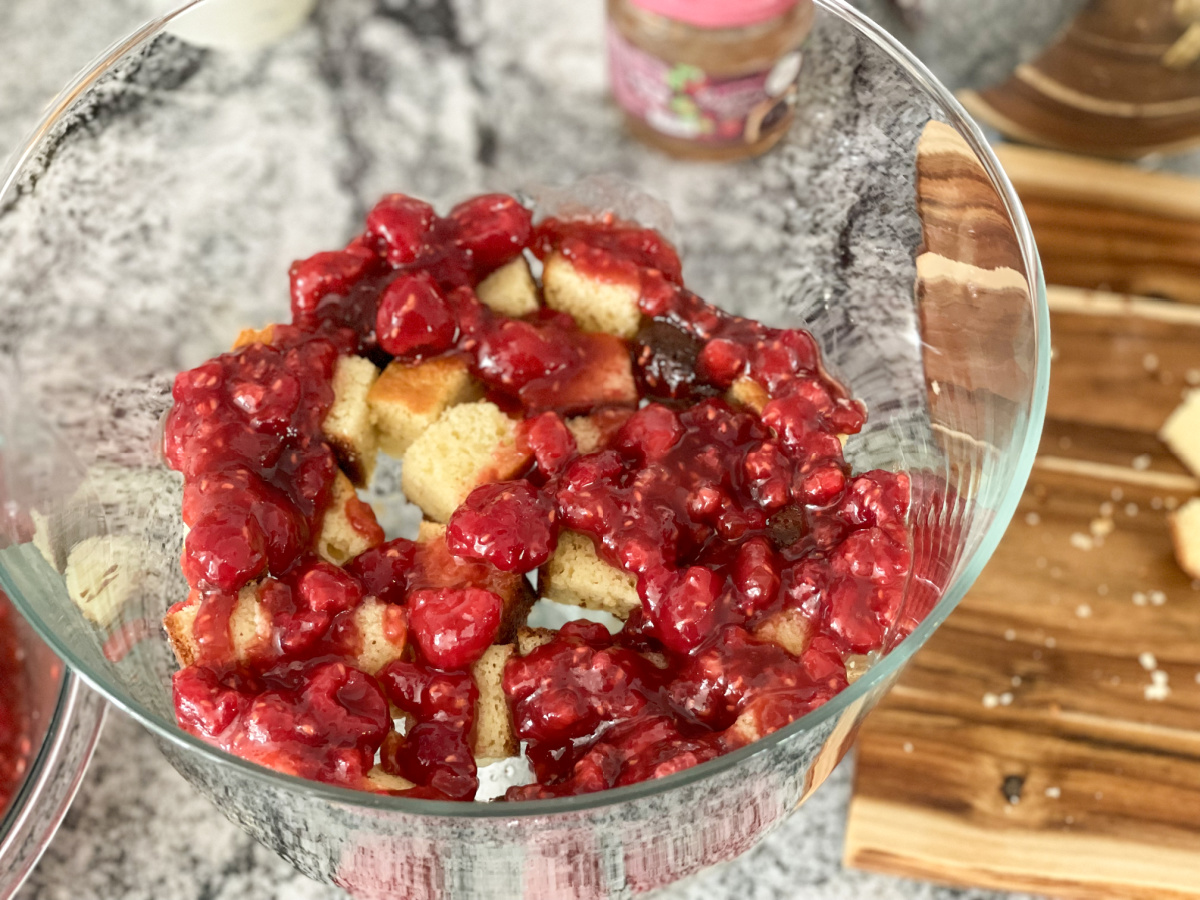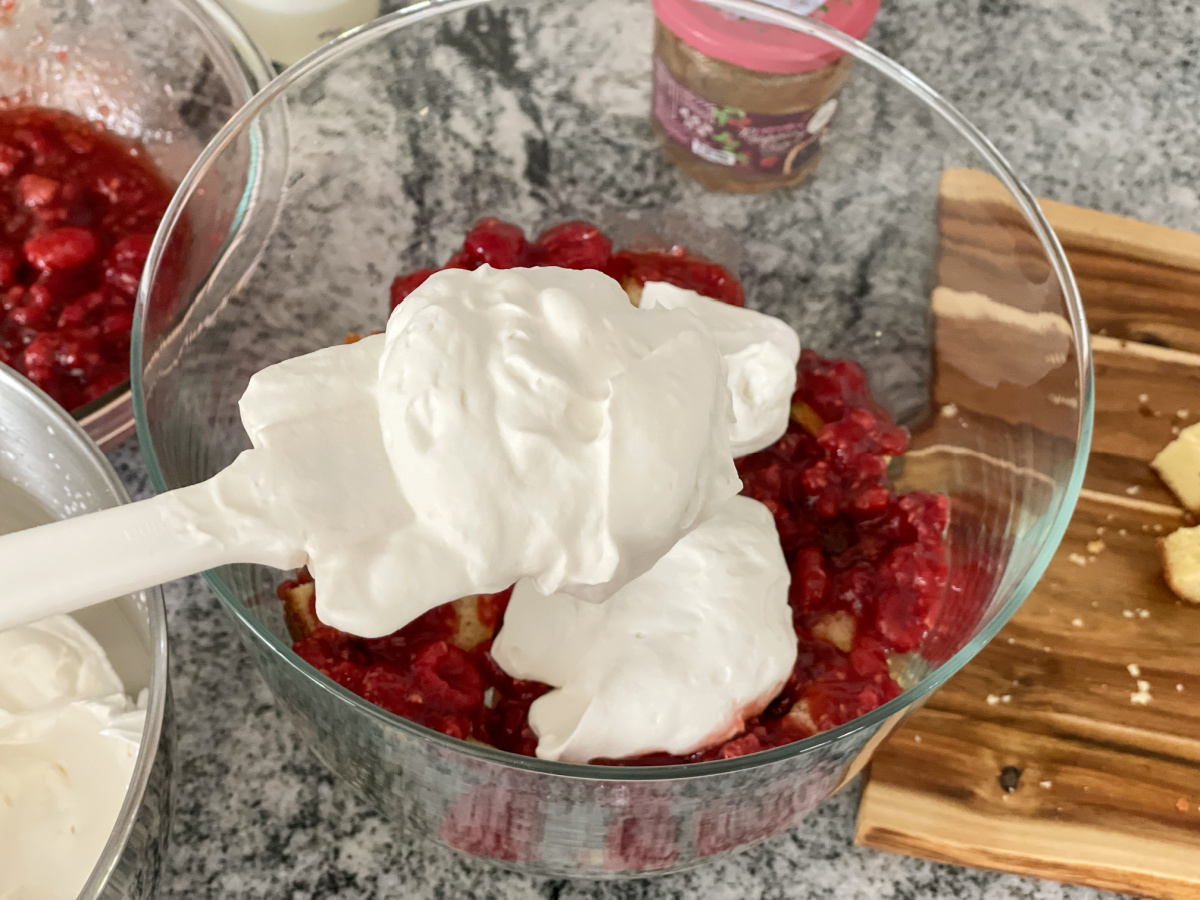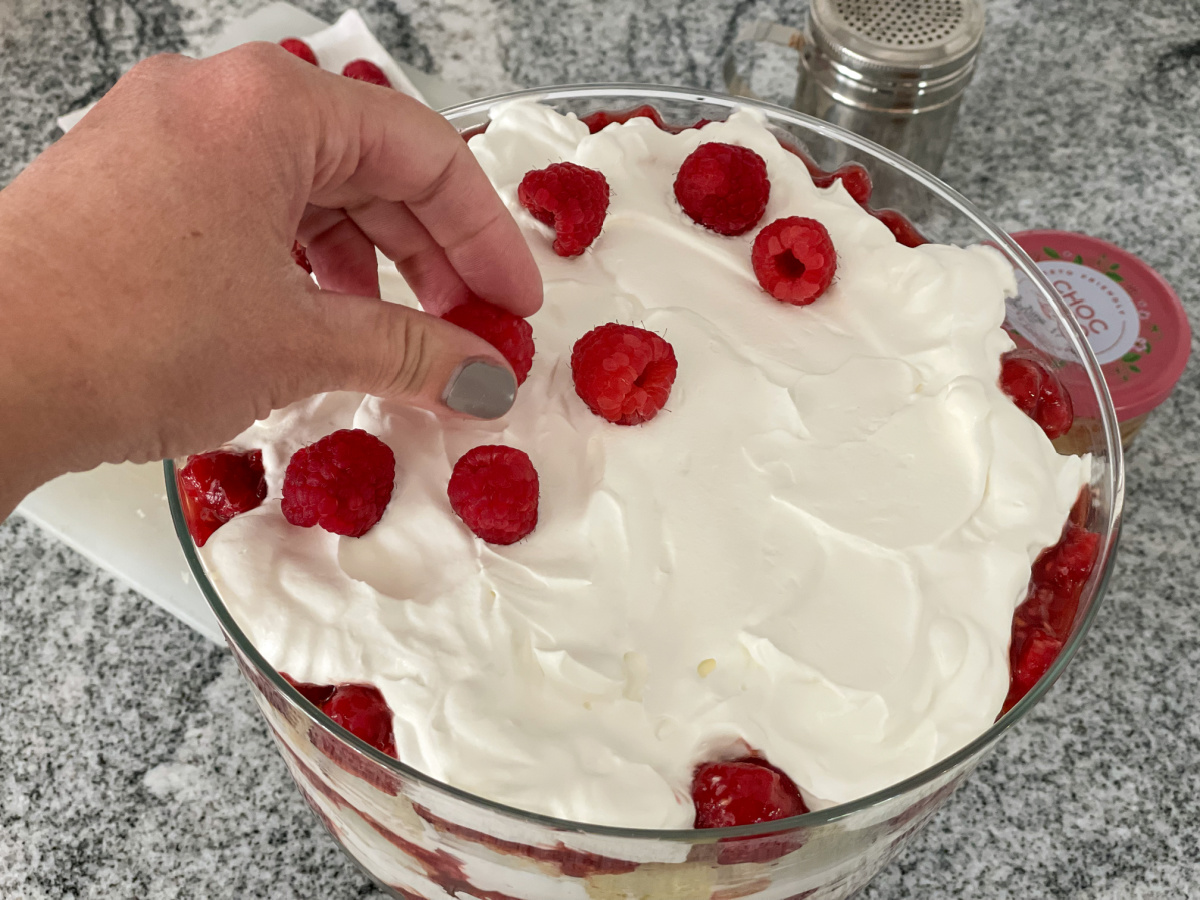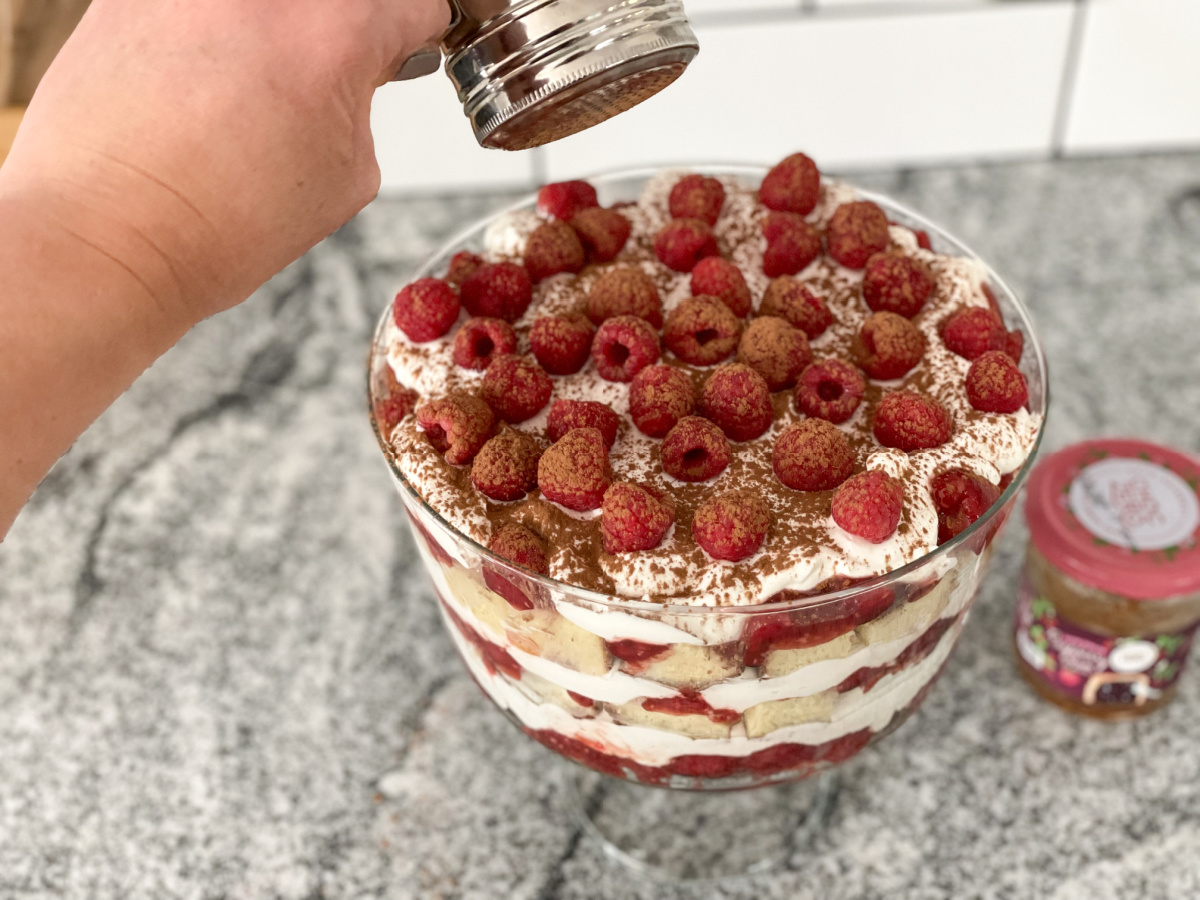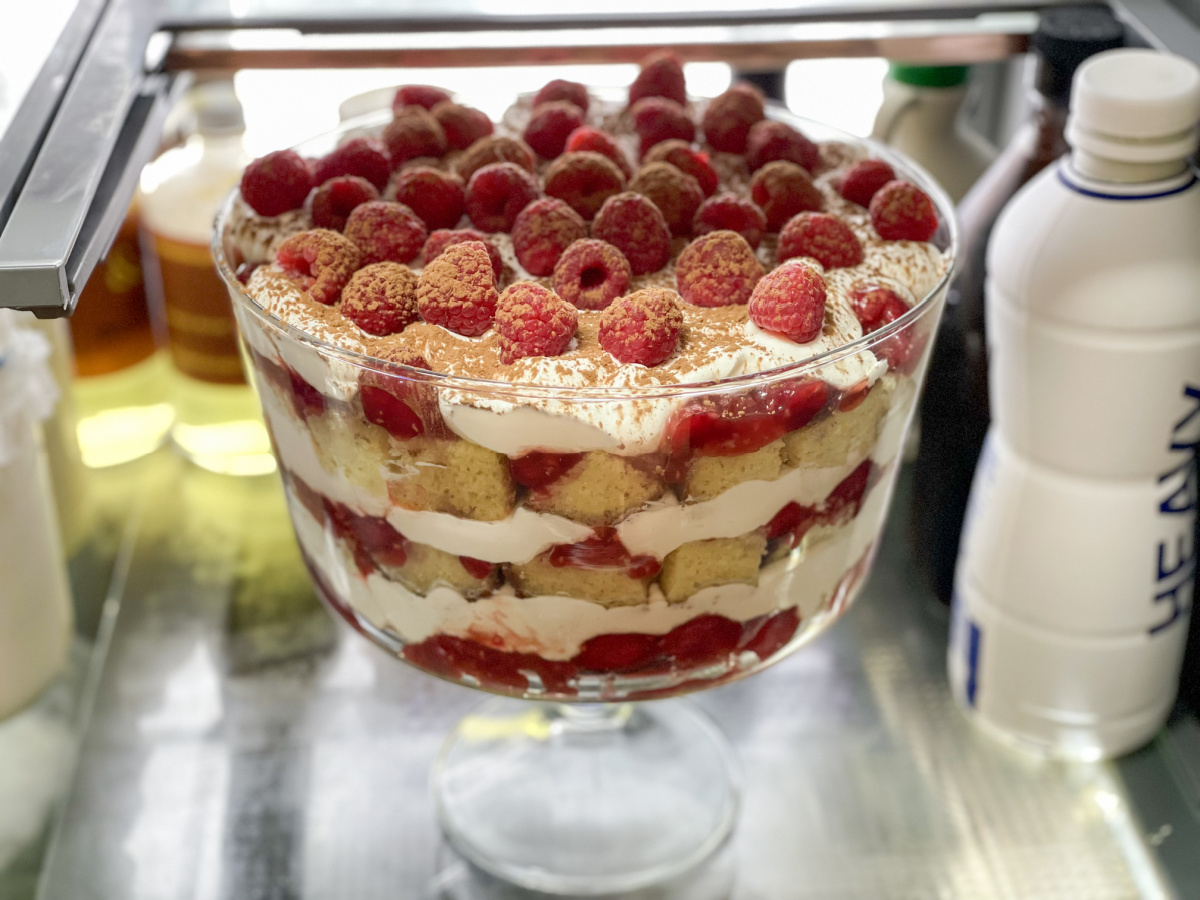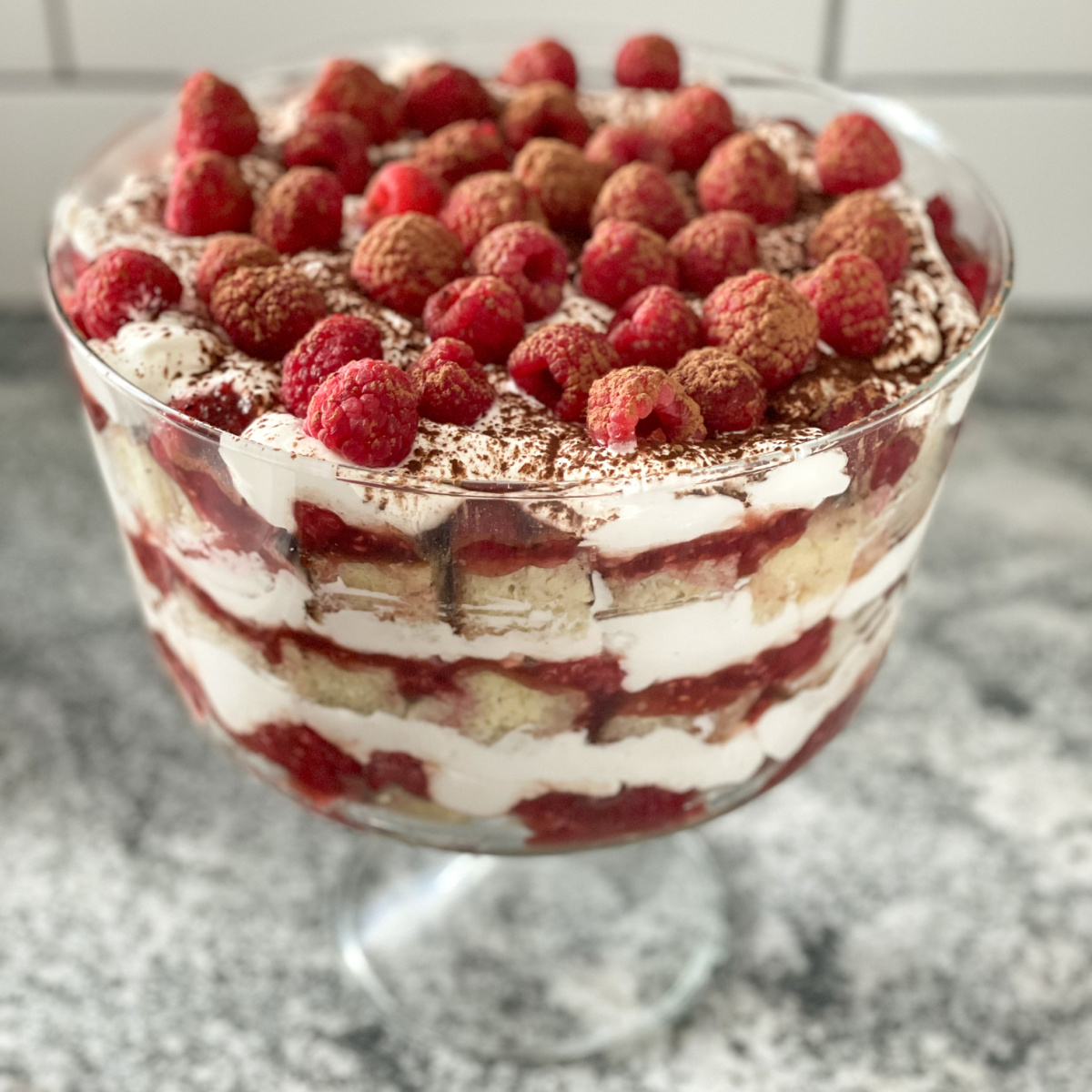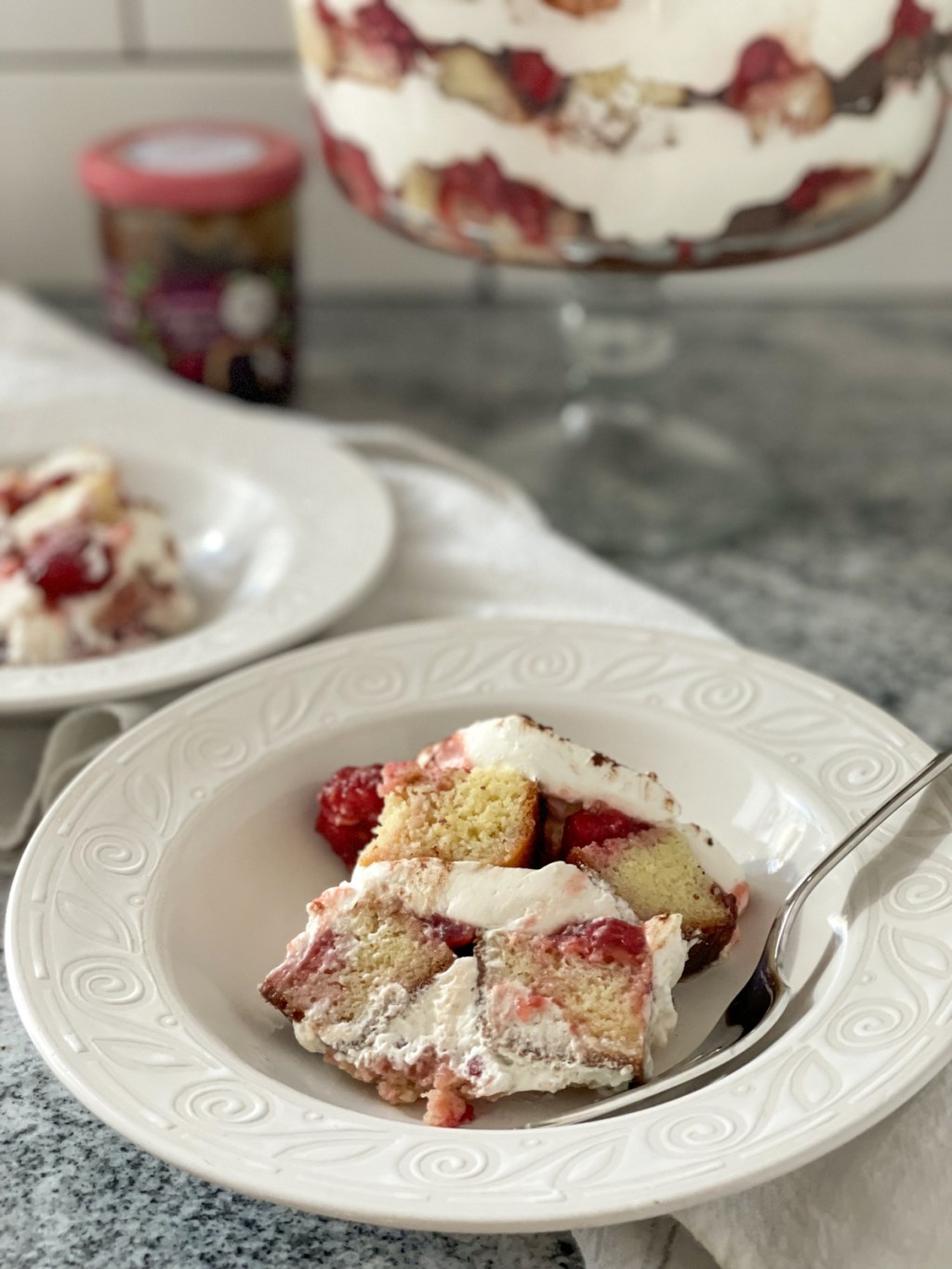 ---
Print
Keto Trifle with Raspberry Jam
yield: 15 SERVINGS
prep time: 20 MINUTES
total time: 20 MINUTES
This over-the-top dessert is layered with keto lemon syrup-soaked pound cake, fresh raspberries mixed with sugar-free raspberry jam, and whipped cream.
Ingredients
Keto Pound Cake:
Lemon Syrup:
juice from 2 large lemons
1/4 cup water
Raspberry Filling:
4 cups raspberries, divided (2 - 12 oz. containers)
Whipped Cream:
3 cup heavy whipping cream
2 teaspoons vanilla extract
Topping:
1 - 2 tablespoons cocoa powder to sprinkle on top, optional
Directions
1
Prep the keto pound cake:
Slice the pound cake (made ahead of time) into 12 slices and then cut each slice into 8 cubes. You'll end up with three layers of cake, so four slices of pound cake per layer.
2
For the lemon syrup:
Place keto sweetener, lemon juice, and water in a small saucepan. Stir to dissolve sweetener. Bring to a boil over medium to medium-high heat, stirring occasionally. Let boil for a minute and then remove from heat to let cool.
3
For the raspberry filling:
In a medium bowl, mix 3 cups of raspberries with the jar of ChocZero Keto Raspberry Jam. Slightly mash the raspberries as you mix. Reserve the remaining cup of fresh raspberries to top the trifle.
4
Make the whipped cream:
Using an electric mixer, beat the heavy whipping cream, keto confectioners sweetener, and vanilla extract on high just until stiff peaks form.
5
To assemble the keto trifle:
Place one-third of the pound cake in the bottom of a trifle bowl or other glass dish. Drizzle the pound cake with 3 to 4 tablespoons of lemon syrup. Top the pound cake with one-third of the raspberry jam mixture and then with one-third of the whipped cream.
6
Repeat two more times to get three layers total. Top the final layer of whipped cream with the remaining fresh raspberries. Sprinkle with cocoa powder if desired. Place the trifle in the fridge for at least four hours or overnight for it to set up. Enjoy!
Nutrition Information
Yield: 14, Serving Size: 1 cup
Amount Per Serving: 360 Calories | 33g Fat | 28g Total Carbs | 8.6g Fiber | 2.8g Sugar | 13.7g Sugar Alcohol | 6g Protein | 5.6g Net Carbs
---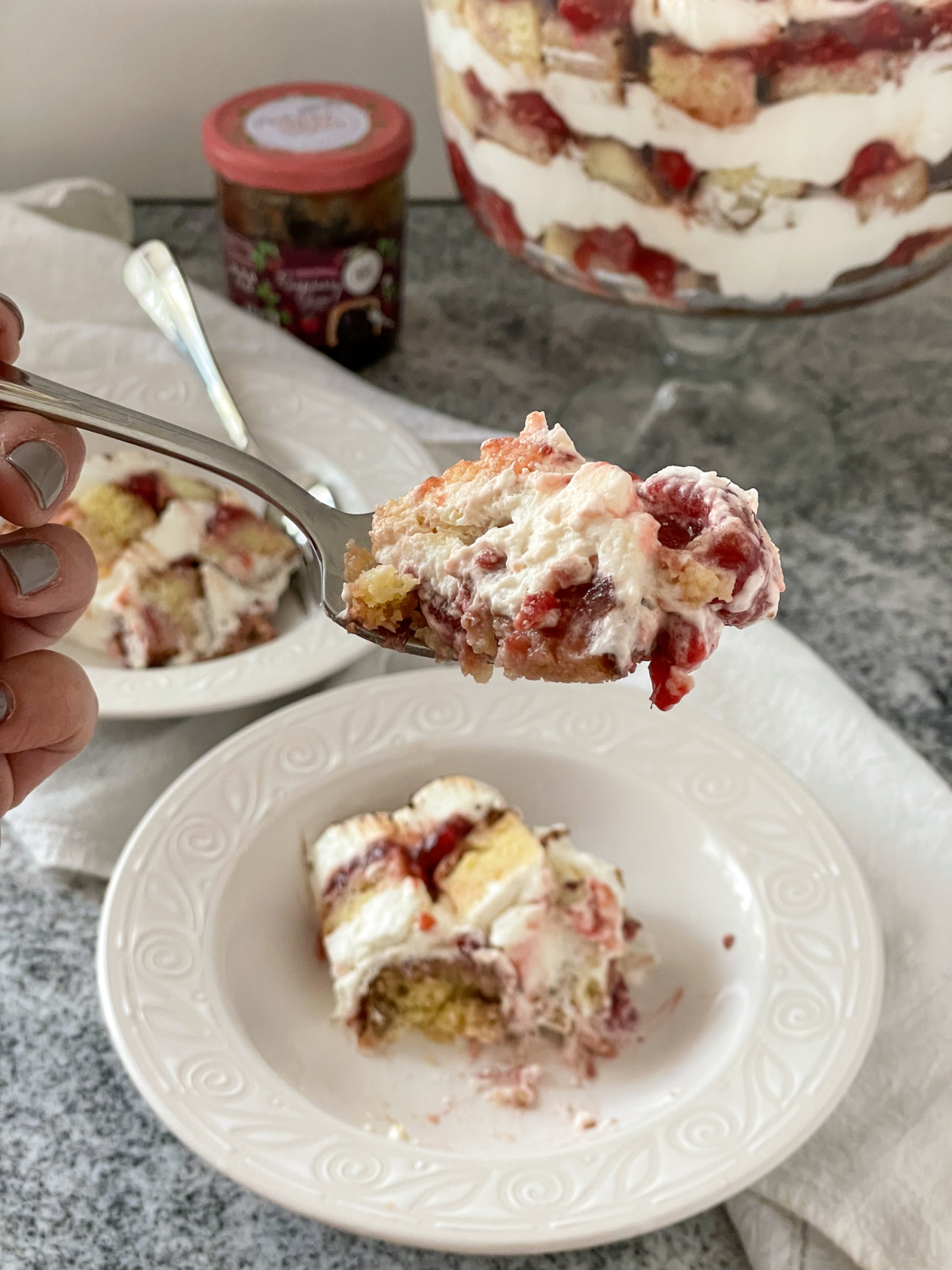 Tips for making the best raspberry keto trifle:
If you don't want to make our keto lemon pound cake, you could buy a keto yellow cake mix and use that instead. My team member Jenna used a Swerve cake mix. I would add lemon zest and lemon extract to it if you go that route. I recommend making the pound cake the day before to keep the assembly process easier and faster.
This trifle needs to be set up in the fridge for 4 hours so plan accordingly. You can leave it overnight too. It'll stay good in the fridge for up to five days, just be sure to cover it after you dig in!
If you don't have a trifle bowl, you could use a glass bowl or even a 9×13-inch baking dish. Just note that you probably won't end up with as many layers.
If you want a sweeter dessert, add 2 tablespoons of keto confectioners sweetener to the whipped cream!
Another idea would be to make individual trifles in small glass bowls or wine glasses instead of making one large dessert.
Use ChocZero's Keto Raspberry Jam for this recipe. Save 10% off your entire ChocZero order with our coupon code HIP2KETO. If you don't have the ChocZero Keto Raspberry Jam, you can use any sugar-free/keto-friendly jam.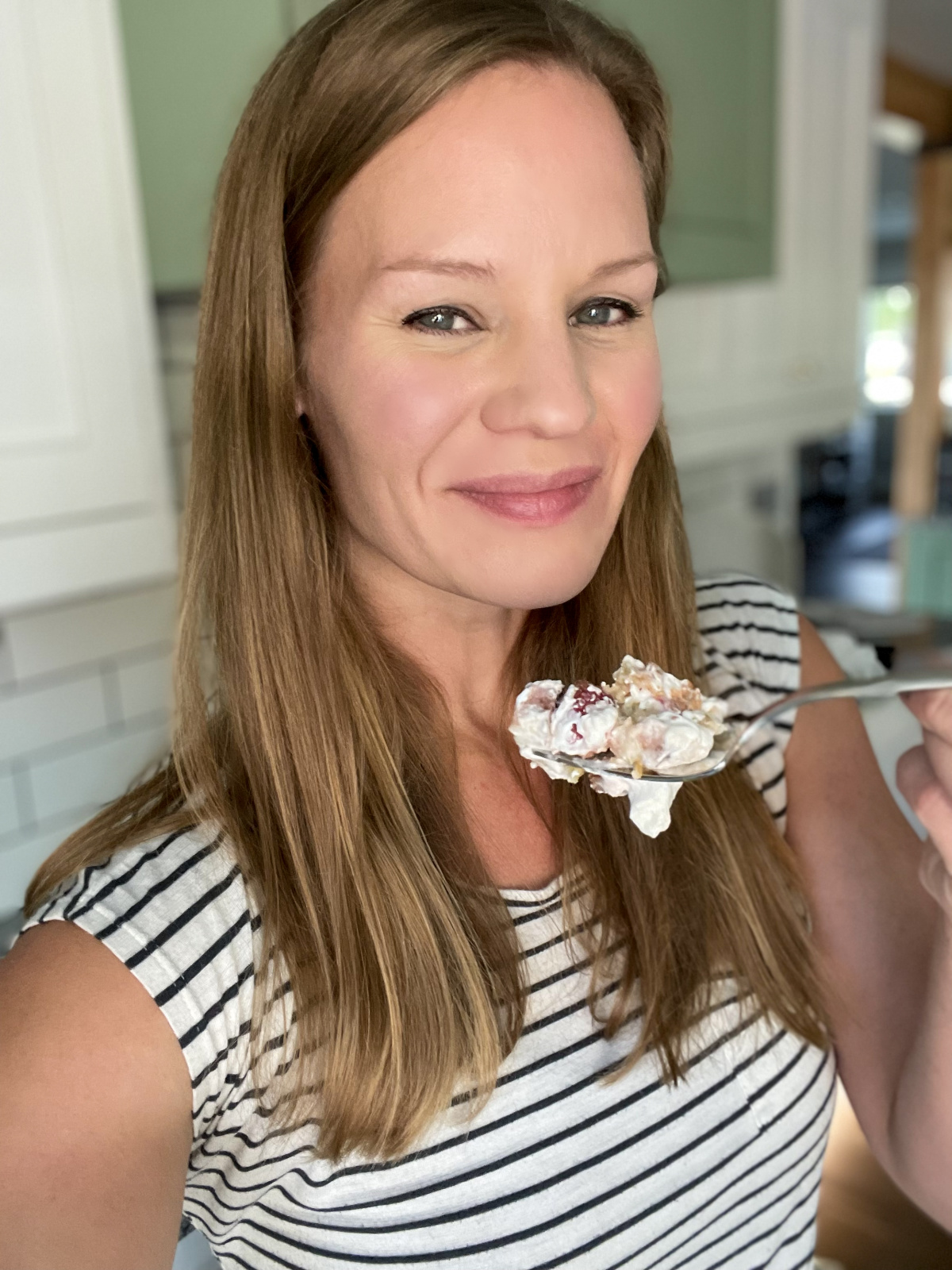 Dessert will never be the same!
This berry keto trifle with ChocZero Keto Raspberry Jam will change the way you look at desserts forever. It's a great dessert to take to a barbeque, tailgate, potluck, or party. No one will be able to tell it's keto and you're sure to get some "I NEED this recipe" remarks. 😉 Enjoy!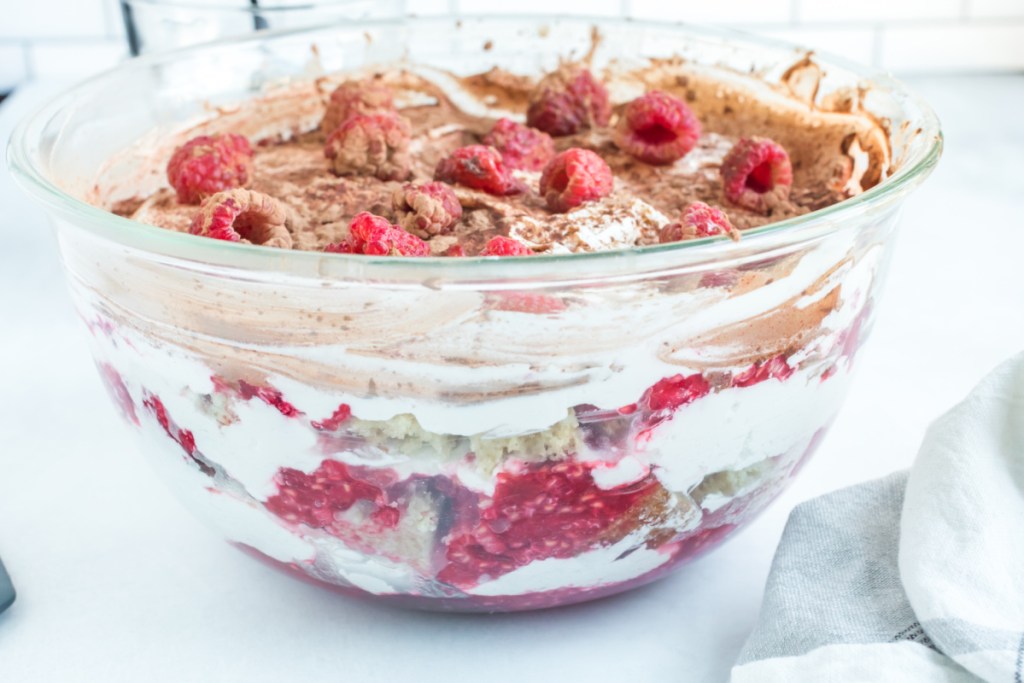 Here's what my Hip sidekick Jenna had to say about this keto trifle recipe:
"What a delicious treat! I love everything about this dish! The lemon syrup, the perfectly sweet pound cake, the whipped cream, and best of all, the raspberry sauce – amazing! This is a nice, light treat but so full of flavor. It is so worth throwing together for the whole family. The kids asked for seconds!"
---
Check out our Keto Sweet Bread in 90 seconds recipe!