Make Keto Sweet Bread in Just 90 Seconds!
It's so unbelievably easy to make 90-second keto sweet bread!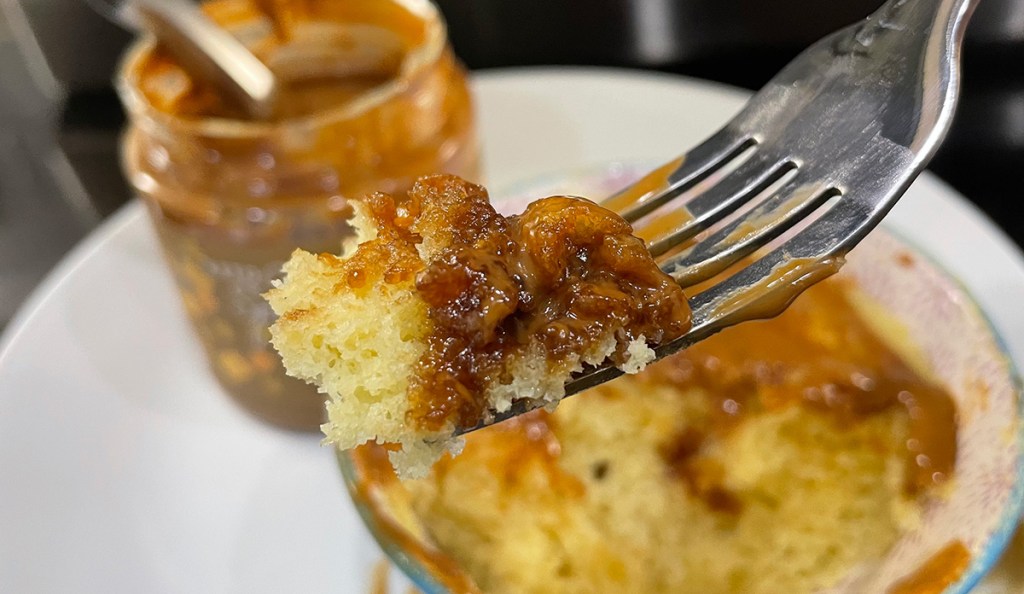 It doesn't get any easier than microwave bread!
Bread is a no-go on keto but every once in a while the craving hits, especially for sweets! It's nice to have a quick, easy, single-serving recipe that's going to help keep you on track.
We took our popular 90-Second Keto Bread, and thanks to the suggestion of one of our readers, turned it into a 90-second keto sweet bread using ChocZero's Keto Cookie Spread. It's so good, you won't believe it's keto! 🤤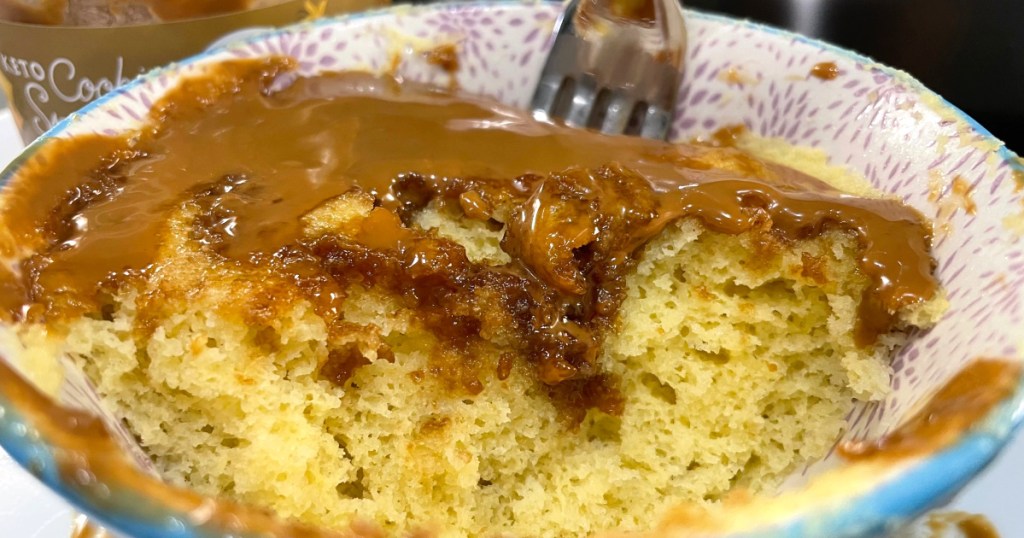 Satisfy that sweet tooth!
Per our reader Amanda's suggestion, we added keto sweetener and vanilla to the original recipe and then I swirled in a bit of ChocZero's Keto Cookie Spread because why not?! Any kind of keto spread will work for this 90-second keto sweet bread but our team is partial to the cookie butter. A keto Nutella spread would be delicious, too!
I made this recipe two ways.
For the first version, I made the sweet keto bread and then used ChocZero's Keto Cookie Spread like it was frosting. The other way is to add the cookie butter to the raw dough and let it bake into the bread! Both were amazingly good but I think I like the cookie butter baked into the batter better.
Tips for making the best 90-second keto sweet bread:
Cook times can vary slightly depending on your microwave. You might need an extra 10-seconds if you think your sweet bread isn't quite done.
Melt the butter in the dish first to help keep the bread from sticking.
I used a keto confectioners sweetener as I think it dissolves into the batter better than a granular sweetener, but any type of keto sweetener will work.
Make sure to use a microwave bowl that's big enough for the bread to expand. You want at least a 2 cup bowl. I did find that when I added the keto spread to the batter, it slightly overflowed, so just be aware.
Stock up on ChocZero's Keto Cookie Spread so you can enjoy this 90-second keto sweet bread any time your heart desires! Use our exclusive promo code HIP2KETO to save 10% on your order!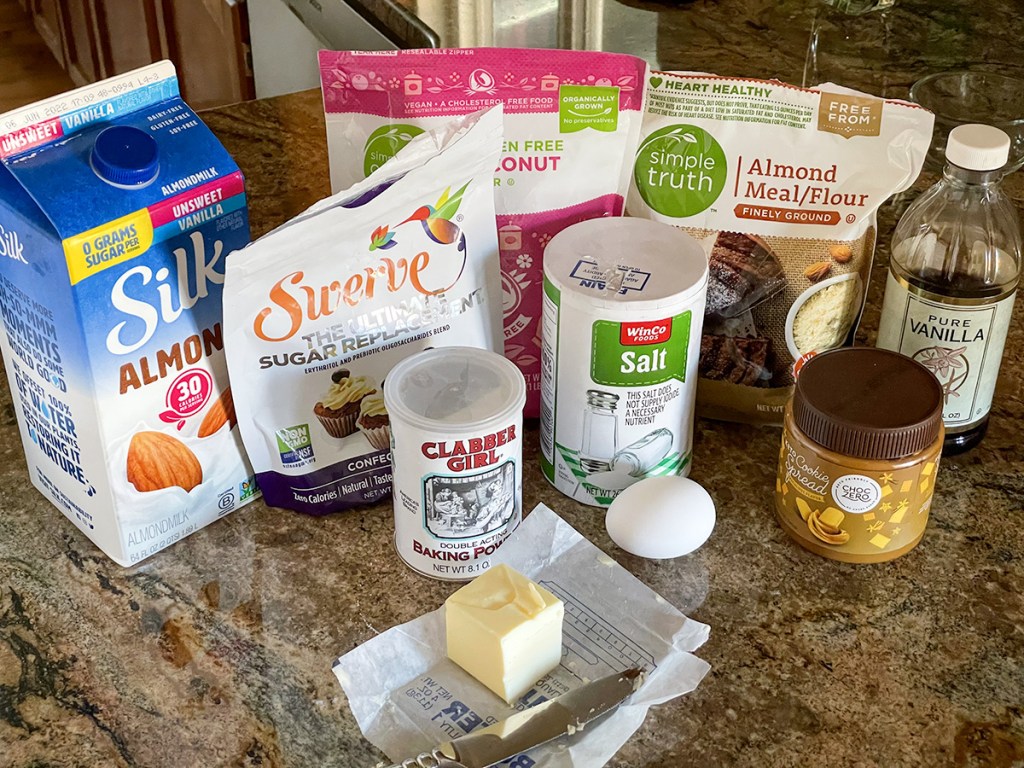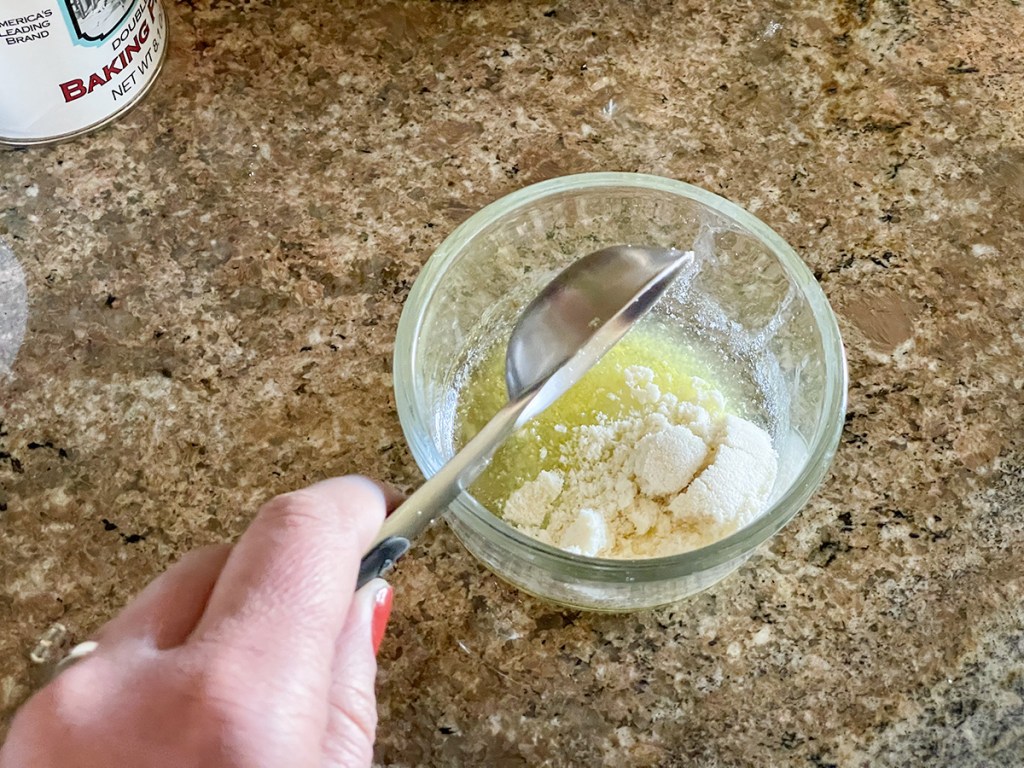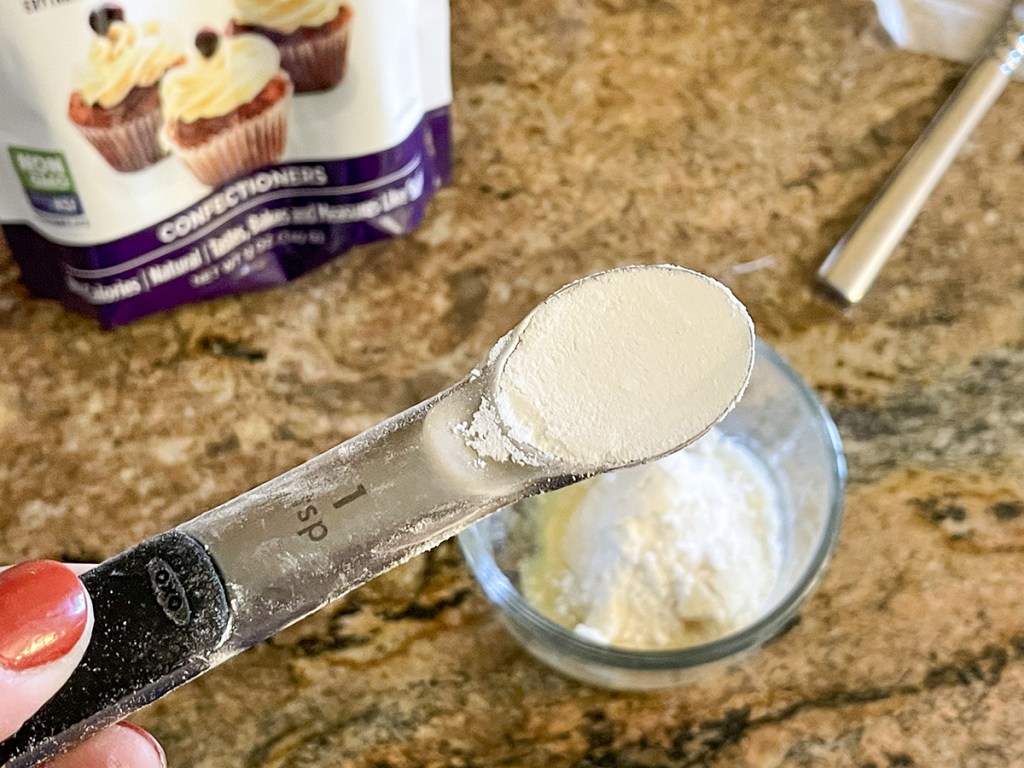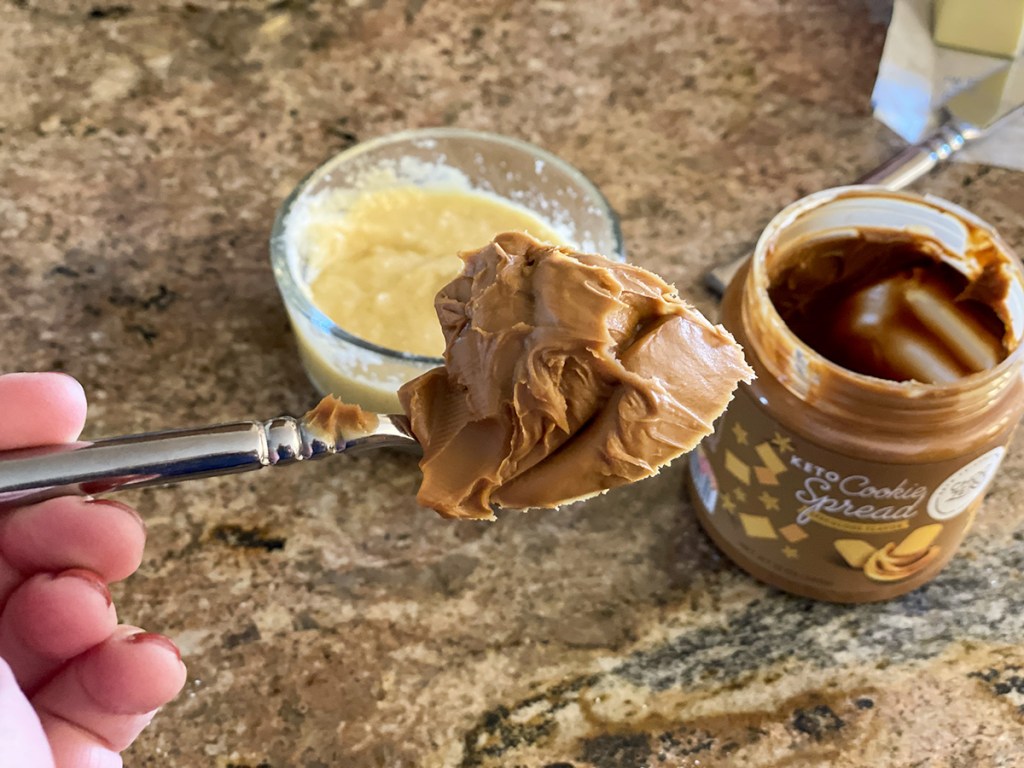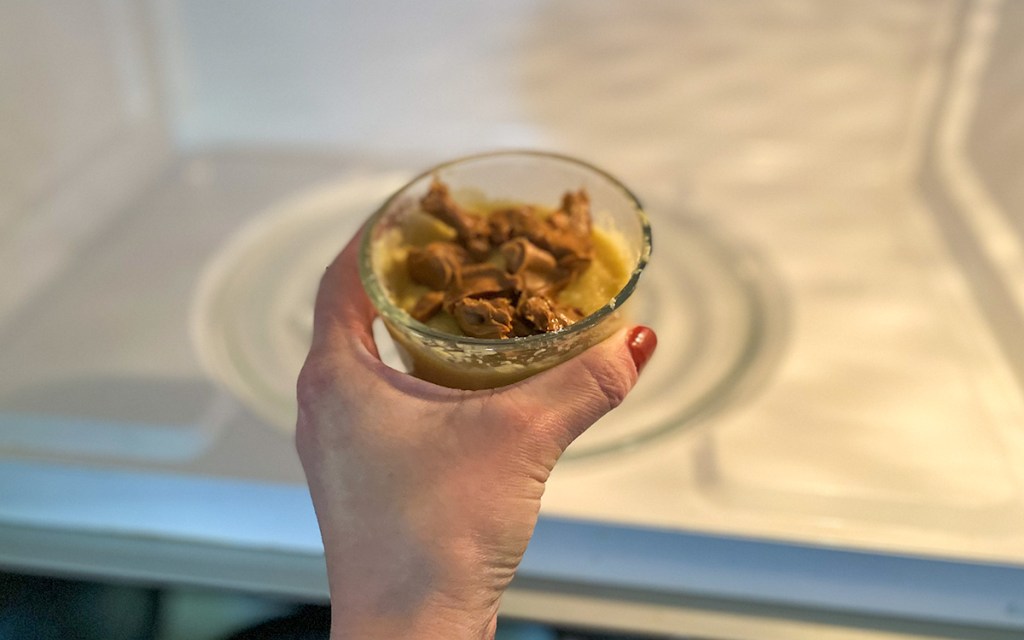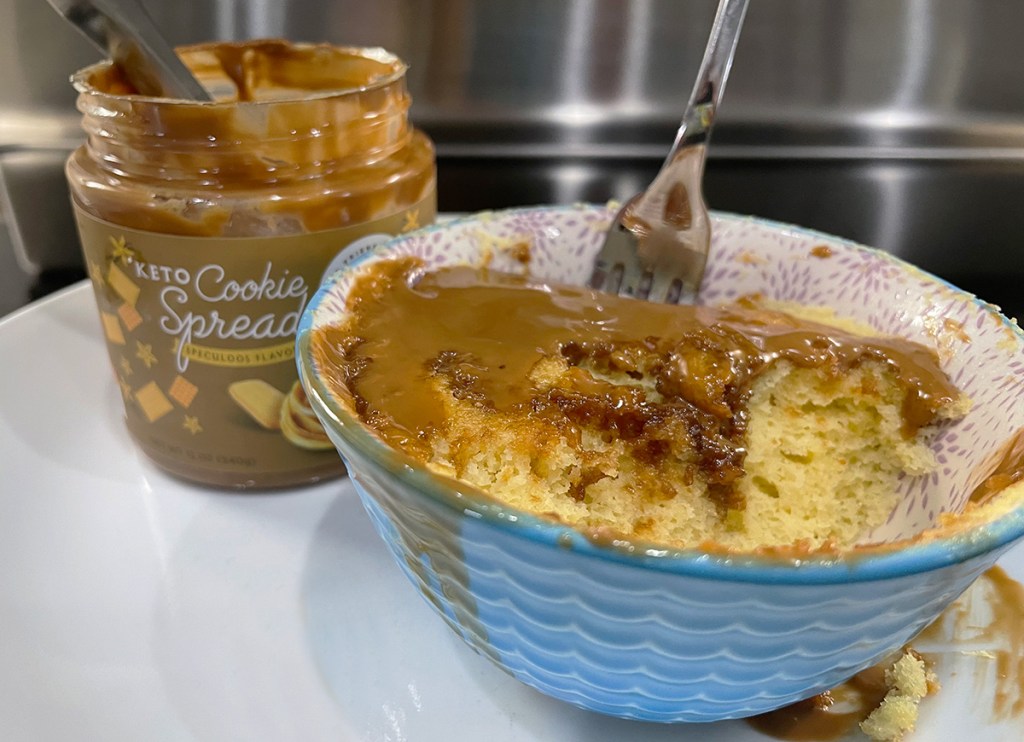 ---
Print
90-Second Keto Sweet Bread
yield: 1 SERVINGS
prep time: 1 MINUTES
cook time: 1 MINUTES
total time: 2 MINUTES
Single-serving keto sweet bread made in the microwave with swirls of ChocZero Keto Cookie Butter Spread.
Ingredients
1 tablespoon butter
1/2 teaspoon baking powder
1 egg
1/4 teaspoon vanilla
1 tablespoon almond milk
Pinch salt
Directions
1
Place the butter in a small microwave-safe bowl (about 2 cups in volume) and microwave for 20 seconds to melt.
2
Remove the bowl from the microwave and add in the almond flour, coconut flour, sweetener, baking powder, egg, vanilla, almond milk, and salt. Stir until well combined.
3
Evenly dollop the keto cookie spread on top of the batter (Or you can wait and use the keto spread like frosting).
4
Place the bowl back in the microwave for 90-seconds. Be careful when removing it from the microwave as it can be hot. Let cool for about a minute. (Top with keto spread if using it for frosting). Enjoy!
Additional Notes
*Nutrition information without ChocZero Keto Cookie Spread: 257 Calories | 21g Fat | 12.5g Total Carbs | 3.8g Fiber | 2.4g Sugar | 6g Sugar Alcohols | 9.4g Protein | 2.7g Net Carbs
Nutrition Information
Yield: 1, Serving Size: 1 cake with ChocZero Spread
Amount Per Serving: 447 Calories | 36g Fat | 22.5g Total Carbs | 10.8g Fiber | 4.4g Sugar | 6g Sugar Alcohol | 15.4g Protein | 5.7g Net Carbs
---
You don't have to share.
This recipe makes the perfect amount of 90-second keto sweet bread for one person. It's truly just the right portion to sit back and enjoy! And the best part is that it only takes 90-seconds to cook. So if your family is begging for a bite of yours, it'll hardly take them any time to make their own!
And don't forget to add the ChocZero Keto Cookie Butter Spread — the recipe just isn't the same without it!
Here's what my Hip sidekick Erica had to say about this 90-second keto sweet bread:
"OH MY GOODNESS!! This is by far the simplest treat I have ever made in my whole life! I cannot believe is it so EASY and bakes in just 90-seconds… it's like MAGIC! You've got to get the ChocZero cookie spread… it makes the whole thing and it's DELISH. 😋 I couldn't keep my family away from this one while I was making it!"
---
Looking for more keto sweet treats, browse all of our keto dessert recipes!