Make the BEST Keto Taco Soup in Your Crockpot
This keto taco soup is one of our most popular recipes on Pinterest for good reason!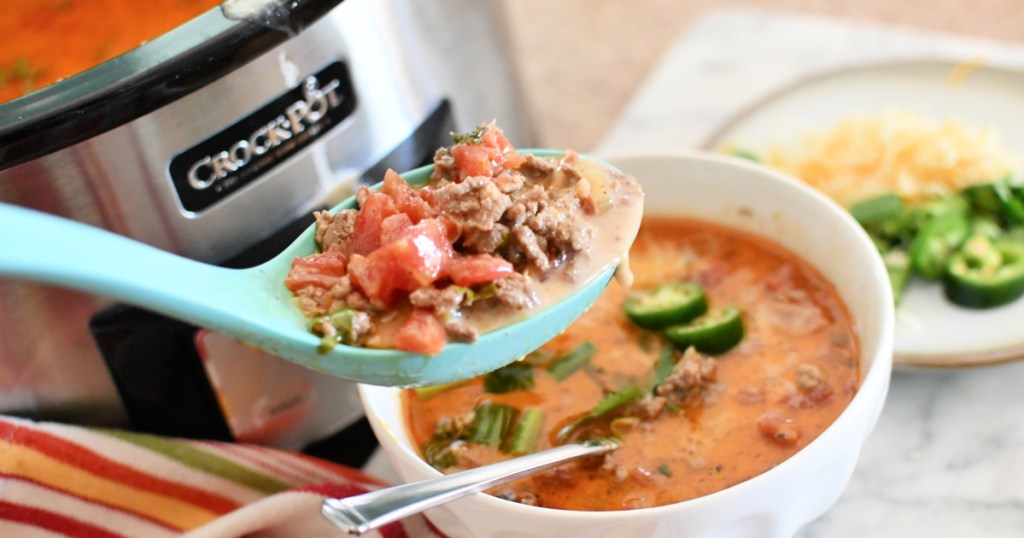 This Slow Cooker Keto Taco Soup is such an easy keto Crockpot recipe!
Looking for a simple, satisfying, and delicious keto soup idea? Then you've got to make this hearty and oh-so-creamy keto taco soup in your Crock-Pot slow cooker! It has all the bold flavors of tacos in a comforting, hearty soup, and it's super convenient to make any day of the week using your slow cooker.
Everyone in your family – keto and non-keto eaters – will LOVE this recipe because it's just that GOOD!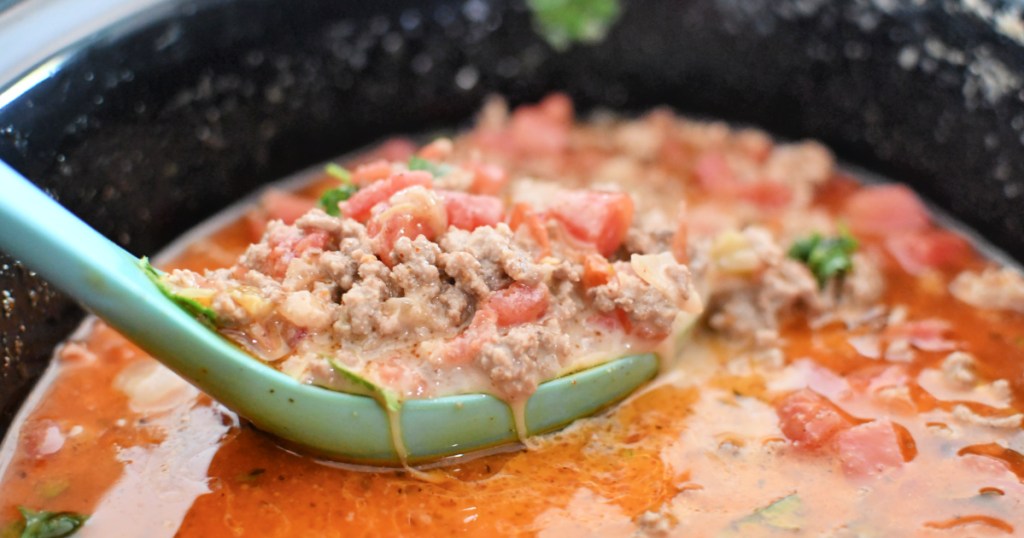 This soup's cream cheese and seasonings make for an insanely delicious and brightly flavored broth.
Two pounds of ground beef and diced tomatoes make this soup very hearty and extremely comforting as well! Thankfully this slow cooker method is simple, and it consists of browning the ground beef on the stove first with seasonings and cream cheese, then throwing the rest of the ingredients in the slow cooker.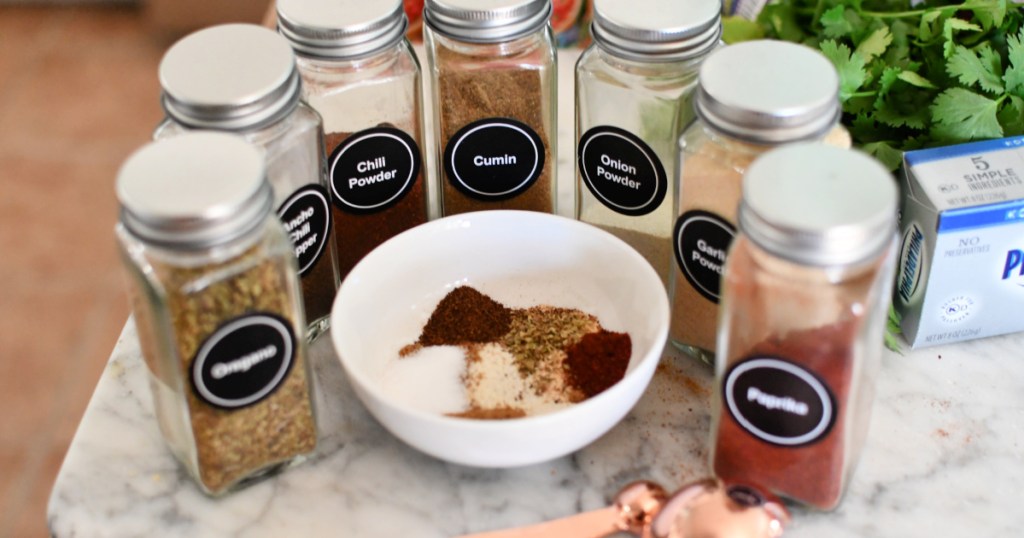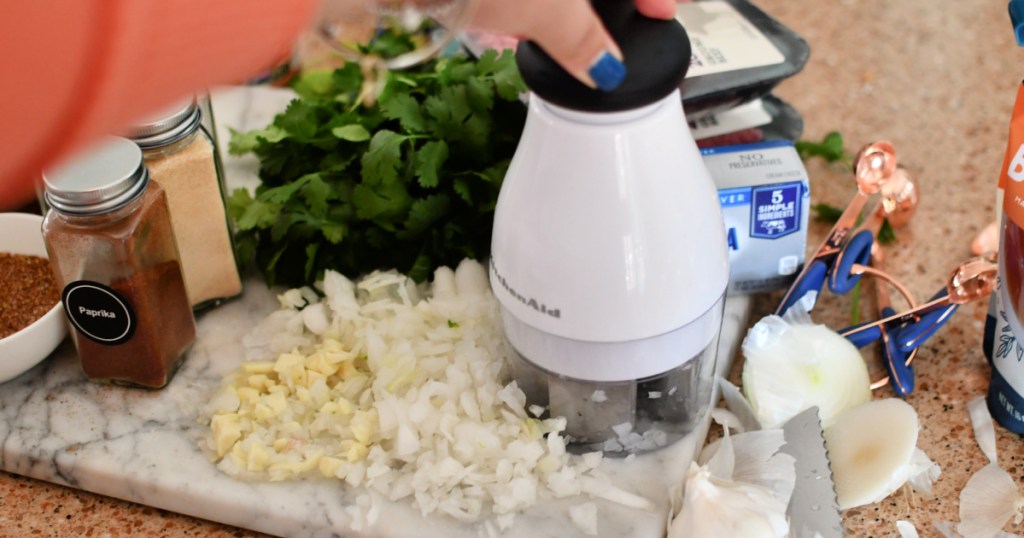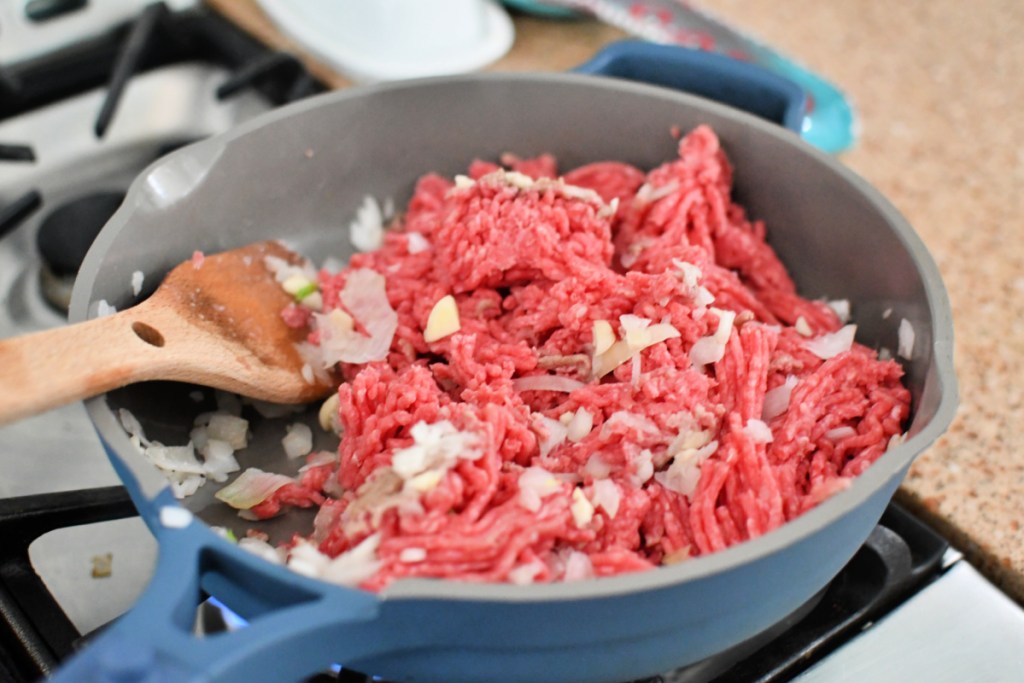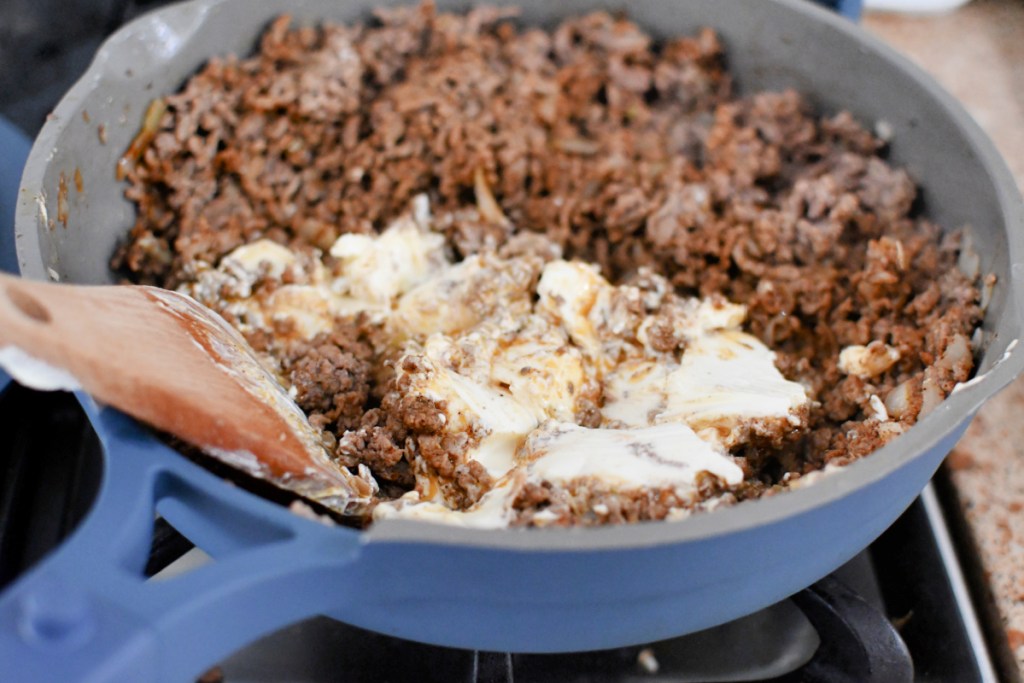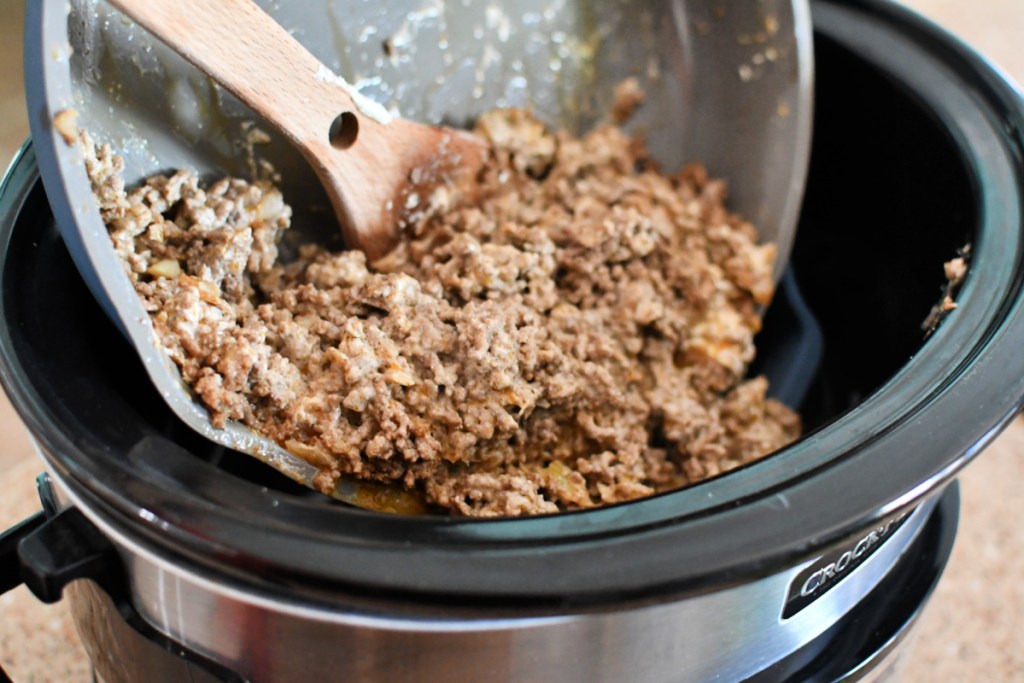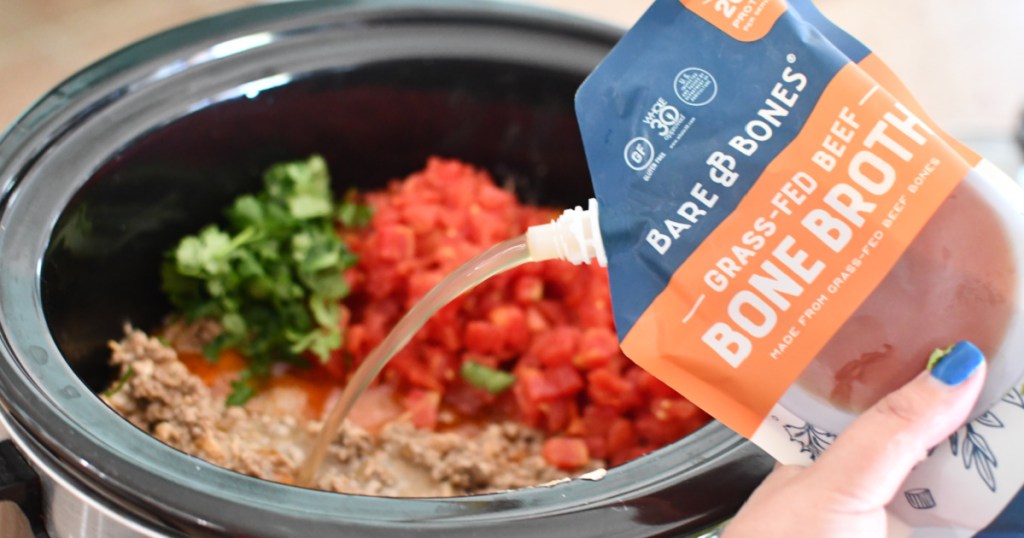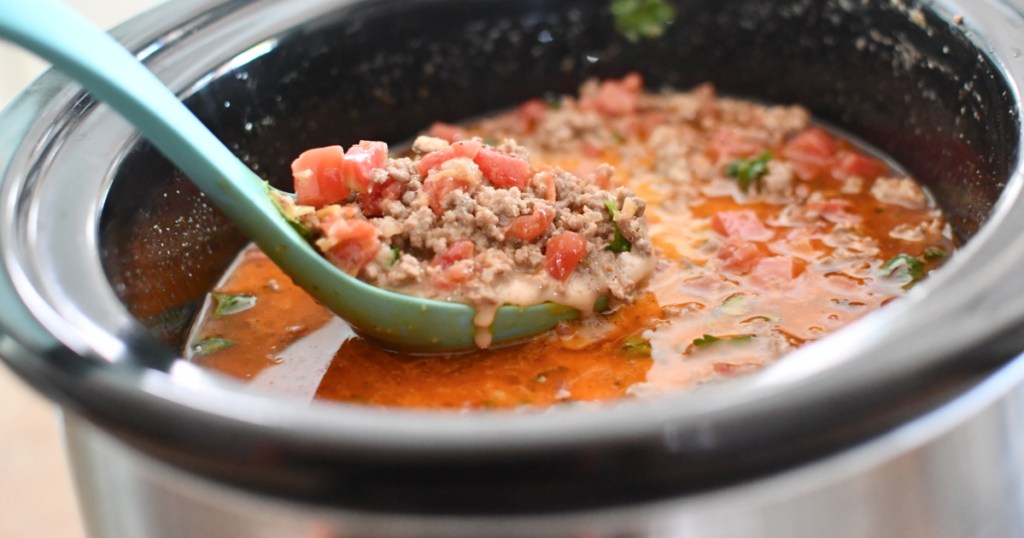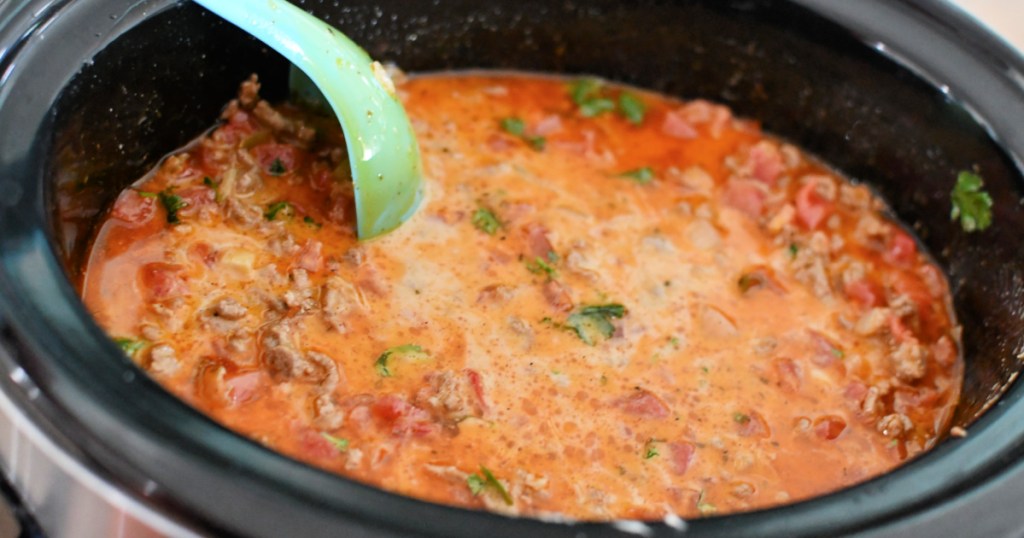 ---
yield: 6 SERVINGS
prep time: 10 MINUTES
cook time: 2 HOURS
total time: 2 HOURS 10 MINUTES
All the bold flavors of tacos, in a keto-friendly and easy-to-make Crockpot soup!
Ingredients
For the taco seasoning (or use 2 tablespoons premade taco seasoning):
2 teaspoons chili powder
1 teaspoon garlic powder
1 teaspoon cumin
1/2 teaspoon onion powder
1/2 teaspoon dried oregano
1/2 teaspoon paprika
1 teaspoon salt
1/4 teaspoon pepper
For the soup:
2 pounds ground beef
1 small onion, diced
3 cloves garlic, minced
8 oz. cream cheese, softened
1/2 cup fresh cilantro, chopped
2 - 10 oz. cans Rotel with green chiles
4 cups beef broth
optional toppings (shredded cheese, jalapeno, and avocado)
Directions
1
Mix the seasonings together in a small bowl to make the taco seasoning blend. Alternatively, you can use 2 tablespoons of premade taco seasoning in this recipe.
2
In a skillet on the stove, crumble and cook ground beef, diced onion, and garlic over medium heat. Drain the grease. Place the pan with the meat mixture back on the stovetop.
3
Reduce heat level to low. Add the taco seasoning to the meat mixture and stir. Add the cream cheese and stir to melt.
4
Transfer the mixture from the pan to a slow cooker. Add the cilantro, Rotel, and beef broth, and stir to combine. Close the lid and set the slow cooker on low for 4 hours, or on high for 2 hours.
5
Serve with your choice of toppings. Enjoy!
Additional Notes
You can even make this keto taco soup in your Instant Pot!
Set Instant Pot to "Sauté" mode. Brown ground beef with onions and garlic, and drain grease. Stir in seasonings, add cream cheese, and stir to melt. De-glaze pan with broth. Add the Rotel. Close the lid and set the cooking time for 5 minutes on "Soup" mode. Let the pressure naturally release for 5 minutes. Stir well, and serve with desired toppings.
Nutrition Information
Yield: 9 cups, Serving Size: 1 1/2 cups
Amount Per Serving: 551 Calories | 43.8g Fat | 6.9g Total Carbs | 1.1g Fiber | 3.2g Sugar | 30.8g Protein | 5.8g Net Carbs
---
Tips for making the best Crockpot Keto Taco Soup:
You can use a couple of tablespoons of our homemade taco seasoning mix in your soup, or I also listed out which seasonings to use if you don't want to make a whole batch just for this recipe. It's easy to make and so yummy!
If you dislike chopping onions and garlic as much as I do, an onion chopper like this one makes it so much faster and easier. It's one of my favorite kitchen tools!
I prefer 85/15 ground beef in soups so that's what I used. You can of course use higher fat, like 80/20 or 75/25. I have also made this using ground turkey so you can make that swap. Keep in mind, the nutritional values are calculated on what I used (85/15 ground beef).
This is the best soup I've had in a long time!
Oh, man! This soup is so incredibly delicious. I'm a huge fan of making a big batch of soup and then heating it up during the week for leftovers, and this soup is just as yummy the next day.
Feel free to top it with keto-friendly add-ins such as avocado chunks, shredded cheese, hot sauce, and sour cream.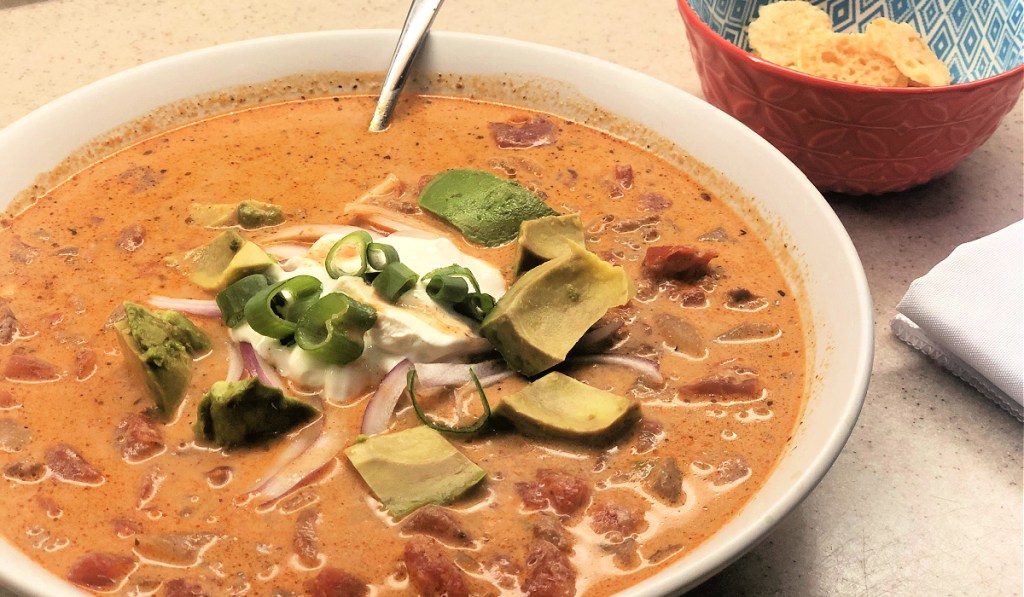 Check out what my teammate Erica had to say about this keto taco soup:
"My favorite part about this soup is it is so EASY to make! The taste is absolutely perfect. It has a little bit of a kick to it but not too much! If you love spicy food, consider adding some extra red pepper flakes and top it with jalapeños! I topped mine with lots of sour cream, avocado, and red onions! It also pairs well with parmesan or cheddar cheese whisps if you want to add an extra crunch!"
---
Mexican food lovers will rejoice with these keto chimichangas!