This Delicious Keto Strawberry Milkshake is Ready in 2 Minutes!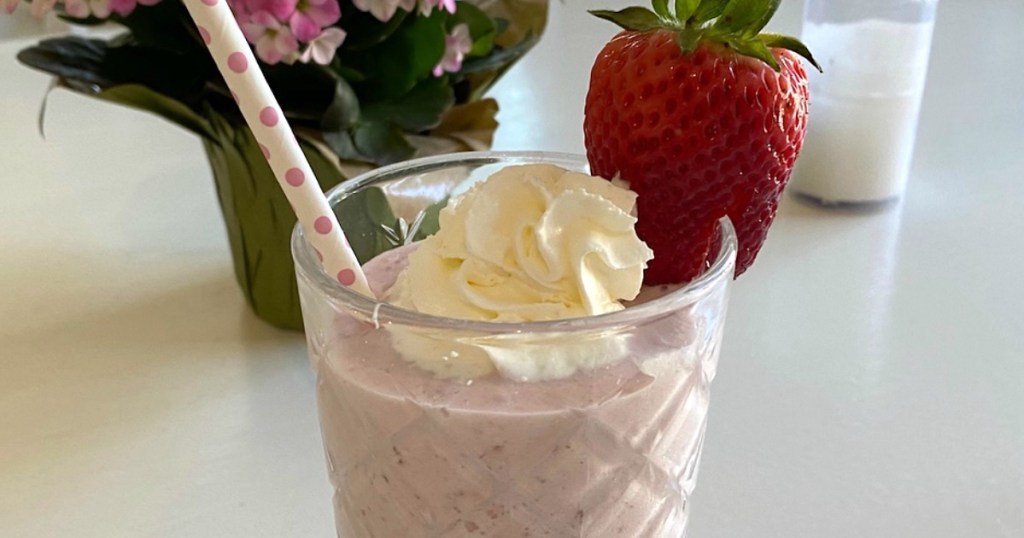 Calling all milkshake and smoothie lovers, this keto strawberry shake is the bomb! 🍓
I love ice cream, I think it's my favorite dessert, but most ice cream brands aren't keto-friendly (though there are a few we like!) I'm also kind of picky about my milkshakes: not too sweet, not too thin, not too thick, creamy but not too rich… you get the picture.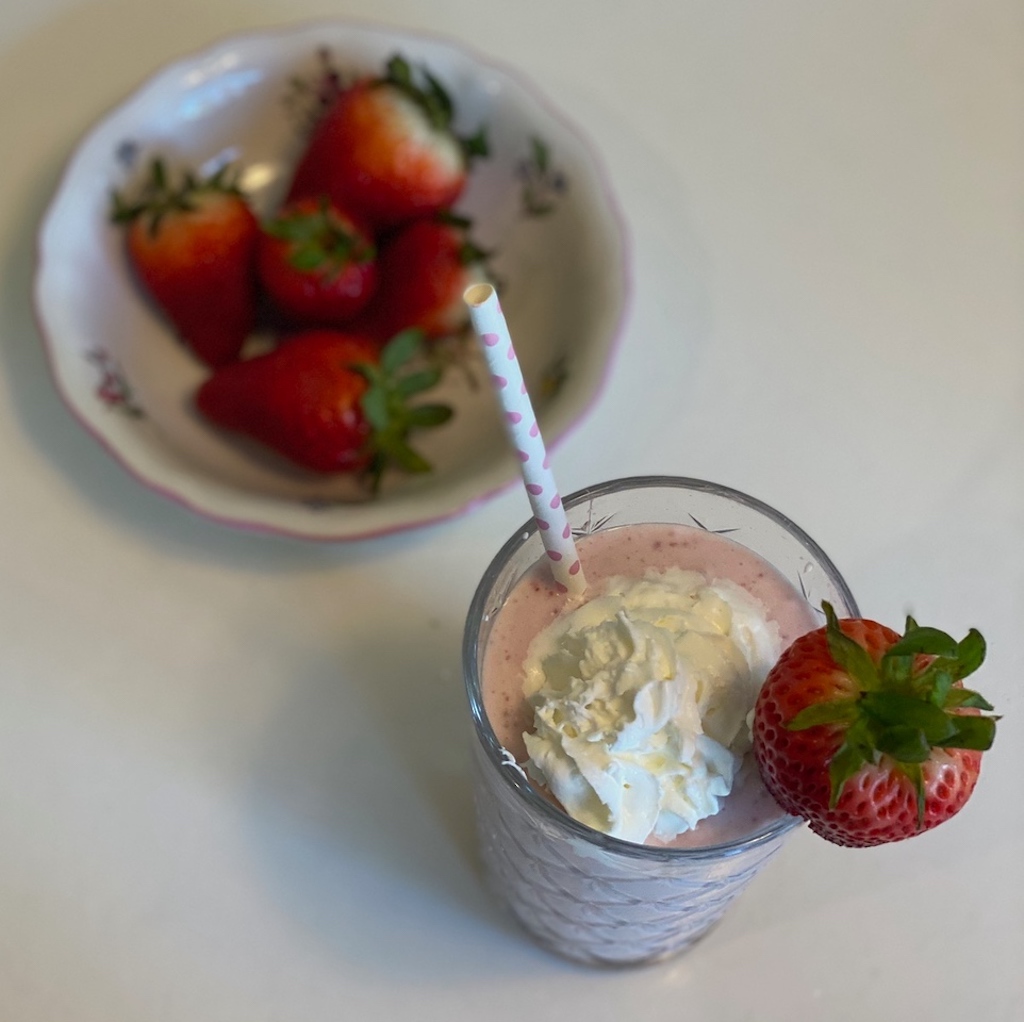 I wasn't sure if the Southern Keto strawberry milkshake recipe would produce a creamy, sweet, and bright berry-flavored drink, but it delivered on all accounts! Better yet, the keto milkshake was very simple, quick, and easy to make, while also having the recipe be very forgiving.
On a side note, have you signed up for our Hip2Keto book club yet? During the month of April, we've been reading and enjoying recipes from the cookbook Southern Keto by Natasha Newton. Even better, she gave us permission to share the full recipe for her delicious strawberry milkshake. Enjoy!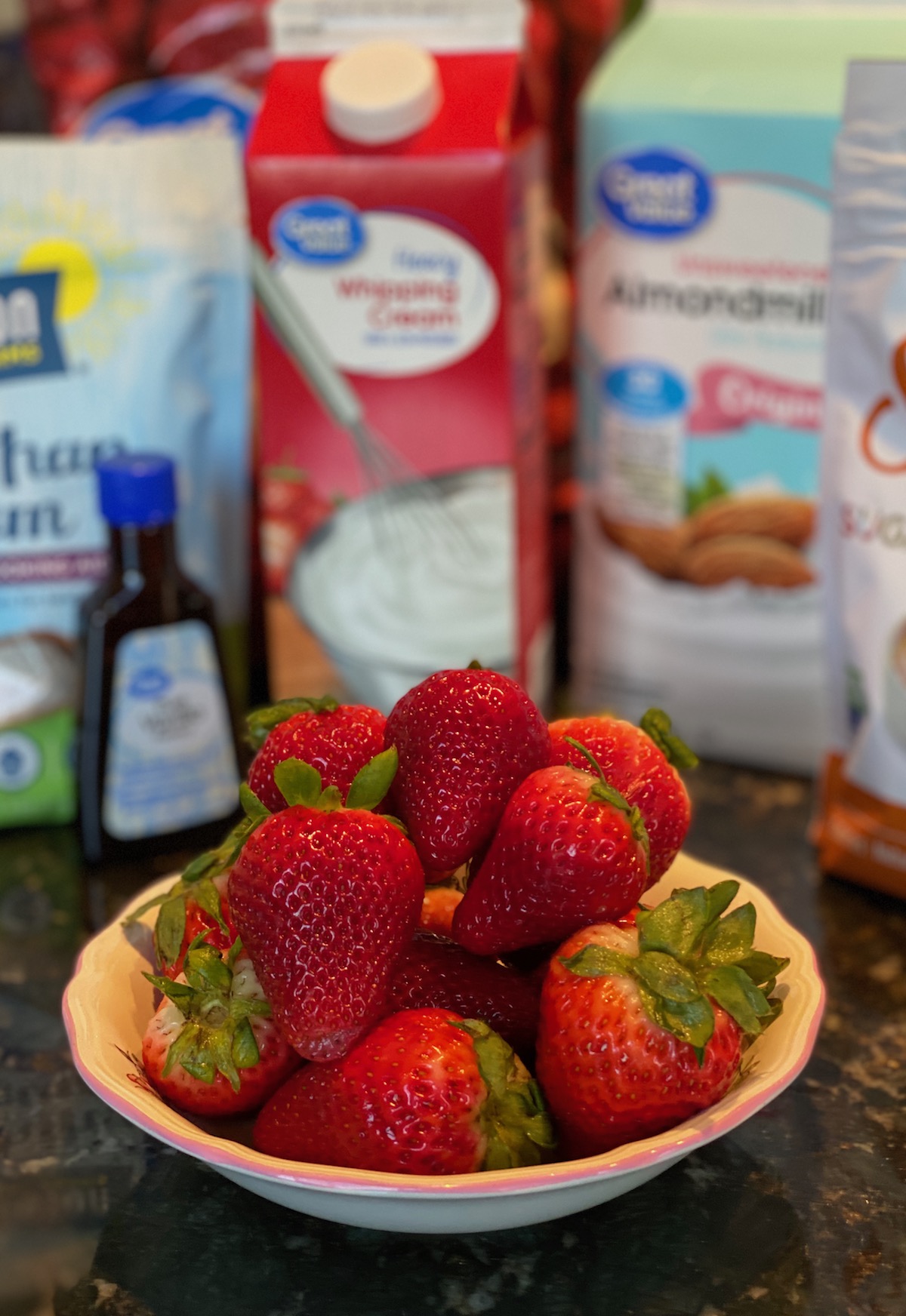 This milkshake is super creamy and doesn't separate the way my ice-cream-and-milk milkshakes used to. It's also just the right amount of sweetness, and 16 oz is really all you need (though you really wanna keep drinking it!).
I ended up trying both fresh and frozen strawberries to see what I liked better and also tried it with and without xanthan gum. (I've never used it in a recipe before, so I was curious to see what difference it made!)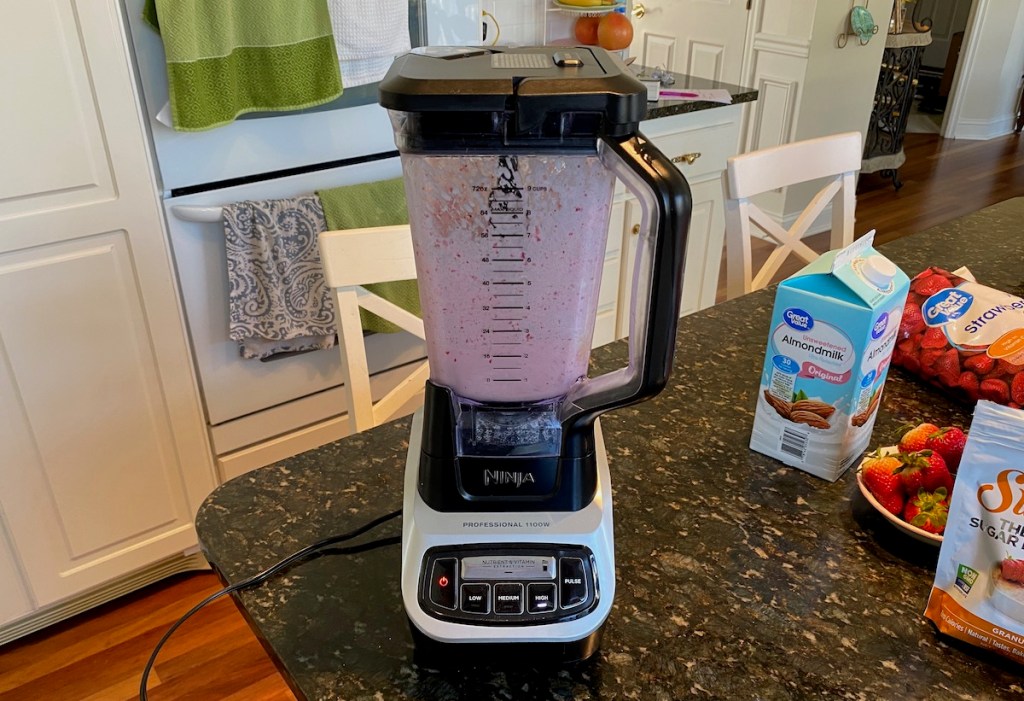 Plus, if you have a nice, powerful blender (like this Ninja Blender) this will blend in under a minute. It's like the dessert version of a "dump dinner": just throw everything in the blender, hit "high", and boom! There's your dessert.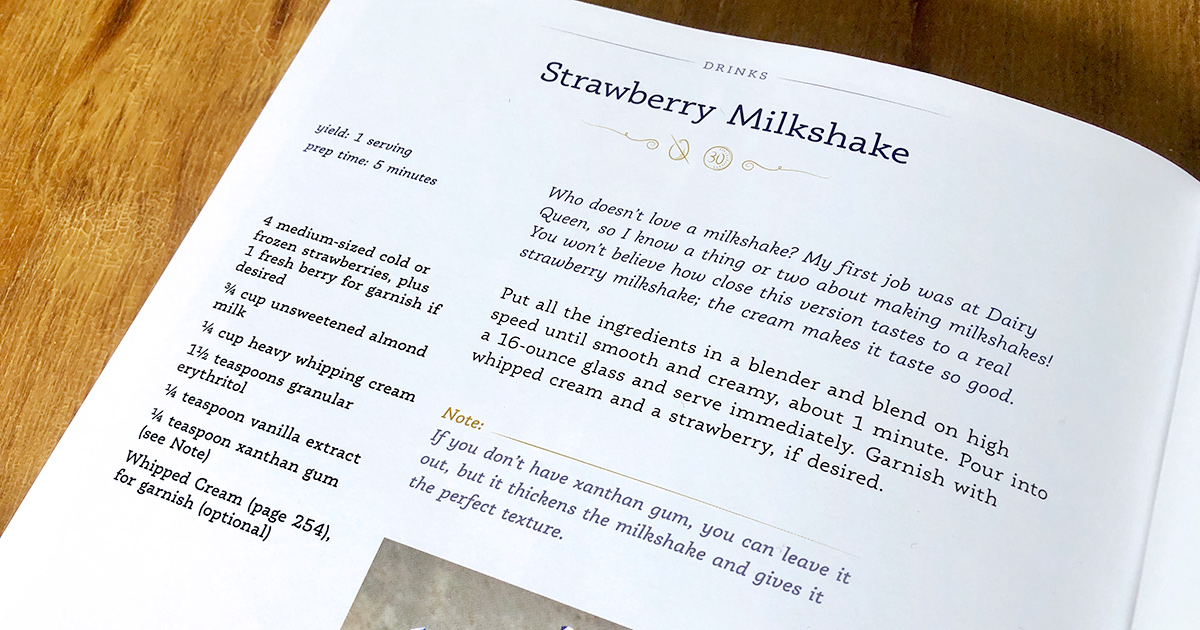 Strawberry Milkshake Ingredients:
4 medium-sized cold or frozen strawberries, plus 1 fresh berry for garnish if desired
3/4 cup unsweetened almond milk
1/4 cup heavy cream
1 1/2 teaspoons granular erythritol
1/4 teaspoon vanilla extract
1/4 teaspoon xanthan gum (for thickening)
Whipped cream for garnish (optional)
Strawberry Milkshake Directions:

Put all the ingredients in a blender and blend on high speed until smooth and creamy, about 1 minute. Pour into a 16-ounce glass and serve immediately. Garnish with whipped cream and a strawberry, if desired.
---
What's the deal with xanthan gum?
There's a note in the cookbook saying that you can leave out xanthan gum if you don't have it. So I played around with different amounts of it (and none at all) just to see what difference it made. Using xanthan gum gives the milkshake a very fluffy, almost mousse-like texture, but it's still easy to drink through a straw!
If you leave it out, the milkshake will be a little thinner, but you can also blend it longer to really froth up the heavy whipping cream. In the end, I actually ended up using half the amount of xanthan gum recommended (1/8 tsp instead of 1/4) and blended longer.
I also wondered if it would be hard to find xanthan gum at the grocery store, but Walmart, Amazon, and even my local grocery stores stock it now!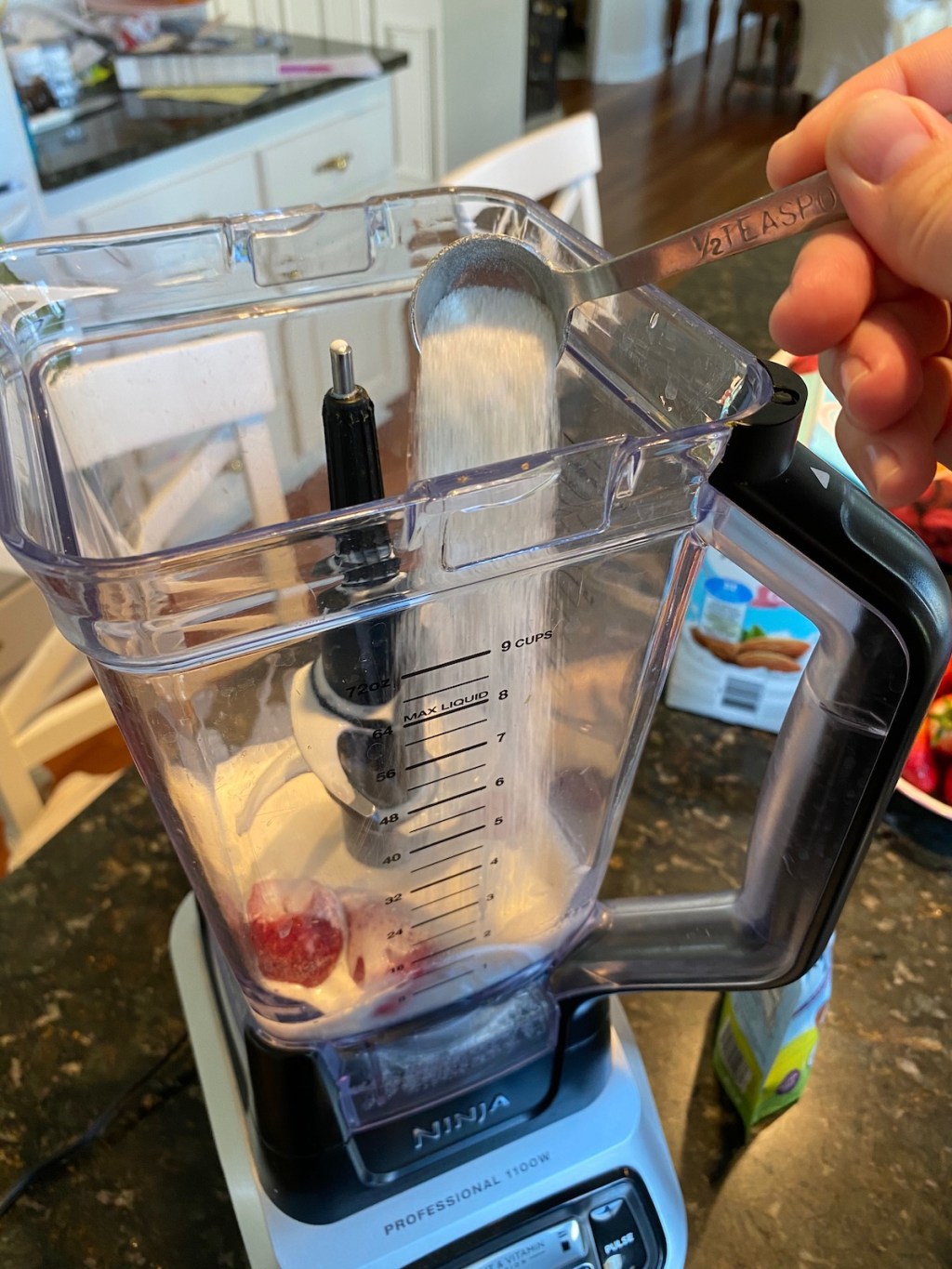 The Swerve sweetener added just enough sweetness to the already tart berries. I was also surprised that the recipe called for the granular variety because I wasn't sure it would fully dissolve in the cold liquids. It definitely did! And the 1 1/2 teaspoons was the perfect amount for a lightly sweet dessert. If you want it on the sweeter side, just add more Swerve!
---
Customize it!

While the Southern Keto recipe really is quite delicious, there's no reason you can't use it just as a base and modify to your tastes. My whole family loved this recipe, but we each had a favorite tweak — less or more sweetener, xanthan gum, or strawberries created slightly different flavors and textures. Overall though, we really enjoyed it!
Even my 14-year-old brother (who's very skeptical of new foods) had a second helping! It's tasty, not overly sweet, and has a great texture. I think it'd also be delicious with cocoa powder, or with a mix of frozen berries.
---