Keto Sheet Pan Nachos are Simple to Make Thanks to HILO LIFE Chips!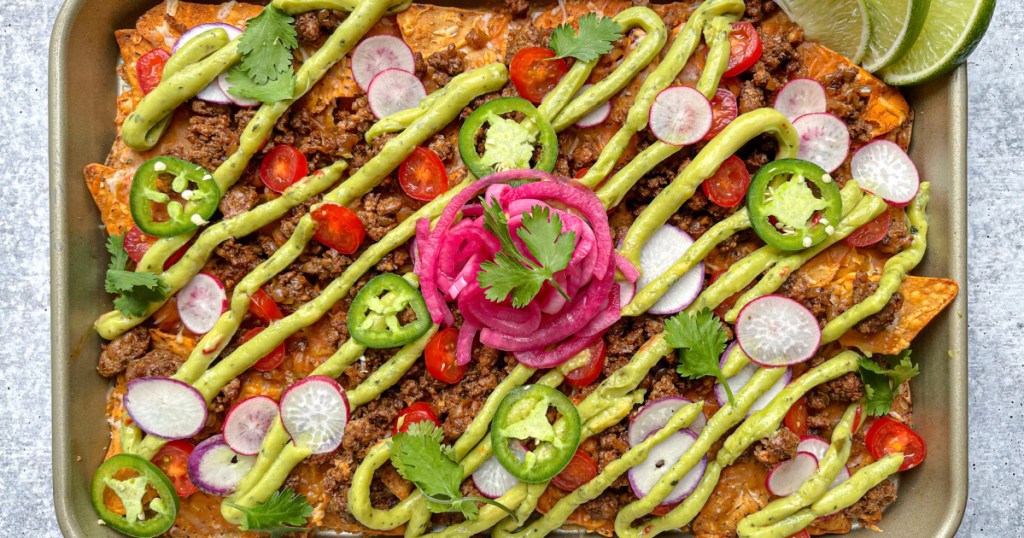 How many HILO LIFE chips I eat is NACHO business! 😆
I bet you thought you could never enjoy nachos again after going keto…boy do I have good news for you! HILO LIFE made keto dreams come true with these unbelievably delicious tortilla chips.🤤 Get DOUBLE the flavor with these loaded nachos made with HILO LIFE's Nacho Cheese Tortilla Style chips!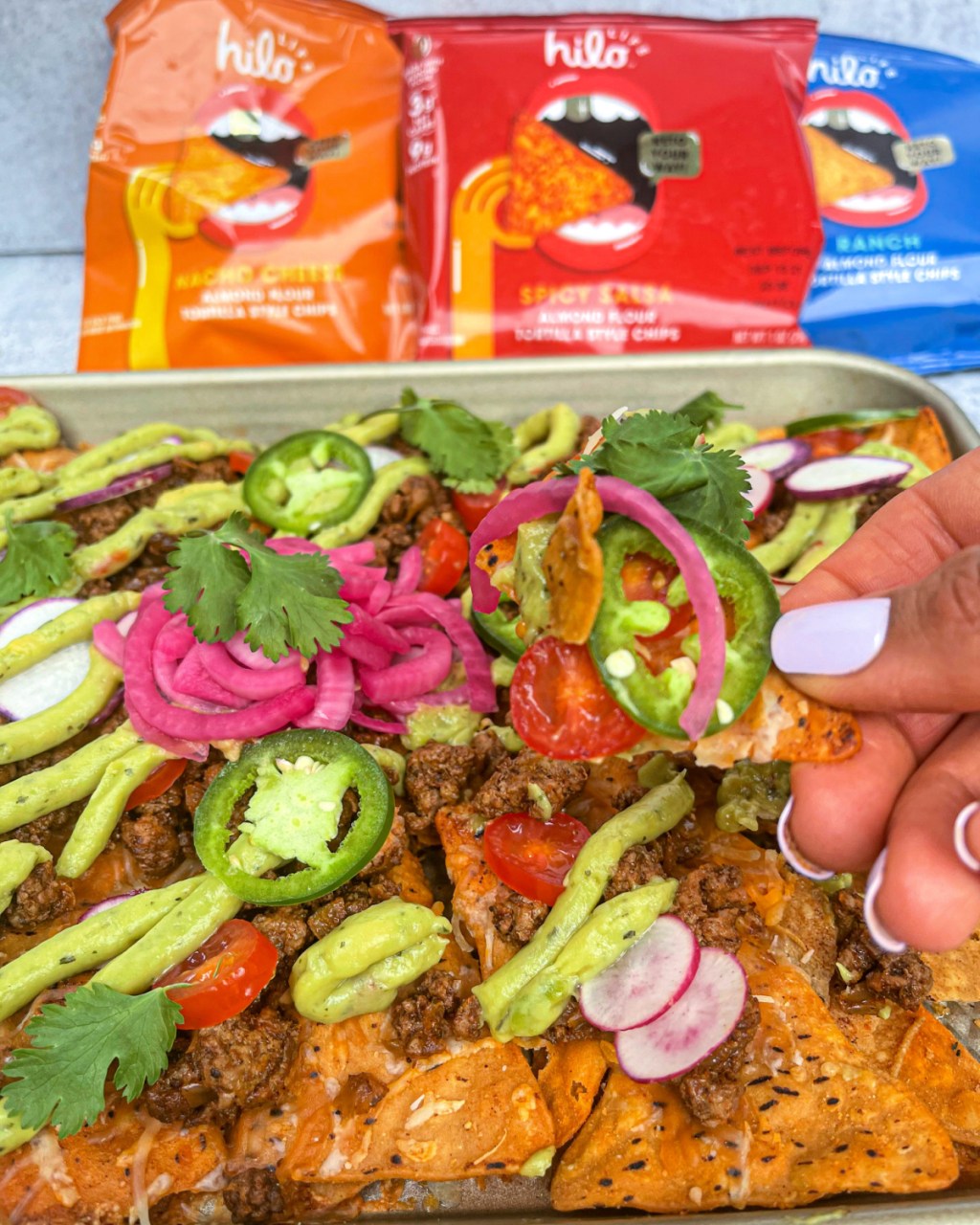 It's simple to make these flavorful keto nachos!
Store-bought taco seasoning can be very convenient, but unfortunately many pre-made spice blends can have hidden sugars and even unnecessary gluten and carbs so I always opt to make my own; check out my DIY taco spice blend recipe below!
That said, you can still use your favorite keto-friendly store-bought taco seasoning if preferred! 🤗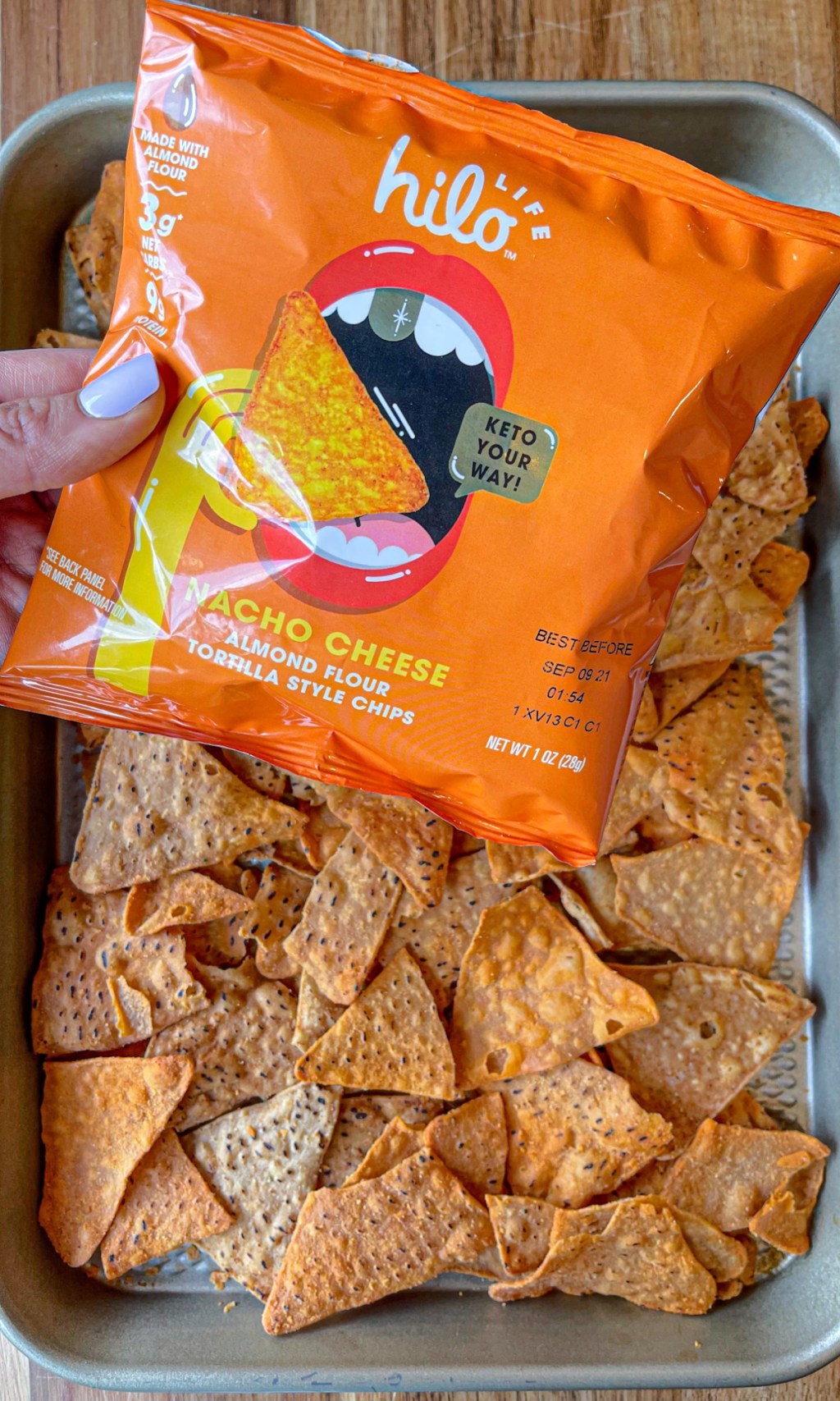 Tips for making the best keto sheet pan nachos:
If you love EXTRA toppings… don't hold back! I added all my favorites to this recipe but if there's anything special you like to add to your nachos, go crazy! Here are some ideas: black olives, sour cream, nacho cheese, hot sauce, salsa, jalapeños, shredded chicken… the list could go on!
Make it fun-sized! If you'd like a smaller and quicker option, make "Walking Nachos" (aka nachos in a bag). Simply open up a bag of HILO LIFE Nacho Cheese Chips and stuff it with all the ingredients in this recipe…and VOILA! You have walking nachos with no need to bake.
Spice it up! Store-bought taco seasoning can be a lifesaver, but if you have the extra time make it at home with all the spices you already have. It's a win-win, save money and feel extra accomplished!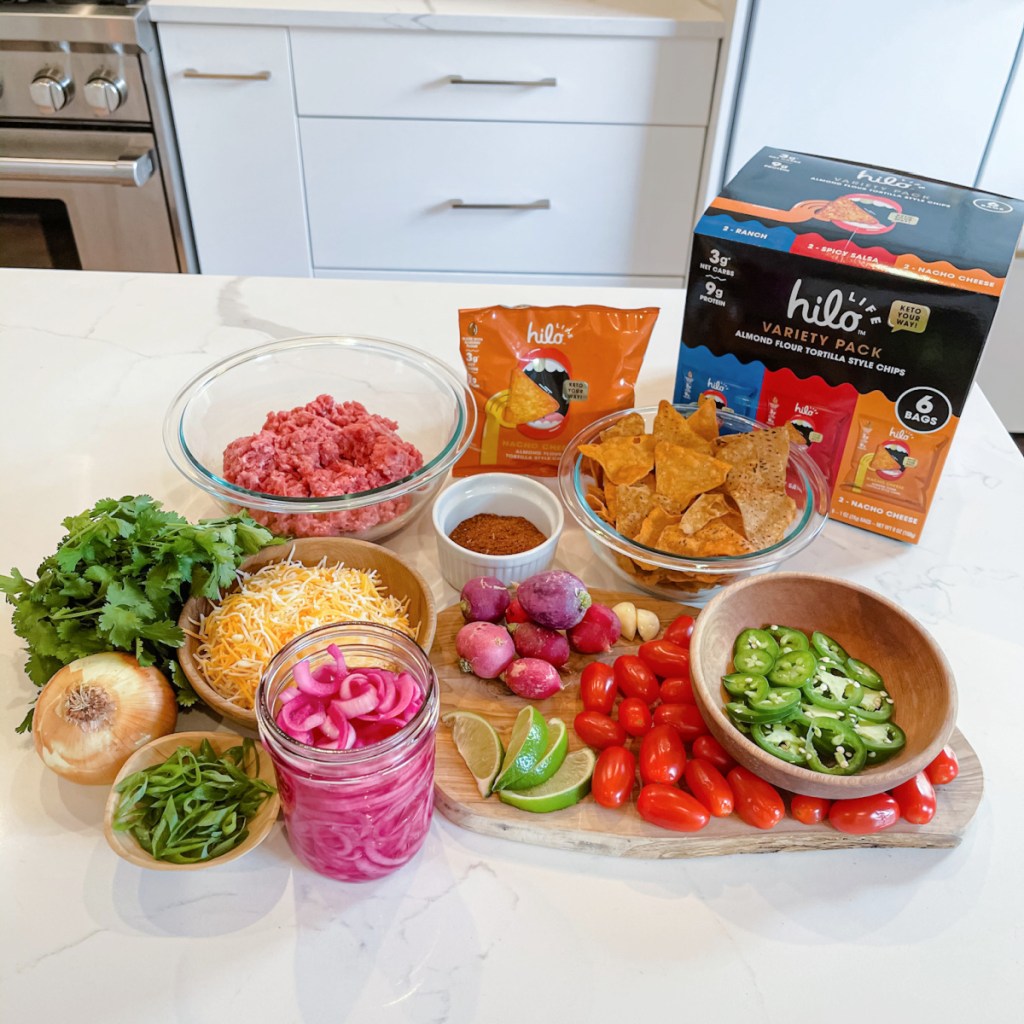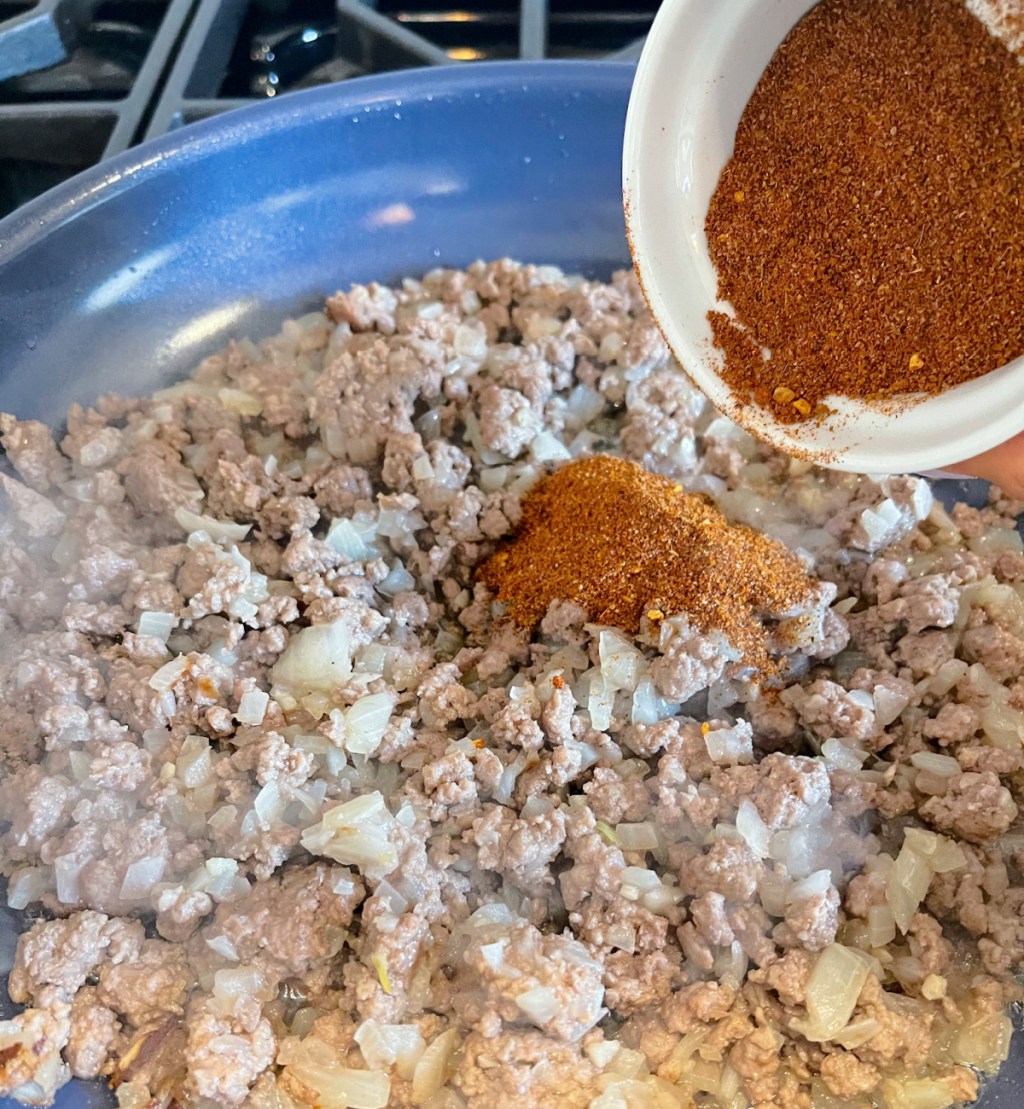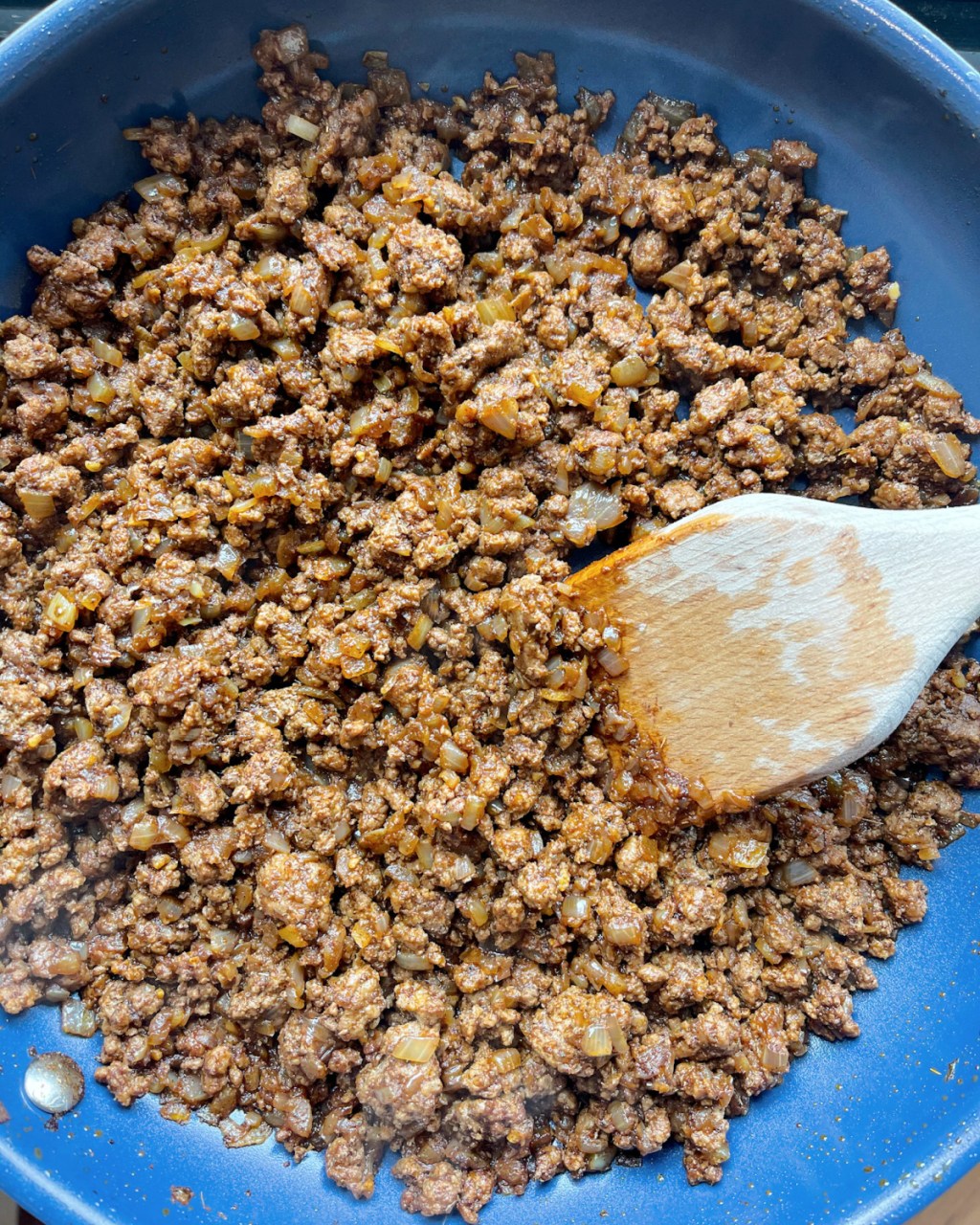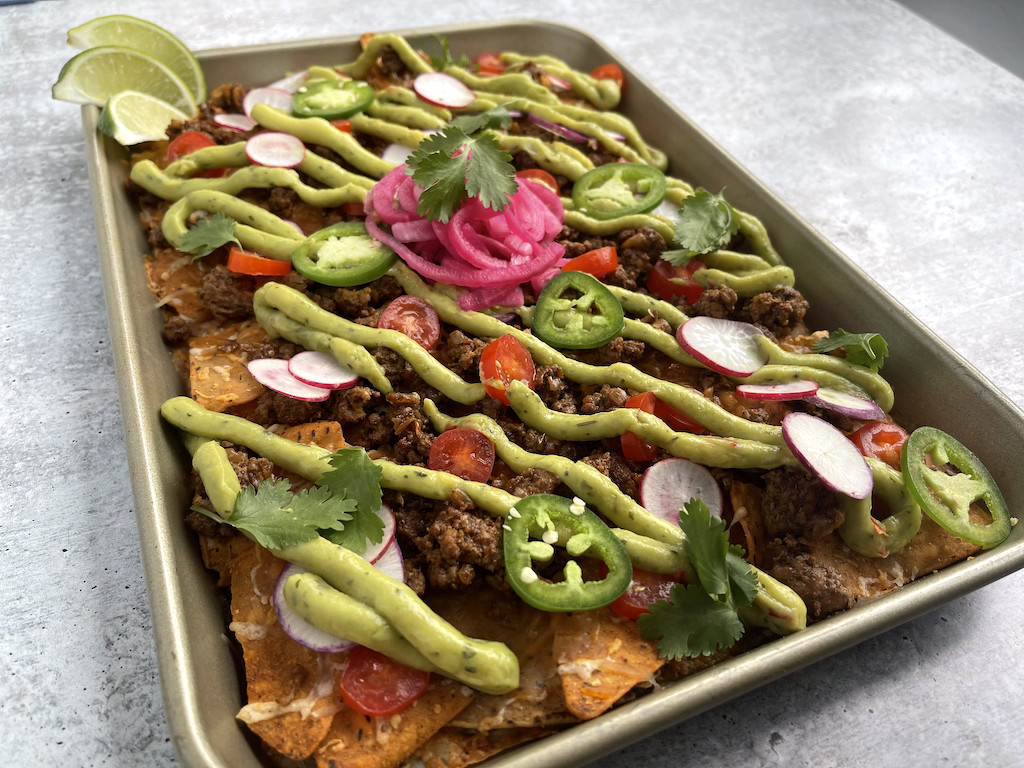 ---
Print
Keto Sheet Pan Nachos
yield: 6 SERVINGS
prep time: 40 MINUTES
cook time: 15 MINUTES
total time: 55 MINUTES
Get extra cheesy with these keto loaded nachos using HILO Nacho Cheese Tortilla Chips. So much crunch and flavor!
Ingredients
Keto Loaded Nachos:
2 tablespoons of avocado oil
1 pound ground beef
1 small onion, chopped
1/2 cup Mexican cheese blend, shredded
2 cloves garlic, minced
4 tablespoons taco seasoning
1/4 cup of water
Nacho Toppings:
1/2 cup tomatoes, chopped
1/4 cup radishes, sliced
1/4 cup red onions (pickled or fresh)
1/2 jalapeño, sliced
1/8 cup cilantro, chopped
Taco Spice Blend:
1 tablespoon chili powder
1 1/2 teaspoon cumin
1/2 teaspoon paprika
1/2 teaspoon crushed red pepper flakes
1 teaspoon salt
1/4 teaspoon garlic powder
1/4 teaspoon onion powder
1/4 teaspoon ground oregano
Directions
1
Preheat oven to 400°F (or opt to broil instead, see step 3). In a small bowl, mix all the spices for the taco seasoning together and set aside. In a large skillet, heat the oil over medium heat. Add the chopped onion and garlic and sauté until softened and fragrant.
2
Add the ground beef to the skillet and cook until browned (drain grease, optional), then add in the taco seasoning plus up to 1/4 cup of water. Mix everything well and let simmer for a couple of minutes or until the mixture thickens then remove skillet from heat. Put a lid on the cooked taco meat to keep warm.
3
Spray a sheet pan with cooking spray to prevent any sticking. Spread the HILO LIFE Tortilla Style chips on the sheet pan in one even layer, and sprinkle shredded cheese over top. Bake for 5 minutes at 400 degrees or place under broiler for 2-3 minutes until cheese is melted.
4
Remove sheet pan from oven and top with prepared taco meat and nacho toppings of your choice. Serve immediately and enjoy!
Additional Notes
Nutrition is based on toppings listed above, but can vary based on adding the toppings of your choice.
Nutrition Information
Yield: 6, Serving Size: 1/6 of pan
Amount Per Serving: 417 Calories | 31.1g Fat | 9.2g Total Carbs | 3.2g Fiber | 2g Sugar | 25.3g Protein | 6g Net Carbs
---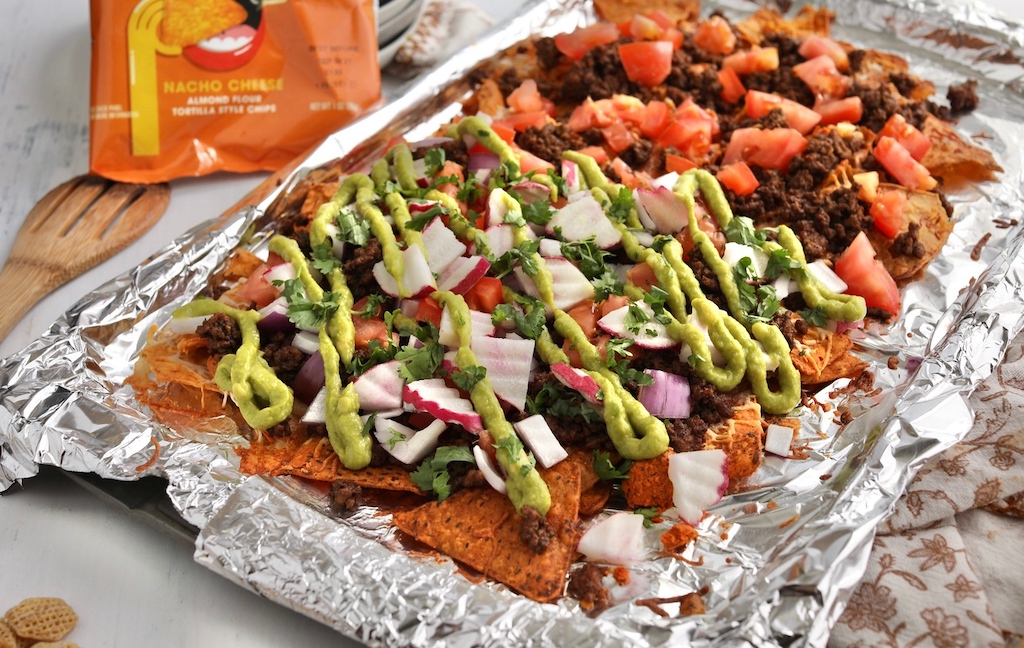 These are "nacho" average keto nachos!
If you're looking for a simple, satisfying, and super delicious keto snack, you won't want to overlook these keto sheet pan nachos using HILO LIFE Tortilla Style chips. Feel free to get the whole crew involved by sectioning off a portion for each person to customize their desired toppings. Then all that's left to do is dig in!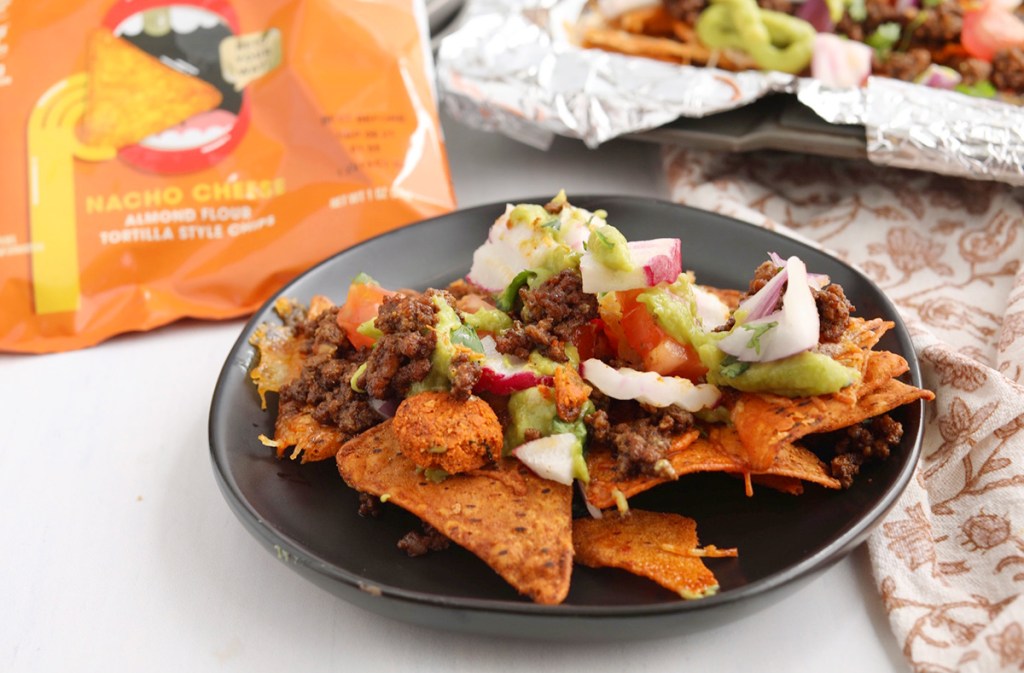 My Hip sidekick Jenna tried out this recipe and here's what she thought!
"I love how you can personalize the nachos and they turned out so good! I made half the pan with just beef, cheese, and tomatoes for the kids, then loaded up with guac, radishes, red onions, and more for myself.
Also, I am loving these HILO LIFE chips! I often get a different brand of keto chips and these are so impressive. They are definitely a cleaner recipe, too. This was such an easy lunch to throw together and I can't wait to make them again! Maybe with the Spicy Salsa Hilo Life chips next time — yum!"
---