Keto Sheet Pan Breakfast (Easy to Make for the Whole Family!)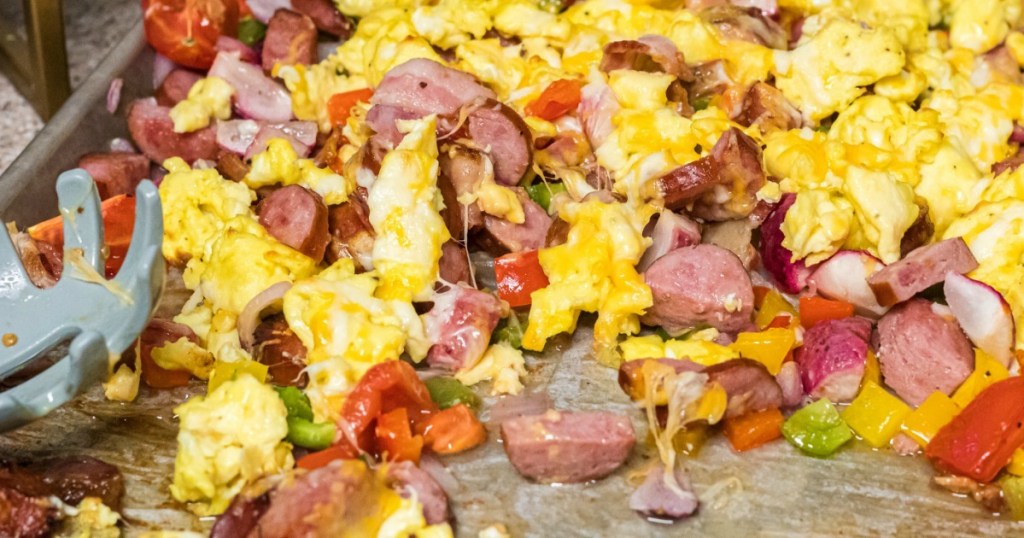 Who doesn't love a hearty breakfast? Or eating breakfast for dinner? It's my favorite kinda meal!
If you're like me and love filling keto breakfast ideas, then I have just the recipe for you! This keto sheet pan breakfast bake is perfect for busy mornings or if you're having the family over for brunch, lunch, or even dinner! 🙌 It's a meal that can be enjoyed no matter the time of day.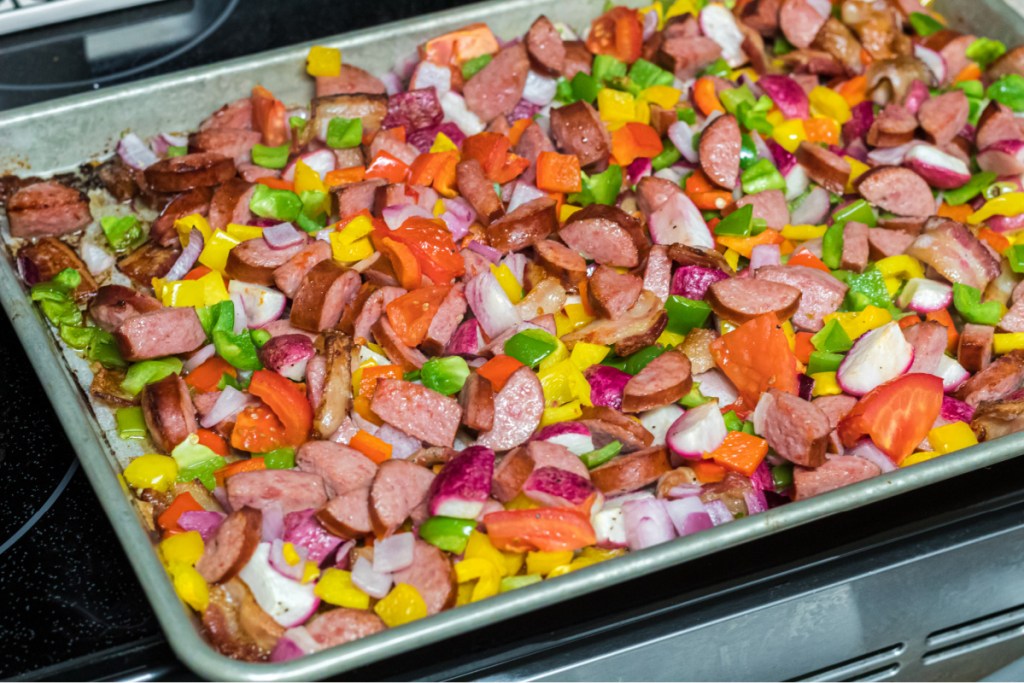 Sheet pan meals are my absolute favorite to make as there's always way less mess in the kitchen, and cleanup has never been easier! I cooked my keto sheet pan breakfast on a greased sheet pan but you could consider lining the pan with parchment paper or greased aluminum foil to make doing the dishes even easier.
This recipe is great to make in a big batch, then portion it out for later and reheat in the microwave for yummy leftovers. You could even freeze the leftovers in baggies for make-ahead breakfast burritos!
"Radishtatoes" are the secret!
I just love how the radishes taste like potatoes when cooked in this recipe. They are an awesome low-carb alternative!
P.S. — If you've never made Lina's loaded radishes with bacon and cheese, you're missing out! Be sure to add that one to your must-try recipe list.
---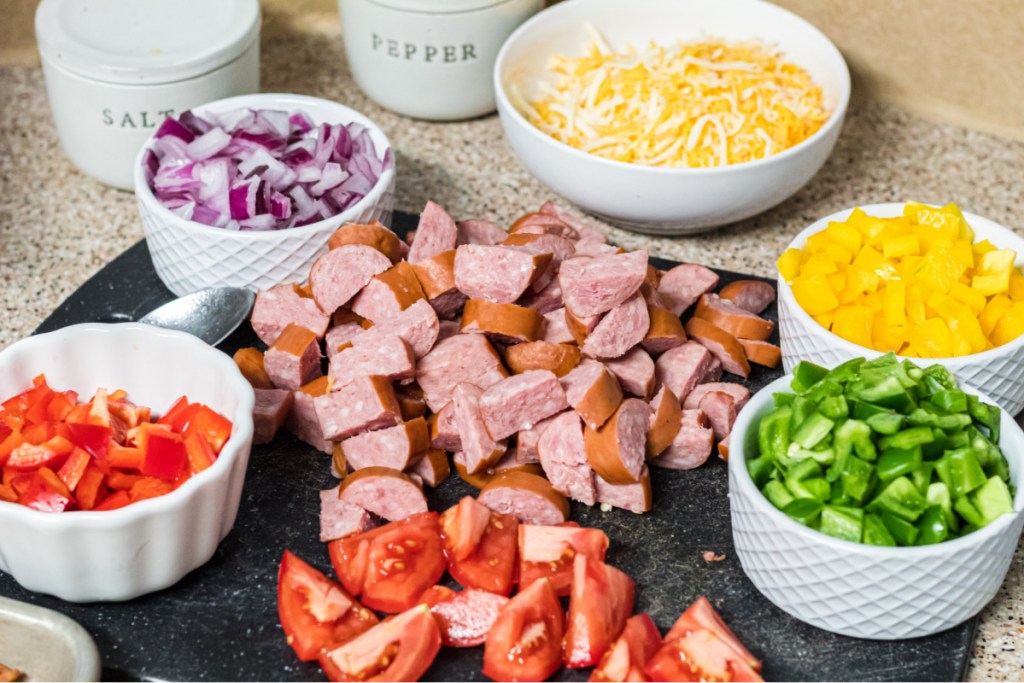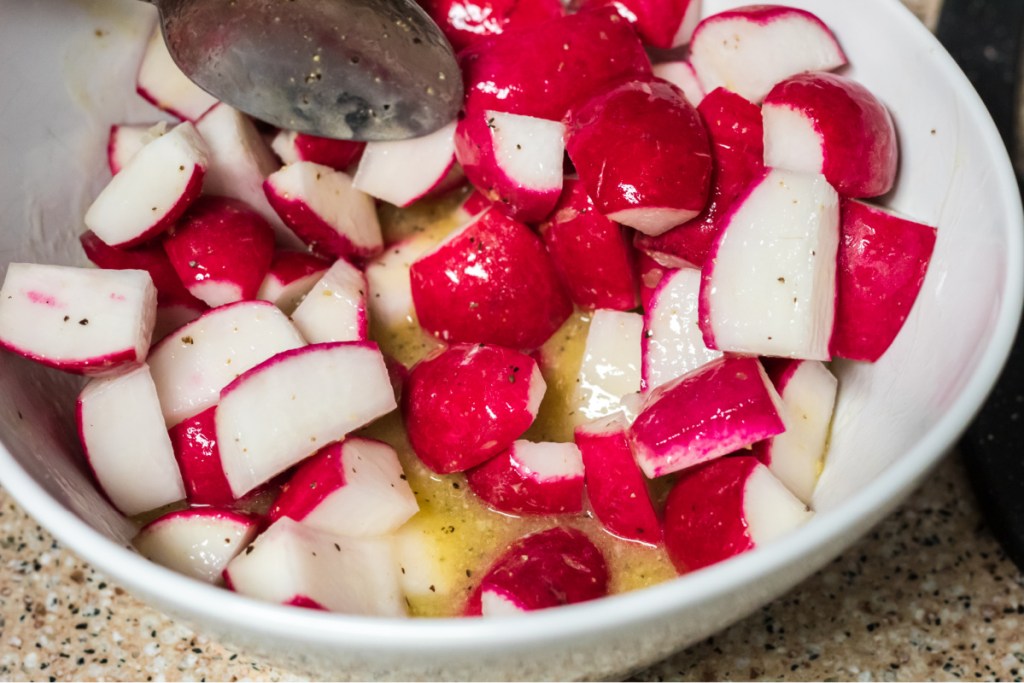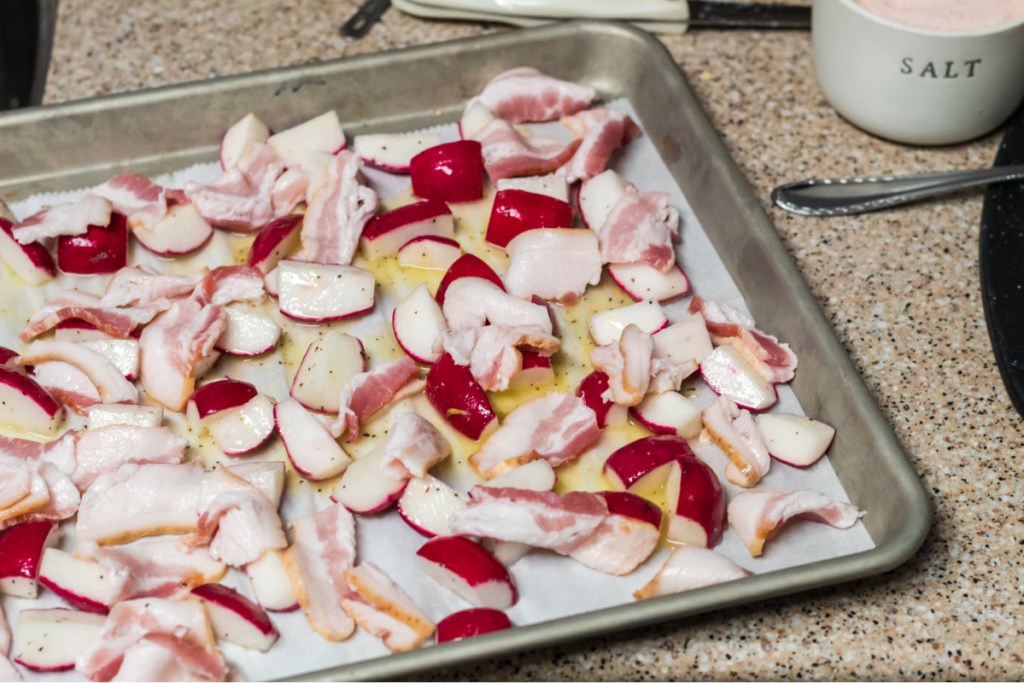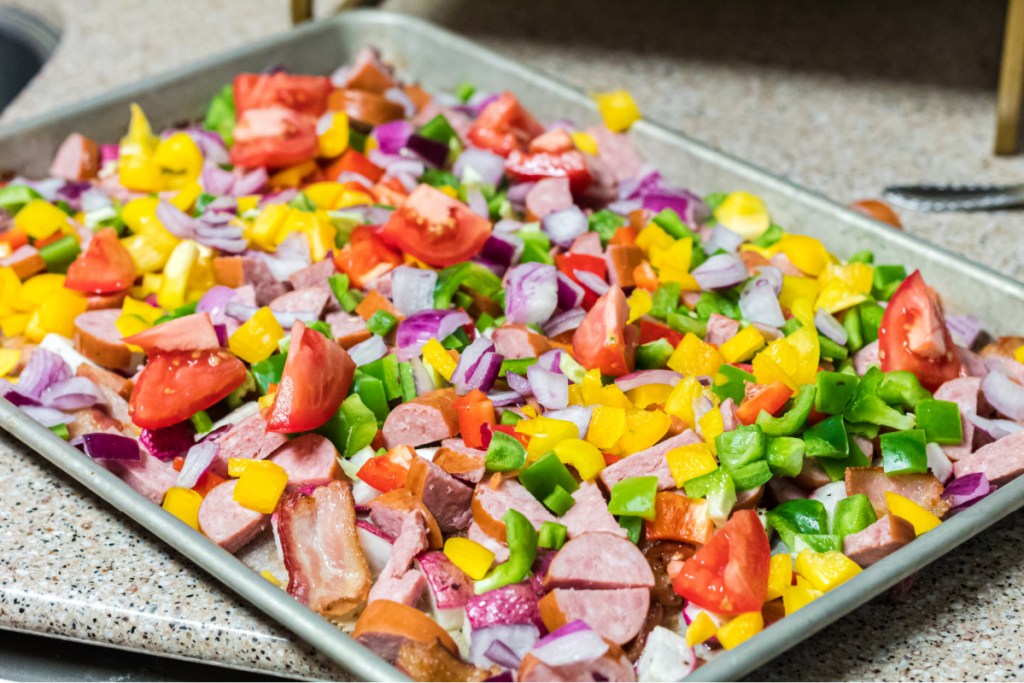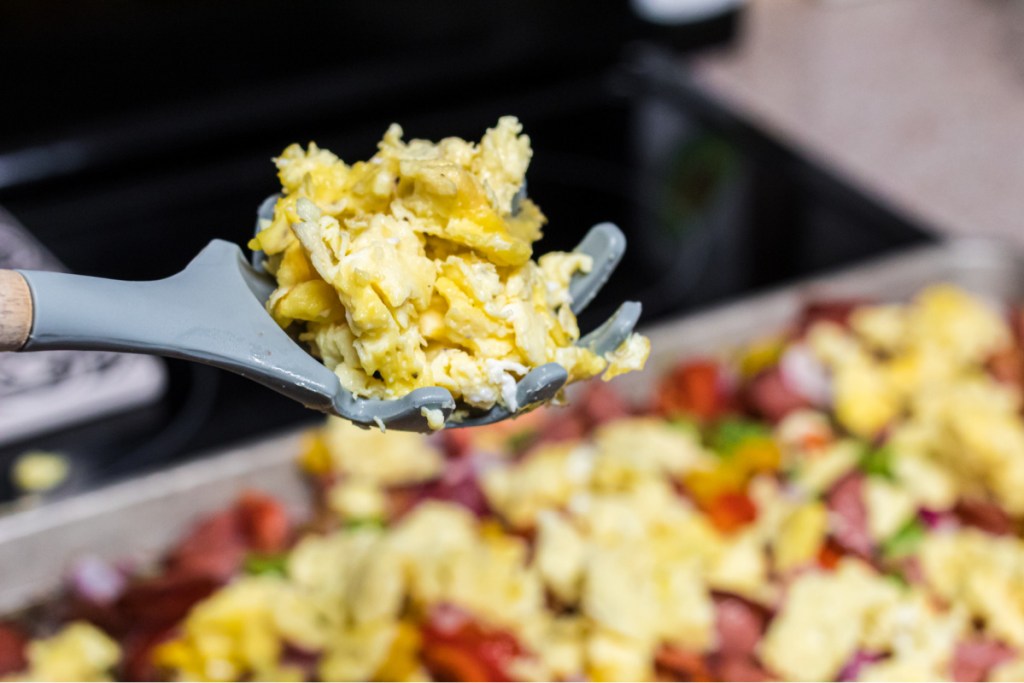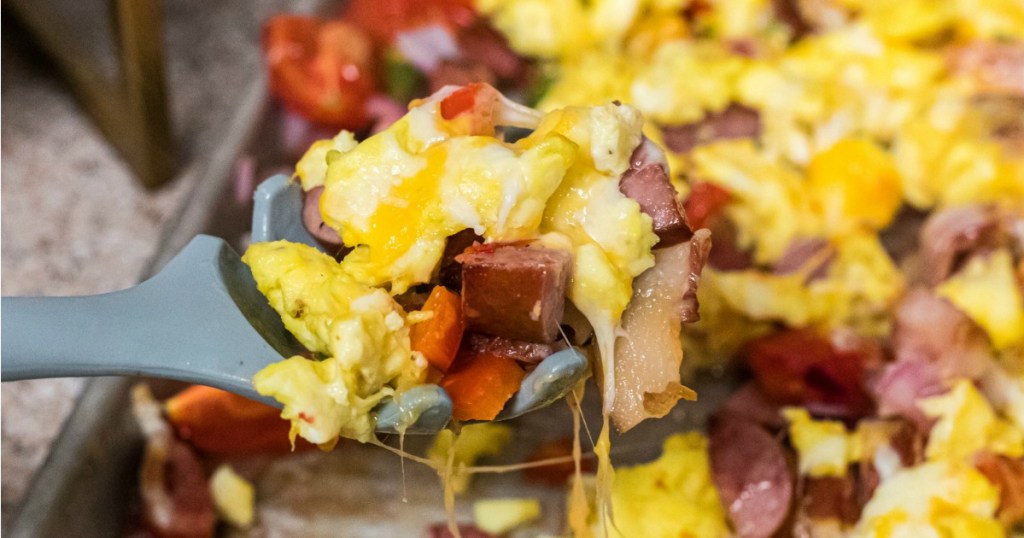 ---
Print
Keto Sheet Pan Breakfast
yield: 10 SERVINGS
prep time: 15 MINUTES
cook time: 45 MINUTES
total time: 60 MINUTES
Colorful veggies, savory sausage, fluffy eggs, and even our favorite potato substitute come together for a simple breakfast that everyone will love!
Ingredients
16 oz. radishes, quartered
1 teaspoon garlic powder
1 teaspoon pepper, divided
1 teaspoon salt, divided
1/3 cup melted butter
10 strips uncooked uncured bacon, cut into 2" pieces
1 yellow pepper, diced
1 red pepper, diced
1 green pepper, diced
1/2 red onion, diced
2- 14 oz. smoked sausage links, sliced into 1/2" pieces
1 tomato, diced
10 eggs
1/4 cup heavy whipping cream
1 cup shredded cheese
Directions
1
Preheat oven to 425 degrees.
2
In a medium bowl, add melted butter, garlic powder, 1/2 teaspoon salt, 1/2 teaspoon pepper, and sliced radishes. Toss radishes making sure they are all coated in butter.
3
Grab a large baking sheet (I used a full-size sheet pan for this recipe.) Add radishes and bacon pieces to sheet pan and roast for 20 minutes.
4
While the radishes and bacon are roasting, grab a medium-size bowl and whisk together 10 eggs, heavy cream, 1/2 teaspoon salt, and 1/2 teaspoon pepper.
5
In a large skillet over medium heat, add in egg batter and whisk until cooked, creating scrambled eggs. Set aside.
6
Remove sheet pan from the oven. Add sausage, peppers, onions, and tomatoes. Season with salt and pepper to taste. Place sheet pan back in the oven and roast for 20 minutes.
7
Once veggies are roasted, top the sheet pan with eggs and shredded cheese. Roast sheet pan one final time in the oven for 5 minutes or until cheese is melted to your liking.
Nutrition Information
Yield: 10 cups, Serving Size: 1 cup
Amount Per Serving: 426 Calories | 35g Fat | 7g Total Carbs | 2g Fiber | 19g Protein | 5g Net Carbs
---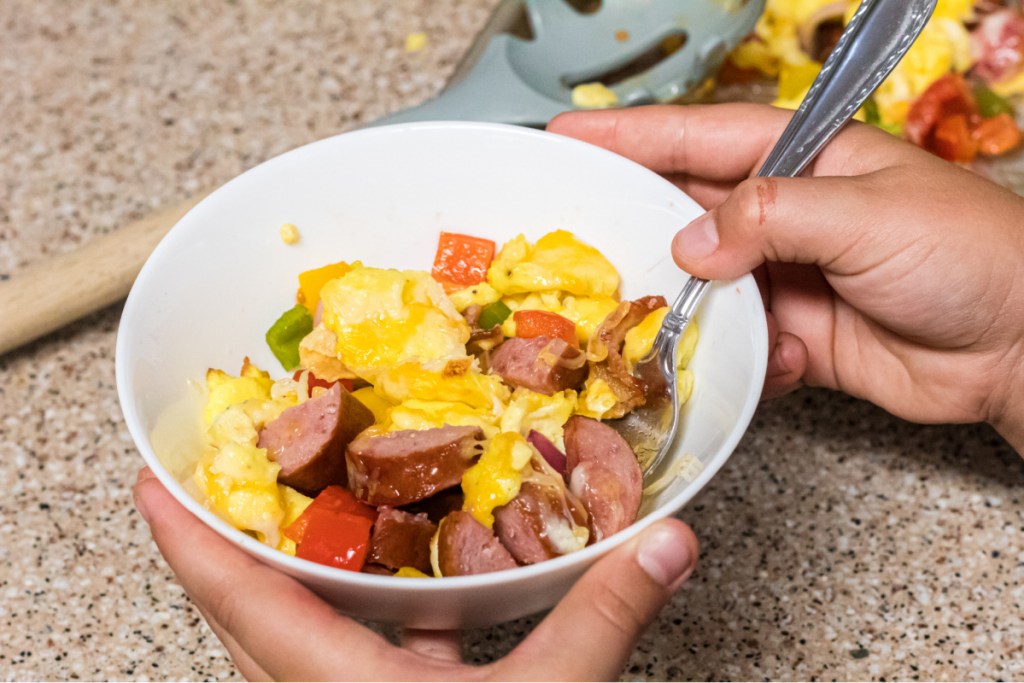 Stress-free breakfast is served!
As you can see, you can whip up a hearty keto breakfast in no time at all!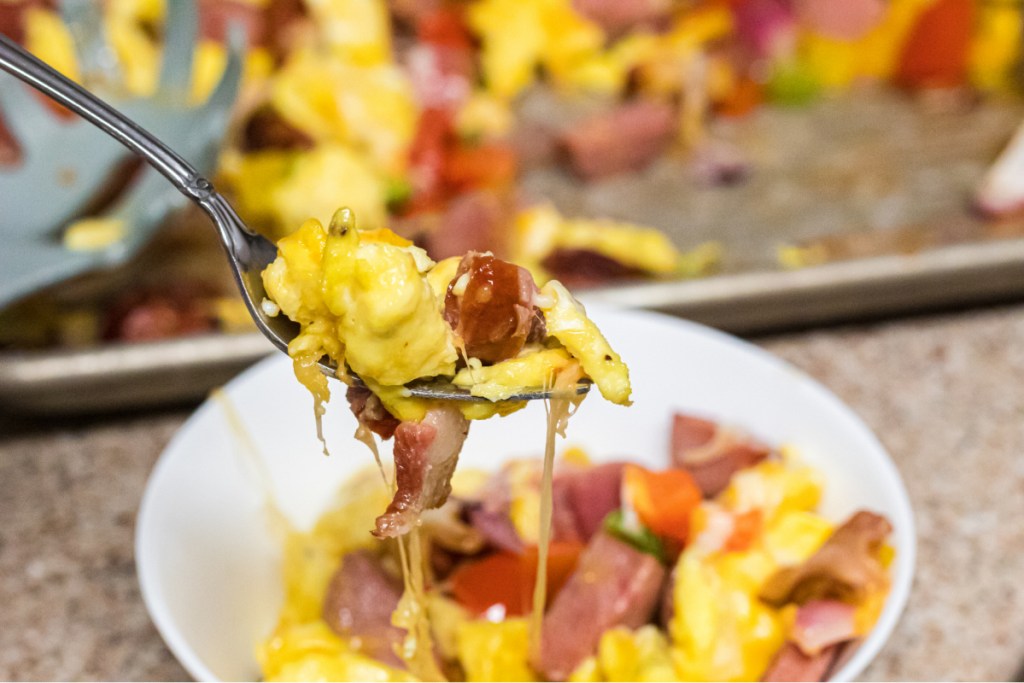 My team member, Jenna, gave this recipe a test for me, and here's what she had to say:
"This is officially my favorite breakfast, although I actually made it for dinner! It was so easy to prep everything, throw it on a sheet pan, and make enough for everyone! Everything smells like bacon and tastes so delicious. Also, this dish reheats nicely the next day and there's plenty for leftovers!" – Jenna
I hope that your entire family loves this delicious keto sheet pan breakfast meal as much as mine did. Enjoy!
---
Want more big batch keto breakfast ideas? Try sheet pan pancakes next!