Keto Sausage Bites with Pesto, Goat Cheese, Tomatoes, and Fresh Basil
These keto sausage bites make the tastiest bite-sized appetizer.
Ready your serving platters, because keto sausage bites just hit tonight's menu.
When easy meets eye-catching, I know it's a recipe that's bound to be a hit. The flavor combo of sausage, pesto, goat cheese, cherry tomatoes, and basil is pure bliss! These bites make the perfect appetizer or snack, and while they look fancy and complicated, know they come together with hardly any effort.
These are great for serving at parties but are just as good when you make them for yourself for a meal.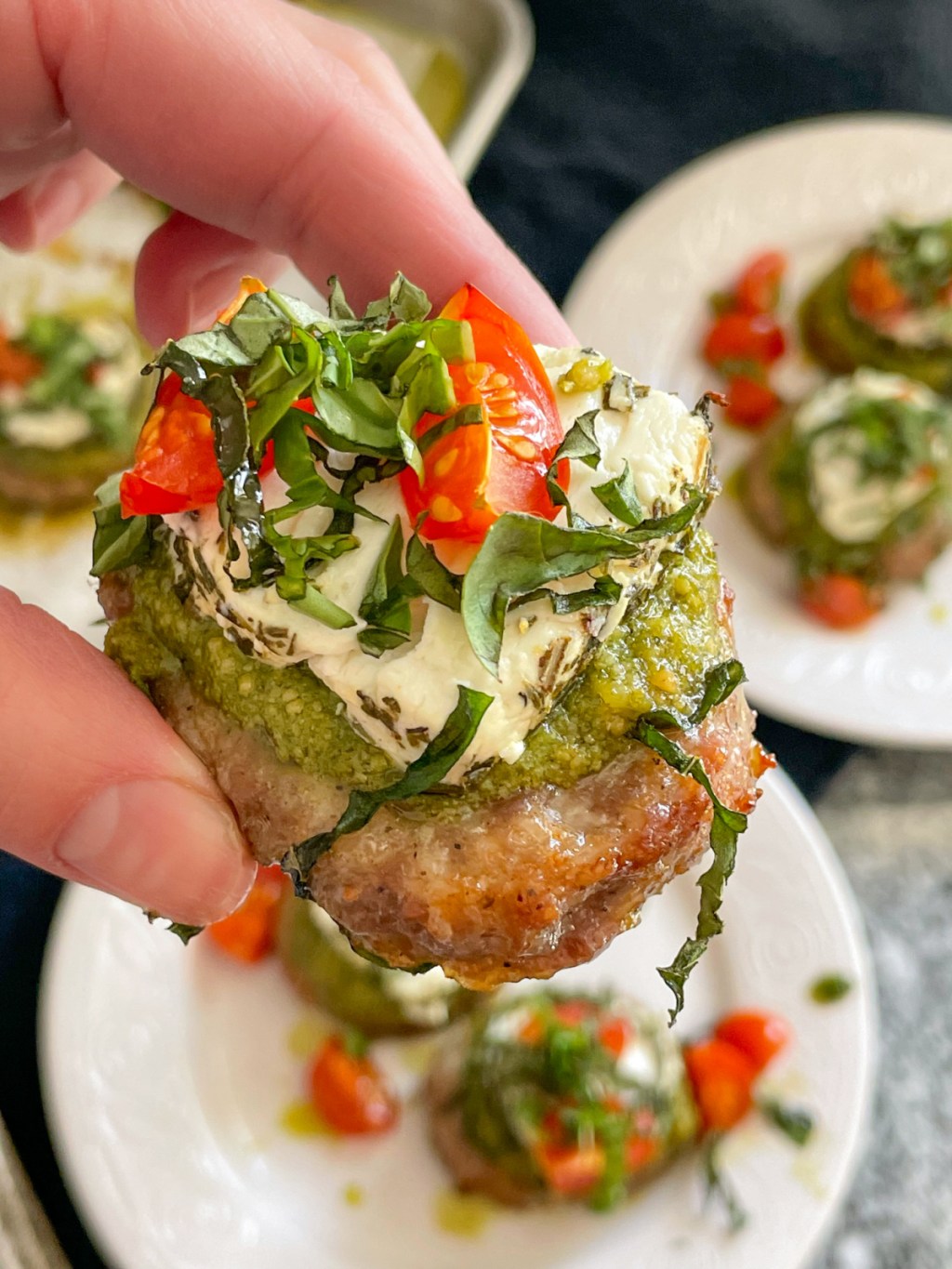 Each bite is heavenly.
One of my favorite ways to prepare goat cheese is to eat it baked. I love tangy, melty goat cheese! Add sausage, pesto, tomatoes, and basil, and well, it doesn't get any better.
To make these bites, you bake raw sausage patties, add your topping, and then bake them again to melt the cheese. If you haven't baked goat cheese before, don't expect to see it melt. Instead, it gets really soft and is so delicious!
These are best enjoyed warm, but reheat well if you happen to have any leftovers.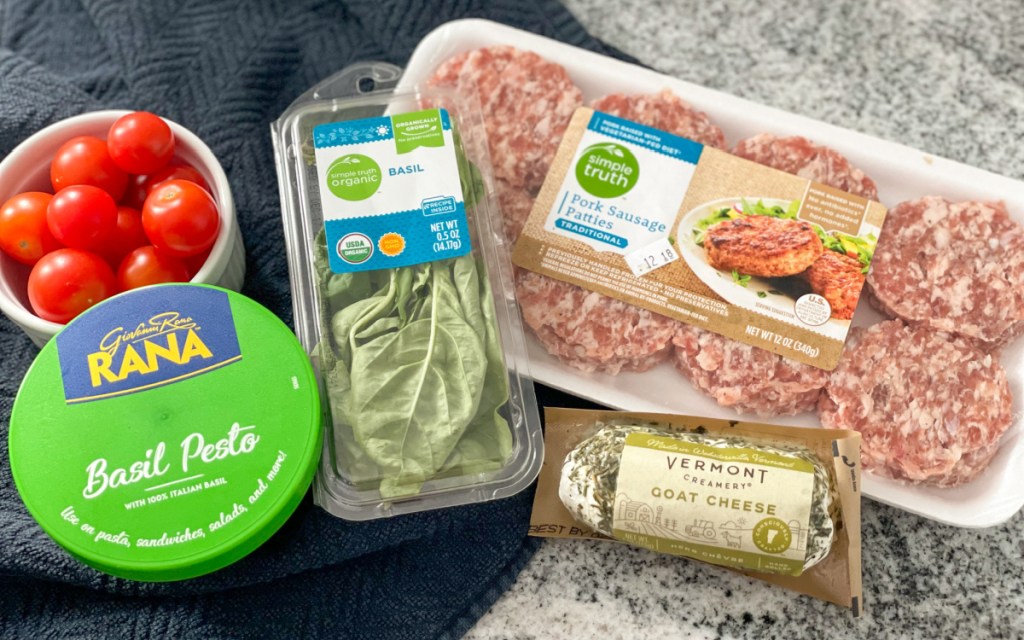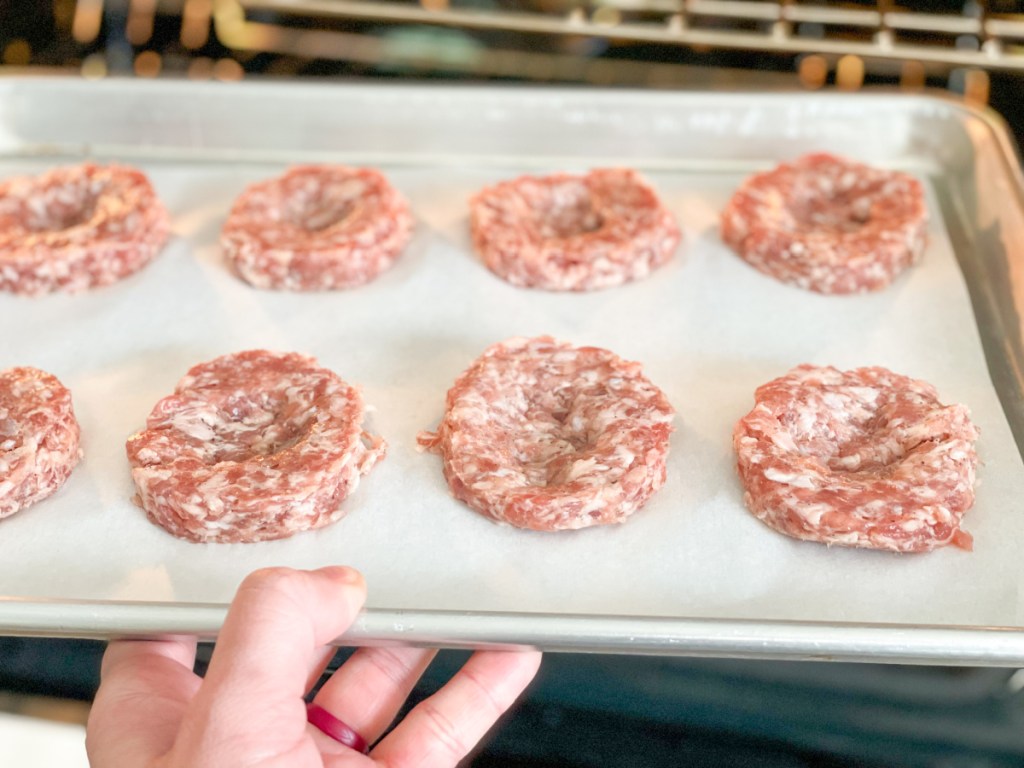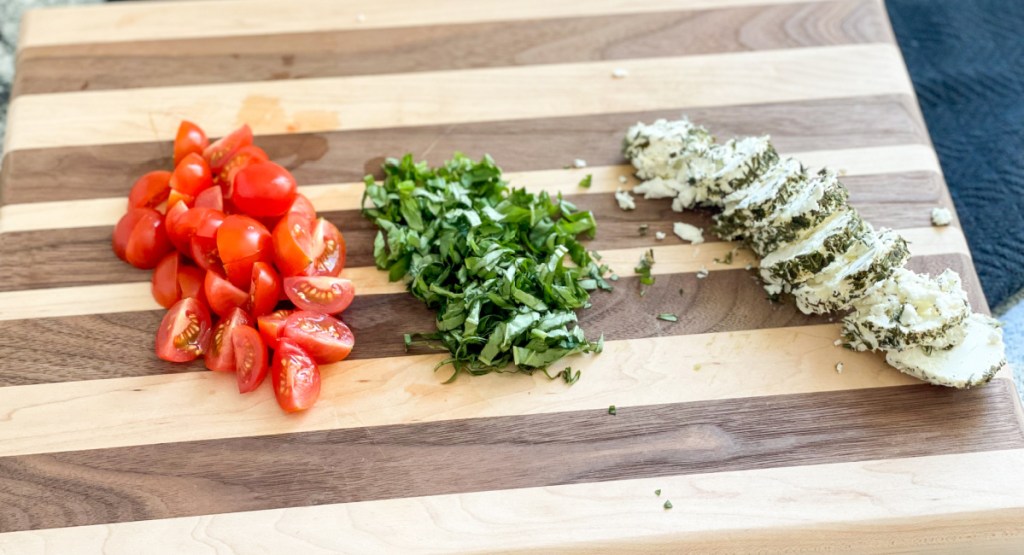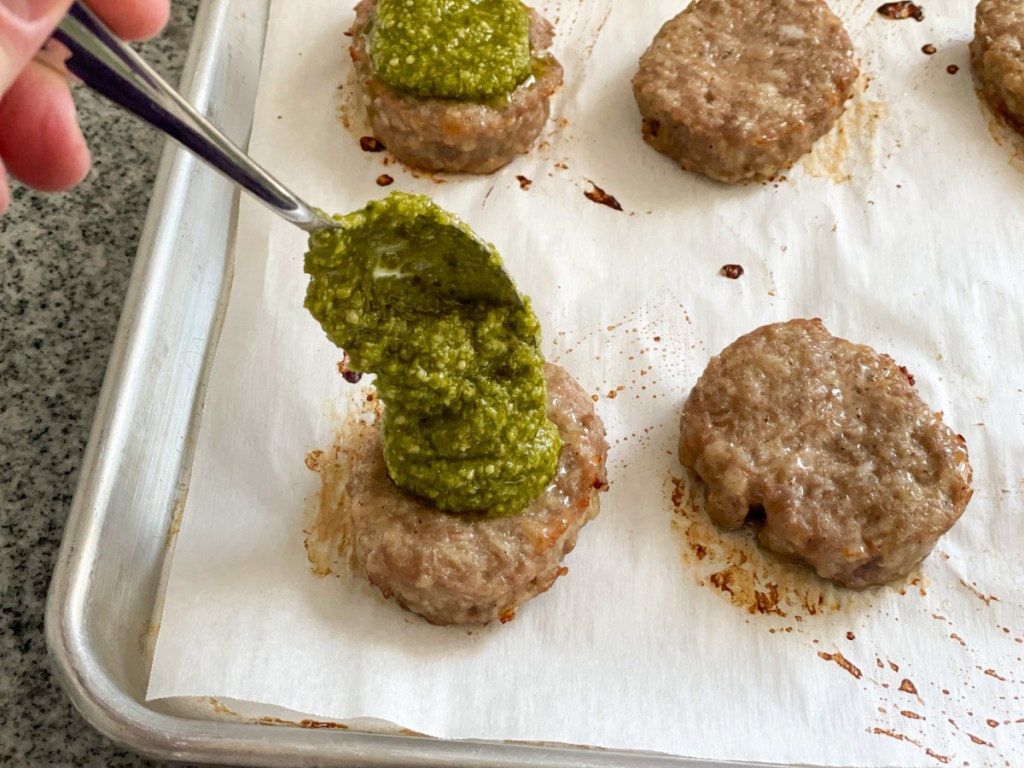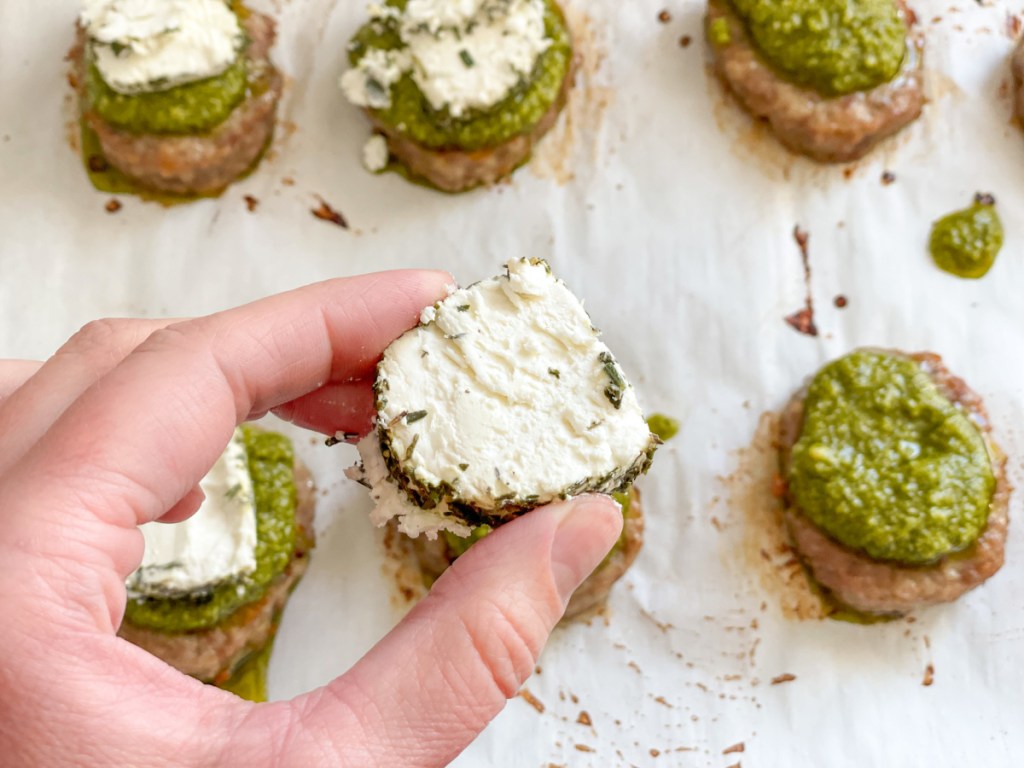 ---
yield: 4 SERVINGS
prep time: 5 MINUTES
cook time: 30 MINUTES
total time: 35 MINUTES
Baked sausage patties topped with pesto, goat cheese, cherry tomatoes, and fresh basil.
Ingredients
12 oz. raw sausage patties (8 patties)
1/2 cup pesto
4 oz. goat cheese, herbed or plain
8 cherry tomatoes
0.5 oz package fresh basil
Directions
1
Preheat oven to 400 degrees. Line a baking sheet with parchment paper.
2
Place raw sausage patties on the baking sheet and press the center of each to make an indent. Bake for 15 minutes, flipping the patties over halfway through cooking time. Then remove from oven.
3
While the sausage patties are cooking, slice the goat cheese into 8 rounds, cut the cherry tomatoes into quarters, and thinly slice the basil.
4
Place 1 tablespoon of pesto on top of each sausage patty, followed by one round of goat cheese, the quartered cherry tomato, and about 1 to 2 teaspoons of basil. Bake for an additional 5 to 10 minutes.
5
Remove sausage patties from the oven and top with the remaining fresh basil. Enjoy!
Nutrition Information
Yield: 8 sausage bites, Serving Size: 2 sausage bites
Amount Per Serving: 427 Calories | 35.6g Fat | 5.9g Total Carbs | 1g Fiber | 2.4g Sugar | 20.4g Protein | 5g Net Carbs
---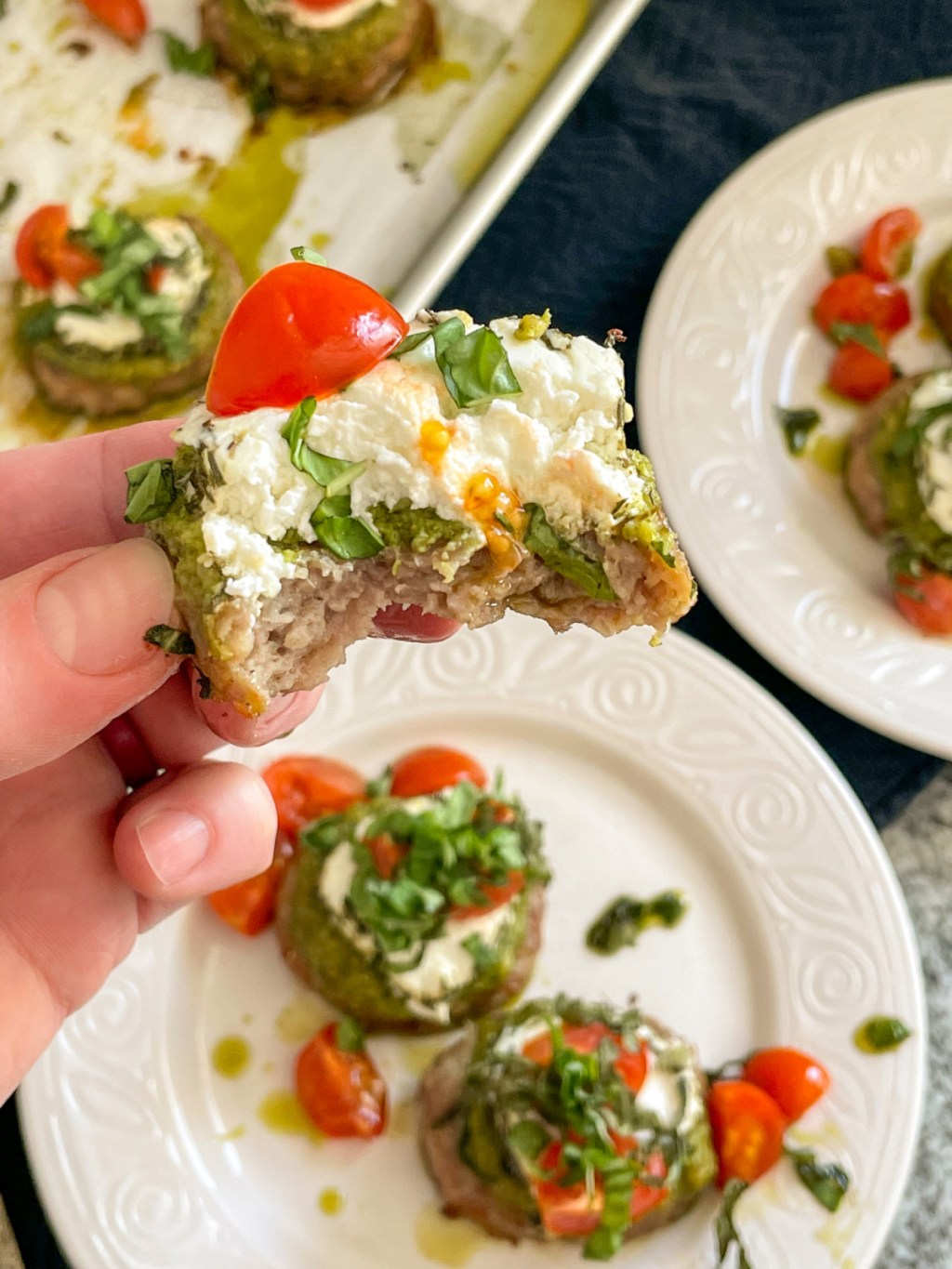 Tips for making the best keto sausage bites:
To make this even easier, you could buy precooked sausage patties like these Jimmy Dean ones. Look for small sausage rounds in the same section of the grocery store where bacon and other sausage products are sold. If you can't find raw sausage patties, you can buy ground sausage and make your own small patties.
Make an indent in the raw sausage patties before baking them to keep them from puffing out.
If you don't like goat cheese, you could make these with ricotta or mozzarella cheese.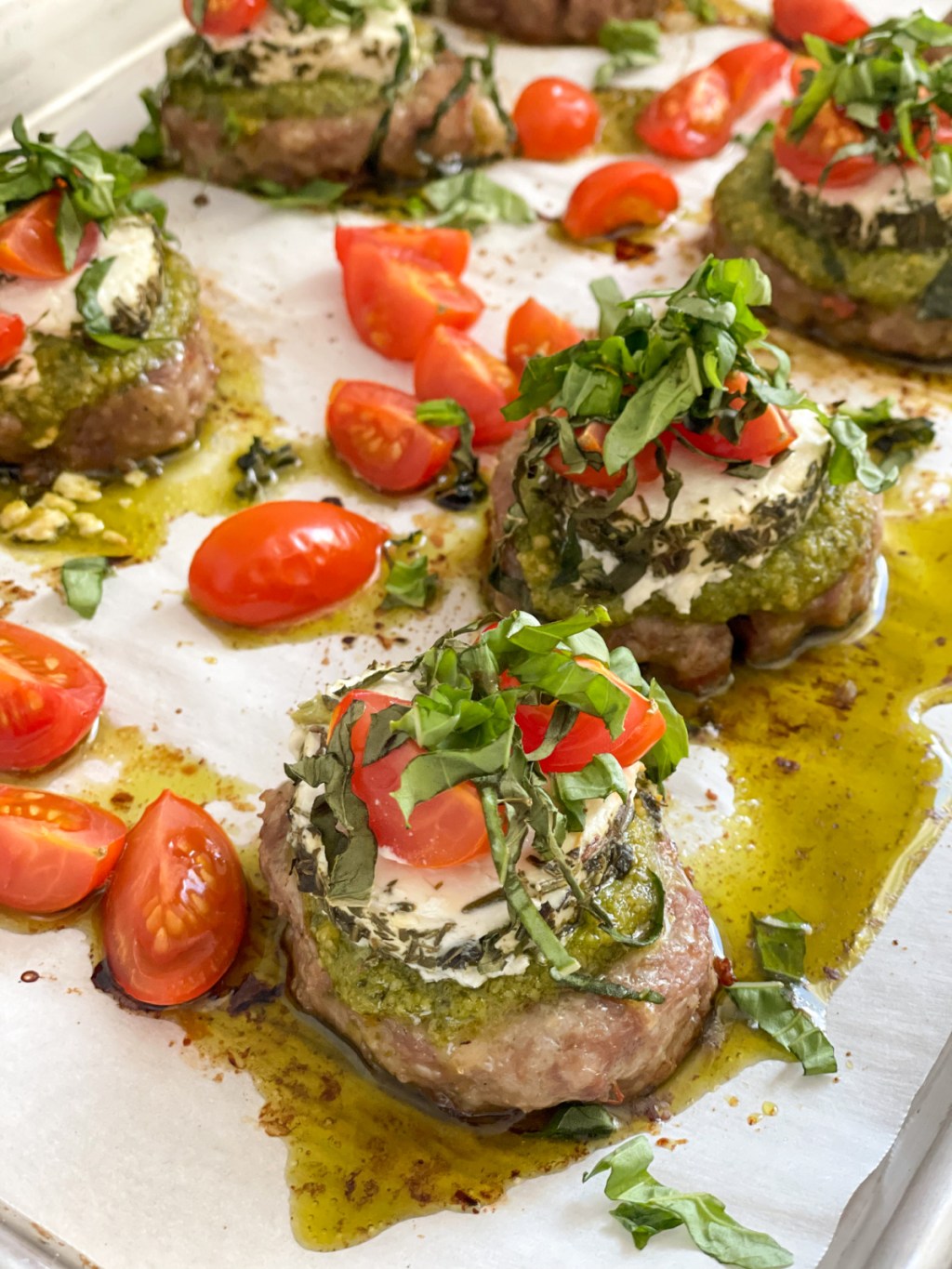 Keto sausage bites are naturally keto.
One of my favorite things is to make food that's naturally keto. I think a lot of times people don't realize how delicious keto can be or they think that keto has too many limitations. People are often surprised to find out that they've been eating keto foods when I tell them. These keto sausage bites are one of those treats that my friends and family couldn't believe were keto!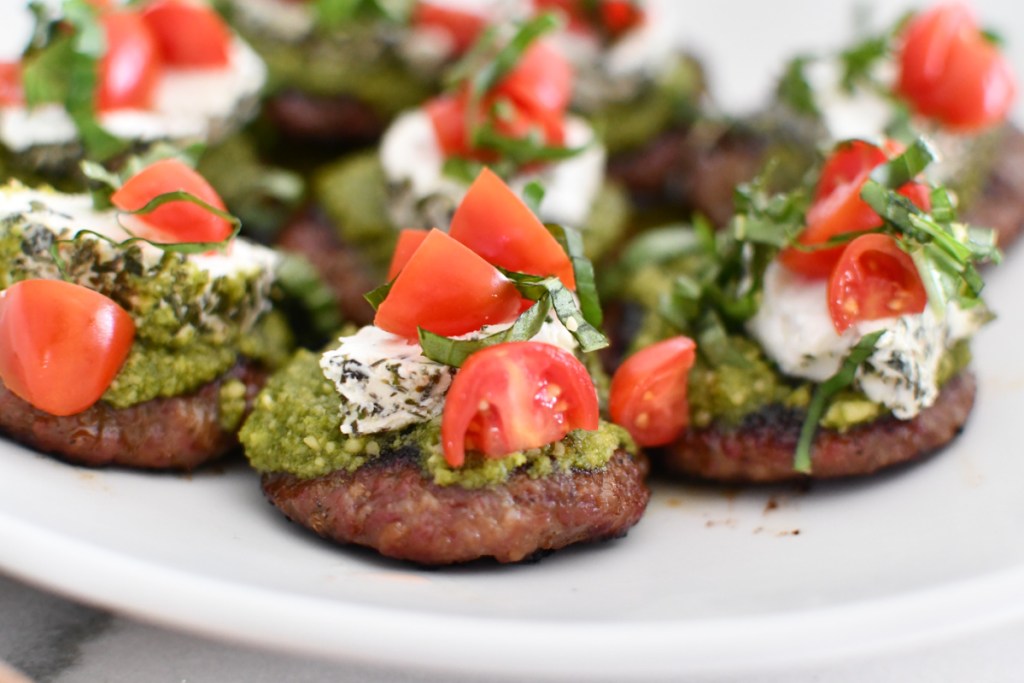 Here's what my Hip sidekick Lina thought of these keto sausage bites:
"I am still thinking of these sausage bites! They are keto perfection. The combo of creamy goat cheese and hearty sausage is so delicious. What an awesome recipe that is easy to accomplish and totally satisfying. Love everything about these sausage bites!!"
---
Try our cheesy zucchini pizza bites next!