Must-Make Keto Pumpkin Meatballs (Our New Favorite Fall Recipe)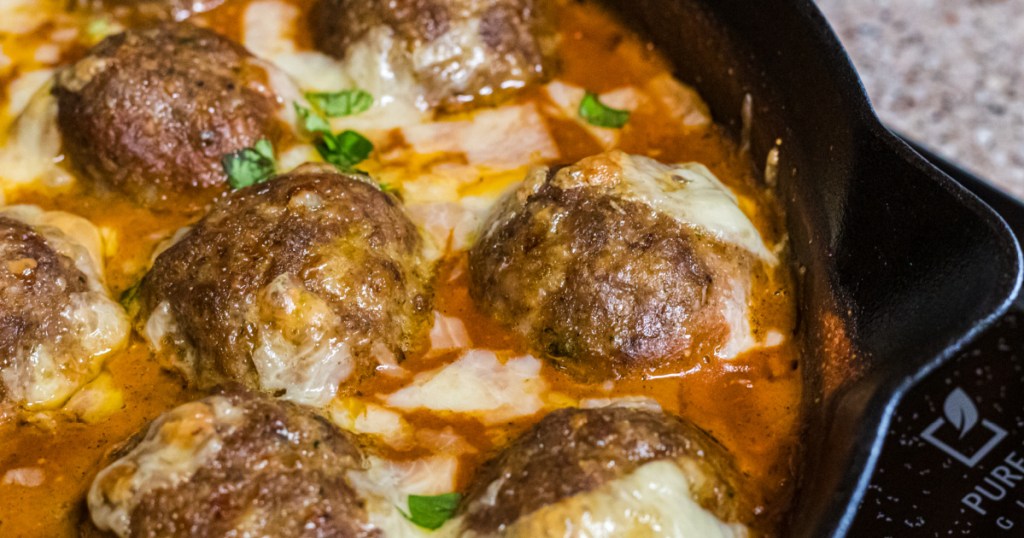 Can't get enough of that yummy pumpkin flavor? 🎃
Fall is just around the corner and like most of you, I'm already craving all things pumpkin. Today I'm sharing with you a delicious low-carb recipe for keto pumpkin meatballs. This savory dinner is sure to be a hit with your family and will give you that delicious pumpkin taste you've been craving!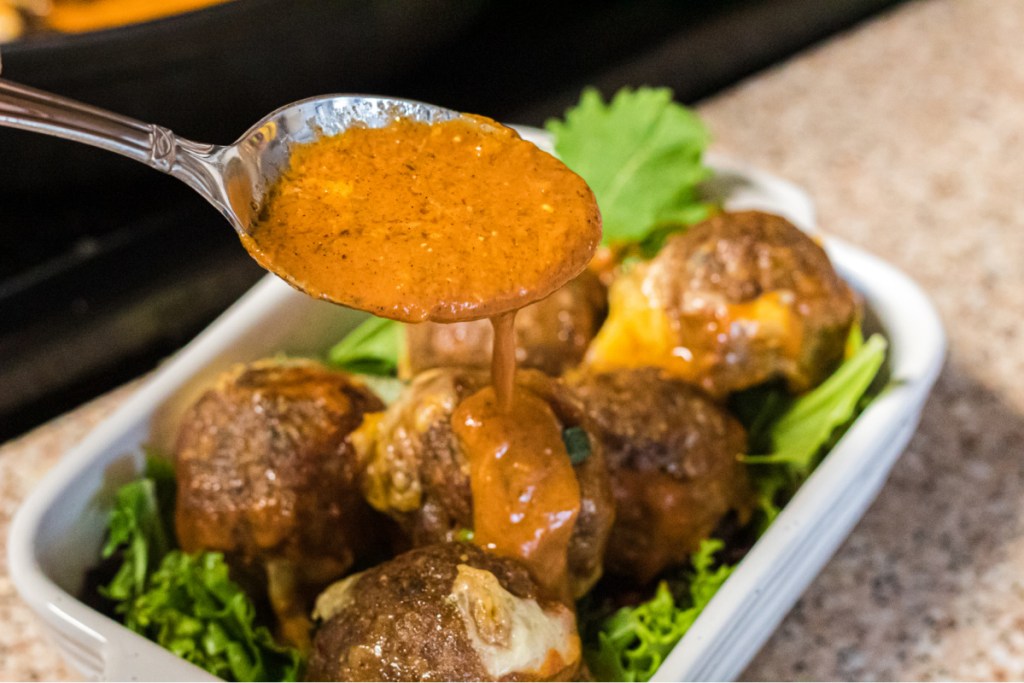 These low carb pumpkin meatballs are packed with flavor and are perfect for meal prepping ahead of time so you can just pop them in the microwave when you're running short of time. Plus, they're so hearty and filling that even the biggest appetites will be satisfied, especially when served with mashed cauliflower, squash, or even zoodles.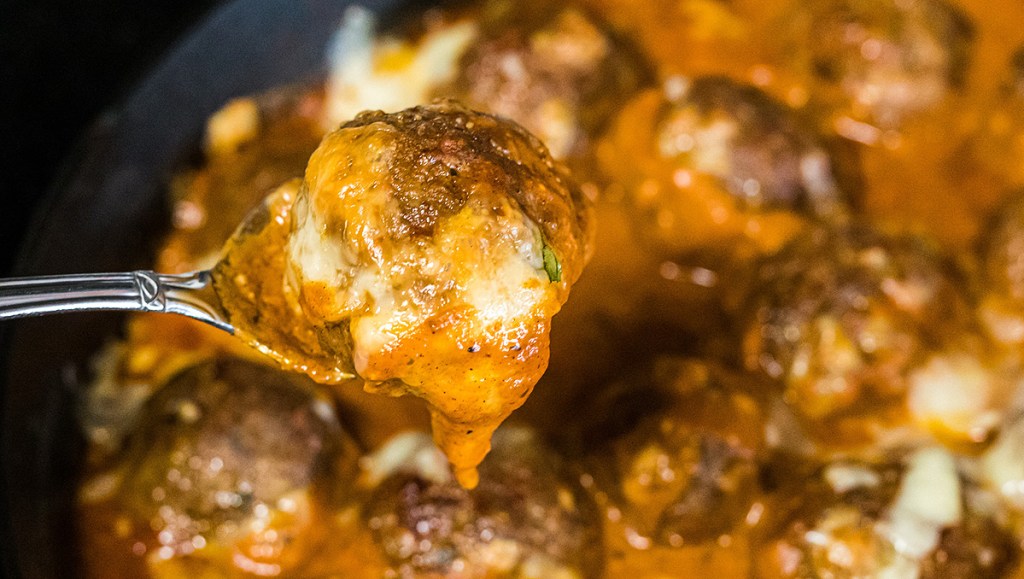 Here are a couple of recipe tips to keep in mind when making keto pumpkin meatballs:
These meatballs freeze beautifully, so feel free to double or even triple the batch so you can have some to freeze and have on hand for next time.
Be sure and use pure pumpkin puree and not pumpkin pie filling, which is loaded with sugar!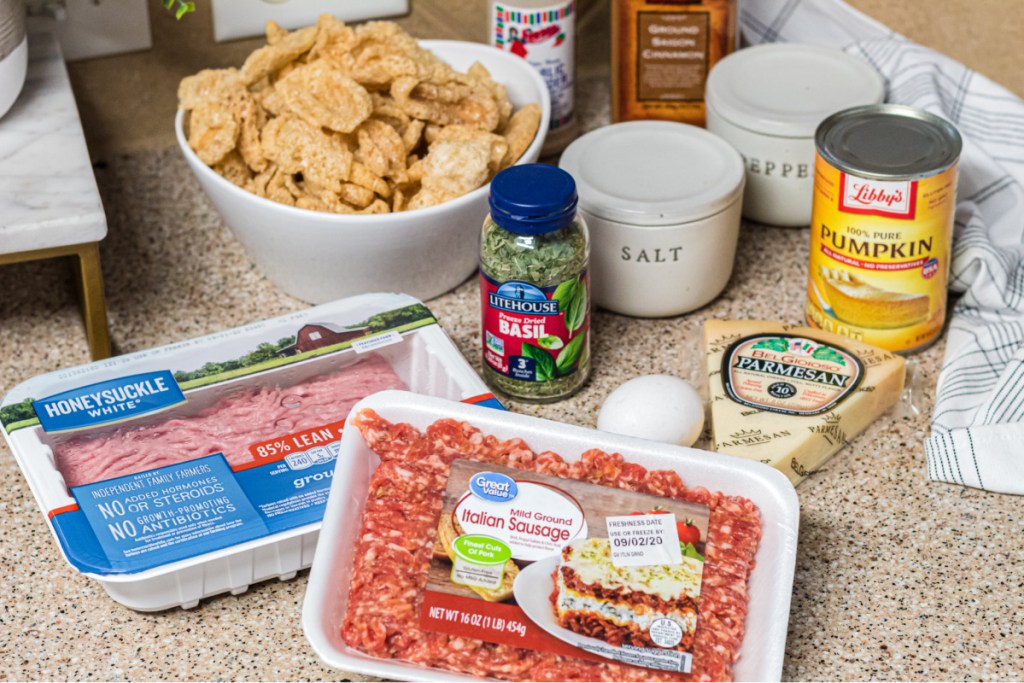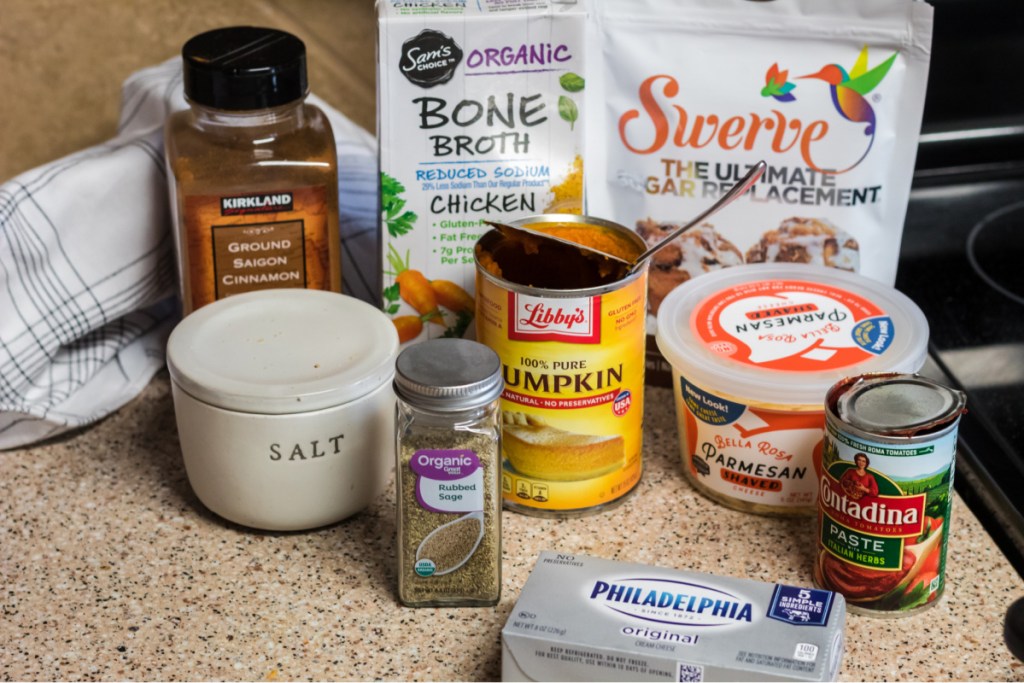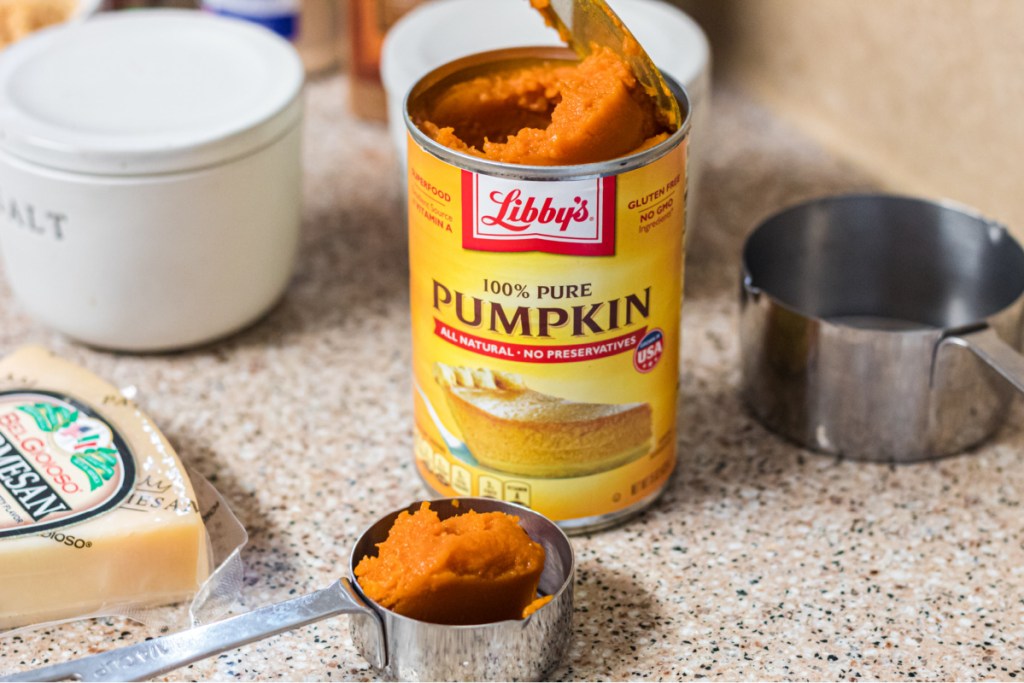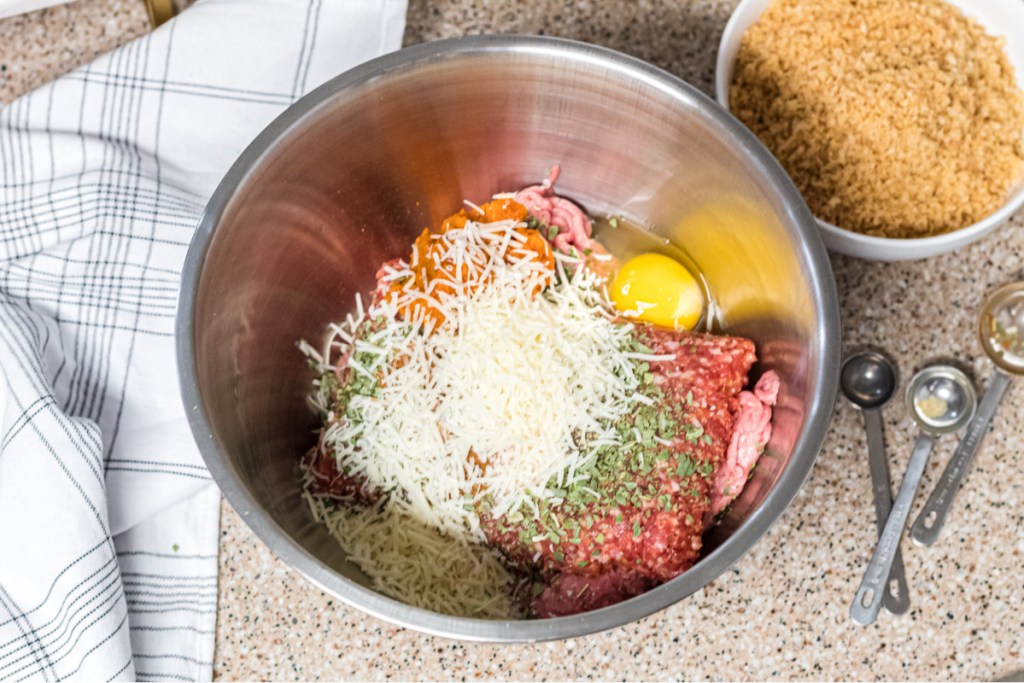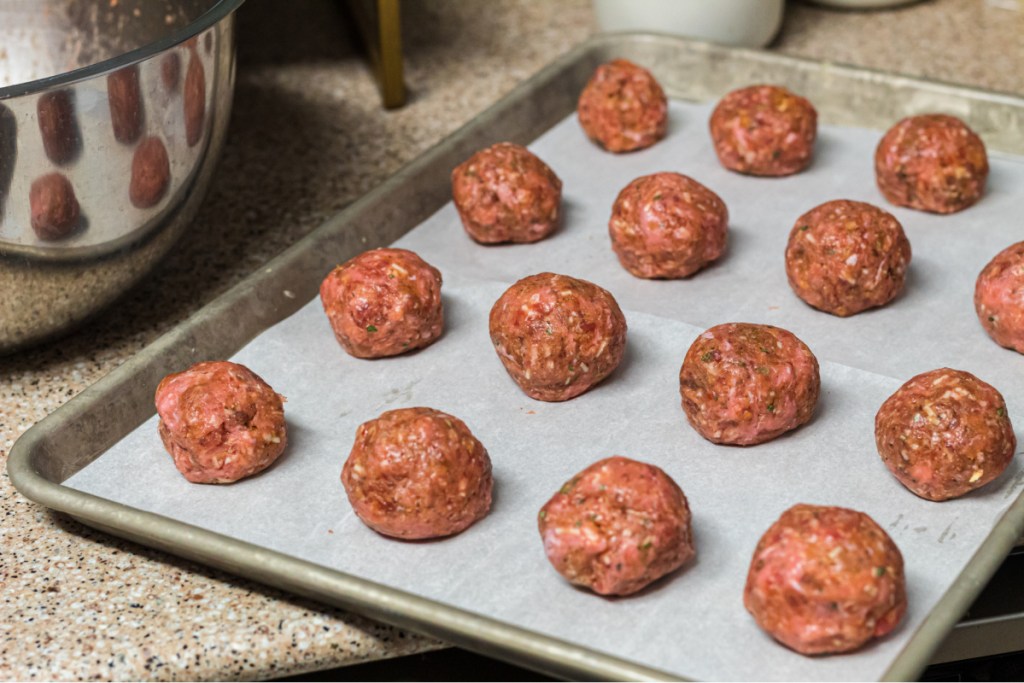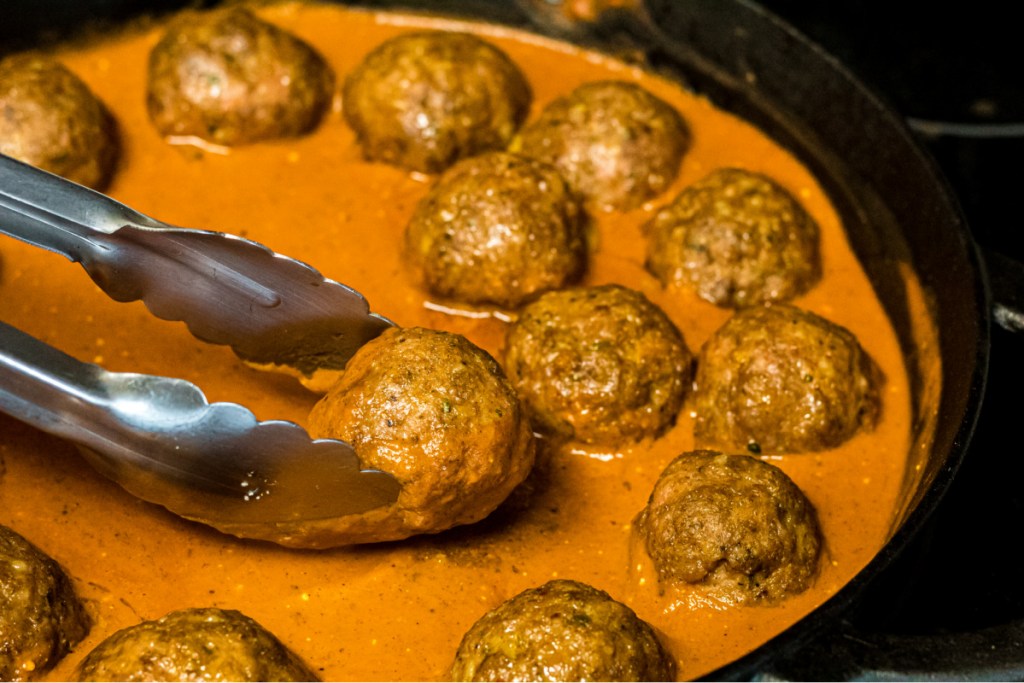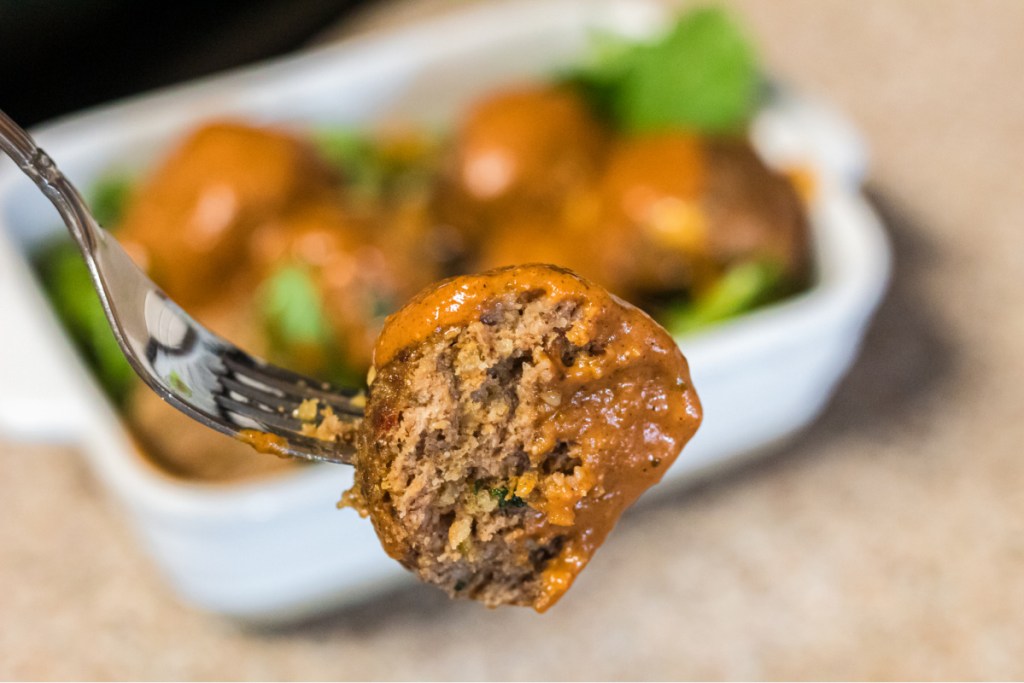 ---
Print
Keto Pumpkin Meatballs
yield: 12 SERVINGS
prep time: 15 MINUTES
cook time: 30 MINUTES
total time: 45 MINUTES
Delicious savory and sweet low carb pumpkin meatballs that are perfect for dinner or as an appetizer!
Ingredients
Meatballs:
1 lb. ground turkey
1 lb. ground Italian sausage
1 teaspoon basil
1/2 to 1 teaspoon salt
1 teaspoon pepper
1 teaspoon garlic powder
1 egg
1/2 cup parmesan cheese, shredded
Pumpkin Sauce:
3 tablespoons butter
1 cup chicken broth
3 tablespoon tomato paste
1 tablespoon cinnamon
1 teaspoon sage
1/2 teaspoon salt
3 oz. cream cheese
1 cup parmesan cheese, shaved or shredded
Directions
2
In a large bowl, add all meatball ingredients together and mix well. I use my hands but you can use a meat chopper if you like.
3
Roll 2-inch size meatballs and place them on a lined baking sheet. This recipe will make 24 meatballs.
4
Bake in a preheated oven for 20 minutes. Once 20 minutes are up, remove from oven and set aside.
5
To make the pumpkin sauce:
In a large cast-iron skillet, melt butter over low-medium heat. Add in brown Swerve and whisk. Whisk in chicken broth, tomato paste, and pumpkin puree. Add in spices and cream cheese. Whisk until the sauce has reached a soft boil.
6
Add meatballs to the sauce and sprinkle shredded parmesan cheese over meatballs.
7
Turn oven to 400 degrees. Place cast-iron skillet in the oven for 10 minutes or until cheese has melted.
Nutrition Information
Yield: 24, Serving Size: 2
Amount Per Serving: 377 Calories | 26 Fat | 7g Total Carbs | 1g Fiber | 1g Sugar Alcohol | 27g Protein | 5g Net Carbs
---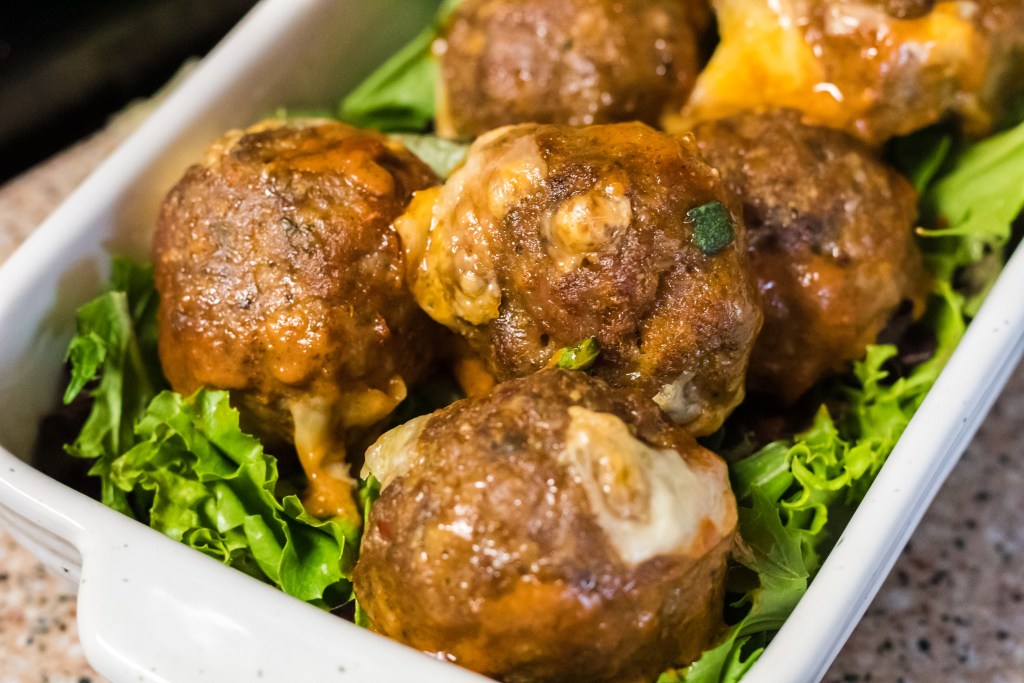 A keto-friendly meatball recipe enjoyed by all!
I love sharing the low carb recipes I make with non-keto friends and family to see what they think. I let my neighbors try these meatballs, and they had no idea they were keto, and they totally loved them! Even the husband, whose not a pumpkin fan, liked them. Mission accomplished!
---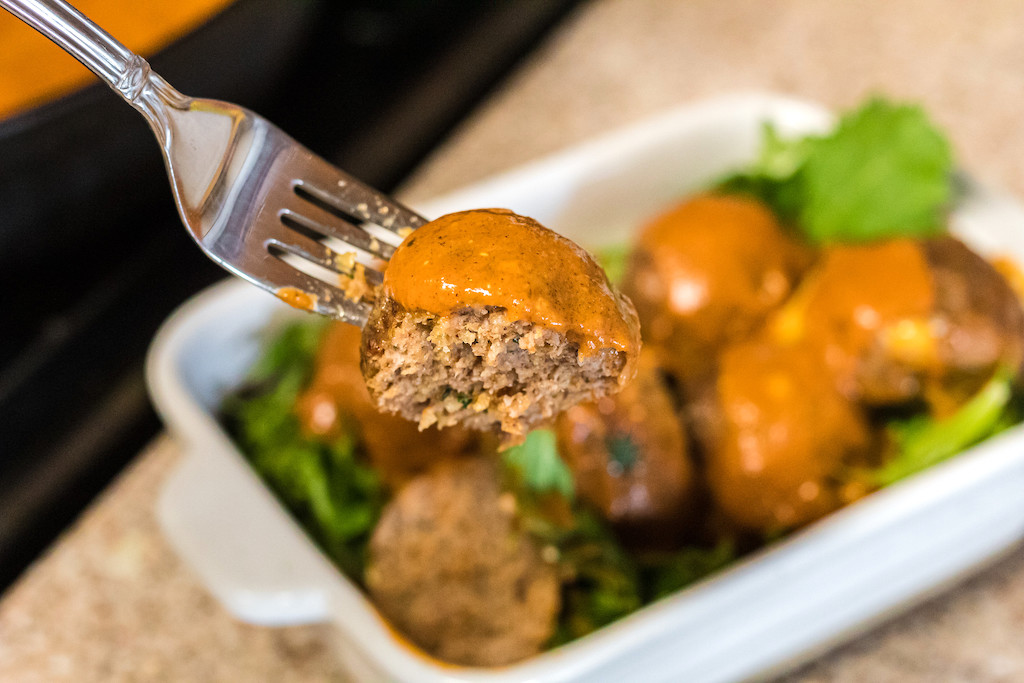 My team member, Jenna, gave this recipe a test for me, and here's what she had to say:
"Oh my gosh, I want this sauce on everything and I absolutely LOVE this dish! The flavors are so incredible together, and not only are the meatballs perfect, but the sauce is outta this world. After all the meatballs were gone, I was eating the sauce with a spoon from the skillet – yep, it was that good." – Jenna
---