Keto Pumpkin Alfredo with Italian Sausage
This keto pumpkin alfredo with Italian sausage oozes cozy fall flavors.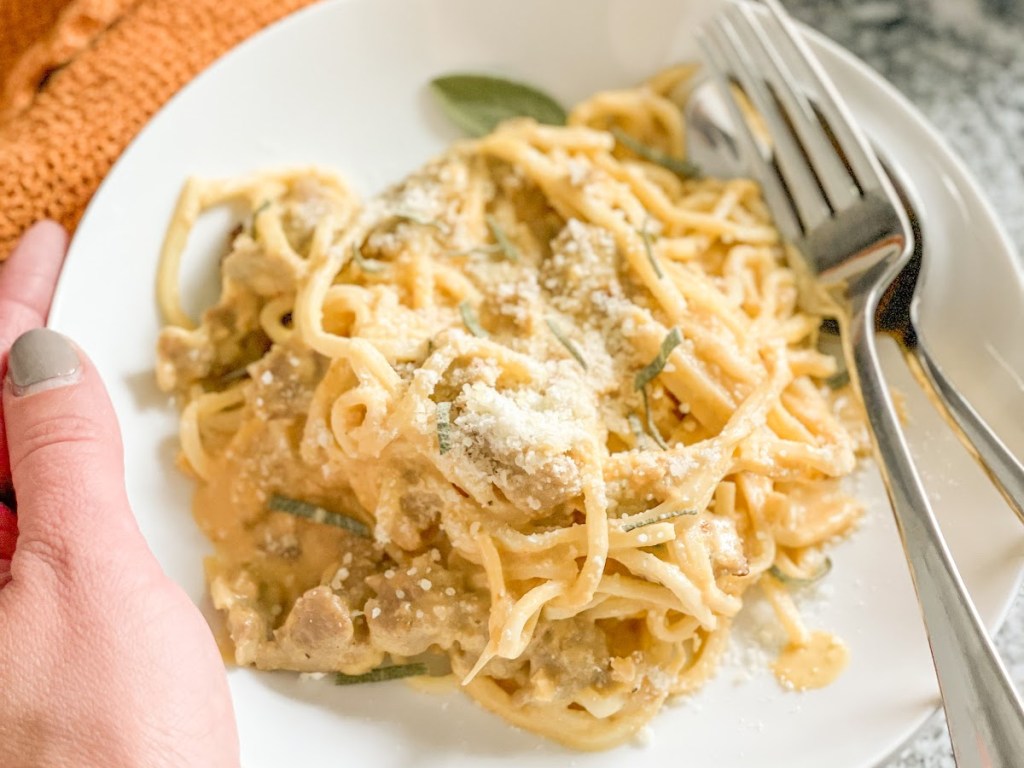 Keto Pumpkin Alfredo with Italian Sausage is one of the best pasta meals this time of year.
If you're all about pumpkin everything, this recipe is for you! Our keto pumpkin alfredo is the ultimate rich and creamy, savory sauce. Add in all that parmesan cheese, crispy, browned Italian sausage, fresh garlic and sage; the flavor combination is pure perfection.
We have a non-keto version of this dish on Hip2Save.com that was used as inspiration for this recipe. To make it keto, I swapped in Palmini linguine noodles instead of fettuccine. We have a whole product review on Palmini noodles here along with tips on how to cook them.
I also added sausage to up the protein intake and also because it pairs so well with pumpkin. There's no shortage of tantalizing flavors here!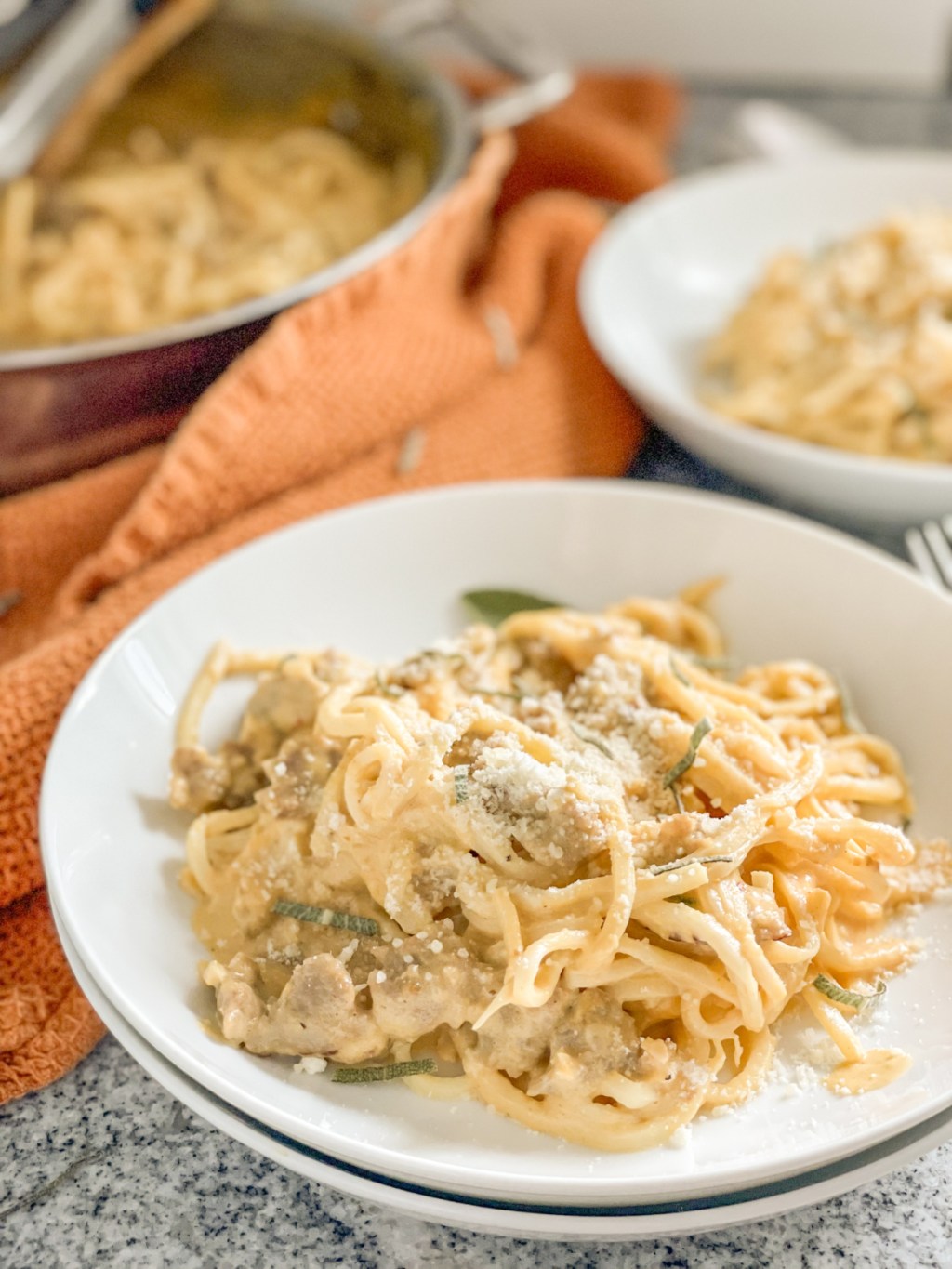 Is pumpkin keto?
Pumpkin definitely has its place on the keto diet. Depending on where you look online and on the brand of canned pumpkin, it has anywhere from 6 to 8 grams of net carbs per 1/2 cup. And I doubt anyone is eating a 1/2 can of pumpkin at once!
If you have a recipe that uses 1 cup of pumpkin and makes 6 servings, that's only 2.3 grams of net carbs per serving from pumpkin. That's based on using 7 grams of net carbs per 1/2 cup.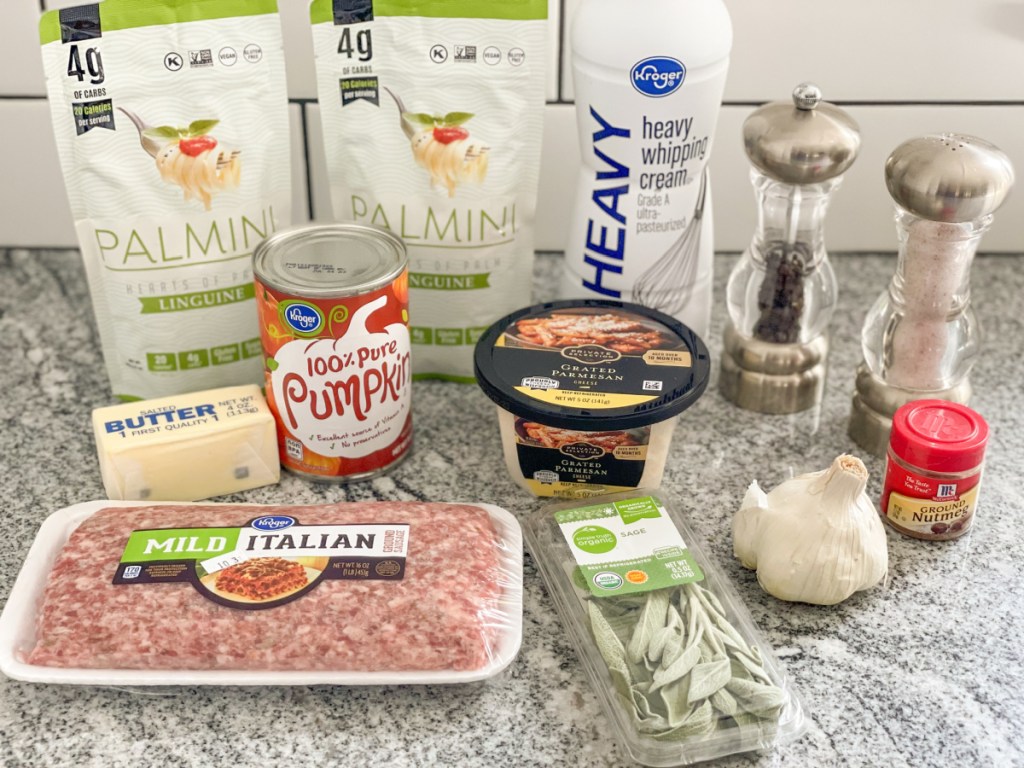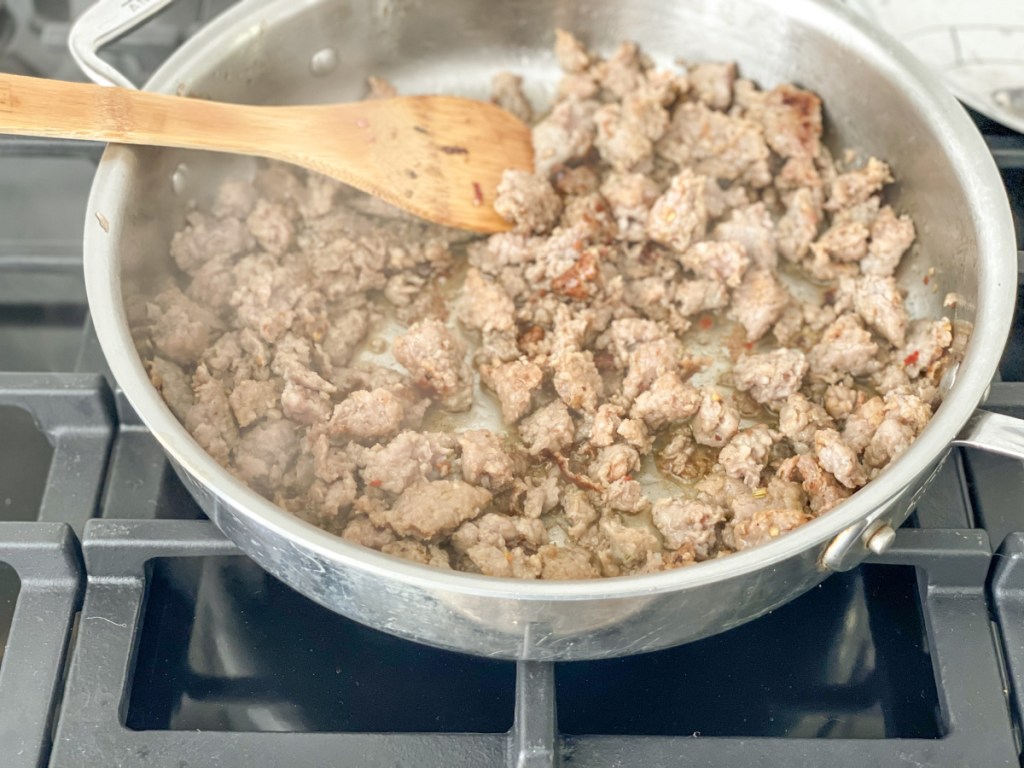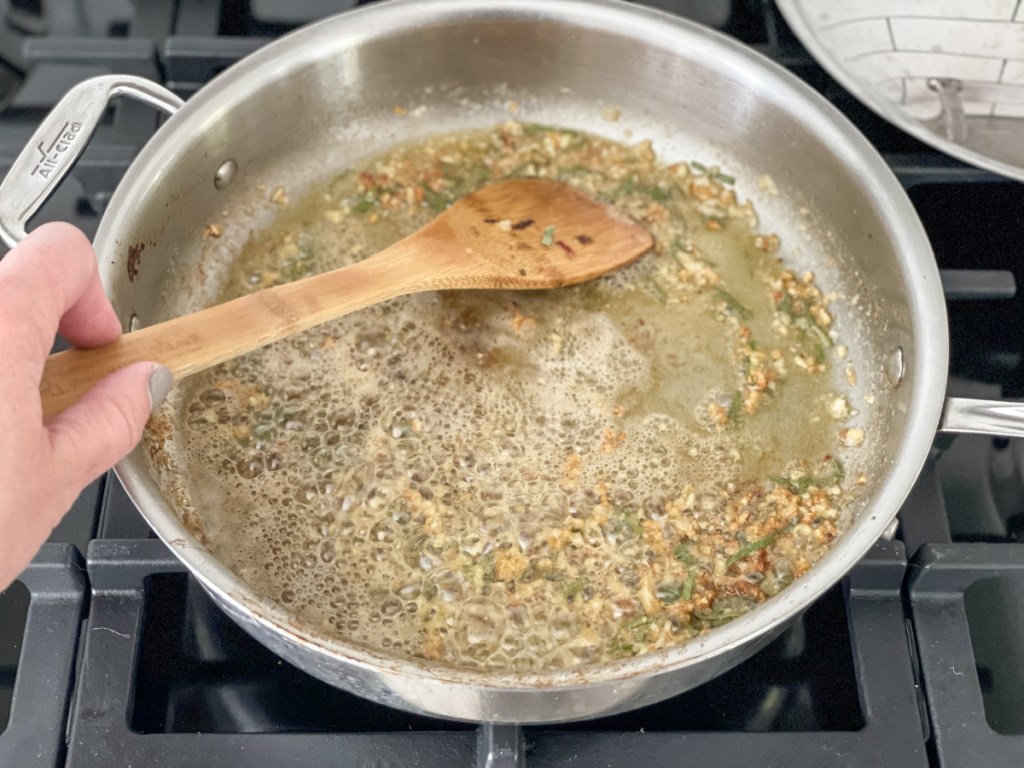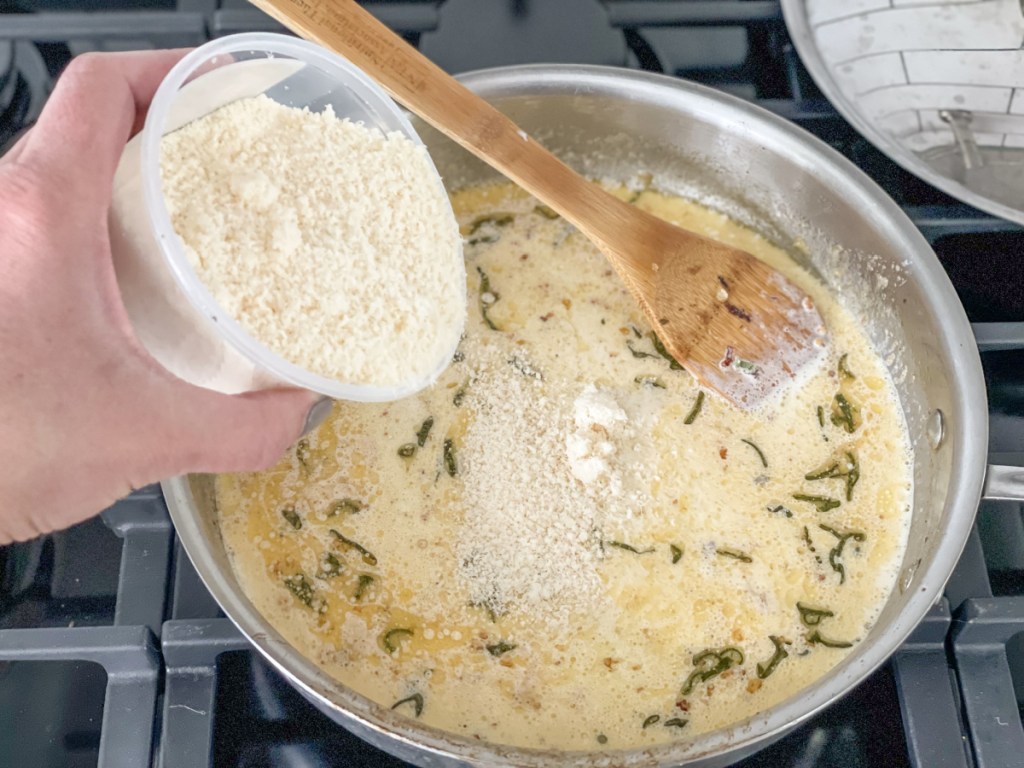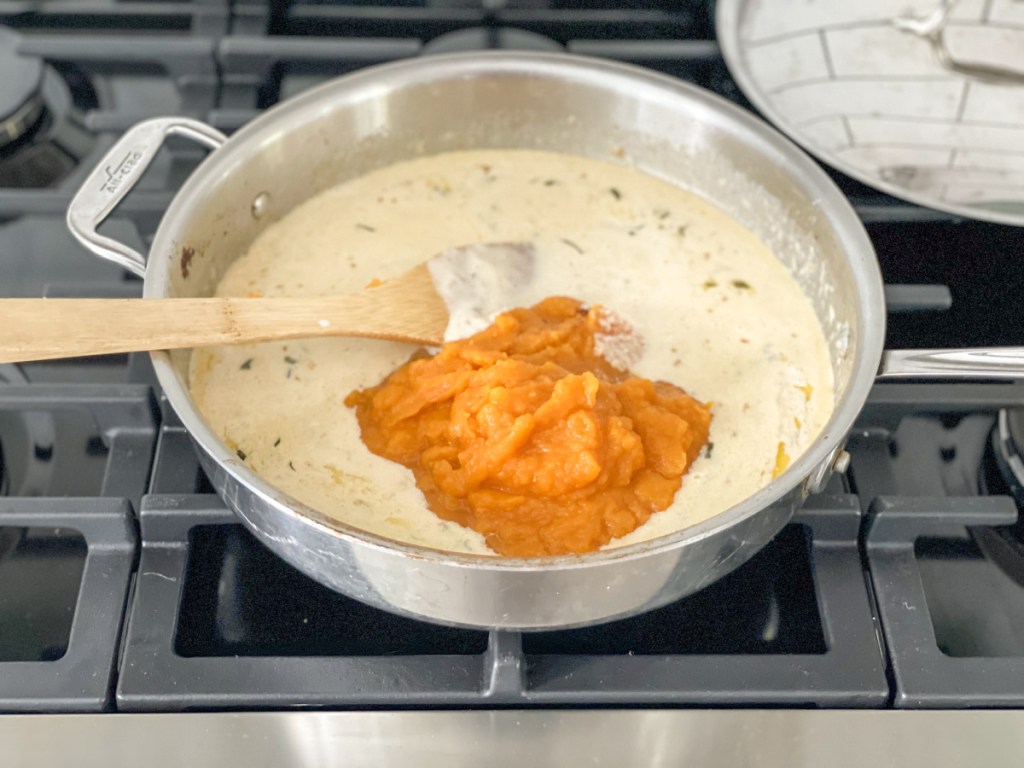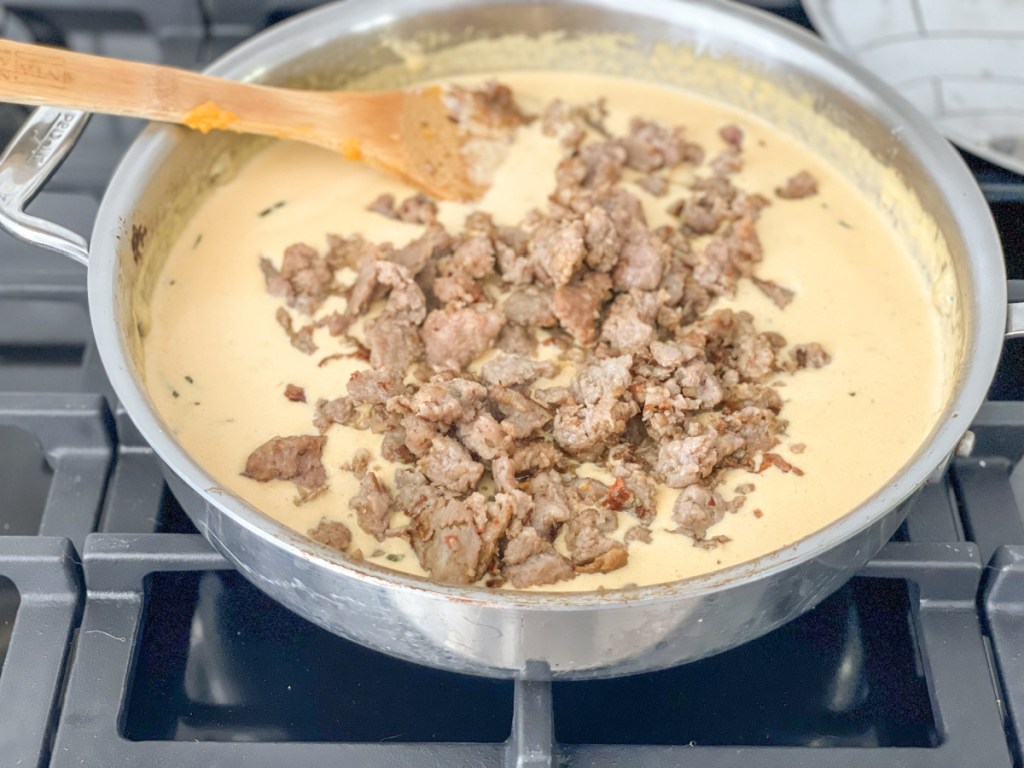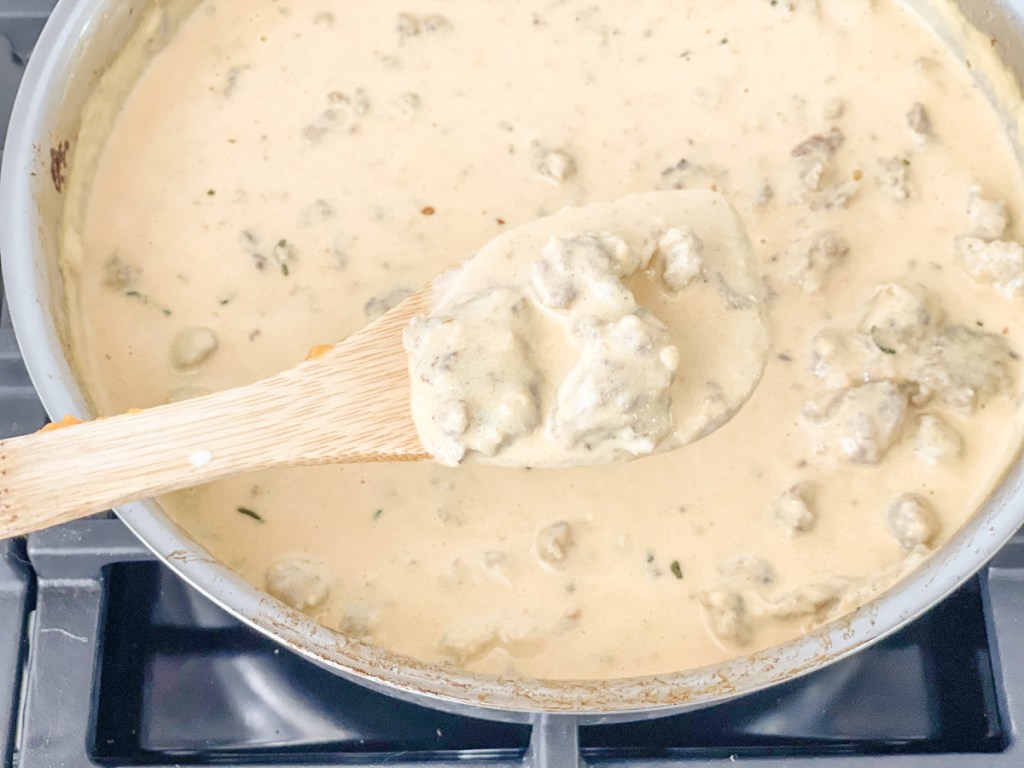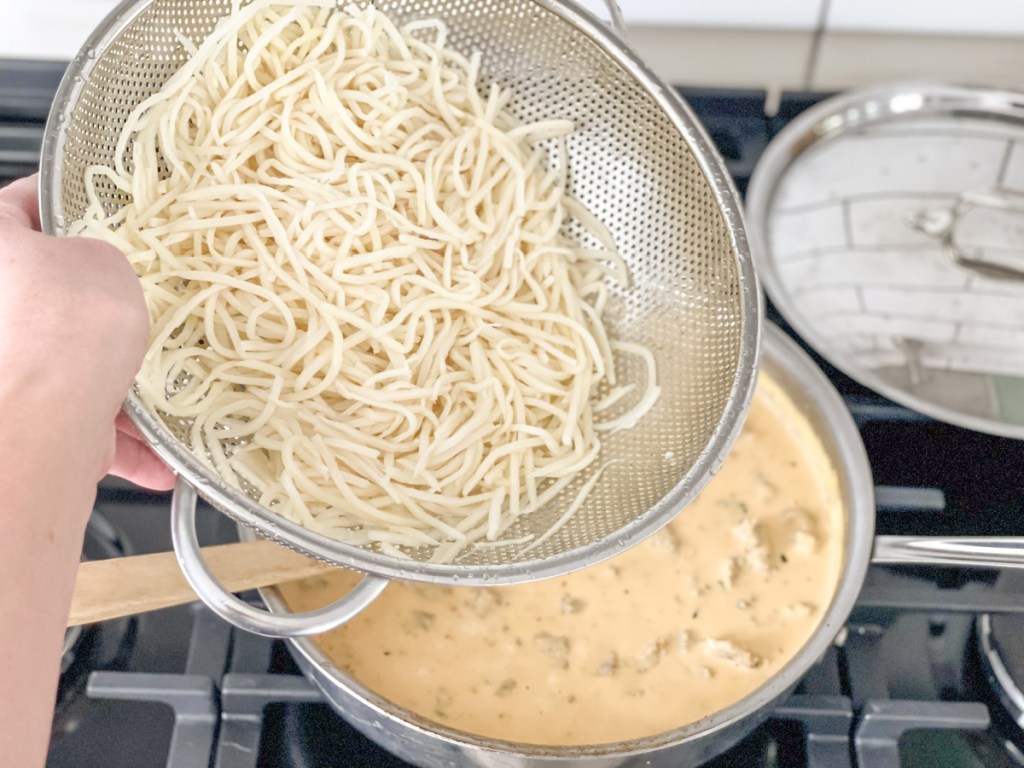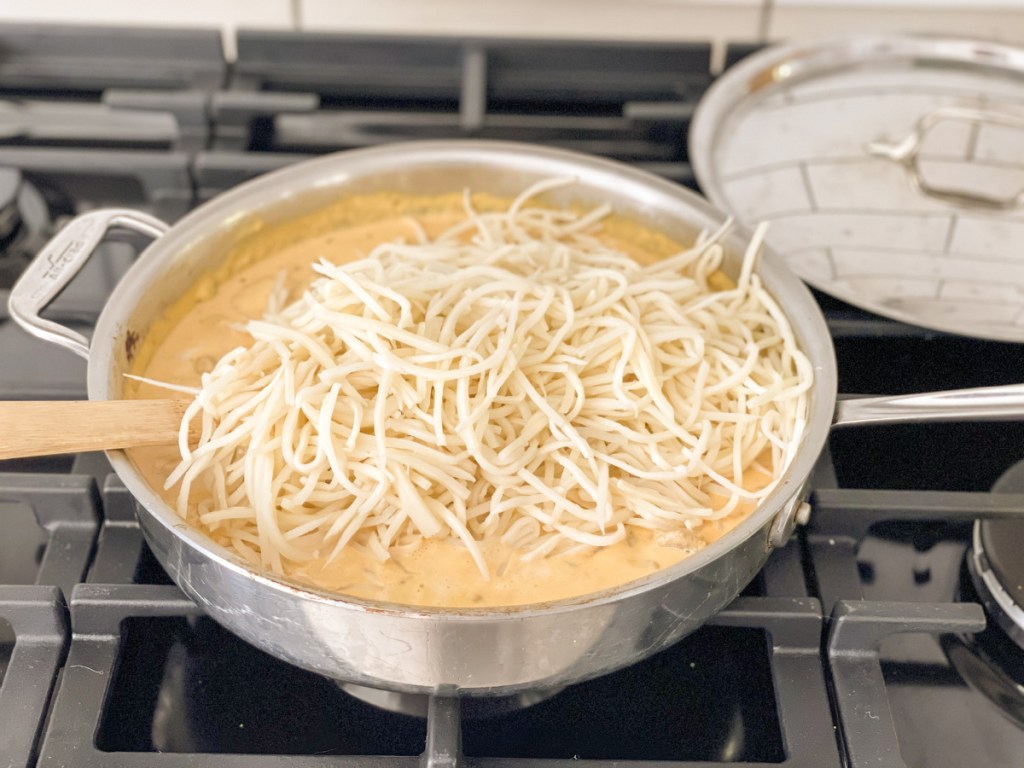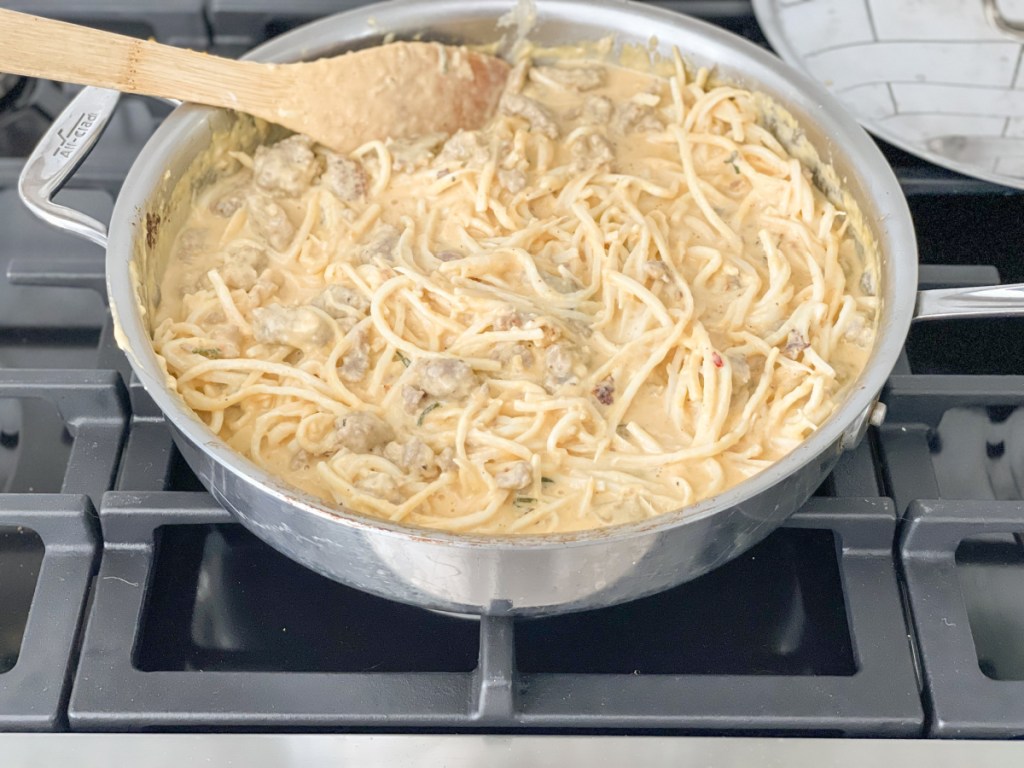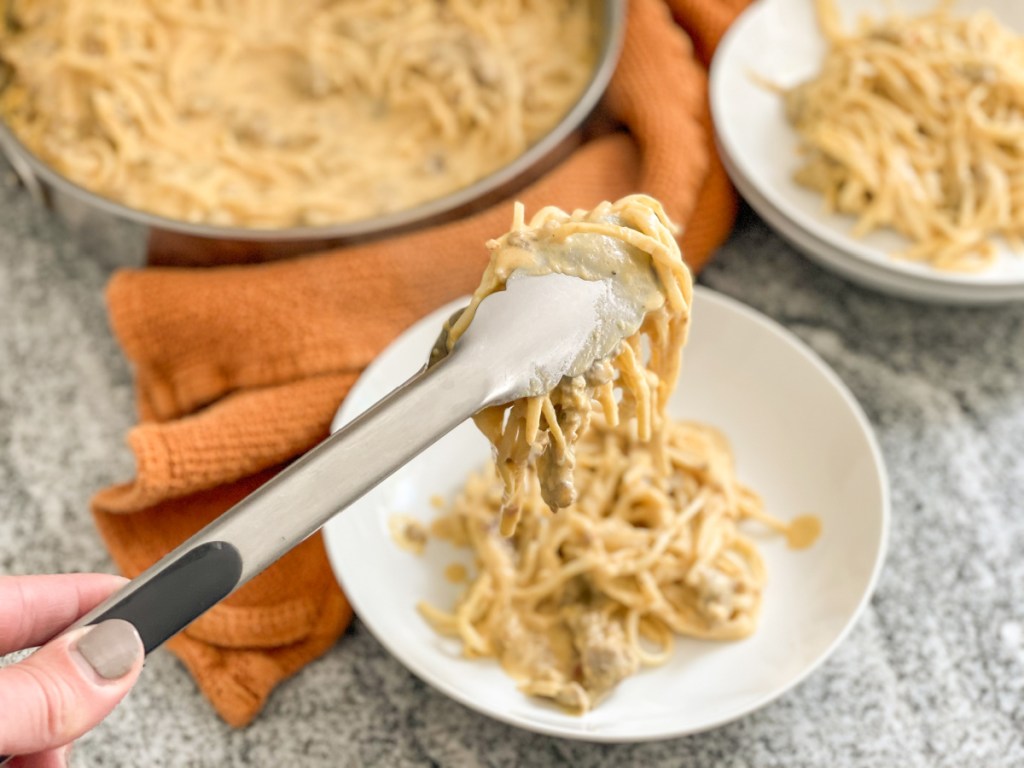 ---
Print
Keto Pumpkin Alfredo w/ Italian Sausage
yield: 6 SERVINGS
prep time: 15 MINUTES
cook time: 20 MINUTES
total time: 35 MINUTES
Rich, creamy, and savory pumpkin alfredo sauce with Italian sausage served over Palmini linguine noodles.
Ingredients
1 pound ground Italian sausage
5 tablespoons butter
6 garlic cloves, minced
6 fresh sage leaves, cut into thin strips
1 1/2 cups heavy whipping cream
1 1/2 cups (5 ounces) grated Parmesan
1/4 teaspoon salt
1/4 teaspoon pepper
pinch of nutmeg
additional parmesan and fresh sage for topping
Directions
1
Brown the Italian sausage in a large skillet over medium heat. Break up into small pieces. Once no longer pink (about 10 minutes), remove from skillet and set aside. Wipe the excess grease from the skillet with a paper towel.
2
Using the same skillet, melt the butter over medium heat. Once melted, add the minced garlic and sliced sage leaves to the skillet and sauté for about 30 seconds to one minute.
3
Stir in heavy whipping cream, parmesan, salt, pepper, nutmeg, and pumpkin. Let simmer over low heat for 5 minutes, stirring occasionally.
4
While the sauce is simmering, open Palmini Linguine and pour it into a colander. Rinse with water and let drain.
5
Add the sausage back into the pumpkin alfredo sauce. Stir to combine. Then add the drained Palmini linguine noodles to the skillet. Stir until the Palmini noodles are coated with the pumpkin alfredo sauce. Let simmer for an additional 5 to 10 minutes, stirring occasionally.
6
To serve, top with parmesan and fresh sage. Enjoy!
Nutrition Information
Yield: 6 servings, Serving Size: about 1 1/2 cups
Amount Per Serving: 636 Calories | 57.4g Fat | 12.8g Total Carbs | 3.4g Fiber | 4.1g Sugar | 23.1g Protein | 9.4g Net Carbs
---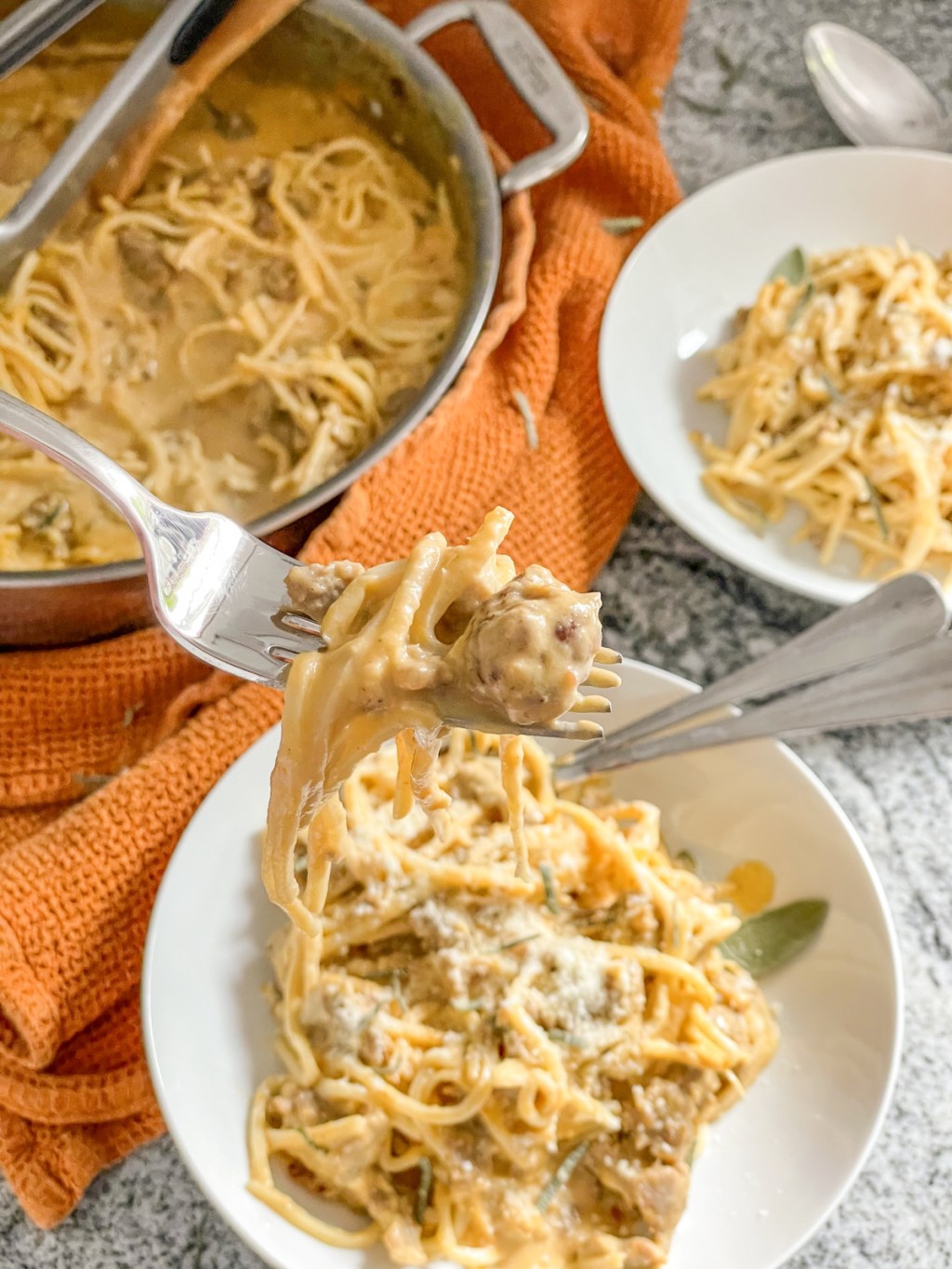 Tips for making the best keto pumpkin alfredo with Italian sausage:
Brown the Italian sausage first and then remove it from the skillet. Wipe the skillet out with a paper towel and use that same skillet to make the rest of the meal. No need to get two pans dirty!
Feel free to use spicy Italian sausage for a bit of a kick or you could add a 1/2 teaspoon of red pepper flakes.
Make sure you get canned pumpkin purée and not canned pumpkin pie mix! The latter will have extra sweetness and unnecessary carbs.
The sauce will thicken the longer you let it simmer. So if you like a thicker sauce, simmer it on low for an additional 5 to 10 minutes.
This makes great leftovers. It'll keep in the fridge for up to 5 days (if it lasts that long!).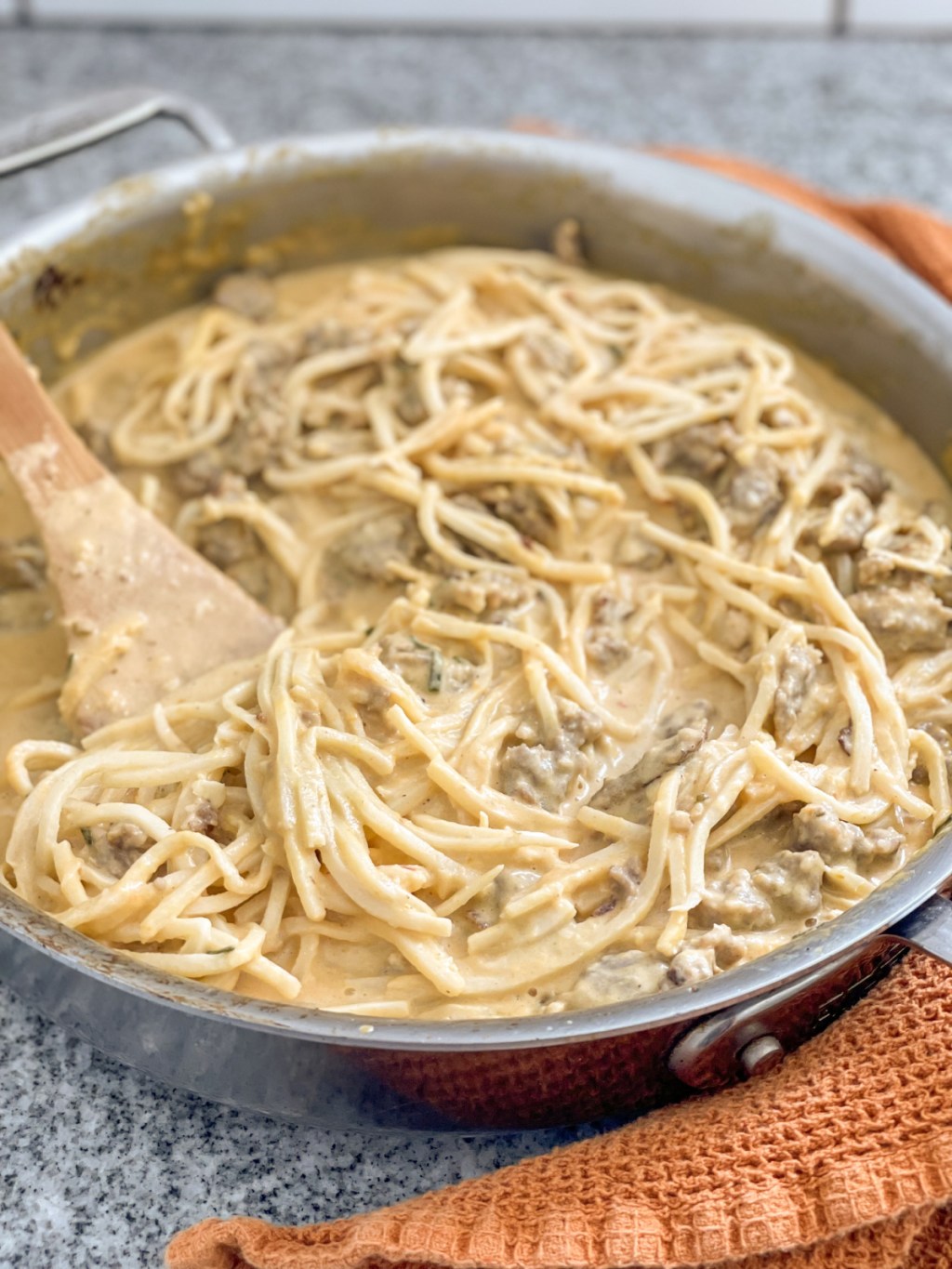 Just the perfect amount of pumpkin is used for this recipe.
Don't get me wrong, sweet pumpkin treats are amazing, but sometimes you need a change. It's nice to mix things up and try a savory pumpkin dish instead of something sweet. I hope you enjoy this keto pumpkin alfredo as much as I did!
If you are looking for something sweet, check out all of our keto pumpkin recipes!
Here's what my Hip sidekick Jenna thought of this keto pumpkin alfredo:
"I cannot get enough of this pumpkin sauce… WOW! It's got the most amazing savory flavor. I have never tried the fettuccini Palmini before, how fun! They were the perfect keto-friendly pasta addition to this dish. I can't wait to have this for lunch again tomorrow, it's that good. Also, it reheats nicely. Yum yum yum!"
---
Craving fall comfort food? Try our slow-cooker keto taco soup next!