PB&J Parfait with Whipped Salted Peanut Butter Mousse: The Best Nostalgic Keto Treat!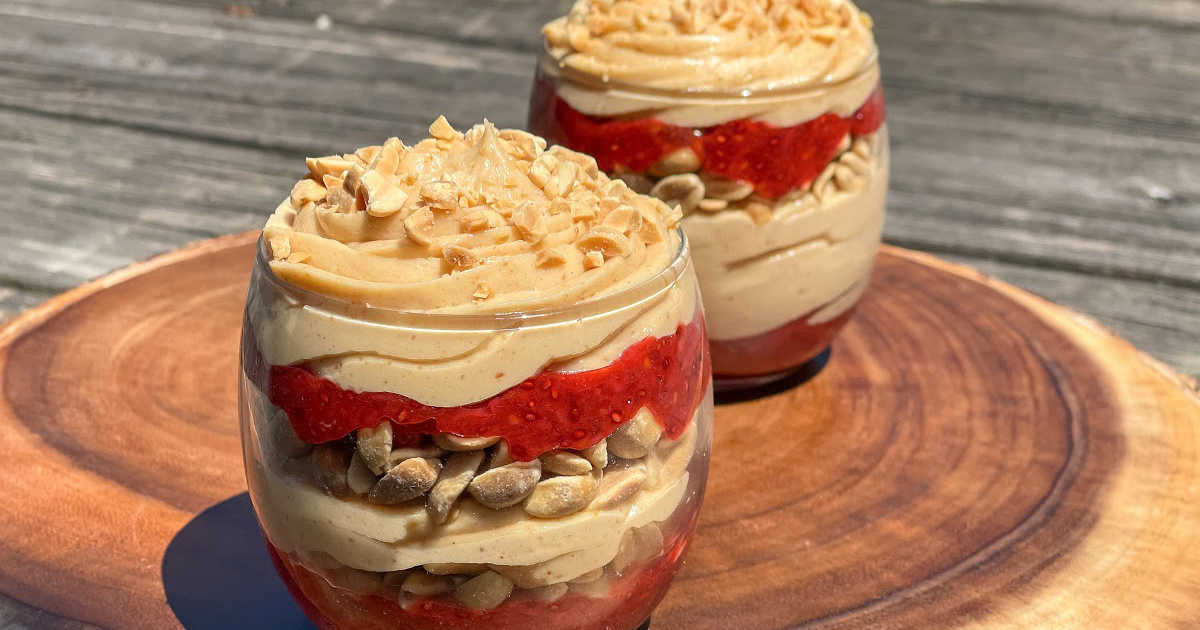 What time is it? It's Keto Peanut Butter Jelly Time!!!
Do you miss peanut butter and jelly sandwiches on keto? Get your fix with this keto PB&J parfait using our whipped salted peanut butter mousse recipe… with only 5 ingredients! 👏😱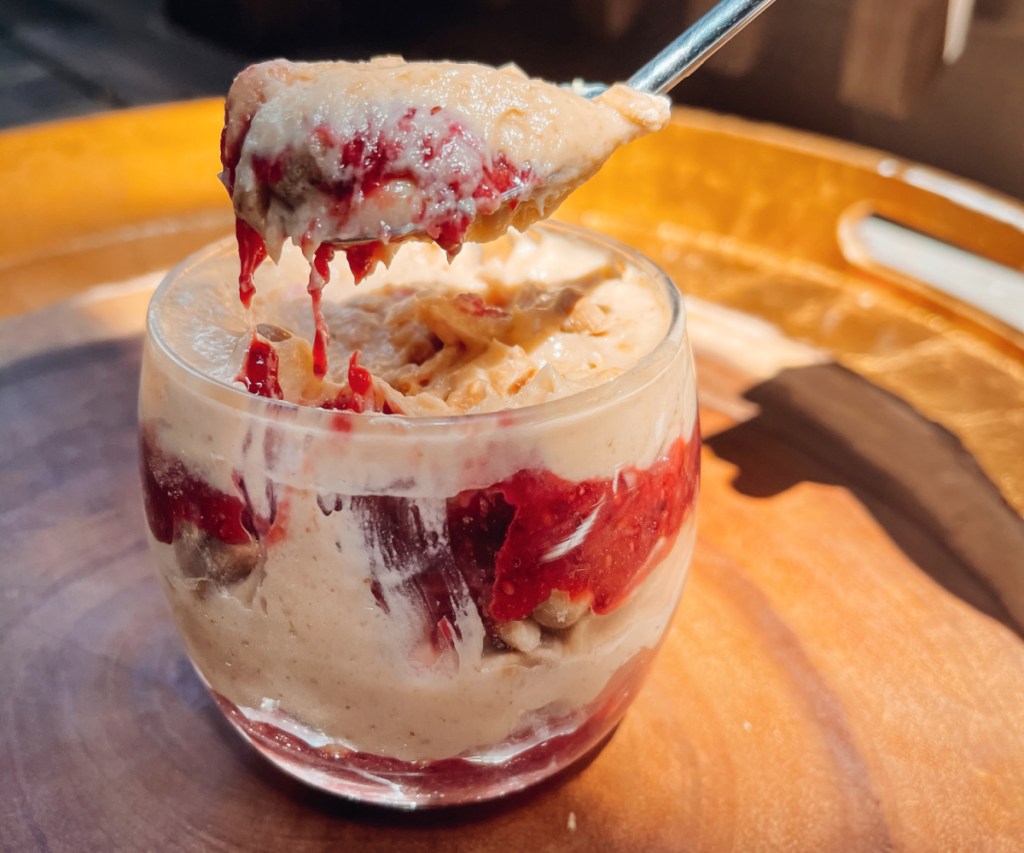 Get all the PB&J nostalgia with none of the carbs!
One of the greatest things about moving from South America to the US as a kid was discovering peanut butter! At 7 years old I tasted peanut butter for the first time and my life was never the same.
Peanut butter quickly became my go-to for all the obvious reasons; It's delicious straight out of the jar, it's the perfect dip, great in desserts, and made the best school lunch in a PB&J. Luckily, this keto recipe gives you all the nostalgia of the classic sandwich without all of the carbs!
I was inspired to make this recipe after drooling over Arman's keto peanut butter mousse. I added a little salt and layered in some keto jam for a PB&J twist!
Tips for making the best whipped salted peanut butter mousse and PB&J parfait:
Use smooth and creamy peanut butter. The natural kind will be more difficult to mix in so just make sure you use very smooth and creamy unsweetened peanut butter that does not separate from the oil.
Room temperature cream cheese. Let your cream cheese sit out for a few hours before making this recipe or else it'll be almost impossible to whip.
Chilled whipping cream. Unlike the cream cheese, make sure your whipping cream is very cold and only taken out of the fridge right before whipping because the fat globules emulsify faster and stay emulsified longer when cold. This makes the fluffiest and airier whipped cream!
Fresh keto berry jam. I made our homemade keto jam for this recipe but feel free to use your favorite keto berry jam to construct your parfait. If you choose to make your own, make sure to prepare the jam first so it can chill in the fridge before being used on the parfait.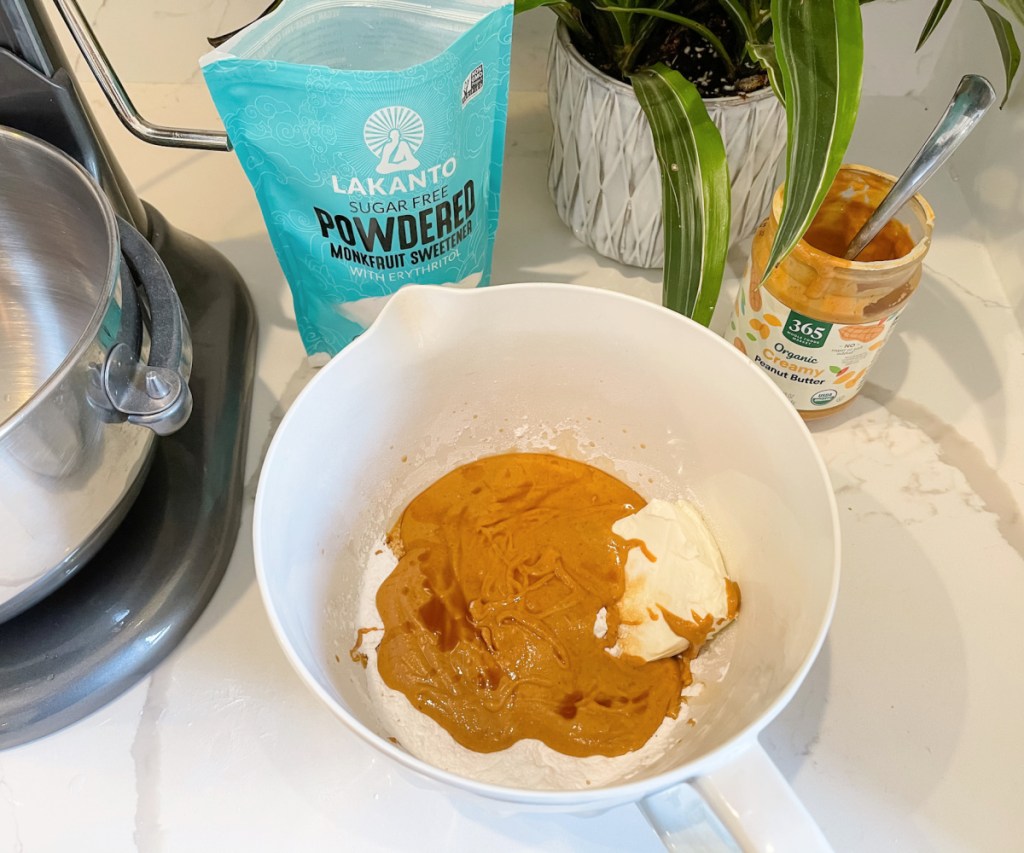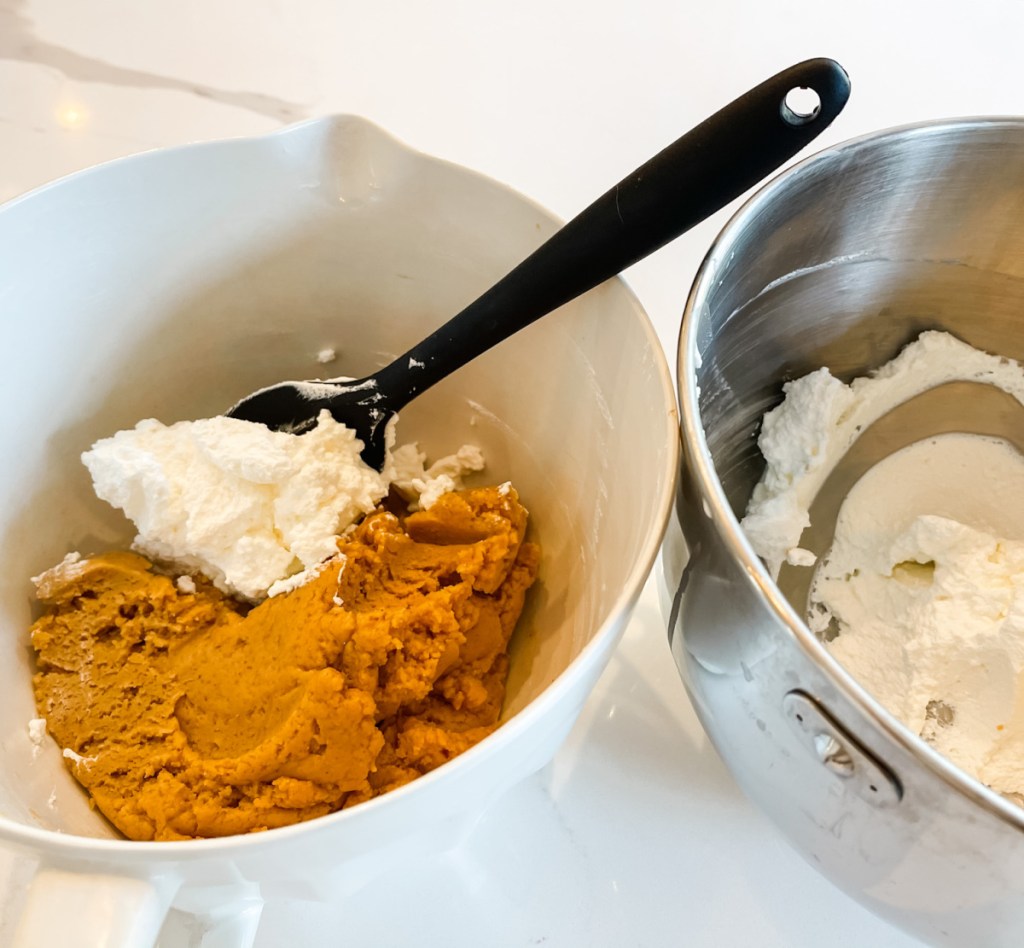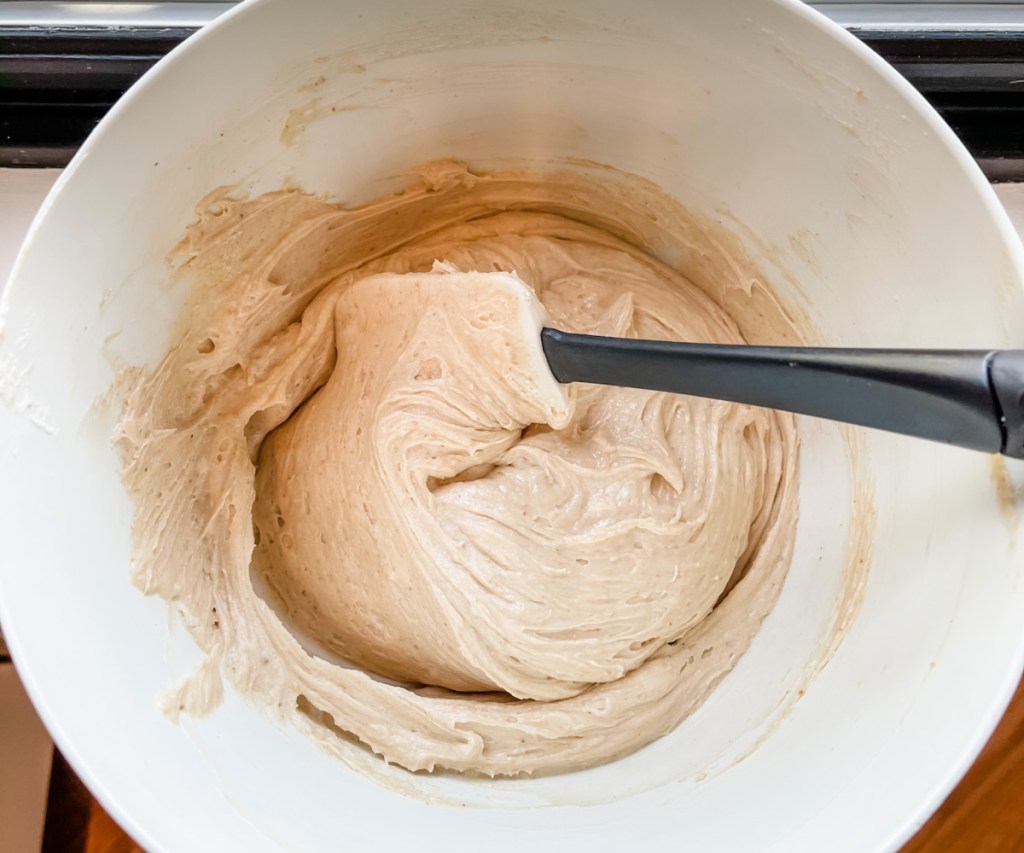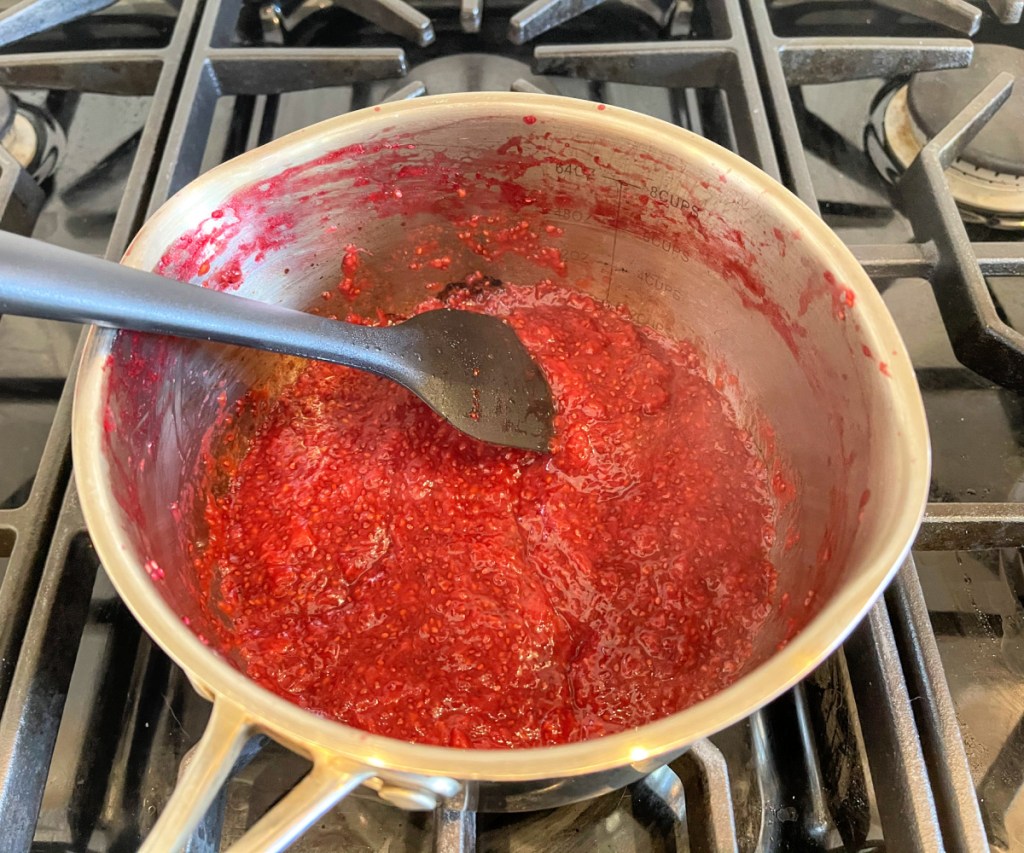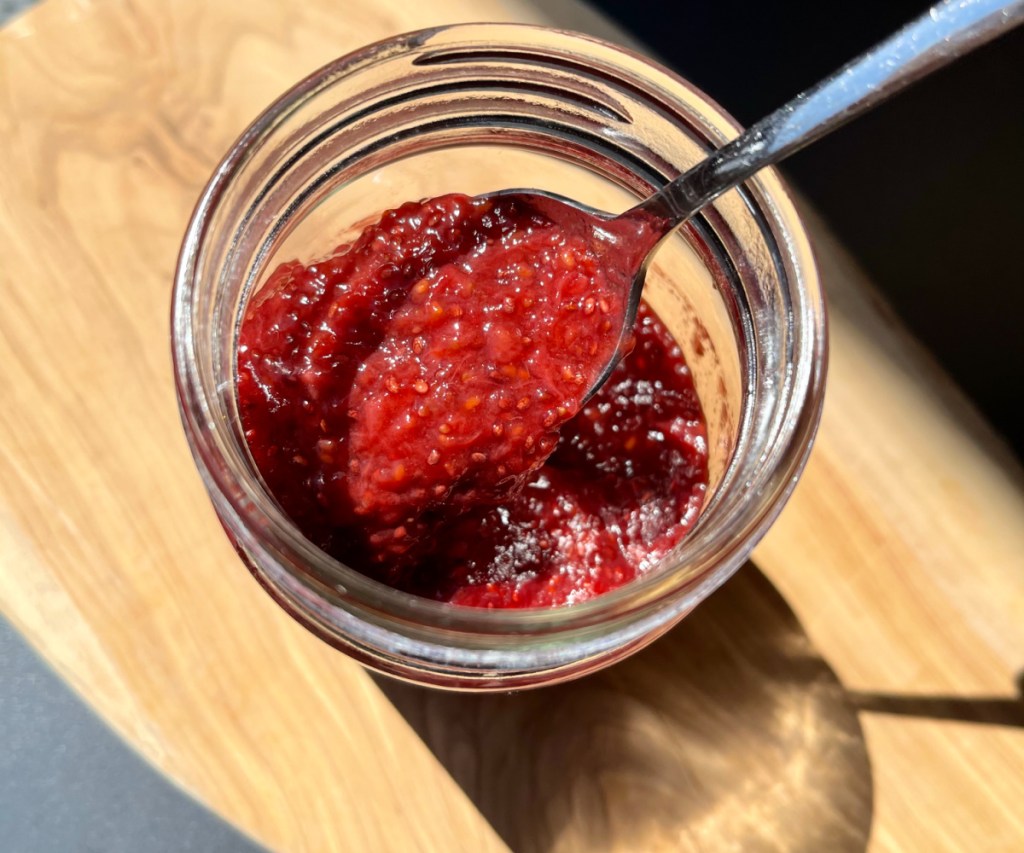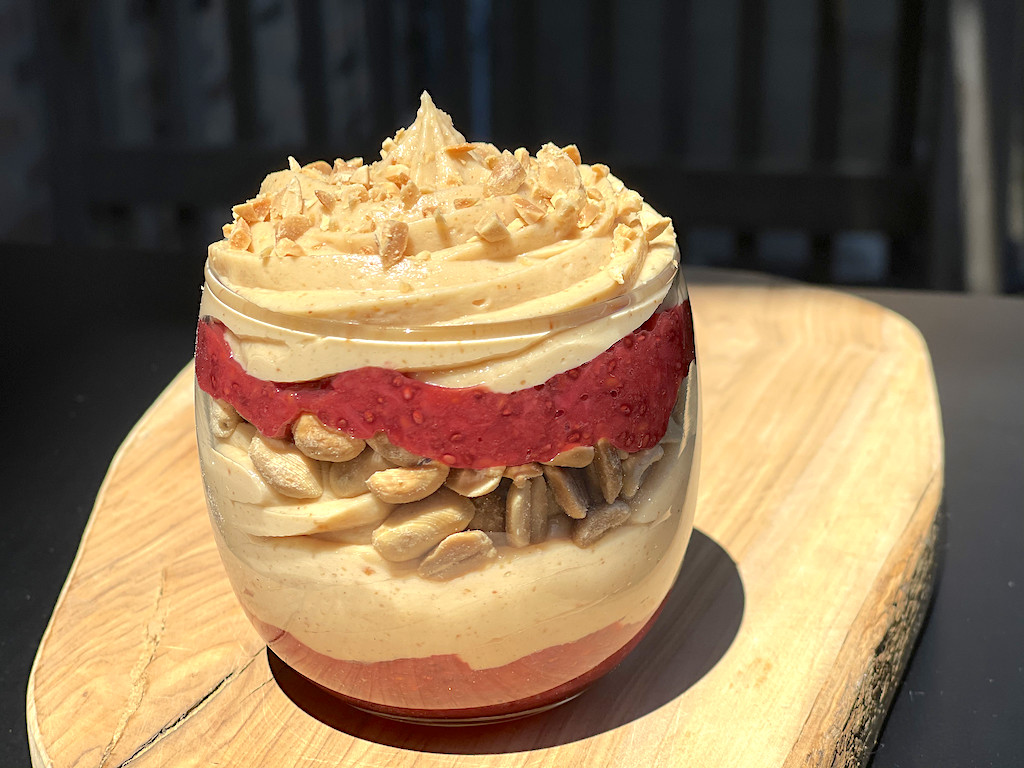 ---
Print
Whipped Salted Peanut Butter Mousse
yield: 12 SERVINGS
prep time: 10 MINUTES
cook time: 15 MINUTES
total time: 25 MINUTES
Light and fluffy peanut butter is whipped with cream cheese for a keto-friendly dessert all will enjoy.
Ingredients
Whipped Salted Peanut Butter Mousse:
1 1/2 cups unsweetened creamy peanut butter
1 1/2 cups cream cheese, softened
2 teaspoon vanilla extract
1 teaspoon salt
1 1/2 cups heavy cream
1/4 cup roasted peanuts (optional)
Keto Berry Jam:
1 1/2 cups raspberries (fresh or frozen)
1 1/2 cups strawberries (fresh or frozen)
4 tablespoons keto sweetener
2 tablespoons water
1 teaspoon vanilla extract
2 tablespoons chia seeds
Directions
1
To make the peanut butter mousse:
In a large bowl, add the peanut butter, powdered keto sweetener, softened cream cheese, vanilla extract, and salt. Mix until well combined and set aside.
2
In a separate bowl, use a stand mixer to beat the chilled heavy cream until you reach stiff peaks. Firm straight peaks should form when the beater is lifted from the whipped cream.
3
Carefully fold half of the whipped cream into the peanut butter mixture. The peanut butter mixture may be stiff so move slowly and be careful not to over mix. Gently add in the rest of the whipped cream until fully combined.
4
Chill the finished peanut butter mousse in the refrigerator for about an hour if you prefer a firmer consistency or enjoy right away.
5
To make the keto berry jam:
Add the berries, sweetener, water, and vanilla extract into a saucepan over medium-high heat and bring mixture to a boil. Reduce to a simmer and stir in chia seeds.
6
Simmer berry mixture until thick, about 15 minutes. Remove from heat and let cool in the saucepan before transferring to a jar and storing in the refrigerator.
7
When you are ready to serve, layer the peanut butter mousse with the jam or simply pour the jam over the peanut butter mixture and top with some peanuts for an added crunch. YUM!
Additional Notes
Adapted from TheBigMansWorld.
NUTRITIONAL INFORMATION (PB&J Parfait with berry jam) Serving Size: 1, Amount Per Serving: 327 Calories | 27.8g Fat | 21.1g Total Carbs | 3.9g Fiber | 4.3g Sugar | 9.7g Sugar Alcohol | 10.3g Protein | 7.5g Net Carbs
Nutrition Information
Yield: 12, Serving Size: 1
Amount Per Serving: 313 Calories | 27.3g Fat | 17.4g Total Carbs | 2.8g Fiber | 3.6g Sugar | 8.0g Sugar Alcohol | 9.9g Protein | 6.6g Net Carbs
---
You can choose your own adventure with this whipped salted peanut butter mousse!
Layer some of the peanut butter mousse with the berry jam to enjoy a PB&J-inspired dessert or treat yourself to a fun midday snack by dipping in celery sticks or your favorite keto crackers. The peanut butter mouse possibilities are endless!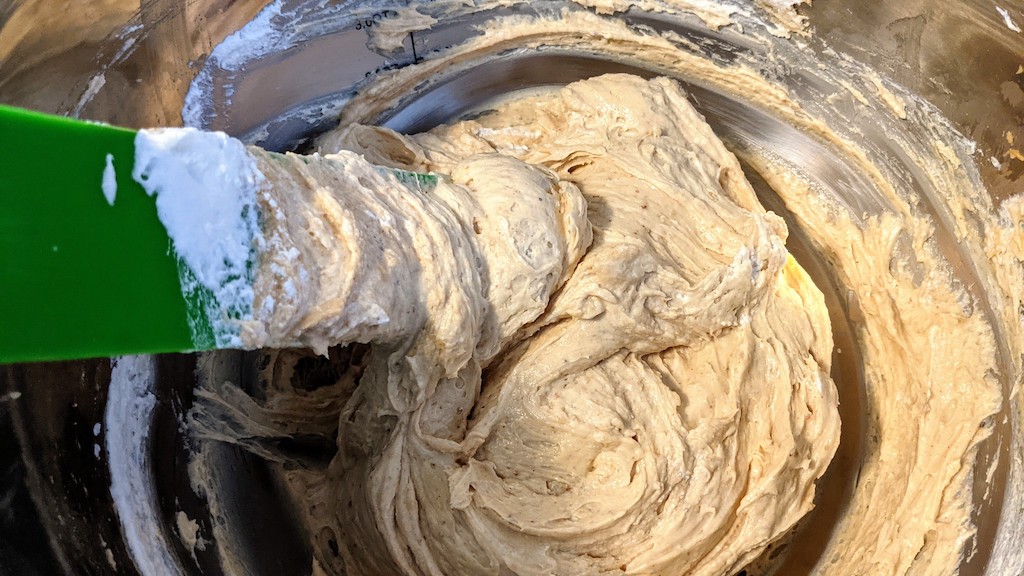 My sidekick Jennifer gave this recipe a try and here's what she thought:
"I remember the first time I had a Reese's peanut butter cup. It was sooooo amazing. But this recipe is so good, it far surpasses that experience! I can not even describe how amazing this peanut butter mousse tastes! If you miss the classic PB and J combination, this fills that need.
If you only want the peanut butter mixture, it tastes just like the inside of a peanut butter cup. If you want to use the jam in other ways, it would be wonderful on pancakes or ice cream.
I have a lot of keto desserts I like, but this has topped my list of favorite keto recipes of all time. It makes a lot so you can share with friends or serve it at a get-together. I don't think anyone would realize it's keto and sugar-free!"
---