Relive Nostalgia with Keto Peanut Butter & Jelly Ice Cream
This keto peanut butter and jelly ice cream is for all you PB&J lovers out there!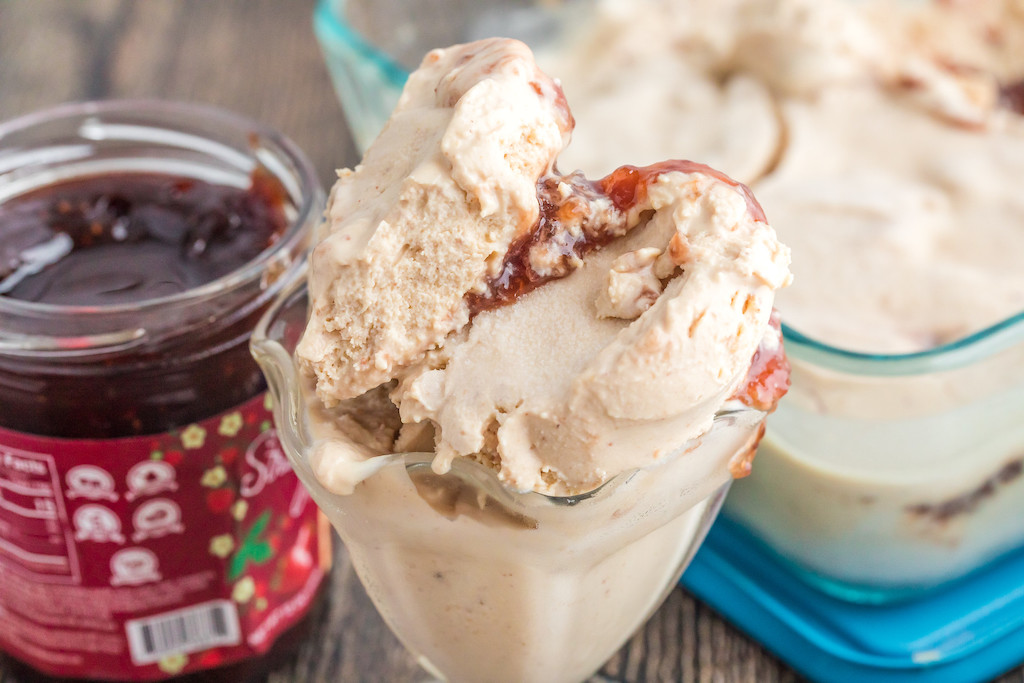 Peanut Butter & Jelly (Ice Cream) Time!
Oh my, peanut butter and jelly is where dreams come true! This ice cream is over the top rich and loaded with a true peanut butter flavor. Add in a ripple of ChocZero Strawberry Jam and it's impossible not to fall in love. 🤤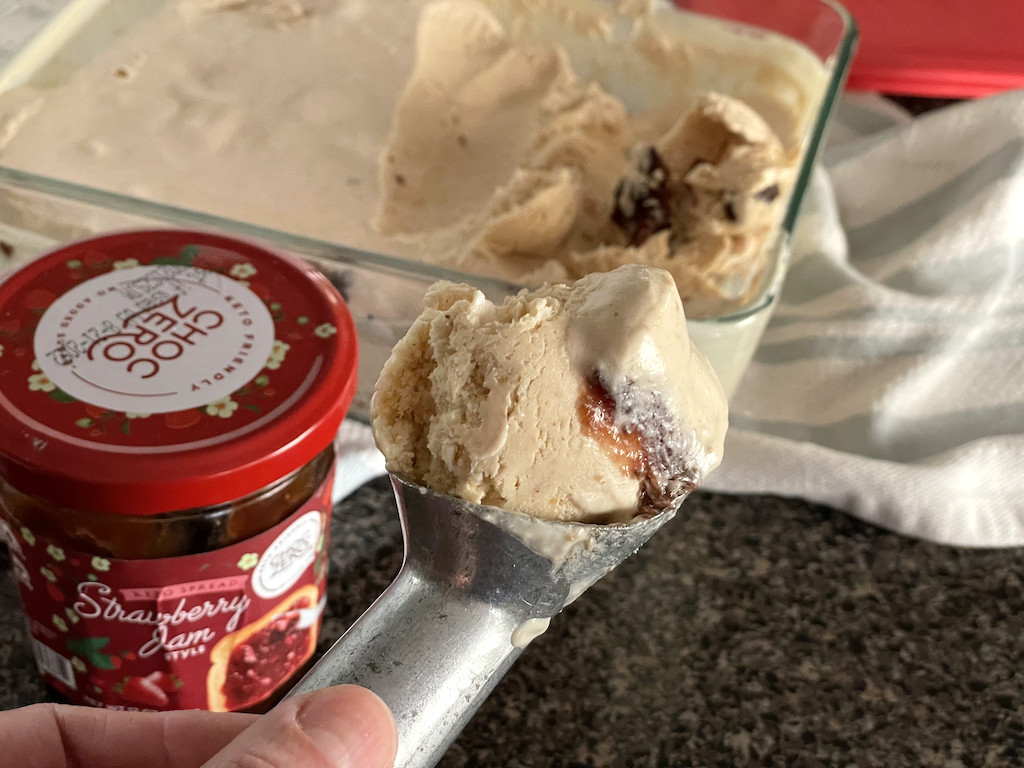 The flavor combo of peanut butter and jelly is already perfection, but turn it into ice cream? Mind blown! 🤯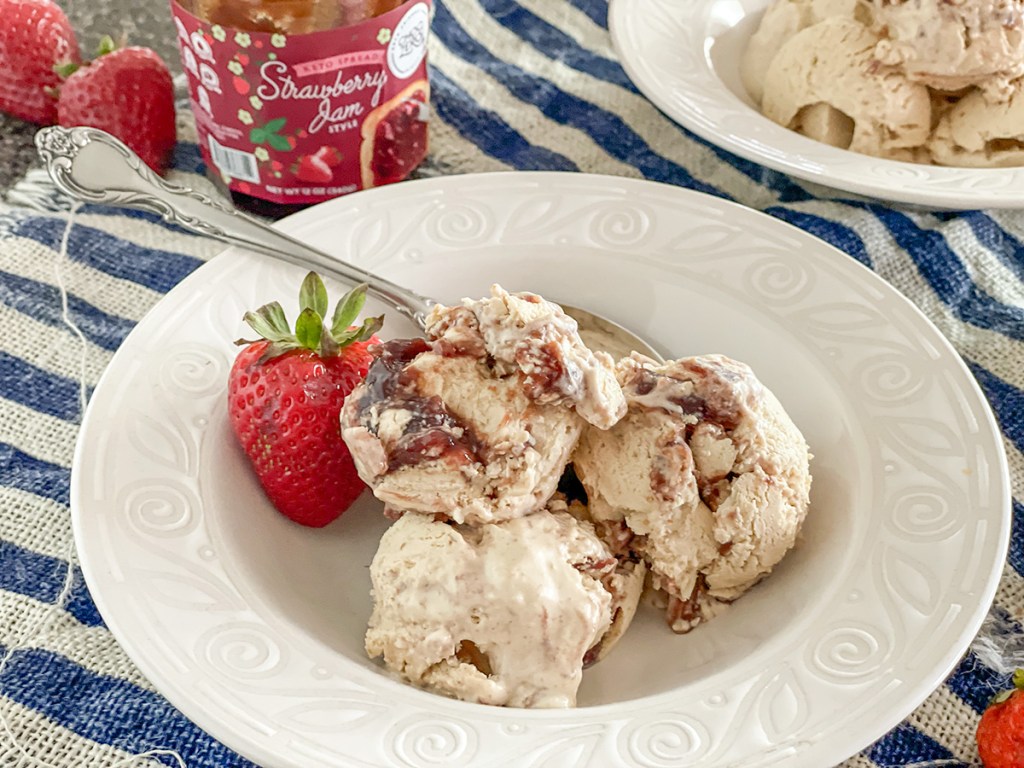 Is peanut butter & jelly keto?
Peanut butter can definitely fit into the keto diet. It typically has 4 to 5 grams of net carbs per 2 tablespoons. This entire ice cream recipe has a full cup of peanut butter in it.
Psst! We answer is peanut butter keto along with other common keto questions in this helpful post.
The real winner of this ice cream party is the ChocZero Keto Strawberry Jam. Most jams are loaded with sugar and have to be avoided on keto, but not anymore — ChocZero has worked their magic again by coming up with a keto jam! And let me tell you, it's so yummy!
Tips for making the best keto peanut butter & jelly ice cream:
This recipe requires some planning ahead. The ice cream needs to chill for at least 4 hours or up to overnight. This ensures that the jam layer has time to form. Otherwise, you'll miss out on those beautiful strawberry ripples.
Like most homemade keto ice cream recipes, you'll need to let this sit out for 5 to 10 minutes to soften before you can scoop it.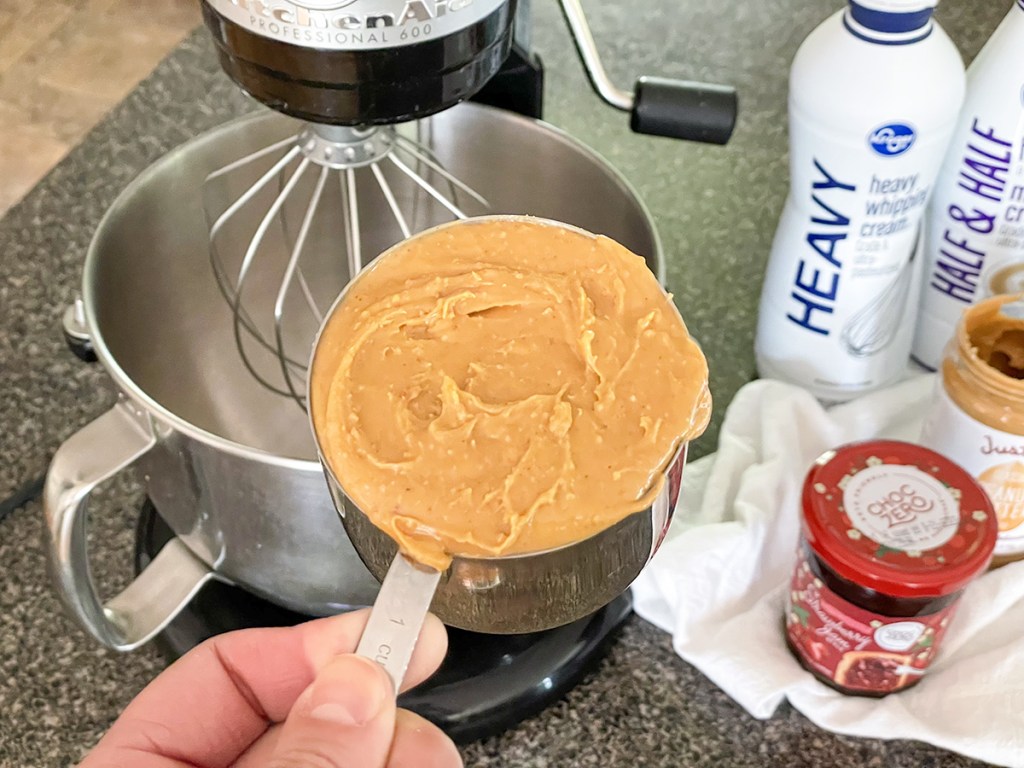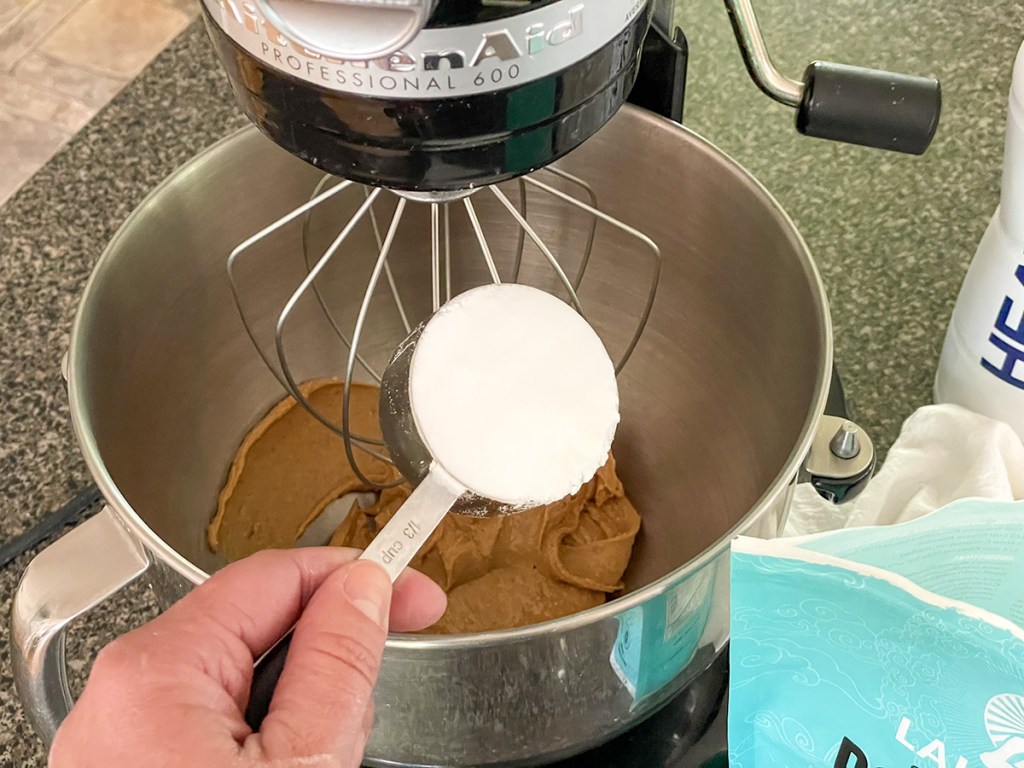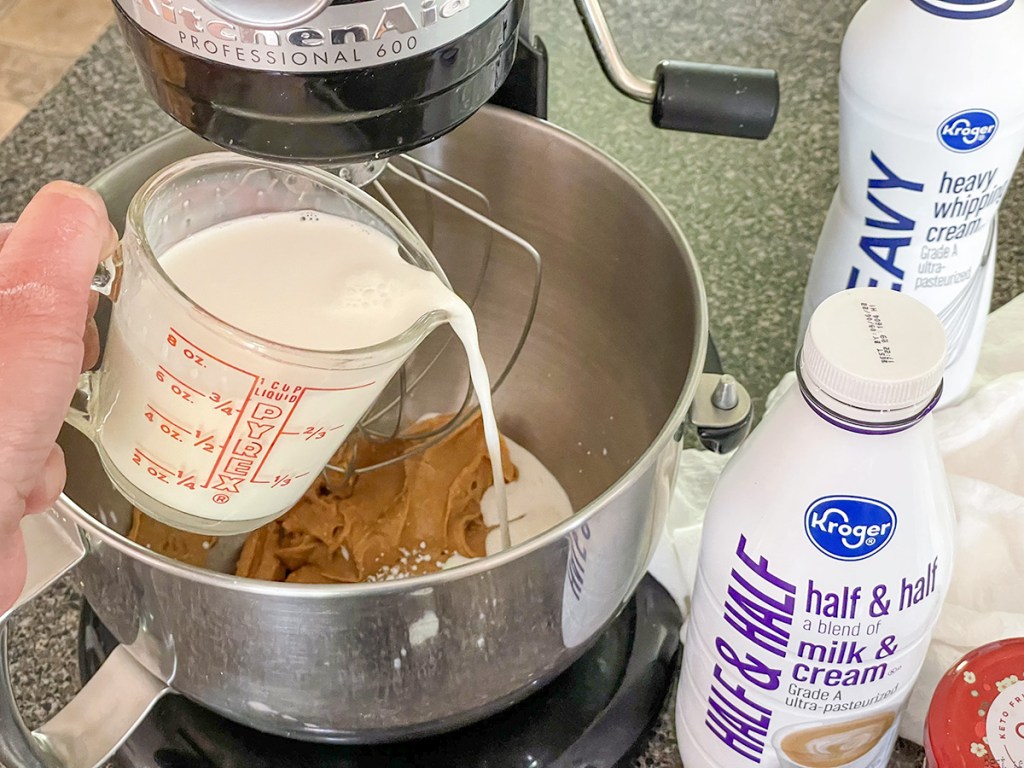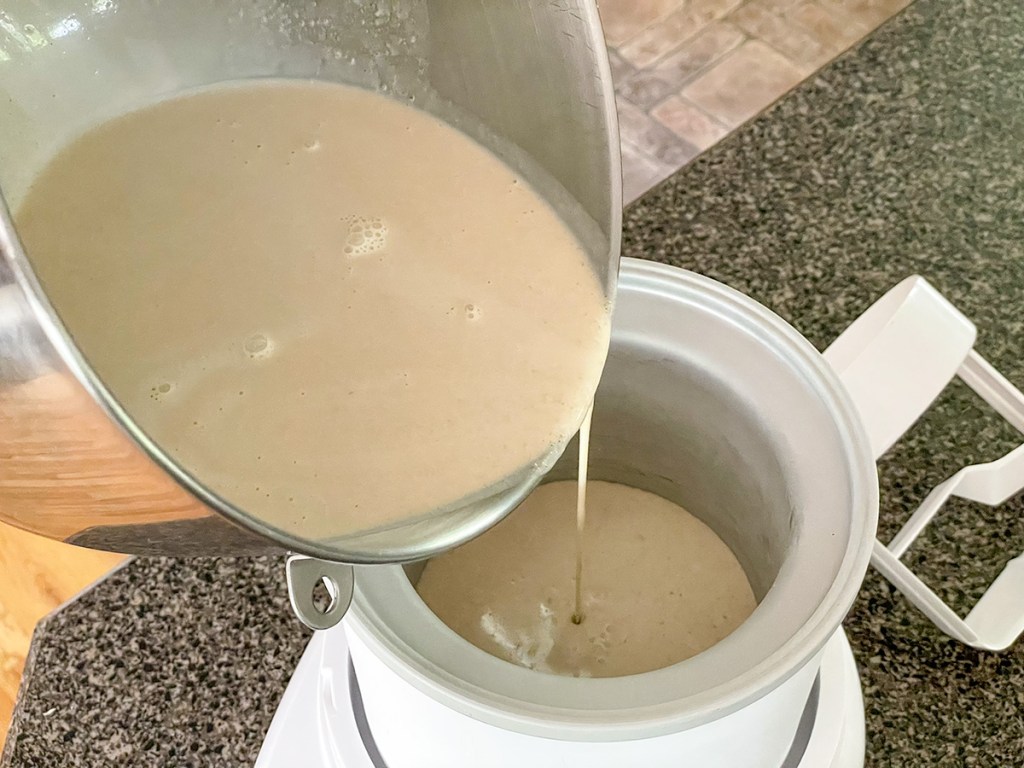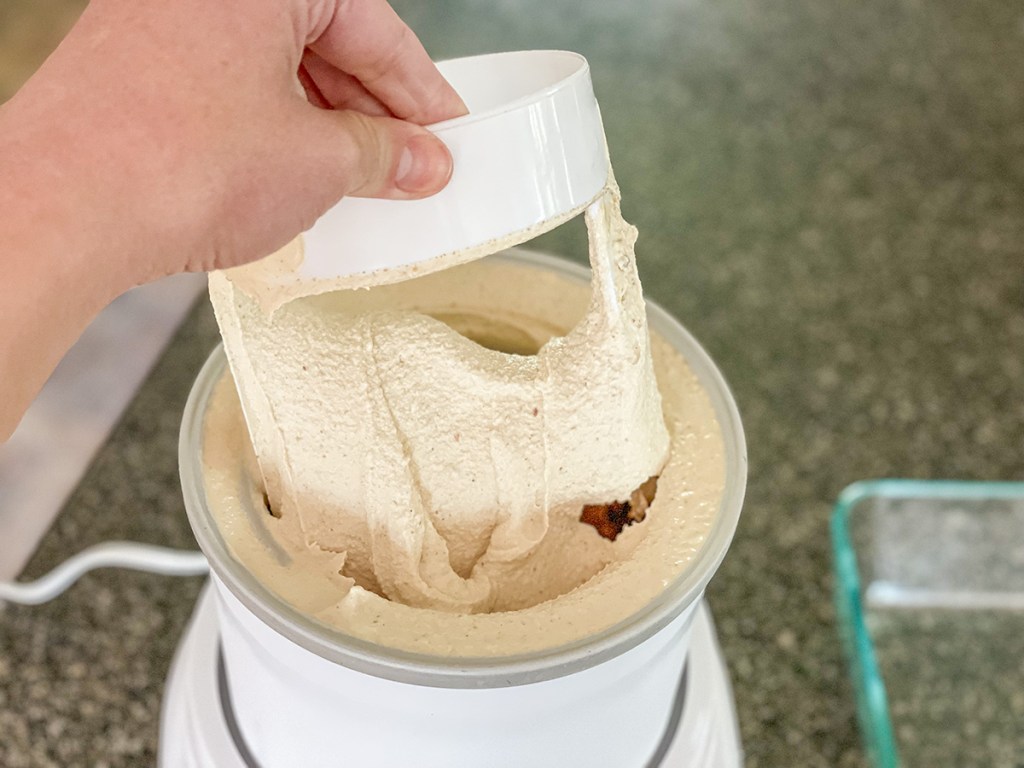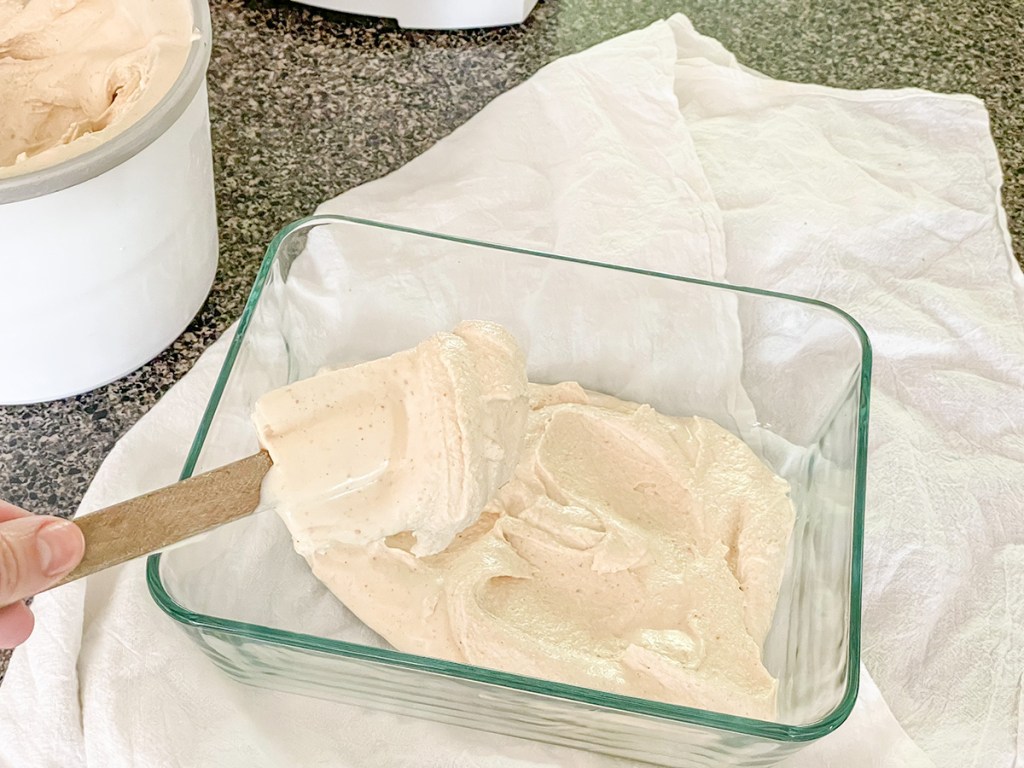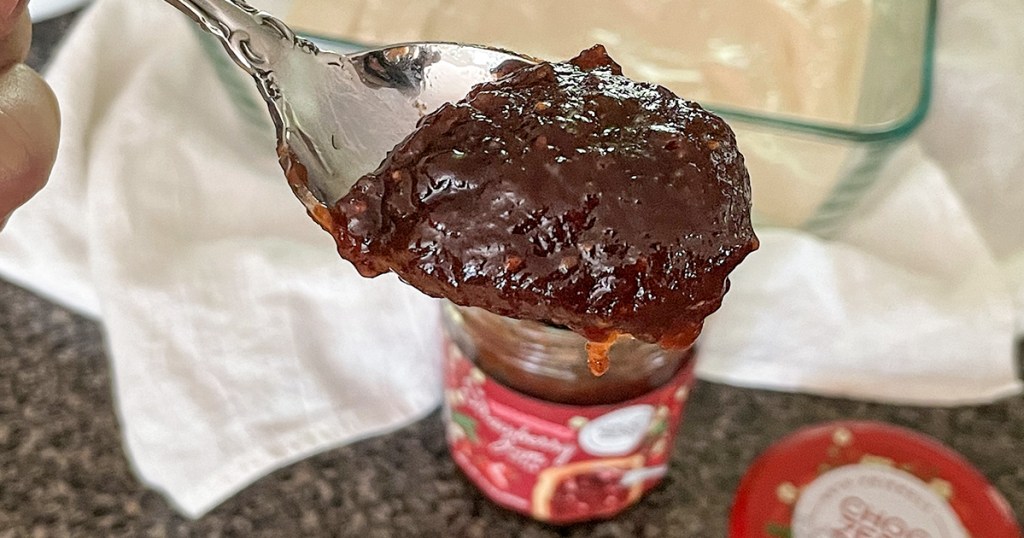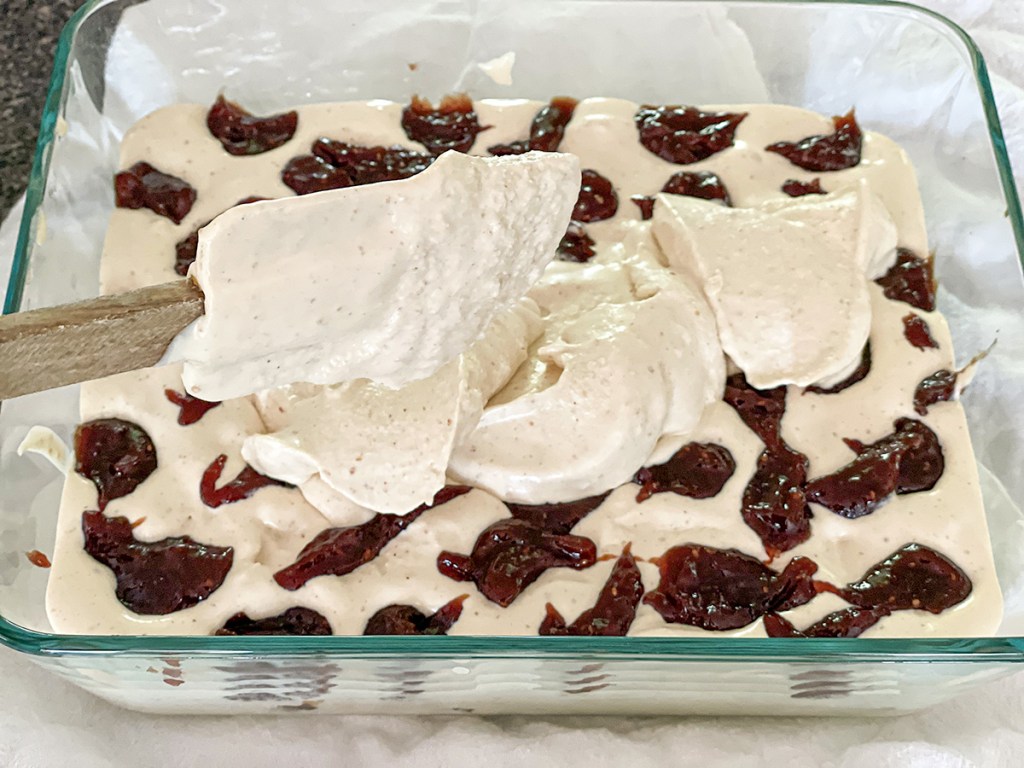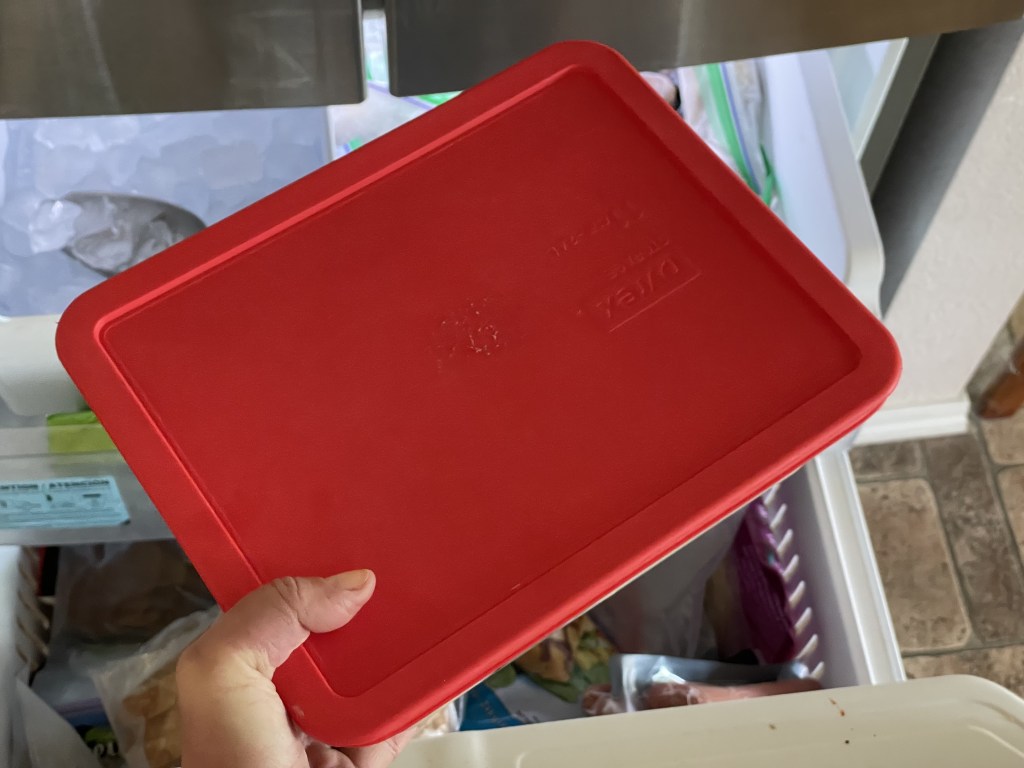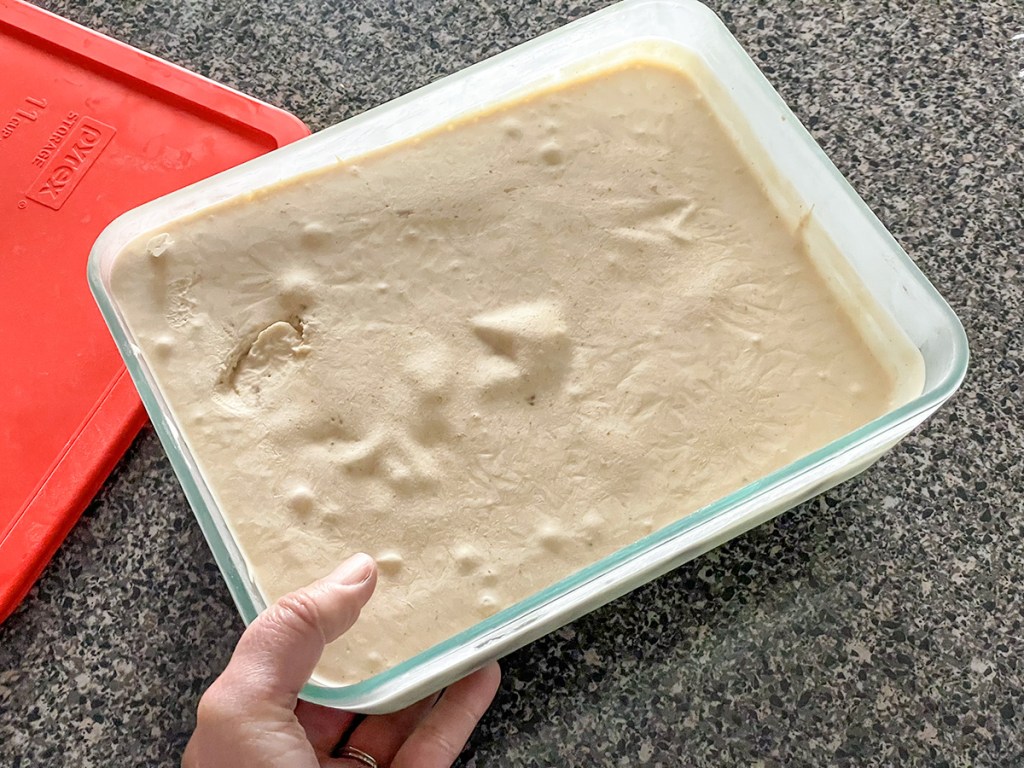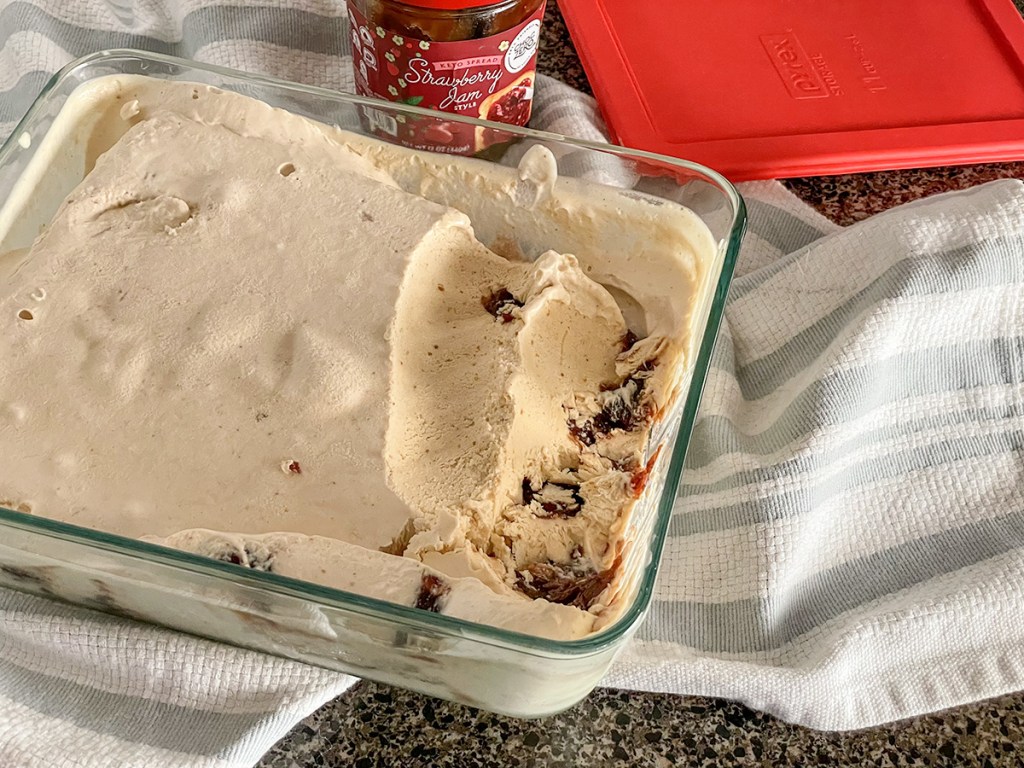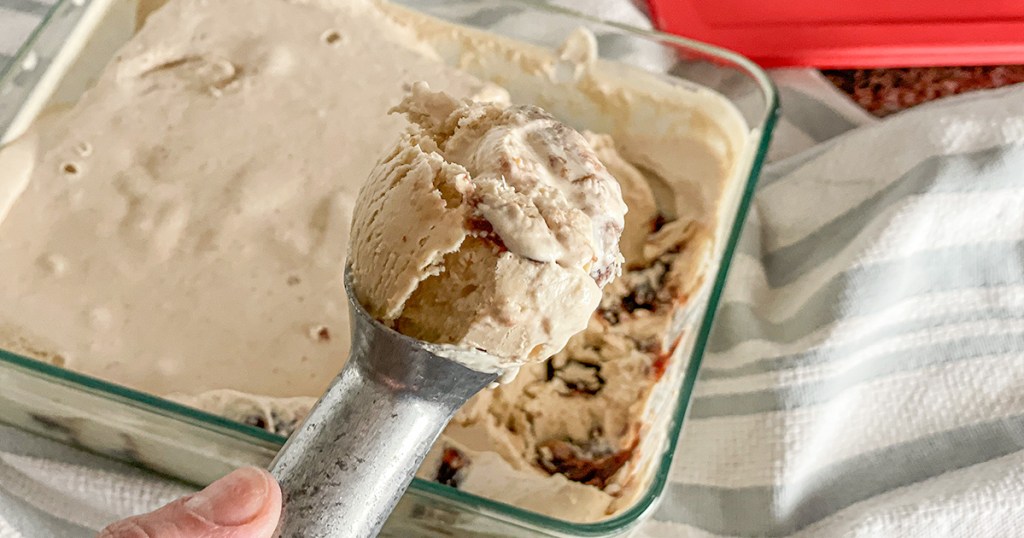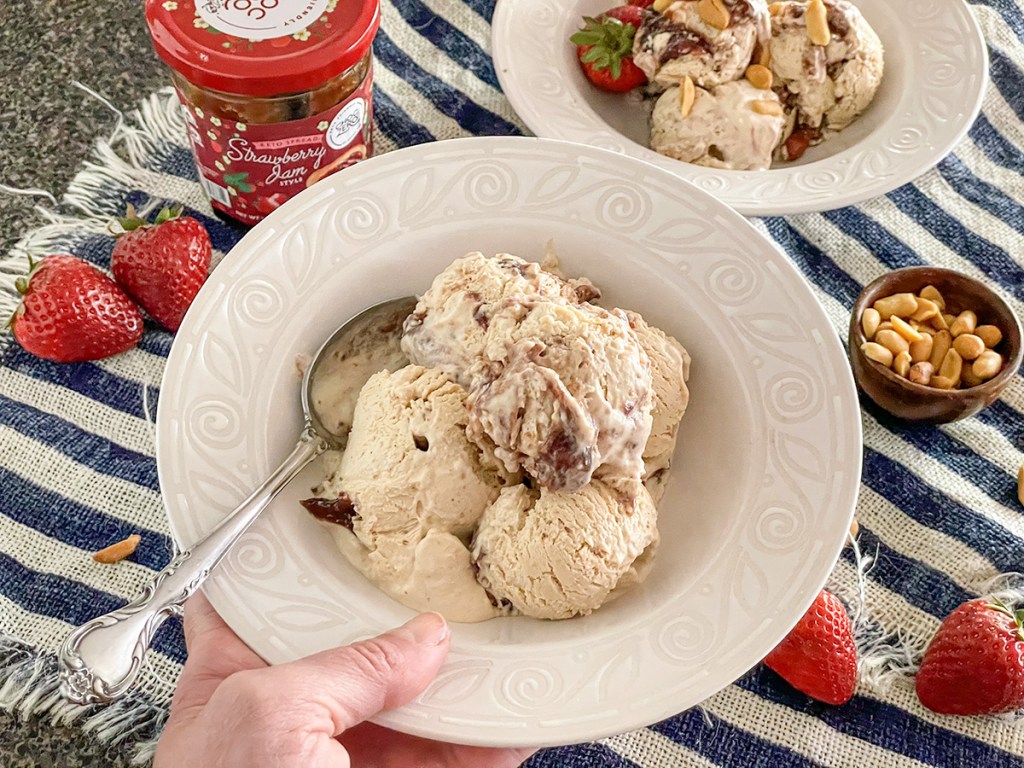 ---
Print
Keto Peanut Butter and Jelly Ice Cream
yield: 10 SERVINGS
prep time: 60 MINUTES
total time: 60 MINUTES
Perfection is found in this peanut butter flavored ice cream with ripples of sweet keto strawberry jam.
Ingredients
1/4 teaspoon salt
2 teaspoons vanilla extract
2 cups half & half
1 cup heavy whipping cream
Directions
1
Using an electric mixer on low, cream together peanut butter, keto confectioners sweetener, salt, and vanilla until smooth. Then add in 1 cup of half & half and continue to mix on low until well combined.
2
Slowly add in the remaining half & half and heavy whipping cream. Mix until well combined. Scrape the sides and bottom of the bowl as needed.
3
Pour the mixture into your ice cream maker. Follow the manufacturer's directions. It should take 30 to 45 minutes for the mixture to turn into ice cream.
4
Once you have ice cream, transfer one-third of the mixture into a container. I used a rectangular 2.75-quart (11 cups) pyrex dish. Top the first layer with half of the ChocZero Keto Strawberry Jam. Then add another layer of ice cream and top that with the remaining jam. Finally, top with the remaining ice cream.
5
Place ice cream in the freezer for at least 4 hours or overnight. Let sit at room temperature for 5 to 10 minutes to soften before servings. Enjoy!
Nutrition Information
Yield: 10 servings, Serving Size: 1/2 cup
Amount Per Serving: 349 Calories | 28.8g Fat | 36.6g Total Carbs | 23.8g Fiber | 3.3g Sugar | 4.8g Sugar Alcohol | 6.4g Protein | 8g Net Carbs
---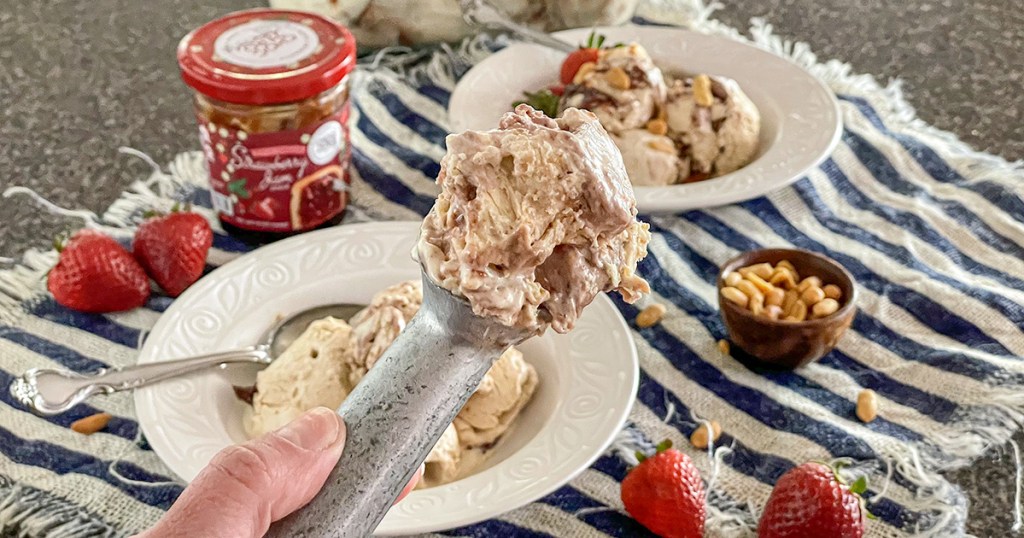 Happiness in every bite!
It's no secret that I love ice cream! Ice cream is one of my favorite desserts. This keto peanut butter and jelly ice cream is up there with some of the best ice cream I've ever made — and I'm not just saying that! It doesn't taste like keto ice cream at all. The flavor is pure peanut butter. Add in the ChocZero Keto Strawberry Jam, and it's bliss!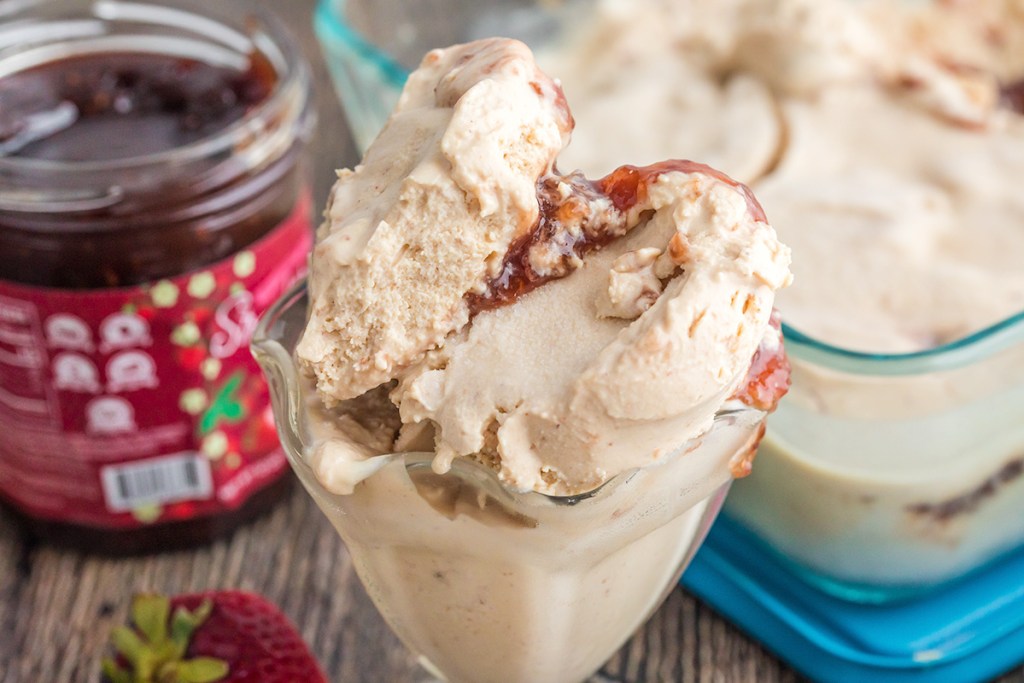 Here's what my Hip sidekick Jenna had to say about this keto peanut butter and jelly ice cream:
"This is so totally the perfect summer treat! The flavor is amazing! Of course, this PB&J ice cream wouldn't be possible without the ChocZero Strawberry Jam! The kids loved this stuff as much as I did! It was easy to make using my Whynter Ice Cream machine and it made more than enough for the whole family to enjoy!
The jam swirl is the best part of this, but the peanut butter ice cream is also so amazing! I will definitely make this again… soon… because we almost ate it all the next day!"
---
Try our Keto Raspberry Cheesecake Ice Cream next!