Keto Strawberry Cream Cheese Danishes with ChocZero Jam
ChocZero just released their no-sugar-added keto strawberry jam, so we whipped up some scrumptious keto strawberry cream cheese danishes! 🤤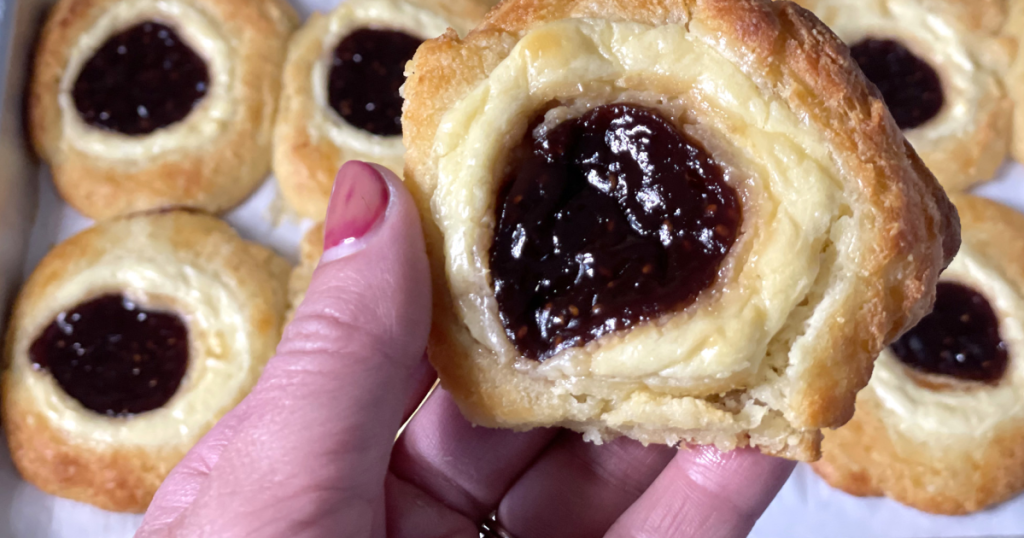 Sweet, tangy, and a flavor combo of pure perfection to leave you craving more!
I think I found my new favorite ChocZero product. 🤤 I also think I found a new favorite way to use fathead dough. I combined these two forces to create keto strawberry cream cheese danishes… and oh my word, did they turn out amazing! I might need someone to intervene because I can't stop eating them.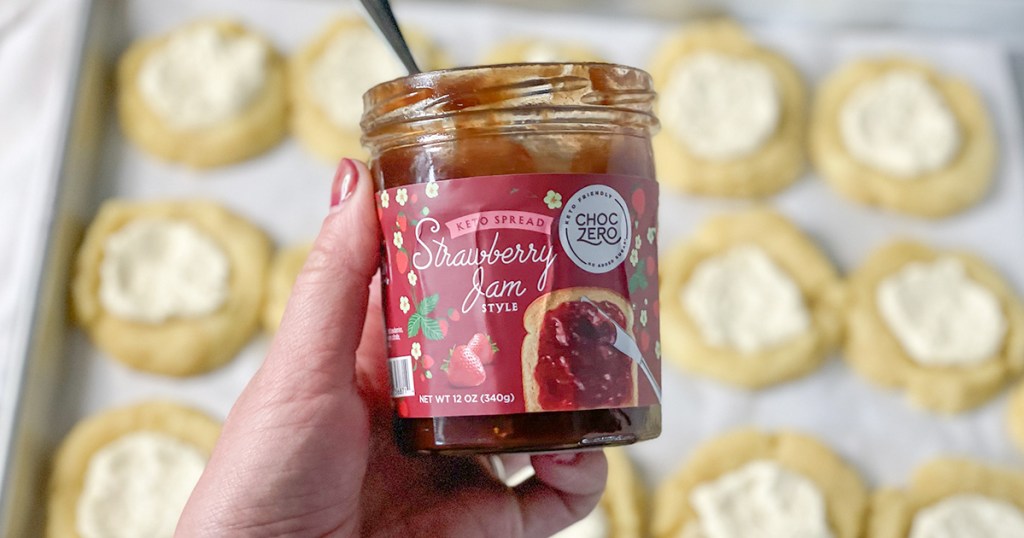 First of all, the latest creation from the geniuses at ChocZero is their no-sugar-added keto Strawberry Jam! Jam is definitely something I've been missing since starting keto because traditional varieties are jam-packed (pun intended) with sugar. However, their keto jam is mouth-watering delicious, and it's hard not to eat it all by the spoonful.
While this isn't the first fruity spread that hit the market with a keto claim, I've tried a lot of sugar-free jams and jellies over the years and most of them are not very good. So ChocZero's Strawberry Jam is like a breath of fresh air for me!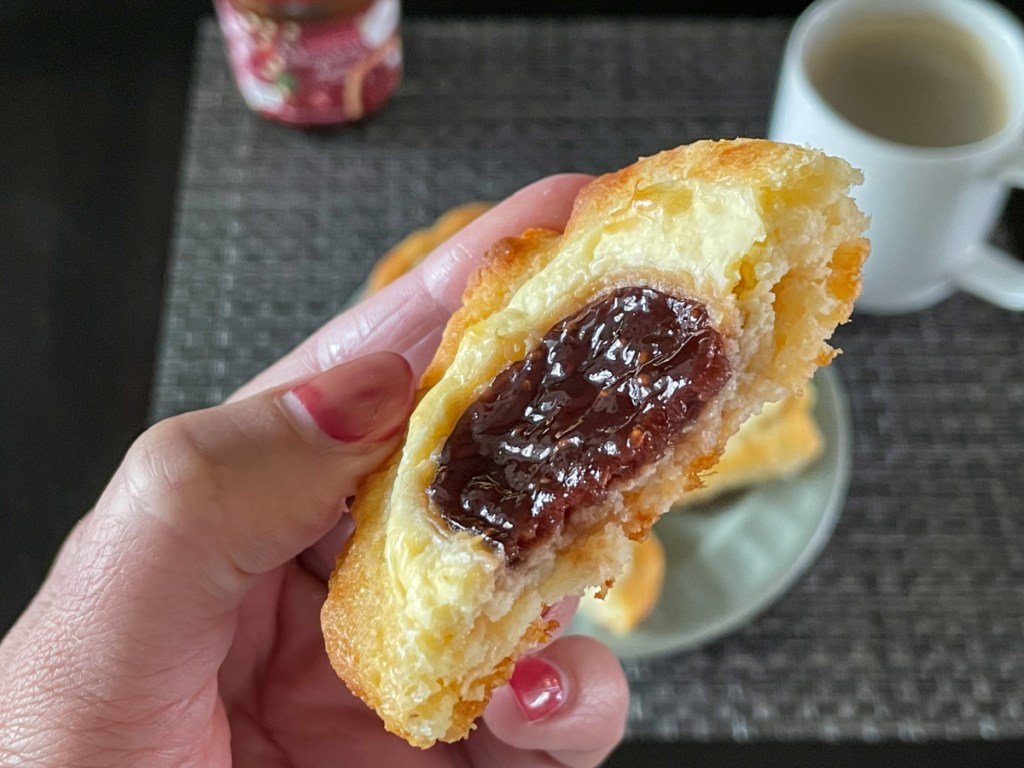 These danishes may look complicated, but they're so easy to make.
You begin this keto strawberry cream cheese danish recipe by making the fathead dough and then forming it into dough balls. Then all you do is press down the centers of the dough balls, pre-bake, fill with a sweetened cream cheese mixture and ChocZero's Strawberry Jam, and bake them to a golden brown. The only thing to do after that is to indulge!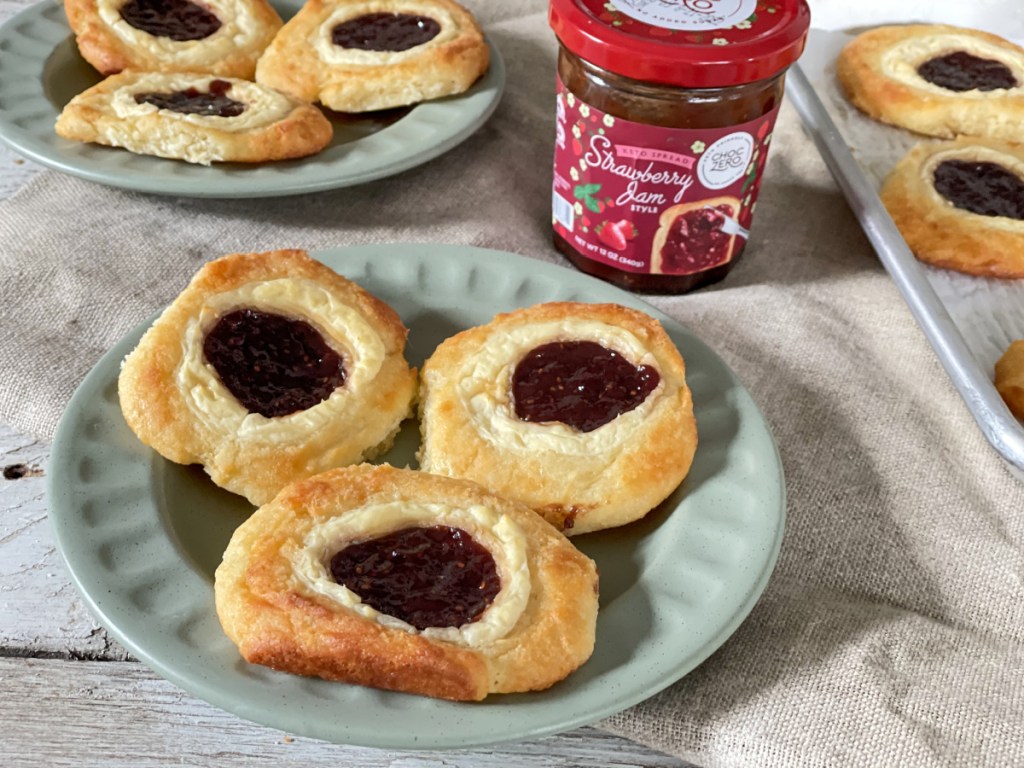 Tips for making the best keto strawberry cream cheese danishes:
Shred the mozzarella cheese yourself instead of buying pre-shredded cheese. I have found that pre-shredded cheese has an anti-caking powder on it that can alter the texture of fathead dough. And shredding cheese yourself is more affordable.
Line the baking sheet with parchment paper to prevent the danishes from sticking to the pan and for easy cleanup.
Feel free to double the amount of ChocZero Strawberry Jam for the filling. Or add additional jam to the top of the danishes! Just note that it will change the nutrition information. Don't forget to use our ChocZero promo code HIP2KETO for 10% off at checkout!
The 16 danishes barely fit on a large baking sheet so consider baking them on two baking sheets if possible.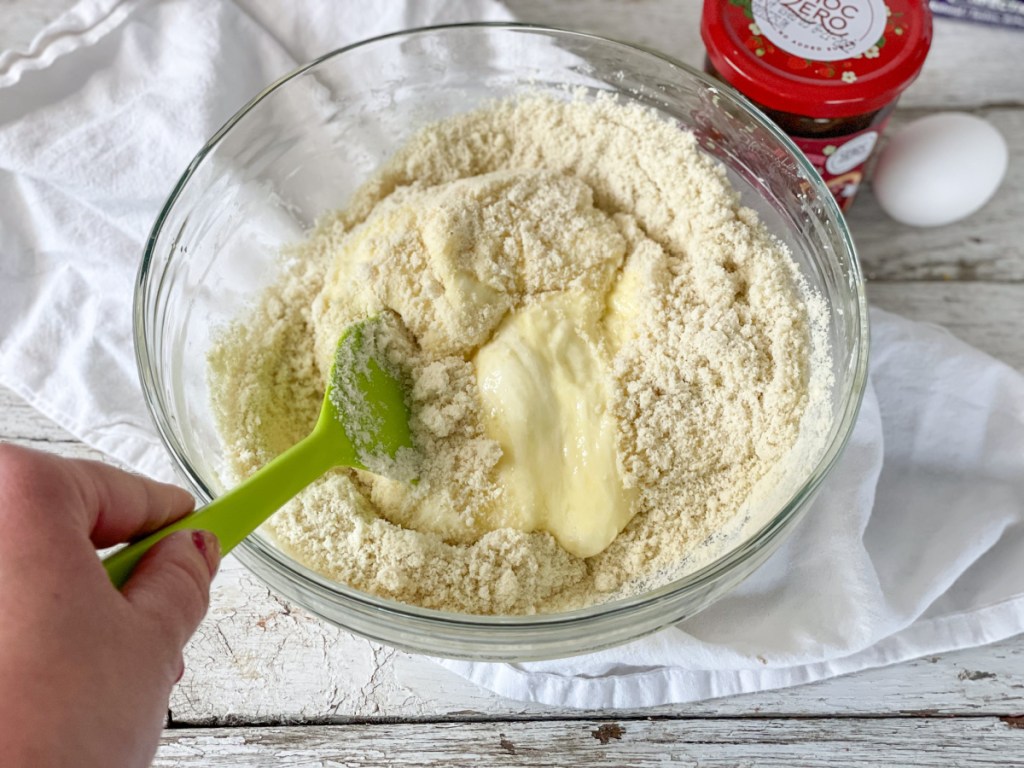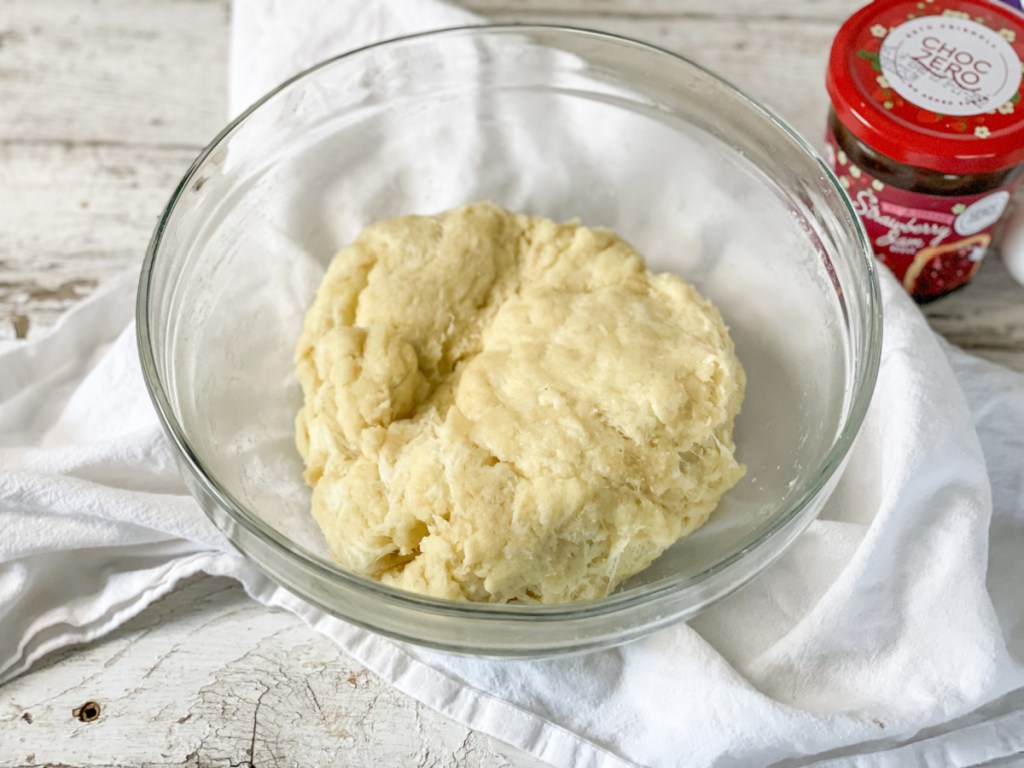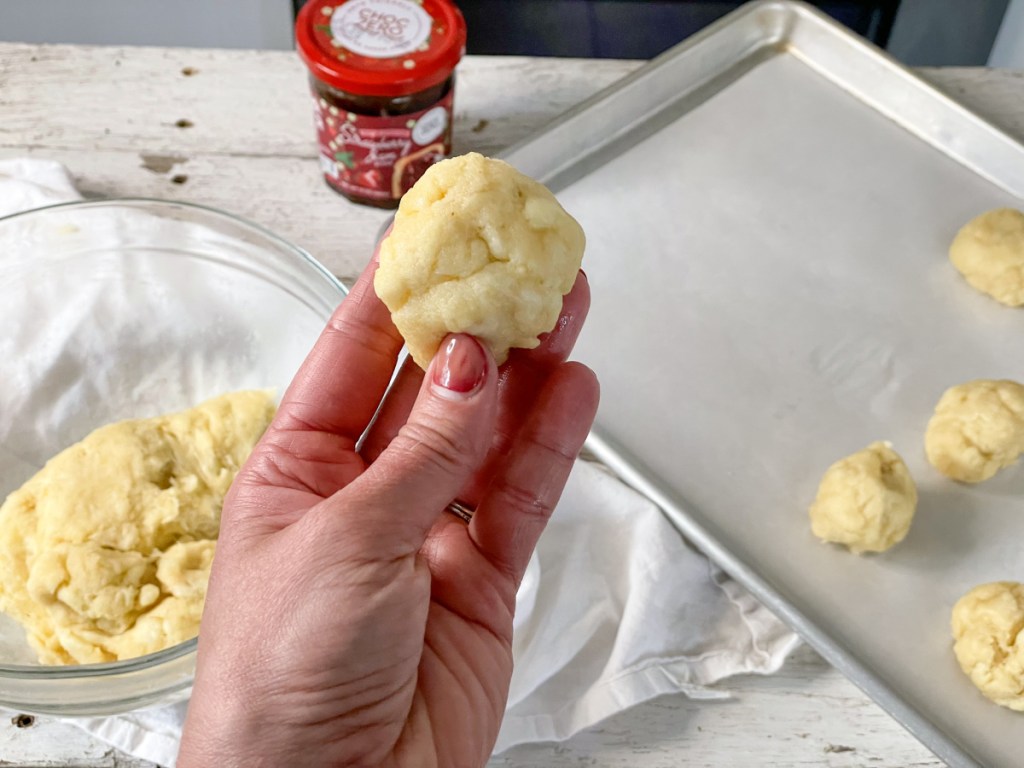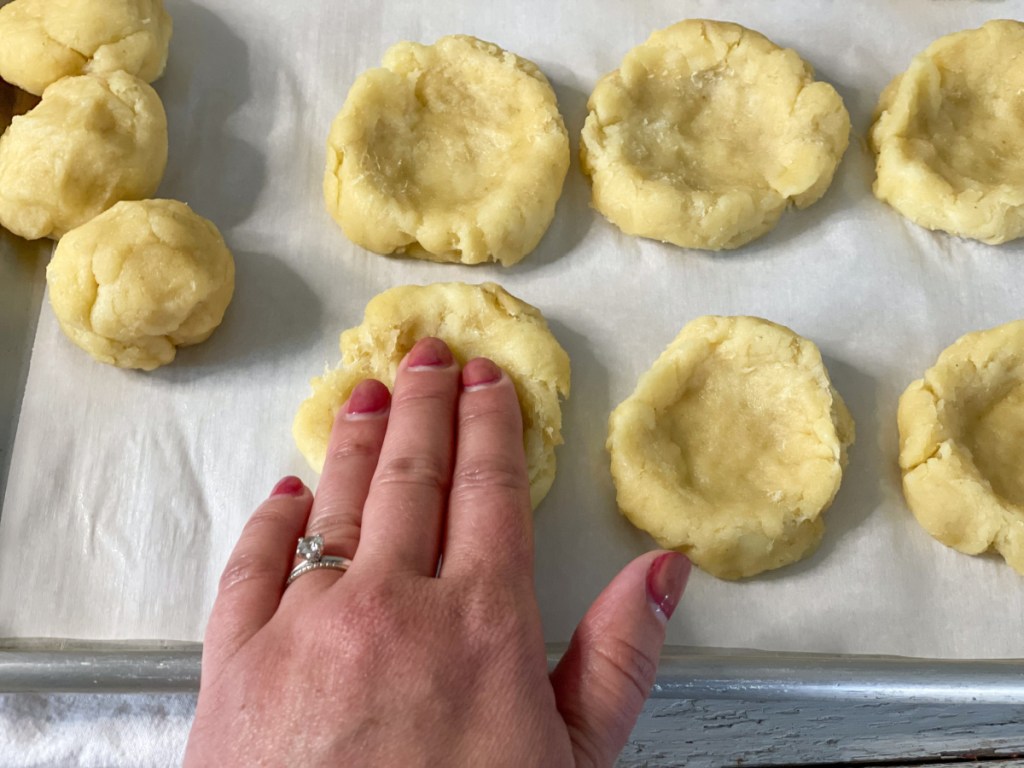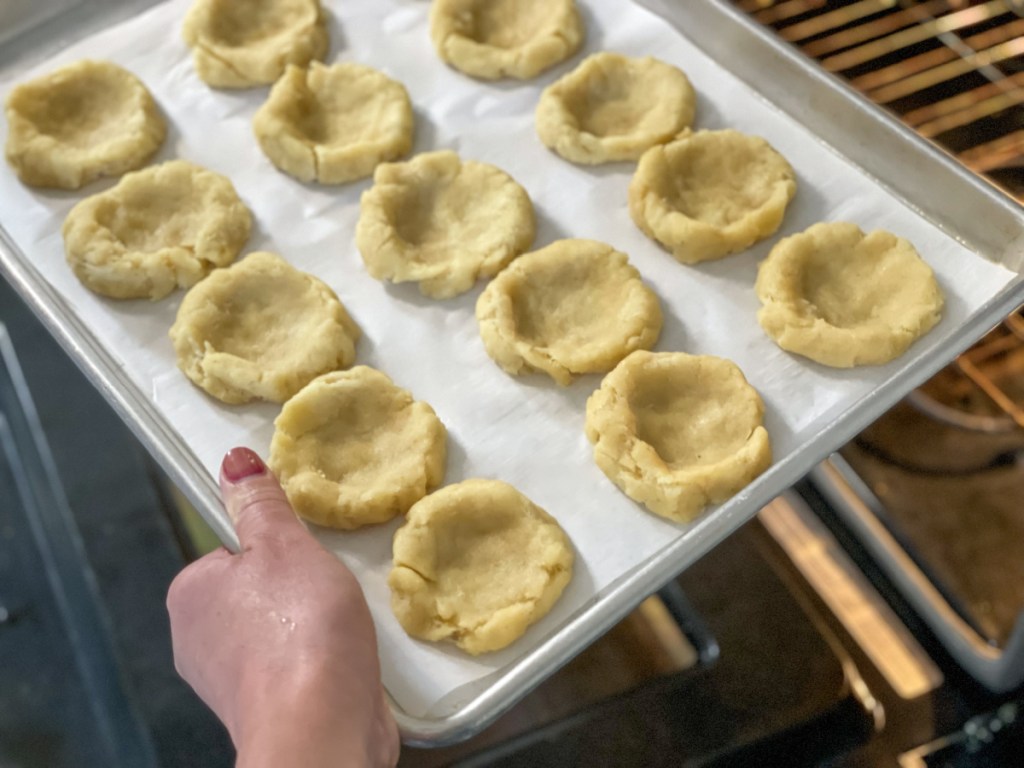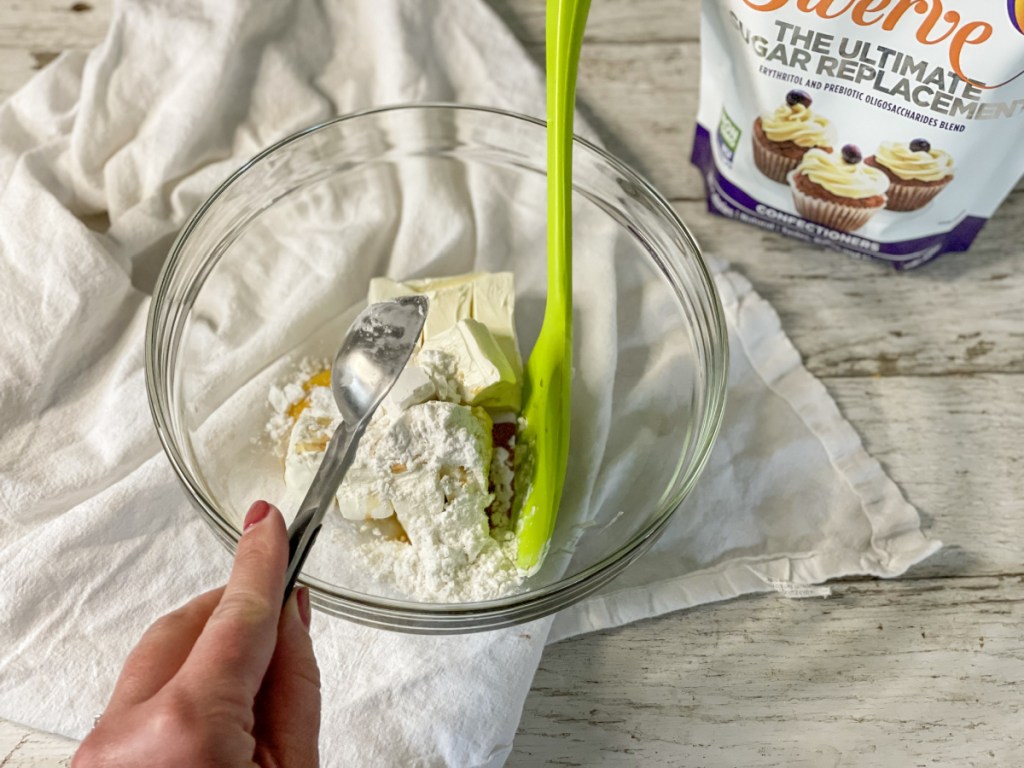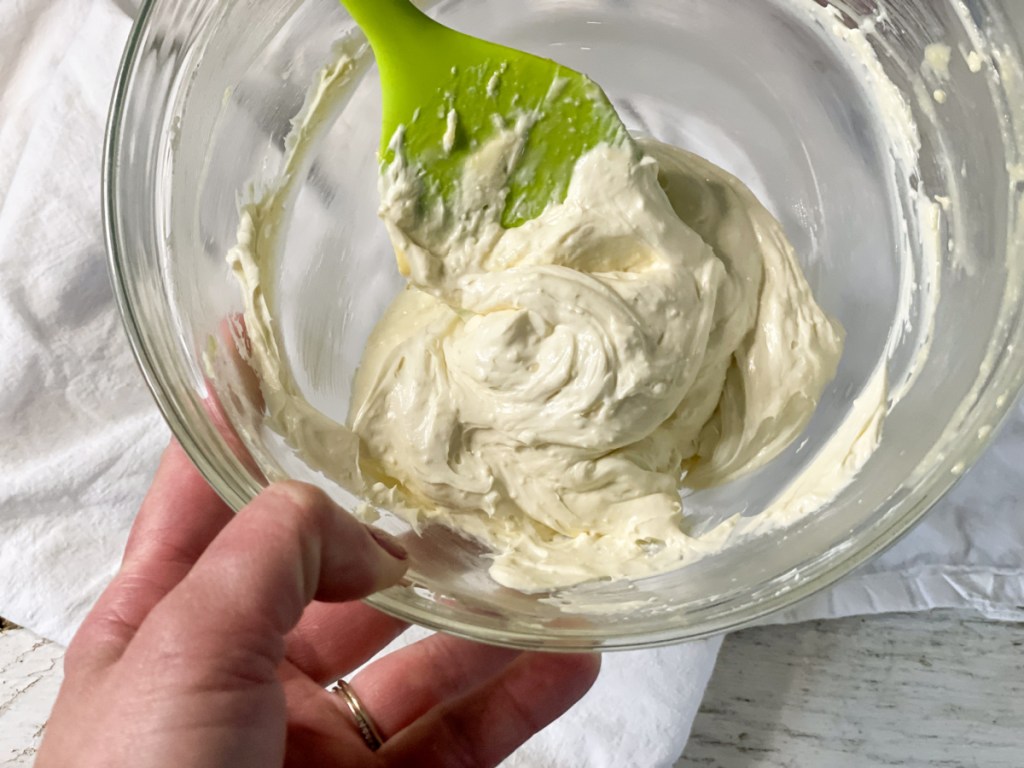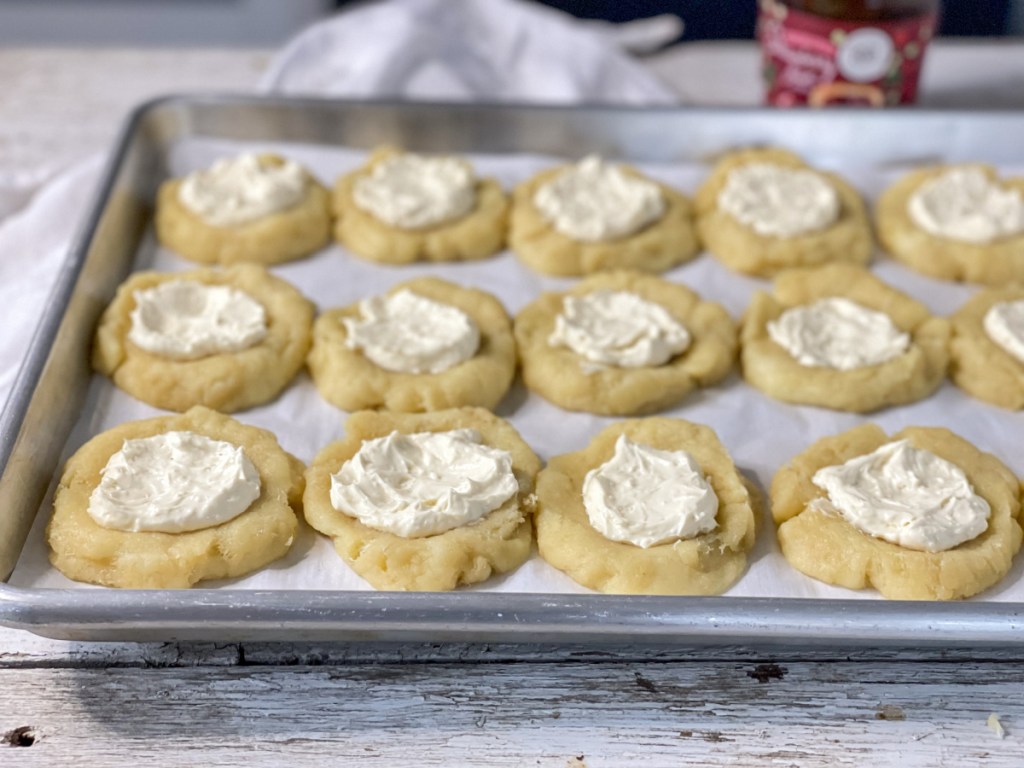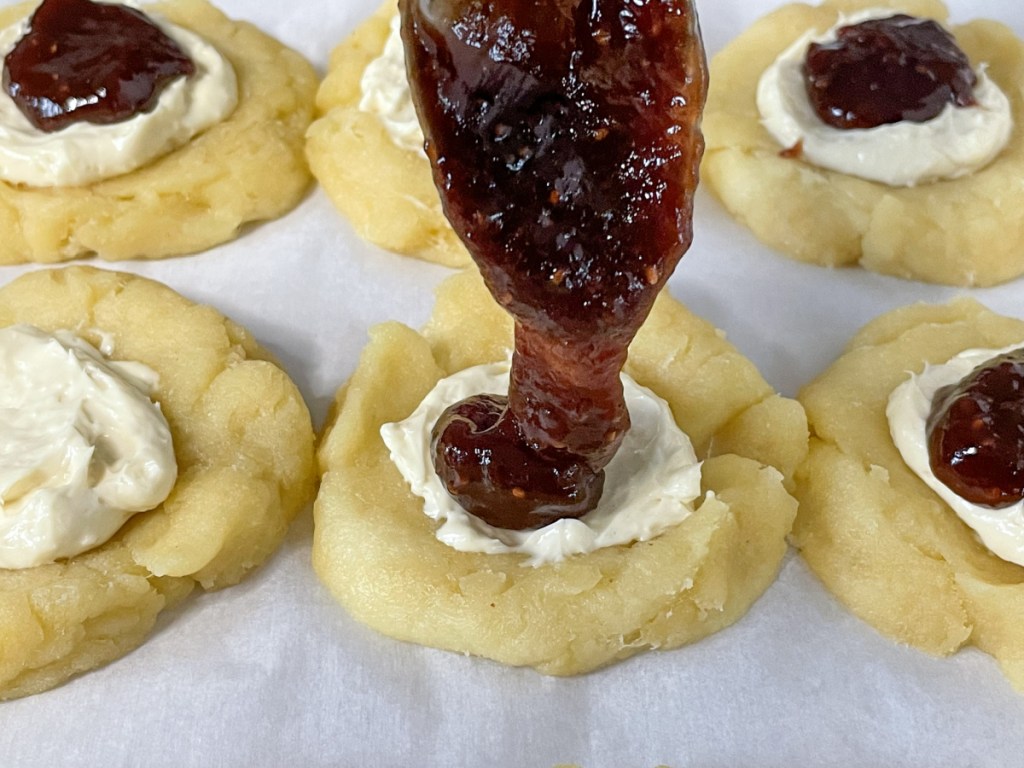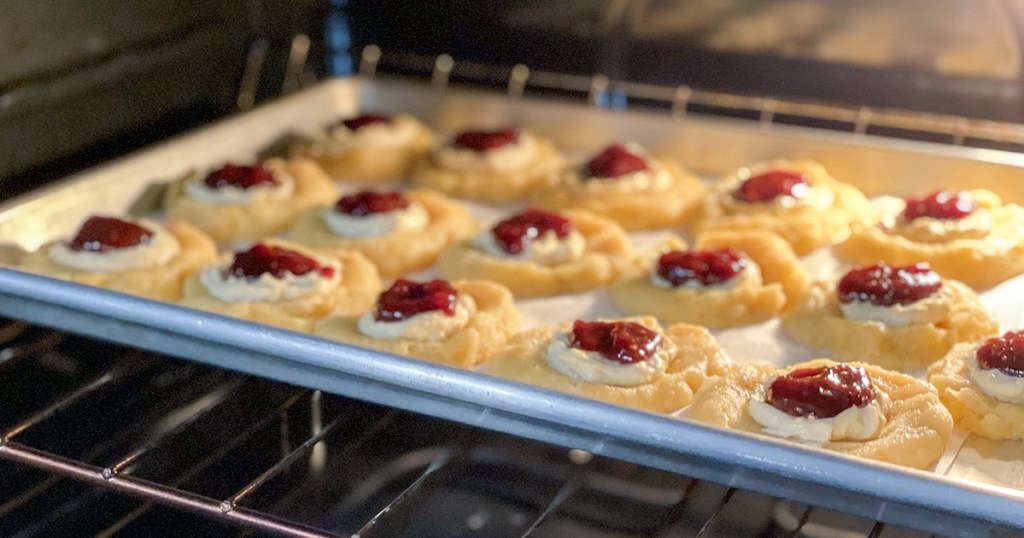 ---
Print
Keto Strawberry Cream Cheese Danishes
yield: 16 SERVINGS
prep time: 30 MINUTES
cook time: 20 MINUTES
total time: 50 MINUTES
Artisan bakery-worthy keto danishes made with fathead dough and filled with cream cheese and ChocZero Strawberry Jam.
Ingredients
Fathead Danish Dough:
1 tablespoon baking powder
1/4 teaspoon salt
2 1/2 cups mozzarella cheese, shredded
2 oz. full-fat cream cheese
3 tablespoons salted butter
1 egg
1 teaspoon vanilla extract
Cream Cheese Strawberry Filling:
6 oz. cream cheese, full-fat
1 egg yolk
1 tablespoon heavy whipping cream
1 teaspoon vanilla
Egg Wash:
1 egg white, slightly beaten
1 tablespoon water
Directions
1
To make the fathead danish dough: 
Preheat oven to 350 degrees. Line a large baking sheet with parchment paper.
2
Combine the almond flour, baking powder, keto granular sweetener, and salt in a medium bowl. Set aside.
3
In a medium microwave-safe bowl, add the shredded mozzarella cheese, cream cheese, and butter. Microwave in 15-second intervals until the cheese has melted and everything is stirred together, anywhere from 1 to 2 minutes. Then mix in the egg and vanilla extract, stirring until everything is well combined.
4
Add the dry ingredients to the cheese mixture and mix until well combined and it forms a slightly sticky dough ball. You might find it easier to use your hands to mix everything together. Let the dough rest for about 5 minutes to help reduce the stickiness.
5
Form the dough into 16 balls.
Start by dividing the dough in half. Then split each half in half so that you have four pieces. Divide each of the four pieces in half so you end up with eight pieces of dough. Finally, divide the eight pieces in half to end up with 16 dough balls. Try to make them as evenly as possible but they don't have to be perfect.
6
Roll each piece of dough into a ball and place it on the prepared baking sheet. Make an indent in the center of each dough ball with your fingers. Bake for 5 minutes and then remove from oven and let cool.
7
Make the cream cheese strawberry filling:
While the dough balls are cooling, make the filling. Place the cream cheese, keto confectioners sweetener, egg yolk, heavy whipping cream, and vanilla extract in a mixing bowl and mix with a hand or stand mixer until well combined. You can mix by hand, but be prepared for a workout!
8
To assemble the keto danishes:
When the danish dough has cooled, reinforce the indents of each dough ball by pressing down in the center with your fingers. If the dough cracks around the edges of the danishes, pinch the edges back together.
9
Place about 1 1/2 tablespoons of the cream cheese mixture in the center of each danish. If you have any extra, divide it out between all the danishes. Place 1 1/2 teaspoons of ChocZero Strawberry Jam on top of the cream cheese mixture.
10
Mix the egg white with the water and lightly brush the edges of each danish with the egg wash.
11
Bake the danishes for 16-18 minutes, until slightly golden brown. Check them around 10 to 12 minutes to avoid overcooking or if you need to turn your baking sheet. Let them cool slightly before eating, and enjoy!
Nutrition Information
Yield: 16 danishes, Serving Size: 1 danish
Amount Per Serving: 233 Calories | 19.6g Fat | 10.4g Total Carbs | 6.5g Fiber | 1g Sugar | 1.6g Sugar Alcohol | 8.6g Protein | 2.3g Net Carbs
---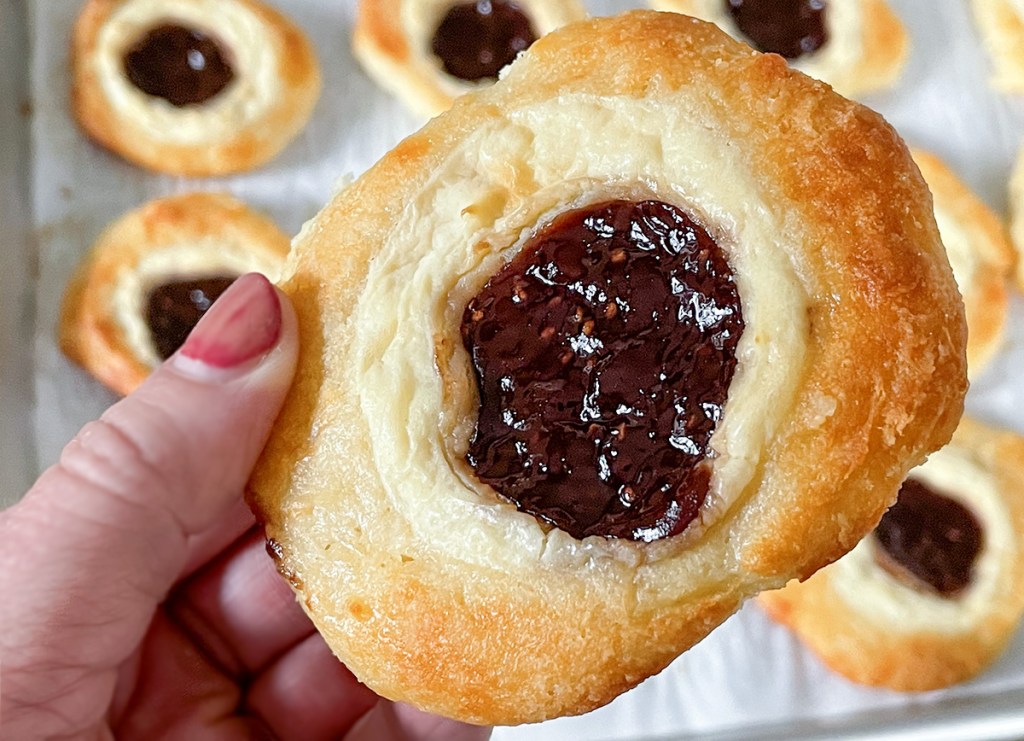 Enjoy these sweet little treats for a weekend brunch.
Because this recipe makes 16 keto strawberry cream cheese danishes, it's great to make them for a lazy weekend brunch. You could even make them in advance and reheat them in the morning since they reheat beautifully.
I hope you enjoy this recipe as much as I do!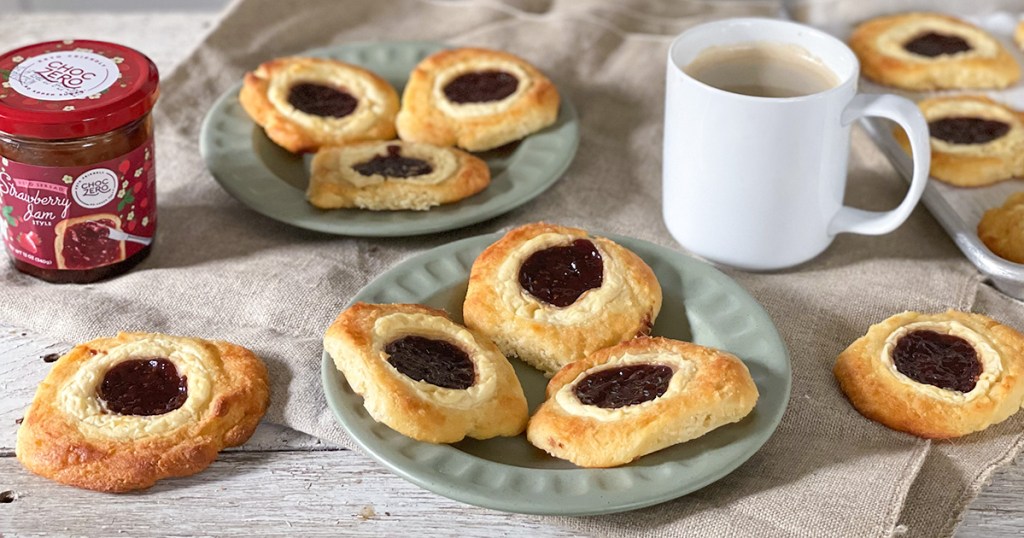 Here's what my Hip sidekick Jenna had to say about these keto strawberry cream cheese danishes:
"Wow, these are amazing! I can't believe they are totally keto-friendly and the most impressive ingredient is the ChocZero Jam, it's out-of-this-world GOOD! It tastes as amazing as it smells and it's only 15 calories per serving. These danishes are perfect for breakfast or dessert so I have no excuse not to make these again, not to mention my whole family was impressed so they can't wait for the next batch.
P.S. These are slightly addicting. After baking these, I found myself grabbing a bite every time I walked into the kitchen! 😂"
---
Looking for another keto breakfast idea? Check out our popular keto waffles!