Easy Keto Maple Pork Tenderloin
Serve up the perfect fall-flavored dinner with this recipe for keto maple pork tenderloins.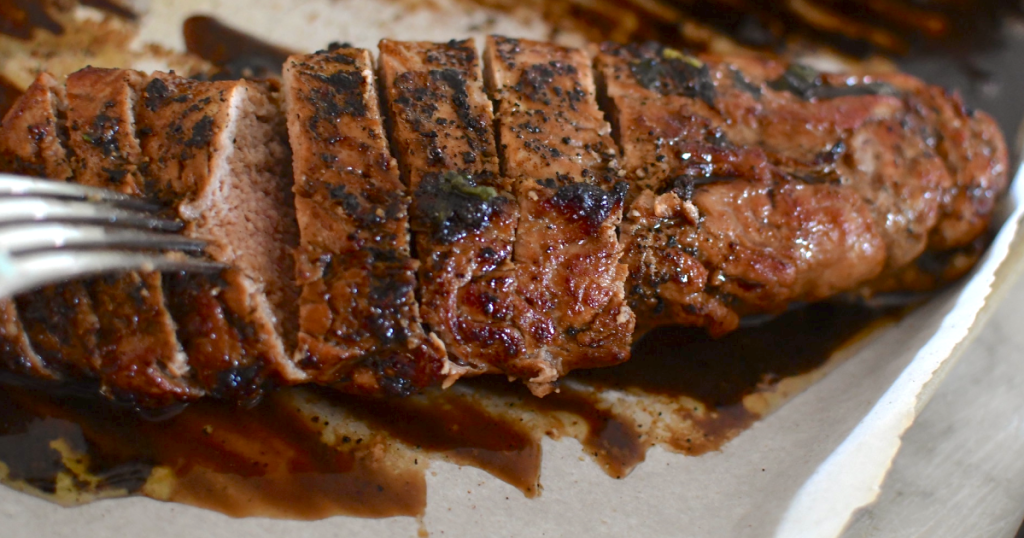 ChocZero has done it again with their sugar-free maple syrup! What better way to use it than on a savory dish like a maple pork tenderloin? This recipe comes together in no time and makes an easy weeknight meal that will impress.
The touch of sweetness from the ChocZero keto maple syrup is perfection. 🤩
I've tried a lot of keto maple syrups and for me, ChocZero by far has the best one. When I found out they were sending me their maple syrup to try (since pretty much everyone on the Hip2Keto team is already addicted), I was so excited and wanted to try it out in an unconventional way.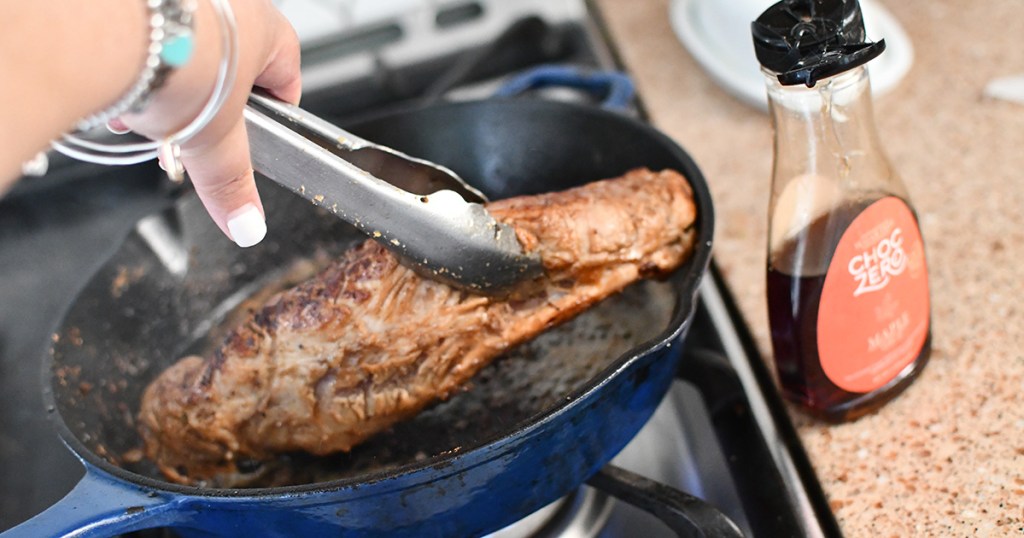 Why pork tenderloins for this dish?
Pork tenderloins are generally a very affordable cut of meat and a great source of protein. They cook up fast and have great flavor. My favorite way to cook them is to sear the outside and then finish cooking the tenderloin in the oven. Super easy!
With this recipe, after you pan-sear the tenderloin, you make a tasty glaze in the skillet by adding in chicken broth, ChocZero Maple Syrup, butter, and fresh sage. The glaze is my favorite part!
I recommend serving these keto maple pork tenderloins with roasted Brussels sprouts and cauliflower rice. The flavor profile of those items paired together is amazing. Mashed cauliflower with asparagus would also be delicious. 🤤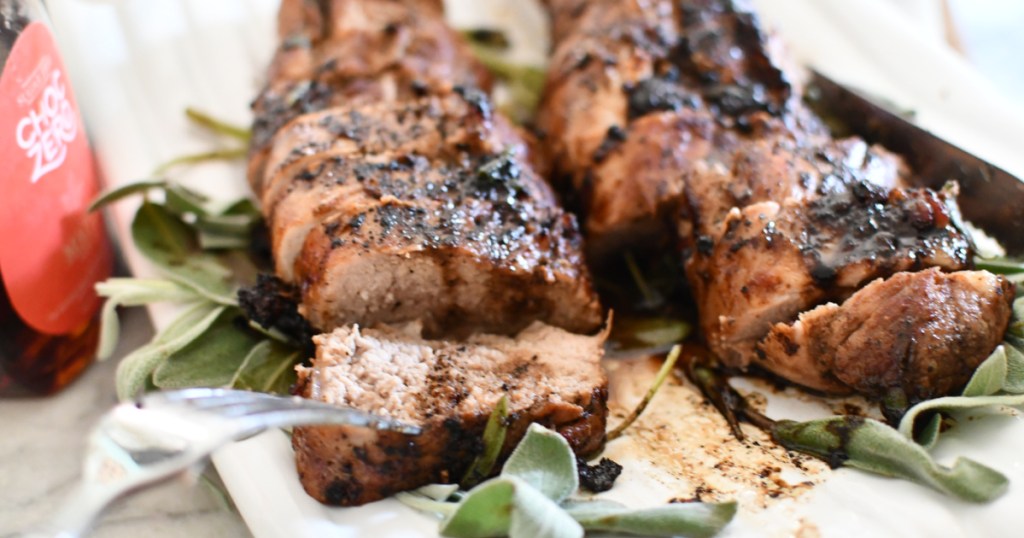 Tips for making the best Keto Maple Pork Tenderloin:
Try to buy as uniform of a size as possible of the pork tenderloins as sometimes one end is much thinner than the other. This will help with even cooking time.
A cast-iron skillet works great for this recipe as it helps create that beautiful, brown sear.
You can use one teaspoon of dried sage if you can't find fresh. One tablespoon of fresh sage equals about one teaspoon dried.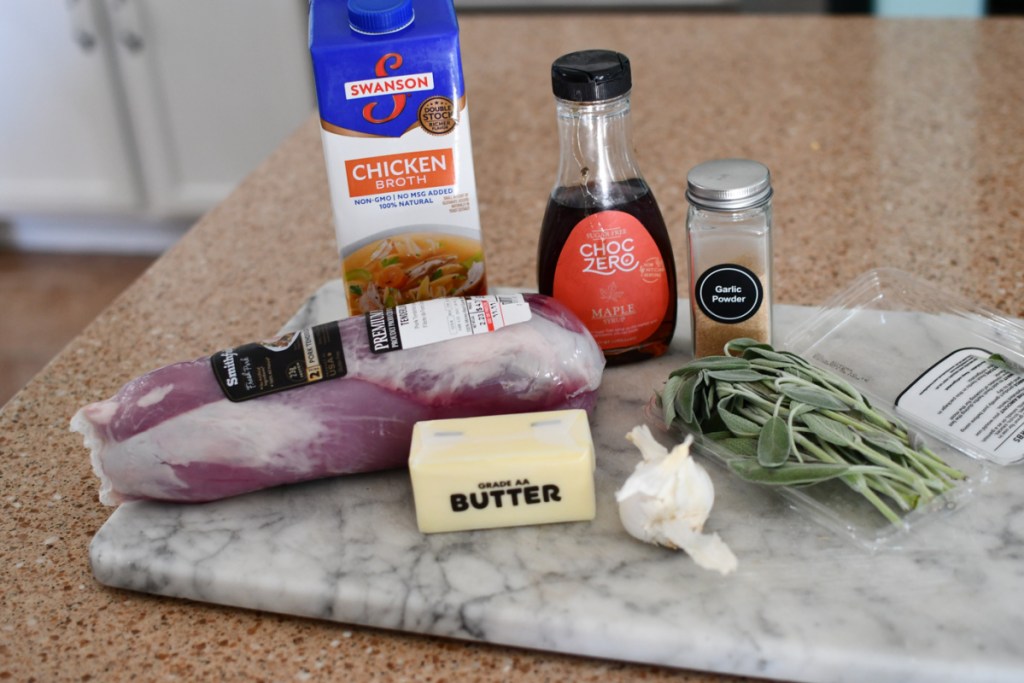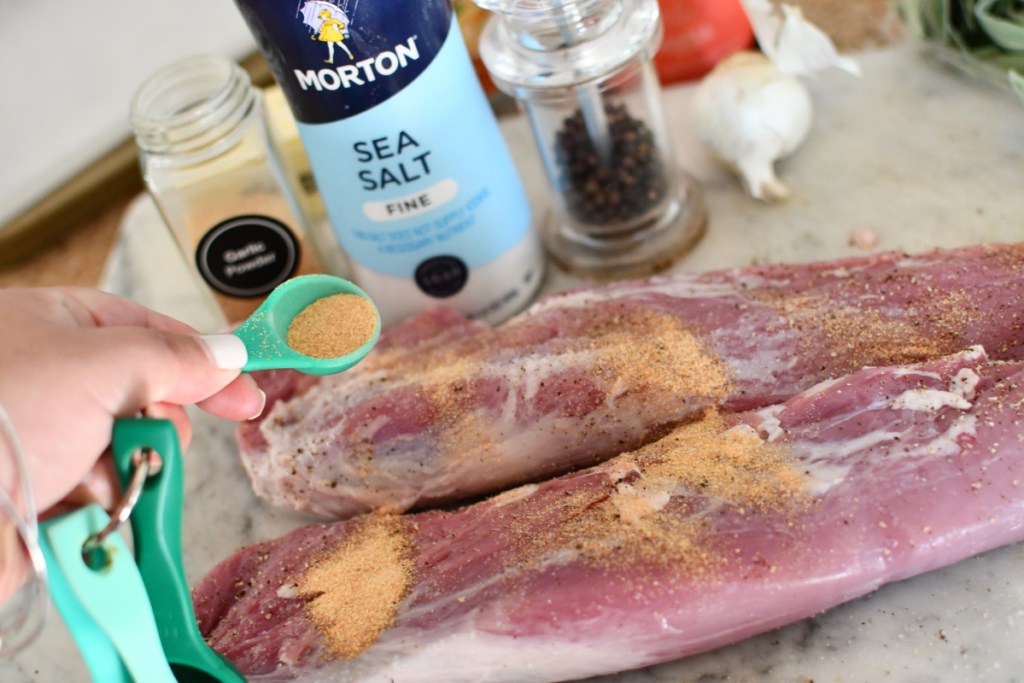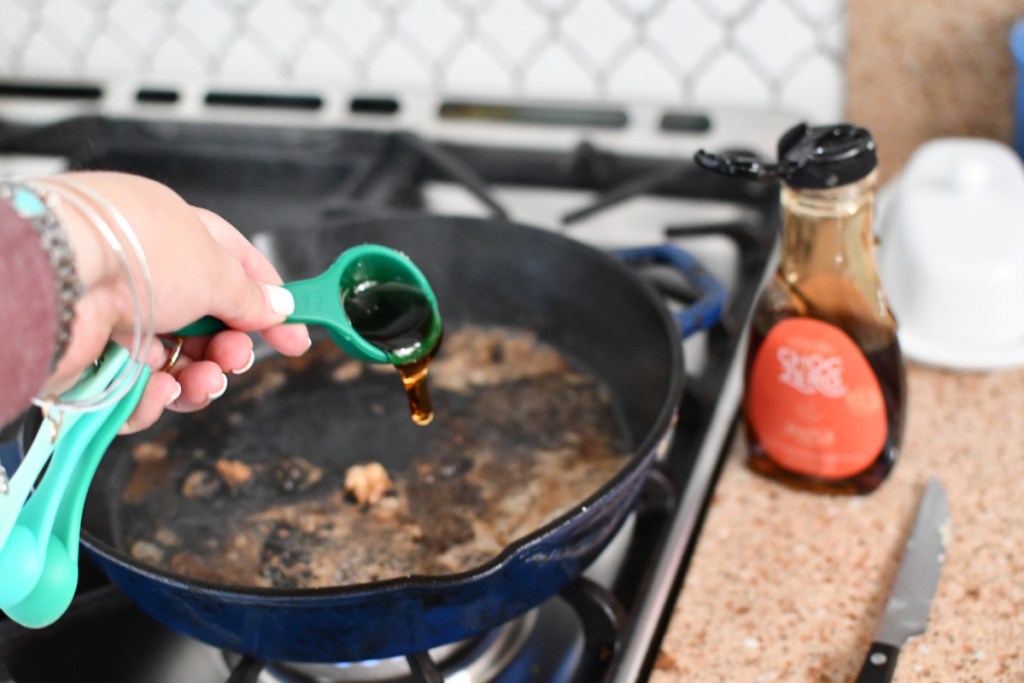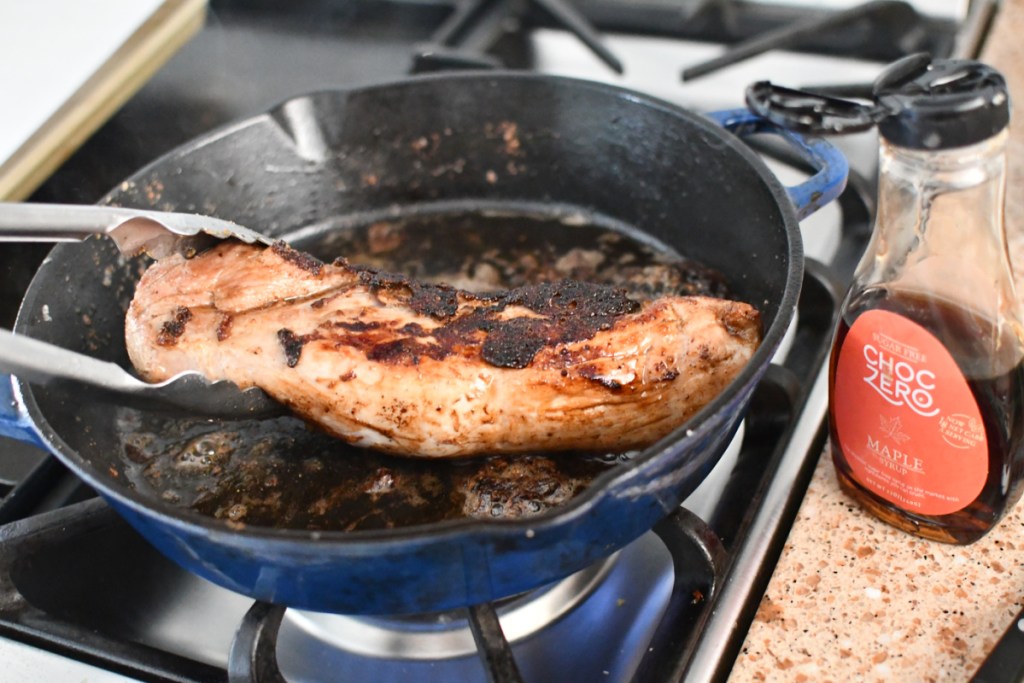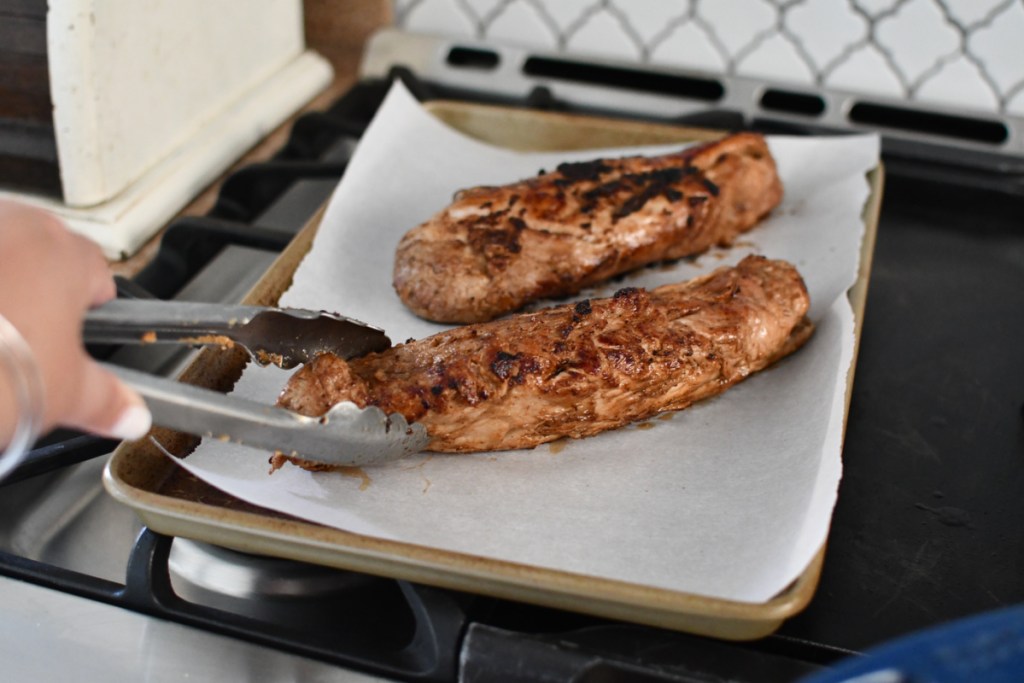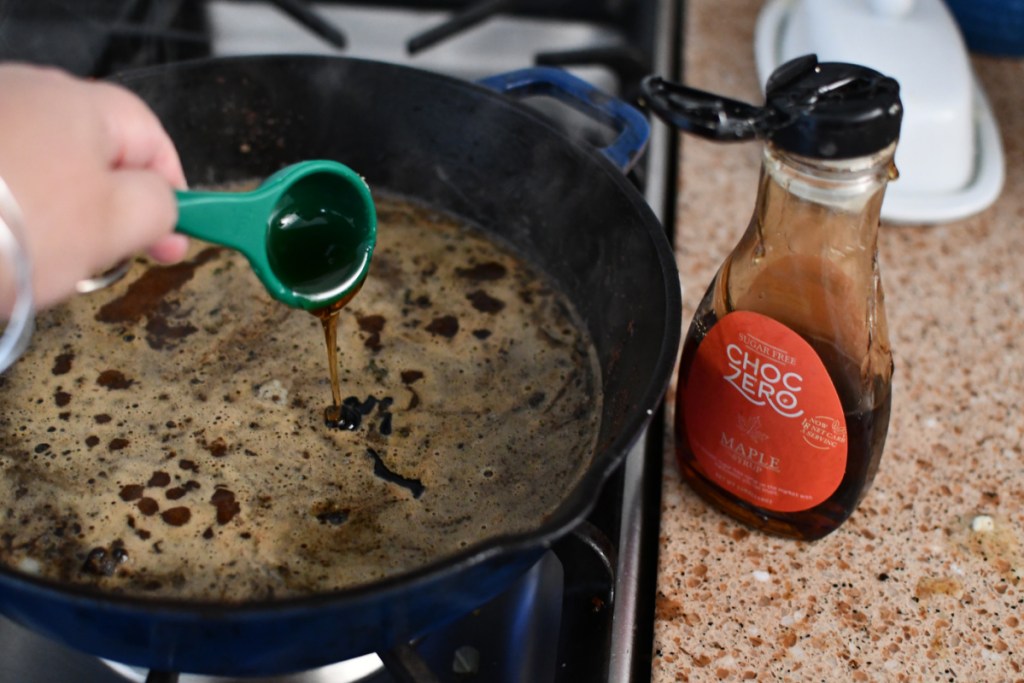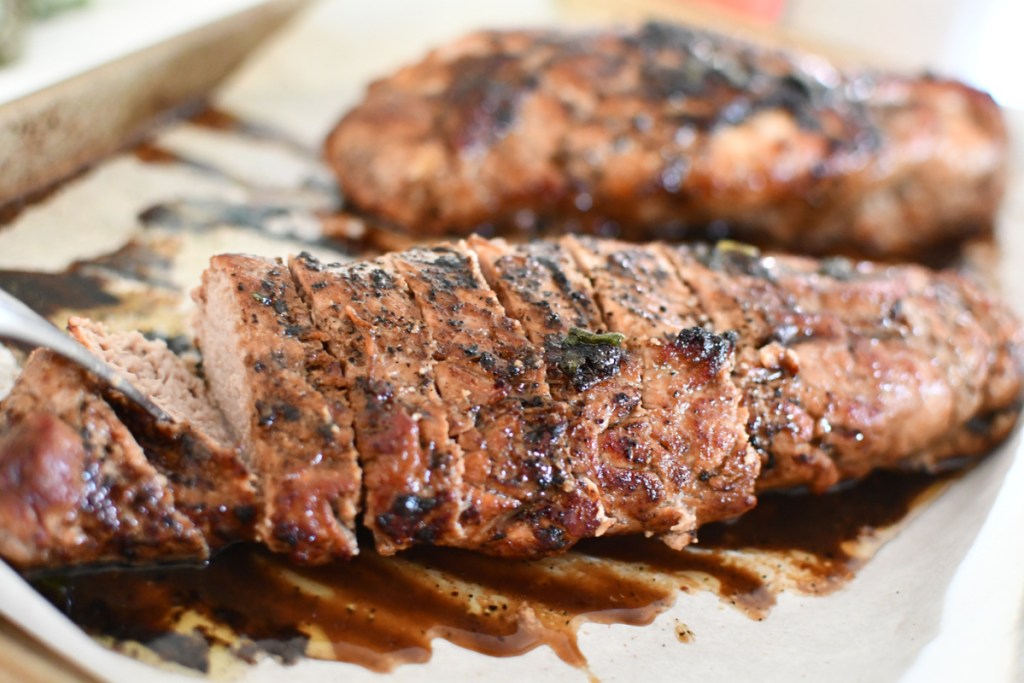 ---
Print
Keto Maple Pork Tenderloins
yield: 4 SERVINGS
prep time: 10 MINUTES
cook time: 40 MINUTES
total time: 50 MINUTES
Pork tenderloins topped with a sweet and savory glaze using ChocZero's sugar-free maple syrup.
Ingredients
2 pork tenderloins, about 1 pound each
1 teaspoon salt
1/2 teaspoon pepper
2 teaspoons garlic powder
1/2 cup butter (1 stick), divided
4 garlic cloves, minced
1/2 cup chicken broth
1 tablespoon fresh sage, chopped
Directions
1
Preheat oven to 425 degrees. Prepare a baking sheet with parchment paper. Pat the pork tenderloins dry with paper towels.
2
Cover the pork tenderloins with salt, pepper, and garlic powder.
3
Melt half of the stick of butter (1/4 cup) in a large skillet over medium heat (a cast-iron skillet works great for this recipe). Once the butter has melted and the skillet is hot, add the minced garlic to the skillet and sauté for 2 to 3 minutes. Then whisk in 2 tablespoons of ChocZero keto maple syrup. Continue to whisk to keep the syrup from clumping. This is an important step.
4
Place the pork tenderloins in the skillet and cook for about 4 to 5 minutes per side. If both tenderloins don't fit in the skillet, you can sear them one at a time. Then transfer the pork tenderloins to the prepared baking sheet and bake for 15 minutes.
5
While the pork tenderloins are baking, deglaze the skillet with the chicken broth by reducing the heat to low and pouring the broth into the skillet. Scrape up any browned pieces.
6
Add the remaining butter to the skillet. Once it melts, whisk in 2 tablespoons of the keto maple syrup and the chopped fresh sage. Continue to whisk occasionally to prevent the syrup from clumping.
7
Let the glaze simmer for about 5 to 10 minutes until it has been reduced by half, whisking occasionally as needed.
8
After the tenderloins have cooked for 15 minutes, remove them from the oven and cover them with half of the glaze. Return the tenderloins to the oven and bake for another 5 to 10 minutes, until internal temperature reads 145 degrees with a meat thermometer.
9
When the tenderloins are finished baking, let them rest for at least 5 minutes before slicing. Slice the tenderloin about 1/2 inch thick and cover slices with the remaining glaze. Enjoy!
Nutrition Information
Yield: 4, Serving Size: 4 pieces of pork tenderloin
Amount Per Serving: 511 Calories | 30.5g Fat | 17.4g Total Carbs | 14.3g Fiber | 0g Sugar | 47.1g Protein | 3.1g Net Carbs
---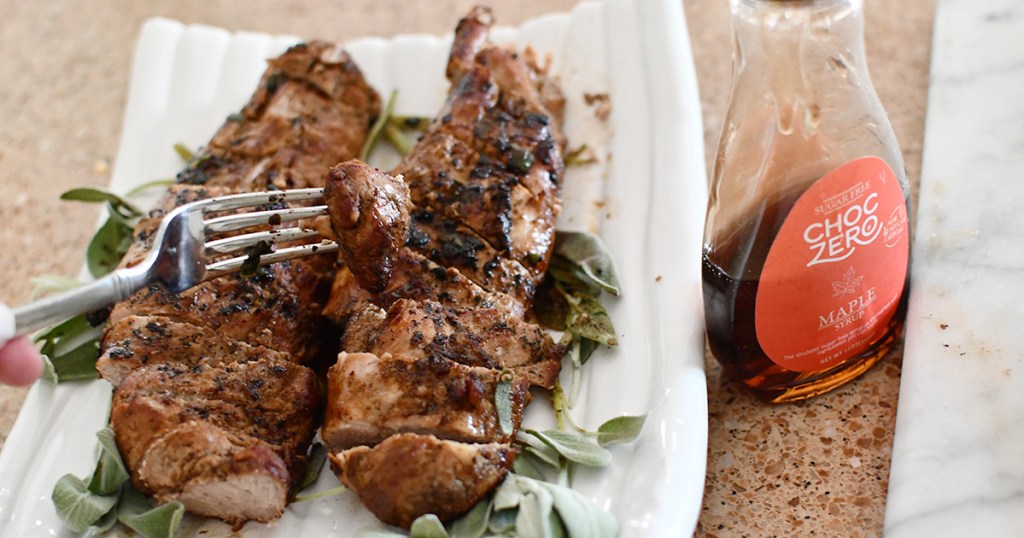 The easiest dinner!
Who knew that making keto maple pork tenderloins would be so simple?! This is a meal that comes together in about 30 minutes, which is my favorite type of dinner.
I hope you enjoy it as much as I do!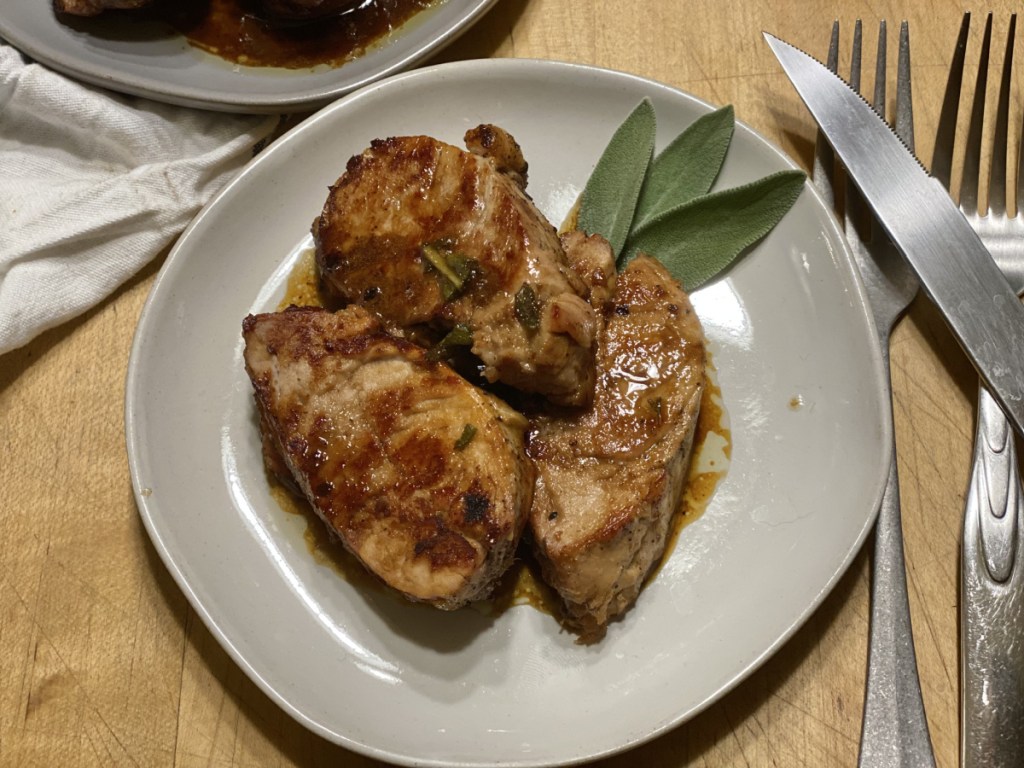 My Hip sidekick Jenna made this keto-friendly maple pork tenderloin recipe and here's what she had to say:
"My whole family loved this! I am so glad it made enough for the kids to have seconds – and this is a tough crowd to please! Luckily I was able to still enjoy some leftovers for lunch the next day. The flavor is so perfect with the pork. I love ChocZero maple syrup since you can't even tell it's keto-friendly — it truly tastes just like real maple syrup! And using it in a savory dish?! Brilliant! I will definitely make this again on the regular. This was the perfect dish to break in the new oven since I just moved!"
---
Craving more sugar-free syrups? Check out this review of our top 5 sugar-free syrups to buy!