Keto Frozen Greek Yogurt Bark with Berries, Pistachios, & Keto Chocolate Chips
This keto frozen Greek yogurt bark is a must-try sweet treat!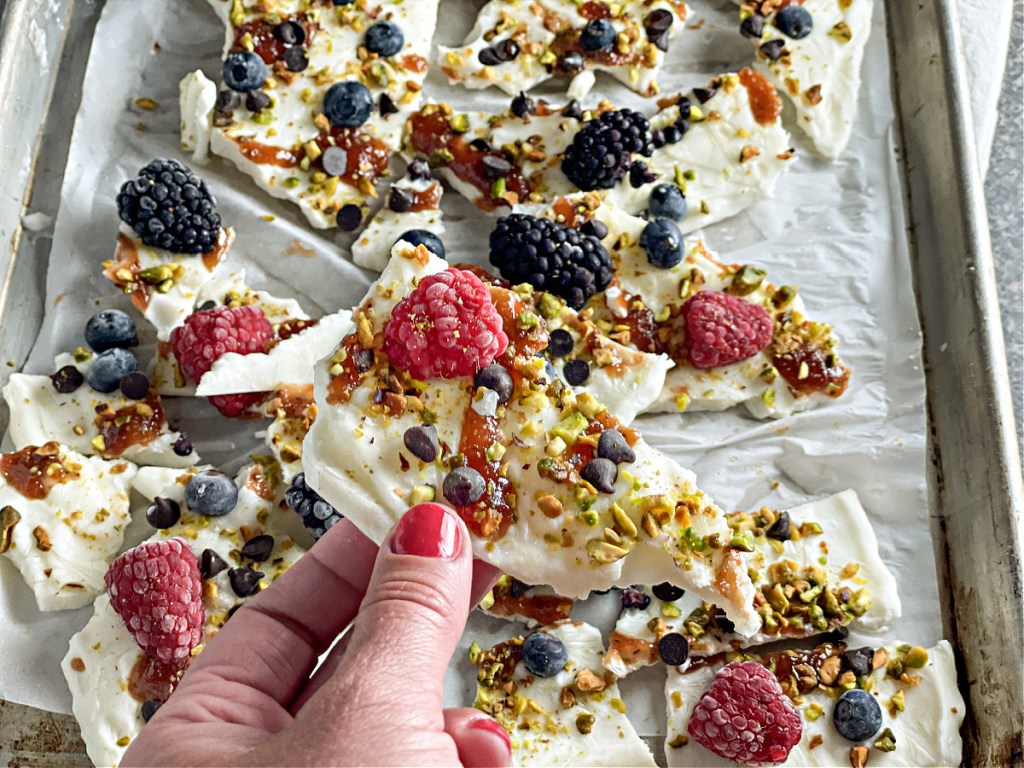 It doesn't get any easier than frozen Greek yogurt bark!
How perfect is this treat? All you do is spread Greek yogurt on a baking sheet, and top it with keto jam, berries, pistachios, and keto chocolate chips. Then freeze it for a few hours, break it into pieces and you have not only the tastiest but also the prettiest keto dessert.
I don't know if this even qualifies as a dessert. It's pretty healthy, basically a frozen yogurt parfait. You could eat it for a snack or even for breakfast!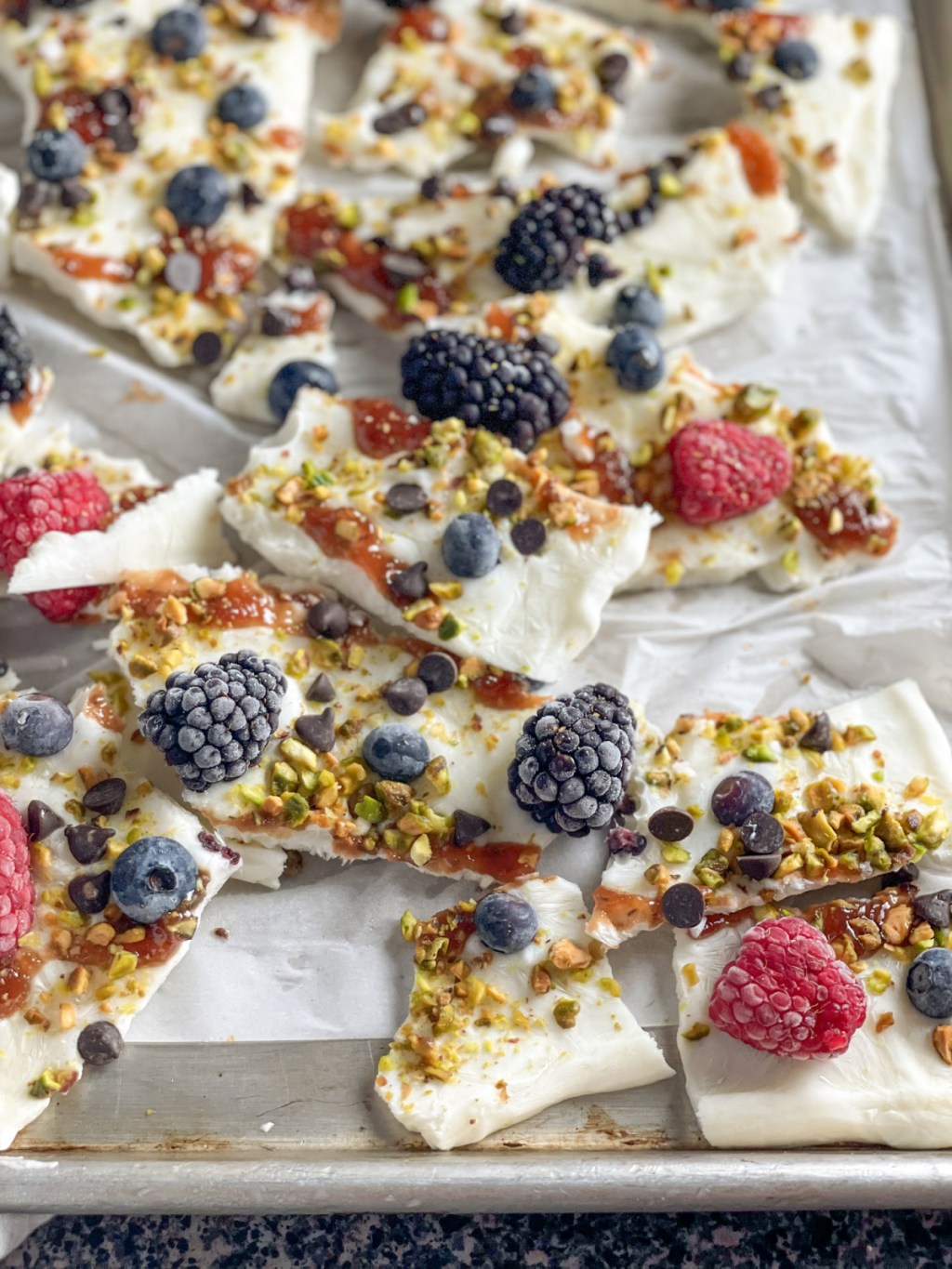 Is frozen Greek yogurt bark keto?
It is when you use keto Greek yogurt. I used Two Good Vanilla Greek Yogurt and let me tell you, it's so tasty! It doesn't taste low-carb at all! It only has two grams of carbs per 3/4 cup! We also have a post sharing all of our favorite keto yogurts.
I also used ChocZero's Keto Strawberry Jam and ChocZero's Dark Chocolate Chips. Those two items along with berries and pistachios created the best flavor combination — oh my gosh, it's so good!
You might have seen Jennifer Gardner making something similar on Instagram. We couldn't resist copying her idea of using jam… but keto jam of course! 🙌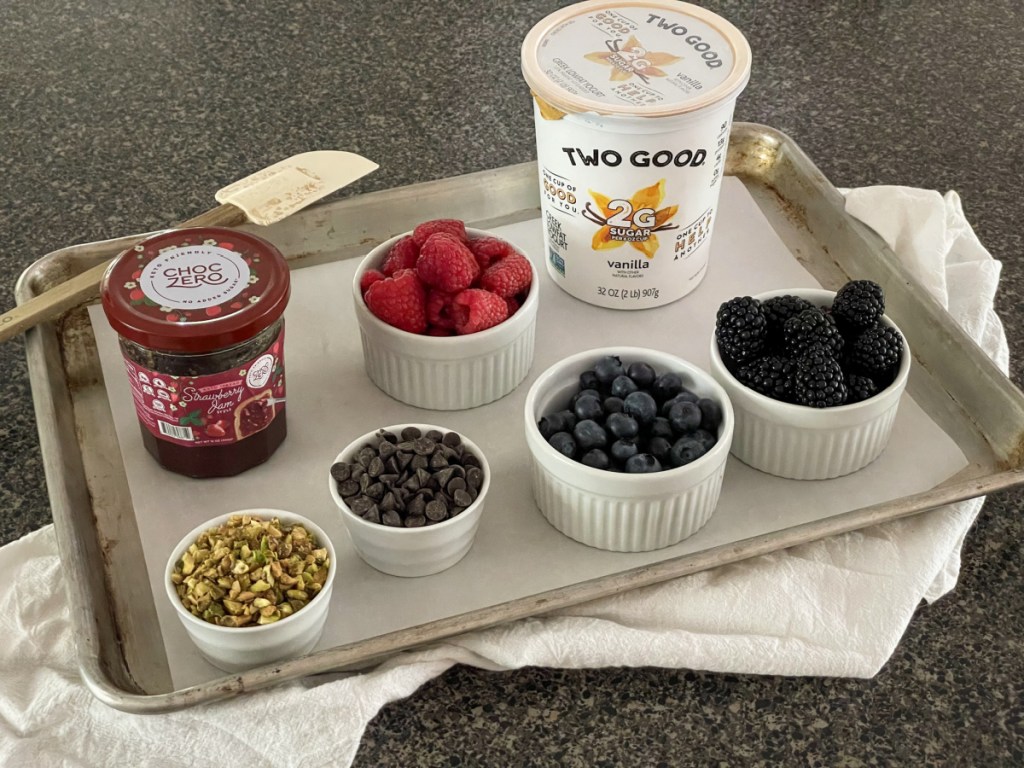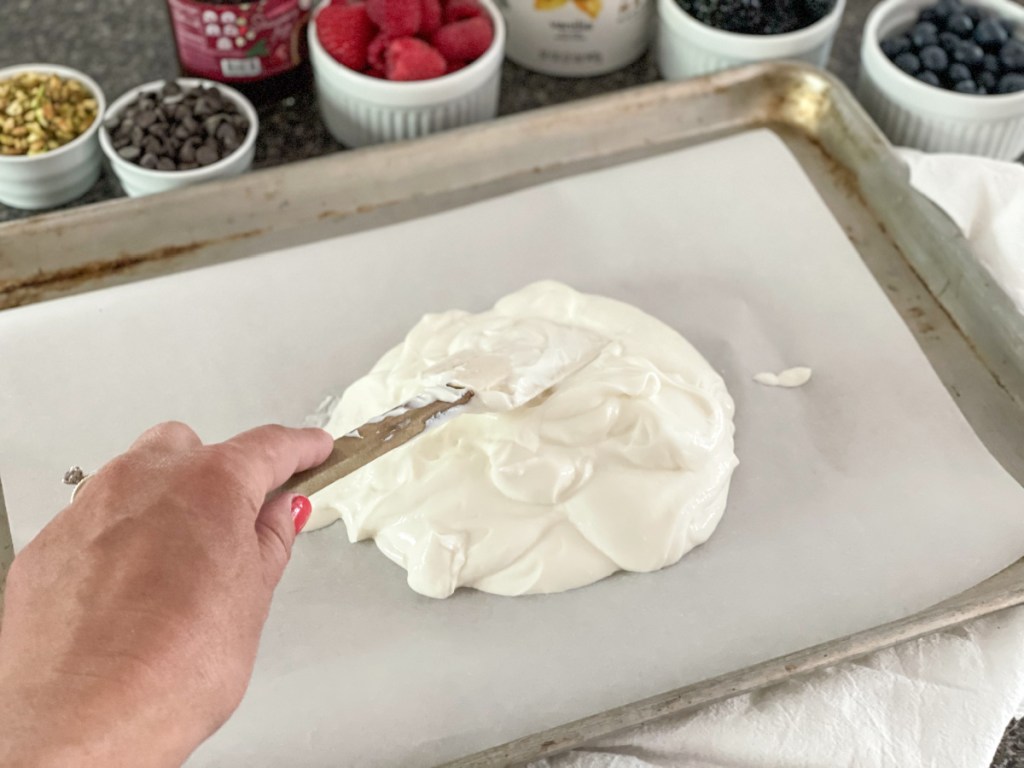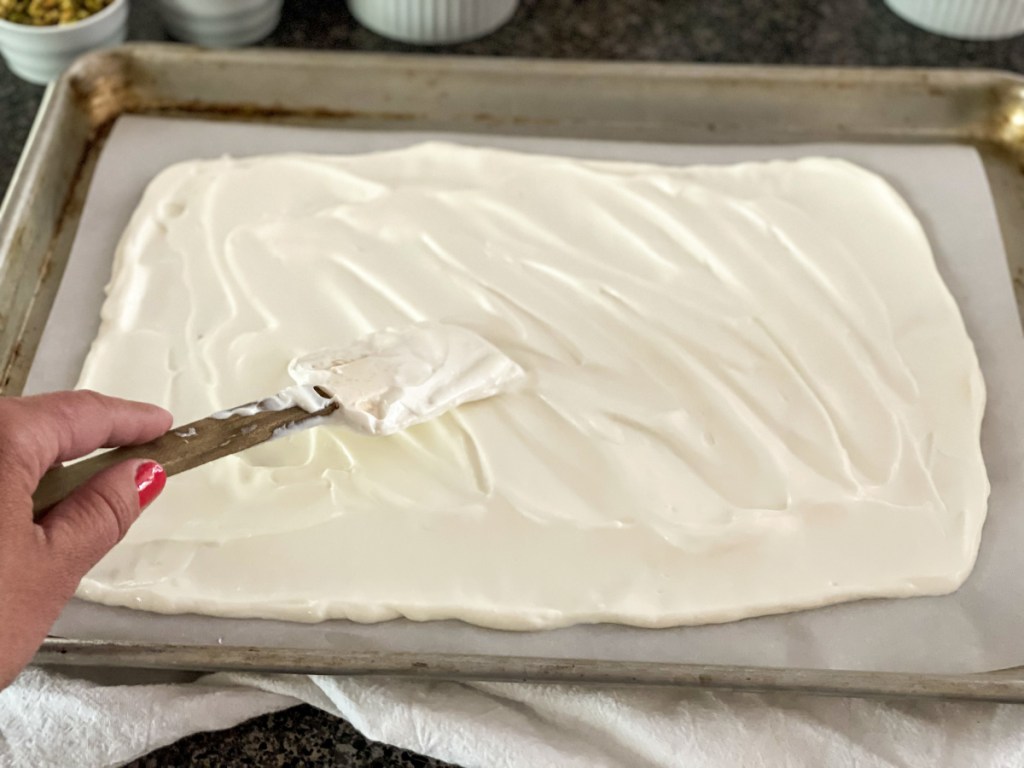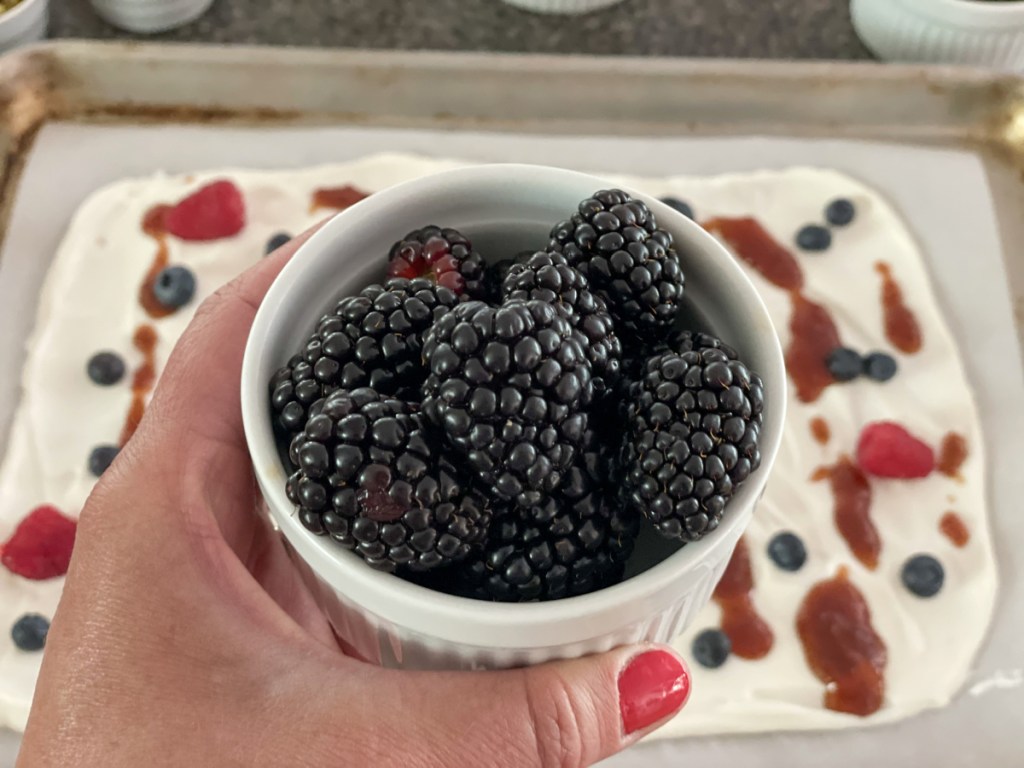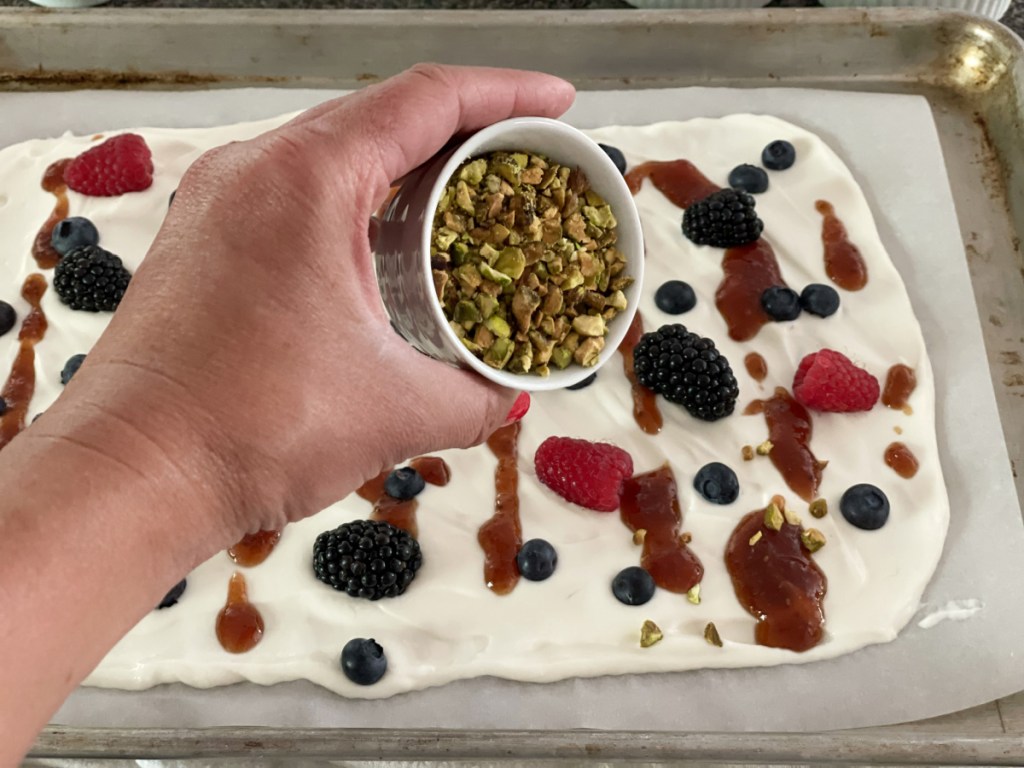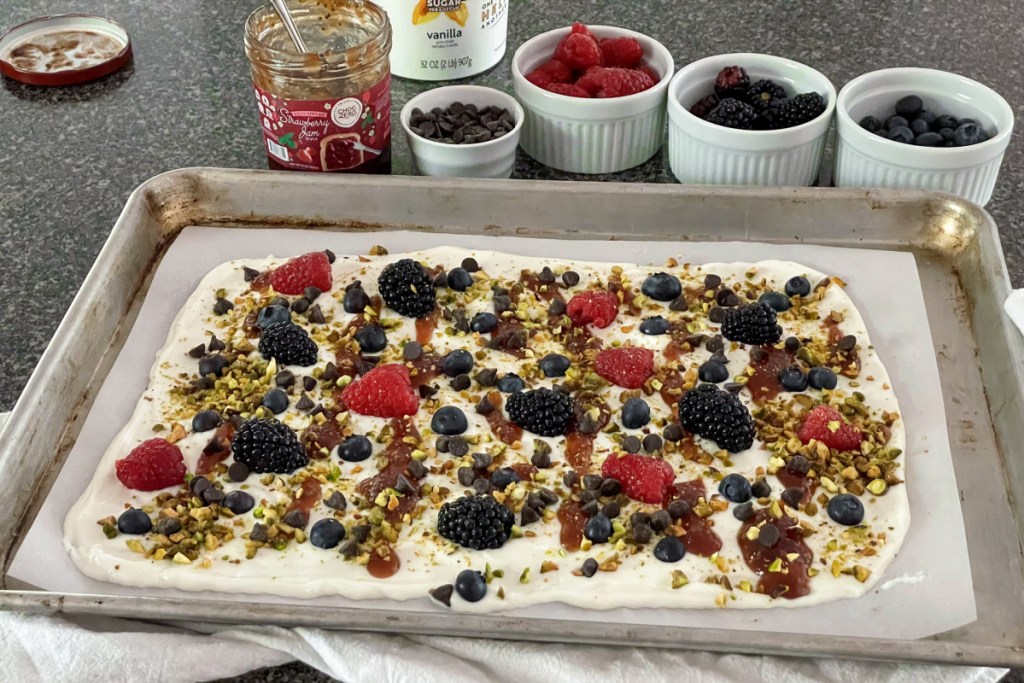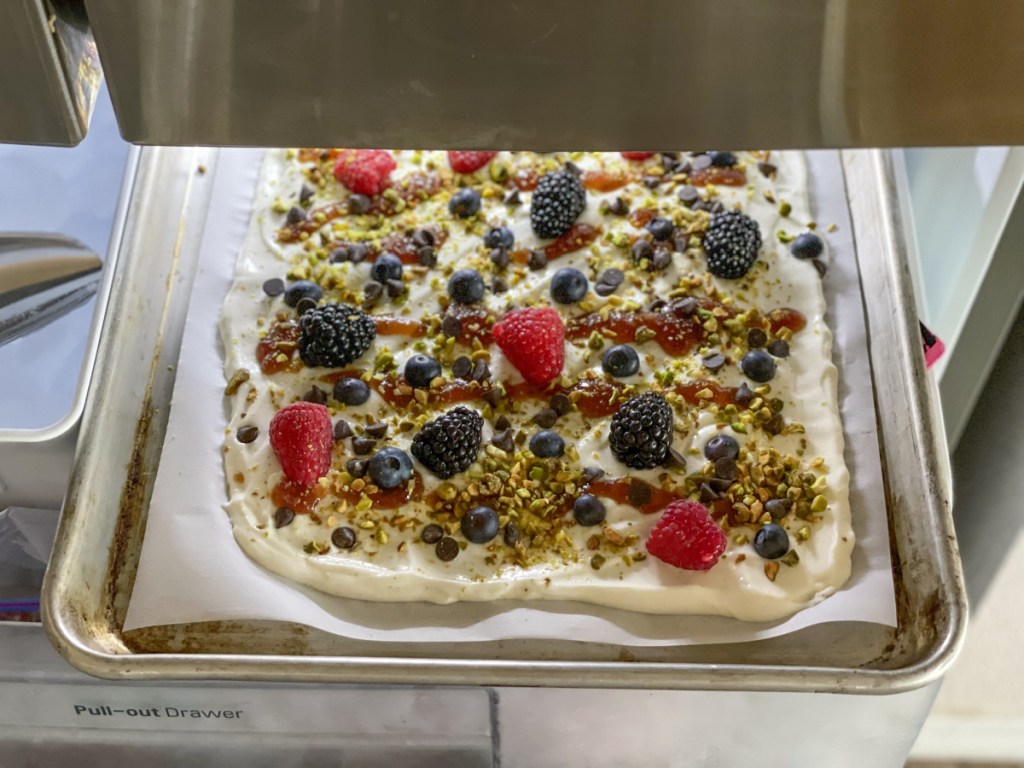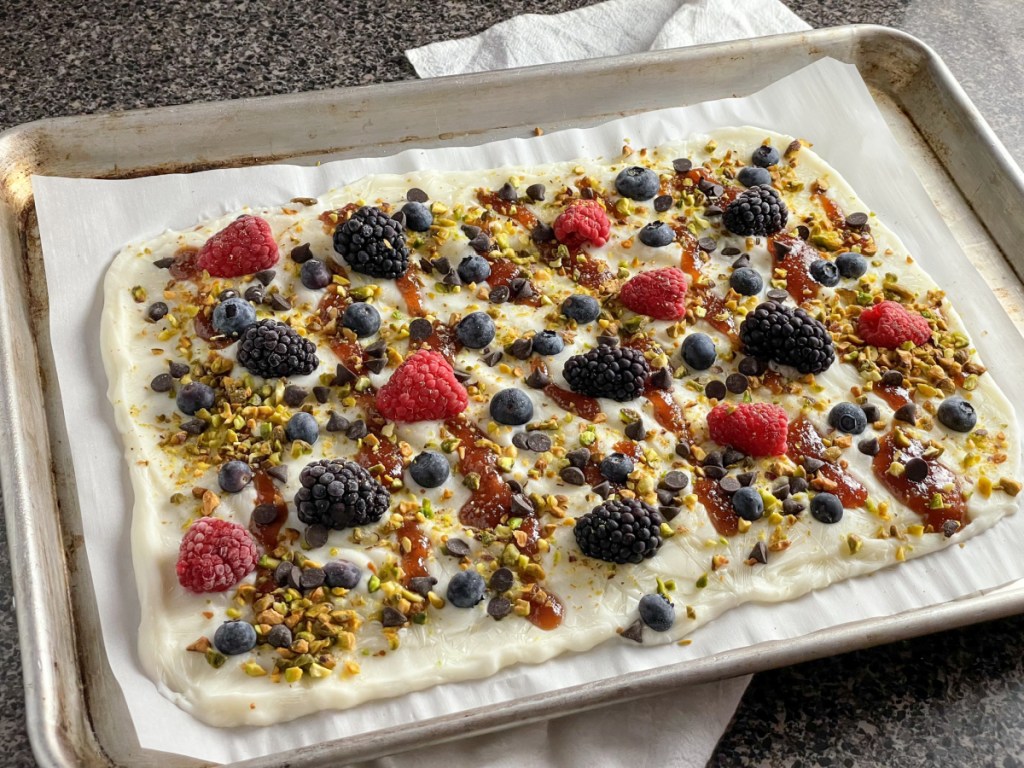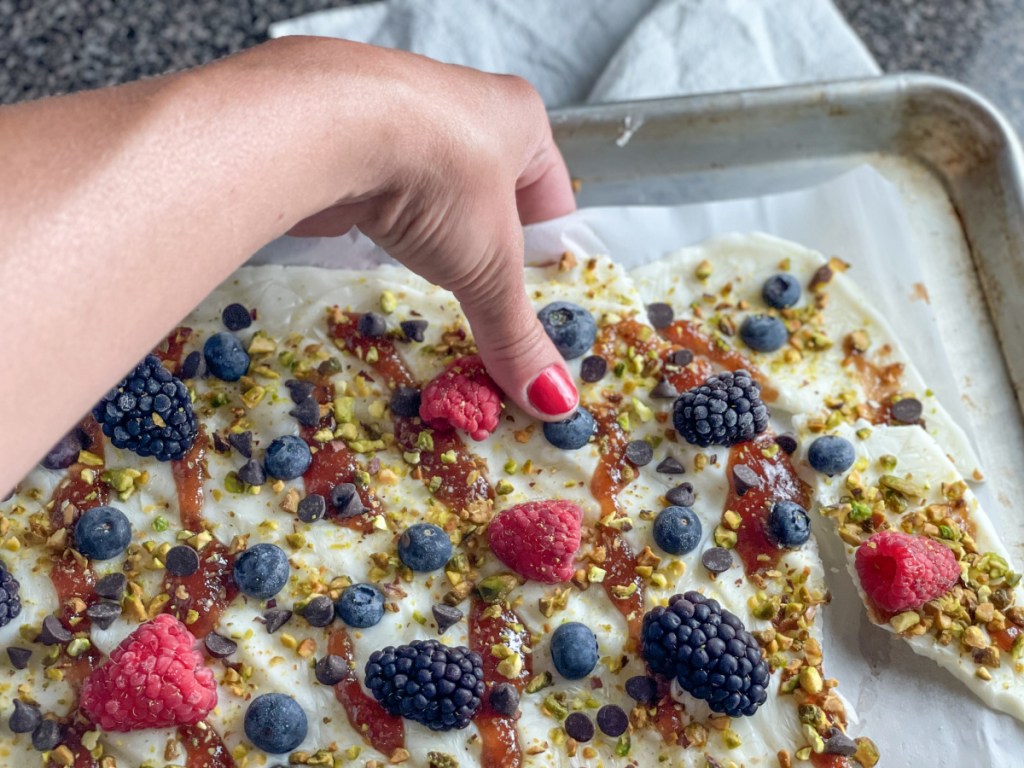 ---
Print
Keto Frozen Greek Yogurt Bark
yield: 10 SERVINGS
prep time: 10 MINUTES
total time: 10 MINUTES
A thin layer of yogurt frozen with keto jam, berries, pistachios, and keto chocolate chips and then broken into the perfect size pieces to enjoy.
Ingredients
1/4 cup blueberries
1/4 cup raspberries
1/4 cup blackberries
1/4 cup pistachios, finely chopped
Directions
1
Line a large baking sheet with parchment paper.
2
Evenly spread the yogurt over the parchment paper. It'll be about a quarter of an inch thick, maybe a little less.
3
Drizzle the jam over the yogurt and then top with blueberries, raspberries, blackberries, pistachios, and chocolate chips, or any other low-carb topping you'd like.
4
Place the yogurt bark in the freezer for about 3 hours, until it's frozen solid. Then remove from the freezer and break into 10 pieces the best you can.
5
Frozen Greek yogurt bark is best consumed straight from the freezer. It will start to melt if left at room temperature. Store in a sealed container in the freezer for up to a month. Enjoy!
Nutrition Information
Yield: 10 servings, Serving Size: 1 serving
Amount Per Serving: 63 Calories | 2.9g Fat | 9g Total Carbs | 6.3g Fiber | 1.2g Sugar | 4.2g Protein | 2.7g Net Carbs
---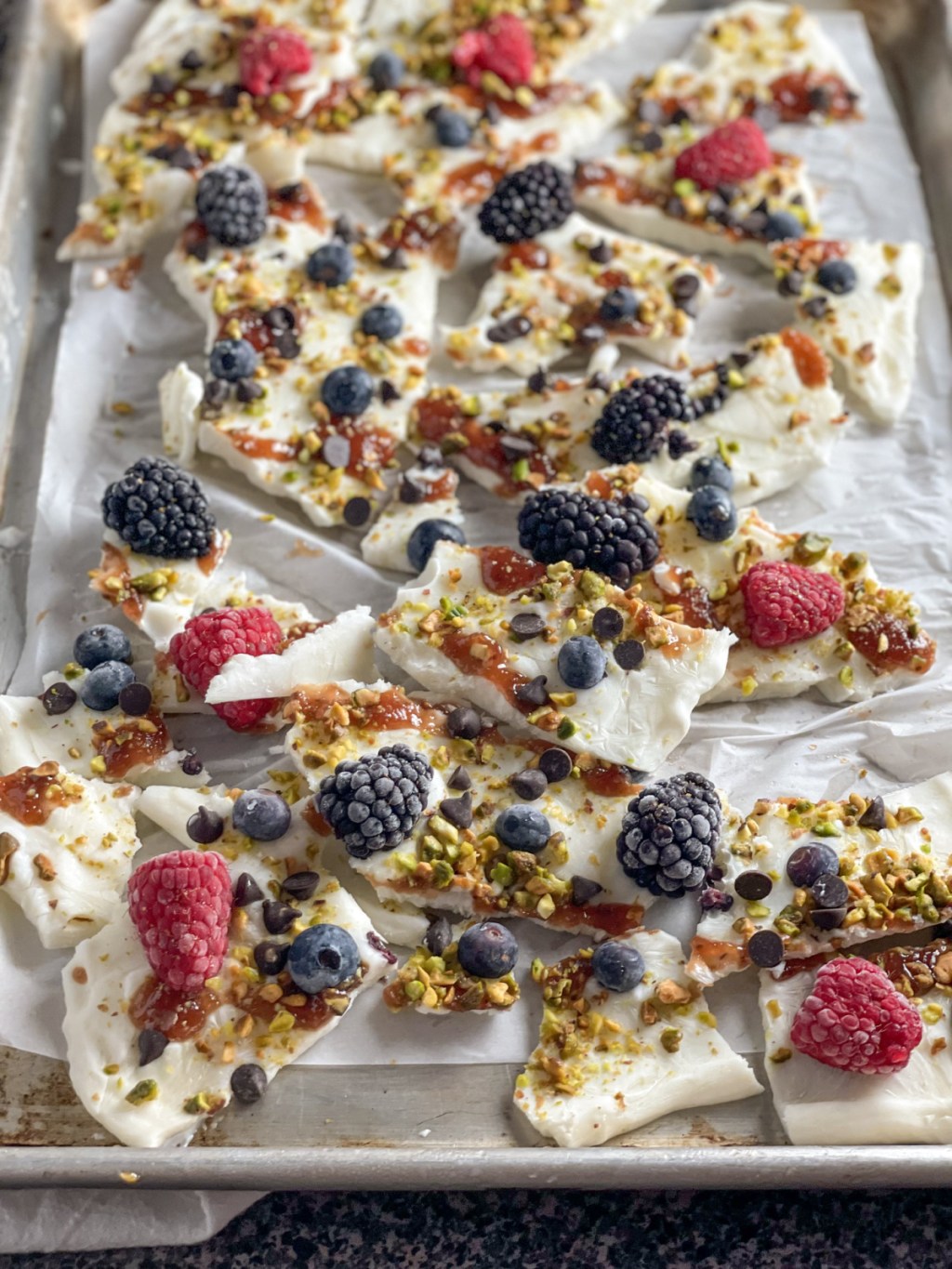 How to make the best keto frozen Greek yogurt bark:
Make sure you use a keto-friendly yogurt. I recommend a keto Greek yogurt to get that extra protein!
If you want the yogurt bark fully loaded, you could chop up the berries so that you get better coverage of them over the yogurt. I left them whole because they were so magnificent.
Feel free to mix up the toppings. I used pistachios for that pop of green color but any chopped nut or keto granola will work just fine. Check out Lina's recipe on Hip2Save for more ideas.
This is best when eaten directly out of the freezer. It will melt if left at room temperature for too long.

Not just for summer!
While this keto frozen Greek yogurt bark is an ideal way to cool down in the summer heat, it's also something that can be enjoyed year-round. With this batch, I found myself grabbing a piece out of the freezer almost every time I was in the kitchen, lol! I couldn't resist!
Because this is so good and easy to make, it's going to be a staple in my house. Plus it's great any time of year, whether it's berry season in the summertime or as a festive-looking holiday treat!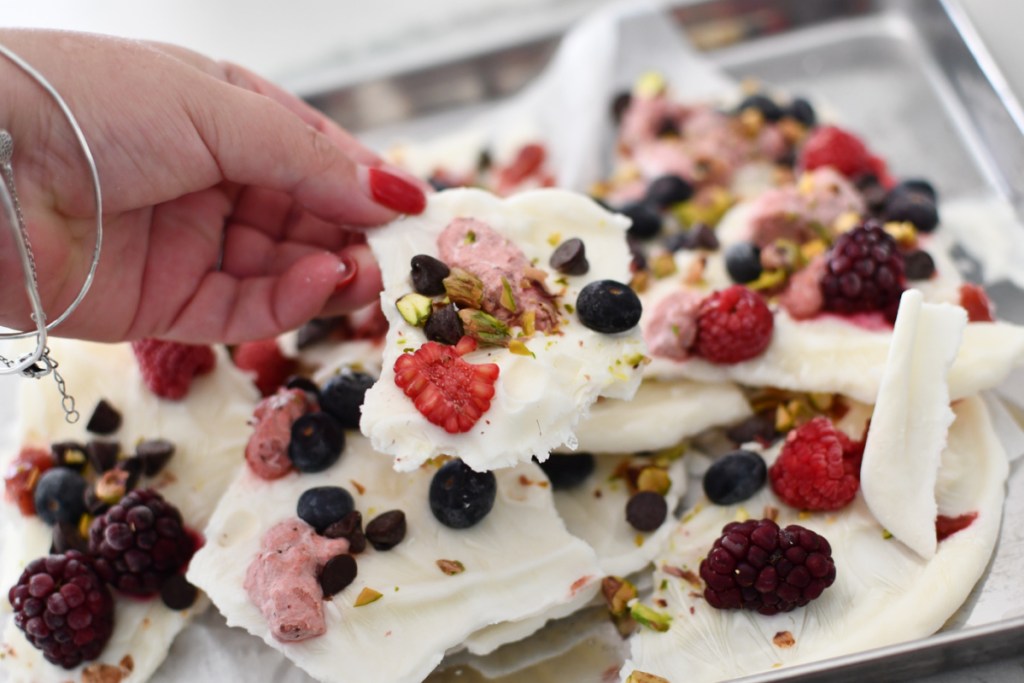 Here's what my Hip sidekick Lina had to say about this keto frozen Greek yogurt bark:
"This is such a delicious keto treat! I keep it in a container in the freezer for a snack. I love the combo of frozen yogurt with jam and chocolate chips. It's satisfying and so YUM! The pistachios add great crunch too."
If you've made frozen Greek yogurt bark, let us know what you think of it and what toppings you used!
---
Got leftover ingredients? Try this frozen yogurt pie next!