Crispy Fried Fish with Creamy Chili Lime Sauce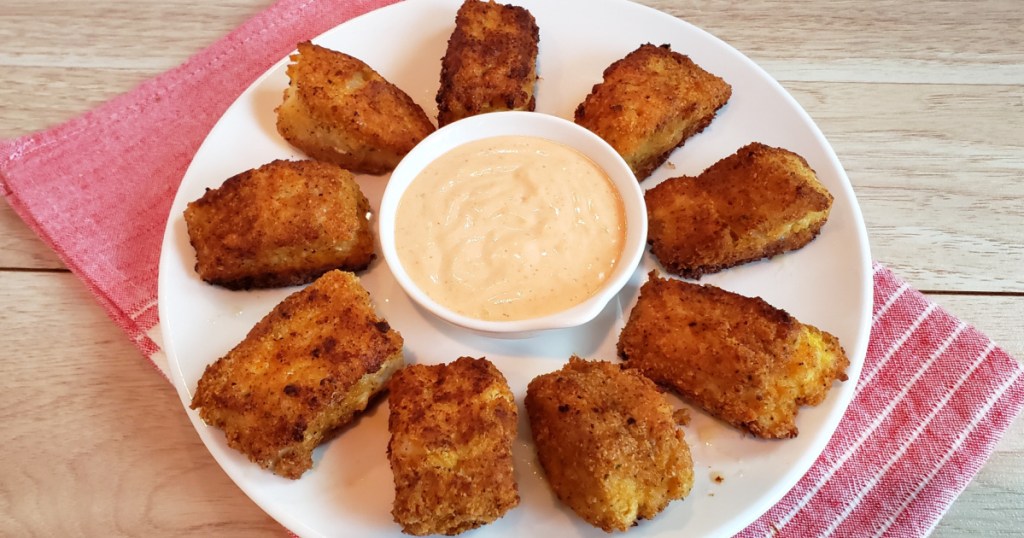 Crispy keto fried fish for dinner tonight? YES, please!

This crispy, gluten-free breading has only two main ingredients plus a handful of seasonings to make it super easy and incredibly delicious. Don't skip the Creamy Chili Lime Sauce either! It takes fried fish to a whole new level. Yum!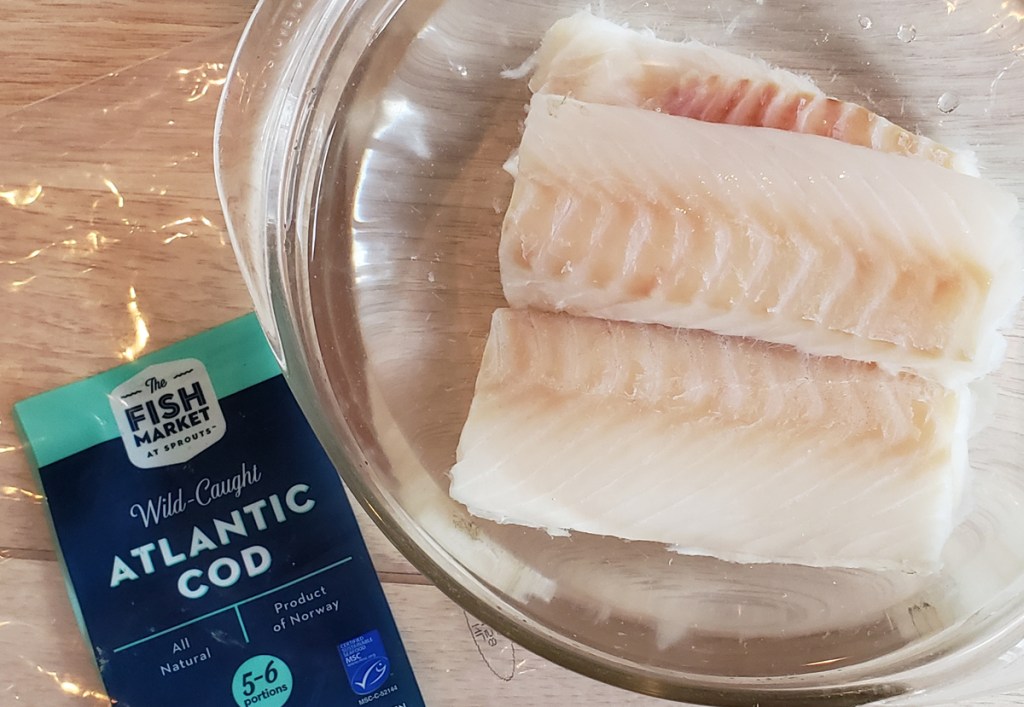 Be selective about the fish you buy.
I love seafood! I've found nearly all fish, shellfish (shrimp, crab, lobster) and mollusks (clams, scallops, mussels) are absolutely delicious! Salmon is so often our go-to seafood, but as they say, there are a lot of fish in the sea. I chose to make this recipe with cod loins because they are evenly sized, reasonably priced, and quite delicious, but any white fish such as flounder, haddock, tilapia, or perch works well.
When you buy fish, select wild-caught rather than farm-raised whenever possible. Wild-caught fish aren't as prone to disease because they live in their natural environment; whereas farmed fish often receive antibiotics to keep them healthy or promote growth. Fish caught in the wild are free to simply do what fish do: swim through the ocean and thrive!
For guidelines on sustainability, check out Seafood Watch published by the Monterey Bay Aquarium.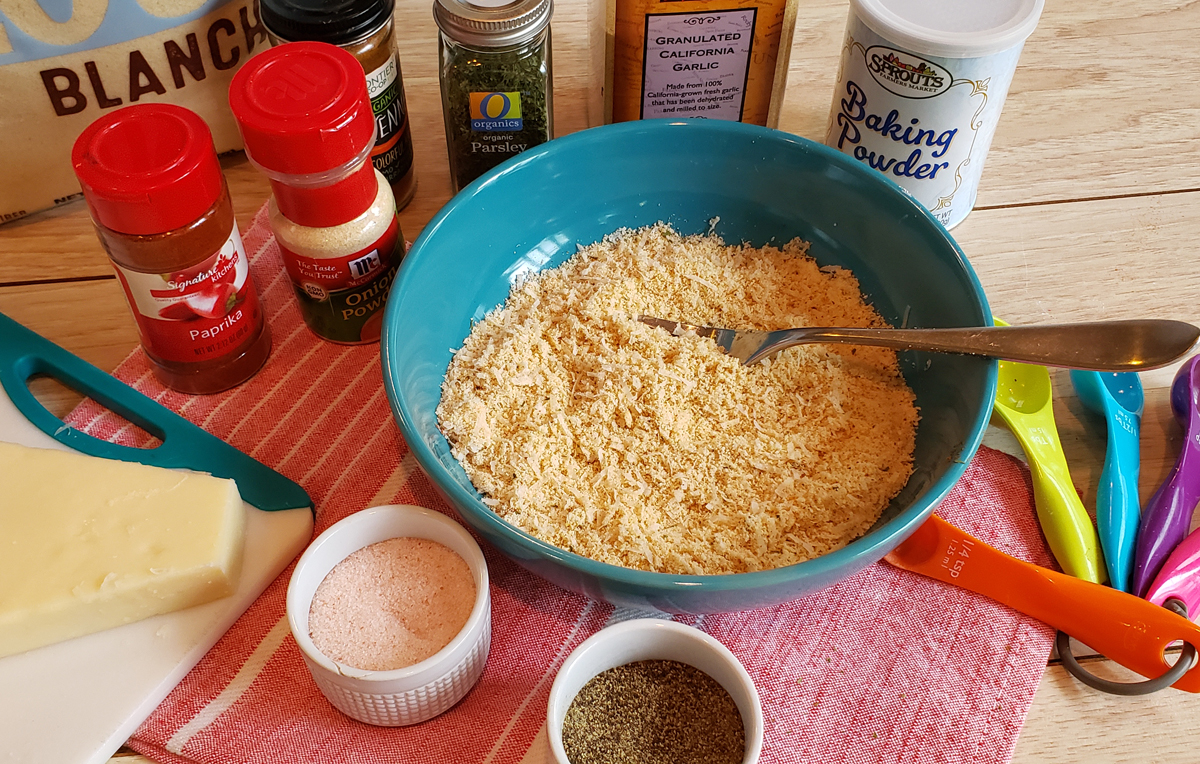 Tips for making the best keto crispy fried fish with creamy chili lime sauce:
When shopping for fish, select a white fish that isn't too thick so it will cook through before the coating gets too brown. If the fish is a thick cut (1-inch or more), you'll need to pop it into a preheated 400°F oven for 4 to 5 minutes after frying to cook the center.
Fish should be cooked to an internal temperature of 145°F.
Defrost fish in the refrigerator, not on the countertop. If you need to speed up the process, immerse the fish in a bowl of cool water. It will defrost in minutes.
Try to keep the oil temperature consistent when frying. Translated: don't crowd the pan. Every time you add fish to the pan, the oil temperature drops, so it's better to cook in batches.
When you remove fish from the pan, place it on a wire rack rather than on paper towels. The fish will continue to steam on the paper towels and the bottom of the fish will become soggy.
The baking powder in the breading mix helps it brown.
When you're making your dipping sauce, you can use your favorite chili sauce to add heat. Sriracha sauce is my go-to, but any sugar-free brand will work.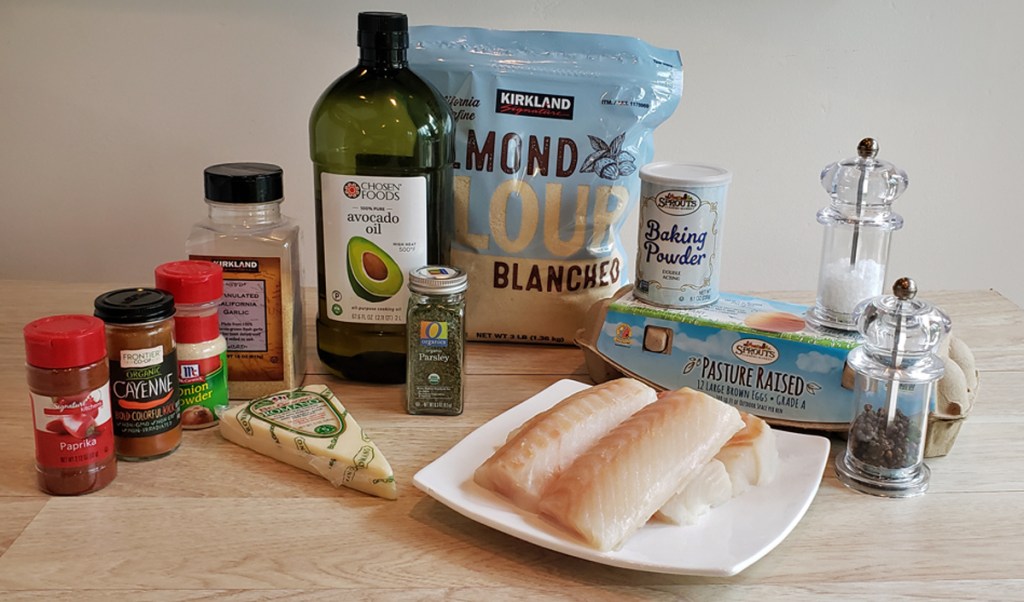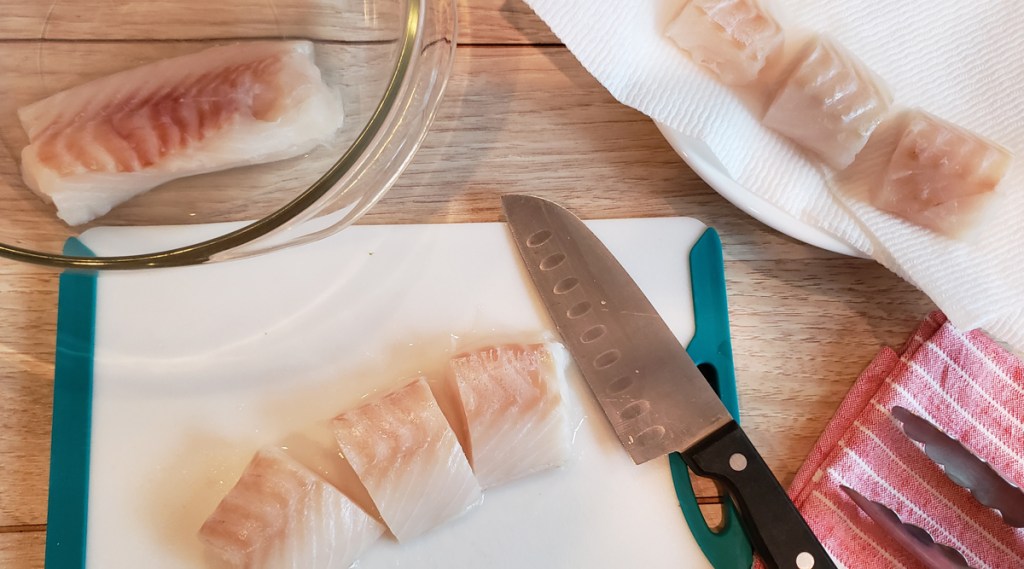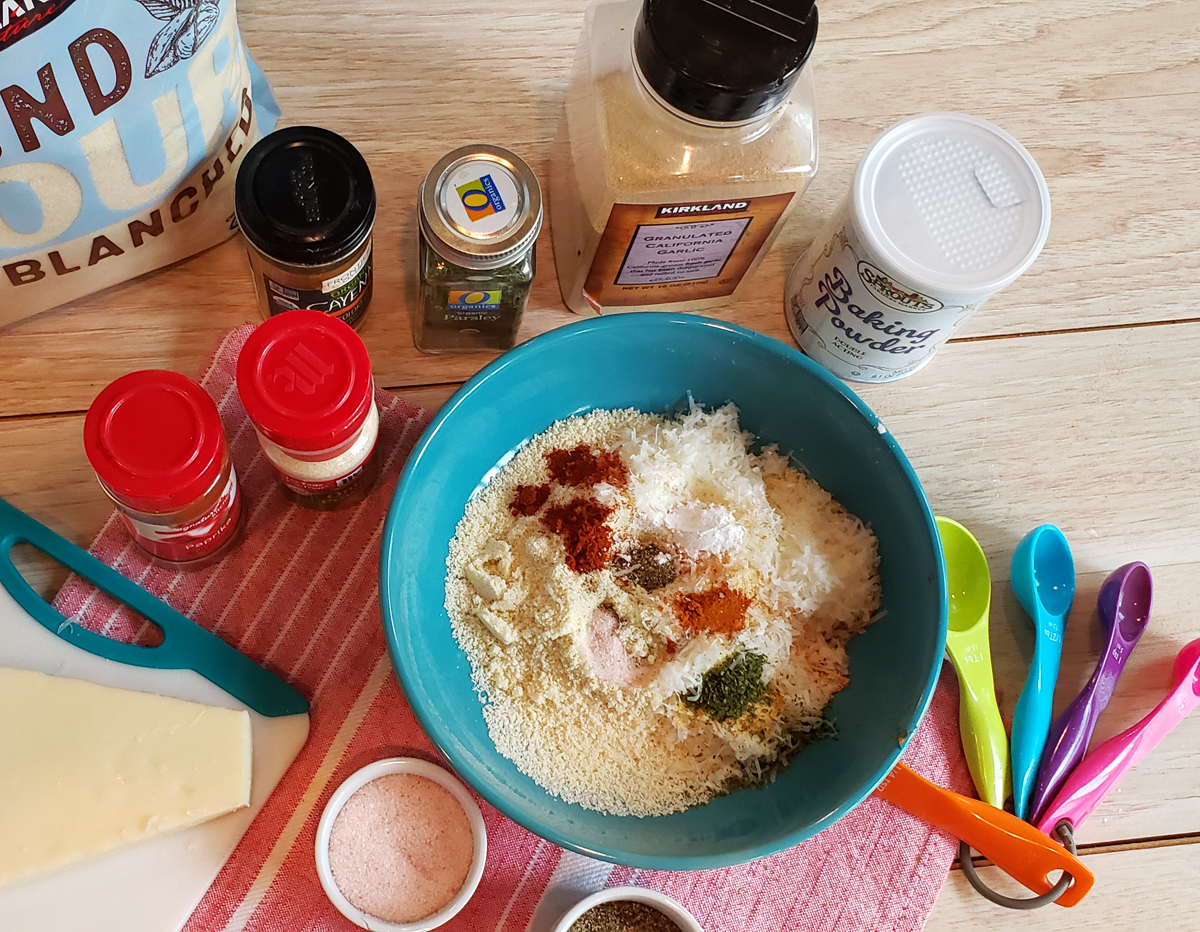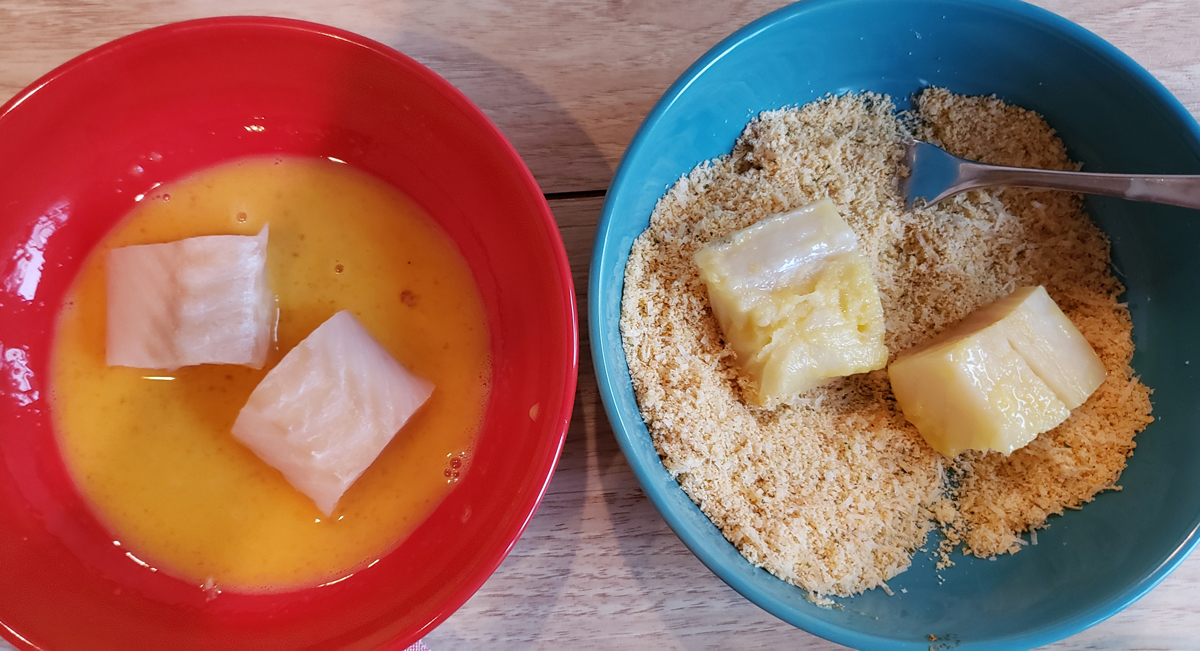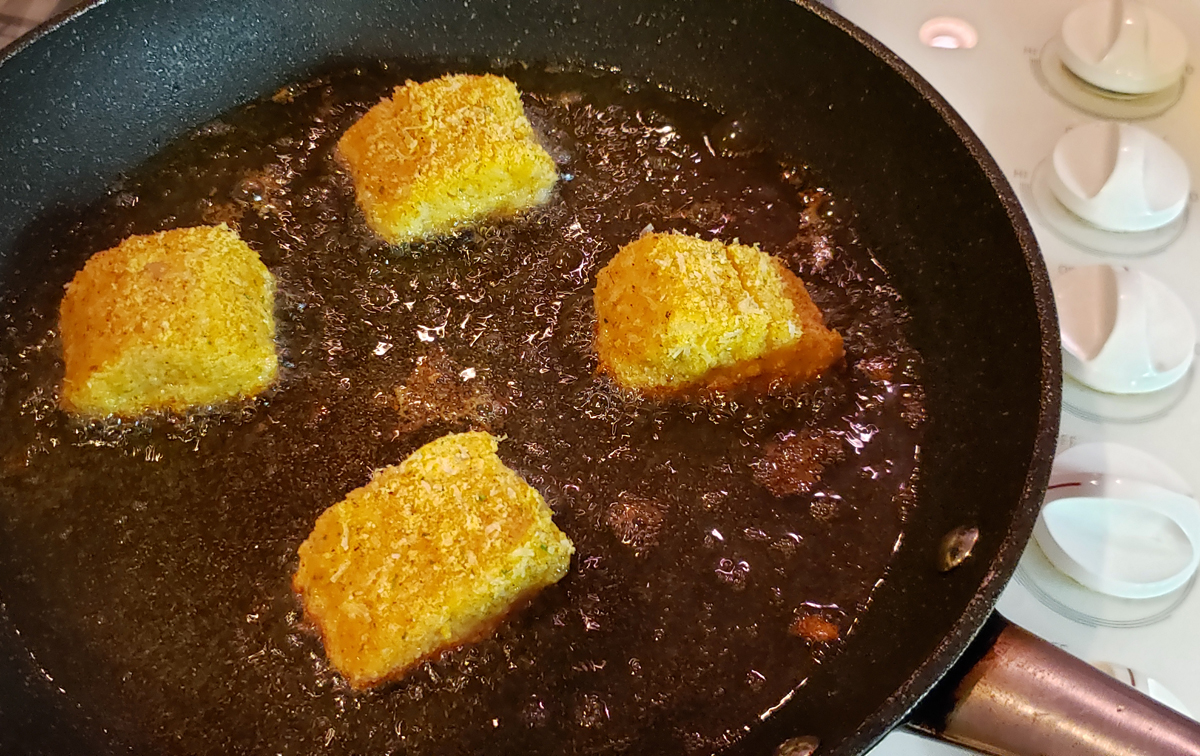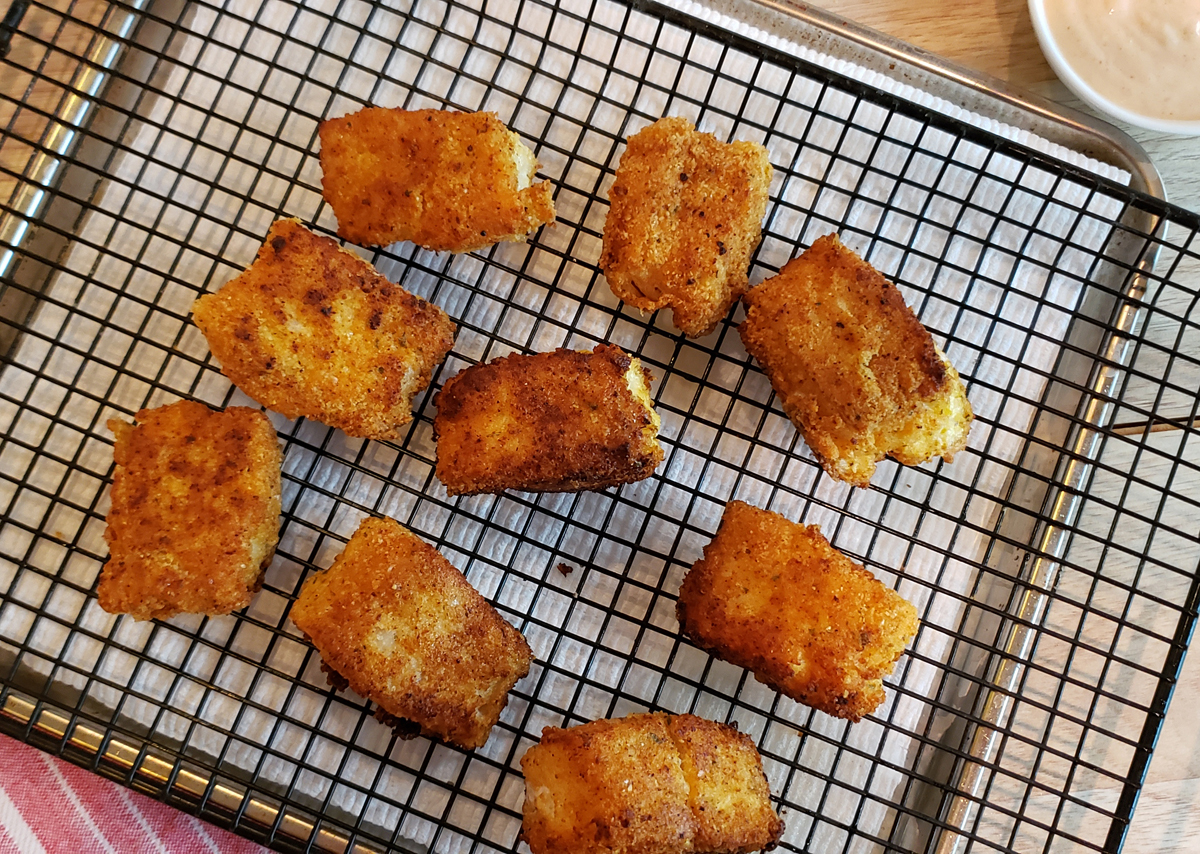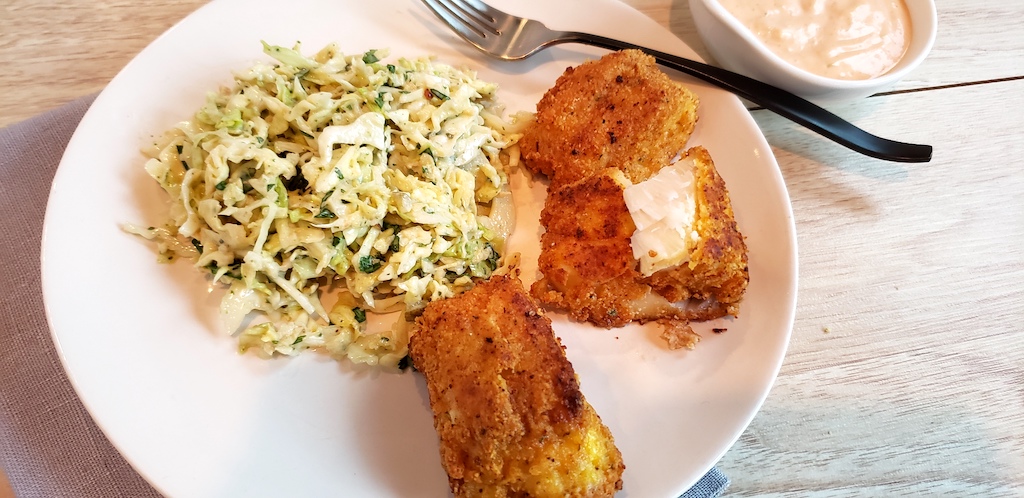 ---
Print
Fried Fish with Chili Lime Sauce
yield: 4 SERVINGS
prep time: 20 MINUTES
cook time: 25 MINUTES
total time: 45 MINUTES
Perfectly crisp fried white fish gets a kick from a spicy sauce with a hint of lime.
Ingredients
For the fish:
1 large egg
1/3 cup Parmesan or Romano cheese, finely shredded or ground, about ½ ounce
1/4 teaspoon onion powder
1/4 teaspoon garlic powder
1/4 teaspoon dried parsley
1/4 teaspoon paprika
1/8 teaspoon cayenne pepper
1/4 teaspoon baking powder (optional)
1/2 teaspoon salt
1/4 teaspoon ground black pepper
1 1/4 pounds cod or other white fish, of uniform thickness if possible
For the chili lime sauce:
1 tablespoon freshly squeezed lime juice
1 teaspoon lime zest
Directions
1
To bread the fish:
In a shallow bowl, beat the egg until frothy.
2
In a second shallow bowl or plate, mix the almond flour, Parmesan or Romano cheese, onion powder, garlic powder, dried parsley, paprika, cayenne, baking powder, salt, and pepper.
3
If the fillets are large, slice into 2-inch pieces. Rinse the fish in cold water and pat dry with a paper towel.
4
Dip each piece into the beaten egg so both sides are covered. Let excess drip off. Gently place the fish in the flour mixture and flip to cover both sides. Pat the breading on the fish so it is very well covered. Place on a plate until ready to cook.
5
Pan or Deep Frying Cooking Method:
Pour oil into a deep fryer or frying pan. If using a frying pan, the oil should be about ½-inch deep so at least half the fillet is immersed in the oil. If using a deep fryer, use enough oil so that the fish will be fully submerged.
6
Preheat oil to 350°F. If using a frying pan, add several pieces of fish to the hot oil without crowding the pan and fry for about 4 to 5 minutes turning half way through, and cook until golden brown. If using a deep fryer, add several pieces of fish to the hot oil and fry for about 4 minutes and cook until golden brown.
7
Remove from oil, place on a wire rack, and lightly sprinkle with additional salt.
8
Air Fryer Cooking Method:

Preheat air fryer to 400°F. Line the air fryer basket with parchment.
9
Lightly spray both sides of each piece of fish with avocado oil pan spray and place into the air fryer's basket. Do not crowd the fish; you will have to cook in two to three batches based on the size of your air fryer. Cook for 6 to 7 minutes, flip and cook the second side for 3 to 4 minutes. You may need to vary the time based on the thickness of the fish.
10
Remove from fryer and place on a wire rack.
11
To make the sauce:
In a small bowl, combine mayonnaise, lime juice, lime zest, sriracha, and salt and whisk together. Taste and add more sriracha if desired.
Additional Notes
Nutrition information for this recipe can vary based on how much oil you use for frying. This is based upon how much oil was left in the pan after cooking. It's also based on using cod. If you choose to use the air fryer method, the nutritional information is noted below.
---
NUTRITIONAL INFORMATION FOR AIR-FRIED FISH
Yield: 4 servings
Amount Per Serving: Calories: 286, Total Carbohydrates: 4.6g, Sugar: .8g, Fiber: 1.7g, Net Carbohydrates: 2.9g, Total Fat: 11.9g, Protein: 39.3g
---
NUTRITIONAL INFORMATION FOR CREAMY CHILI LIME SAUCE
Yield: 4 servings
Amount Per Serving: Calories: 182.5, Total Carbohydrates: 1.5g, Sugar: 1g, Fiber: .2g, Net Carbohydrates: 1.3g, Total Fat: 19.5g, Protein: .4g
Nutrition Information
Yield: 4, Serving Size: 5 ounces
Amount Per Serving: 321.5 Calories | 22g Fat | 3.5g Total Carbs | 1.6g Fiber | 0.7g Sugar | 0g Sugar Alcohol | 26.6g Protein | 1.9g Net Carbs
---
Who knew keto fried fish could be so easy!?
I made this for dinner and everyone loved it, especially with the chili lime sauce. I served it with creamy low-carb cole slaw for a perfect flavor combination!
My Hip sidekick Jenna gave this recipe a try and here's what she thought:
"The fish is easy to prepare, I love the suggestions for using different types of white fish making it so versatile. The breading was nice and crispy and the cooking time is spot on. Plus, it's great to have the air fryer cooking option, too. Oh and the dip! The dip has a fantastic flavor with the fresh lime juice and spice of the chili sauce. I used garlic chili sauce and it was awesome! Such a solid recipe!"
---
Make fish and chips by pairing with our jicama fries or rutabaga fries! Oh and don't forget our keto hush puppies. 😋