Make the Ultimate Loaded Keto Fajita Steak Quesadilla with Hero Tortillas
This loaded fajita steak quesadilla wedged between two Hero Tortillas is a true hearty meal quesadilla.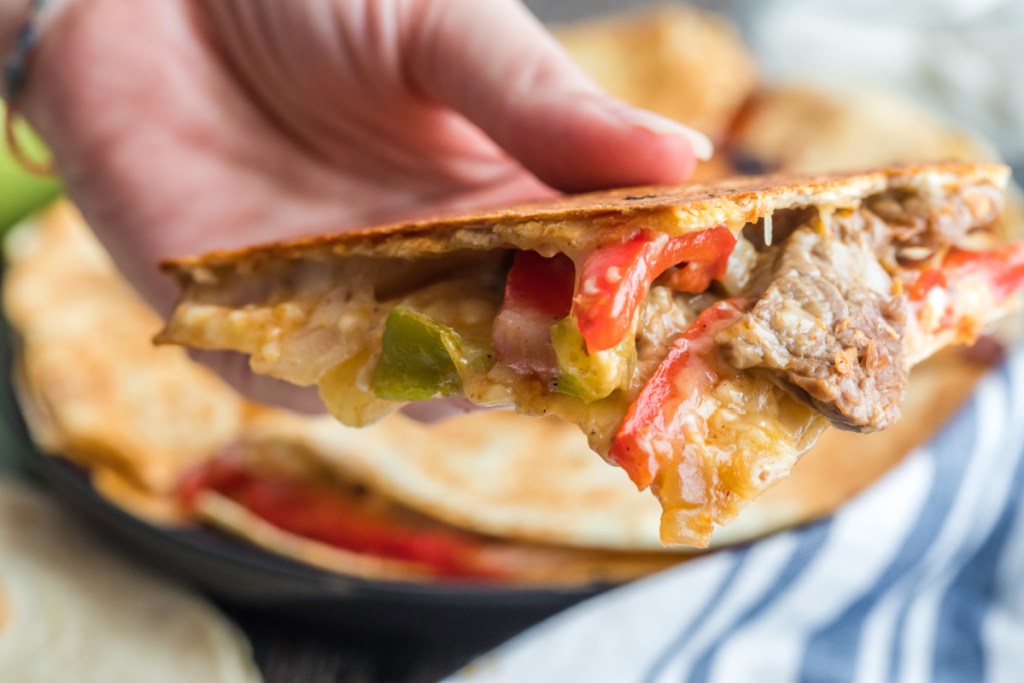 Have you been craving a savory steak quesadilla?
Even if steak quesadillas haven't been on your mind, I bet you're drooling over the idea now! You can't go wrong with a fully loaded quesadilla that's packed to the brim with steak fajita filling, cotija cheese, and melty Monterey Jack cheese.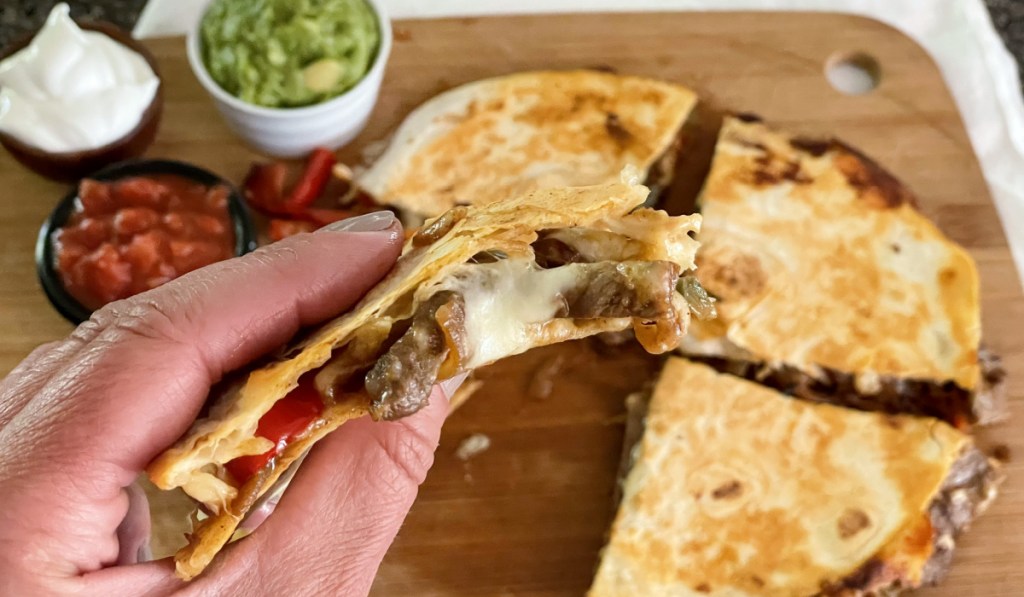 If it's not the filling that stops you in your tracks, it's the keto tortilla that will!
The initial appeal of this recipe may be the savory steak and pepper filling, but the game changer is using Hero Tortillas as the vehicle for consumption. I've been munching on their products for months now and I am blown away at the perfect texture and flavor of their keto tortillas. It makes this quesadilla recipe pure bliss in every bite!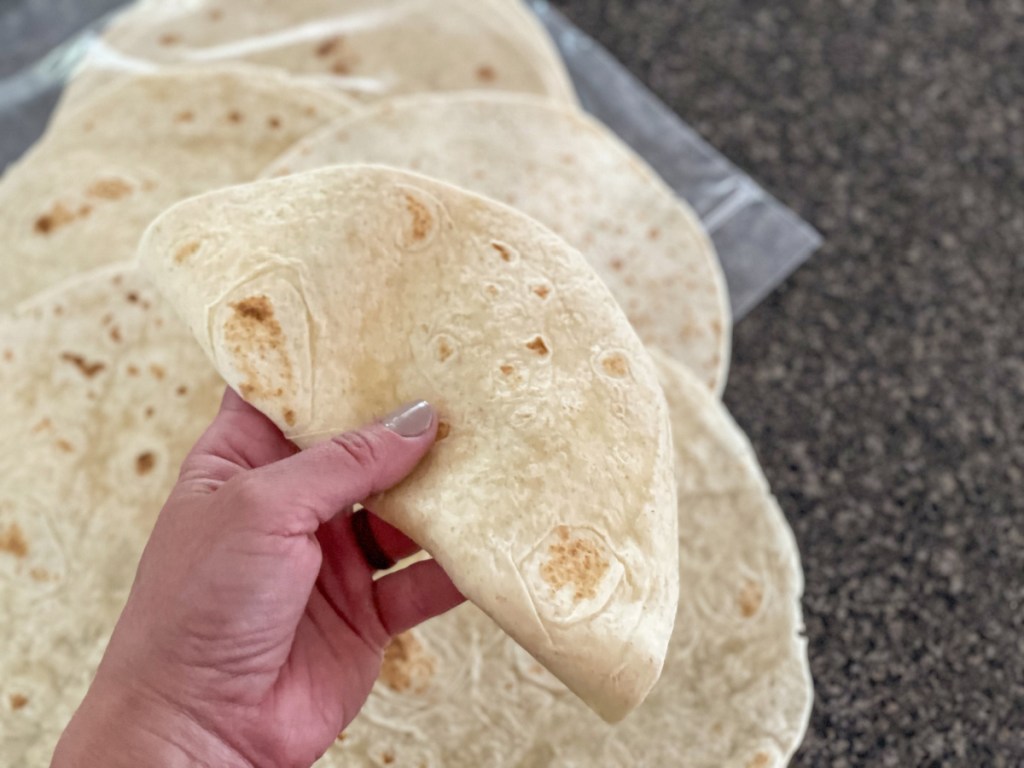 And the carb count is impressively low. In fact, they have 0 grams of net carbs per tortilla! 😄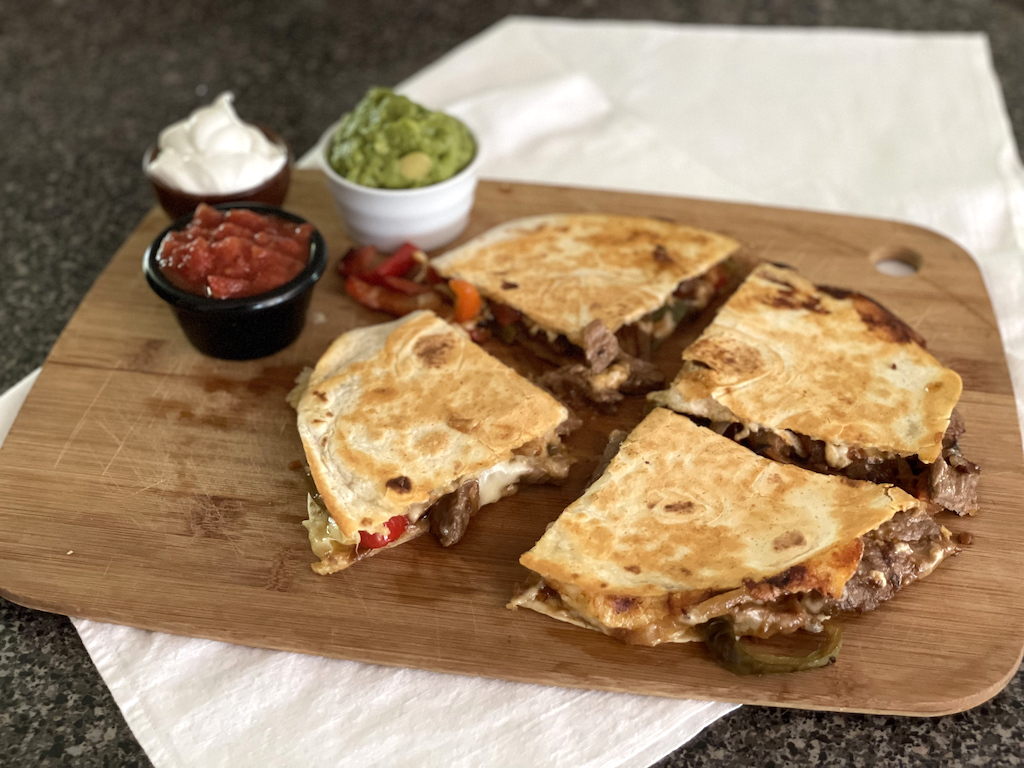 Tips for making the best keto fajita steak quesadilla:
I used a 10 oz. New York strip steak for this quesadilla. It was on sale at my grocery store but it's also a fairly tender cut of beef, which works great for a quesadilla. You can use any cut of steak though and feel free to increase the portion size up to 16 oz.
I used our keto taco seasoning for this quesadilla — it's become a staple in my house. If you don't have a batch made up, you can substitute with the following: 2 teaspoons chili powder, 1 teaspoon cumin, 1 teaspoon garlic powder, 1 teaspoon onion powder, 1 teaspoon salt, 1/4 teaspoon oregano, 1/4 teaspoon red pepper flakes, and 1/4 teaspoon pepper.
Don't skip out on the cotija! It adds the perfect bit of tanginess to the quesadilla. If you can't find it or aren't a fan, you can substitute it with any type of Mexican cheese or just omit it altogether.
Monterey Jack cheese is super melty and should melt throughout the fajita filling to help "glue" the quesadilla together. Another option is to put half of the cheese on the first tortilla, add the fajita filling, and then top with the remaining cheese and the second tortilla.
Flipping the quesadilla can be a bit tricky. I actually placed a cutting board on top of the skillet and then flipped the skillet upside down with the cutting board so the quesadilla ended up on the cutting board. I then slid the quesadilla back into the skillet. A plate would work as well.
Don't forget to order yourself some Hero Tortillas to make the perfect quesadilla! Use our exclusive promo code H2KTORTILLA15 to save 15% off your order!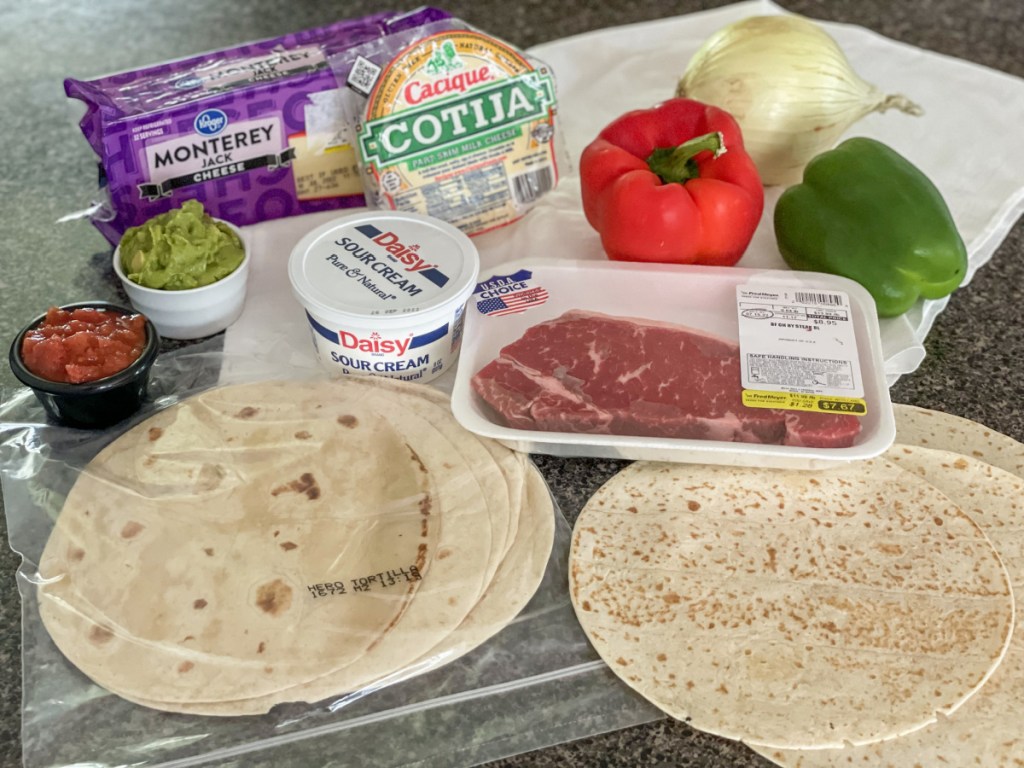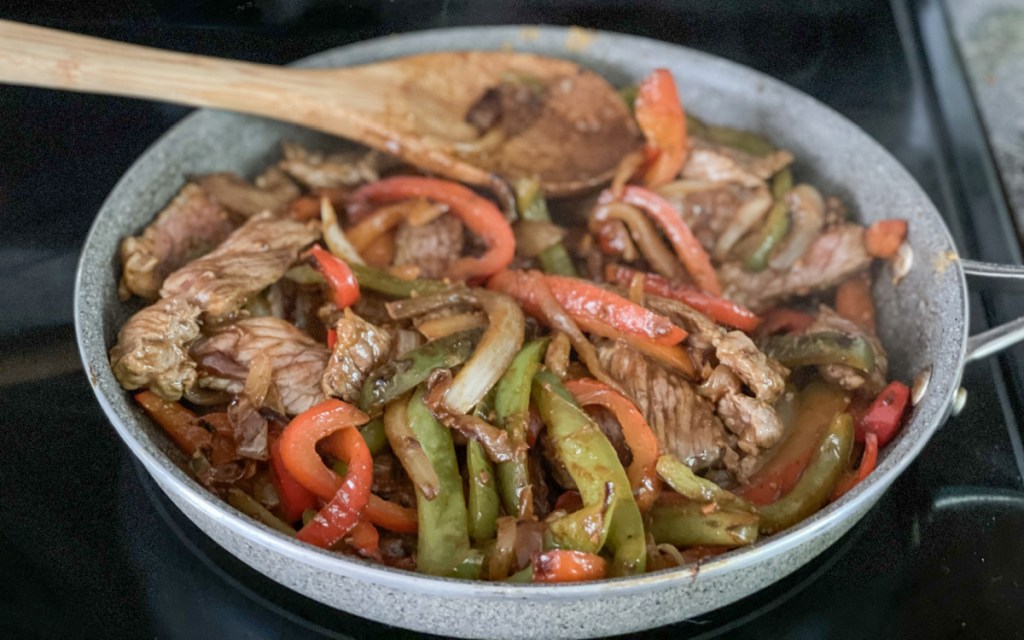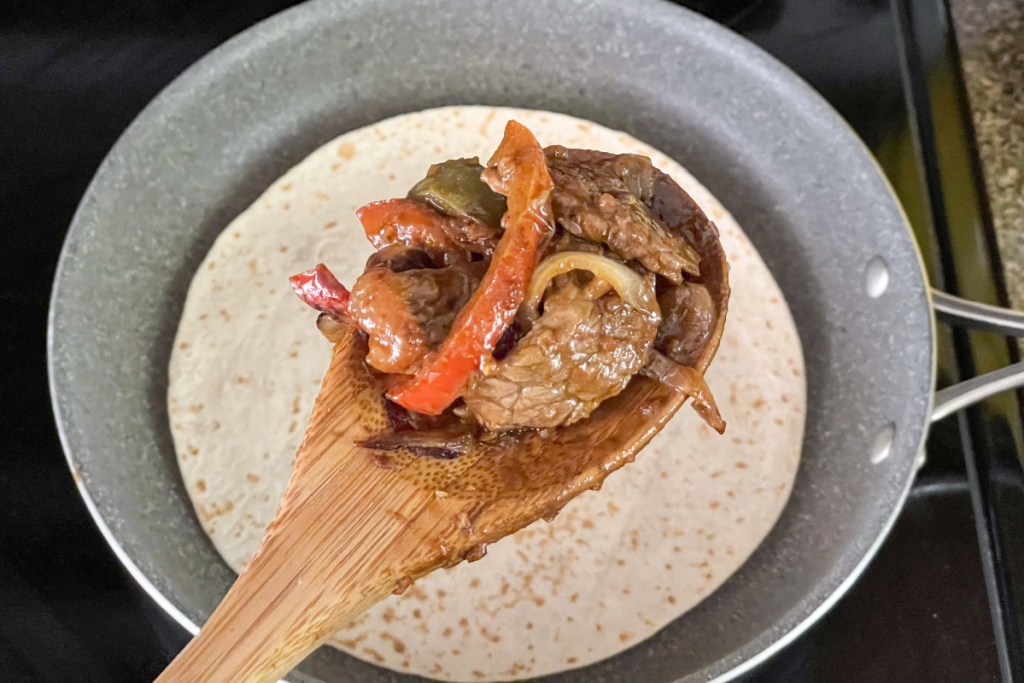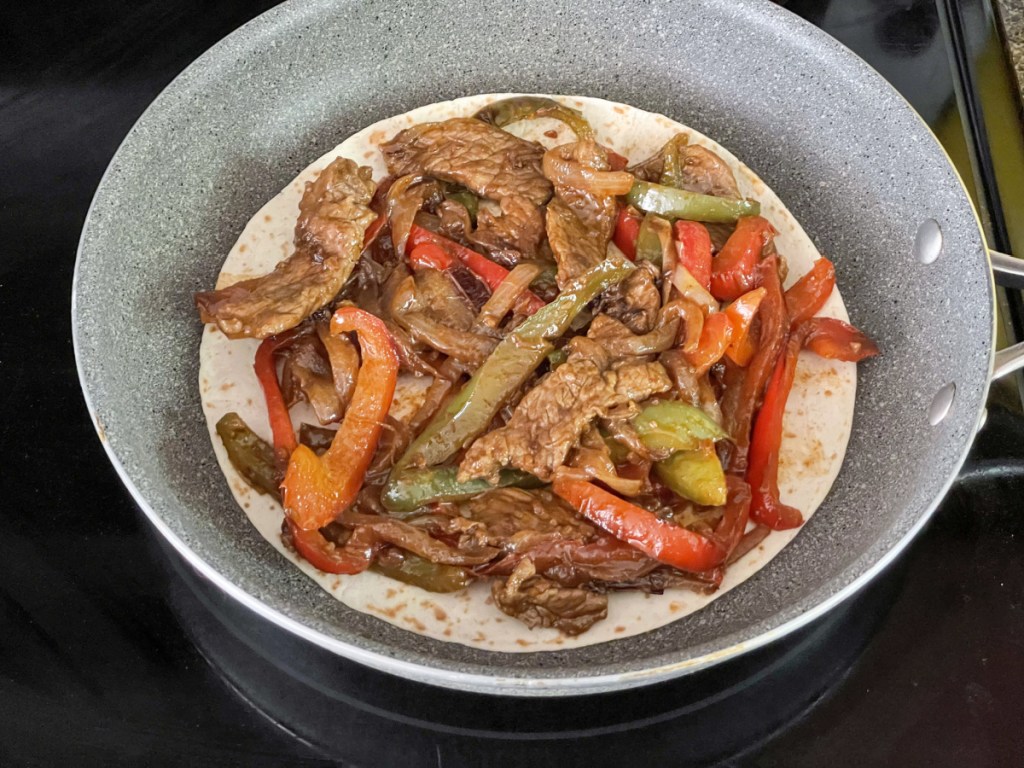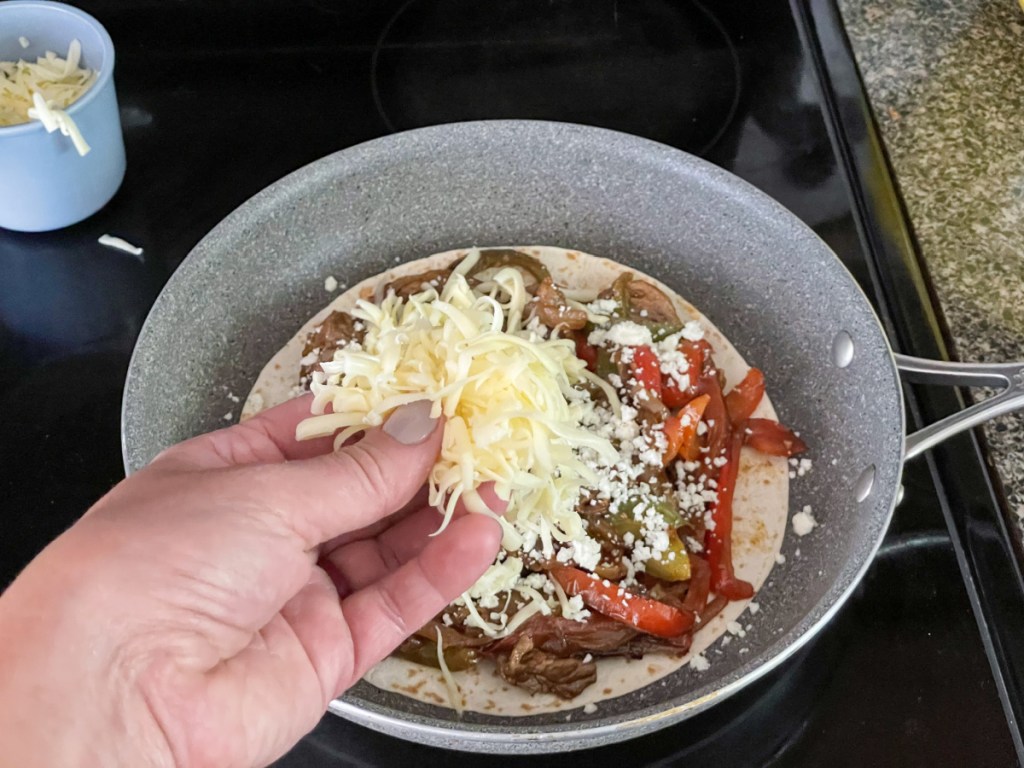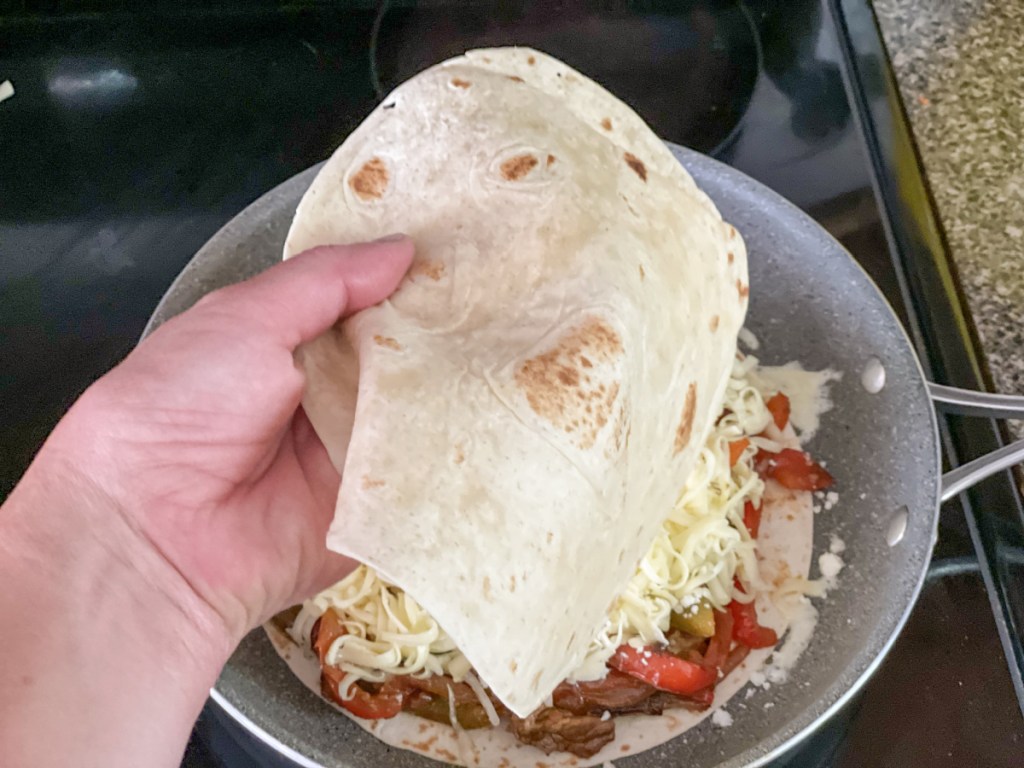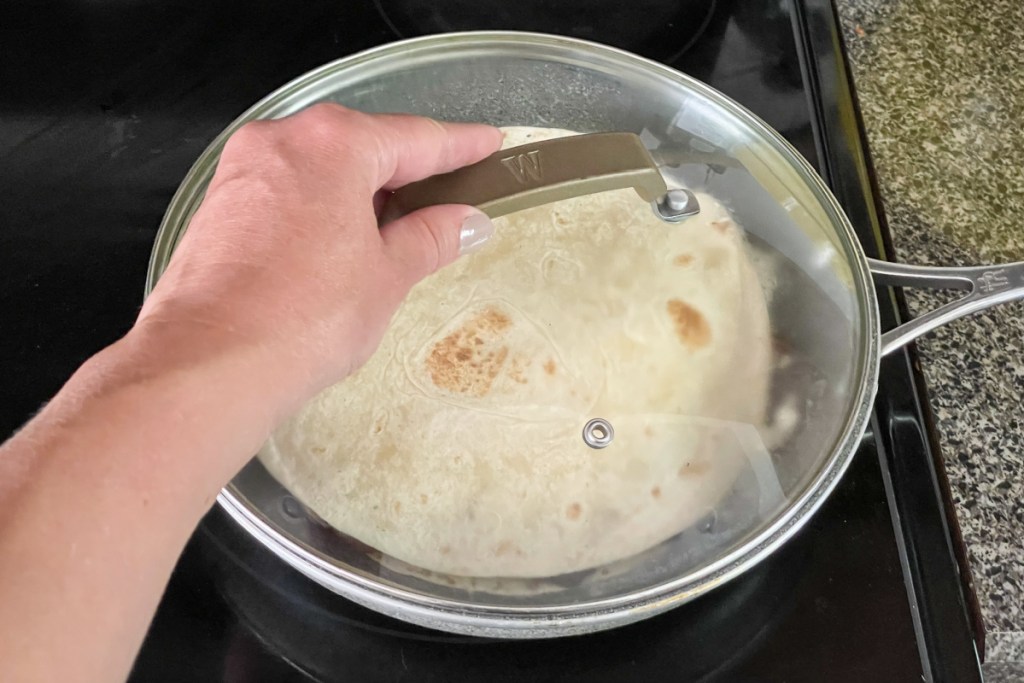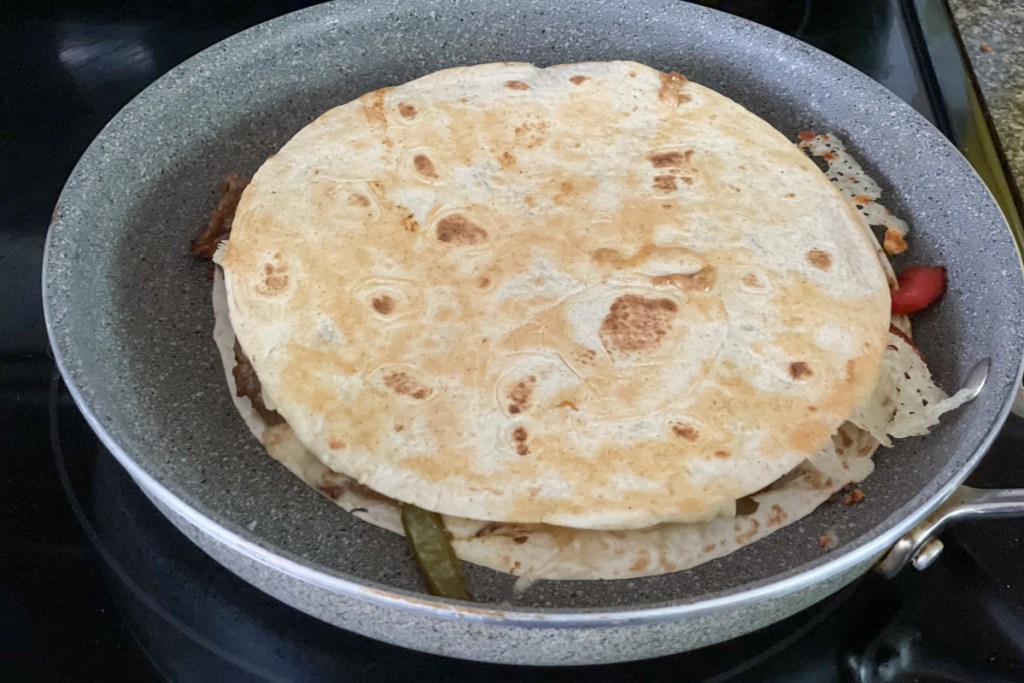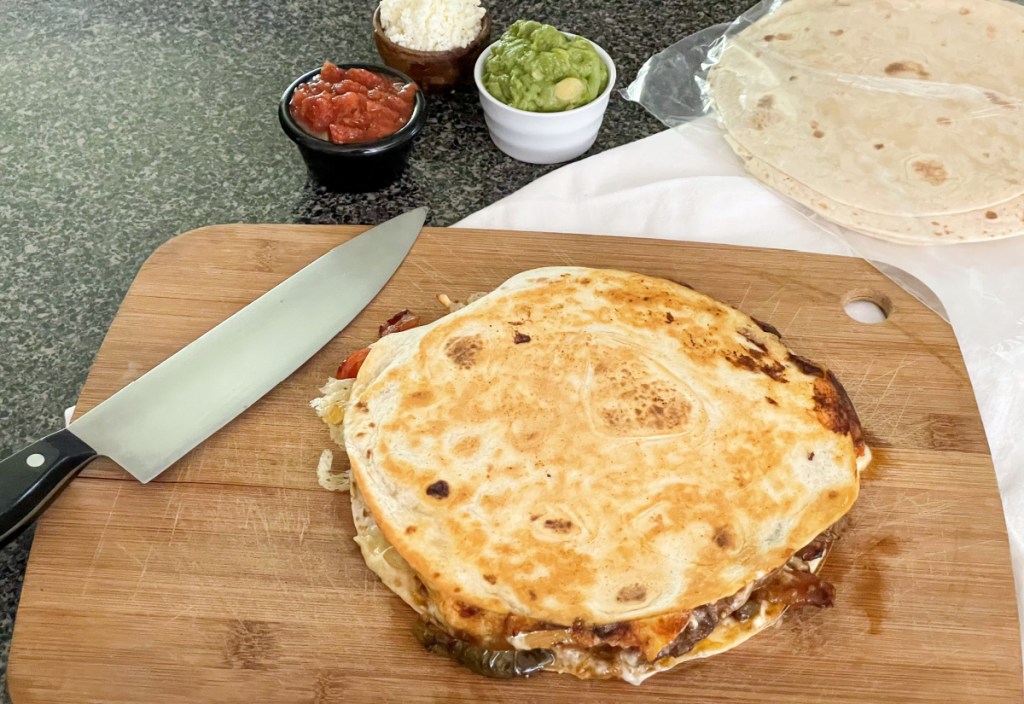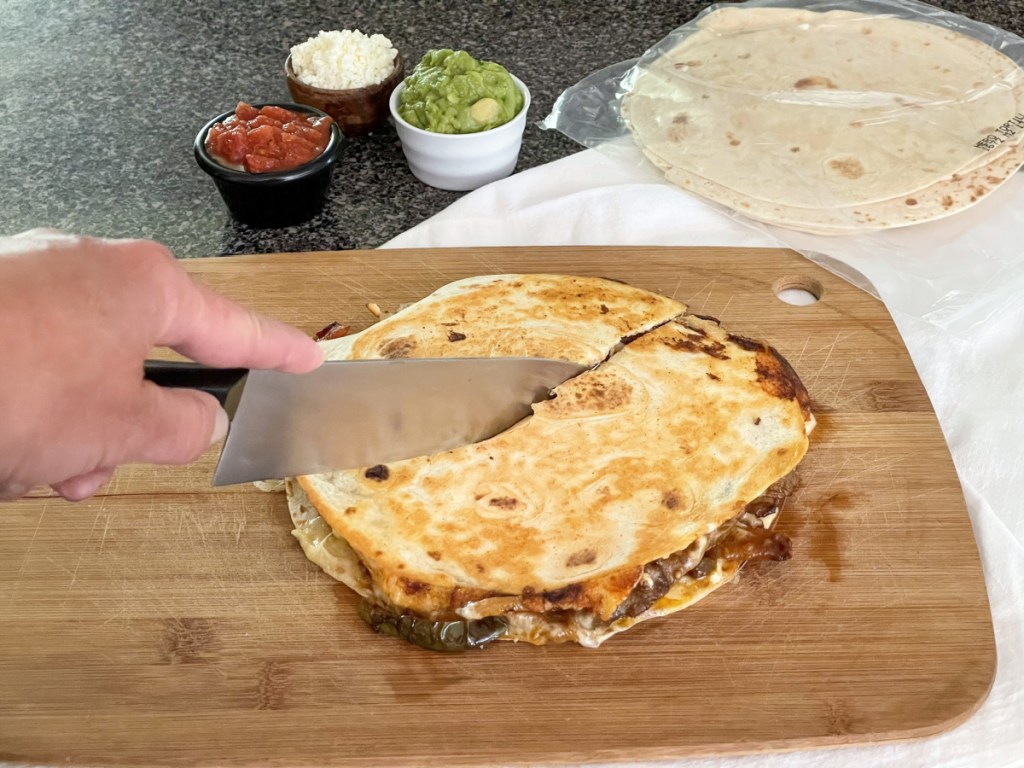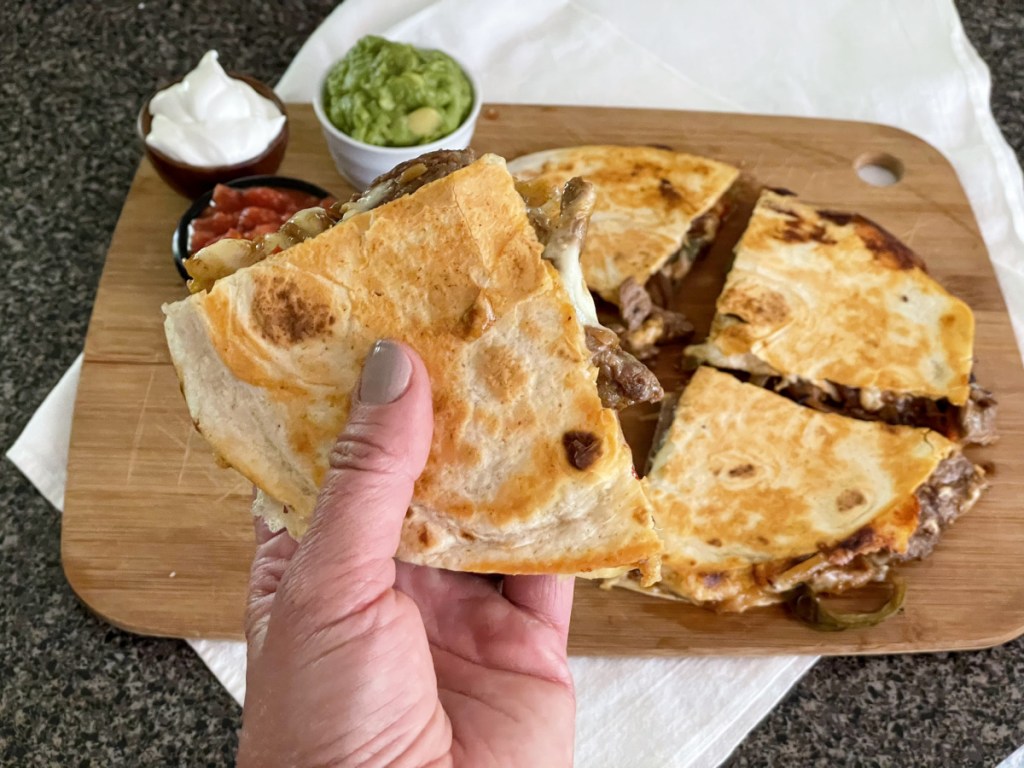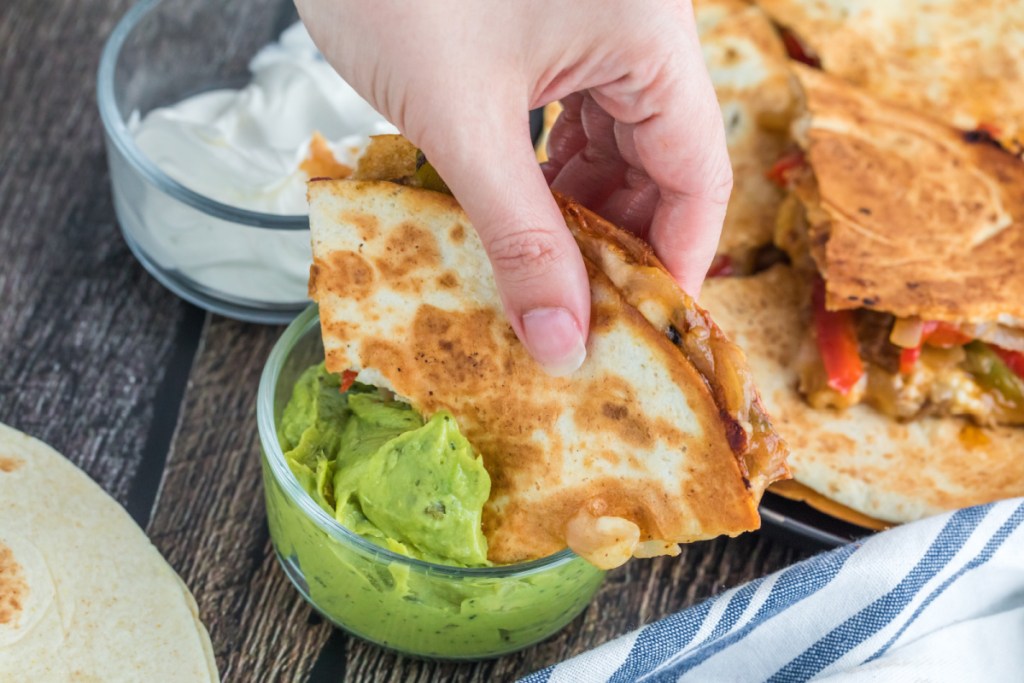 ---
Print
Keto Fajita Steak Quesadilla
yield: 4 SERVINGS
prep time: 15 MINUTES
cook time: 10 MINUTES
total time: 25 MINUTES
Keto quesadilla made with Hero Tortillas and loaded with steak fajita ingredients, cotija, and Monterey jack cheese.
Ingredients
Quesadilla:
1 green bell pepper
1 red bell pepper
1 medium yellow onion
1 tablespoon olive or avocado oil
10 oz New York Strip Steak or steak of choice
4 tablespoons crumbled cotija cheese
2 cups Monterey Jack cheese, shredded
Toppings:
Sour cream
Guacamole
Salsa
Directions
1
Slice bell peppers and onion into thin strips. Slice steak into thin strips, cutting against the grain.
2
Heat oil in a large skillet over medium heat. Try to use a skillet that has a lid. Place the bell peppers and onion into the skillet and sauté until soft, about 5 minutes.
3
Then add the steak and taco seasoning. Continue to cook until the steak reaches the desired level of doneness, about 2 to 5 minutes.
*The steak will get heated again when cooking the quesadilla so you might want to leave it a little pink.
4
Once the steak is cooked, transfer the fajita mixture to a bowl. Wipe out the skillet with a paper towel and reduce heat to medium-low.
5
Place one Hero Tortilla in the skillet and let it warm up for about a minute, then top it with half of the fajita mixture, 2 tablespoons of cotija, and 1 cup of Monterey Jack cheese. Make sure to spread out the cheeses evenly. Top with a second Hero Tortilla to form the quesadilla.
6
Cover the quesadilla with a lid and let cook for 3 to 5 minutes, until the cheese starts to melt and the tortilla is slightly browned. Flip the quesadilla over and cook the other side for an additional 3 to 5 minutes with the lid on to help the cheese melt.
To flip the quesadilla, I placed a cutting board over the skillet, picked up the skillet with the cutting board, and flipped the quesadilla onto the cutting board. I then transferred the quesadilla back into the skillet. A plate would work just as well.
7
When the quesadilla is cooked, remove it from the skillet and let it rest for a minute or two before slicing. Repeat with the remaining ingredients.
8
Slice each quesadilla into 4 or 8 pieces. A serving is half a quesadilla. Top with sour cream, guacamole, and salsa if desired. Enjoy!
Nutrition Information
Yield: 4 servings, Serving Size: 1/2 quesadilla
Amount Per Serving: 523 Calories | 36.5g Fat | 22.3g Total Carbs | 16.8g Fiber | 3.2g Sugar | 1g Allulose Sugar Alcohol | 39.9g Protein | 4.5g Net Carbs
---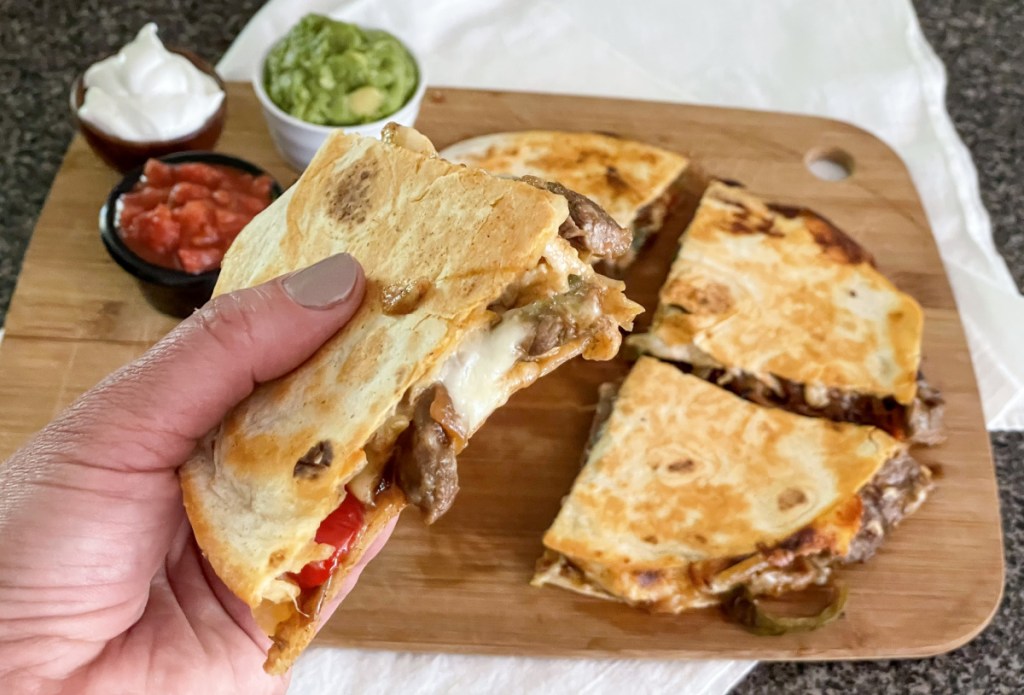 You will love these Keto Quesadillas!
These keto fajita steak quesadillas are going to be making a regular appearance at my house! It's so nice to have an actual filling quesadilla that constitutes a meal rather than a snack. I've definitely been disappointed with restaurant quesadillas in the past when they didn't have enough filling. That's not the case here!
And the best part is that they're shockingly keto!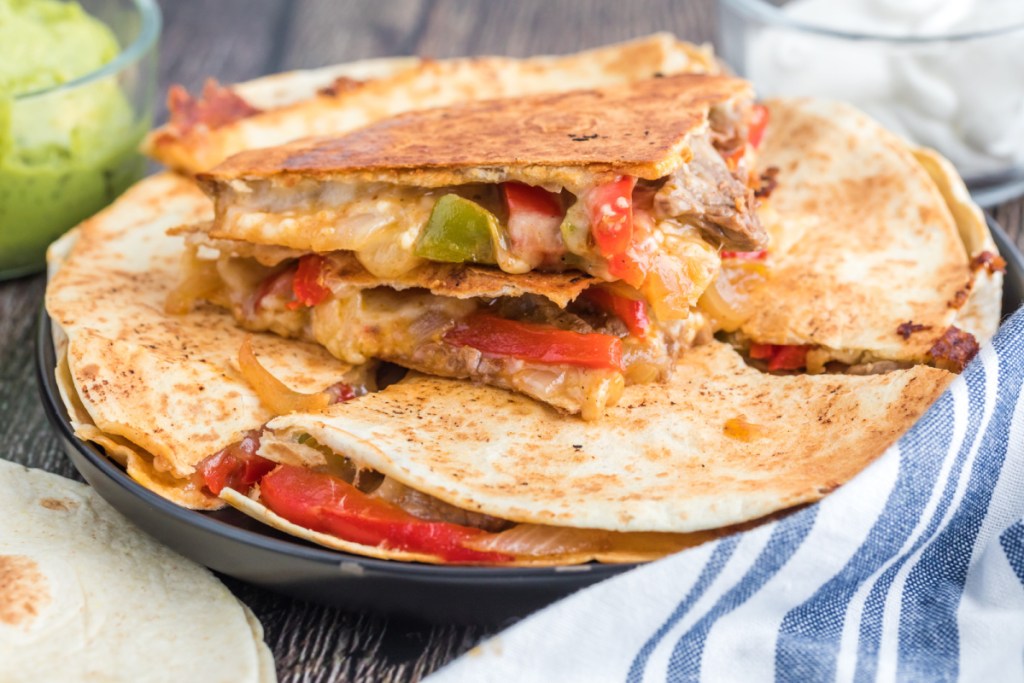 Here's what my Hip sidekick Jenna thought of this fajita steak quesadilla:
"I will most definitely be making these again! The whole family not only loved them but went on and on about how we have to make these again! Just a few ingredients from the store and the most amazing tortillas ever, and you've got yourself an easy meal you'll want again and again!
I don't think I've ever been so impressed with a keto product in my life, these tortillas are where it's at! These are the most filling, satisfying quesadillas I've ever had the pleasure of enjoying. Two thumbs up from everyone at that table! 👍👍"
---
Check out our review of Hero Bread for low-carb sandwich satisfaction.