The Easiest Keto Cucumber Salad for All Your Summer Gatherings
This is the most refreshing keto cucumber salad recipe!
Make the easiest keto cucumber salad this summer! 🥒
Summer recipes don't get any easier than this keto cucumber salad. If your summer garden is in full swing, you might even have all the ingredients to make this in your backyard. Your local farmer's market would also be a great place to find the freshest ingredients. But no worries if those aren't options, your grocery store will have everything you need!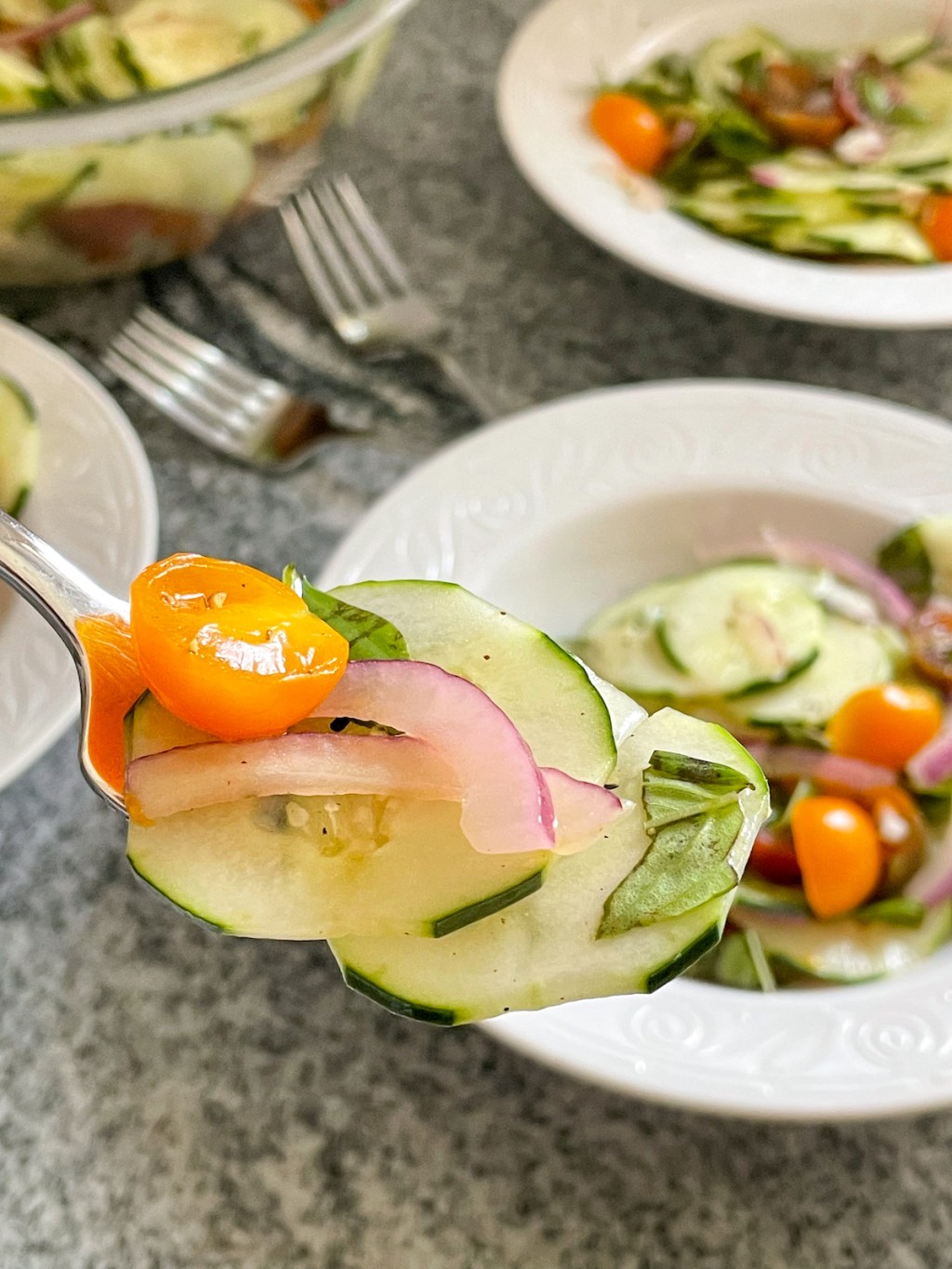 This cucumber tomato onion salad comes together with a simple vinaigrette.
You can customize this keto cucumber salad however you'd like. I used heirloom cherry tomatoes, red onions, and basil. Everything is mixed with thinly sliced cucumbers and then tossed in a simple vinaigrette.
I used a mandoline to slice the cucumbers but you can do it by hand too. It's up to you if you want to peel the cucumbers or not. I went with partially peeling the cucumbers, making stripes.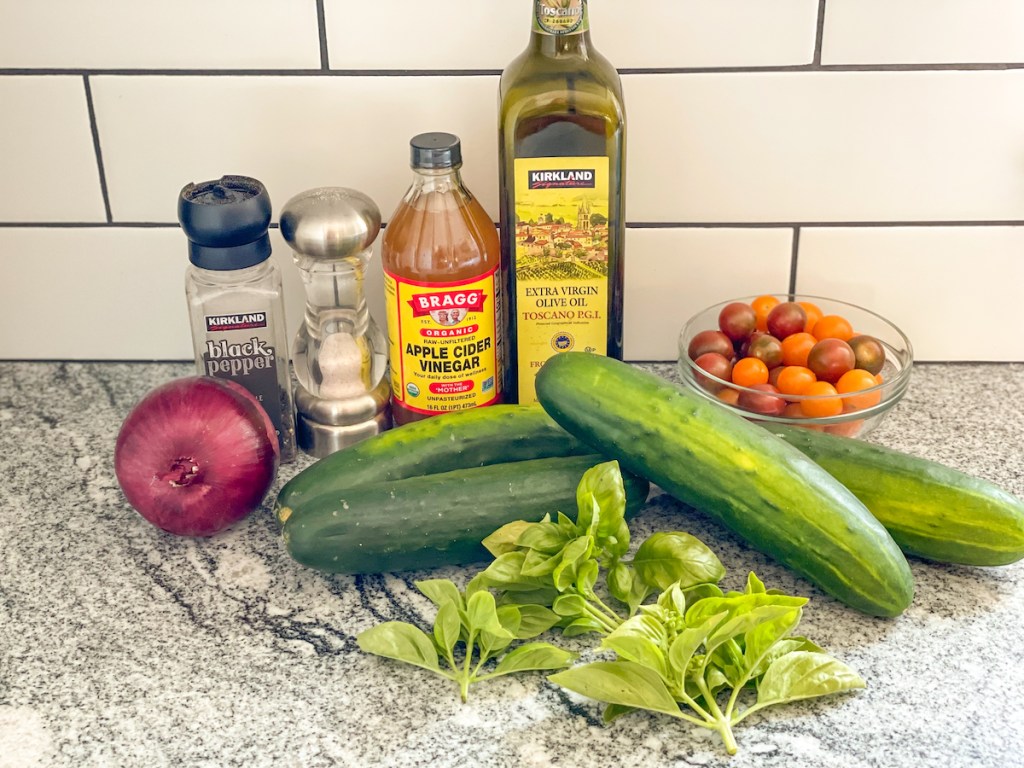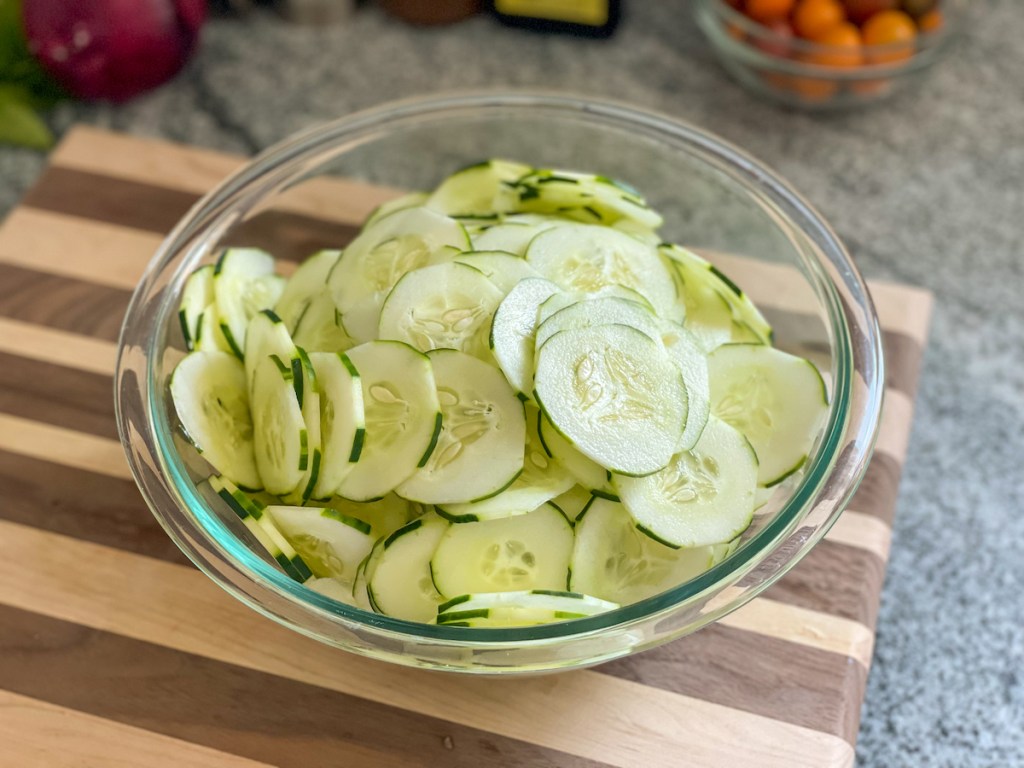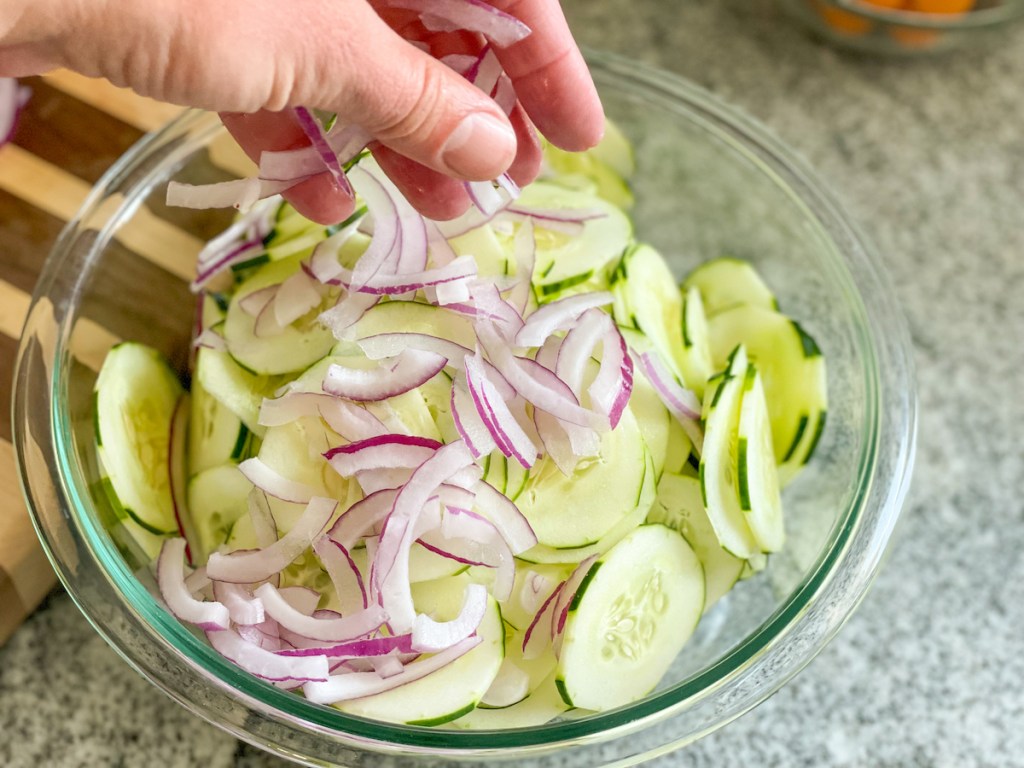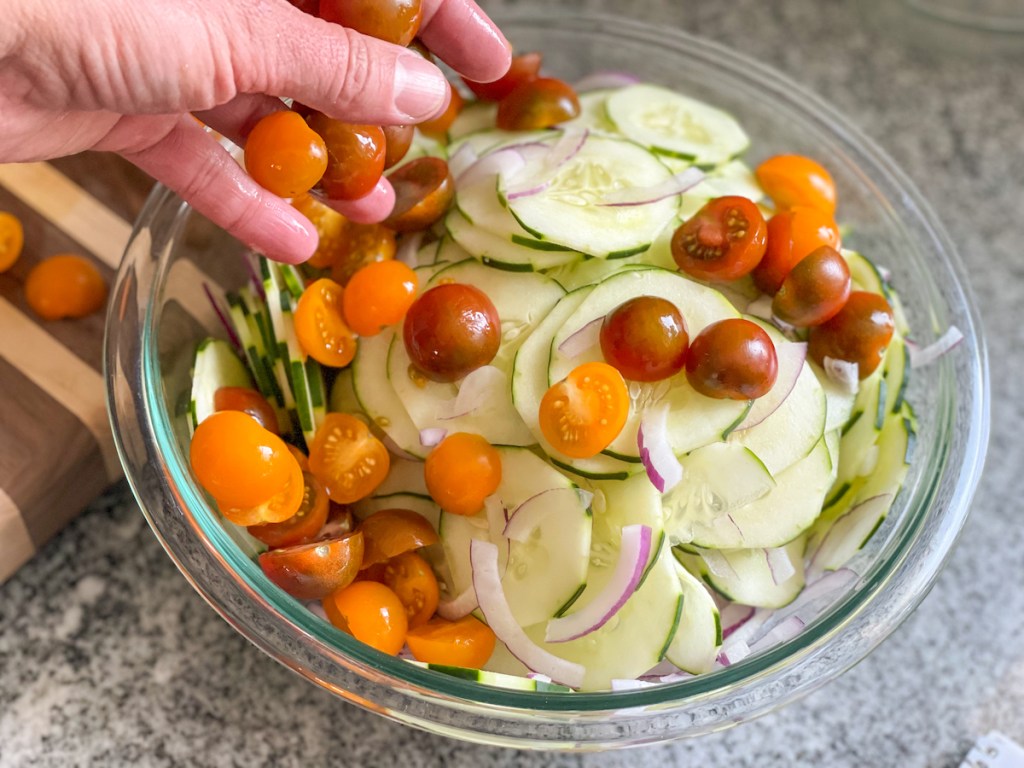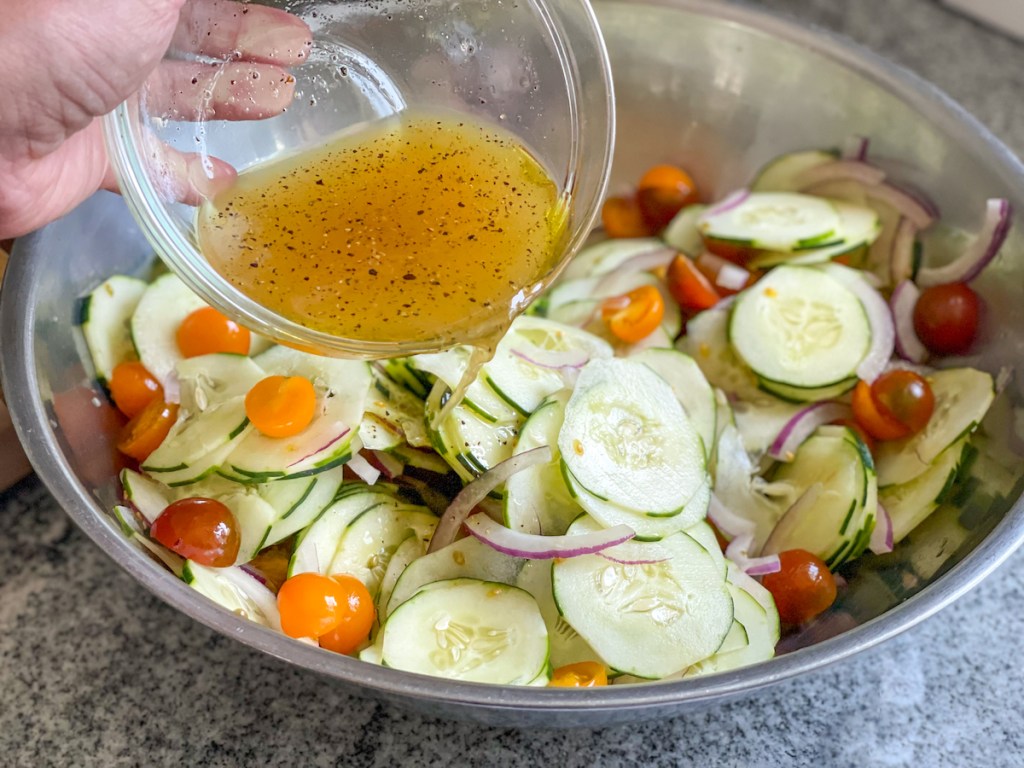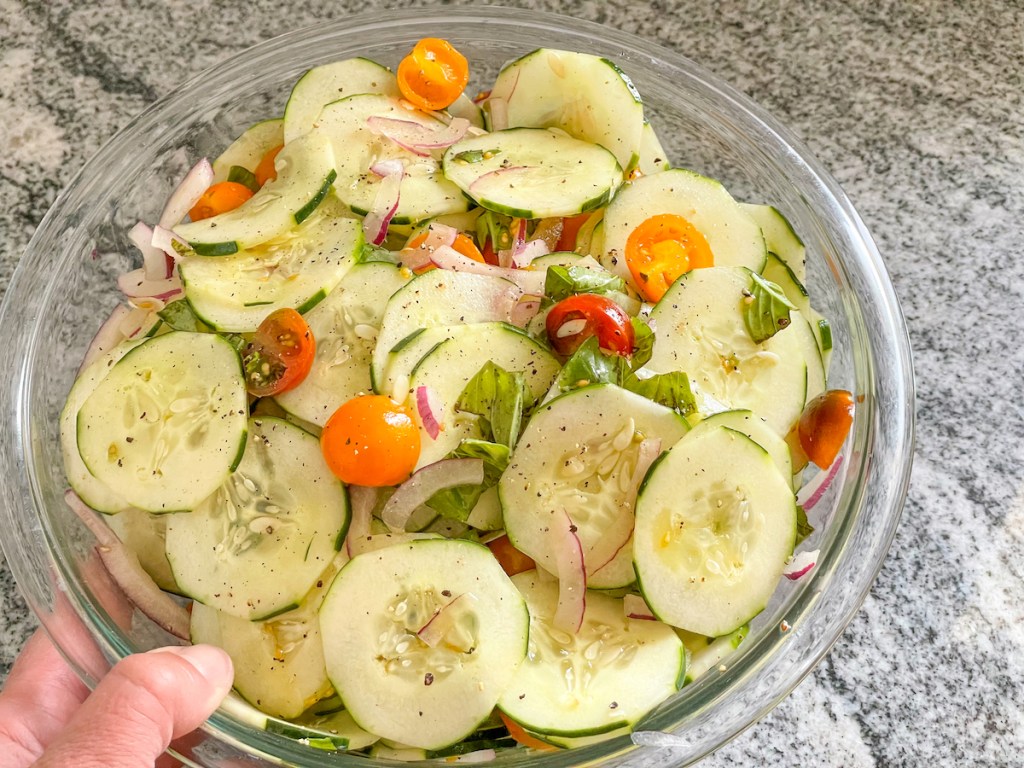 ---
Print
Keto Cucumber Salad
yield: 10 SERVINGS
prep time: 15 MINUTES
total time: 15 MINUTES
Simple cucumber salad with red onions, cherry tomatoes, fresh basil, and a flavorful vinaigrette.
Ingredients
Cucumber Salad:
4 medium cucumbers, thinly sliced, peeled if desired
1/2 red onion, thinly sliced
2 cups cherry tomatoes, cut in half
1/2 cup torn basil leaves, loosley packed
Vinaigrette:
2 tablespoons olive oil
1/2 teaspoon salt
1/4 teaspoon pepper
Directions
1
Mix the sliced cucumber, red onion, and cherry tomatoes in a large bowl. Add the torn basil.
2
To make the vinaigrette:
In a bowl, whisk together olive oil, apple cider vinegar, salt, and pepper. Pour the vinaigrette over the cucumber salad.
3
Toss the cucumber salad with the vinaigrette. Chill the salad in the fridge for about 15 minutes before serving. Enjoy!
Nutrition Information
Yield: 8 servings, Serving Size: 3/4 cup
Amount Per Serving: 55 Calories | 3.6g Fat | 5.8g Total Carbs | 1.8g Fiber | 2.9g Sugar | 1.2g Protein | 3.9g Net Carbs
---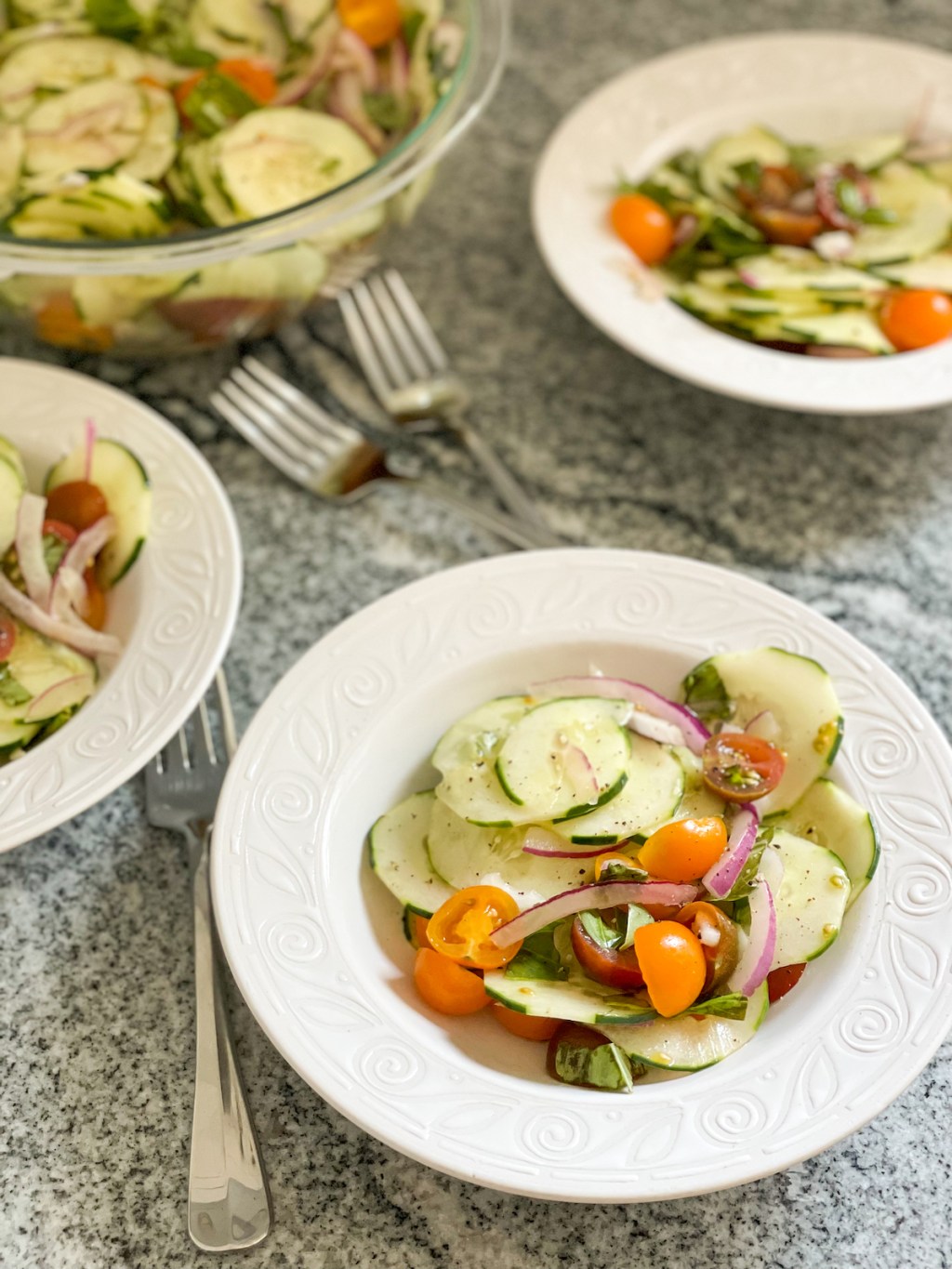 Tips for making the best keto cucumber salad:
You can use regular or English cucumbers – either variety works!
I used heirloom cherry tomatoes but you can use regular cherry tomatoes or even full-sized tomatoes and chop them into about one-inch pieces.
If you want to make this a creamy cucumber salad, add in a 1/4 cup of sour cream or Greek yogurt to the vinaigrette.
This salad is best if eaten the day it's prepared. The fresher, the better!
Are cucumbers keto?
Yes, cucumbers are keto! A medium cucumber only has 5 grams of net carbs, so while you can't eat an unlimited number of cucumbers, they do make for a great side salad. I also like to slice them and use them like chips with dips!
---
Love summer salads? Check out our recipe for the Famous Columbia 1905 Salad!