Get Ready to Drool Over These Keto Chocolate Hazelnut Crescent Rolls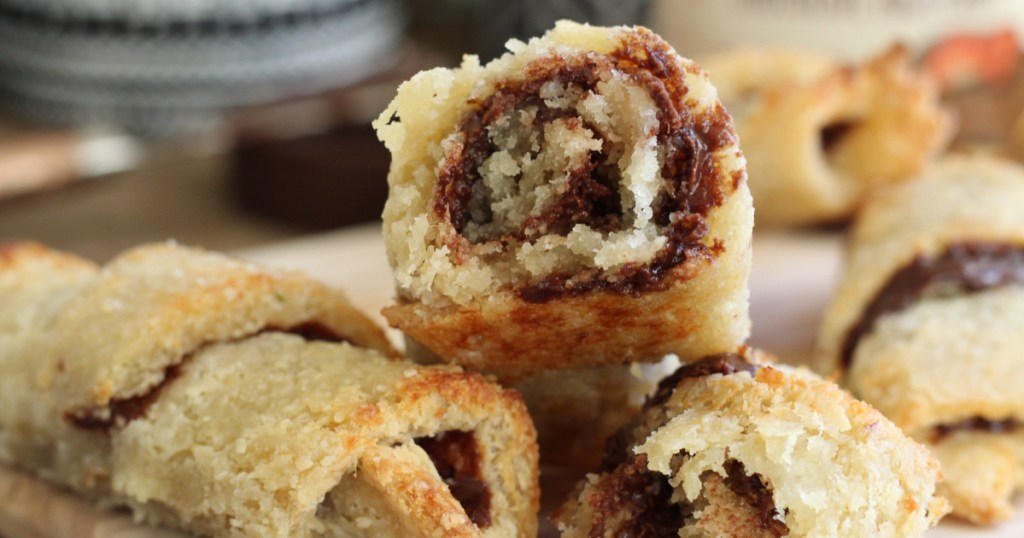 Looking for a quick keto dessert?
These easy keto crescent rolls will have you falling in love after just one bite. They're so good, I dare you to try to eat just one. 😉 The addition of the rich ChocZero chocolate hazelnut spread to these keto crescent rolls is a home run. My family is already obsessed with them!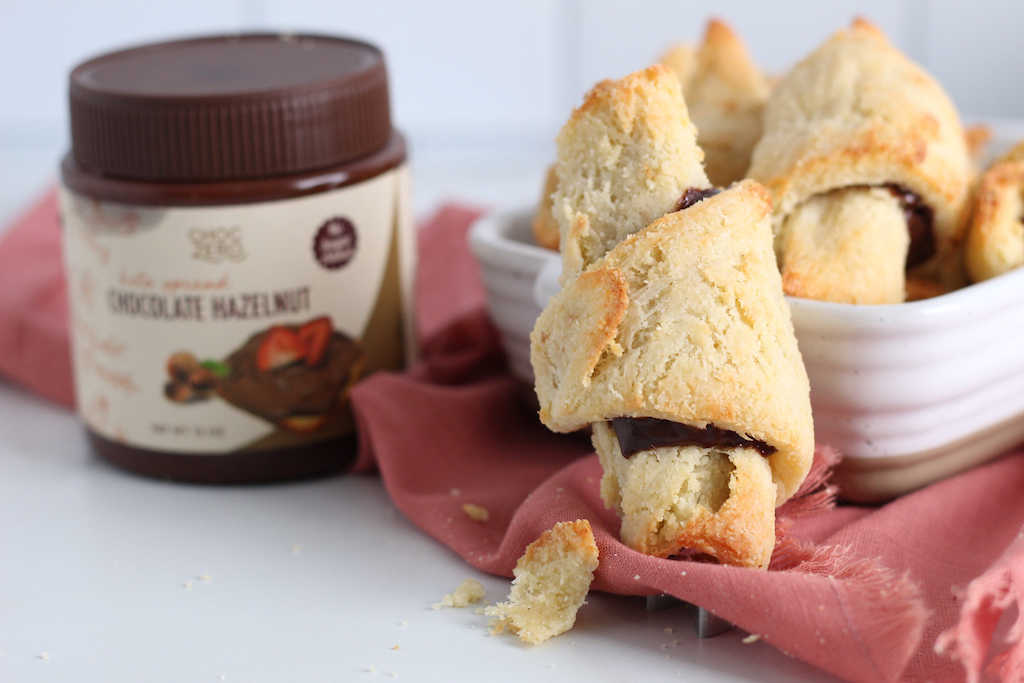 You'll never guess these keto crescent rolls are low carb!
What I love about keto is that you can take a step back from the carbs but still enjoy a tasty treat like these rolls for breakfast or dessert. They're flaky, rich, creamy, and oh so so tasty! Plus the greatest part of these keto rolls is that you can whip them up in no time. Any treat that saves me time in the kitchen is a win-win, especially when it's keto-friendly!
So doughlicious! 😉
I grew up with bread being served with our dinner and usually, it was the canned Pillsbury crescent rolls. So, needless to say, when I created this recipe it made my heart so happy that I was eating a flavorful keto crescent roll but without all the carbs and sugar.
I used our keto Fat Head dough recipe as the base and made a few substitutions, then added the ChocZero chocolate hazelnut spread for a truly one of a kind recipe!
Want to save on the ChocZero filling? Use our exclusive promo code for 10% off!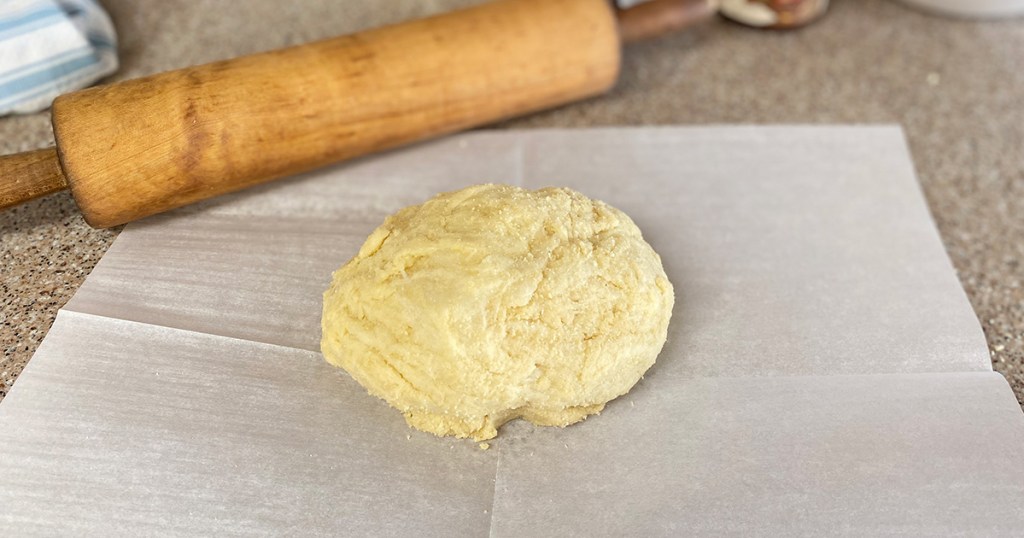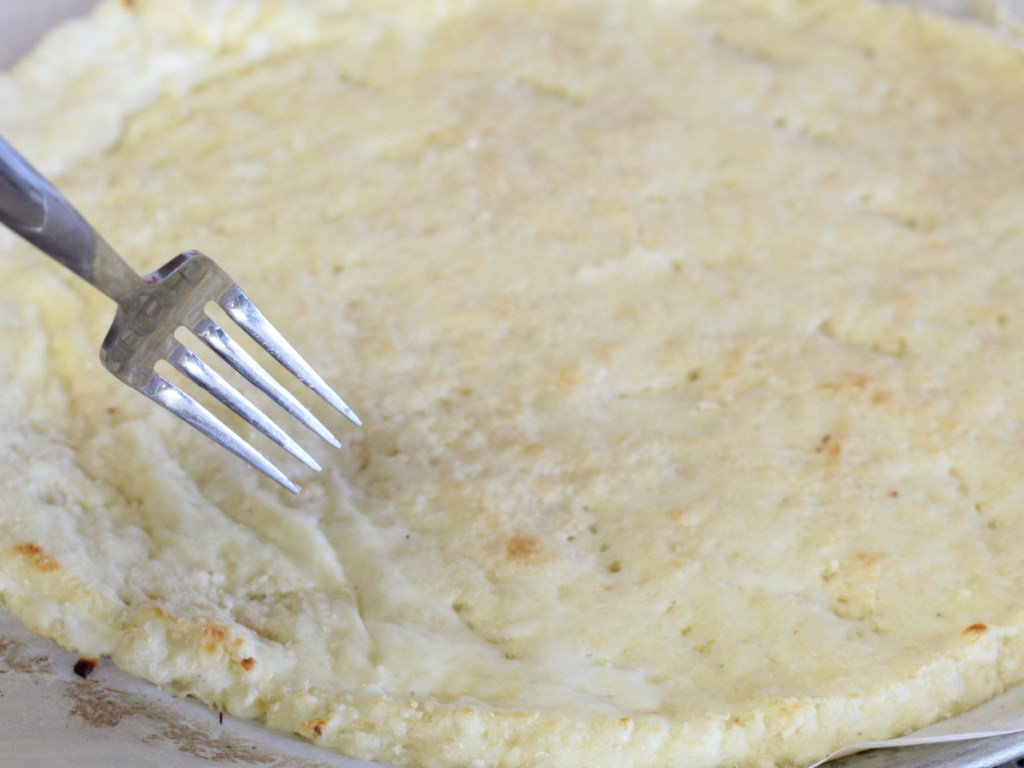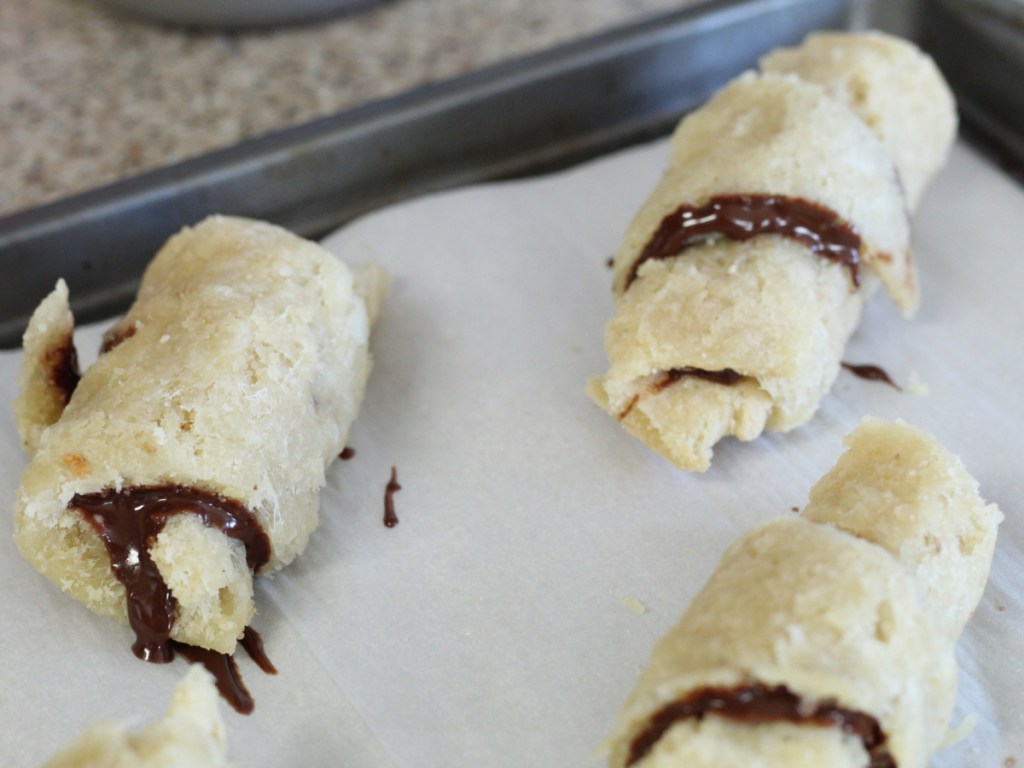 ---
Print
Keto Crescent Rolls with Chocolate Hazelnut Spread
yield: 10 SERVINGS
prep time: 15 MINUTES
cook time: 15 MINUTES
total time: 30 MINUTES
A deliciously sweet dessert made with Fat Head Dough and ChocZero Hazelnut spread. This is sure to become a new brunch favorite!
Ingredients
1 tablespoon baking powder
2 1/2 cups mozzarella cheese, shredded
2 oz. cream cheese
3 tablespoons butter, softened
1 teaspoon vanilla
Directions
1
Preheat oven to 400 degrees.
2
In a medium bowl, combine almond flour, baking powder, and keto granular sweetener. Set aside.
3
In a microwaveable bowl, melt mozzarella cheese, cream cheese, and butter together for about 30 seconds. Stir, then repeat in 30-second intervals until all cheese has melted.
4
Once the cheese has melted, add in all dry ingredients, and vanilla extract. Stir or knead the dough until it has formed into a slightly sticky ball.
5
Lay dough between parchment paper and roll out into a disk about 1/4 inch thick. Poke with a fork making sure no air bubbles will form.
6
Add dough to a pizza pan or baking sheet and bake in the oven for only 5 minutes.
7
Remove dough from oven and lower the oven temperature to 375 degrees. Let dough cool. Once cooled completely, slice dough into wedges (like a pizza).
8
Spread crescent roll dough with ChocZero chocolate hazelnut spread. Roll each crescent roll starting with the edge opposite of the point (what would be the crust of a slice of pizza) and roll to the tip. Place back on the baking sheet.
9
Bake chocolate filled crescent rolls for an additional 10-12 minutes in the oven. Remove baked crescent rolls and let cool for at least 5 minutes before serving. Enjoy!
Nutrition Information
Yield: 8, Serving Size: 1
Amount Per Serving: 358 Calories | 31.1g Fat | 9.2g Total Carbs | 3.3g Fiber | 1.9g Sugar | 0.6g Sugar Alcohol | 16.8g Protein | 5.2g Net Carbs
---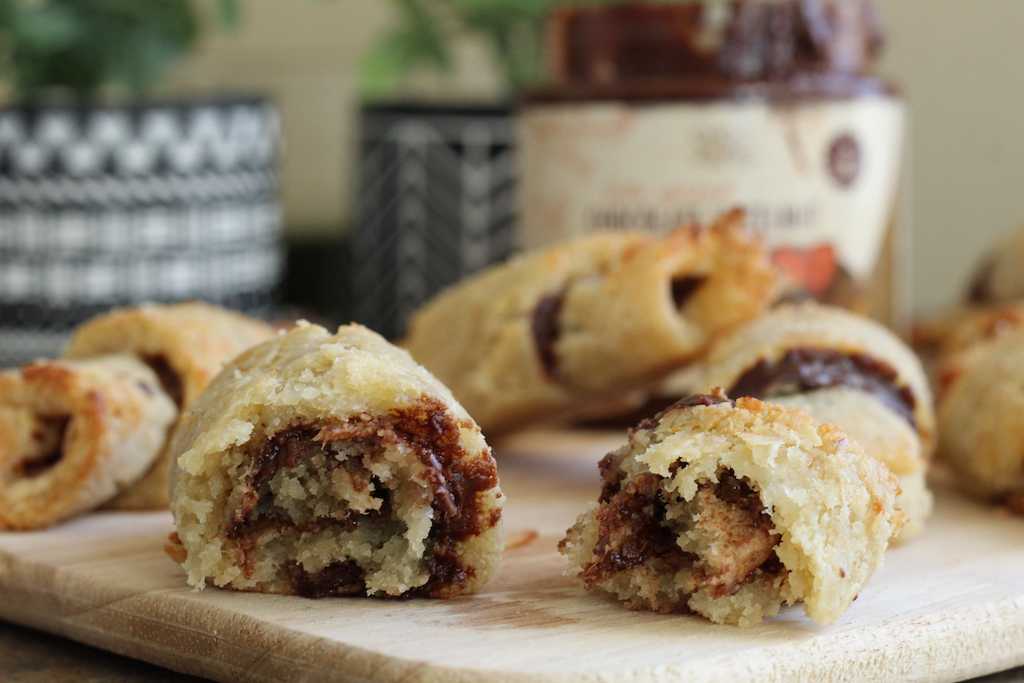 These keto crescent rolls would be a great addition to your weekend brunch menu! I made a batch for my neighbor and left them on her porch and she was so surprised when I told her they were low carb.
Treat yourself and grab a couple of these delicious rolls, a cup of coffee, and your favorite book. YUM!
My team member, Jenna, gave this recipe a test for me, and here's what she had to say:
"Finally, a keto dough that rolls. I love it! First of all, the dough by itself is amazing, and I was snacking on it even before adding the hazelnut spread and it was awesome! I gotta confess, I've been eating the ChocZero hazelnut spread by the spoonful, who knew it could be even better warm inside of a keto crescent roll?! This is going to be one of my new go-to keto treats!"
---