Keto Chocolate Chip Cookie Dough Fat Bombs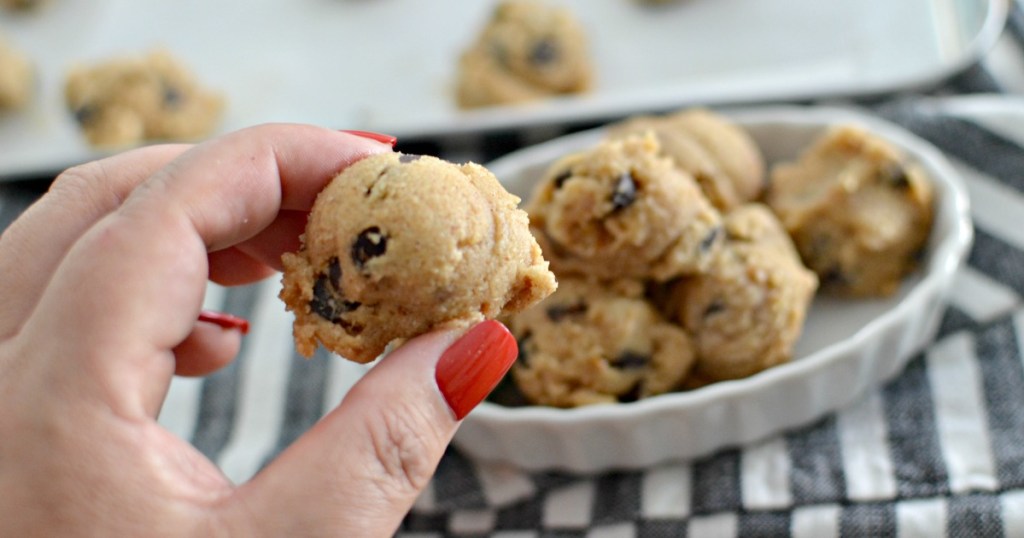 Love eating buttery cookie dough? I know I do!
Fortunately, you can still eat chocolate chip cookie dough as a treat while still keeping things keto! Fat bombs are a great way to get in healthy fats while enjoying a yummy, no-bake snack or dessert. Plus, these cookie dough bites have just 6 easy ingredients and are a breeze to whip up.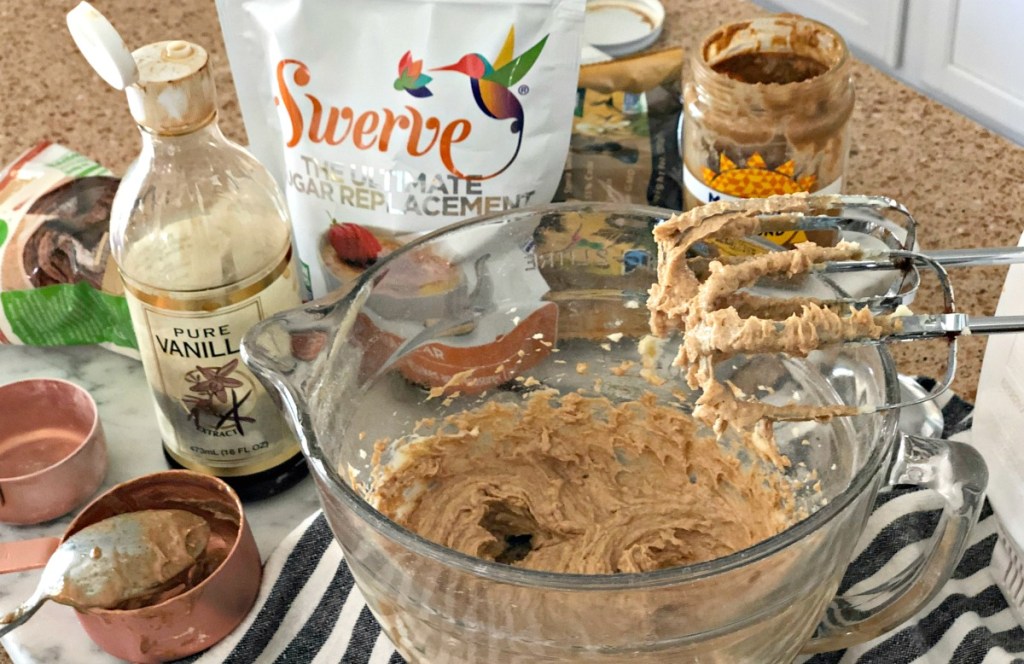 Hip Recipe Tips:
Use a melon baller to make cute and tiny scooped shapes, as I did. I used a bit of coconut oil spray every few scoops to avoid sticking. Alternatively, just roll into tablespoon-sized balls.
These fat bombs can be stored in the fridge or freezer in a covered container for up to 1-2 weeks.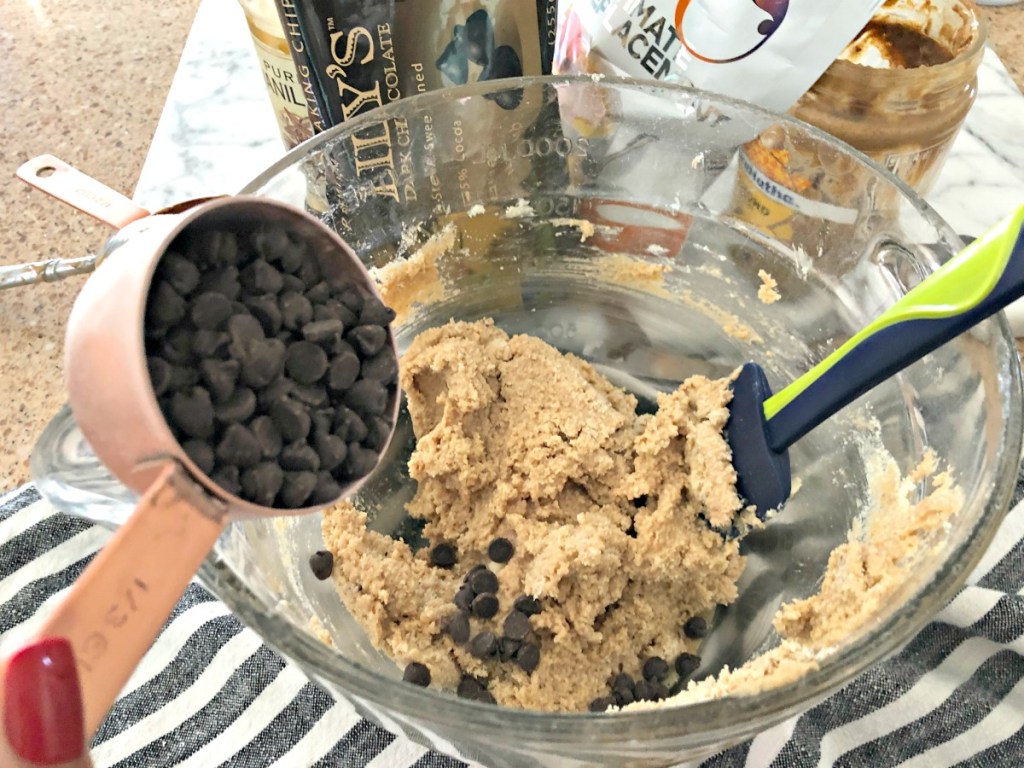 ---
Print
Keto Chocolate Chip Cookie Dough Fat Bombs
yield: 30 SERVINGS
prep time: 20 MINUTES
total time: 20 MINUTES
Luscious bites of creamy sweet cookie dough with yummy keto chocolate chips!
Ingredients
1/2 cup salted butter (one stick), softened
1/3 cup Swerve
1/2 cup almond butter
1/2 teaspoon vanilla extract
1 cup almond flour
1/2 cup keto friendly chocolate chips (such as Lily's)
Directions
1
To a medium sized mixing bowl, add butter, almond butter, vanilla, and Swerve. Cream together for a minute or less, until combined.
2
Stir in a little bit of almond flour at a time using a spoon. Stir in chocolate chips.
3
Place mixture in fridge for about 30 minutes to stiffen up.
4
To a parchment paper-covered baking sheet, spoon mixture into 30 small balls and place onto a baking sheet.
5
Place into the freezer until solid, about 30 minutes. Remove from freezer and place the cookie dough balls into a covered container. Store in fridge or freezer to snack on.
Nutrition Information
Yield: 30 fat bombs, Serving Size: 1 fat bomb
Amount Per Serving: 80 Calories | 7g Fat | 5g Total Carbs | 2g Fiber | 3g Sugar Alcohol | 2g Protein | <1g Net Carbs
---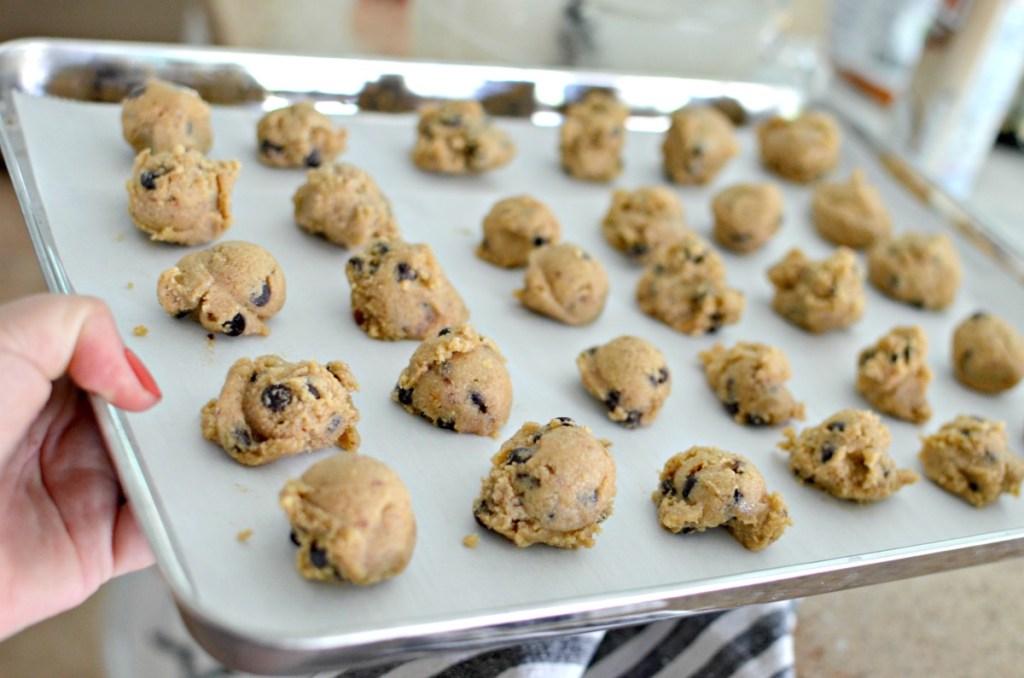 These cookie dough bites are the BOMB!
The taste and texture are super close to that traditional, full-carb cookie dough we all love! These are super convenient to keep in the fridge when a craving hits. They're rich enough that one or two bites will hit the spot! Everyone needs a quick and easy treat once in a while, and this Chocolate Chip Cookie Dough Bites idea is definitely a winner!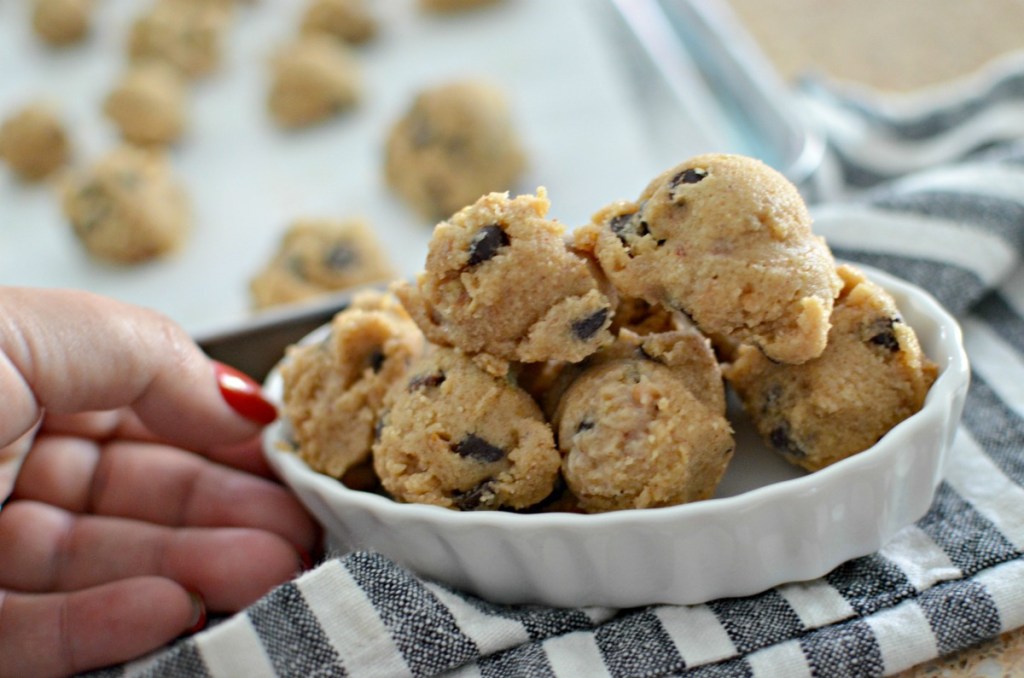 ---
Love Oreos? Try These Keto Cookies and Cream Fat Bombs!