Keto Carrot Cake with Cream Cheese Frosting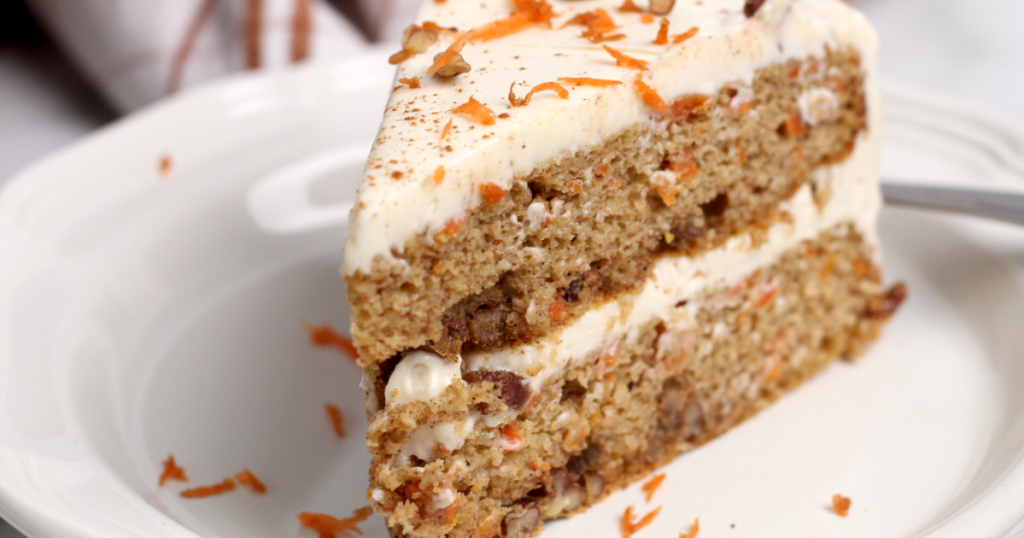 Calling all carrot cake fans!
Got a hankering for sweet and savory carrot cake? This keto carrot cake recipe is so moist and is topped with our amazing keto cream cheese frosting and crushed pecans. This keto dessert is that kind where you take one bite and you just want to reach for another slice. It's that good!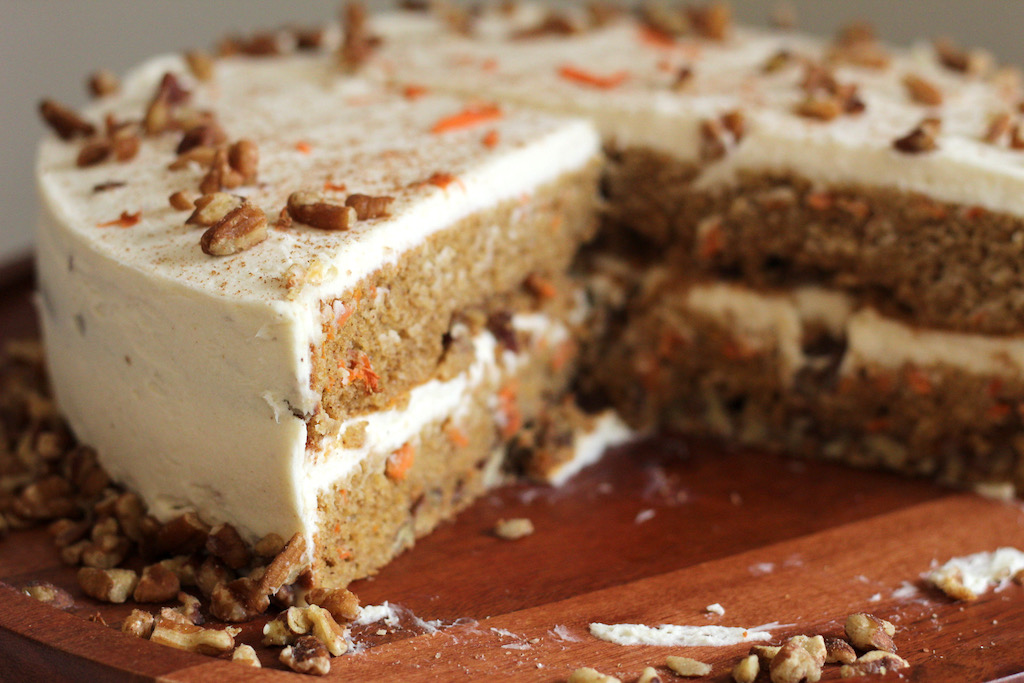 Spice, spice baby!
The perfect slice of carrot cake has a bit of spice to it, so I added cinnamon and allspice to the recipe which gives enough bite but is not overpowering at all. This is a great keto cake to serve on Easter or any spring gathering.
You can purchase a bag of shredded carrots at any local grocery store, but I prefer to use fresh carrots since you get added moisture from a freshly shredded carrot. I just shred carrots with a cheese grater but you can also use a food processor.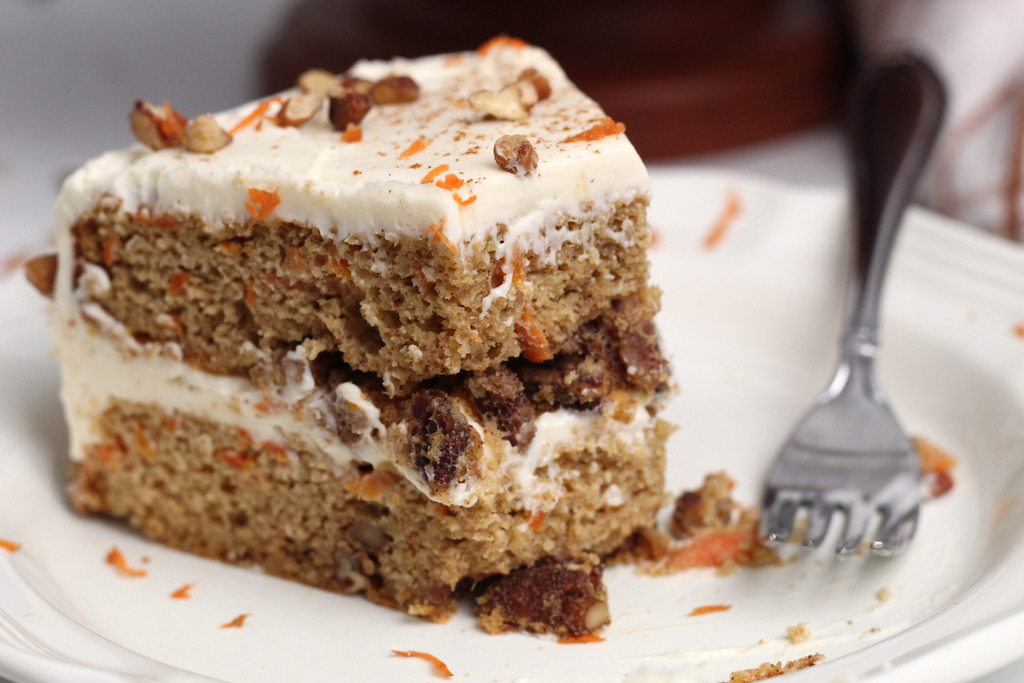 FAQs when making keto carrot cake:
Are carrots okay for keto?
Carrots can be okay in moderation and since we are using only 1 cup throughout the whole cake, you will still be within your macros. If you want to avoid carrots all together, you can substitute carrots for zucchini.
Is carrot cake better with oil or butter?
Butter actually solidifies so the cake could actually taste a bit dry when using butter. I suggest using avocado oil or melted coconut oil.
Can this keto cake be made into cupcakes?
Yes, you can use this cake batter to make 24 yummy keto cupcakes.
How do you store carrot cake?
Store keto carrot cake in a sealed container in the refrigerator for up to four days. You can freeze the cake without the cream cheese frosting for up to one month.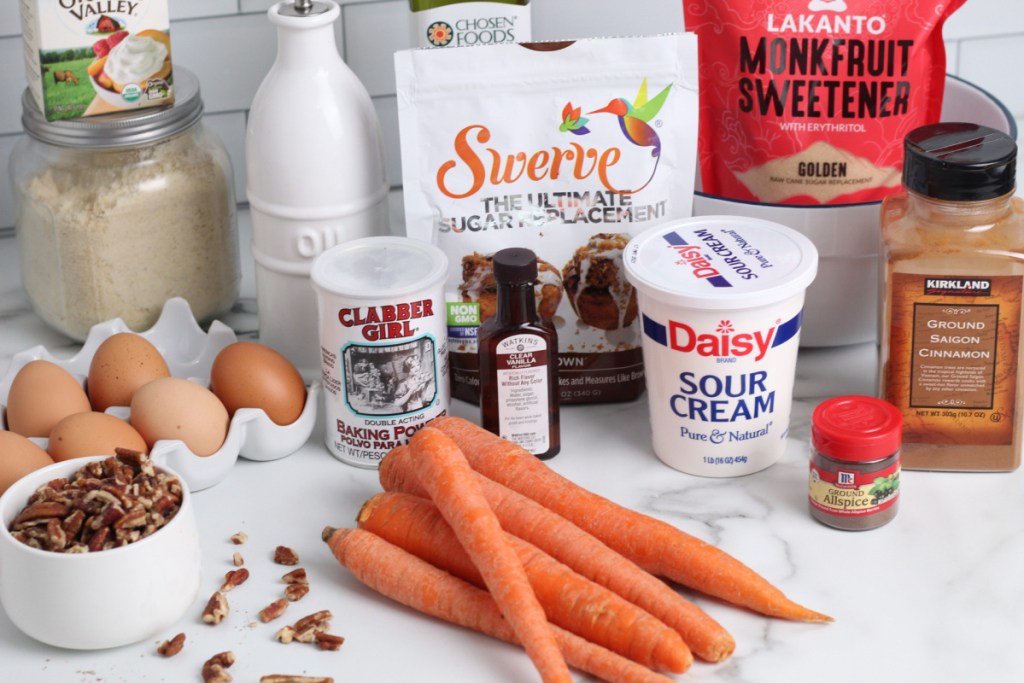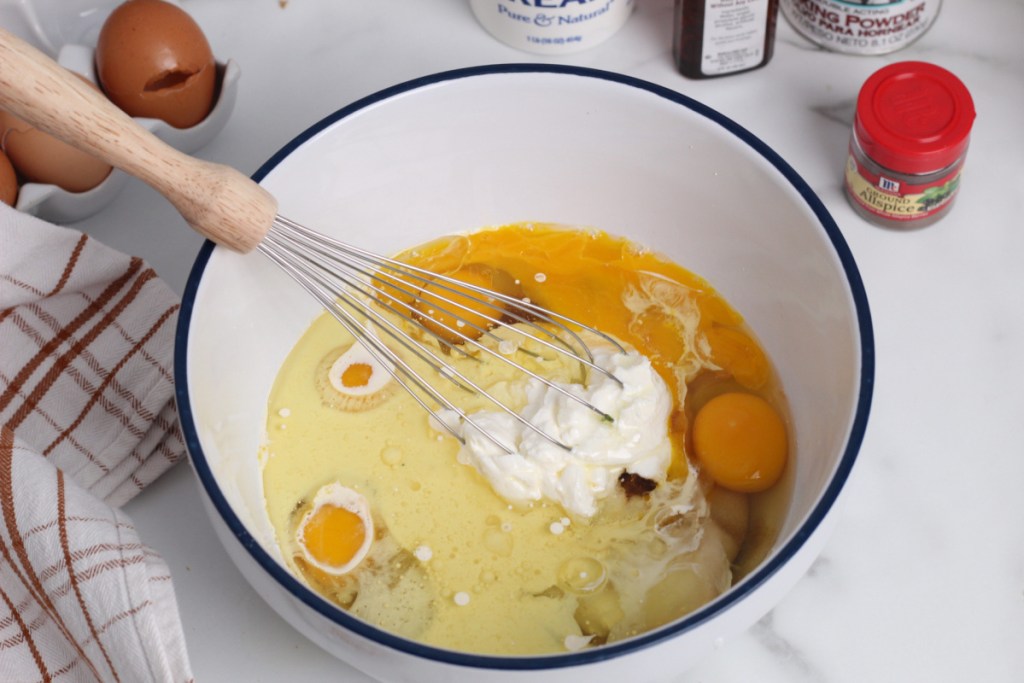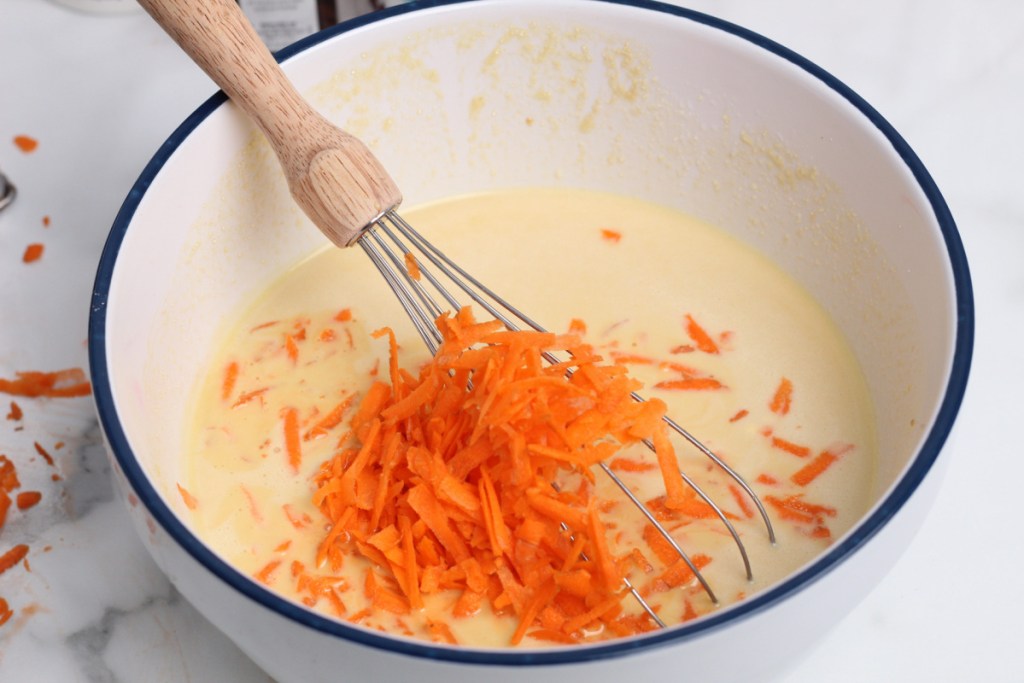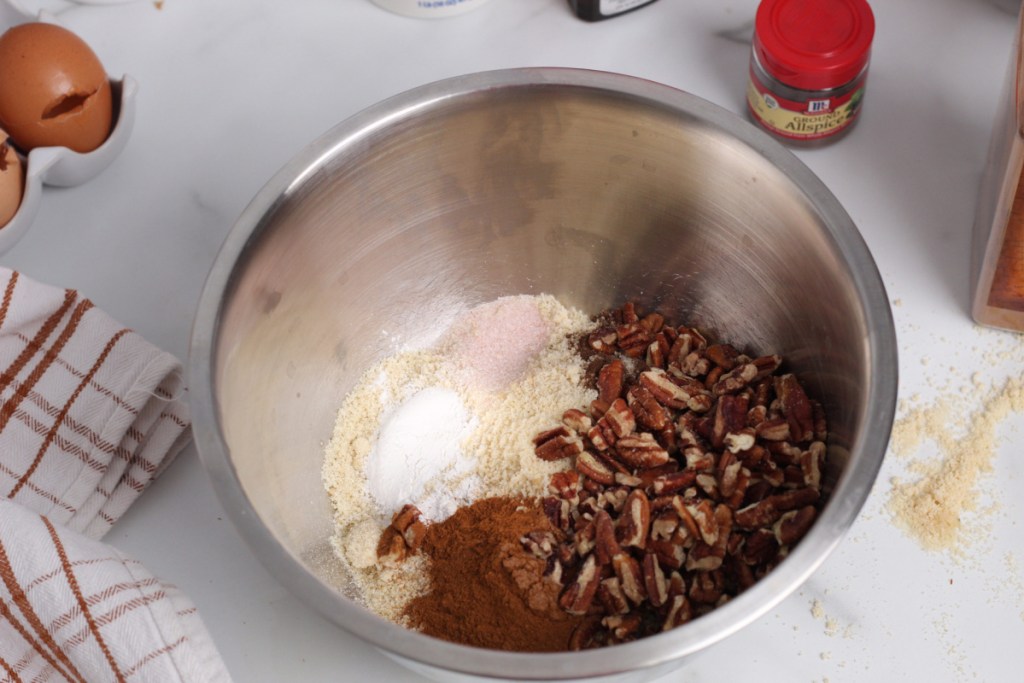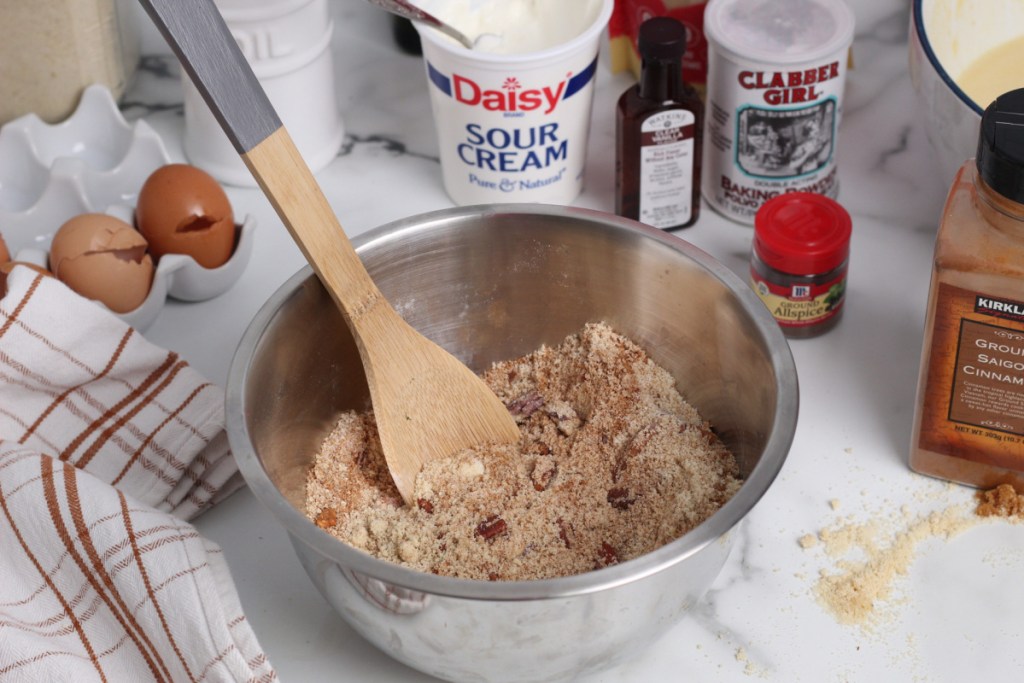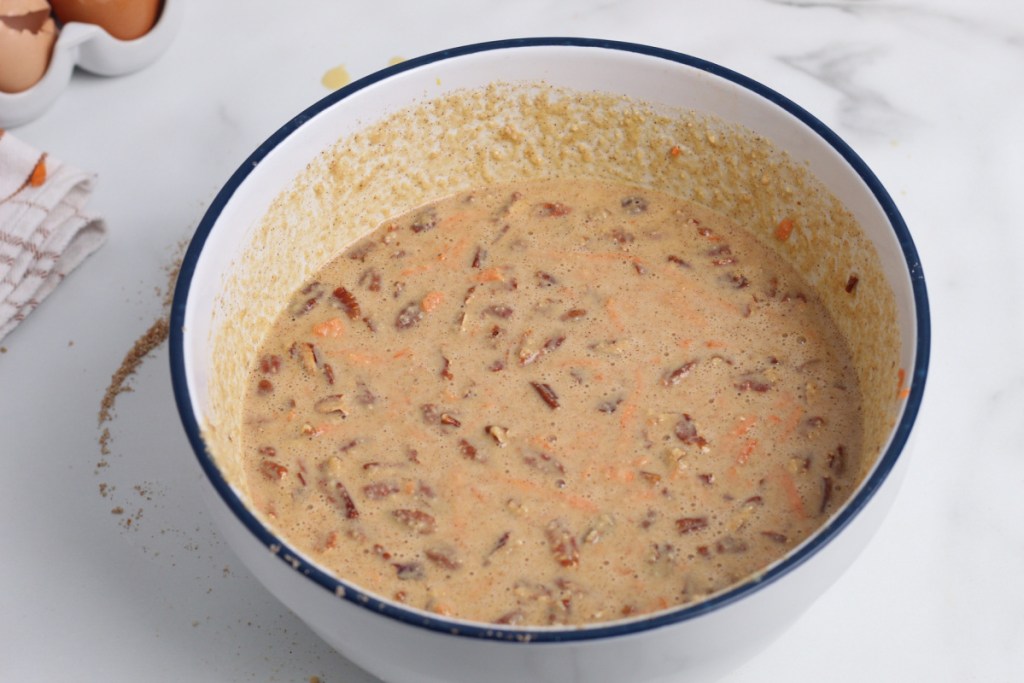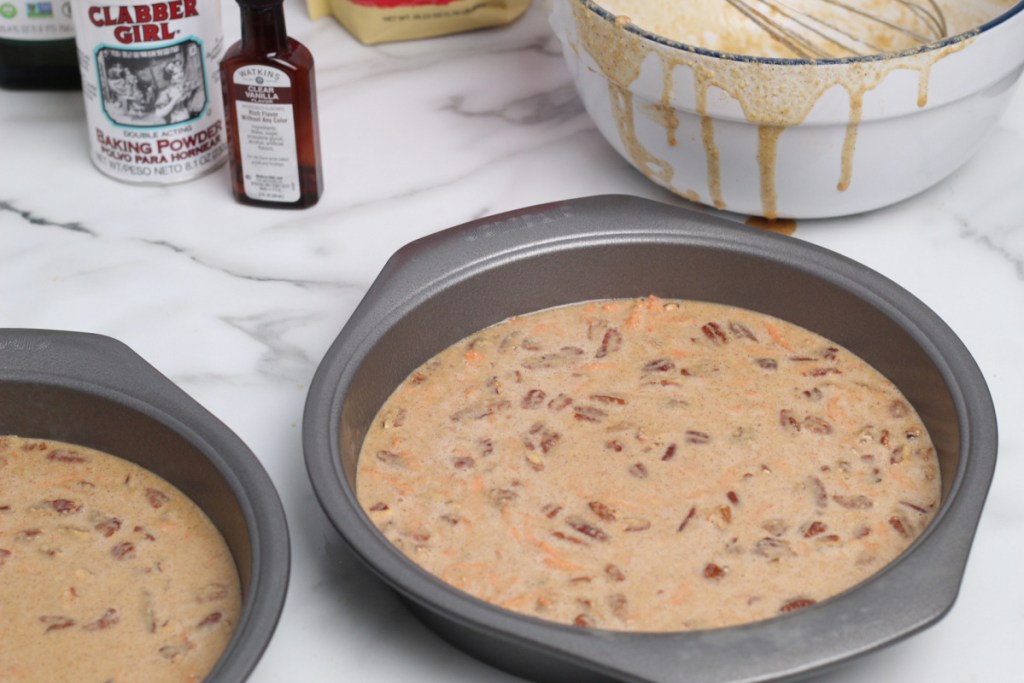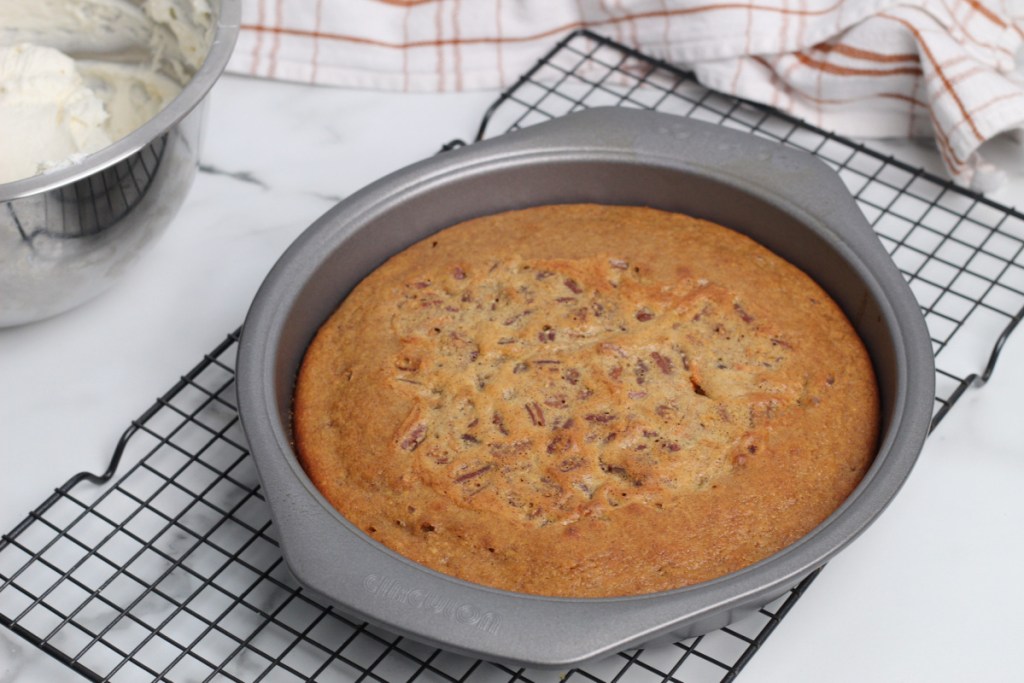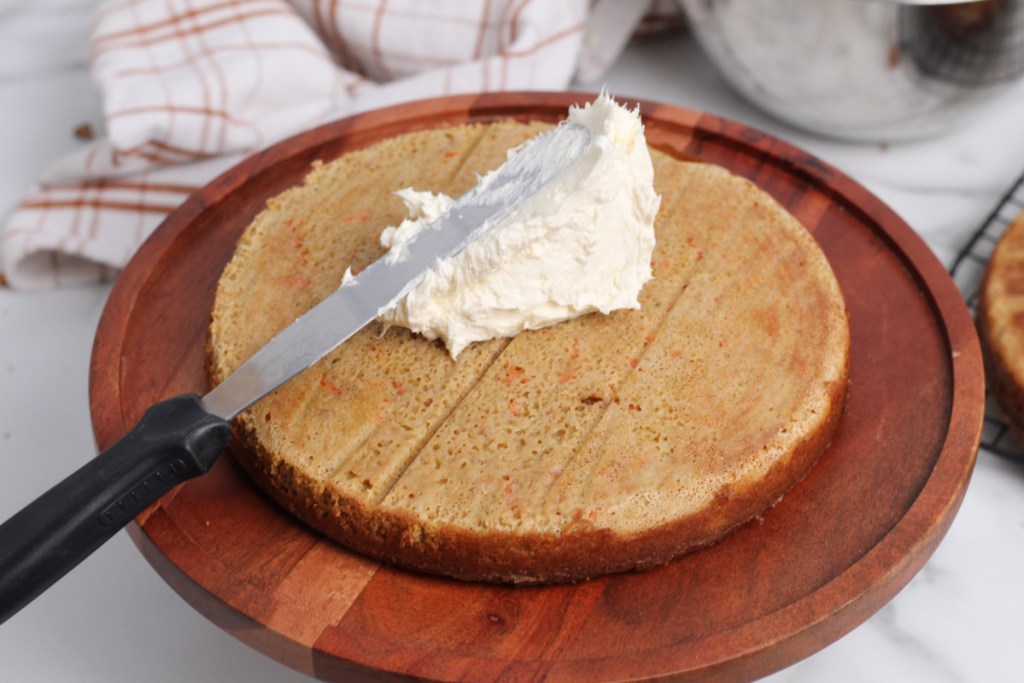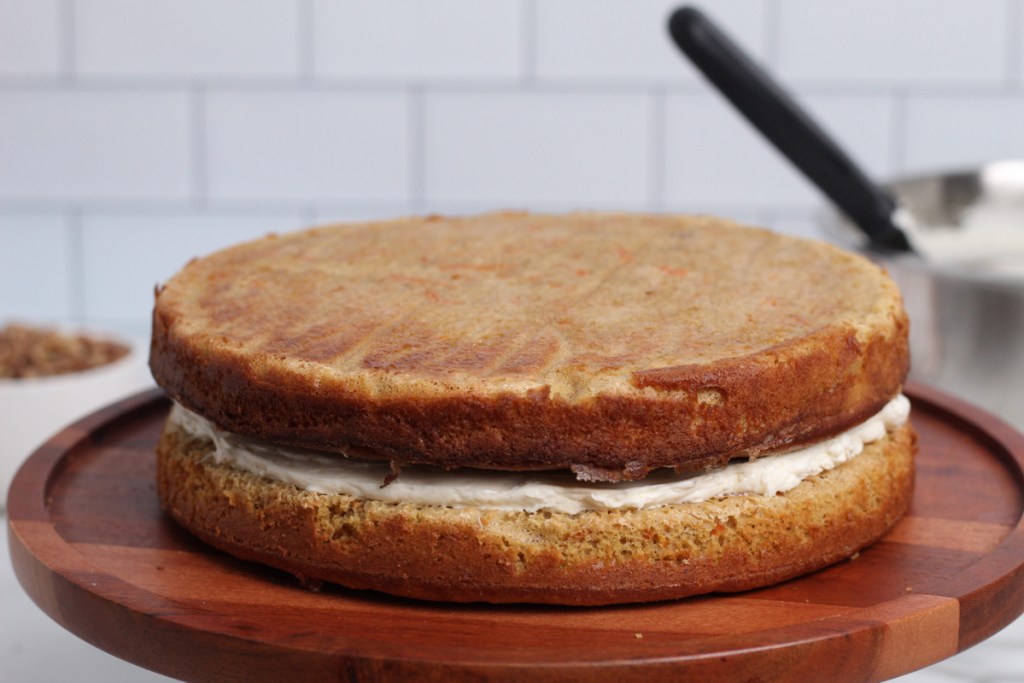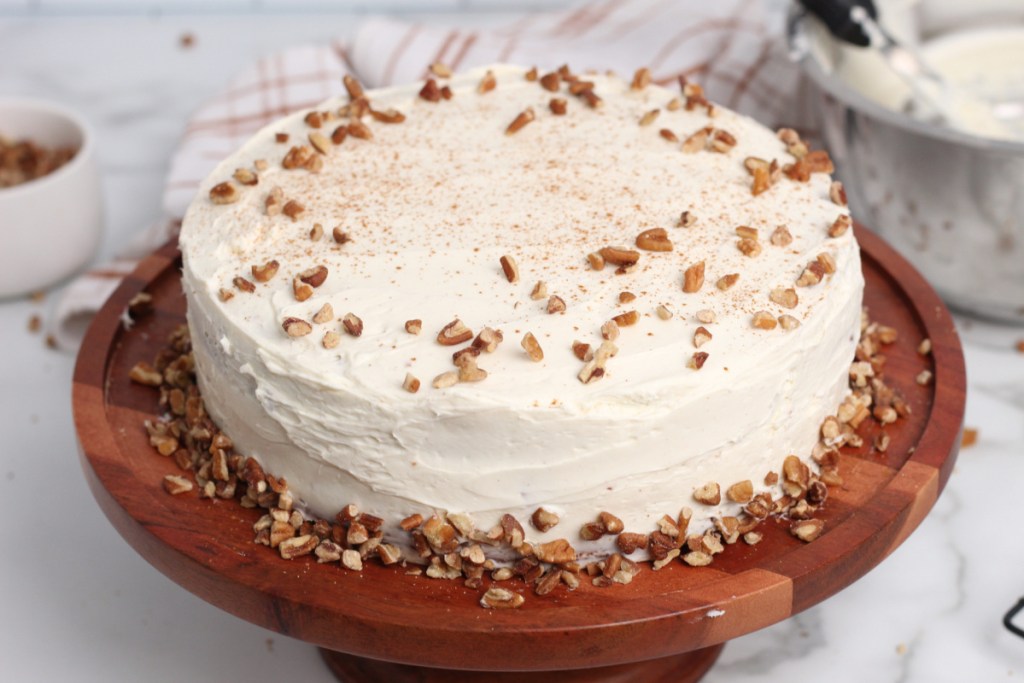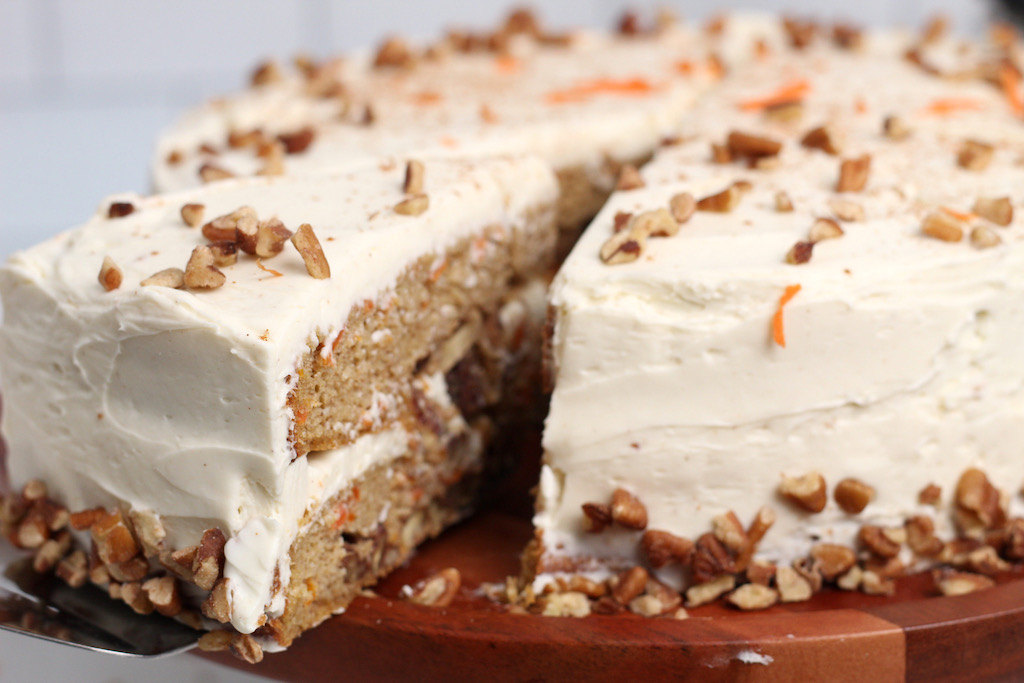 ---
yield: 8 SERVINGS
prep time: 20 MINUTES
cook time: 30 MINUTES
total time: 50 MINUTES
Delicious gluten-free, sugar-free, and low-carb carrot cake made with fresh carrots and topped with a rich and decadent cream cheese frosting.
Ingredients
Carrot Cake:
5 eggs, room temperature
1/4 cup heavy cream
1/2 cup sour cream
1 cup shredded carrots
1 tablespoon baking powder
1 tablespoon cinnamon
1 teaspoon salt
1 cup chopped pecans or walnuts
Cream cheese frosting:
16 oz. cream cheese, room temperature
1/2 cup butter, room temperature
6 tablespoons heavy whipping cream
1 teaspoon ground cinnamon
chopped pecans for topping, optional
Directions
1
 To make keto carrot cake:
Preheat oven to 350 degrees. Spray two 8" or 9" round cake pans with nonstick cooking spray. Line the bottom of the cake pans with parchment paper for easy removal. Set aside.
2
In a large mixing bowl, whisk together eggs, heavy cream, oil, sour cream, vanilla, and keto sweeteners until combined. Add in shredded carrots and stir.
3
In a separate large mixing bowl, whisk together almond flour, baking powder, cinnamon, allspice, and salt. Add in chopped pecans and stir.
4
Pour dry ingredients into wet ingredients and mix them together just until all ingredients have combined.
5
Pour cake batter evenly into both cake pans. Bake in preheated oven for 30 minutes.
6
Remove cakes from oven and let the cakes cool completely before frosting.
7
To make keto cream cheese frosting:
With a hand mixer and mixing bowl, cream together the butter and cream cheese for a minute or so until combined. Whip in the vanilla extract and heavy cream. Add the Swerve confectioners to the bowl, and mix until creamy and well combined - about one minute.
8
Place one cake layer on a cake stand or plate. Add a thin layer of frosting to the first cake. Add the second carrot cake on top of the frosted cake. Continue to frost the sides and top. Add chopped pecans and a sprinkle of cinnamon (optional).
9
Slice, serve, and enjoy!
Nutrition Information
Yield: 8 slices, Serving Size: 1 slice
Amount Per Serving: 749.4 Calories | 73.8g Fat | 54.1g Total Carbs | 4.6g Fiber | 4.3g Sugar | 42.1g Erythritol | 14.8g Protein | 7.4g Net Carbs
---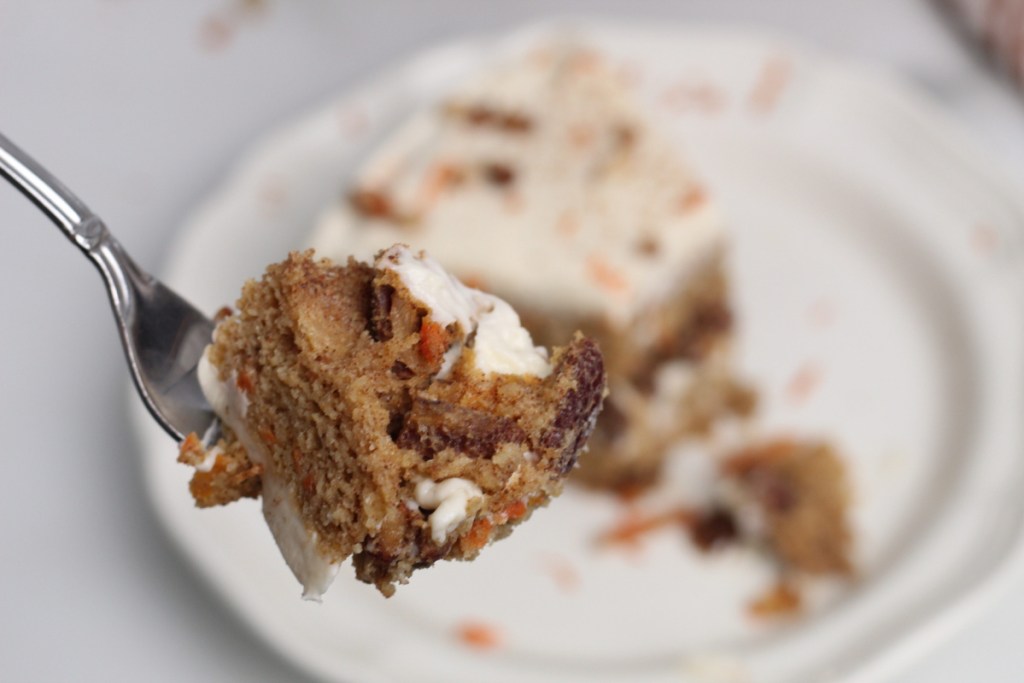 A slice of keto heaven!
For those that have been missing carrot cake, you have to try out this amazing keto version. I promise you will not be disappointed. I'm planning to make one to enjoy with my Easter dinner for a delicious low-carb dessert!
Give it a try and let me know what you think!
My team member, Jenna, gave this recipe a test for me, and here's what she had to say:
"This is everything a carrot cake should be, and I love that it includes freshly shredded carrots. The pecans are an excellent addition, but I agree that walnuts will work well too. My whole family enjoyed it and the kids had a blast making it with me! The cake is nice and moist, but holds up beautifully for frosting and stacking. Speaking of, the cream cheese frosting on this keto carrot cake is so amazing!"
---