Mini Keto Cheesecake Bites with Strawberry Glaze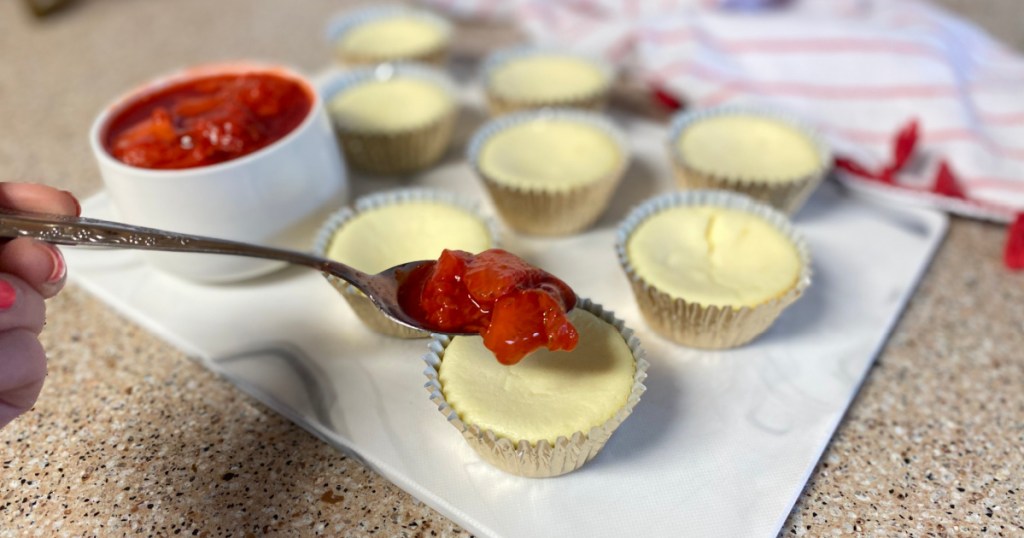 The keto dessert of your dreams has arrived!
These mini keto cheesecake bites are the perfect serving size and are great to make for any occasion! No need to fuss with slicing up a full-size cheesecake – all you have to do is just grab one of these bites and you're good to go. Bet ya can't eat just one though, they're pretty addicting!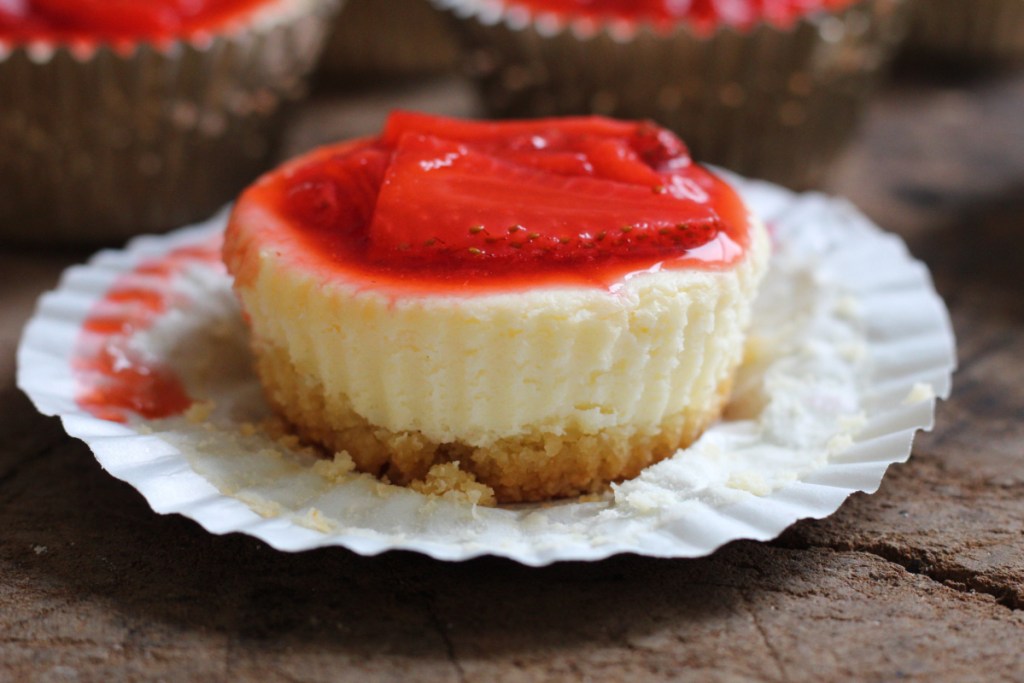 Hip tips for making the best keto cheesecake bites:
When making the cheesecake filling, make sure the cream cheese and eggs are at room temperature. This will give you a consistent texture throughout your finished keto cheesecake bites.
During baking, avoid opening the oven door as this causes temperature changes, which can result in cracking throughout the cheesecake layer.
As tempting as it will be to gobble these up the minute they're out of the oven, let the mini cheesecake bites cool completely and refrigerate for at least one hour before digging in.
I love adding a strawberry glaze to the top of any cheesecake but you can use any of your favorite keto-friendly fruits such as blueberries, raspberries, or blackberries. You could also use your favorite flavor of ChocZero syrup as a topping. Yum!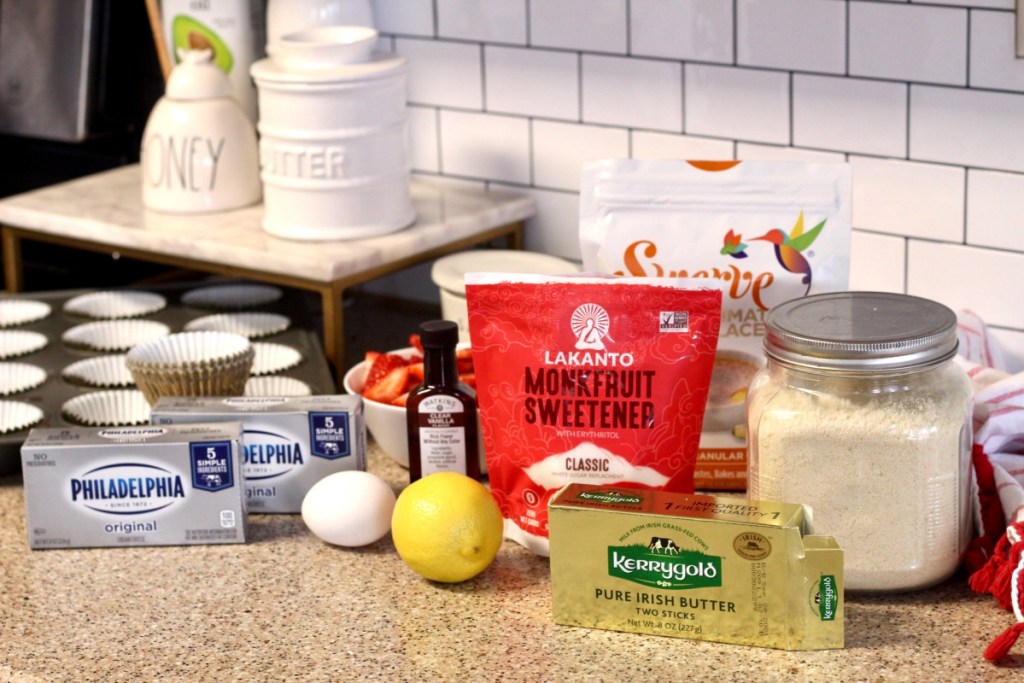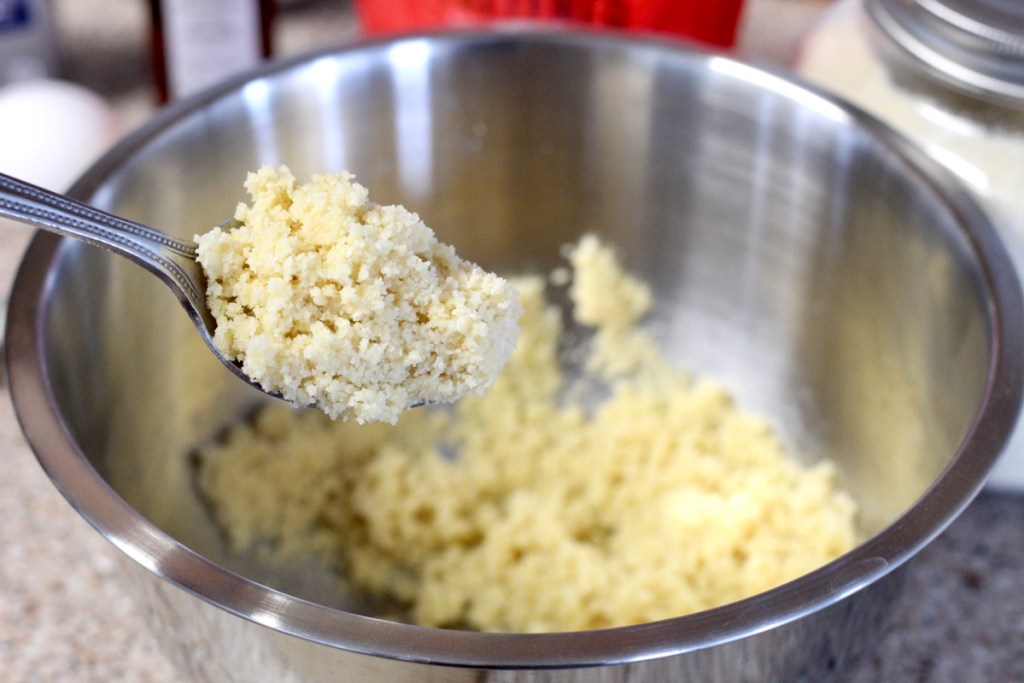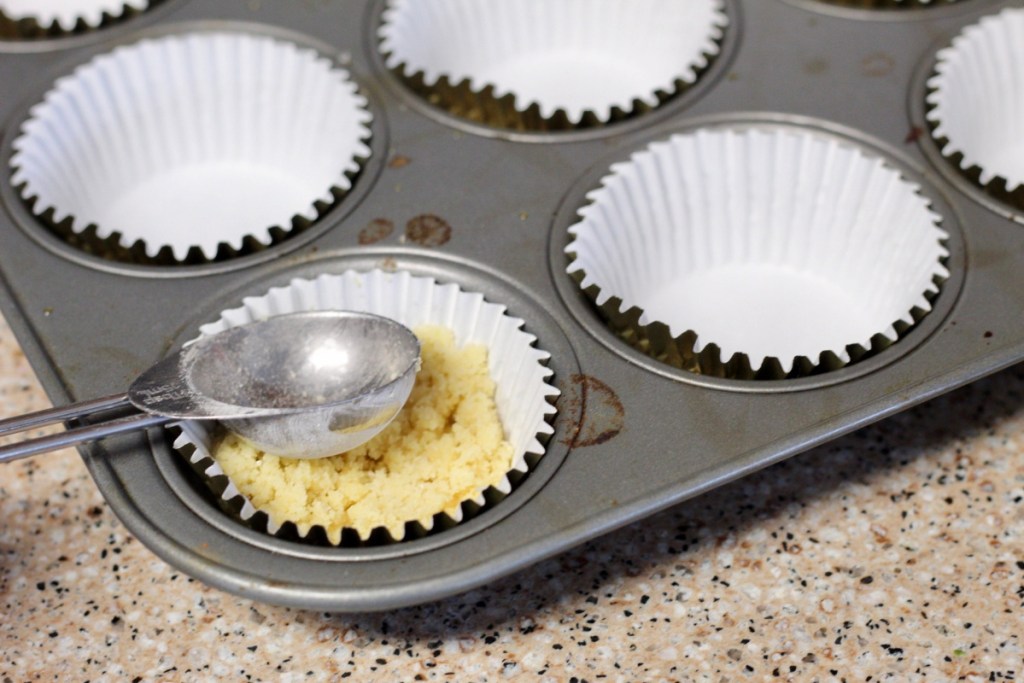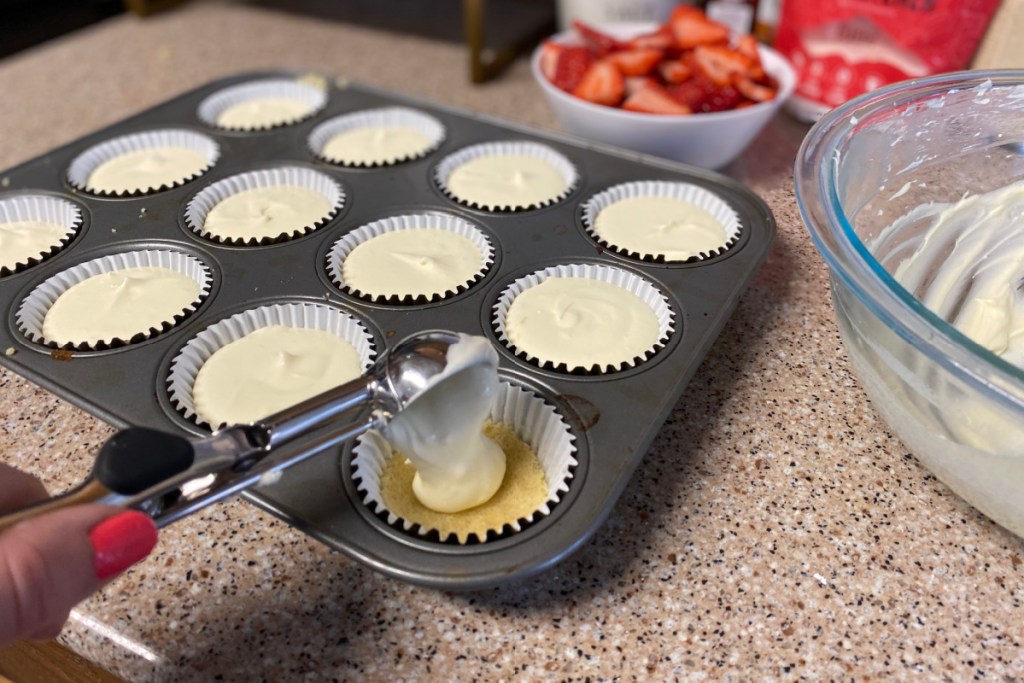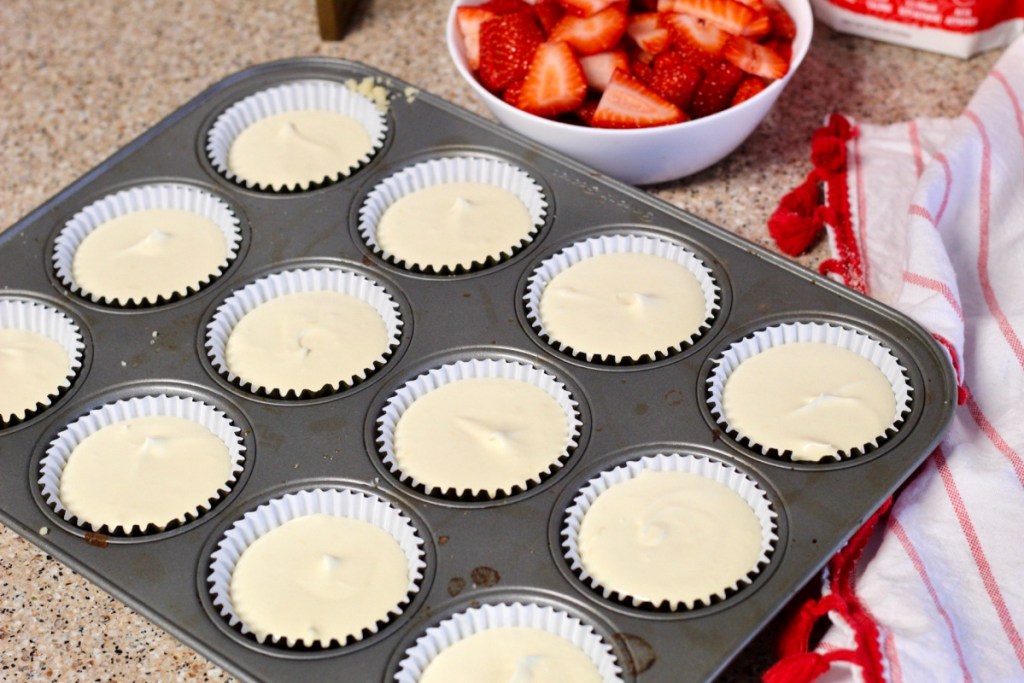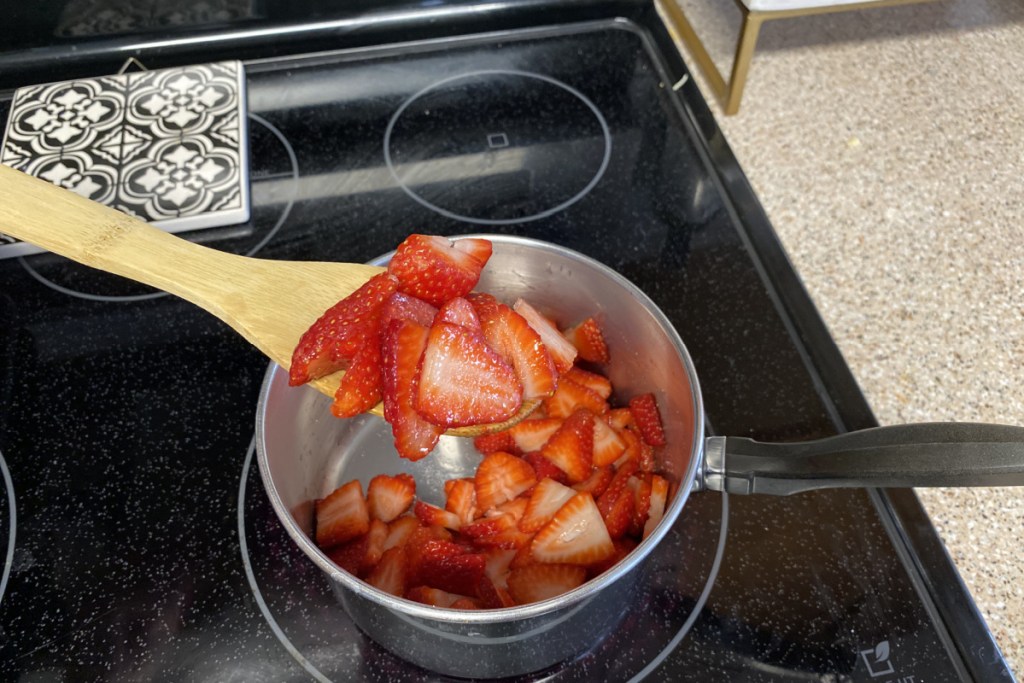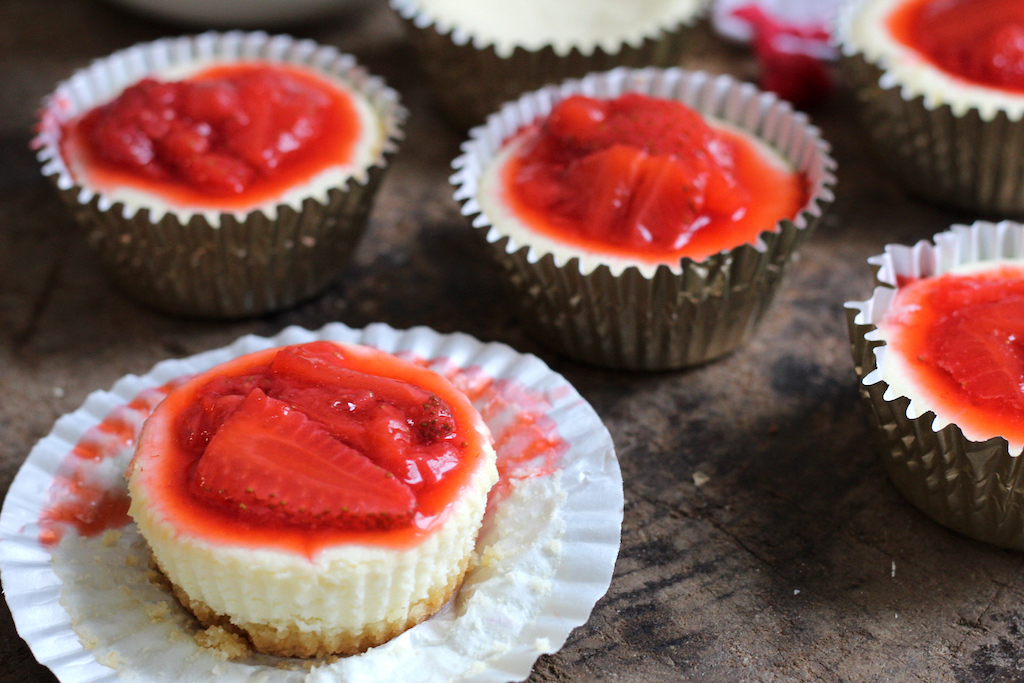 ---
Print
Keto Cheesecake Bites
yield: 12 SERVINGS
prep time: 20 MINUTES
cook time: 20 MINUTES
total time: 40 MINUTES
Delicious keto-friendly cheesecake bites filled with cream cheese and topped with strawberry glaze.
Ingredients
For the crust::
3 tablespoons butter, melted
Cheesecake filling::
16 oz. cream cheese, room temperature
1 egg, room temperature
1 teaspoon lemon zest
1/2 teaspoon salt
Strawberry glaze::
1 lb. strawberries, sliced
2 tablespoons water
1 teaspoon lemon juice
Directions
1
Preheat oven to 325 degrees. Line a standard 12 cup cupcake pan with cupcake liners and set aside.
2
To make the crust:
In a mixing bowl, combine almond flour, keto sweetener, and melted butter.
3
Scoop a tablespoon size of crust into each cupcake liner. Press down the crust with the back of a spoon firmly. Set aside.
4
Making the filling:
In a large mixing bowl, add in cream cheese, beat with an electric mixer until smooth. Add in keto sweetener, salt, and egg and mix until incorporated. Mix in vanilla and lemon zest.
5
Scoop out about 2-3 tablespoons of cream cheese filling and add to cupcake liner. Repeat the process until all cupcake liners are filled.
6
Bake in the oven for 20 minutes. Remove from oven and allow mini cheesecakes to cool completely. Once cooled, place in the fridge for 1-2 hours to firm up before serving.
7
To make the strawberry glaze:
In a saucepan, add in sliced strawberries, water, lemon juice, and keto sweetener. Simmer on low for 20 minutes. Remove from stovetop and allow to cool down.
8
Add a dollop of strawberry glaze onto each mini cheesecake and serve.
9
Store leftovers in the fridge in a sealed container.
Nutrition Information
Yield: 12, Serving Size: 1
Amount Per Serving: 231.0 Calories | 20.7 Fat | 16.9g Total Carbs | 1.8g Fiber | 3.8g Sugar | 10.1g Erythritol | 4.9g Protein | 5.0g Net Carbs
---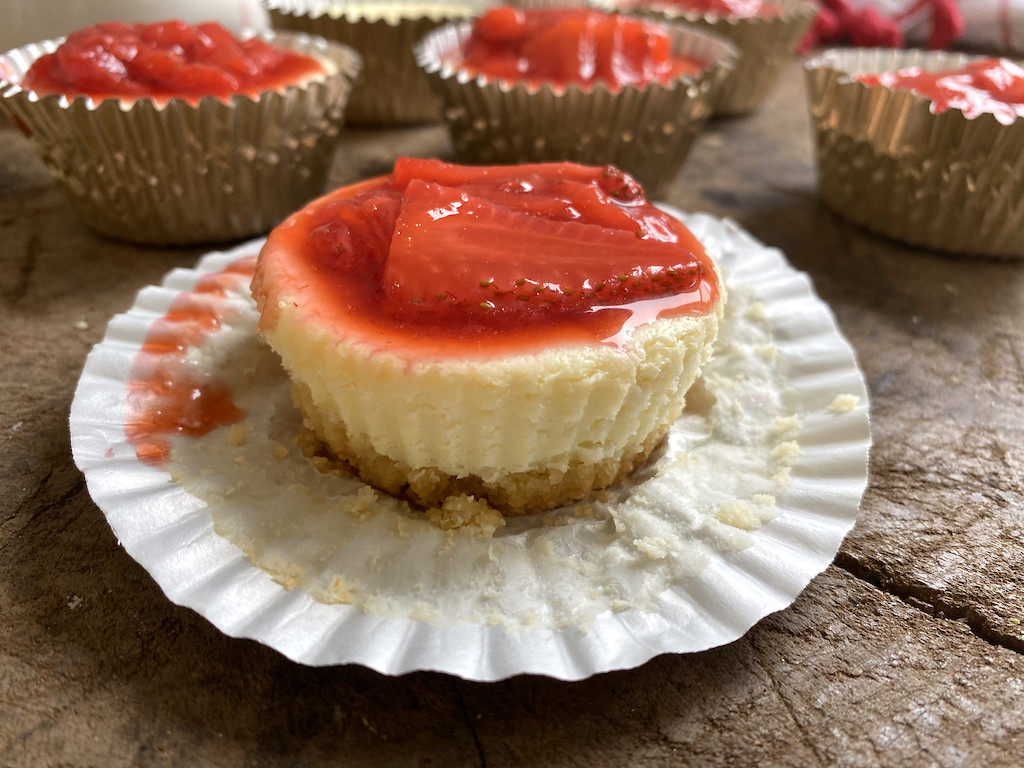 Almost too pretty to eat!
These keto mini cheesecake bites are so easy to make and oh so delicious. With a luscious layer of creamy cheesecake filling, topped with the fresh glaze of strawberries, one bite and you'll be in keto dessert heaven. YUMMO!
If you happen to have leftovers, they can be kept in an airtight container for up to one week in the fridge, but if you're like me, they probably won't last that long before they're gobbled up.😋
Here's what my teammate Jenna had to say after making these keto cheesecake bites:
"These are so fun! I love the crust, the cheesecake, and the topping so much. Not only do they look amazing, but they taste so good too! Thank goodness we can use cream cheese and some berries while staying keto! Using lemon juice in the strawberry glaze is a great idea."
---