Easy Keto Broccoli Cheddar Soup
Warm, comforting, cheesy keto soup with florets of fresh broccoli is an easy dish to make year-round.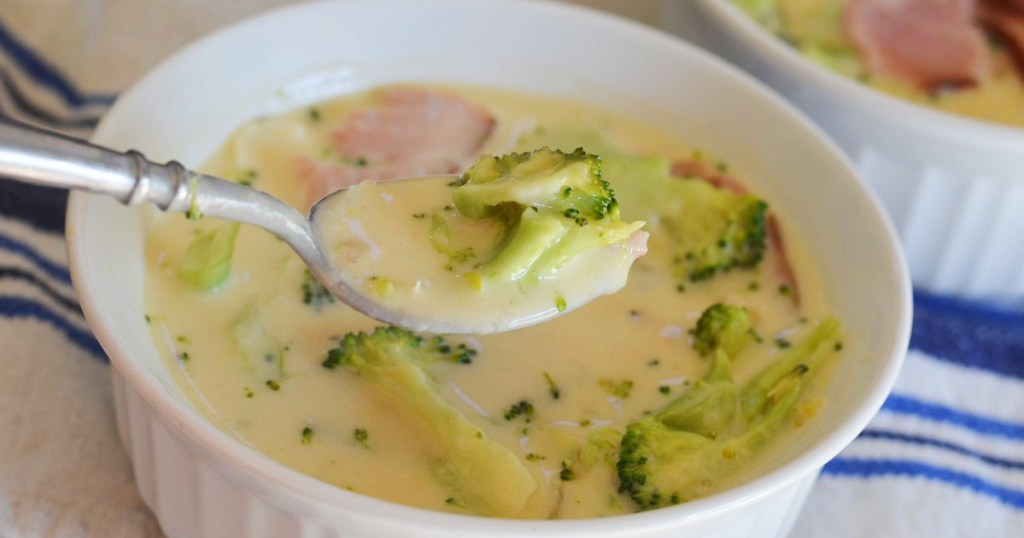 Soup's on!
Colder weather will be here before ya know it, and that means hunkering down inside with all your favorite comfort foods. If you're a fan of soups, then you are going to NEED this dreamy, creamy keto broccoli cheddar soup in your life! It's the epitome of warm, filling comfort food, and better yet? It's VERY easy to make for a perfect one-pot meal your family will love!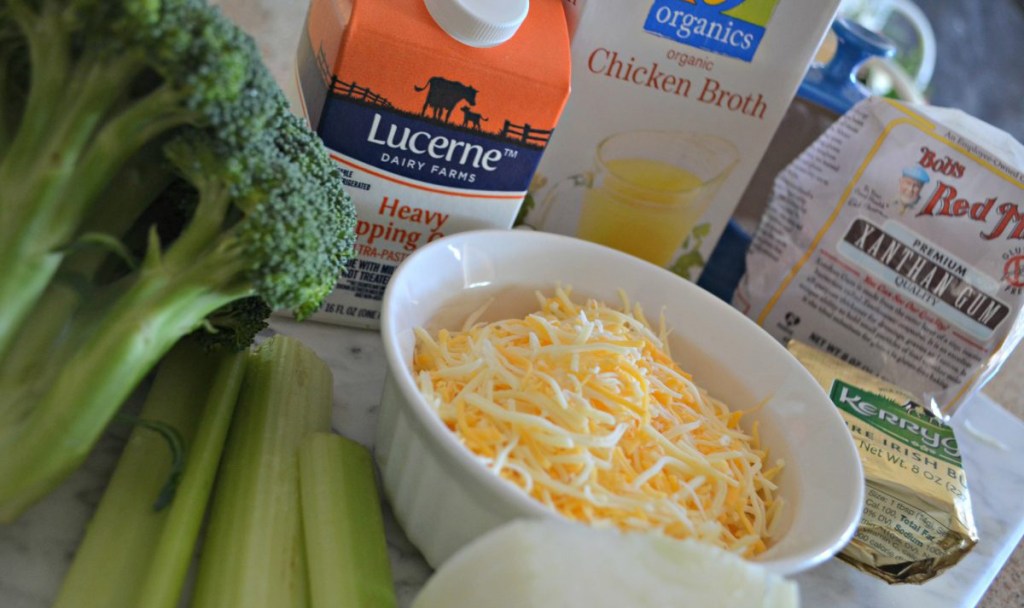 This soup is truly SO yummy, and I loved that there are just a few simple, wholesome ingredients needed to make it. You can keep it meatless or add in bacon, ham, or shredded chicken at the end.
A few helpful tips for making this easy keto broccoli cheddar soup:
This recipe makes enough soup for about three bowls, so if you're feeding a large family, double or even triple the recipe for a bigger batch.
Xantham gum is a great way to thicken low-carb soups and sauces. You can skip it, but a very small amount makes the broth super rich and creamy, and your soup will have a thicker texture.
Feel free to bulk up your soup with a little protein by adding in your favorite ingredients such as chicken, ham, bacon, or even mushrooms.
You could even make it completely vegetarian by swapping out the chicken broth for a veggie broth. It's so versatile!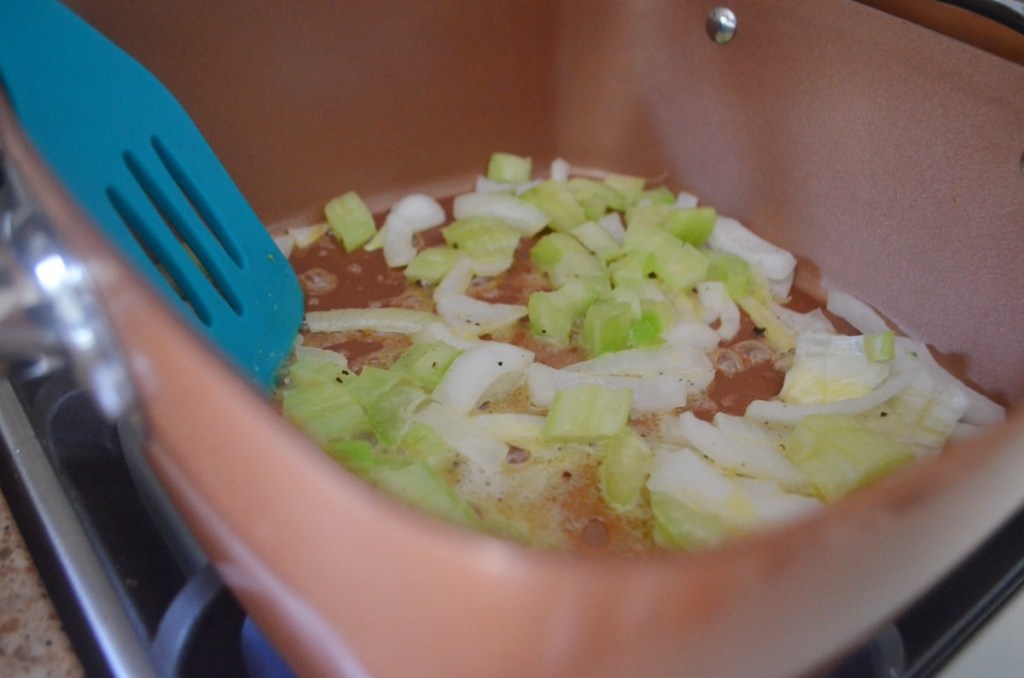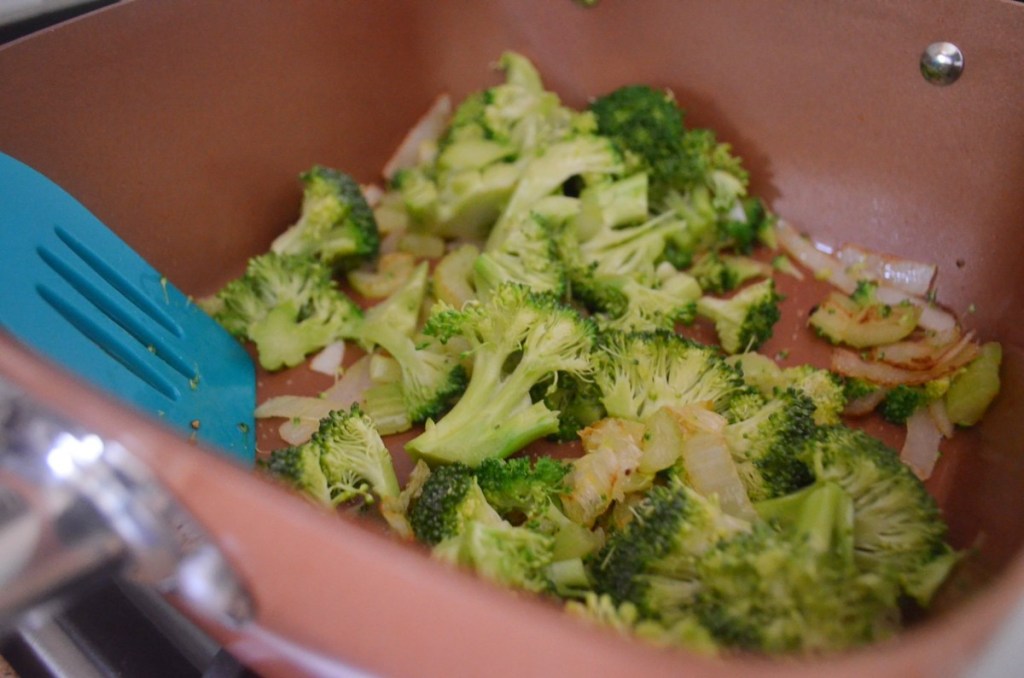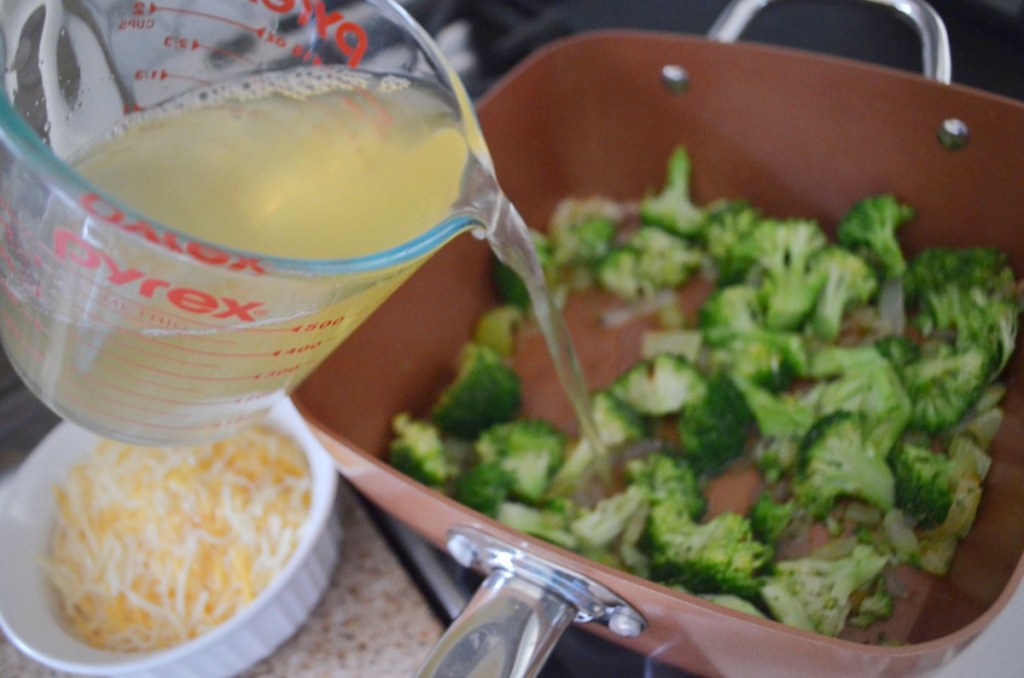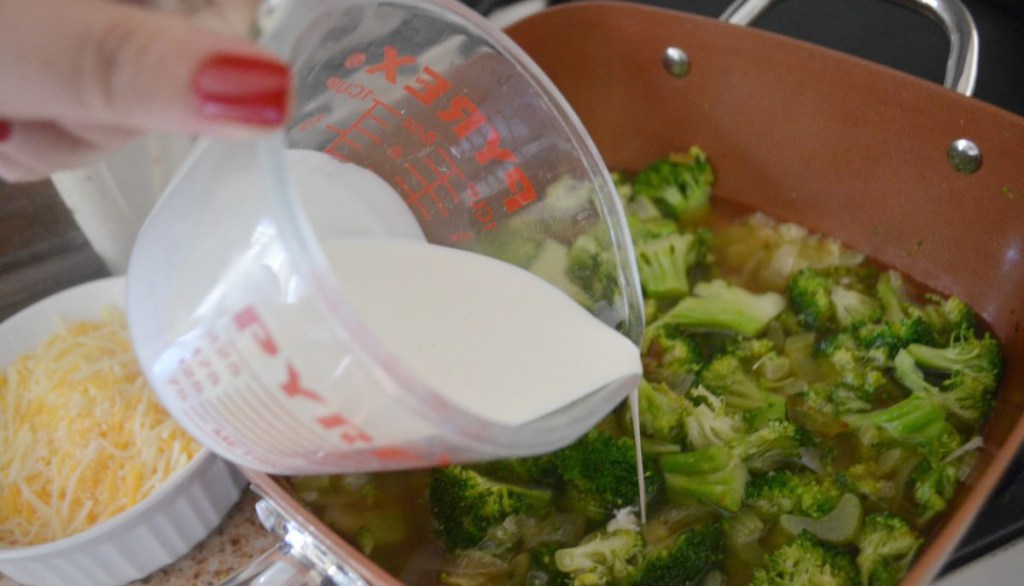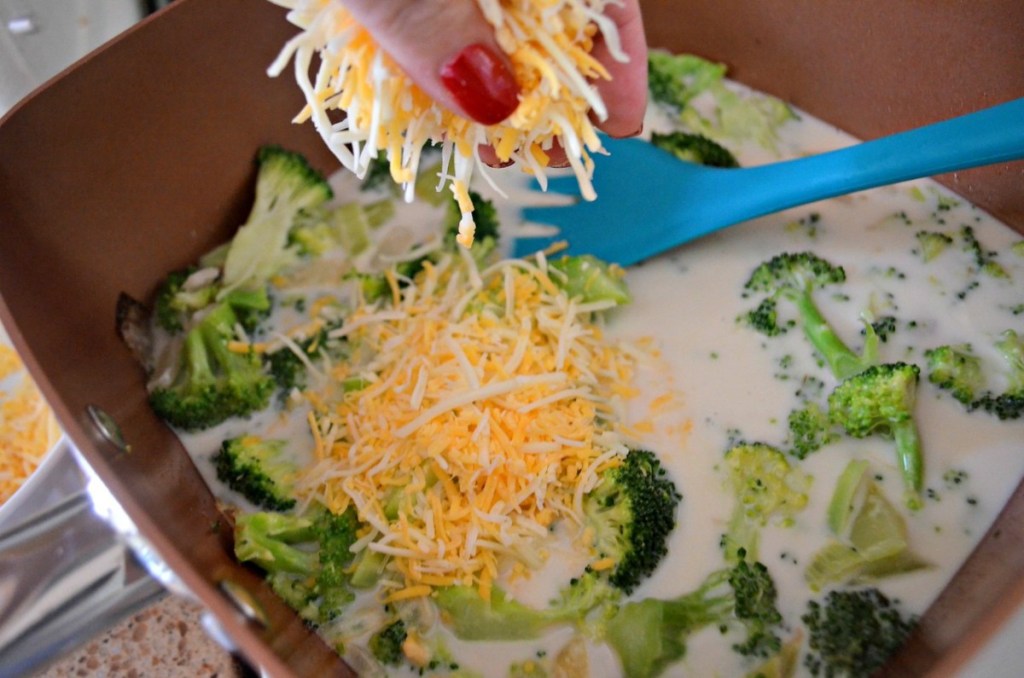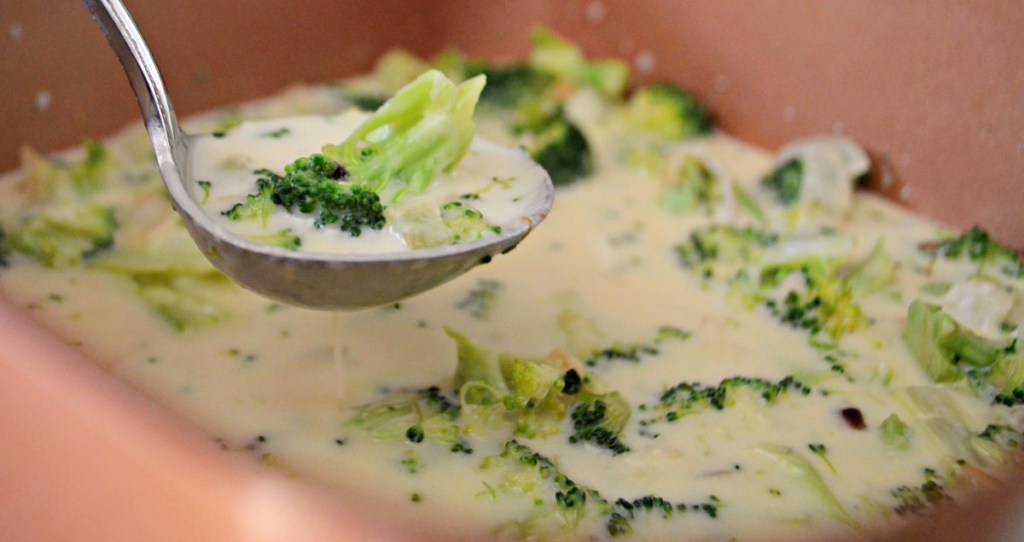 ---
Print
Keto Broccoli Cheddar Soup
yield: 3 SERVINGS
prep time: 15 MINUTES
cook time: 20 MINUTES
total time: 35 MINUTES
Warm, comforting, cheesy keto soup with florets of fresh broccoli is an easy dish to make year-round.
Ingredients
1/4 cup onion, diced
1/4 cup celery, diced
2 tablespoons butter
1 1/2 cups broccoli, cut into small pieces
salt & pepper to taste
2 cups chicken broth
1/4 cup heavy whipping cream
1 cup cheddar cheese, shredded
Directions
1
In a large saucepan on the stove, sauté onions and celery with butter until translucent. Season with salt & pepper.
2
Add chopped broccoli, and sauté for a couple of minutes.
3
Pour in chicken broth and cook until broccoli is tender.
4
Turn off heat and stir in whipping cream. Stir in cheese to melt.
5
Whisk in xanthan gum to thicken the soup, if desired. Season with additional salt and pepper to taste.
6
Optional: Serve with a few slices of cooked bacon or ham if desired. Enjoy!
Nutrition Information
Yield: 3 servings, Serving Size: 1/3 of the recipe
Amount Per Serving: 336 Calories | 28.5g Fat | 7.4g Total Carbs | 1.9g Fiber | 2.5g Sugar | .1g Sugar Alcohol | 14.2g Protein | 5.4g Net Carbs
---
We LOVED this cheesy keto soup!
I made this keto broccoli cheddar soup for a quick lunch recently, and it had such a great flavor and texture. Your family won't even notice that it's keto-friendly! In fact, it reminded me a lot of Panera Bread's broccoli cheddar soup, it's that darn good.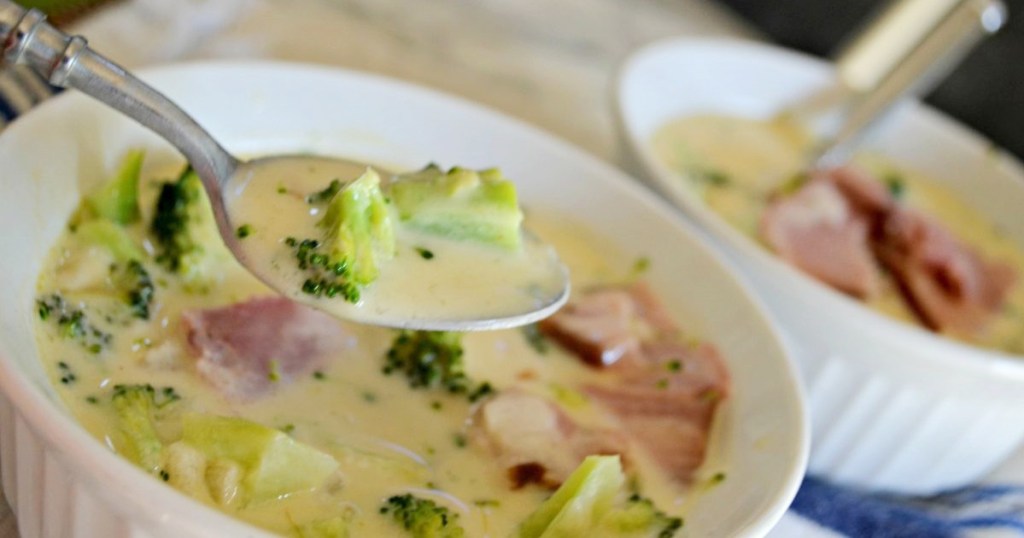 This soup is in my family's regular meal rotation (as it is in a few team members as well!), and I think you'll want to do the same after seeing how easily it comes together. My whole entire family loved it, and it was gone in just a few minutes. Next time, I'm making a bigger batch!
---
Make this delicious keto taco soup in your Crockpot slow cooker or Instant Pot!