This is Such a Cool Keto Breakfast Burrito Hack!
You'll never look at keto breakfast burritos the same after trying out this awesome hack!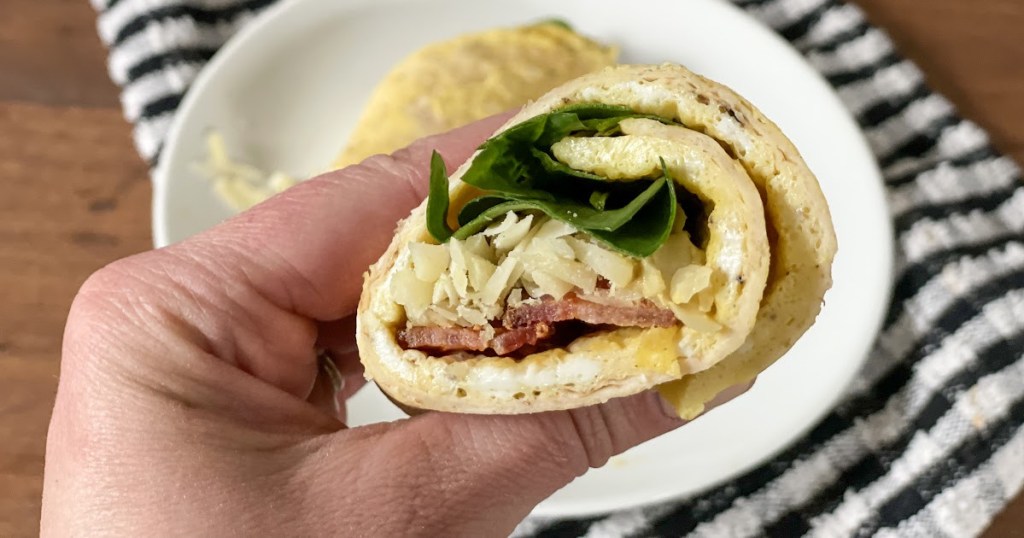 Who doesn't love a good breakfast burrito?
One of the easiest and quickest ways to take your breakfast on the go is to wrap everything in a tortilla. I definitely had a phase where I'd make a quick egg scramble, wrap it in a tortilla, and eat it on the way to work.
To ditch the high-carb tortilla, this keto method uses a low-carb tortilla and eggs as the wrap, which ultimately leaves you with more room in the keto breakfast burrito for all your favorite filling ingredients. It's a fun and creative way to mix up your breakfast.
We spotted this hack on Food Networks' Instagram feed and had to give it a shot.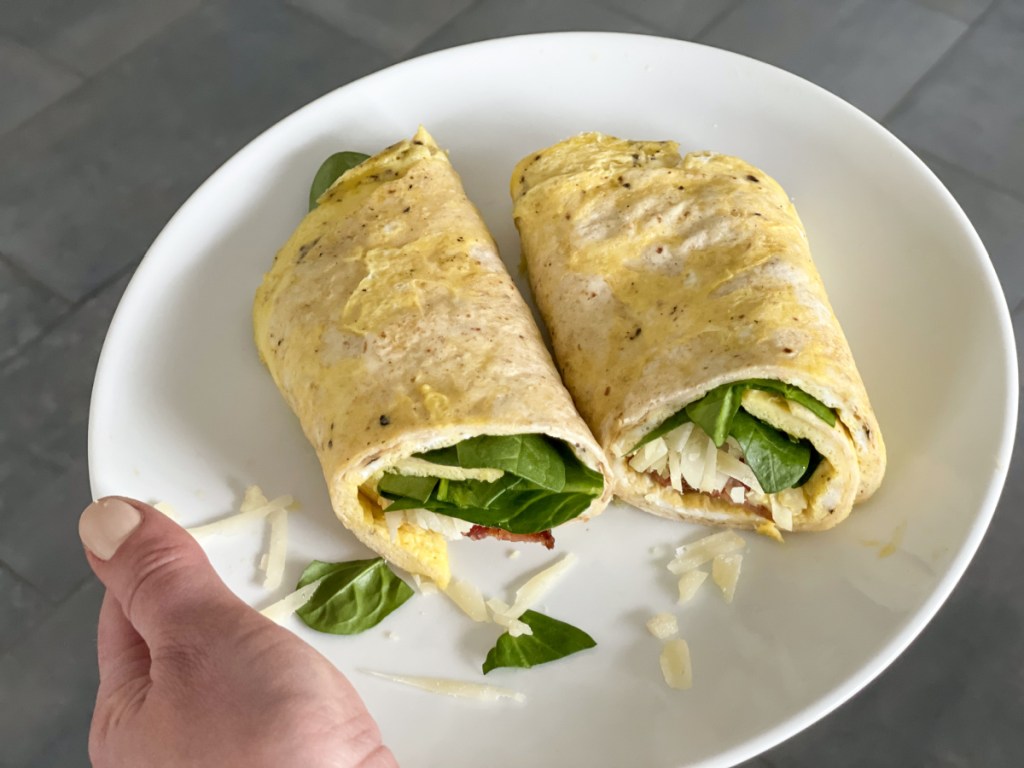 It's a keto game-changer! 👏
For this keto breakfast burrito hack, you can use your favorite keto tortilla or wrap. I just grabbed some at my grocery store that have 4 grams net carbs per wrap. Try to find a keto or low-carb tortilla with less than 5 grams net carbs per serving to help keep your overall carb intake as low as possible.
To make this egg-tortilla hack, think of it like you're making an omelet with a tortilla in the middle of it. Cook beaten eggs in a greased skillet for a few minutes without stirring them. Then add the tortilla over the top of the raw eggs, and let the eggs cook around it. You then flip over the eggs with the tortilla to finish cooking.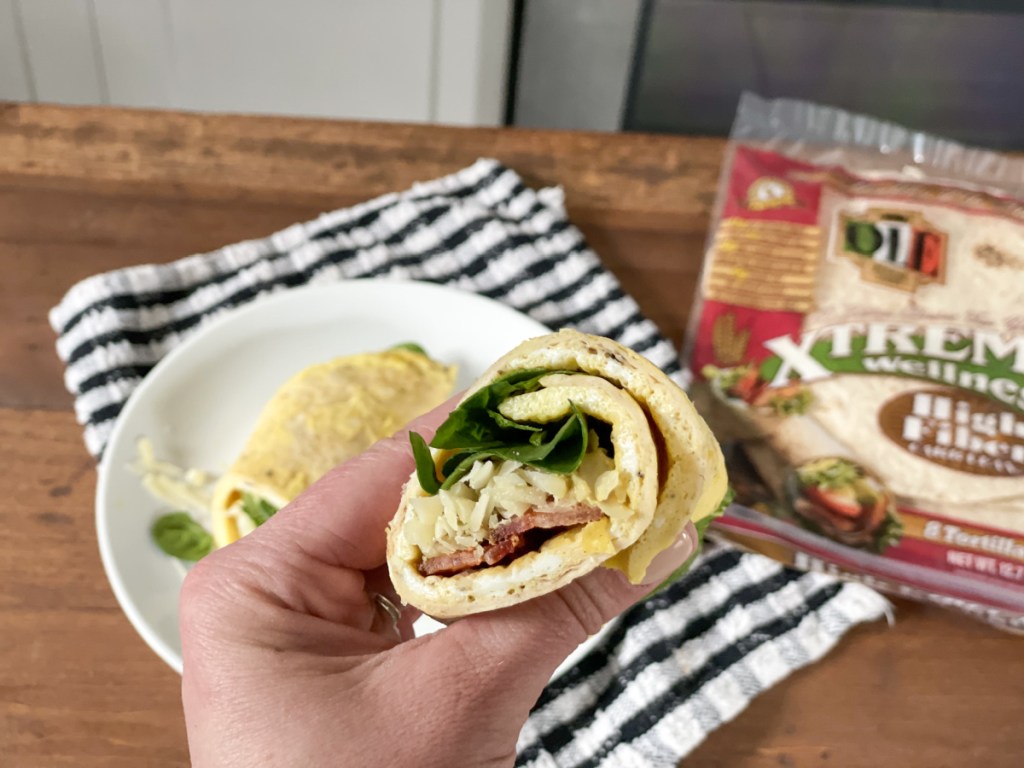 Tips for making the best keto breakfast burrito with this hack:
I recommend using a non-stick skillet and greasing the skillet to make sure the eggs don't stick when flipping them over.
Try to use a skillet that is about the same size as your keto tortilla so that the eggs just cover the edge of the tortilla. If your skillet is a lot bigger than the tortilla, the edges of your wrap will end up being all egg and won't hold up very well in the wrap.
Get creative with your fillings. I used bacon, parmesan cheese, spinach, and dijon mustard. It's a delicious combo and you should definitely try it, but any filling will work! You can omit the bacon or any breakfast meats to keep things vegetarian too.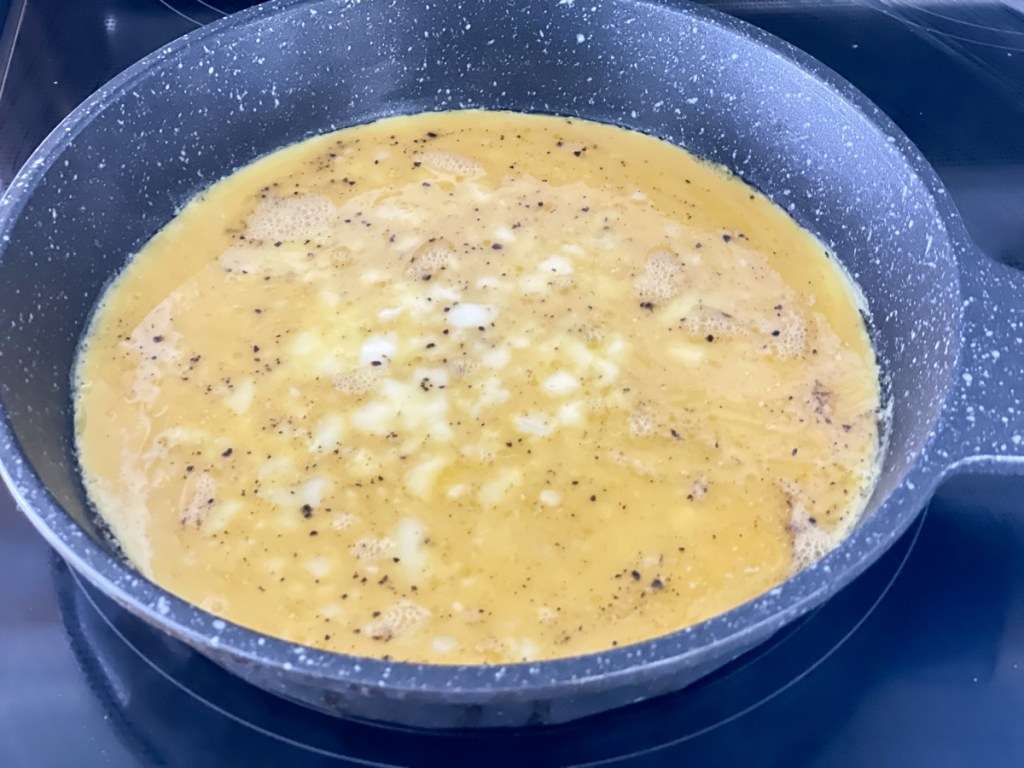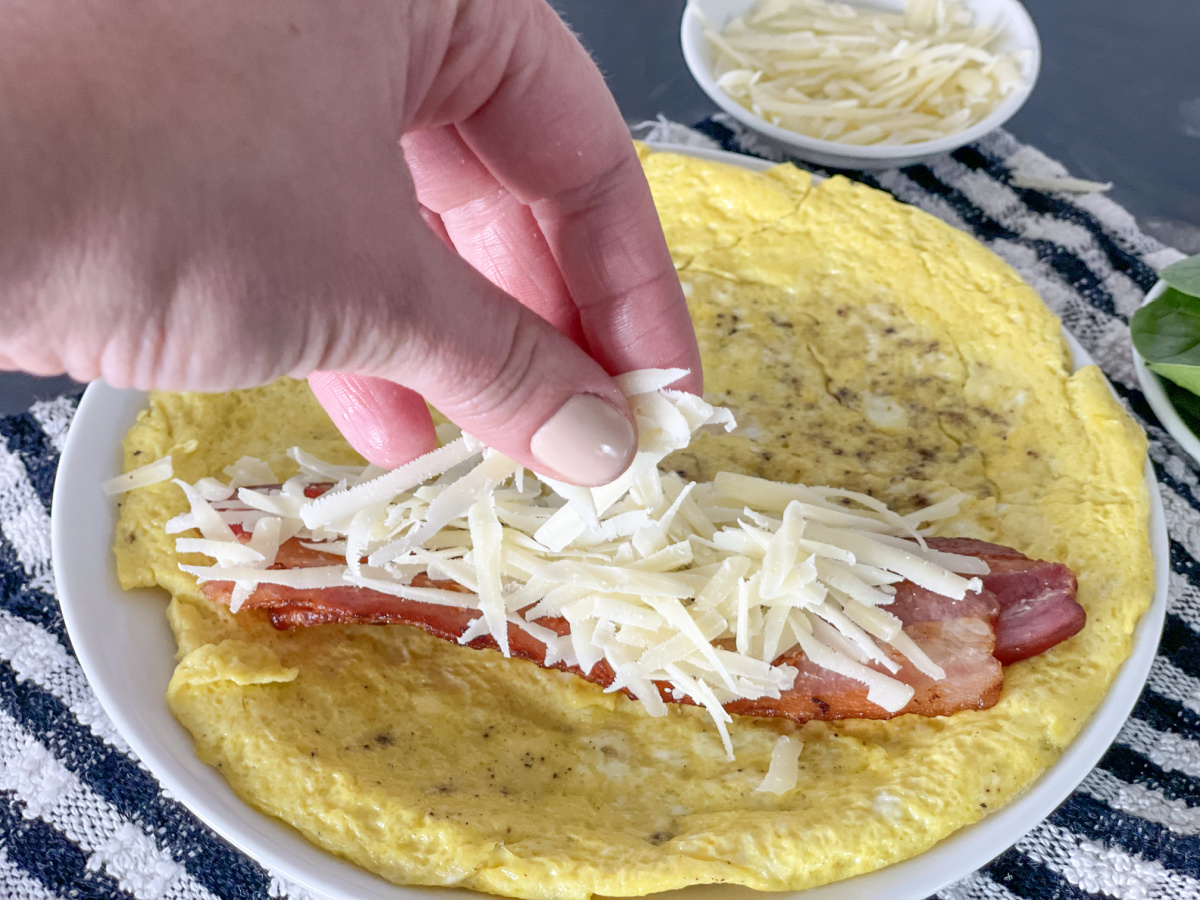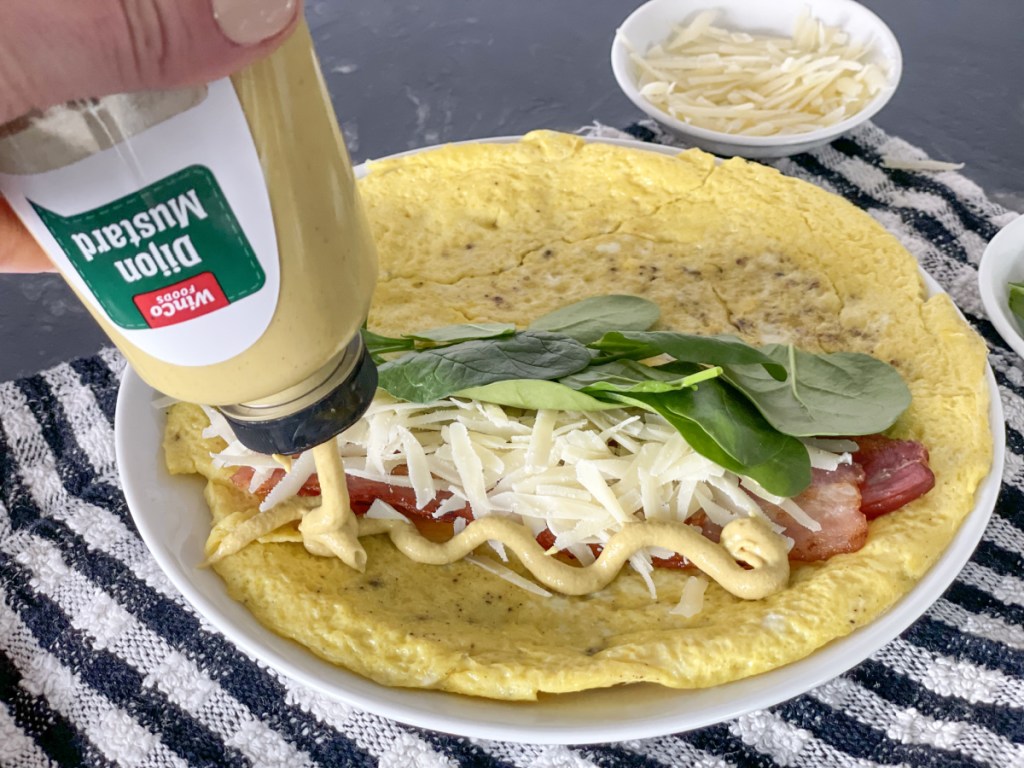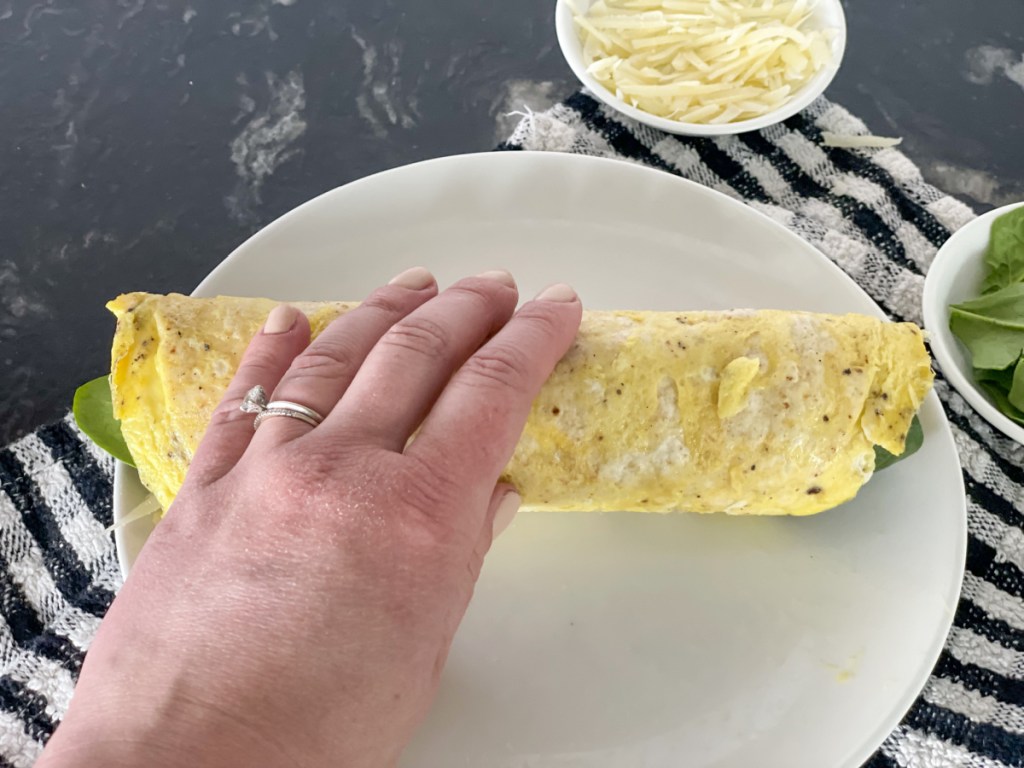 ---
Print
Keto Breakfast Burrito Hack
yield: 1 SERVINGS
prep time: 5 MINUTES
cook time: 10 MINUTES
total time: 15 MINUTES
Eggs cooked with a keto tortilla to make the perfect wrap and then filled with bacon, parmesan cheese, spinach, and dijon mustard for the perfect breakfast burrito!
Ingredients
3 eggs, beaten
1/2 teaspoon salt
1/4 teaspoon pepper
2 slices cooked bacon
1/4 cup shredded parmesan
1/4 cup baby spinach
2 teaspoons dijon mustard
Directions
1
Beat eggs with salt and pepper.
2
Grease a medium non-stick skillet with butter or avocado oil spray. Heat it over medium heat. Once hot, pour in the eggs. Do not stir the eggs.
3
Let the eggs cook for 2 to 3 minutes and then place the keto tortilla on top of the slightly still raw eggs. Press the tortilla into the eggs so that some of the raw eggs run over the top of the tortilla.
4
Cook for another 1 to 2 minutes and then flip over the eggs with the tortilla cooked into them. Cook for another 1 to 2 minutes on the other side, until the eggs are thoroughly cooked, and then transfer to a plate.
5
Place the burrito fillings on the egg-tortilla wrap, the bacon, parmesan cheese, spinach, and dijon mustard (or your desired toppings, feel free to change it up). Then wrap the egg-tortilla around the fillings and enjoy!
Additional Notes
*Nutrition info can vary depending on the type of keto tortilla you use. 
Nutrition Information
Yield: 1, Serving Size: 1 breakfast burrito
Amount Per Serving: 496 Calories | 29.5g Fat | 18.8g Total Carbs | 11.3g Fiber | 2.2g Sugar | 43.1g Protein | 7.5g Net Carbs
---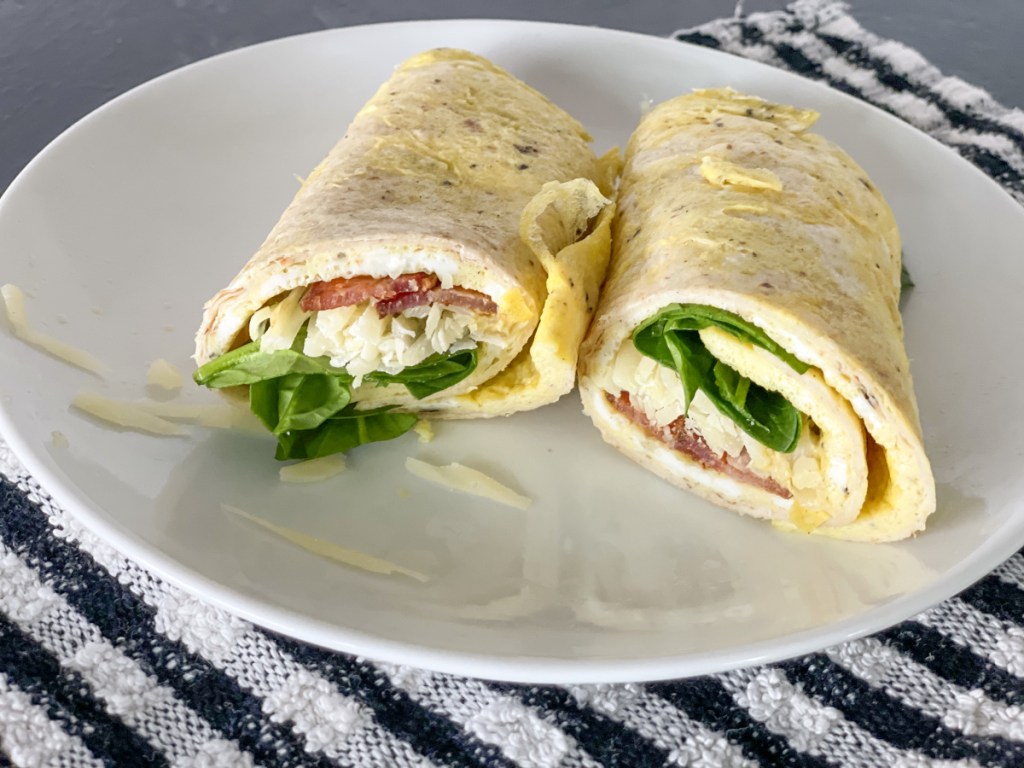 Make this keto breakfast burrito hack part of your morning routine — it's so simple!
I'm telling you, it doesn't take much extra time to make this warm and hearty breakfast. It's fun to try something new and your family is sure to love it. You can even make up the egg-tortilla wraps in advance and then reheat them in a skillet or the microwave for even the busiest of mornings.
Here's what my Hip sidekick Jenna thought of this keto breakfast burrito hack:
"This is such a great hack and as Emily said, it really was so easy to throw together! I love that the wrap itself is both a low-carb tortilla wrap and egg wrap — it's filling AND functional. I was a little surprised but the dijon mustard is the perfect sauce for this. This is super flavorful and I can't wait to make it again!"
---
Looking for more amazing keto breakfast ideas? Check out our recipe for the best keto waffles!