Keto Bourbon Chicken is a Flavor Explosion You Won't Want to Miss
Mix up your chicken repertoire with this slow cooker keto bourbon chicken recipe!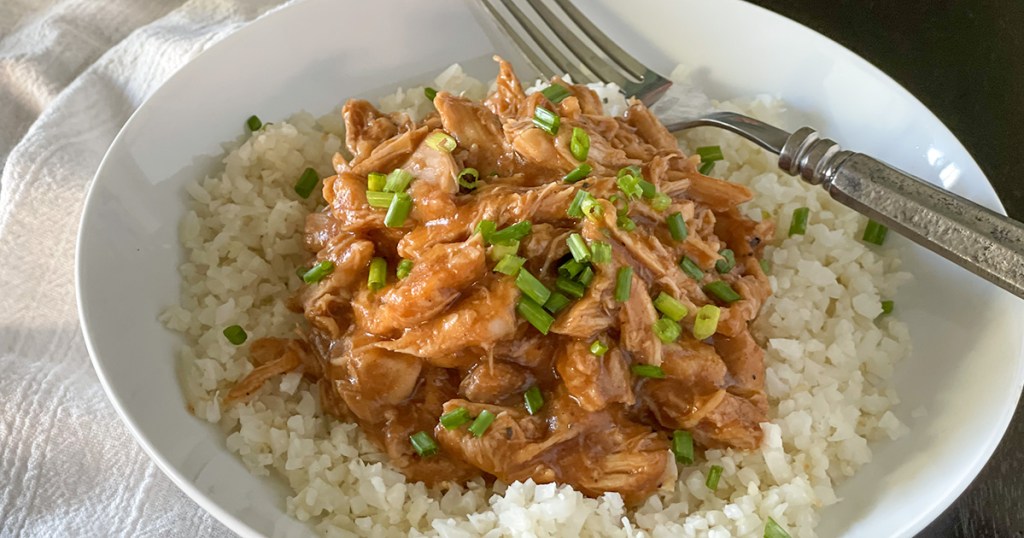 Have you ever had bourbon chicken?
I think of bourbon chicken as an Asain fusion type of meal. It's kind of like General Tao's chicken but with a Southern twist, and making it in the slow cooker is the way to go!
Don't worry if you're not a bourbon fan or if you'd prefer to skip the alcohol — you can substitute 2 tablespoons of apple cider vinegar for the 1/4 cup of bourbon and still get a very similar taste. The alcohol cooks off while in the slow cooker, so the final product isn't spiked. 😉 But the part of the bourbon that does remain adds a delicious depth of flavor.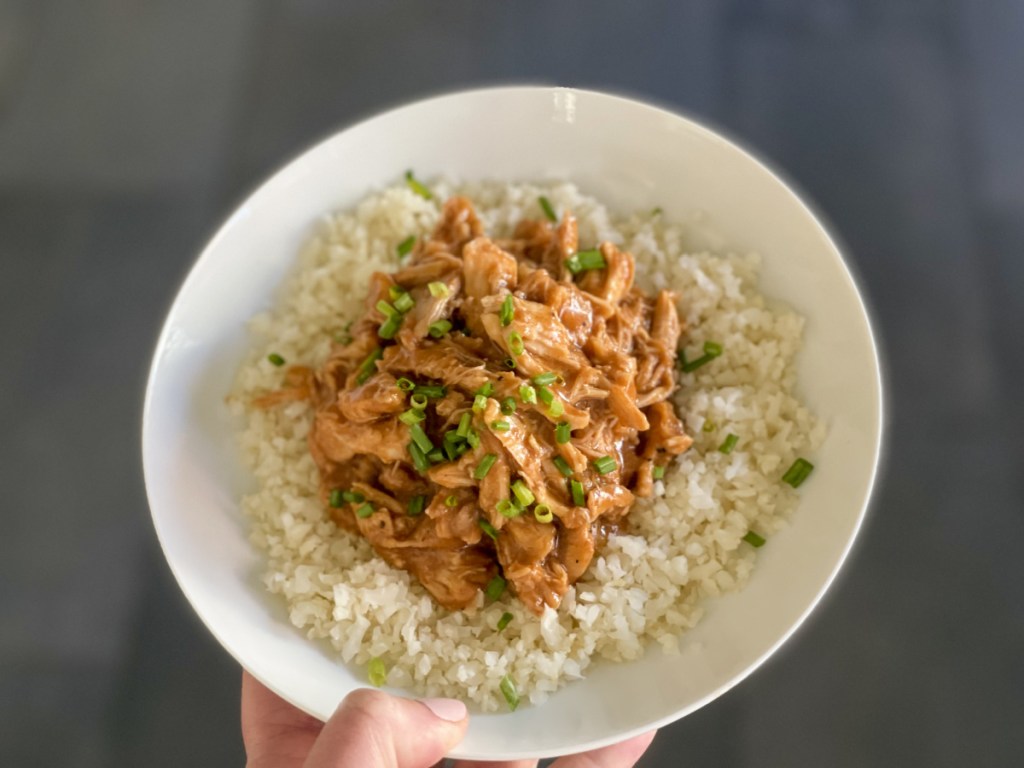 Cheers to an easy slow cooker meal!
I love easy and delicious meals cooked up in the Crockpot. It doesn't get any better than that! This keto bourbon chicken is so good served over cauliflower rice and topped with chives or green onions. 😋 I know some people also like to add sesame seeds.
I used our keto BBQ sauce for this recipe but you can use a store-bought keto barbecue sauce as well. I like to make up a large batch of the keto barbecue sauce and keep it in the fridge. It's actually lasted for a few months for me!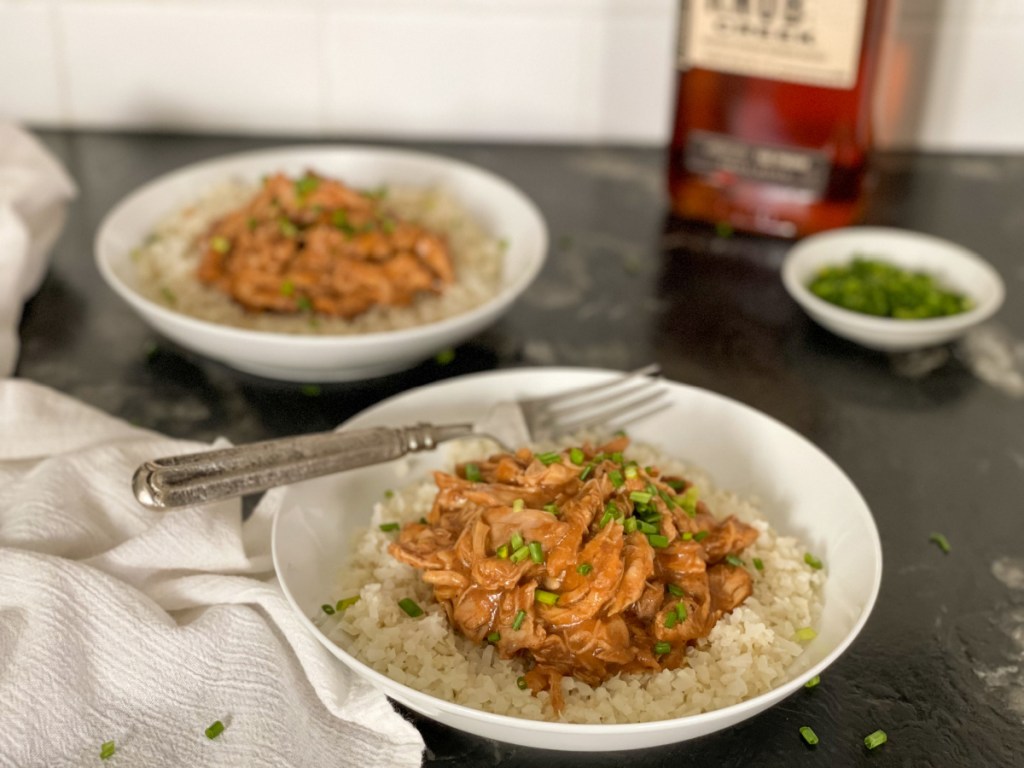 Tips for making the best Crockpot keto bourbon chicken:
If you don't have any bourbon on hand, whiskey will do just as well. And if you don't want to use any alcohol, you could use 2 tablespoons of apple cider vinegar instead.
Shred the chicken inside of the slow cooker to contain the mess and keep the chicken warm until it's time to dish it up.
Feel free to add more red pepper flakes if you like your dishes spicy or add a few dashes of your favorite hot sauce. I topped the leftovers with sriracha and they were so good!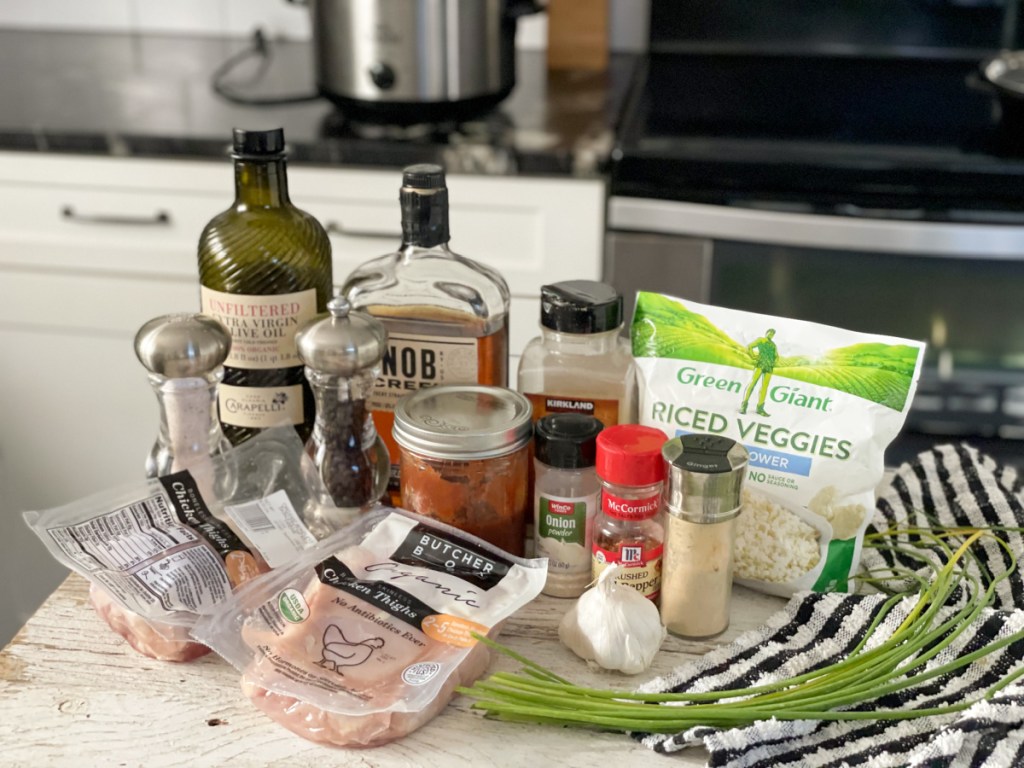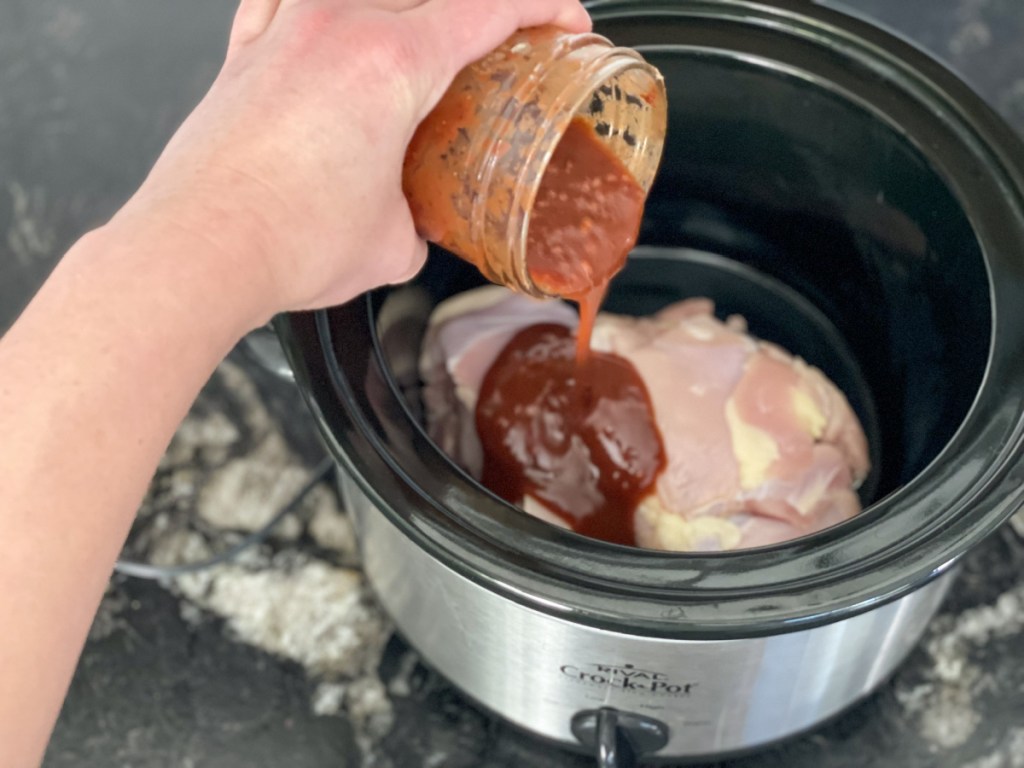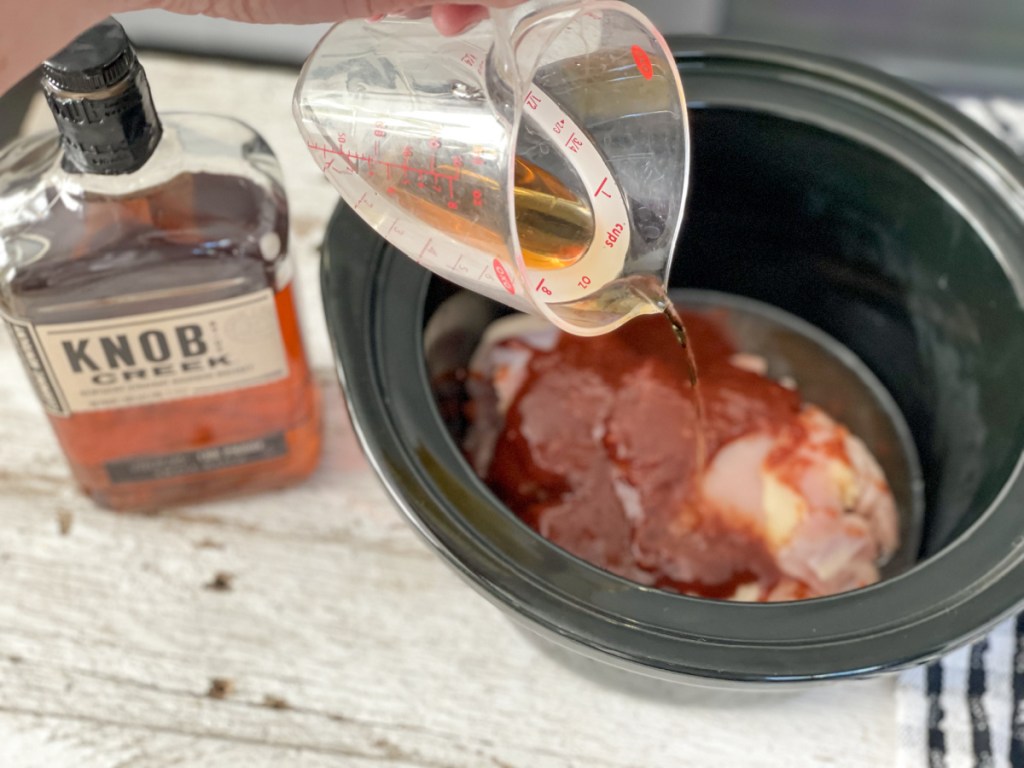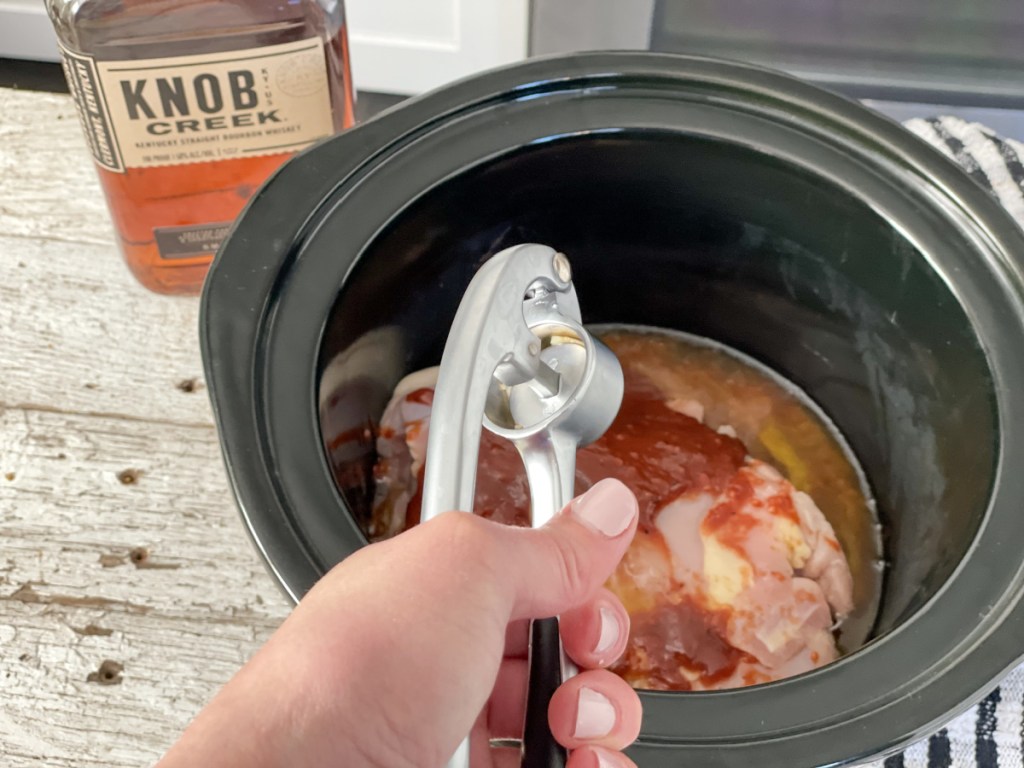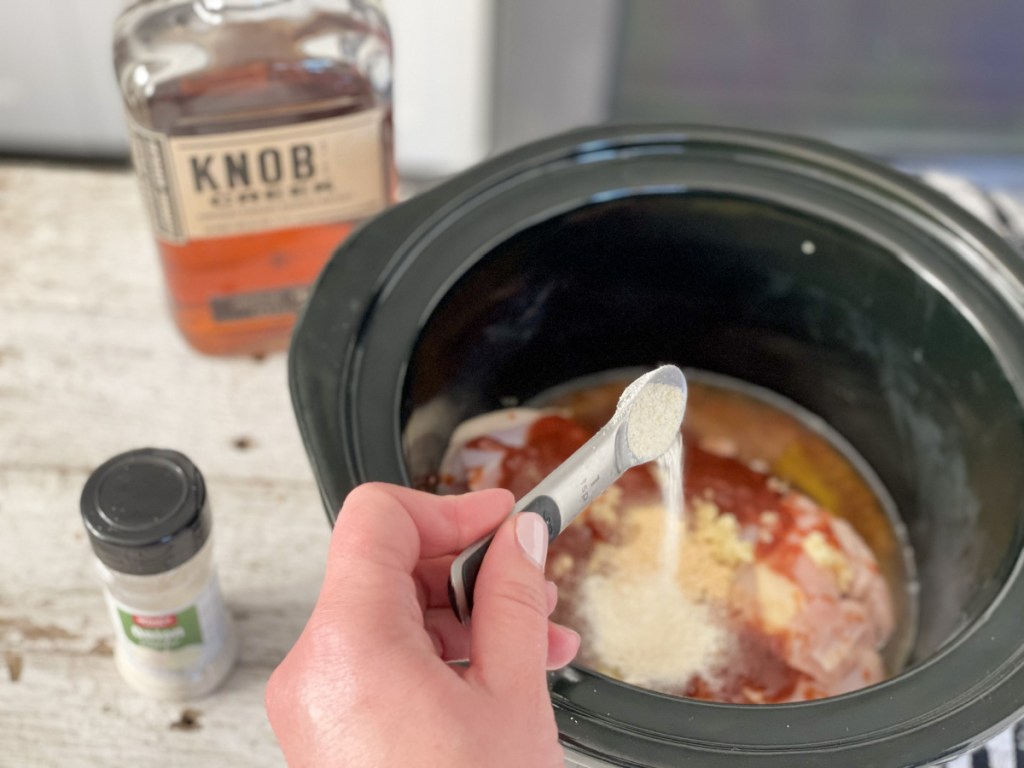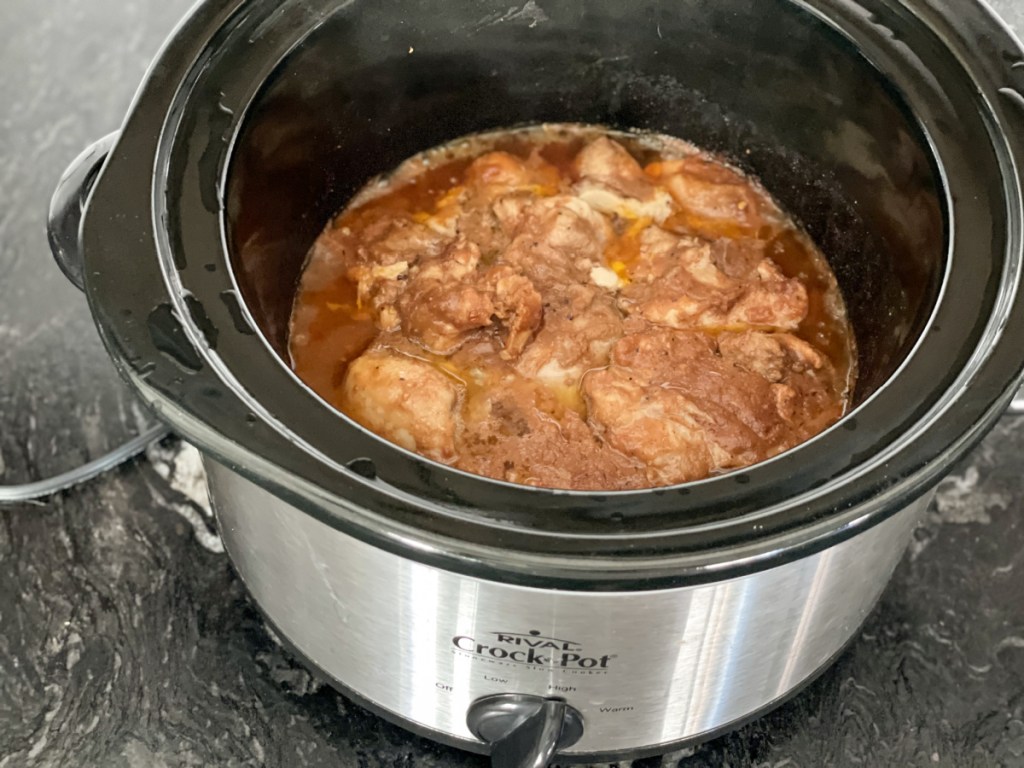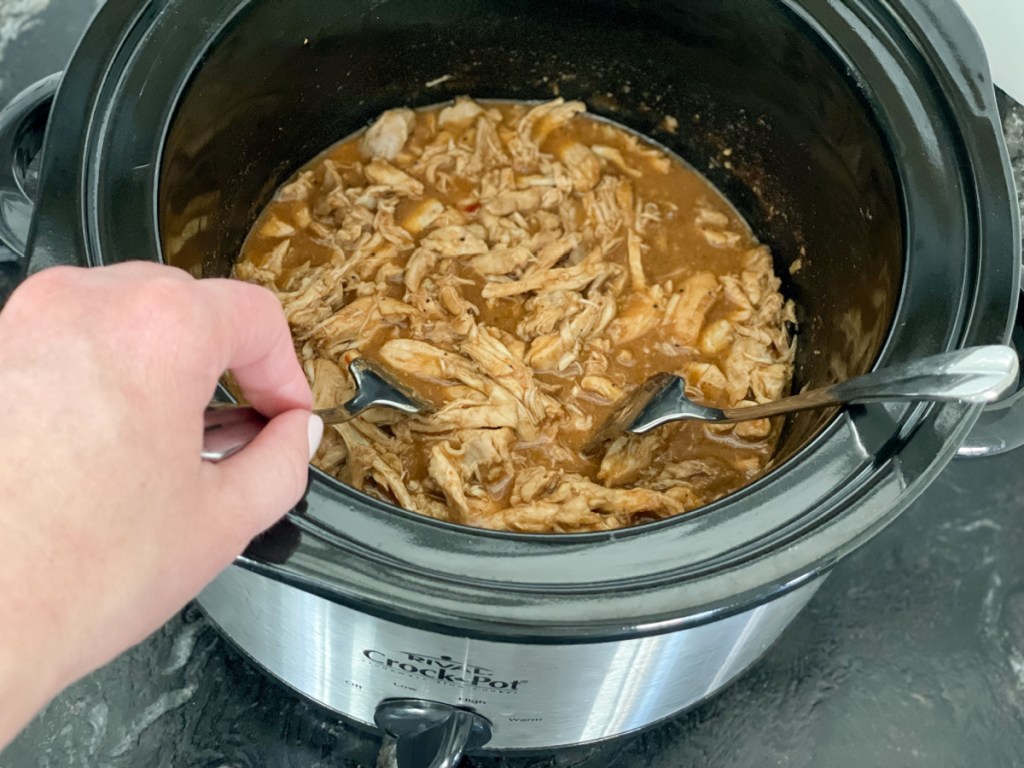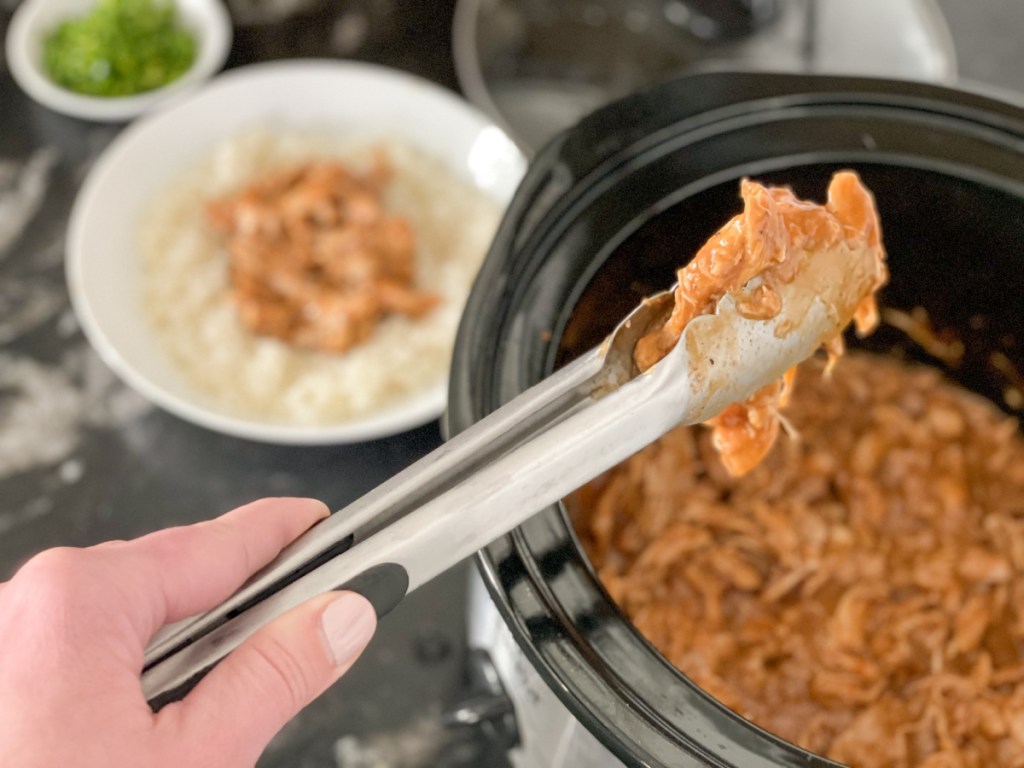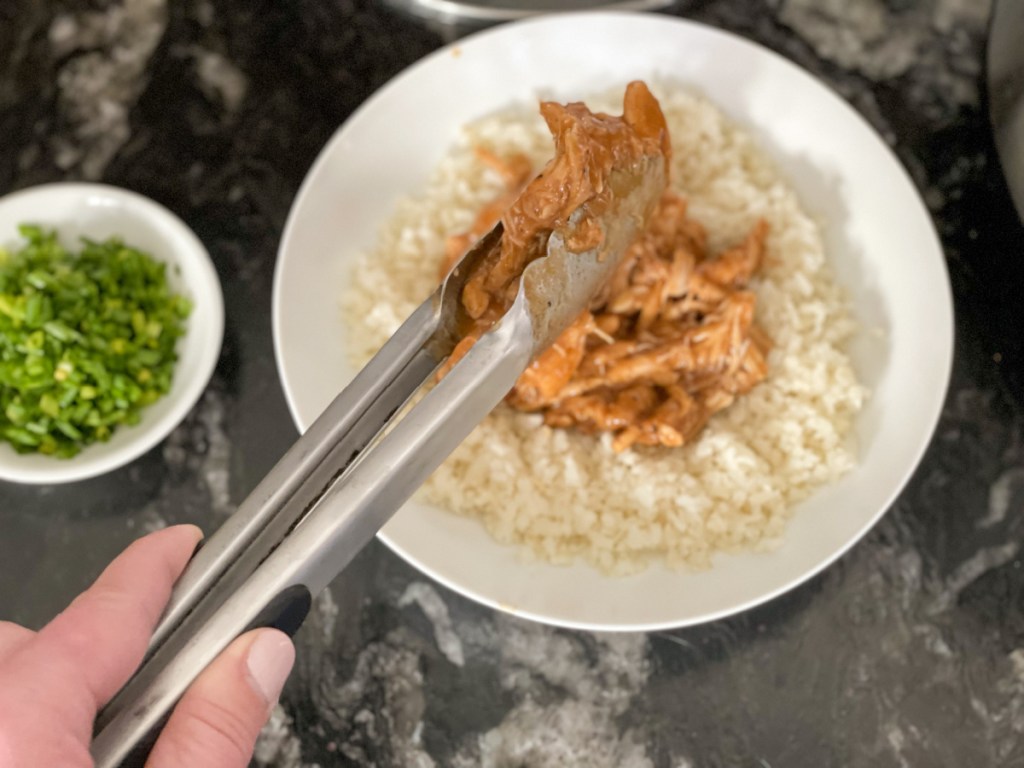 ---
Print
Crockpot Keto Bourbon Chicken
yield: 6 SERVINGS
prep time: 5 MINUTES
cook time: 3 HOURS
total time: 3 HOURS 5 MINUTES
Tasty Asain barbecue fusion chicken, cooked and shredded in the slow cooker!
Ingredients
2 pounds boneless, skinless chicken thighs
1/4 cup bourbon of choice (or 2 tablespoons apple cider vinegar)
2 tablespoons olive oil
4 garlic cloves, minced
1 teaspoon garlic powder
1 teaspoon onion powder
1/2 teaspoon ground ginger
1/2 teaspoon red pepper flakes (omit or reduce to 1/4 teaspoon for less spice)
1 teaspoon salt
1/2 teaspoon pepper
6 tablespoons chives or green onions, chopped
Directions
1
Place chicken thighs in the slow cooker.
2
Add keto barbecue sauce, bourbon, olive oil, minced garlic, garlic powder, onion powder, ginger, red pepper flakes, salt, and pepper. Stir to combine.
3
Place the lid on the Crockpot slow cooker and cook for 2 1/2 to 3 hours on HIGH or 5 to 6 hours on LOW.
4
Once the chicken is cooked, shred it in the slow cooker with two forks or meat shredders.
5
If the sauce is too thin, sprinkle 1 teaspoon xanthan gum into the slow cooker over the shredded chicken and stir to combine. Let cook another 15 minutes on HIGH.
6
When ready to serve, heat cauliflower rice according to package directions.
7
Serve over cauliflower rice and top with 1 tablespoon chives/green onions. Enjoy!
Nutrition Information
Yield: 6 servings, Serving Size: 1 serving
Amount Per Serving: 326 Calories | 17.3g Fat | 13g Total Carbs | 2.9g Fiber | 1.5g Sugar | 4g Sugar Alcohol | 30g Protein | 6.1g Net Carbs
---
Keto bourbon chicken is restaurant quality, but without the dining out bill.
I promise, your whole family will love this dinner and if you're feeding a crowd, you could definitely double the recipe! It's also a great game day or tailgate recipe to be served handheld style on a bun, especially if you've got hungry carb-consuming mouths to feed.
No matter how you serve it, I hope you enjoy!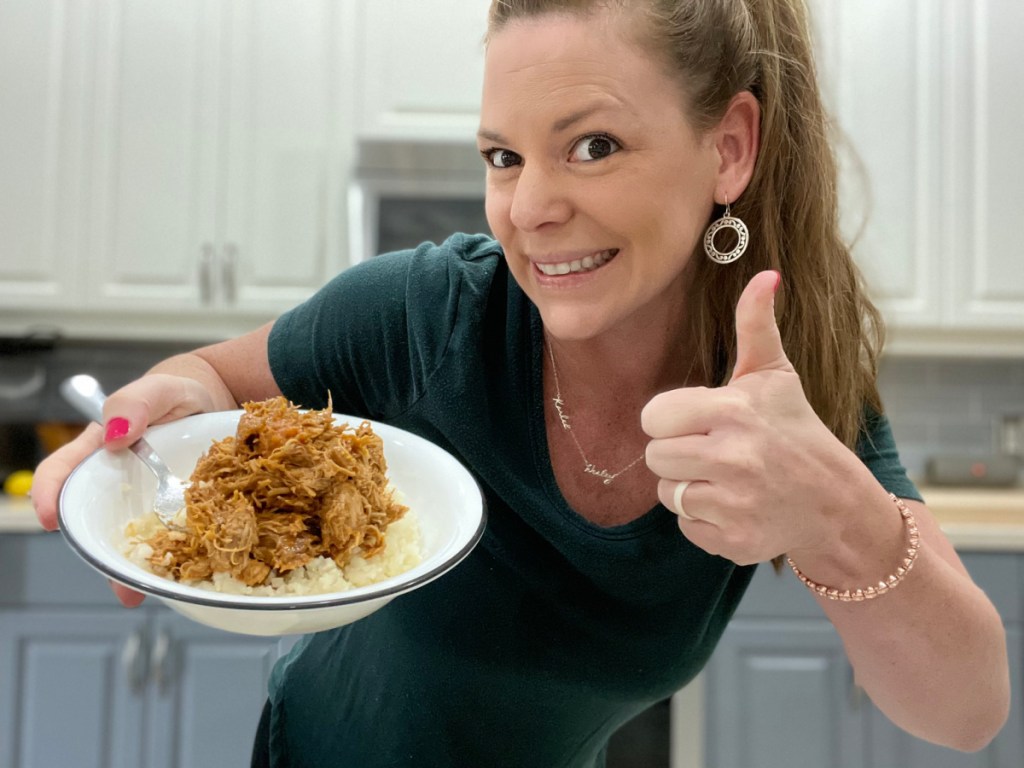 My Hip sidekick Erica tried this keto bourbon chicken and was just as wow-ed as I was!
"THIS RECIPE IS SO GOOD!! 😱 How can I tell the whole world because they need to know?!? Whenever I make a super simple recipe, I get this sense of nervousness that it may not be good because it was too easy. Does anyone else do this!? I felt this feeling strongly for this recipe and I am blown away at how much flavor it has!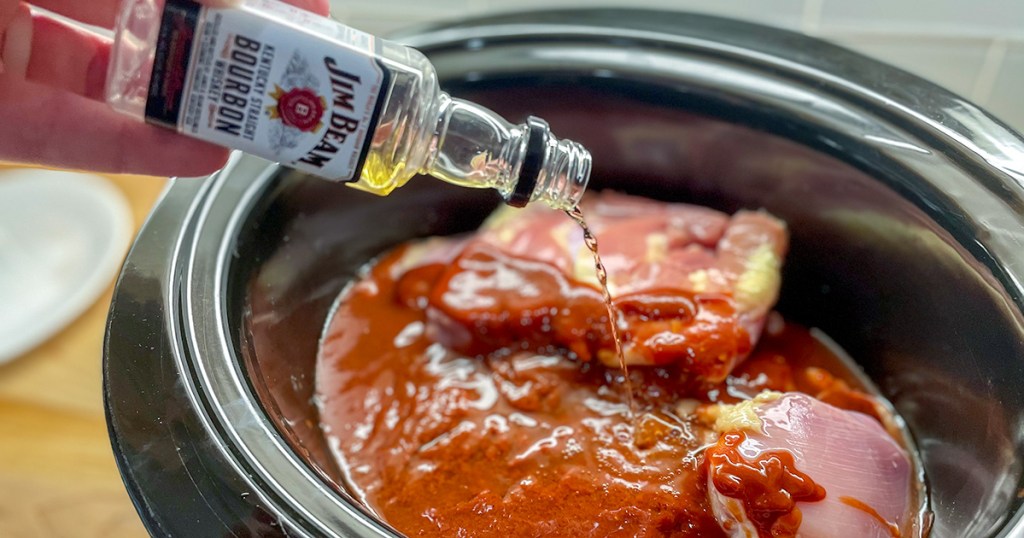 When I took the first bite, I immediately ran to my hubby with a fork-full feeling so insanely proud of myself as I KNEW it would totally be right up his alley, too! I was correct, he loved it. 😋
P.S – I wouldn't skip out on making our homemade BBQ sauce because it is so simple and way better than anything store-bought. Oh, and do yourself a favor and double the recipe so you have some leftovers for lunch throughout the week! 🙌🏻"
---
Looking for more delicious slow cooker recipes? Check out our popular Slow Cooker Keto Taco Soup!