Keto Beef Tips Recipe with Mushrooms and Onions
Our keto beef tips recipe slowly simmers beef in broth with mushrooms and onions to make the most tender steak morsels.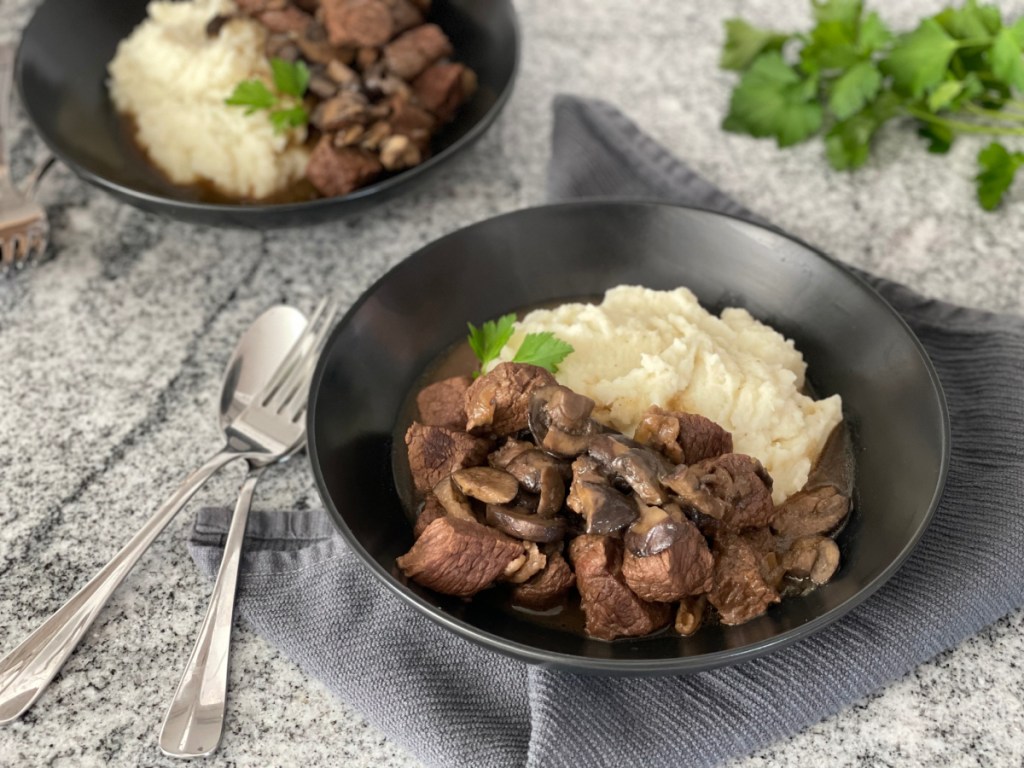 Beef tips deserve a spot on your weeknight dinner menu.
This keto beef tips recipe is so easy and only requires about 30 minutes of hands-on time. You will need to plan for the beef to simmer for at least an hour but that frees you up to do other important things. Or just relax and kick your feet up for an hour!
For this beef tips recipe, you'll need a top sirloin steak, mushrooms, an onion, beef broth, and some seasonings. Top sirloin is a much more affordable option than a tri-tip, but feel free to use either. You could even buy stew meat to keep things even more cost effective!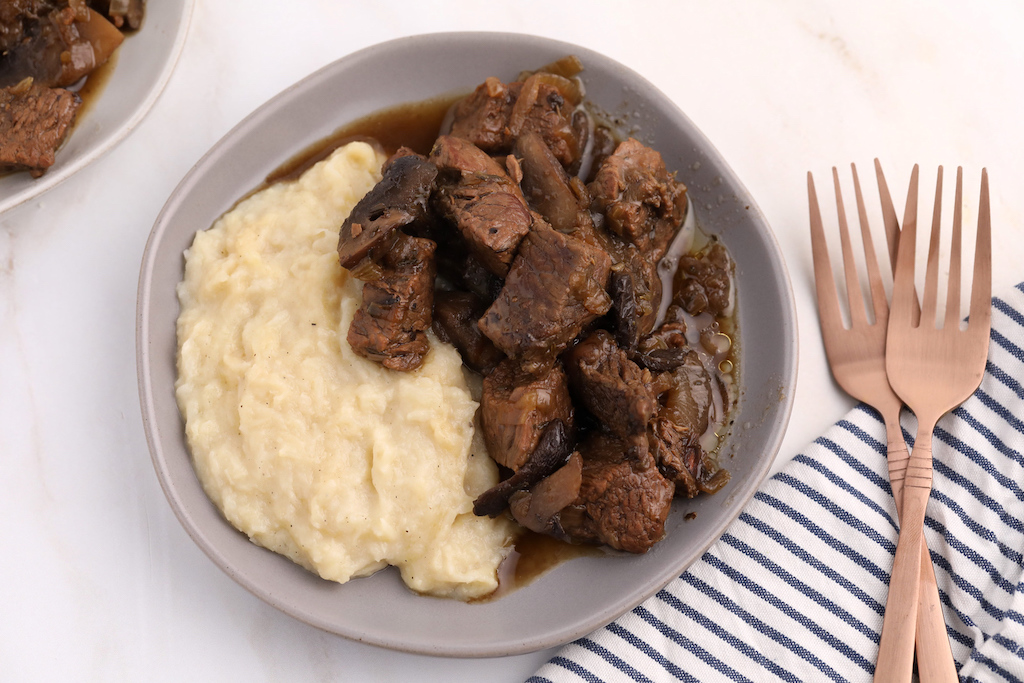 How to make this beef tips recipe:
For this recipe, you'll start by sautéing the onions and mushrooms in butter. Then you'll remove them from the pan, add more butter, brown the seasoned beef, and then remove the beef tips from the pan. The next step is to deglaze the pan with broth and then add back in the onion, mushrooms, and beef. There's something so therapeutic about deglazing a pan! 🤤
Let it all simmer for at least an hour or two and dinner is ready!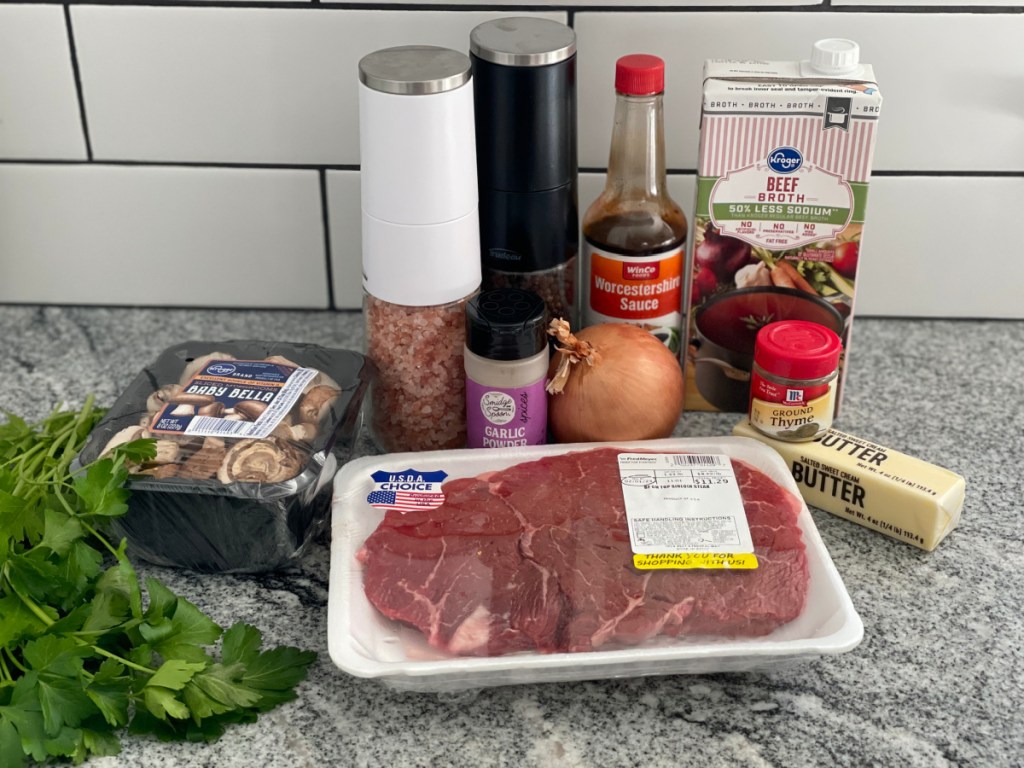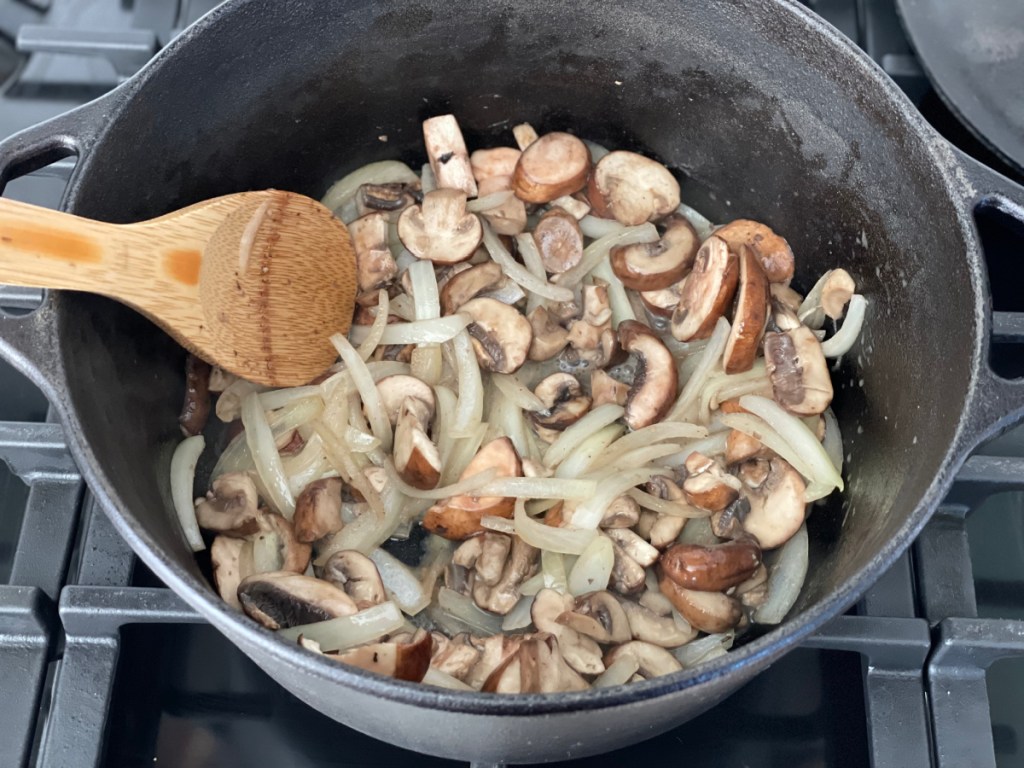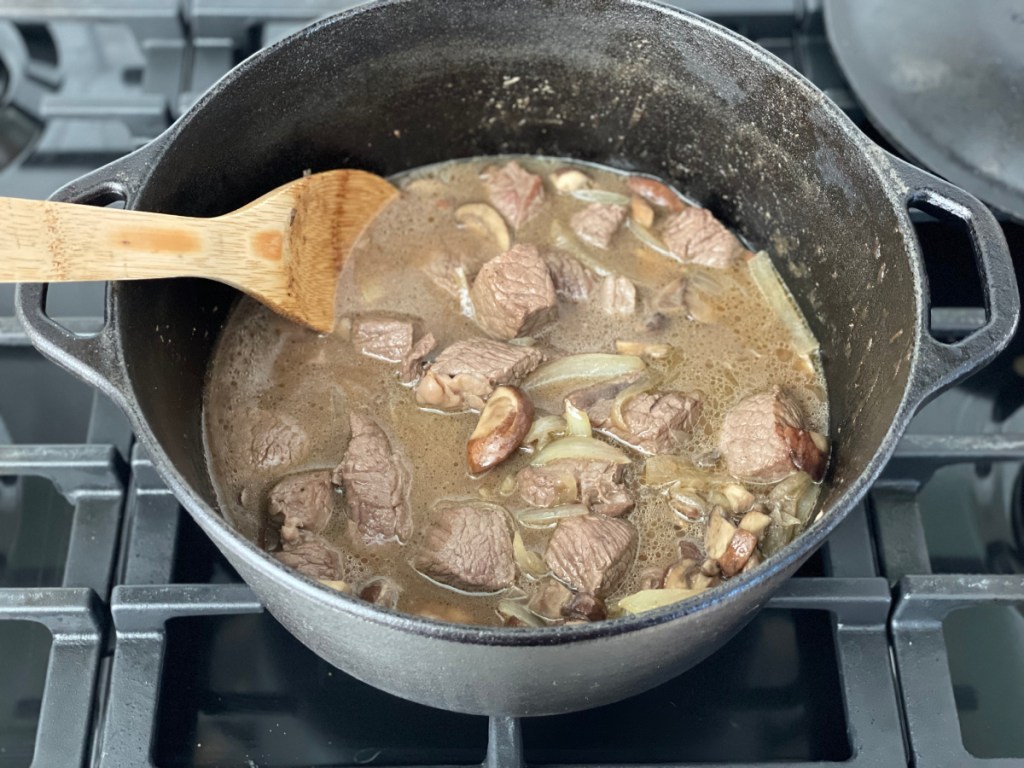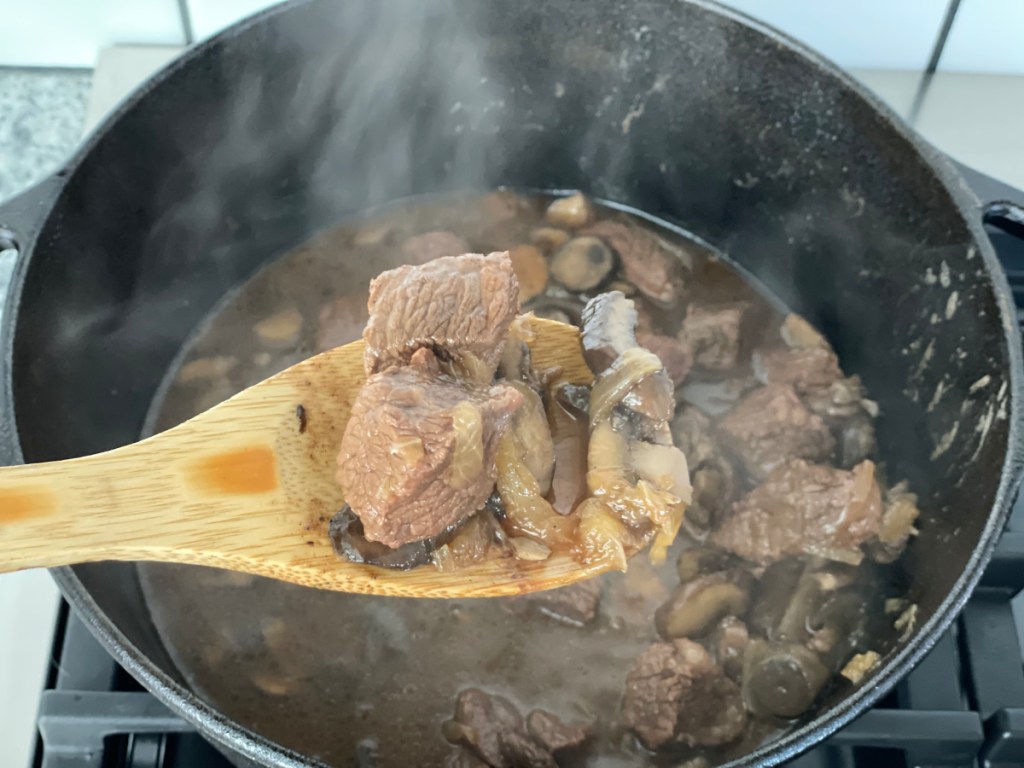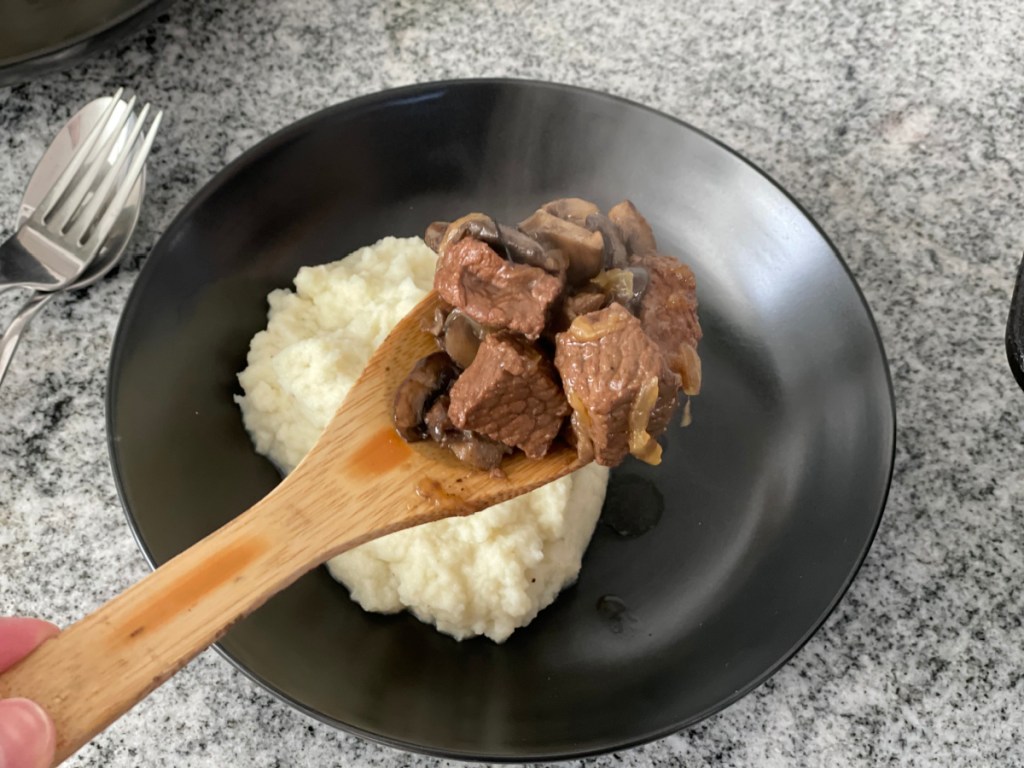 ---
yield: 4 SERVINGS
prep time: 20 MINUTES
cook time: 1 HOUR 30 MINUTES
total time: 1 HOUR 50 MINUTES
Beef tips slowly simmered with onions, mushrooms, and seasonings.
Ingredients
2 tablespoons salted butter
1 small onion, thinly sliced
8 oz. sliced portobello mushrooms
1.5 pound beef top sirloin steak, cut into 1-inch cubes
1/2 teaspoon salt
1/2 teaspoon pepper
1 teaspoon garlic powder
1/8 teaspoon ground thyme
2 cups beef broth
1 tablespoon Worcestershire sauce
Directions
1
In a Dutch oven or stockpot, melt 1 tablespoon of butter over medium heat. Once melted, add onion and mushrooms. Sauté until soft, about 3 to 5 minutes. Then remove onions and mushrooms and set aside.
2
Season the steak with salt, pepper, garlic powder, and ground thyme. Melt the remaining tablespoon of butter in the same pot as the veggies. Once melted, add the seasoned steak and cook for 3 to 5 minutes until all sides are browned.  Cook for another minute and then remove the beef from the pan.
3
Add the beef broth and Worcestershire sauce to the Dutch oven to deglaze the pan. Scrape up any browned pieces that stuck to the pan.
4
Return the onion, mushrooms, and steak to the Dutch Oven. Cover with a lid and simmer on low for 1 to 2 hours. Make sure it simmers on low for at least an hour. Stir and check occasionally to avoid burning.
Nutrition Information
Yield: 4 servings, Serving Size: 1.5 cups
Amount Per Serving: 434 Calories | 21.3g Fat | 5.8g Total Carbs | 1.2g Fiber | 2.9g Sugar | 56.1g Protein | 4.1g Net Carbs
---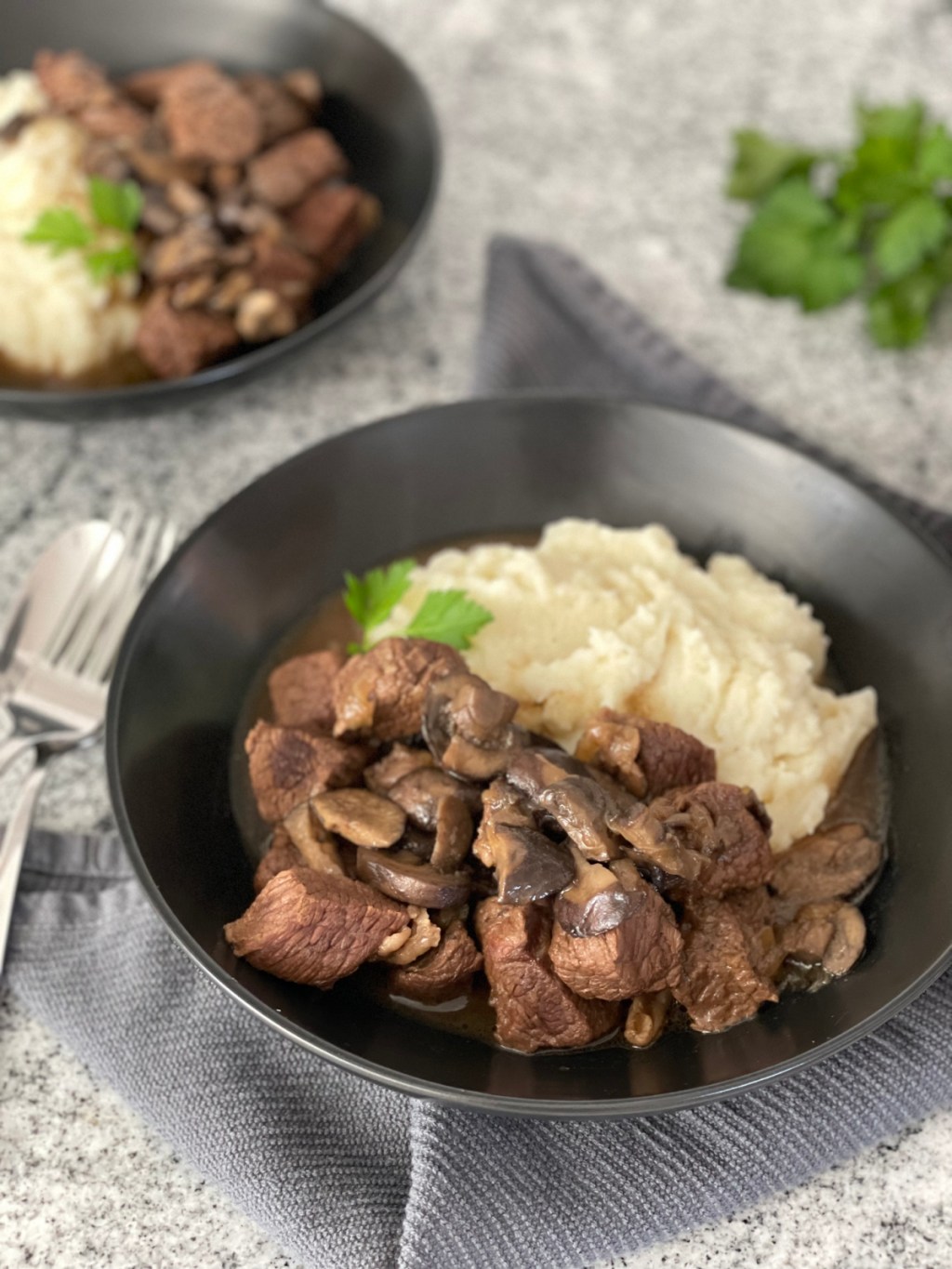 Tips for making keto beef tips recipe:
Don't skip browning the beef! This seals the beef to help keep it moist and tender.
If you want the broth to be more of a gravy than an "au jus", mix in 2 to 3 teaspoons of xanthan gum about 5 minutes before serving, which will thicken this sauce up.
These steak bites are even more delicious when served over mashed cauliflower. Cauliflower rice or any of your favorite vegetables would pair beautifully with this recipe, too.
You could make this in your slower cooker. Follow the recipe as written but instead of simmering on the stovetop, cook it in your slow cooker on low for 4 hours. You may need to add more broth so check on it every hour or so.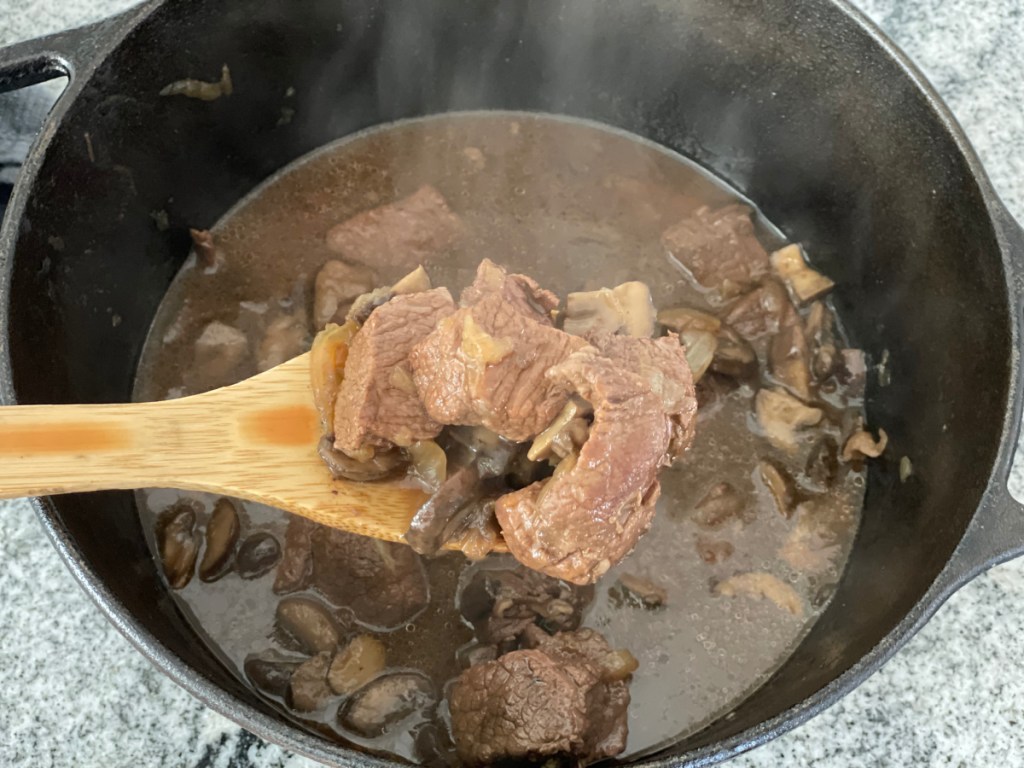 You'll never make beef tips any other way!
Simple recipes that look fancy are some of my favorites! Beef tips always look like someone spent hours in the kitchen to me. 😂 I love that this takes less than 30 minutes of hands-on time.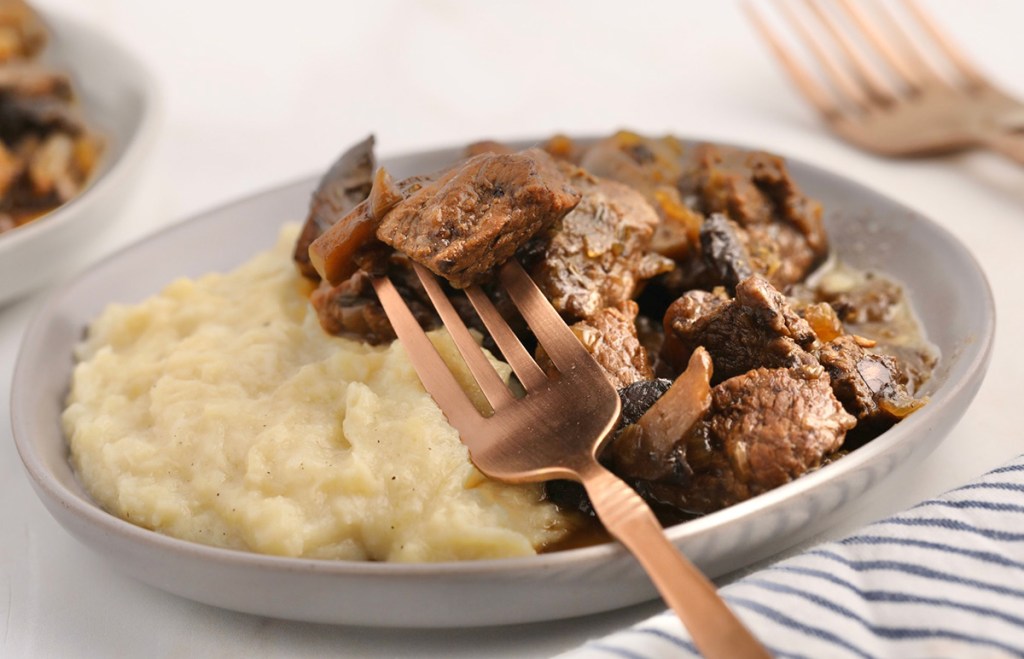 Here's what my Hip sidekick Jenna had to say about this beef tips recipe:
"I am so impressed with how easy this was to throw together! The whole family loved this dish. I often order beef tips when we go out for dinner, so this is definitely one of my favorite dishes of all time. I served mine with mashed cauliflower and it was such a great comfort meal!"
---
Check out our Keto Shepherd's Pie recipe next. It'll become a family favorite!