The Ultimate Keto Antipasto Salad is Robust, Refreshing, & Bursting with Flavor
Salad will never be the same after you try this loaded keto antipasto salad!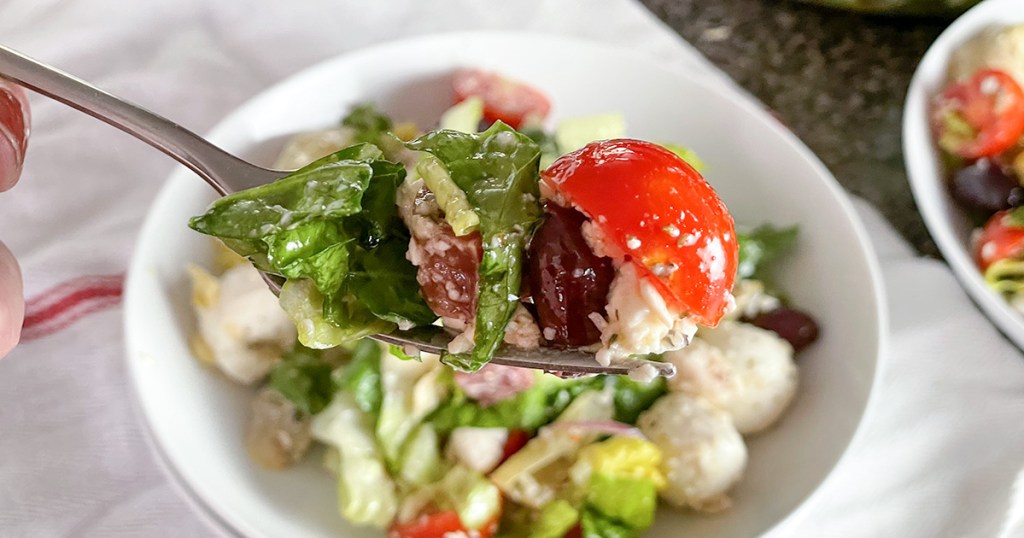 This keto salad is a must-make for your next summer soiree!
It doesn't get any better than a keto antipasto salad. How can you go wrong with salami, fresh mozzarella, feta, parmesan, cherry tomatoes, red onion, artichoke hearts, and kalamata olive over a bed of romaine lettuce and then drizzled with homemade Italian vinaigrette?
Let me tell you, I could eat this for days and never get tired of it!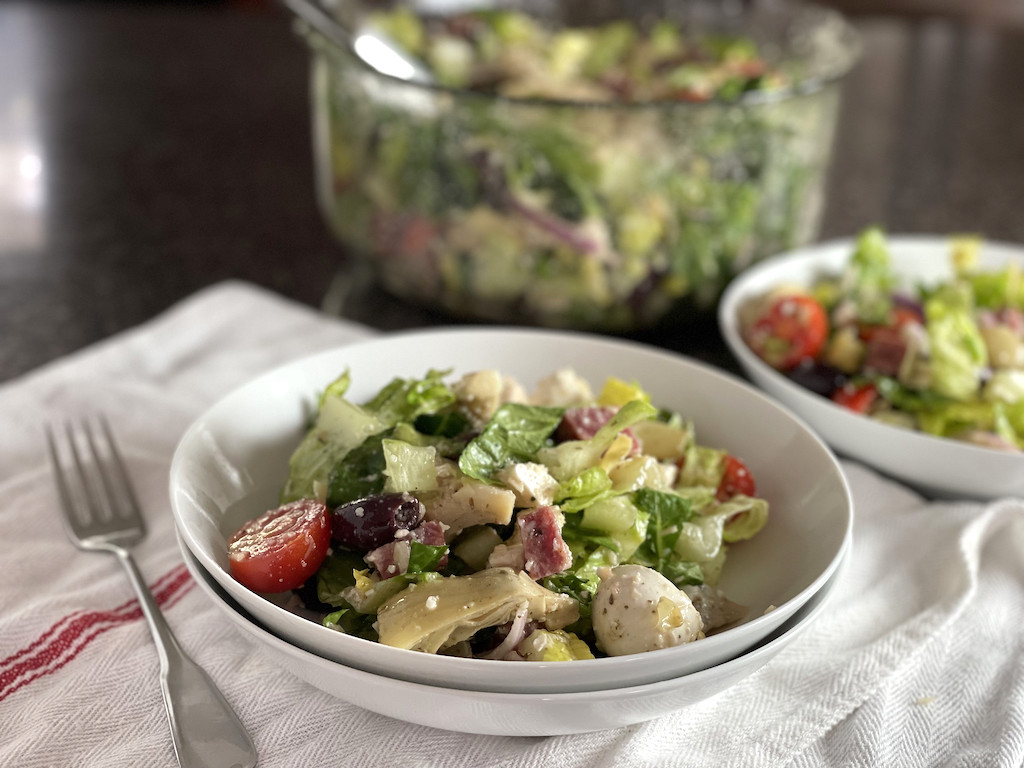 Is antipasto salad keto?
Yes, a traditional antipasto salad is keto! Antipasto means "before pasta" and in Italy is typically served before the pasta course. But a lot of times you'll see antipasto "pasta" salads that have noodles. Or you might see croutons tossed in as well.
If ordering this salad at a restaurant, make sure it's a traditional one. Otherwise, make this amazing salad at home to ensure it's keto. And with this loaded salad, you know you're getting pure amazingness in every bite.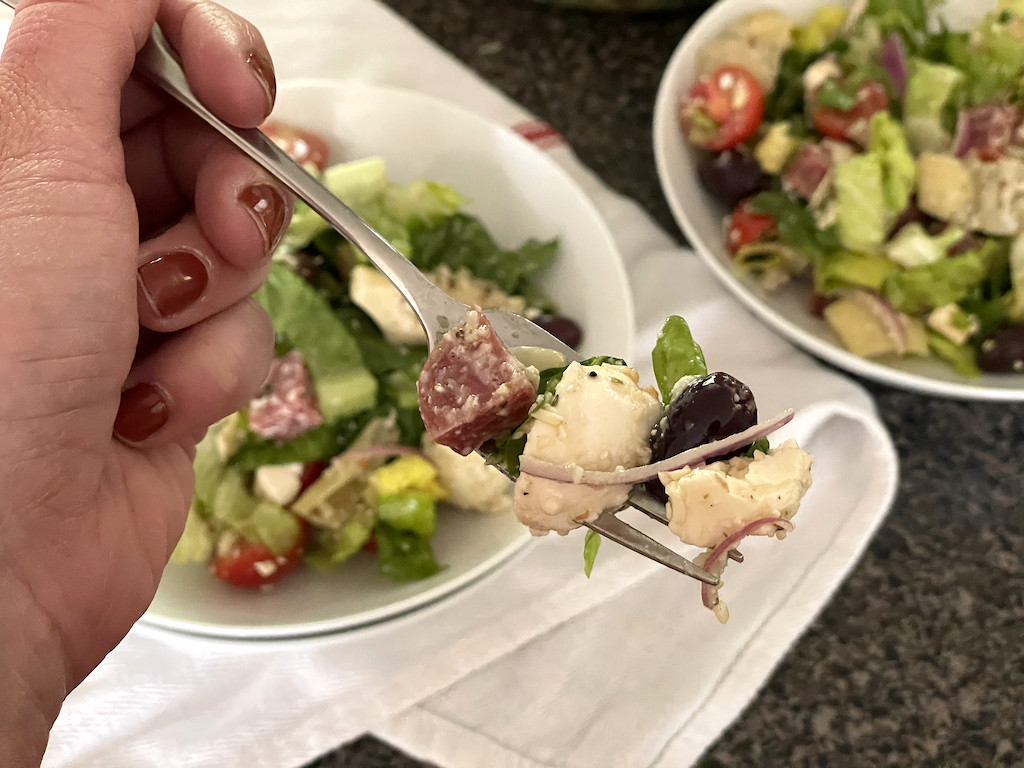 Tips for making the best keto antipasto salad:
Feel free to switch out any ingredients. The beauty of this salad is that you can make it your own! Don't like kalamata olives, use black olives instead, or ditch the olives altogether if preferred.
Assemble this salad ahead of time and then add the salad dressing right before serving. If you put the dressing on too soon, it can make the romaine soggy.
Eat this as a side salad or entree salad! It's quite filling so it's easy to pass off as a lunch on its own, even as a meal for dinner!
If you do have leftovers, eat them within 24 hours or the romaine will start to go bad.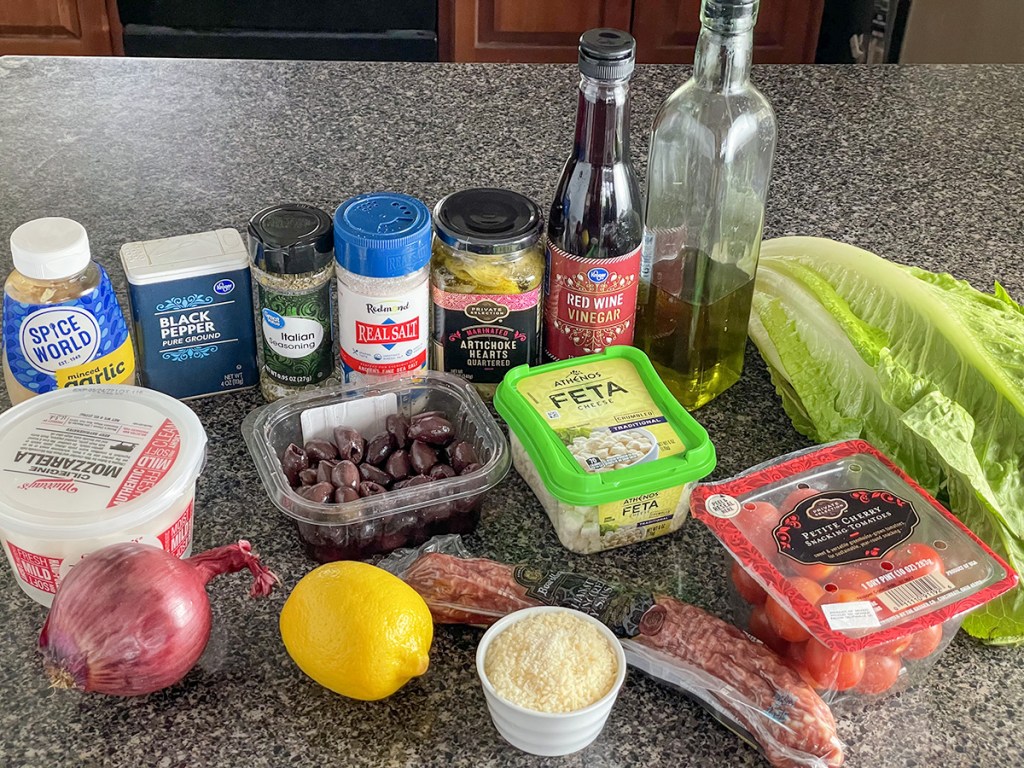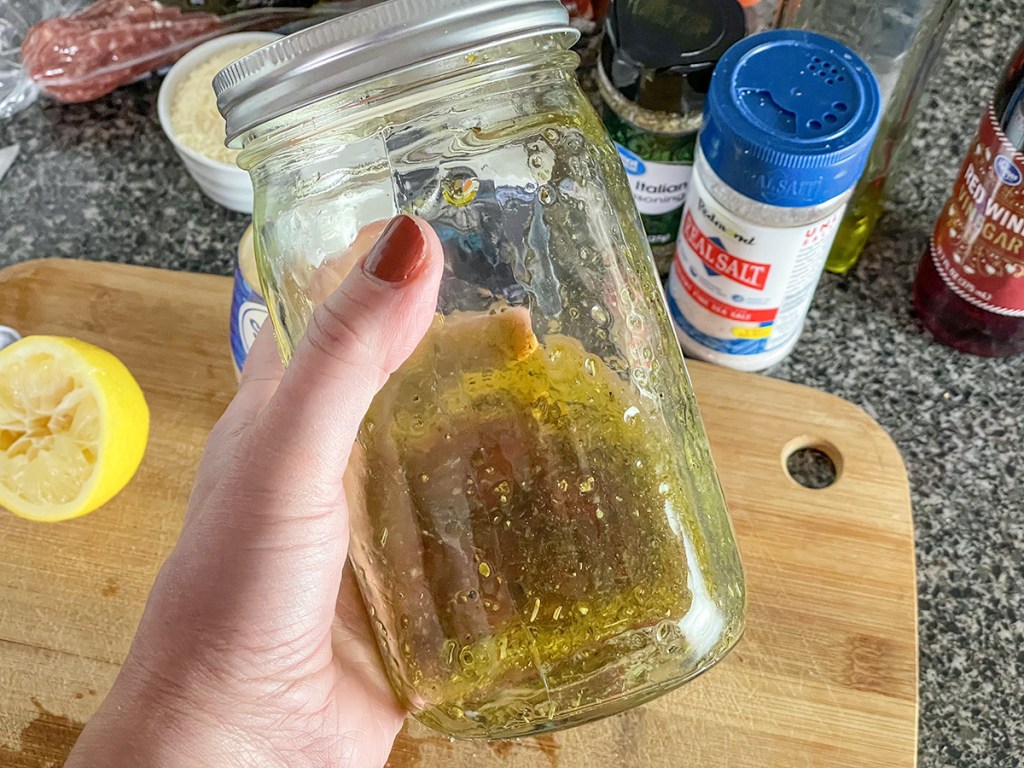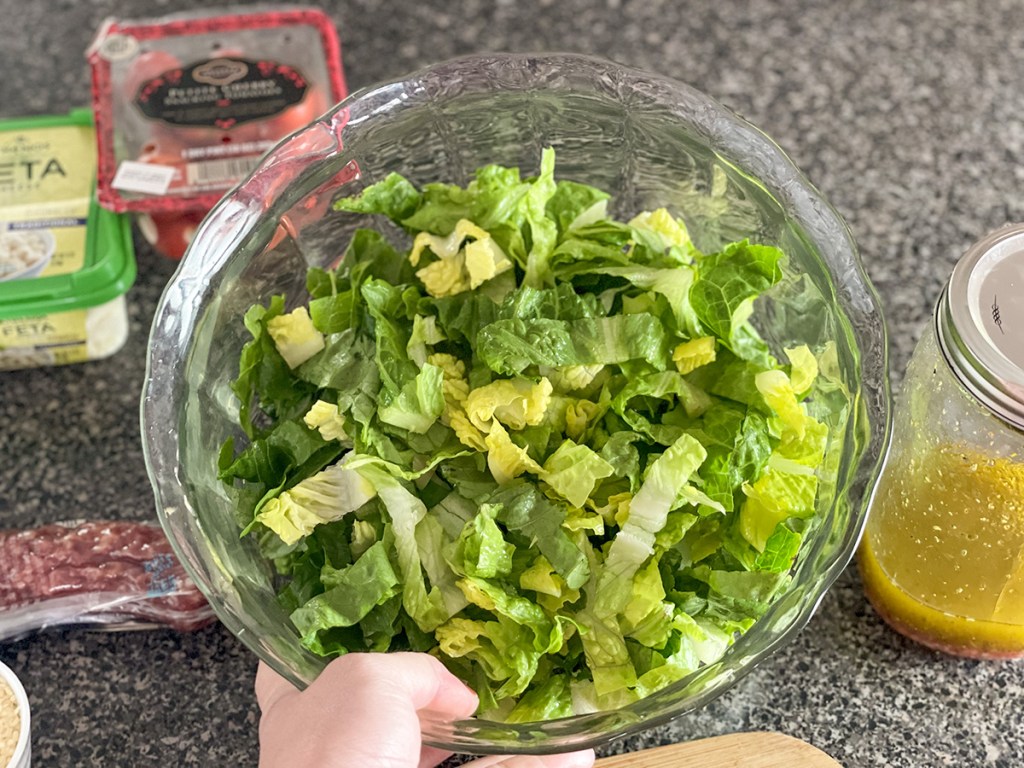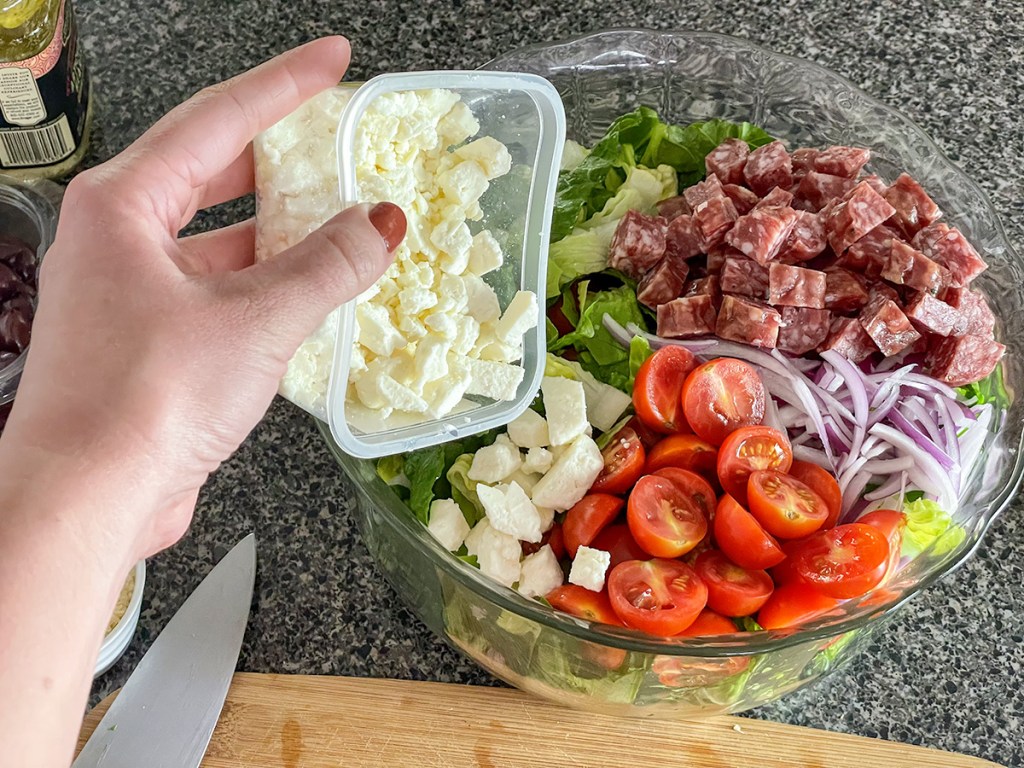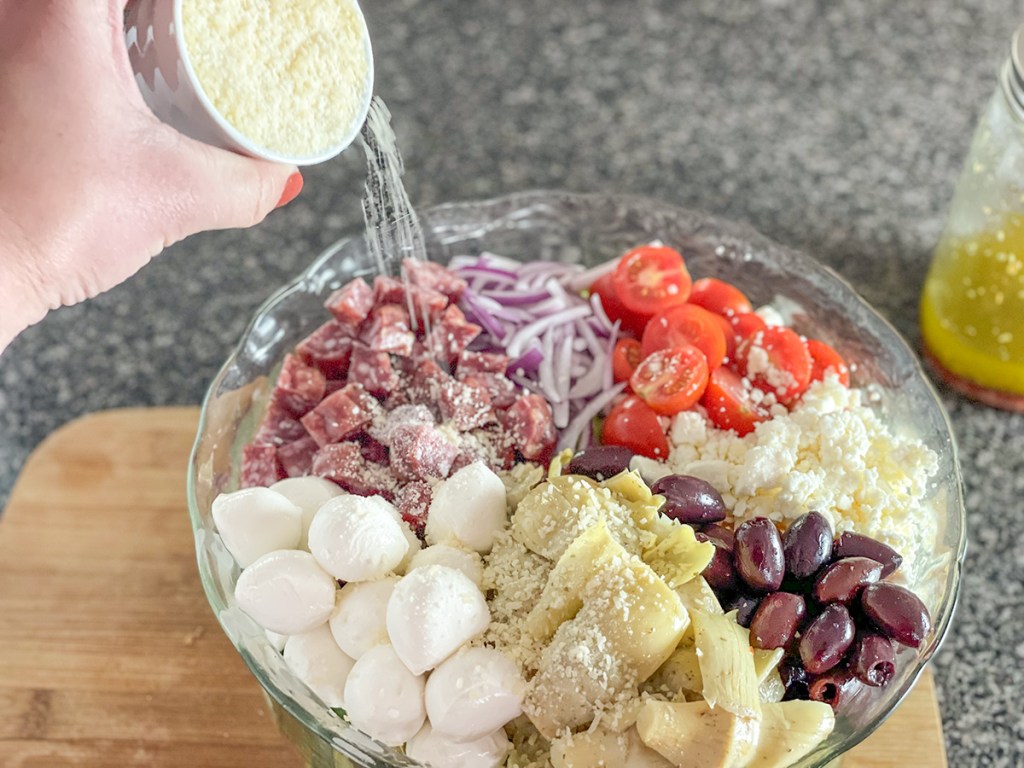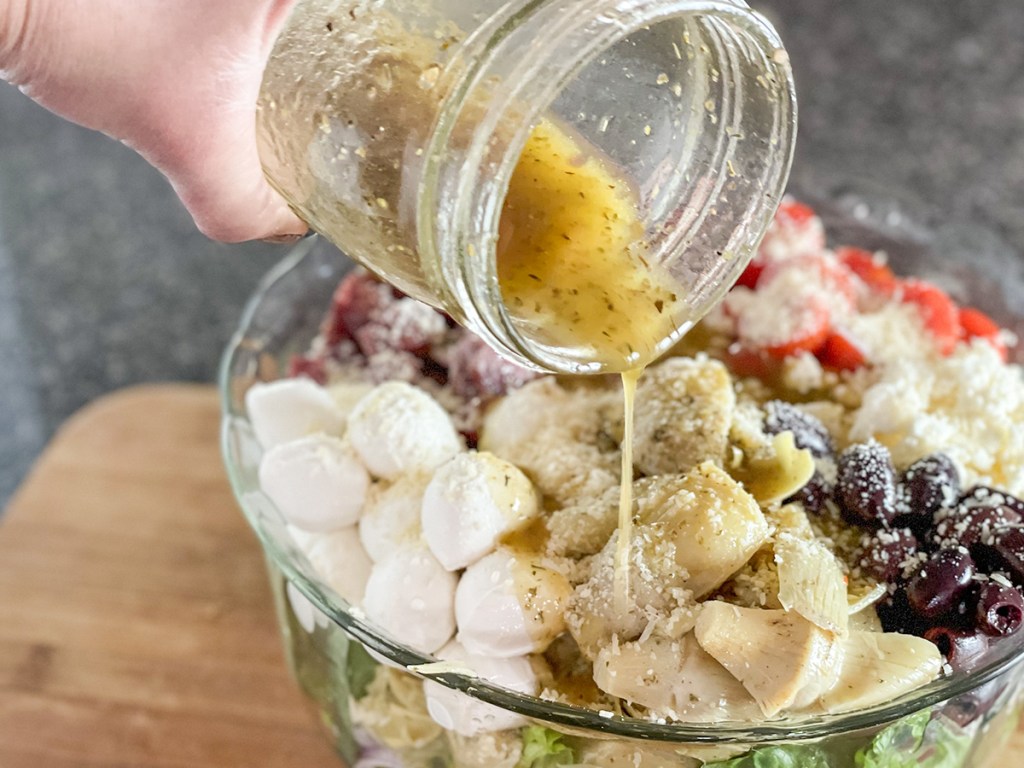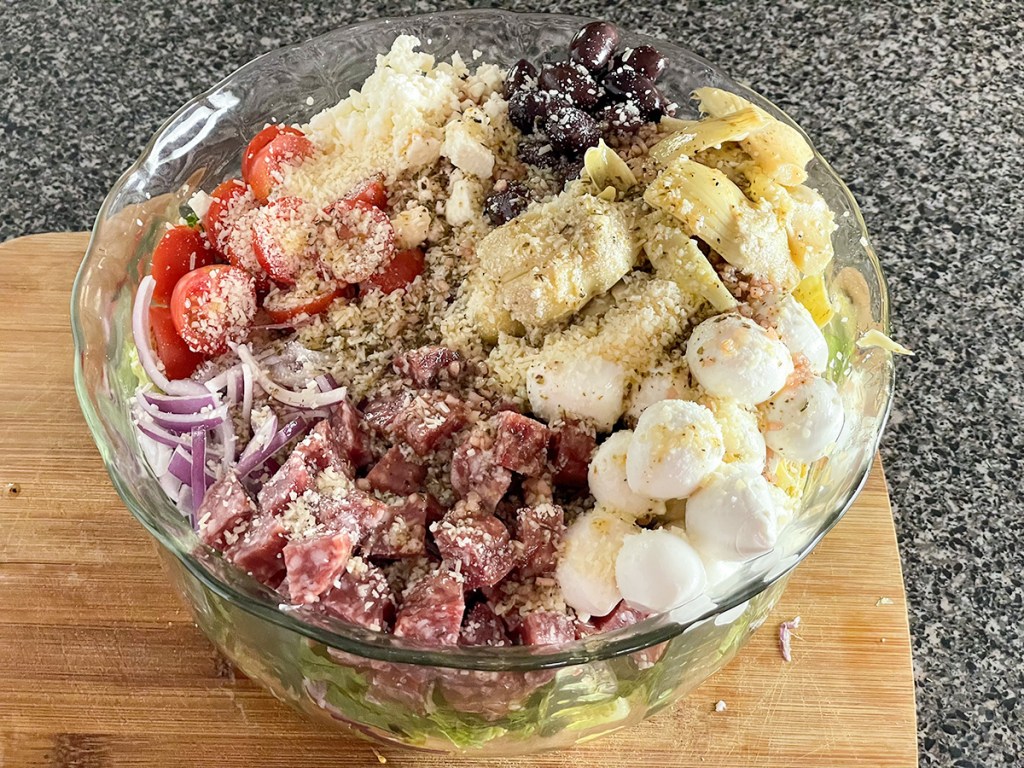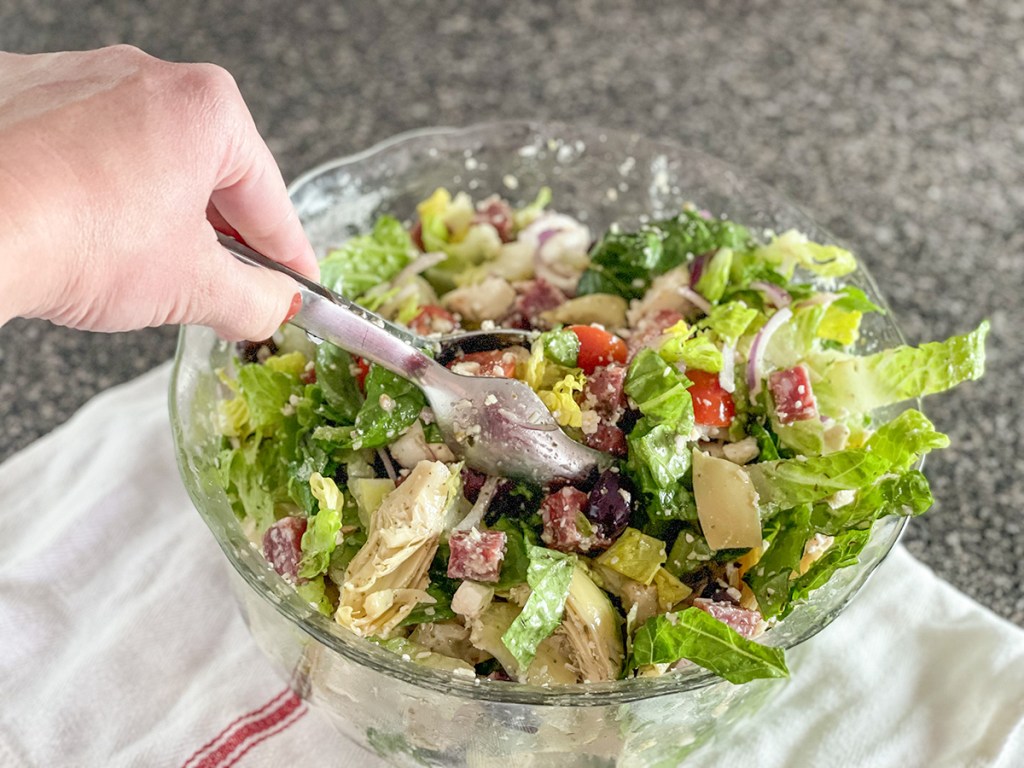 ---
Print
Keto Antipasto Salad
yield: 8 SERVINGS
prep time: 20 MINUTES
total time: 20 MINUTES
This ultimate keto antipasto salad is loaded with all the best toppings including three different kinds of cheese, veggies, and salami, all topped with a tasty homemade dressing!
Ingredients
Dressing:
1/2 cup olive oil
2 tablespoons red wine vinegar
juice from 1 large lemon (3 tablespoons)
1 teaspoon Italian seasoning
1 teaspoon garlic, minced
1 teaspoon salt
1/2 teaspoon pepper
Salad:
1 medium head romaine lettuce, about 8 cups
7.5 oz. dry salami sausage
1 small red onion
1 pint (10 oz.) cherry tomatoes
16 oz. feta cheese, crumbled
1 cup kalamata olives, pitted
8 oz. fresh mozzarella balls
12 oz. jar (or can) quartered artichoke hearts
1/4 cup grated parmesan cheese
Directions
1
To make the dressing:
Place all dressing ingredients in a mason jar or other jar with a lid. Secure lid and shake. Set aside until ready to use.
2
To assemble the salad:
Start by prepping all ingredients. Chop romaine lettuce and cut salami into chunks. Slice the red onion into thin strips. Cut the cherry tomatoes in half. Drain the liquid from the mozzarella cheese, kalamata olives, and artichoke hearts.
3
Place the romaine lettuce in a large salad bowl. Top with salami, red onion, cherry tomatoes, feta cheese, kalamata olives, fresh mozzarella, and artichoke hearts. You can arrange the salad toppings by section or evenly spread them out over the romaine.
4
Sprinkle the grated parmesan evenly over the top of the salad. Shake the salad dressing and then drizzle all of it over the top of the salad. *If serving the salad at a later time, wait to add the dressing until ready to serve.
5
Toss the salad until everything is well combined. Makes 8 side salads or 4 entreé salads. Enjoy!
Nutrition Information
Yield: 8 side salads, Serving Size: about 2 cups tossed
Amount Per Serving: 514 Calories | 43.6g Fat | 9.8g Total Carbs | 4.3g Fiber | 1.8g Sugar | 24.8g Protein | 5.4g Net Carbs
---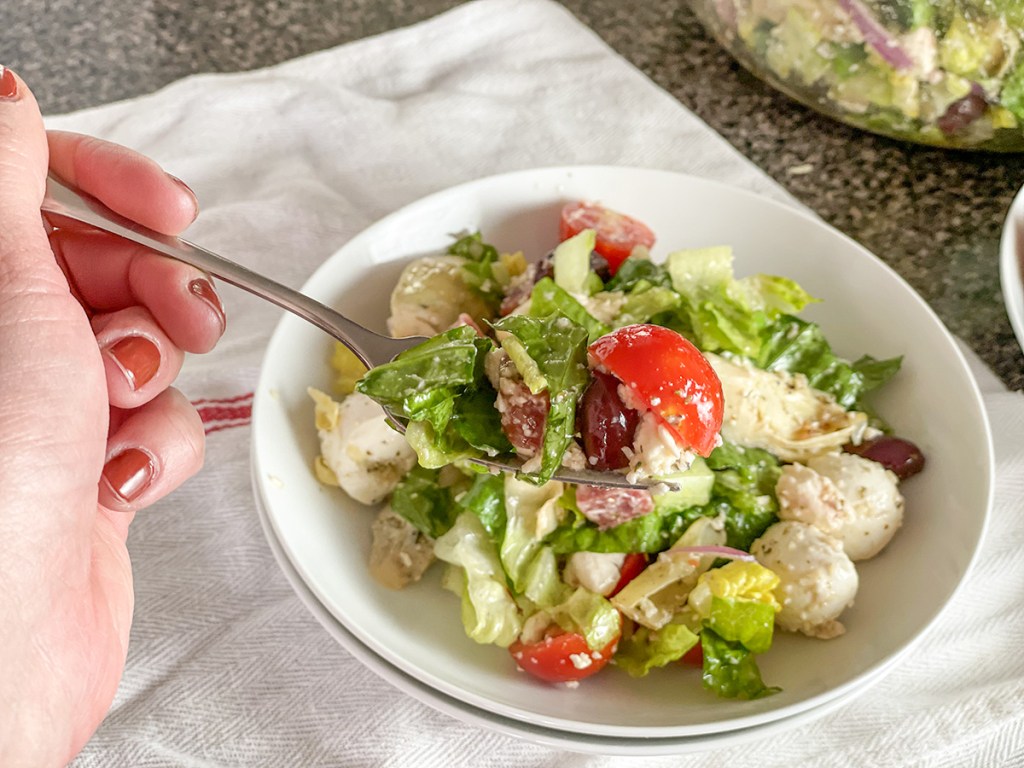 So rave-worthy!
When I tell you that this keto antipasto salad is a game-changer, I'm being completely serious. It will change your keto salad world. Every bite is loaded with flavor. Three different types of cheese, how can you go wrong?!
I hope you enjoy this as much as I do!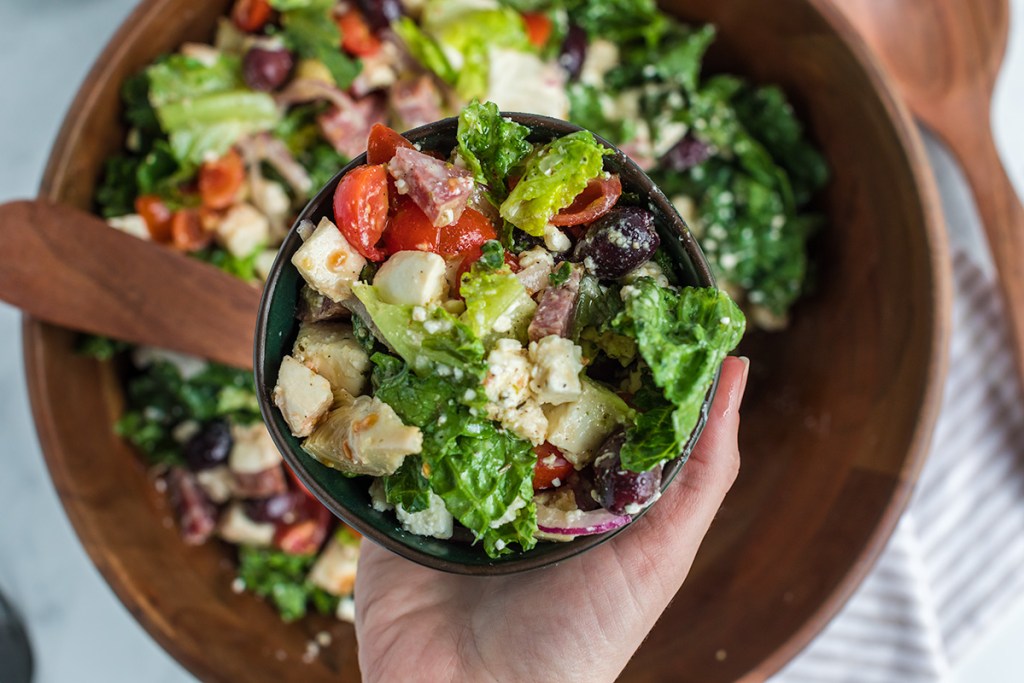 Here's what my Hip sidekick Jenna had to say about this keto antipasto salad:
"WOW! This is so amazing! It's so full of flavor and filling! Plus, it's super fun to throw together, especially if you're snacking on olives and salami while prepping the ingredients 😂 This salad makes the perfect meal! I actually made it for lunch, but plan to save some as side salads with low-carb lasagna tonight – YUM! I think this may be the best salad I've ever had in my life! You have to go to try this!"
---
Looking for more salad inspiration? Try our popular Columbia 1905 Salad recipe!