Got 24 Hours? You NEED to Make This Keto Layered Salad!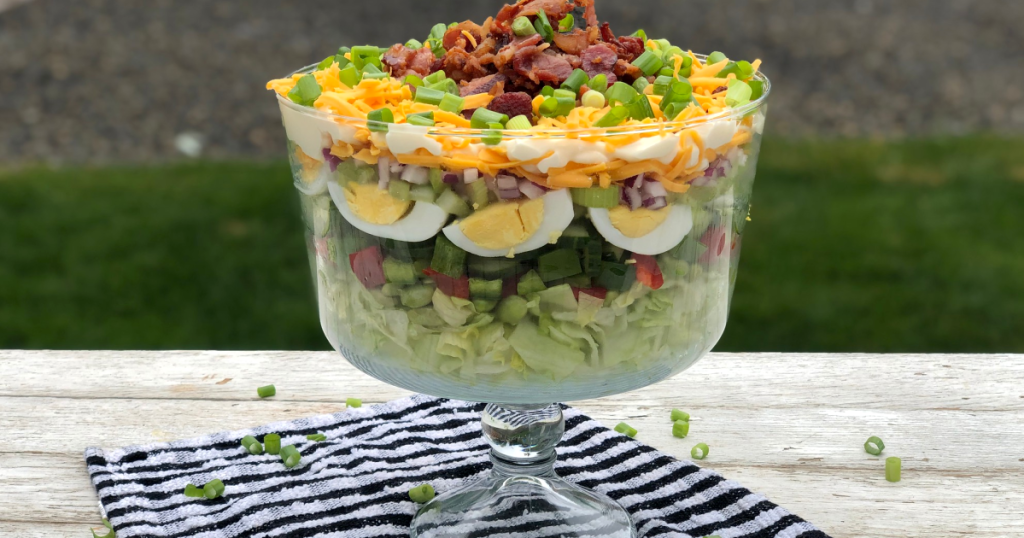 Have you ever heard of a 24-hour salad?
24 hours to make any recipe will likely come off as a daunting feat, so you might be thinking, "why would I spend 24 hours making a salad?" Or you could be thinking, "won't a salad get all soggy if it sits for twenty-four hours?" Very legitimate questions.
A 24-hour salad is exactly what it sounds like — it's a salad that you make the day before you serve it. But the key is that the dressing doesn't get mixed in until you're ready to eat it, and you also want to use ingredients that won't wilt.
The perfect salad for a summer barbeque!
This 24-hour salad is meant for a party. Because you make it in advance, it's one of the easiest dishes to take to a gathering. And since the presentation is everything, this 24-hour salad will definitely impress. Bet you won't have any leftovers either!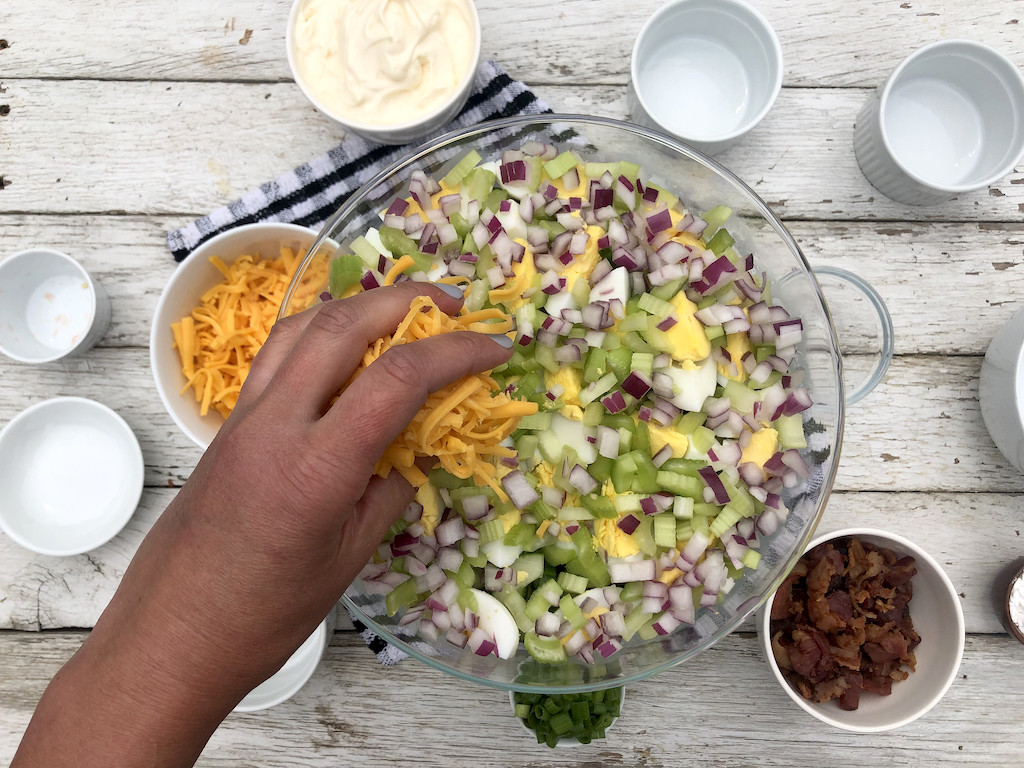 To make a 24-hour salad, you place the lettuce in the bottom of a serving dish and then layer all the toppings on the lettuce. The layers are what make the salad look so appealing. After adding in all your salad toppings, you spread sweetened mayonnaise over the top layer and place the salad in the fridge to basically "marinate". The mayo sort of drips down into your salad topping layers and helps bring the flavors together. You toss the salad just before serving.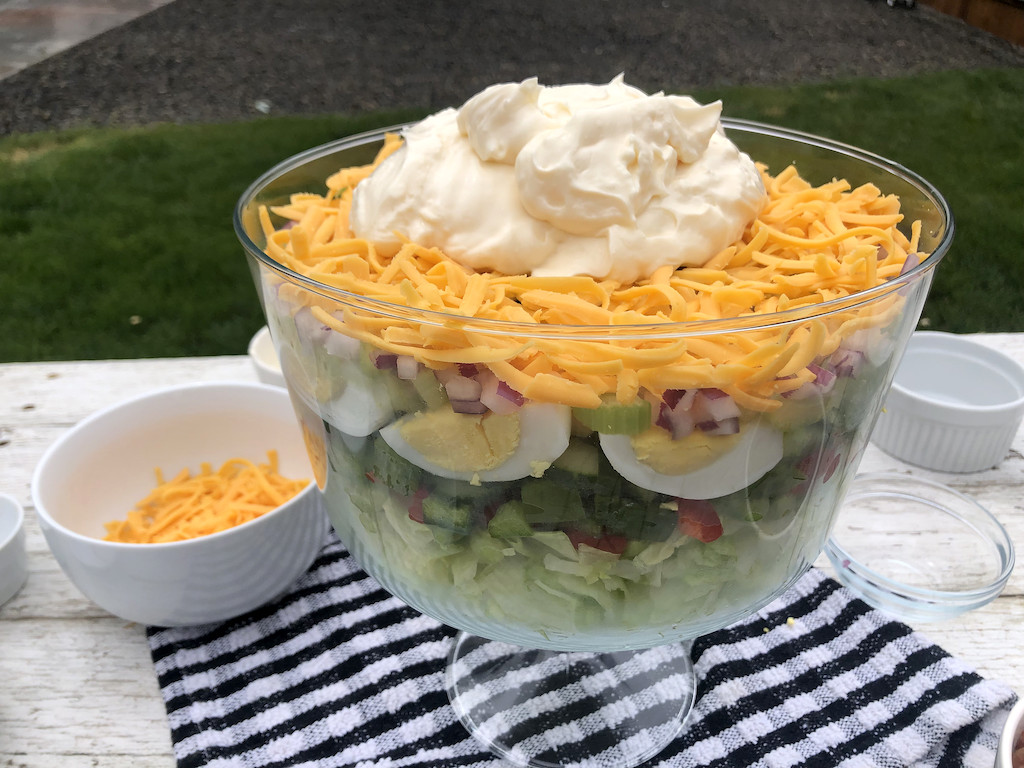 Most recipes for 24-hour salad use frozen peas and add sugar. To make this recipe keto-friendly, we switched out frozen peas for a lesser amount of edamame and used a keto powdered sugar alternative in place of regular sugar.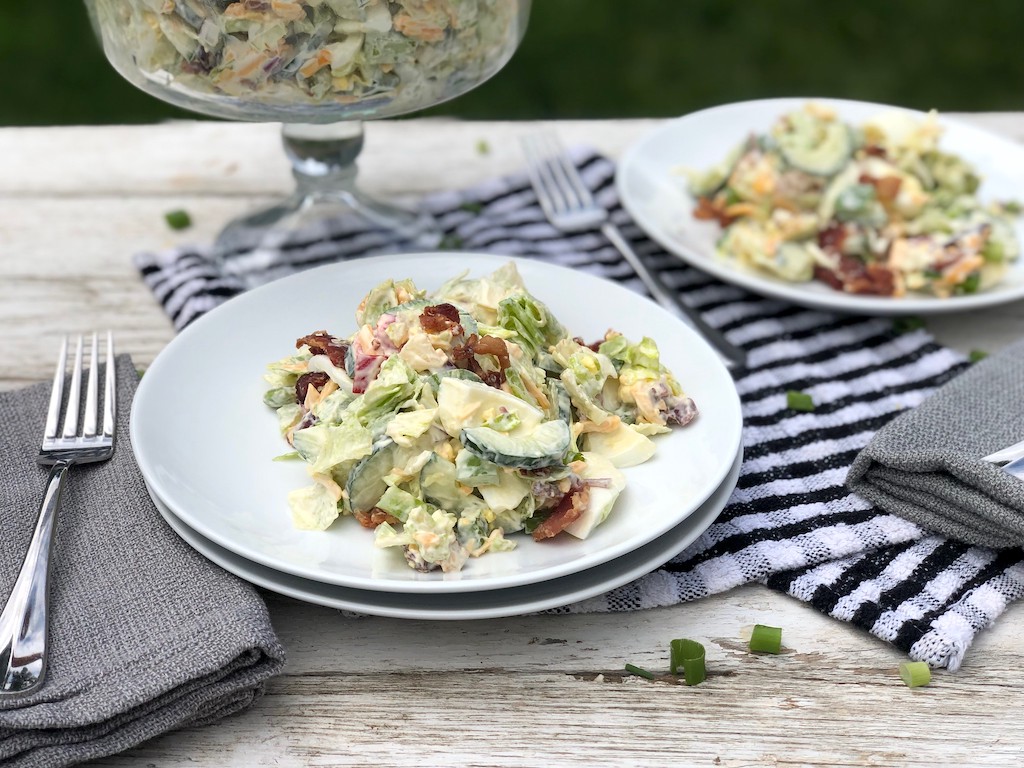 Tips for making the best 24-hour salad:
Use a crisp lettuce like iceberg or romaine. Spinach and mixed greens will end up getting too wilted. If you really want to use spinach, you could try making a "4-hour salad" instead. Another alternative would be to try kale.
Place the bacon on top of the mayonnaise layer to help keep it crispy. If the bacon is under the mayo, it will absorb moisture and soften.
If using store-bought, look for high-quality mayonnaise with a good fat profile. You want something that uses all avocado oil or olive oil for monounsaturated fat. Avoid soybean oil and canola oil as they are high in polyunsaturated fat.
Get creative with the salad layers! You can literally use any vegetables in this 24-hour salad and it will turn out amazing.
If you don't have a large, transparent serving bowl or trifle bowl, you can make this in a clear 9″ x 13″ baking dish.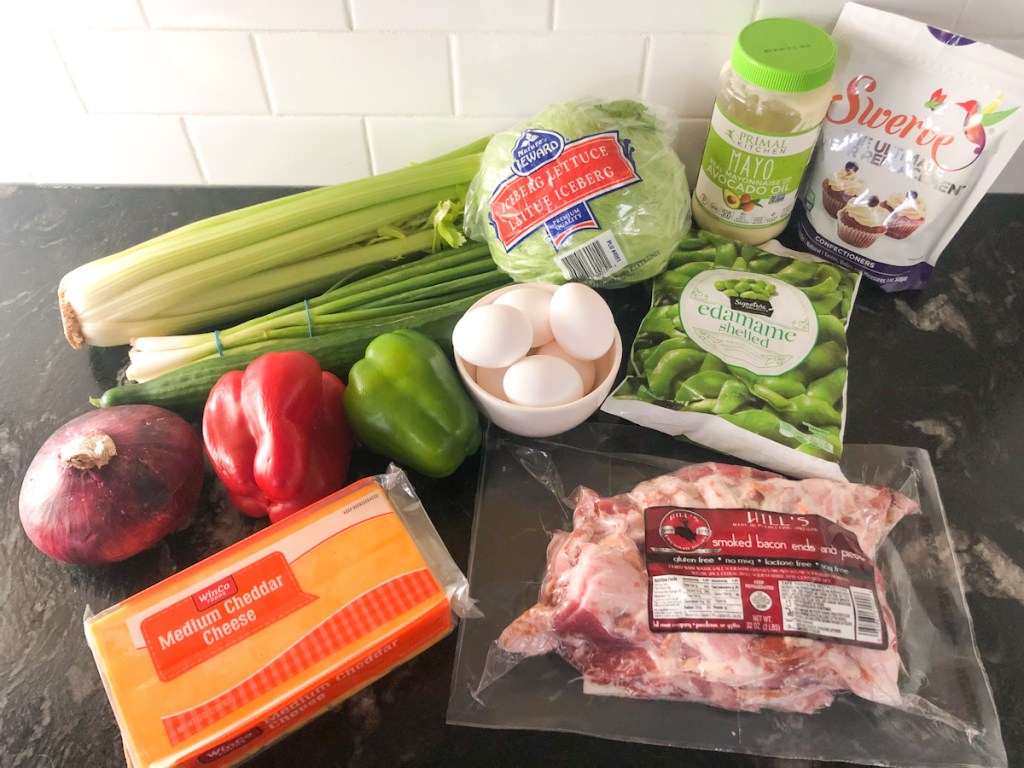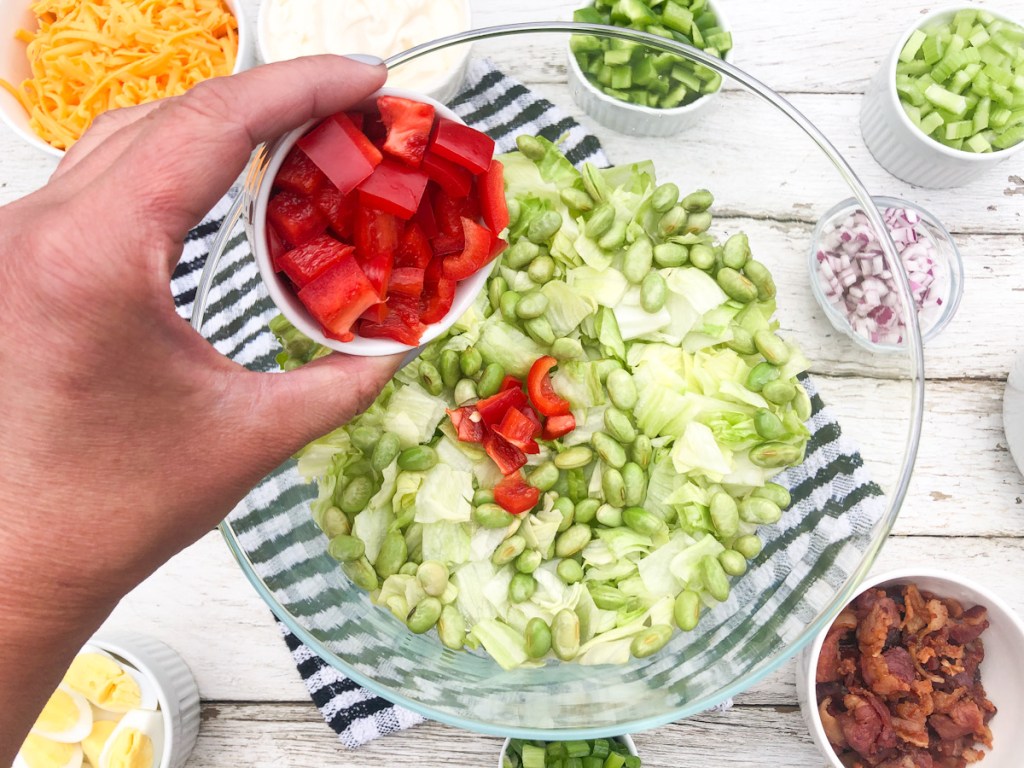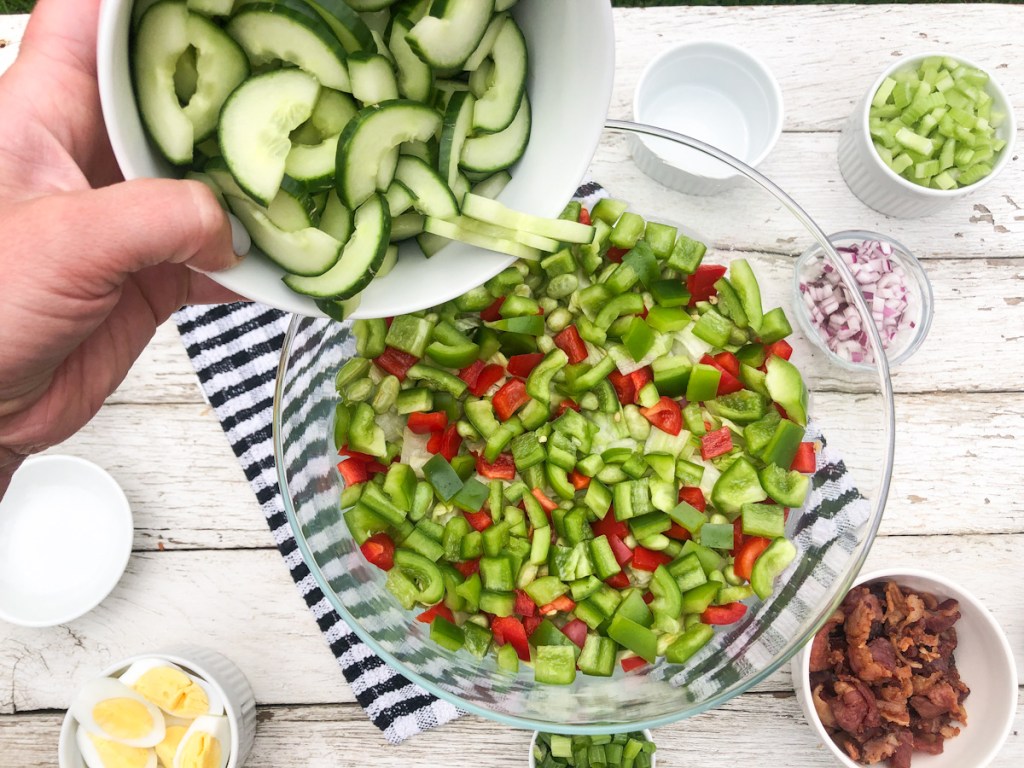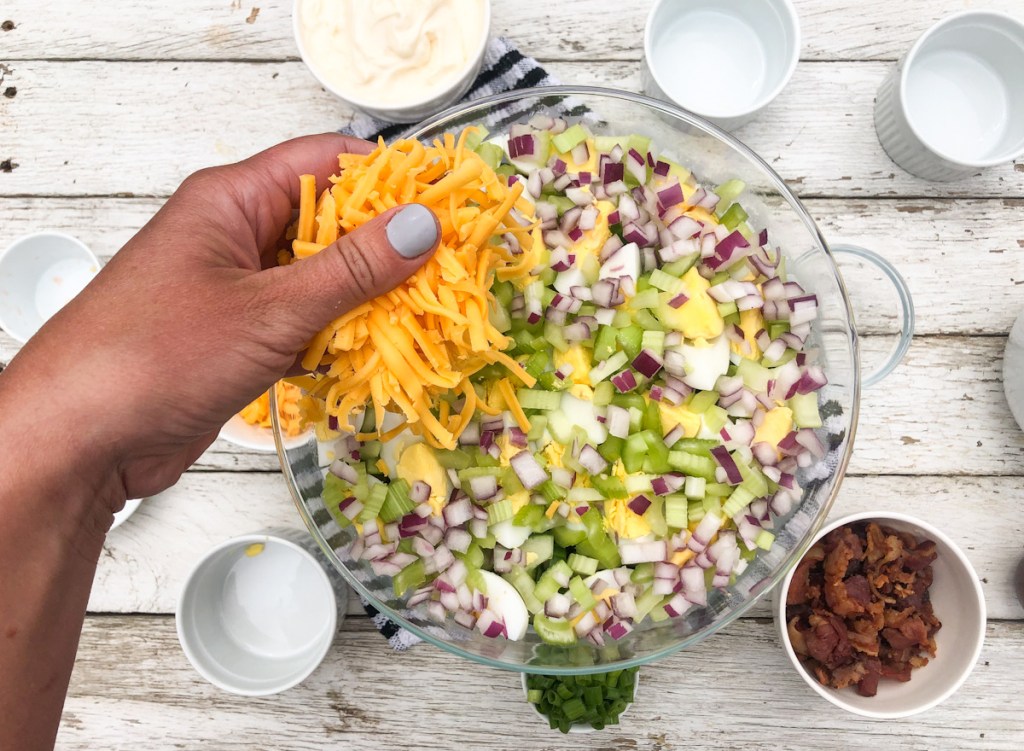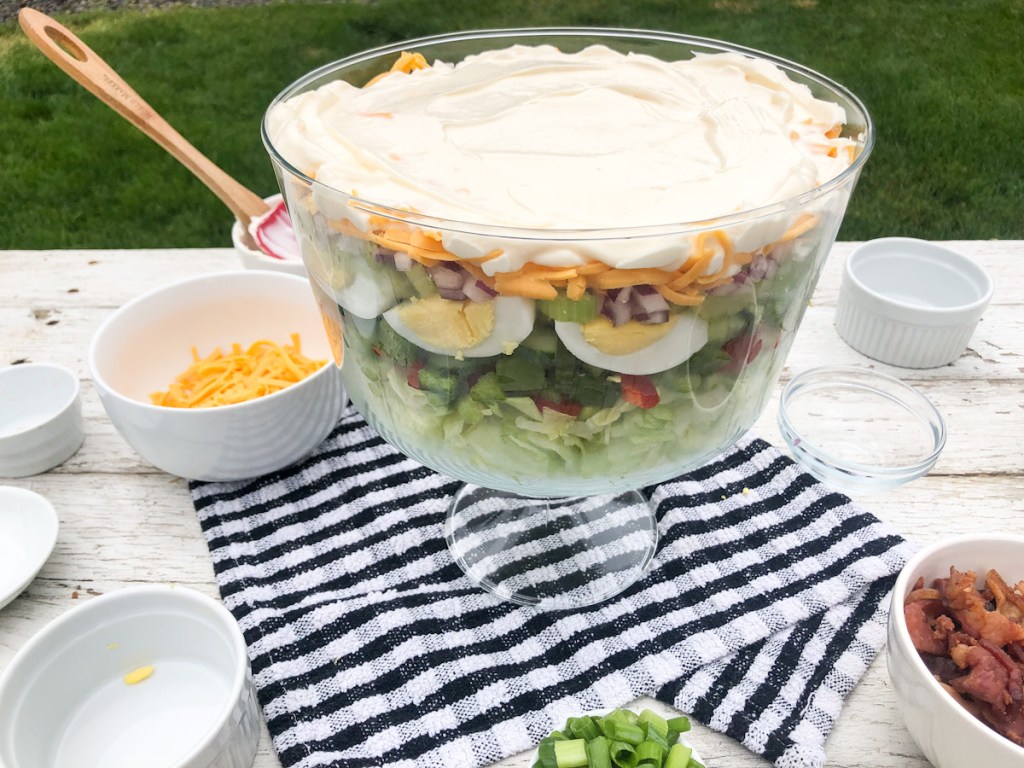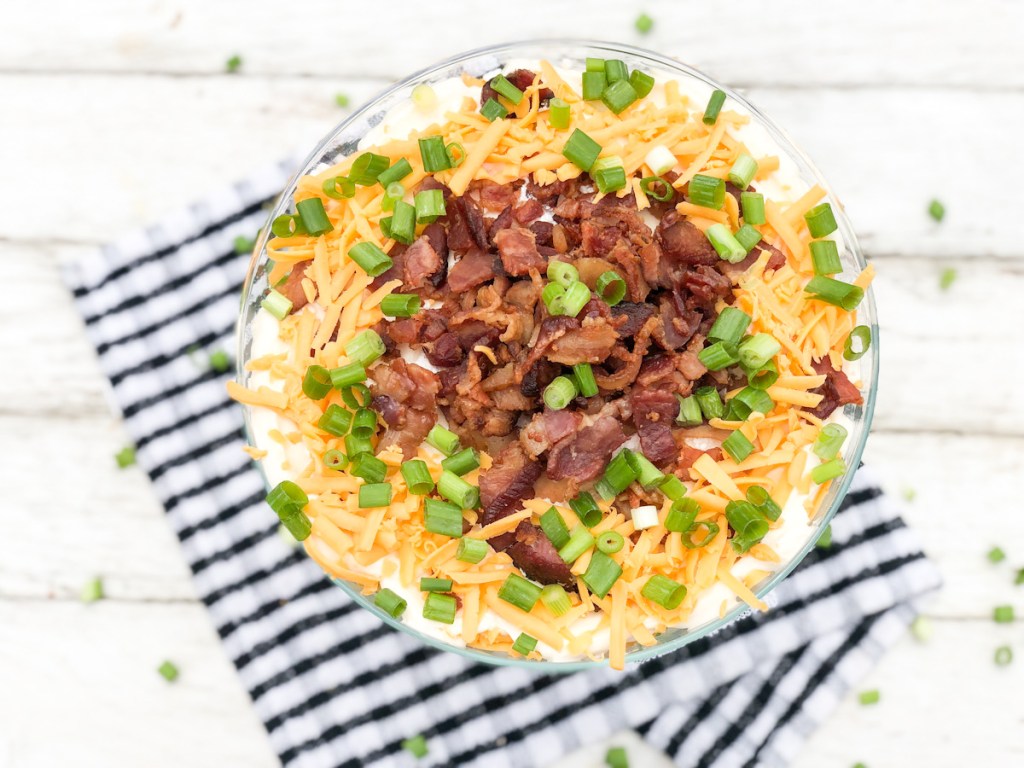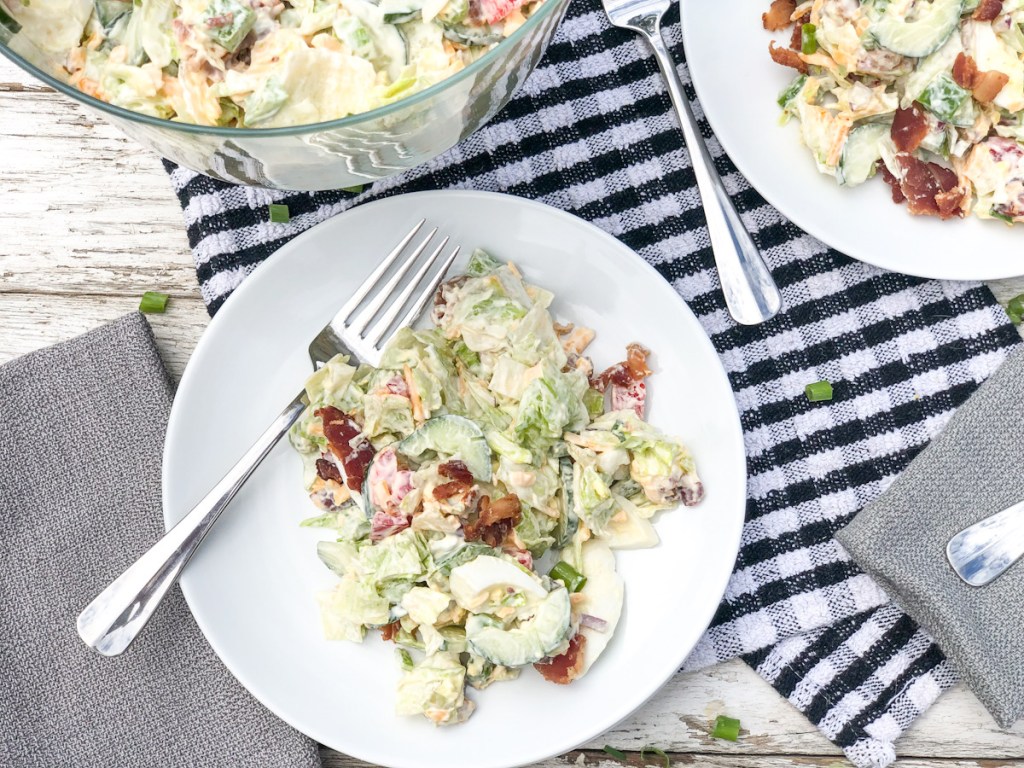 ---
yield: 12 SERVINGS
prep time: 20 MINUTES
cook time: 10 MINUTES
total time: 30 MINUTES
Fresh layered salad topped with cheese and bacon, made 24 hours in advance to let flavors mingle until coated with a mayonnaise-based dressing.
Ingredients
For the salad:
5 cups iceberg lettuce, chopped
1/2 cup frozen edamame, shelled
1/2 cup red bell pepper, chopped
1 cup green bell pepper, chopped
1 English cucumber, seeds removed, cut in half and sliced
6 hard-boiled eggs, cut into quarters
1 cup of celery, diced
1/2 cup red onion, diced
2 cups shredded cheddar cheese, divided
1 cup bacon pieces (about 8 oz. raw) [omit if vegetarian]
1/4 cup green onions, chopped
For the dressing:
Directions
1
Cook bacon in a skillet over medium heat until crispy, about 10 minutes. When done, remove from skillet and place on a paper towel to cool. Chop or crumble bacon after it cools.
2
While bacon is cooking, hard boil the eggs.
Place eggs in a large saucepan and cover with 1-inch of water. Bring to a boil over medium-high heat. Once the water is boiling, cover and remove from heat. Let sit for 12 minutes and then transfer to an ice bath or rinse under cold water. When eggs have cooled, peel and cut into quarters.
3
Chop the vegetables while bacon and eggs cool.
4
To assemble the salad:
Place the iceberg lettuce in the bottom of a large transparent salad bowl or trifle bowl. Top with frozen edamame, red bell pepper, green bell pepper, cucumbers, hard-boiled eggs, celery, red onion, and 1 1/2 cups of shredded cheddar cheese (save 1/2 cup to decorate the top).
5
To make the dressing:
Mix the keto sweetener in with the mayonnaise and then spread mayonnaise on top of the shredded cheese with a spatula, just like you would frost a cake.
6
Top mayonnaise with bacon, the remaining 1/2 cup of shredded cheese, and green onions.
7
Place the salad in the fridge for 24 hours.
8
Toss the salad just before serving. Note that you may need to use a larger bowl to toss the salad, depending on the size of the dish you assembled the salad in. Salt and pepper to taste. Enjoy!
Nutrition Information
Yield: 1 salad, Serving Size: 1/12th salad
Amount Per Serving: 443 Calories | 41.2g Fat | 5.5g Total Carbs | 1.5g Fiber | 1.9g Sugar | 0.8g Sugar Alcohol | 15.8g Protein | 3.2g Net Carbs
---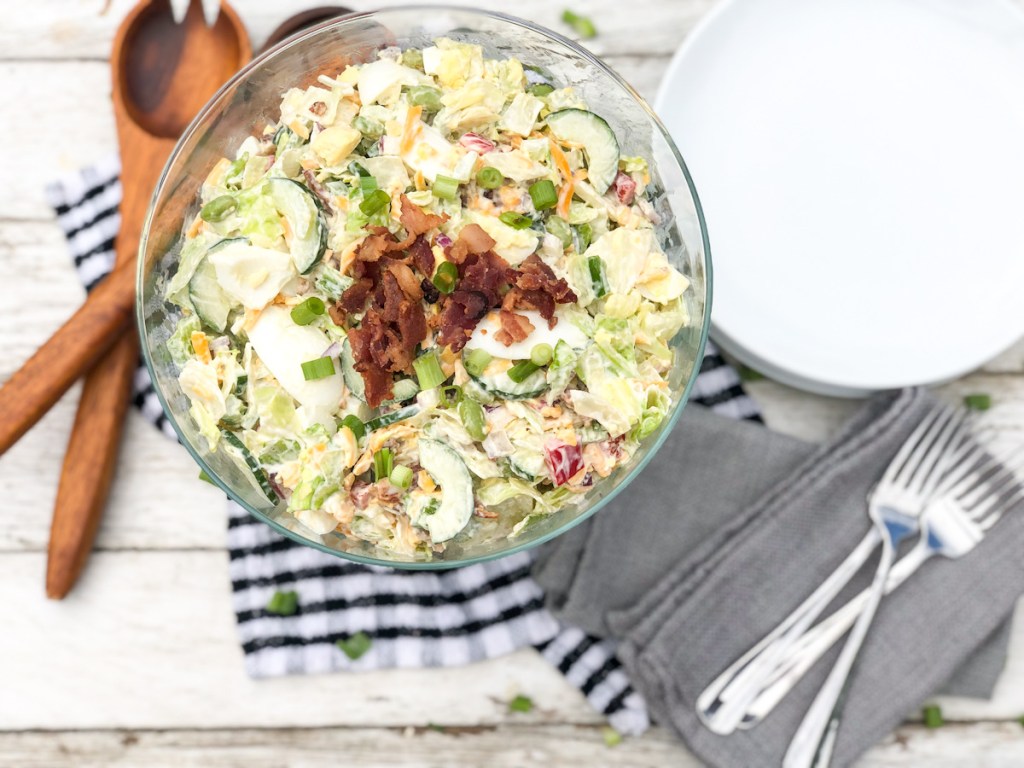 You seriously have to make this for your next gathering!
Who doesn't love an easy side dish to take to a party? People will think that you spent hours assembling this 24-hour salad and never know that you threw everything together the night before the party. Let us know if you made this salad as is or if you made any tweaks to the ingredients!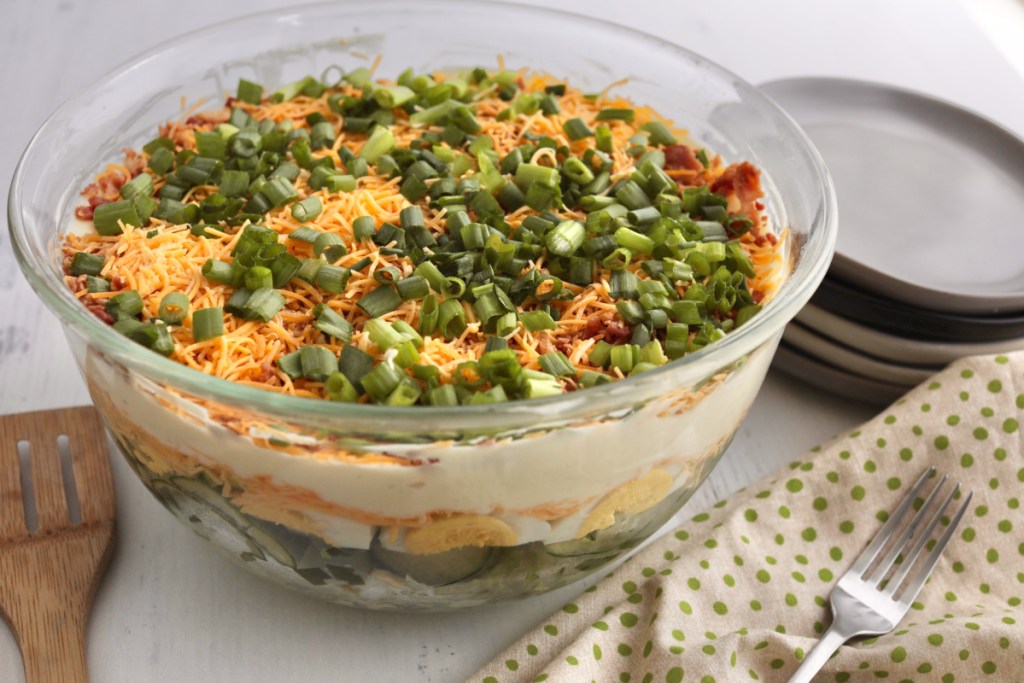 My Hip sidekick Jenna tried out this recipe and here's what she had to say:
"Thank you Emily, now I know exactly what I'm bringing to the 4th of July BBQ at my sisters! 😋 The result looks so impressive but I swear it is so easy to make… And it tastes great! I love the edamame instead of peas – genius! There isn't a single thing I don't love about this salad. Can't wait to make it again this summer!"
---
Love easy summer side dishes? Check out this keto broccoli bacon salad!