Keto Jalapeno Popper Bites – Only 4 Ingredients Needed | Easy Game Night Snack!
Win big with this quick and simple low-carb appetizer – cheesy bacon jalapeno popper bites!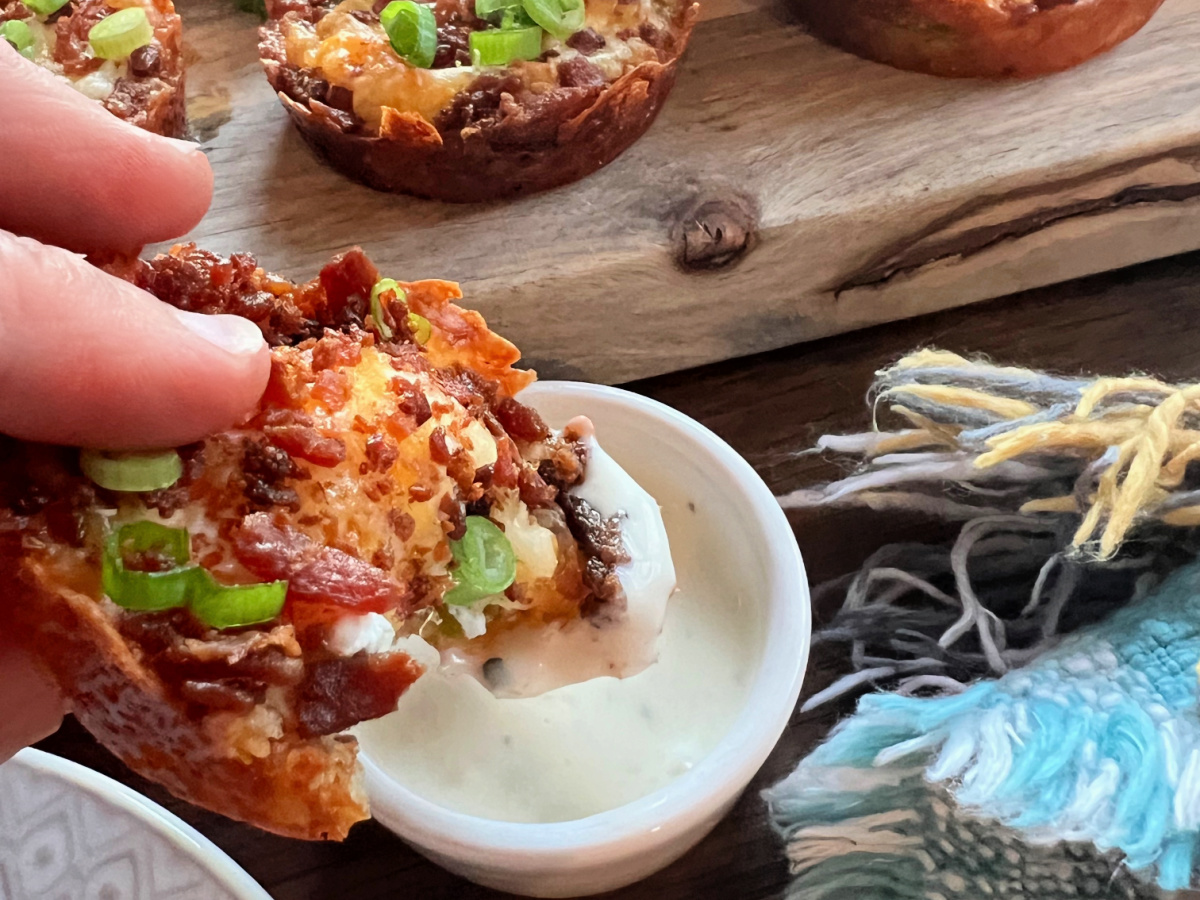 This tasty appetizer is only four ingredients & five minutes of prep!
Want to bring the winning dish on game night? I promise you that these jalapeno popper bites will be a shining star. They're crunchy, cheesy, zingy, and best of all… EASY!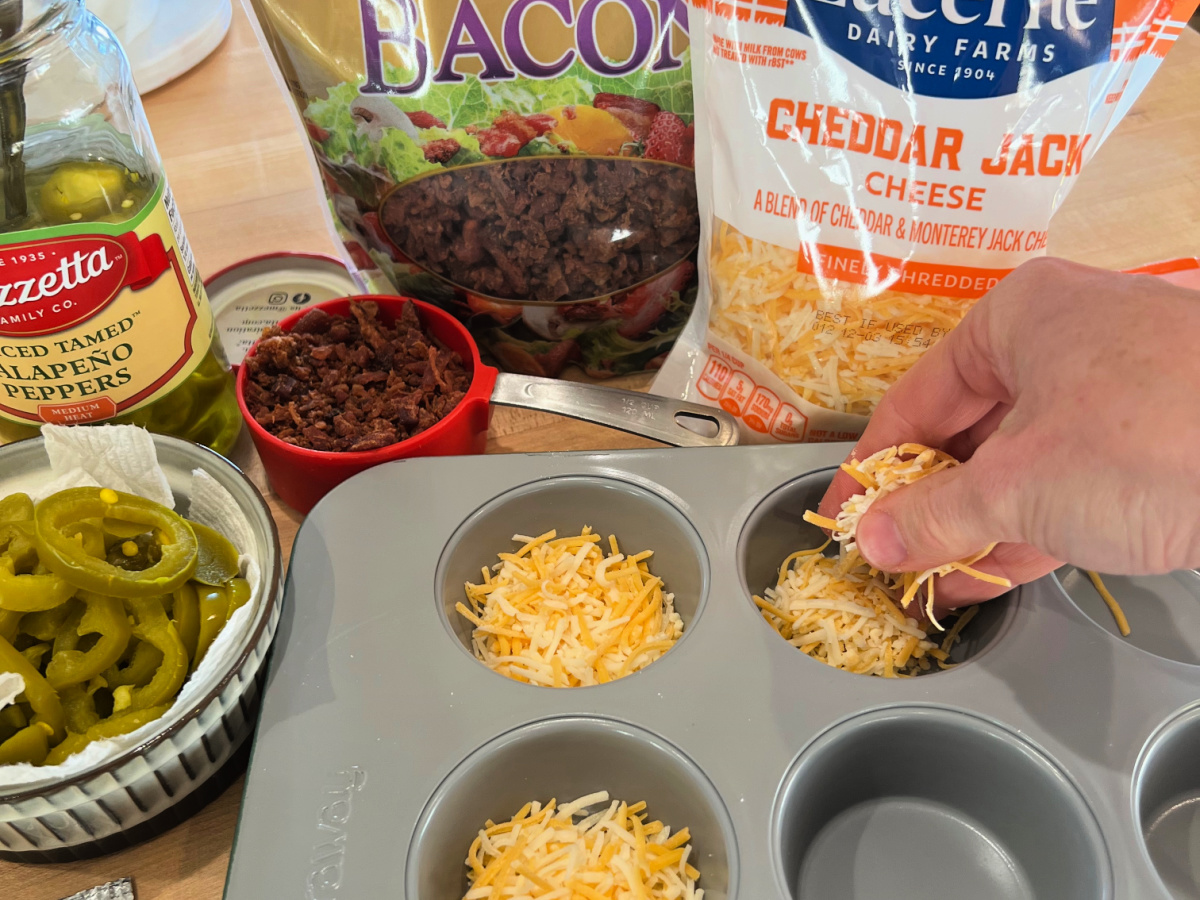 This simple recipe requires the most basic prep, even my 8-year-old can do it!
No joke, a simple and straightforward keto appetizer recipe doesn't get much easier than this. Just layer the ingredients into a nonstick muffin tin, pop in the oven for 15 minutes, and SHAZAM—these perfect little handheld jalapeno bites are ready to enjoy!
They're incredible right out of the oven but are also delicious when served at room temperature. For an extra boost, garnish with green onions and serve with your favorite low-carb ranch dip.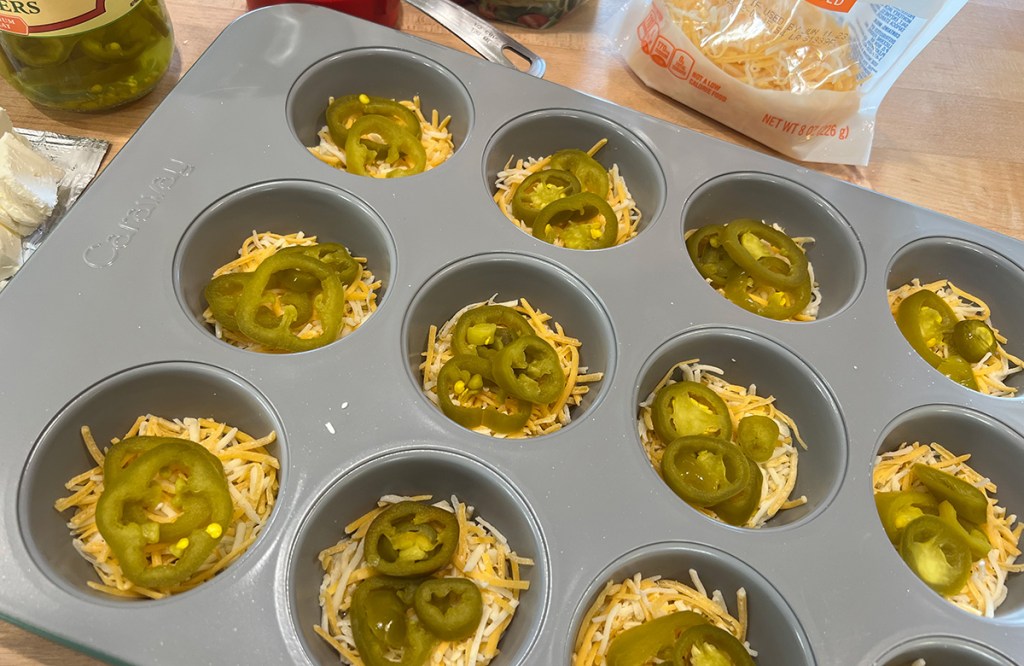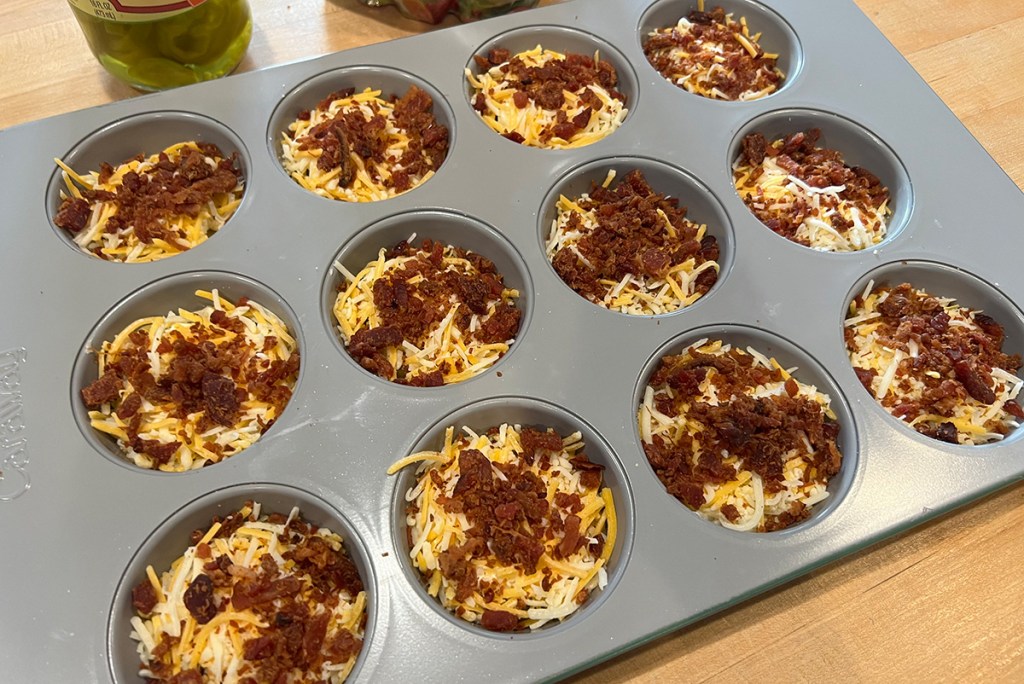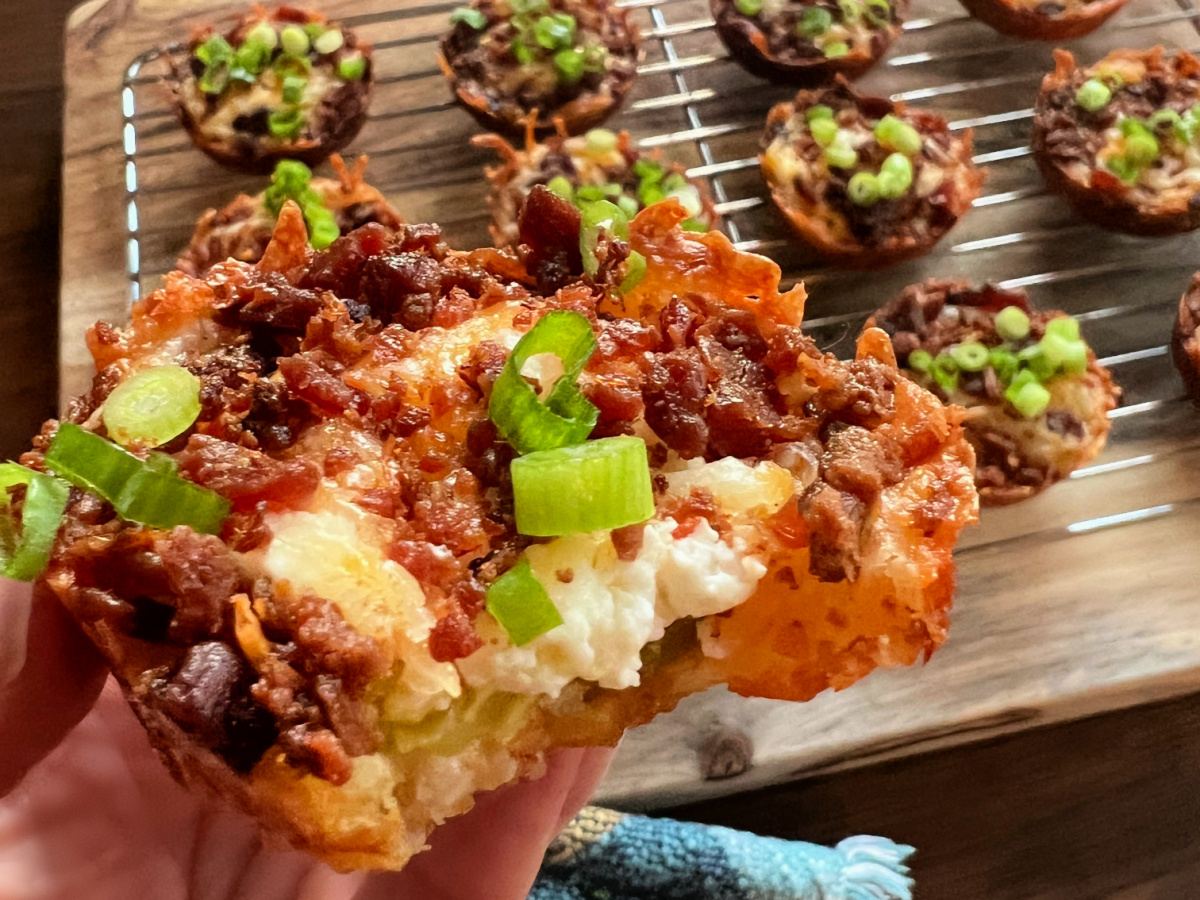 ---
Print
Jalapeno Popper Bites
yield: 12 SERVINGS
prep time: 5 MINUTES
cook time: 15 MINUTES
total time: 20 MINUTES
This easy, cheesy appetizer is a game-night winner every time!
Ingredients
8 oz. bag finely shredded Cheddar Jack cheese (divided)
1 cup jarred sliced jalapenos, drained (hot or mild)
4 oz. cream cheese, cubed into 12 pieces
sliced green onion (optional for garnish)
Directions
1
Preheat oven to 400 degrees. If needed, grease nonstick muffin tin. (My Caraway pan requires no greasing but yours might.)
2
Evenly sprinkle half of the shredded cheese into the bottom of each muffin tin.
3
Pat dry jalapenos using a paper towel and place them on top of the cheese layer, distributed as evenly as possible.
4
Place a cube of cream cheese on top of each jalapeno layer and gently press to flatten a little.
5
Evenly sprinkle the remaining shredded cheese over the cream cheese layer so all other ingredients are covered.
6
Sprinkled crumbled bacon over the final shredded cheese layer.
7
Bake in the oven for approximately 15 minutes. Watch to make sure that the cheese doesn't burn. Browning on the edges a bit is normal.
8
Allow popper bites to cool for about 5 minutes in the muffin tin before transferring them to a cooling rack.
9
Before plating, sprinkle with green onions or other garnish if desired. I prefer to serve them warm, however, they are also good at room temperature. Enjoy!
Additional Notes
Nutritional values do not include the optional green onion garnish.
Nutrition Information
Yield: 12 Bites, Serving Size: 1 Bite
Amount Per Serving: 95 Calories | 7g Fat | 2g Total Carbs | 0g Fiber | 0g Sugar | 5g Protein | 2g Net Carbs
---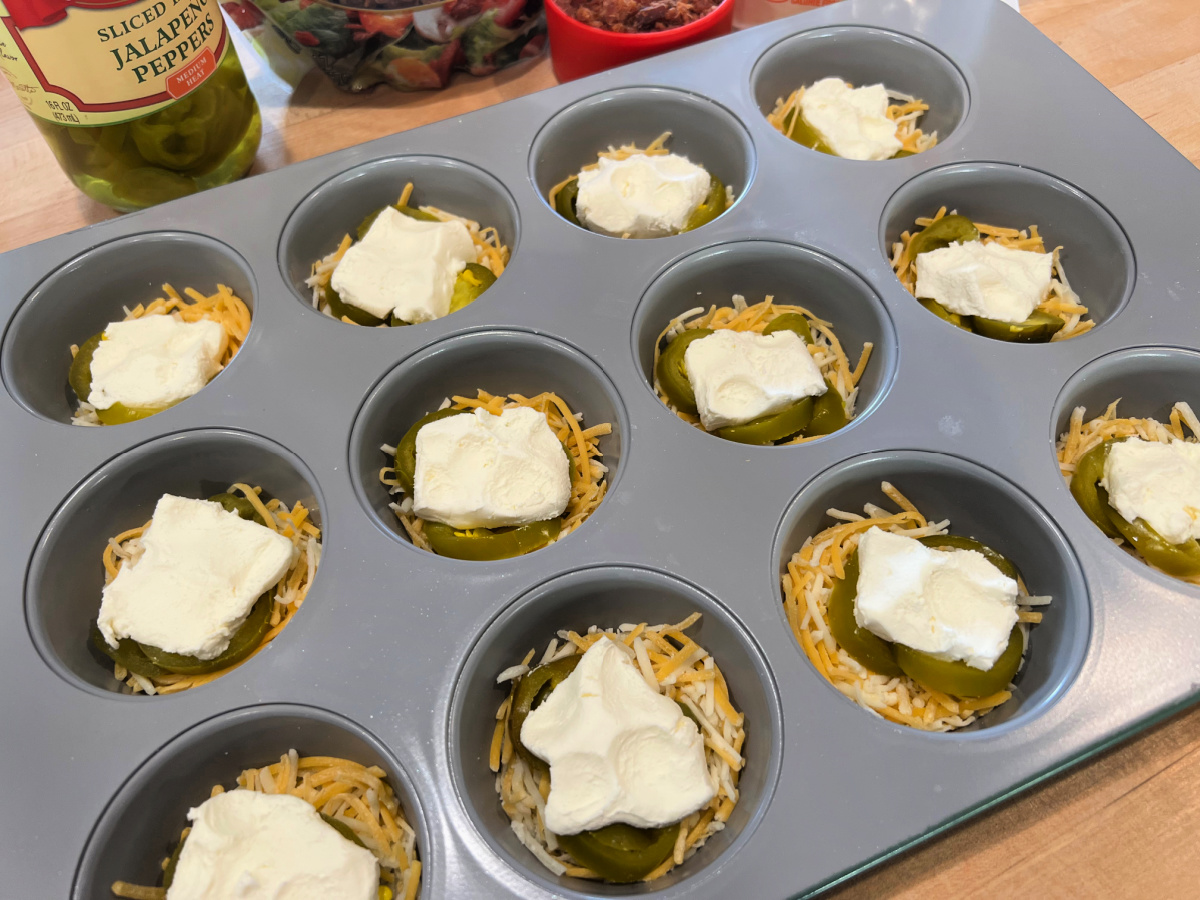 Rock this jalapeno popper bites recipe with a few hip tips:
Don't forget to dry your jarred jalapenos first by pressing out the moisture using paper towels.
Please the crowd with two batches—make one using mild jalapenos for the wimpier crew and another using hot jalapenos for heat lovers!
Be sure to use a good nonstick muffin tin. My Caraway pan works AMAZING and didn't require any extra greasing. The poppers literally slide right out after cooking.
Play with it to make it your own! Try a different type of cheese like Pepper Jack or add something unexpected like crumbled chorizo in place of bacon. 😱
4 ingredients, 5 minutes of prep, 15 minutes in the oven… TOUCHDOWN!
This recipe proves that sometimes you can be a lazy cook and still make a winning dish!
---
Want to bring a sweet treat to game night as well? Try these peanut butter cookies!