Grilled Chicken Margherita Olive Garden Keto Copycat Recipe
Move over, Olive Garden. Our Grilled Chicken Margherita keto copycat recipe is here!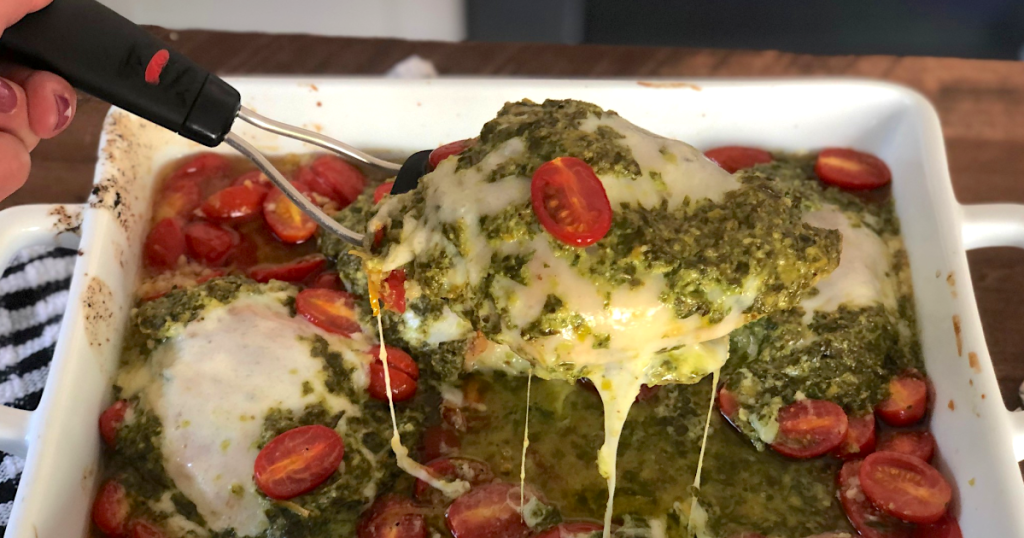 Sometimes it can be hard to follow a keto diet when dining out, especially if you're at an Italian restaurant. Hello, pasta and bread everywhere! 🍝
We've got you covered so you can make Olive Garden's Grilled Chicken Margherita at home!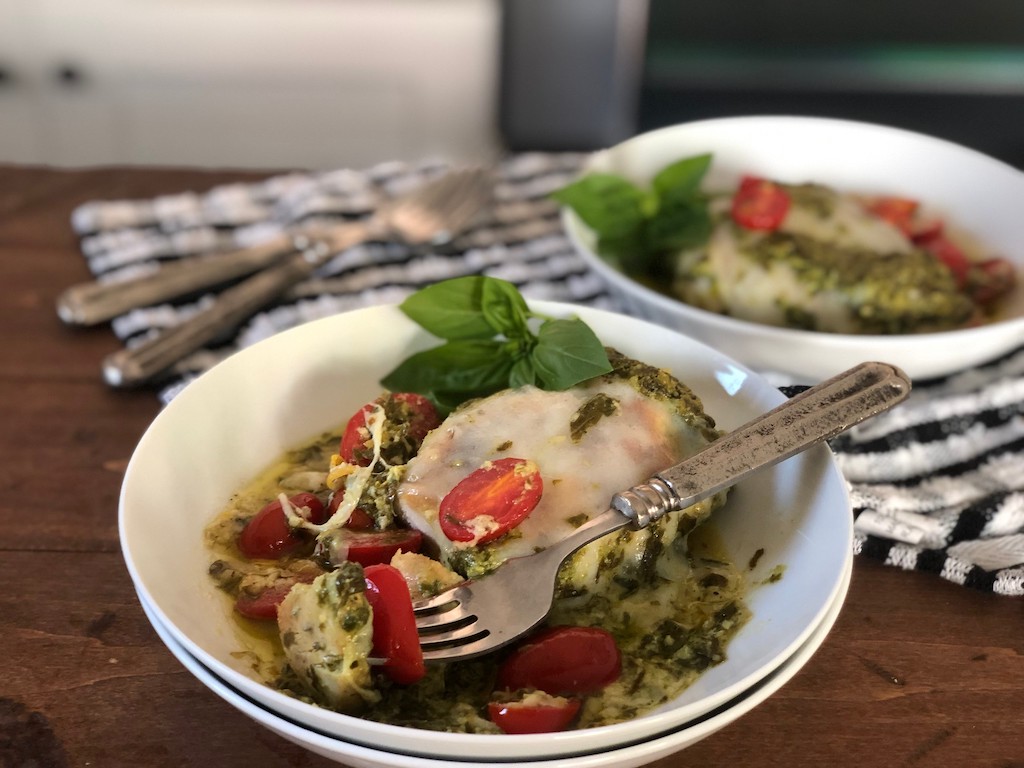 It's like bringing the flavors of Italy into your kitchen, and cooking it will make you feel like a gourmet chef! But don't worry, it's an easy recipe and you'll still have dinner on the table in about an hour. Your family will definitely be impressed.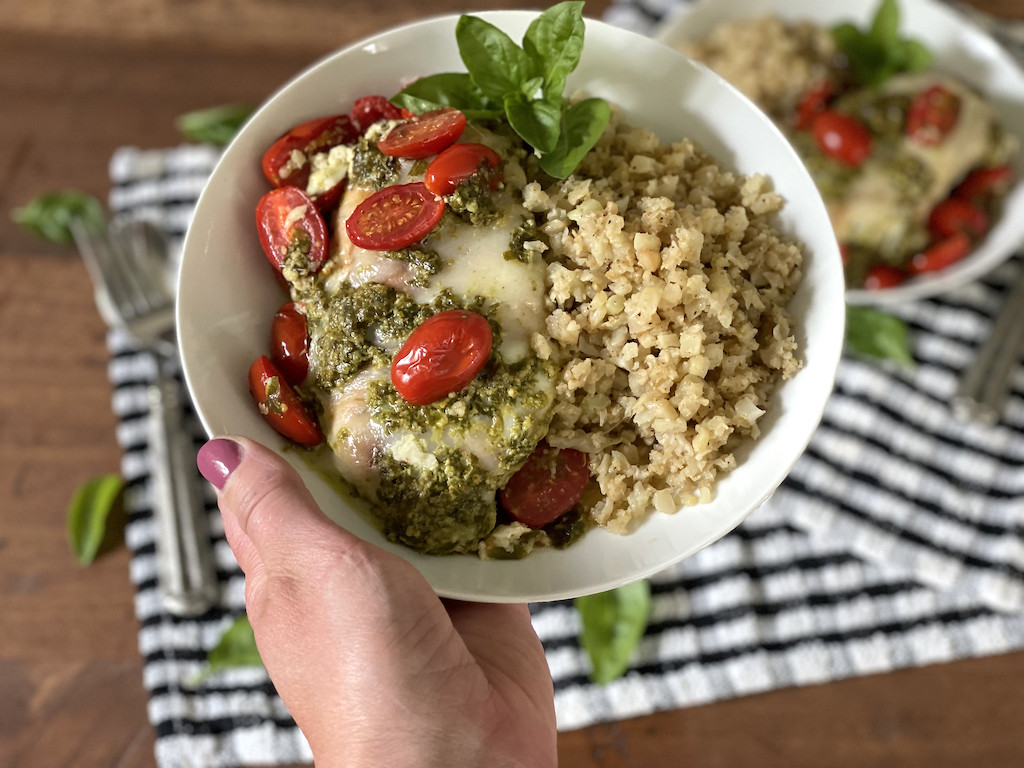 This is seriously the best chicken dish!
Now let me tell you, there's a reason this dish is popular. I'm usually more of a steak person but the Grilled Chicken Margherita from Olive Garden might have convinced me otherwise.
To make this recipe, you first pan-grill the chicken breasts to get a golden sear that locks in the moisture, because nobody likes dried-out chicken. 👎
After the chicken is cooked, you make a quick lemon garlic sauce, followed by making an easy pesto sauce. And honestly, you could even buy a jar of pesto from the store to save on time. You then layer the chicken breasts with mozzarella cheese, pesto, grape tomatoes, and lemon garlic sauce. Finally, you bake it to coat the chicken in melty mozzarella and pesto. And that's it!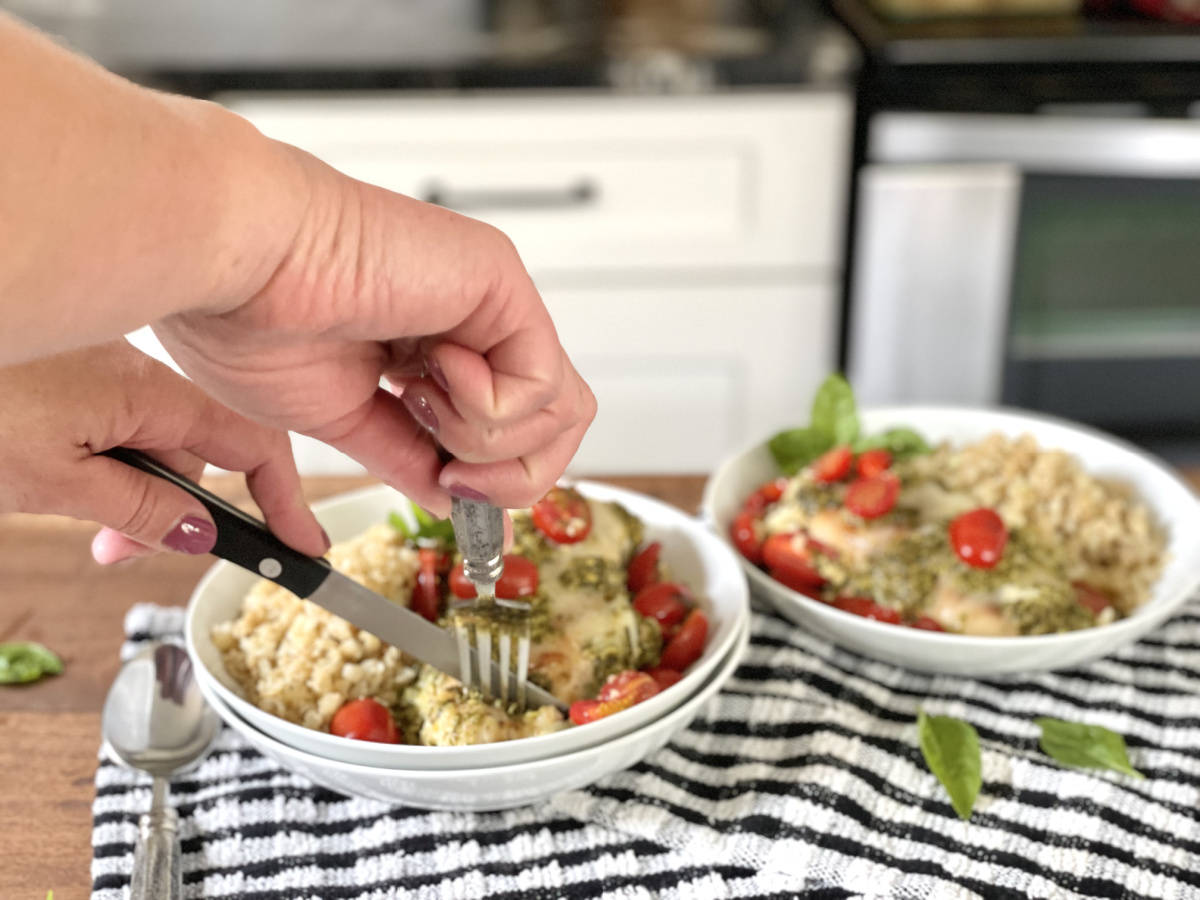 Tips for making the best chicken margherita Olive Garden keto copycat recipe:
To get a good sear on the chicken breasts, don't move them while they're cooking in the pan. Leave them alone for a good 5 to 6 minutes per side, depending on thickness.
If the chicken breasts are really thick, consider pounding them to an even thickness so the whole breast cooks at the same time. They don't need to be super thin, just more uniform in thickness.
Try cooking the chicken in the slow cooker with the lemon garlic sauce and pesto on LOW for 3 to 4 hours. I suggest doubling both the lemon garlic sauce and pesto for this method. Add half the pesto to the slow cooker and save half for when you bake the chicken with the mozzarella cheese. After the chicken has cooked in the slow cooker, you'll still layer it with the mozzarella, pesto, grape tomatoes, and some of the sauce from the slow cooker and bake for 10 minutes or so to melt the cheese.
We served this Grilled Chicken Margherita Olive Garden copycat recipe with cauliflower rice but feel free to pair it with any of your favorite veggies!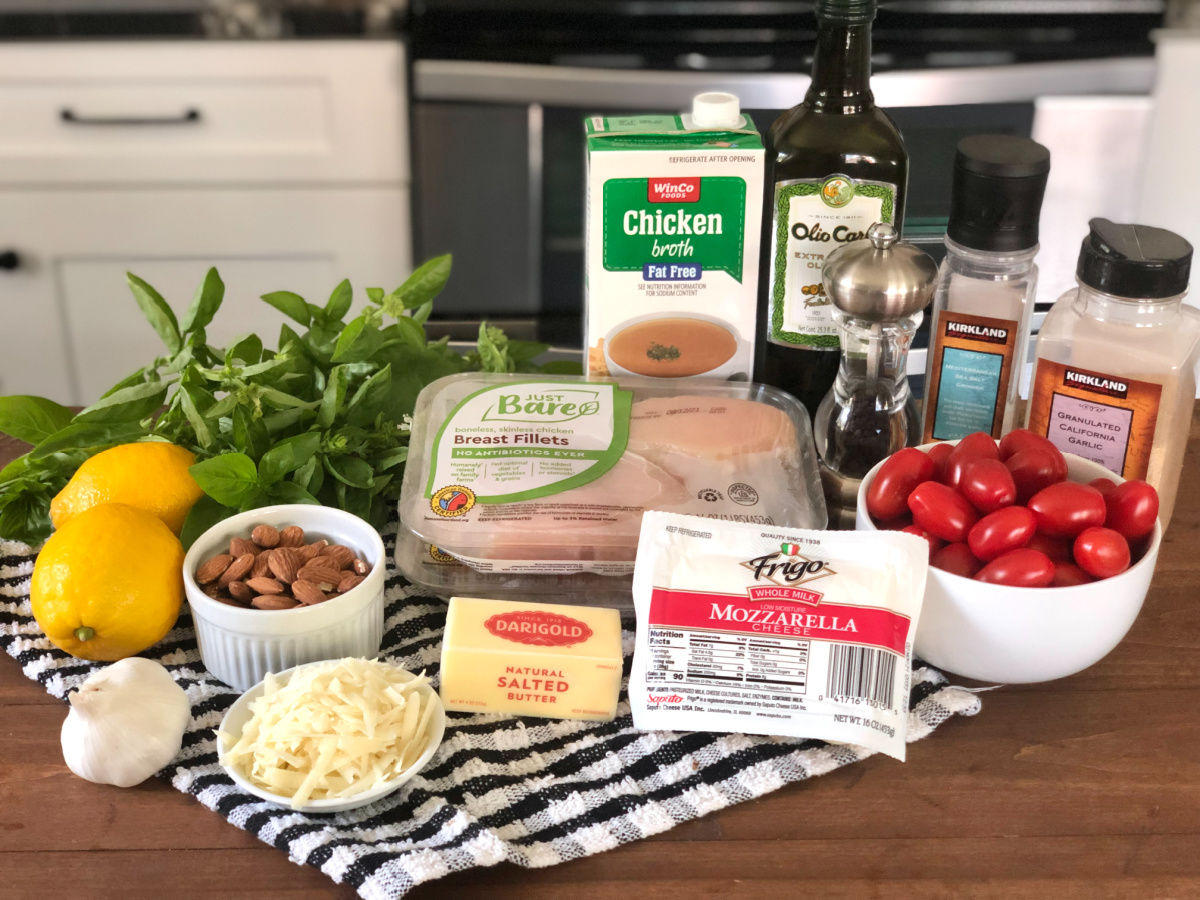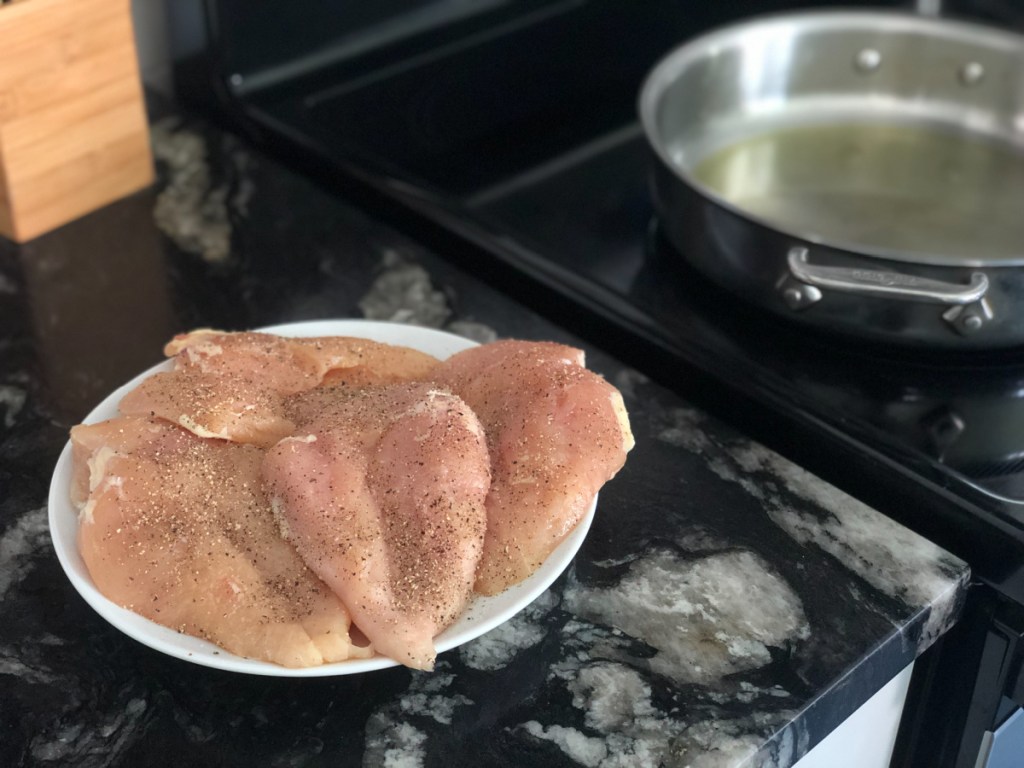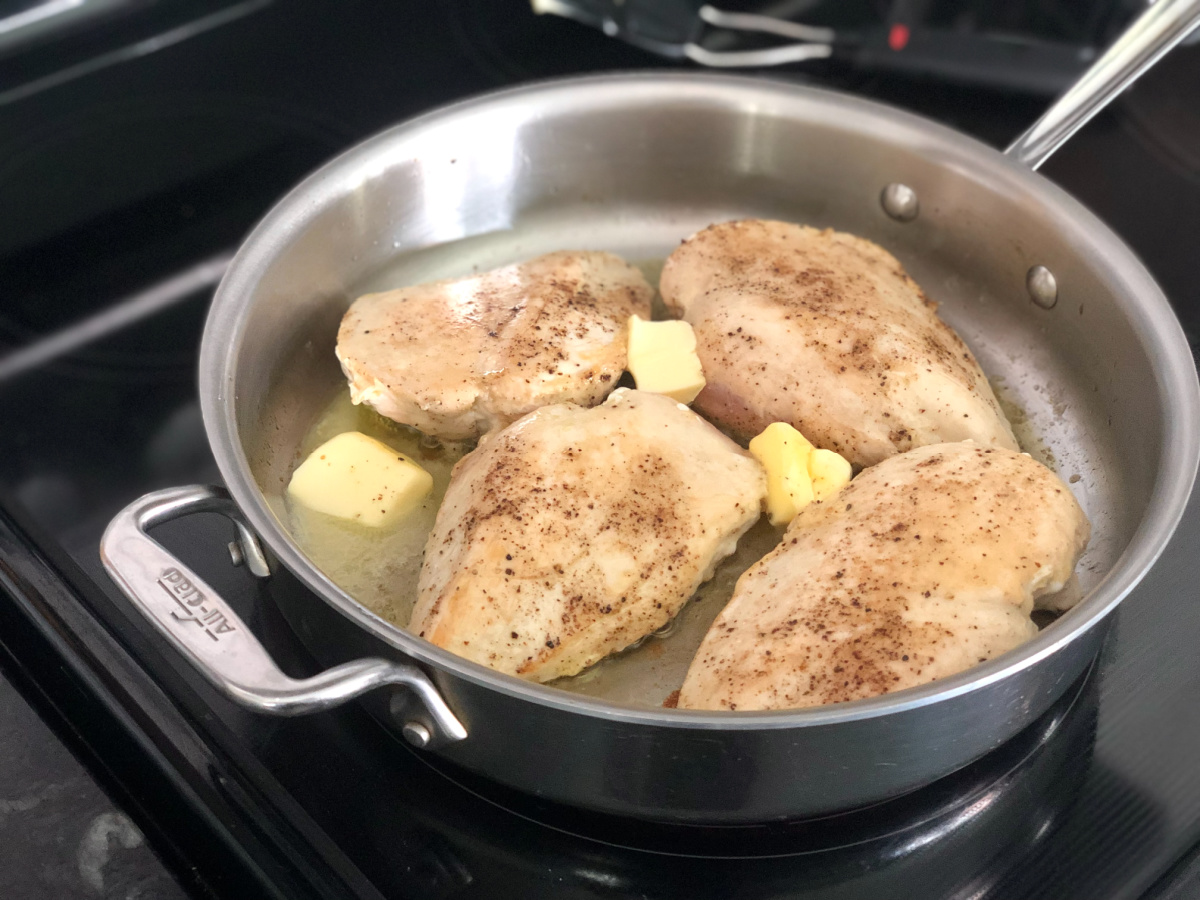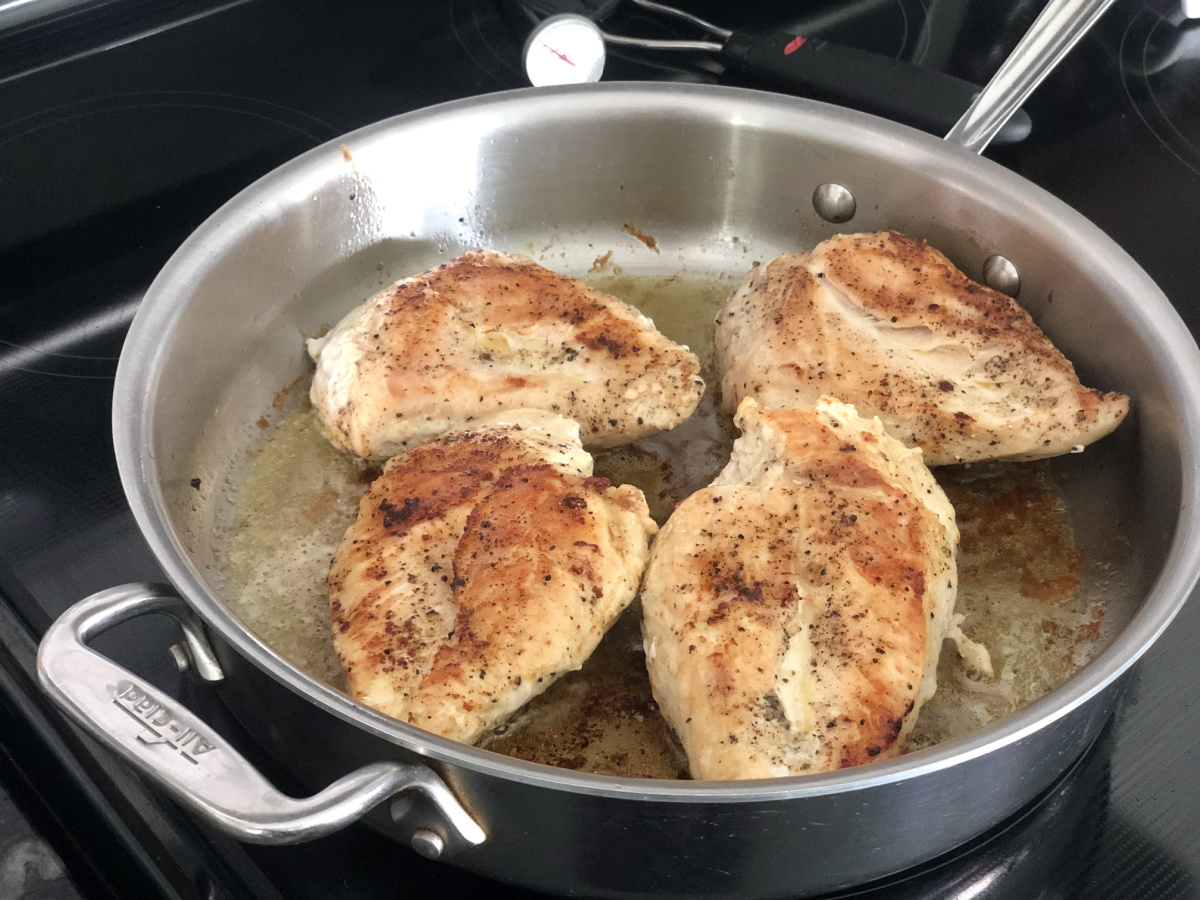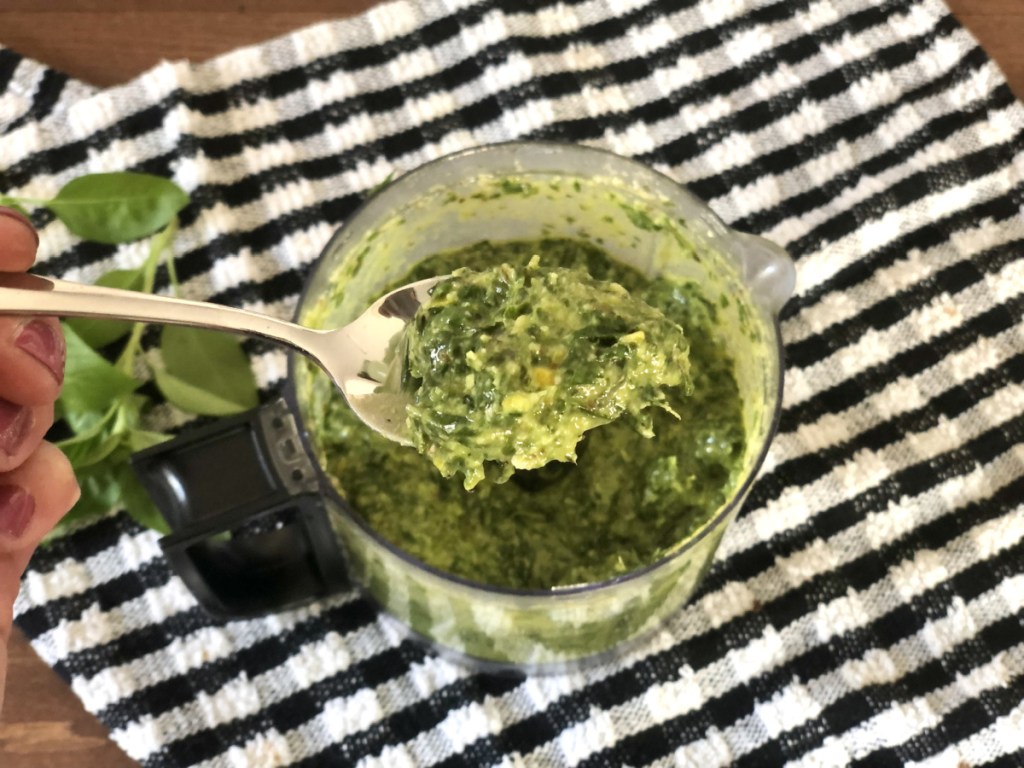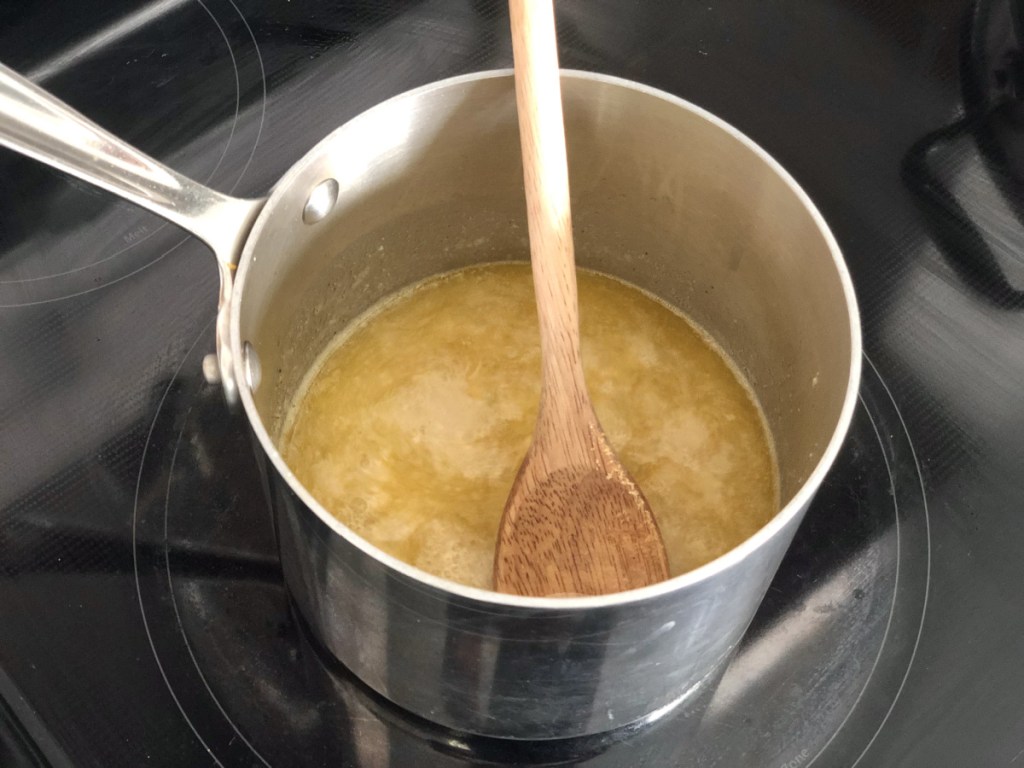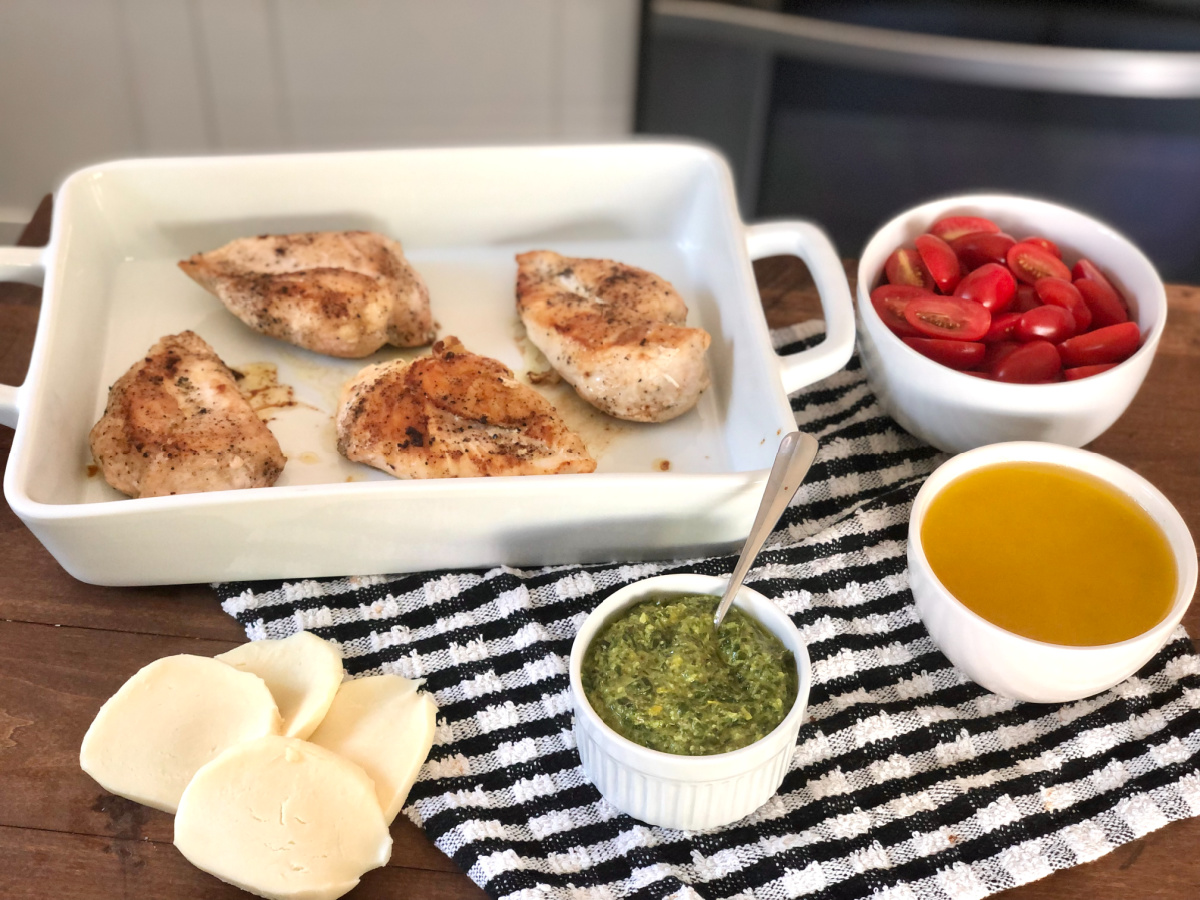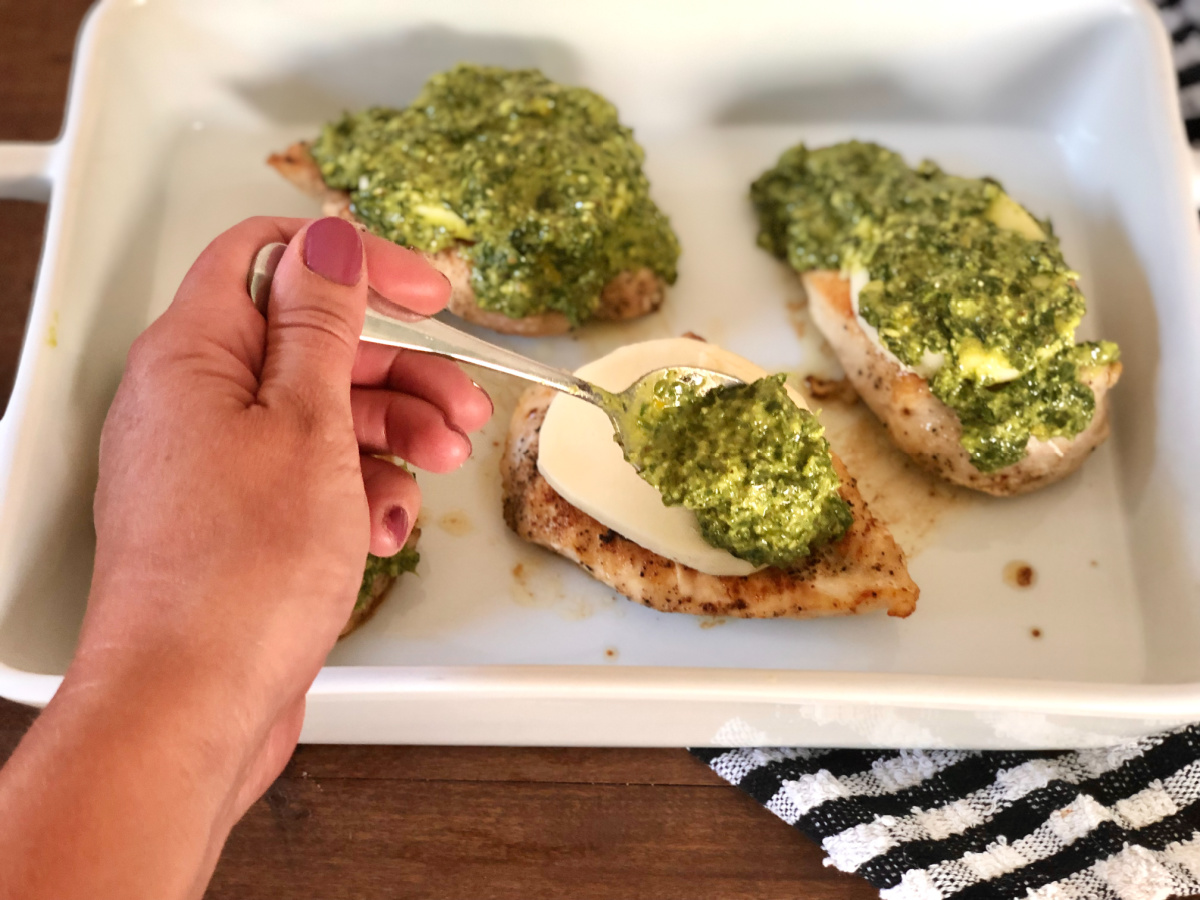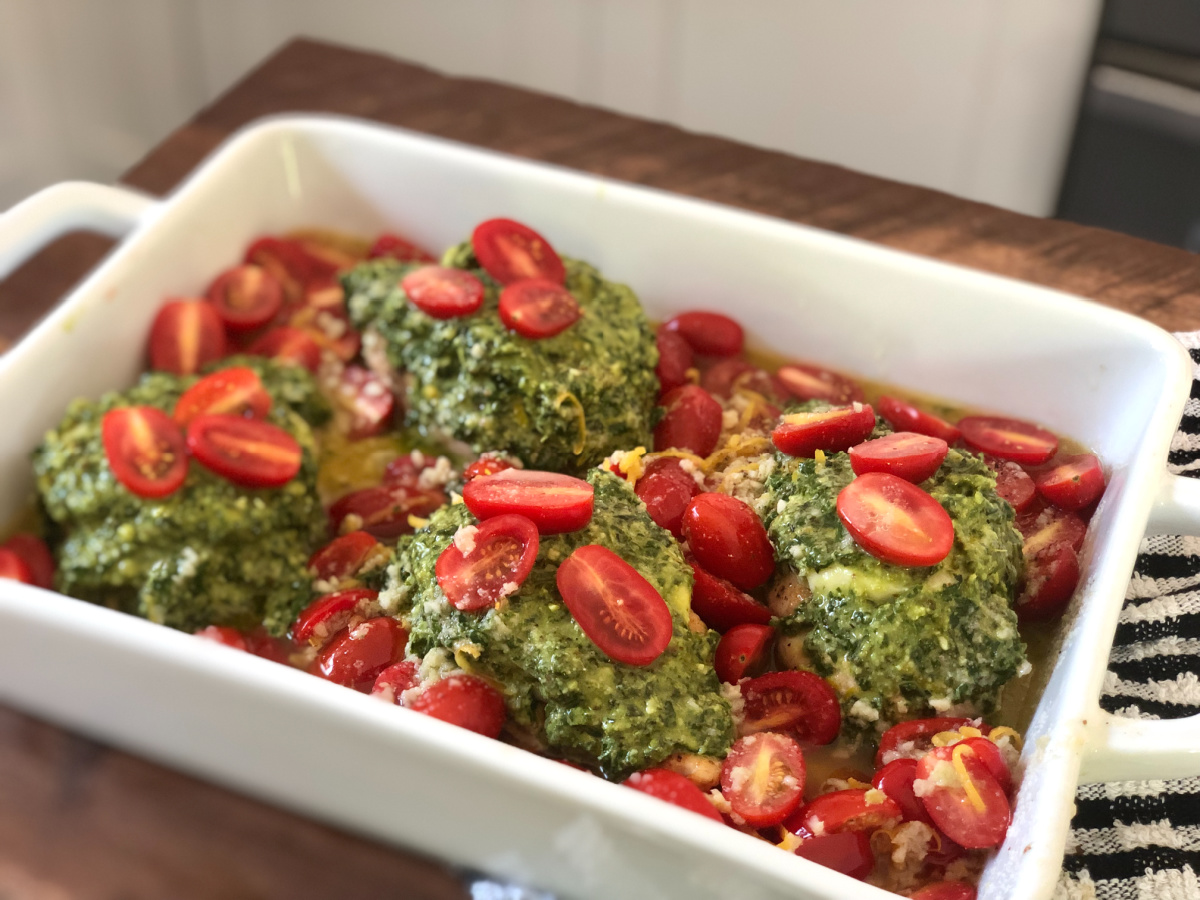 ---
Print
Grilled Chicken Margherita Olive Garden Keto Copycat
yield: 4 SERVINGS
prep time: 30 MINUTES
cook time: 30 MINUTES
total time: 60 MINUTES
Golden pan-grilled chicken breasts topped with mozzarella, pesto, grape tomatoes, and a lemon garlic sauce.
Ingredients
Chicken:
4 chicken breasts (about 8 oz. each)
1/2 teaspoon salt
1/4 teaspoon pepper
1 tablespoon olive oil for cooking
1 tablespoon butter for cooking/browning
Lemon Garlic Sauce:
1/2 cup butter, unsalted
3 cloves garlic, minced
zest from 1 large lemon
juice from 1 large lemon
3/4 cup chicken broth
1/2 teaspoon salt
1/4 teaspoon pepper
1 teaspoon garlic powder, optional if you want extra garlic flavor
Pesto:
2 cups fresh basil, stems removed, packed
3 garlic cloves
1/3 cup shredded parmesan
1/4 cup almonds, roughly chopped or sliced
1/2 cup olive oil
zest from 1 large lemon
juice from 1 large lemon
1/4 teaspoon salt
1/4 teaspoon pepper
Final assembly:
4 slices whole milk mozzarella cheese (1 oz. each)
2 cups grape tomatoes, cut in half
Directions
1
To cook the chicken:
Heat olive oil in a large skillet over medium-high heat. Pat chicken breasts dry and make sure to pound them a bit if needed so that they all have an even thickness. Cover both sides with salt and pepper.
2
Once the skillet is hot, place the chicken breasts in the skillet and cook for 5 to 6 minutes on the first side. Depending on the thickness of the breast, it may need 7 to 8 minutes. Do not move the chicken around in the skillet, leave it in place to get a good sear.
3
Flip the chicken breasts over and cook for 3 to 4 minutes. Then add the butter to the pan to help brown the chicken breasts. Cook for another 2 to 3 minutes in the butter. Remove the chicken breasts from the skillet and set them aside until ready to assemble the Chicken Margherita.
4
To make the Lemon Garlic Sauce:
Melt butter in a small saucepan over medium heat. Then add in garlic, lemon zest, lemon juice, chicken broth, salt, and pepper. Simmer over medium heat for 15 to 20 minutes, stirring occasionally.
5
To make the Pesto:
To make the pesto, place basil, garlic, parmesan, and almonds in a food processor. Pulse to chop. Then add in the olive oil, lemon zest, lemon juice, salt, and pepper. Purée until well combined.
6
To assemble to finish baking in the oven: 
Preheat oven to 400 degrees. Place the chicken breasts in a large baking dish, top with mozzarella and 2 tablespoons of pesto. Add the grape tomatoes to the baking dish, arranging some on top of the chicken and around the chicken. Pour the lemon garlic sauce over the top. Bake for 10 to 15 minutes, until the cheese melts.
7
Serve with cauliflower rice or another favorite vegetable. There will be some extra liquid in the dish so drizzle any extra sauce on your cauliflower rice or veggies! Yum!
Nutrition Information
Yield: 4, Serving Size: 1 chicken breast, 1/2 cup tomatoes with 1/2 cup sauce
Amount Per Serving: 734 Calories | 55..1g Fat | 6.3g Total Carbs | 1.2g Fiber | 3.3g Sugar | 56.6g Protein | 5g Net Carbs
---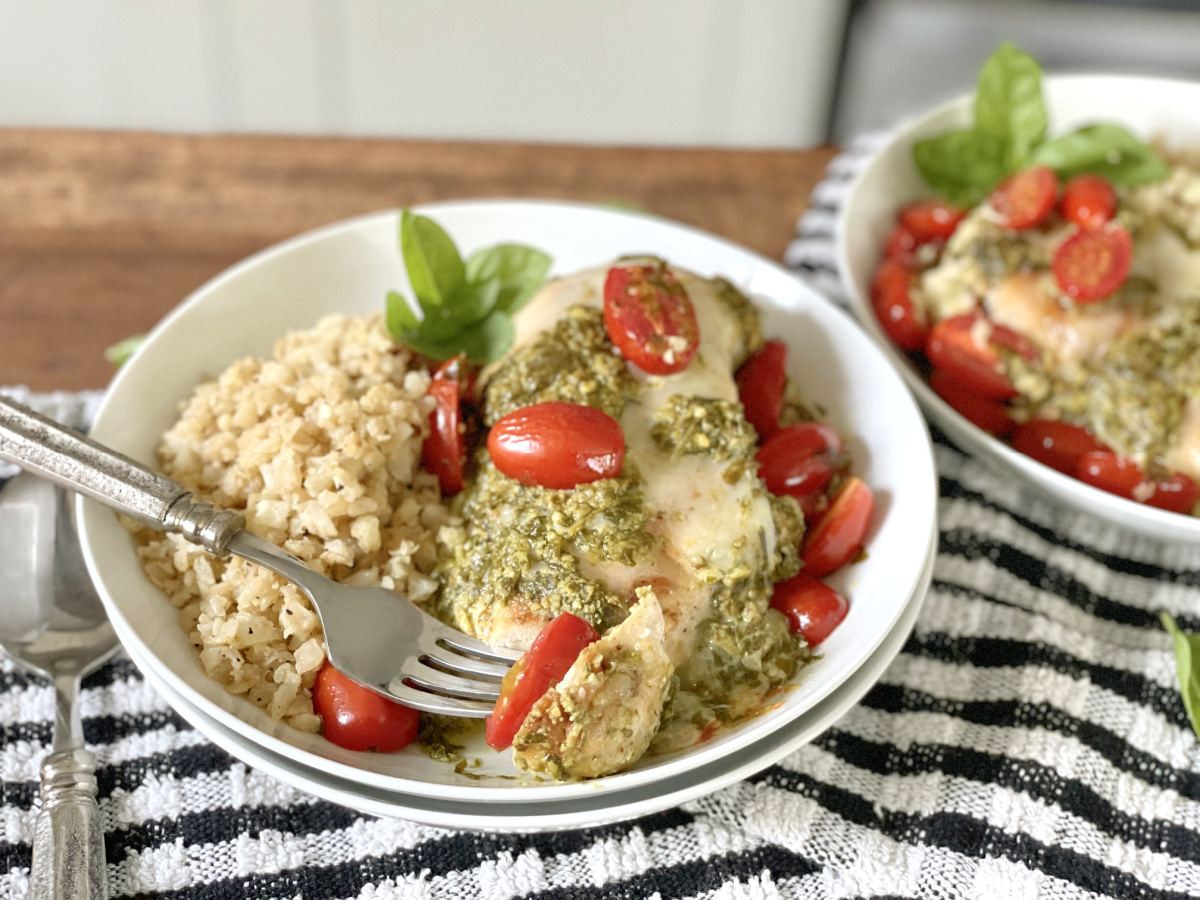 One bite and you'll go crazy for this recipe!
This is definitely a meal I'll be making again! It got a lot of compliments and was still delicious as leftovers.
This recipe proves there's a reason the Grilled Chicken Margherita at Olive Garden is so popular!
My Hip sidekick Jenna tried this recipe and here's what she thought!
"So much flavor and this dish does not disappoint. It will definitely satisfy those Olive Garden cravings, without the trip to the restaurant — no need for the carb-loaded pasta either! This dish is as pretty as it is flavorful, just serve it with some riced cauliflower and you have the perfect meal."
---
We suggest making these buttery garlic keto breadsticks as a side dish!